Hey everyone, it was really quiet on this blog in the last weeks. As you can imagine, there was a lot going on though: due to the rapidly progressing Corona outbreak, we had to make some tough decisions while also being constantly worried about our families and friends who are far away from us and might not be safe. Therefore, writing a new post was not a priority for me as you surely understand. I hope that you are all safe and healthy! As the situation progresses everywhere, I just wanted to give a short update how we are doing and experiencing the outbreak in Japan.
Our situation
First of all, I can report that we are safe and healthy and for that, I am very grateful. Some weeks ago, Japan implemented some strict measures to prevent the outbreak: entry for Chinese and Korean travelers was denied, all sightseeing spots and museums had to shut down, a nation wide school closure that lasted for several weeks was established and lots of restaurants and coffee shops limited the number of people inside. It was highly advised not to travel around in Japan, as some infection clusters started to grow (Hokkaido, Nagoya, Tokyo and Osaka are the biggest so far). Since the end of February, we now live with these new regulations and had to adapt quickly to a very quiet lifestyle. While we were already living under restrictions, life in Europe was still normal and we would have never thought that this could change so fast…
The new semester of the university is postponed to late April, so Niklas has the campus nearly to himself. However, many restaurants there are closed and a lot of services are currently put on hold. But at least, he has his own office where he can work and doesn't have to teach. So he was pretty okay for the past weeks.
While Niklas still can go to work, all my work hours for March have been canceled, which came as a small shock for me. Since then, I mostly stay at home after my Japanese lesson and try to deal with the situation, finally having more time for a lot of stuff that I wanted to do the last months. I try to progress with my study programs and do my workouts on a regular basis as well as getting out for fresh air as often as possible. Lucky for us, we had some cold but sunny days in the past weeks so that we could got out for a walk and get our heads cleared. Next to our neighborhood is a nice park where we can enjoy the nature and get a little break from all the negativity around us.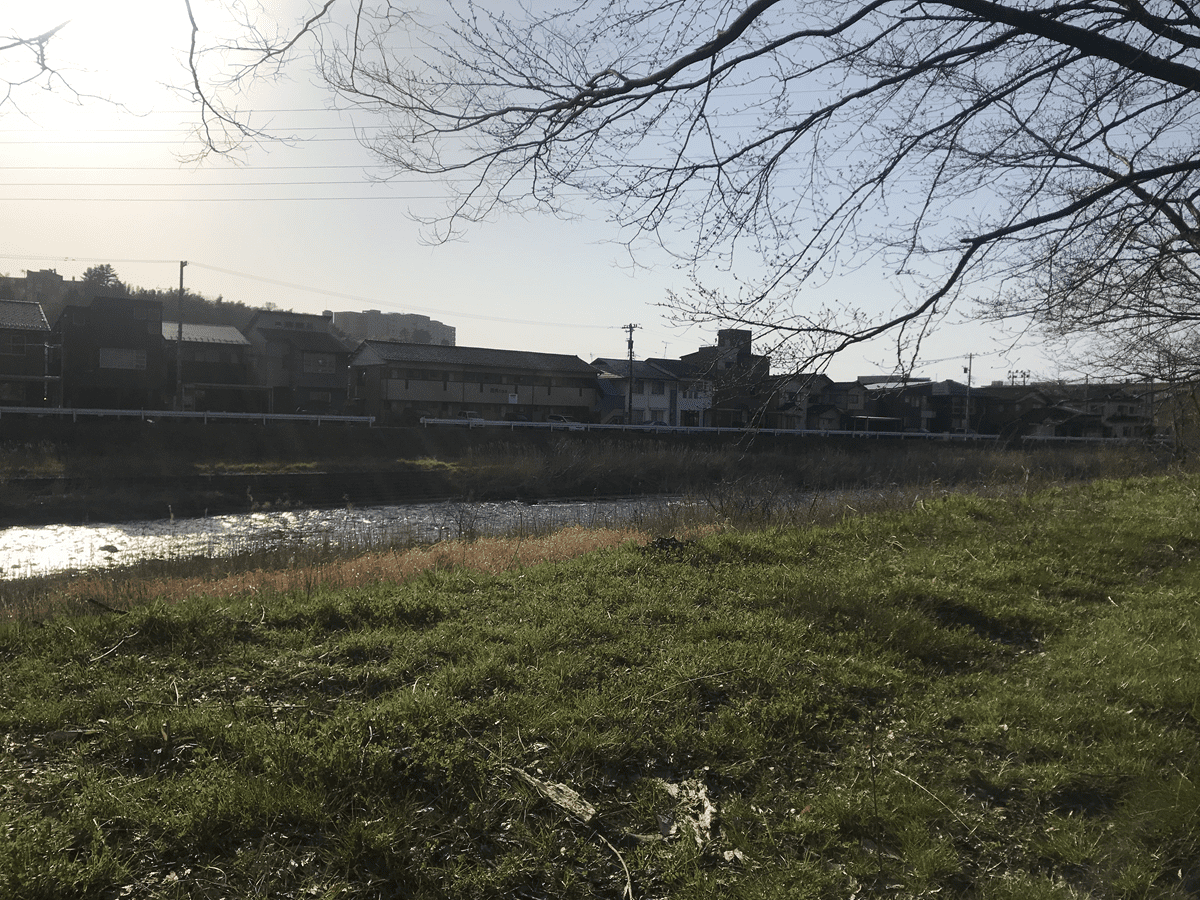 Catching some sun while practicing physical distancing
All events have been canceled as well, leaving me with the challenge to connect my new established network without being able to meet. I had to cancel all of the already planed and scheduled events for March and April. That was very hard for me as a lot of people were involved in the planning and I felt like letting them down. But at the same time, I have also learned how to manage a community with digital tools and new ideas, so I am grateful for that chance to learn something completely new. Also, I keep in touch with a lot of the other members who are all in the same situation like us - stuck in Japan - so it helps to deal with the anxious feelings about the current situation. We might not be able to meet at the moment but the amount of support among everyone is amazing.
Life was very quiet in the last weeks but still mostly normal. Public life still exists, restaurants and cafés are open and you can still go shopping as if nothing has happened. You will find hand sanitizers at every entrance of stores and restaurants and also notice lots of measures to prevent people from touching everything. Nearly everyone wears a mask now which makes me wonder how they could get so many - they were sold out since February in Japan. But apart from that, everything seems to be normal. The atmosphere is strange however - you can feel a certain kind of tension in the air and people are nervous and concerned. Let's see how the public life might change in the next weeks. I could go to my Japanese class ever day, however our teacher was very concerned and cleaned our desks and chairs ever time after we left. At the beginning, it was a bit strange for me (and I felt quite panicky), but I got used to the new security measures very fast and now I worry if I cannot clean my hands every 30 minutes.
Strict measurements like in Europe are currently not in place but I am expecting this to happen very soon. Since last week, it's official that the Olympics will not be held in this year. So I guess, tough measures to prevent any further outbreak will start soon.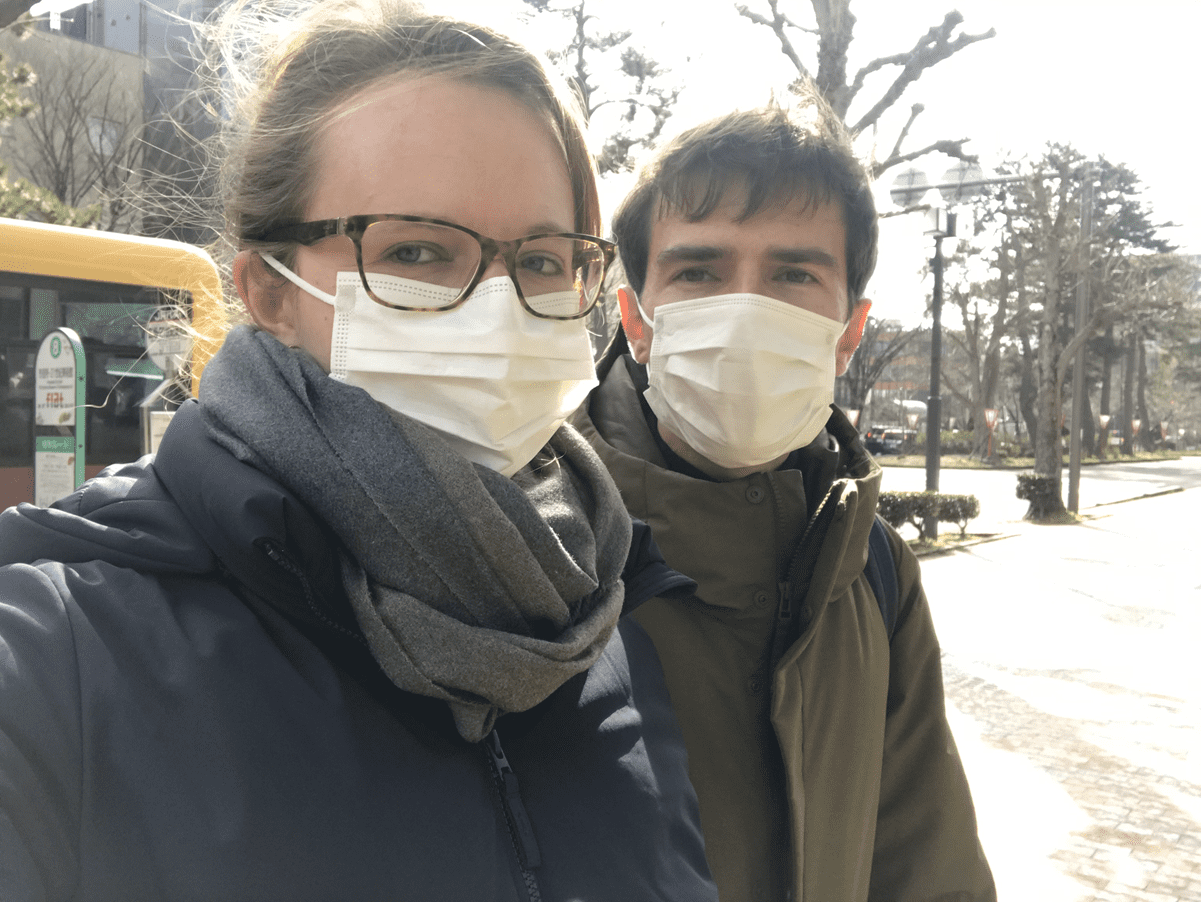 What will happen next?
The sad truth is, no one knows. So far, Japan has seemed to manage the crisis as the case numbers didn't explode like in other countries. Some measures were even already stopped, but no, with the recent developments in mind, I hope that the government will be careful and wait until they make any major changes.
The official numbers in Japan still might seem small, compared to Europe or the US, but I am convinced that they do not reflect the actual truth. Japan is very strict regarding the testing procedure, you only get tested if a combination of several factors occurs (like having a fever for more than 4 days). That means that there could be many cases undetected, as the virus can also cause very light to no symptoms at all. :( So we are waiting for this situation to change and prepare for rising case numbers and stricter measures. So far, Niklas and I have been super careful in the last weeks and stayed at home most of the time. We hope that this will help us in the long run! We take care and try to avoid contact with people as much as possible. But let's hope that enough people here are careful as well!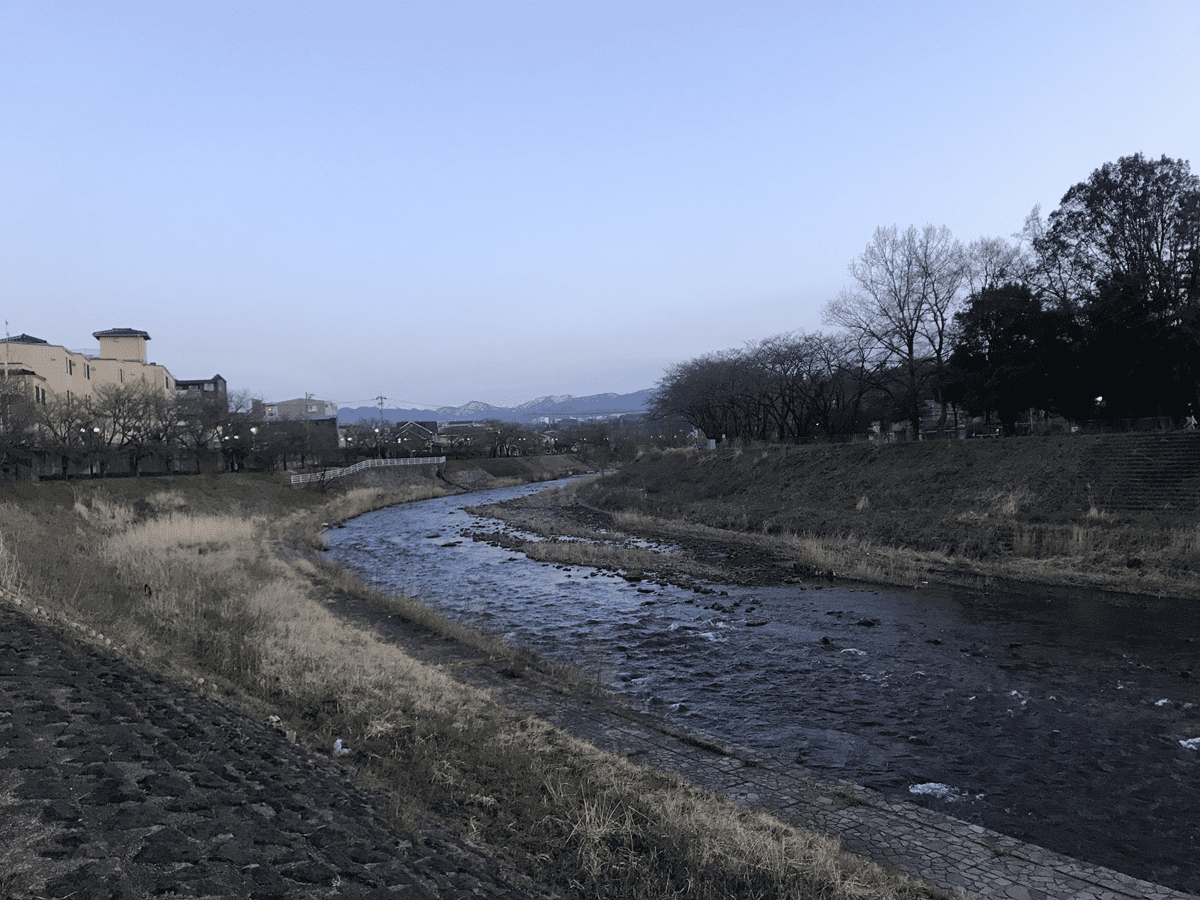 At least, nature in transition from winter to spring is beautiful to look at. I watched so many birds while sitting at the river. It's moments like this which count!
What does it mean for us?
All this has some effects on our life as expats of course. We are basically grounded and cannot go around and travel through Japan like we used to as the situation is too dangerous. We also have to be carful when we go out for grocery shopping or traveling by public transport, always worrying that we might get in contact with an infected person.
The biggest one is that we don't know when we can return to Germany. For the time being, we stay here in Japan as we cannot return to Germany without facing severe consequences: European citizens can no longer enter Japan at the moment and even with our permanent residency, a re-entry would be denied for us. Also, flights are starting to decrease and will soon be canceled. So, we have to wait here until everything calms down and we can travel again. As nobody knows when this will be, you can imagine that this is not easy for us. We had a visit scheduled for late April and had to cancel it, being very disappointed and sad because we cannot see our families. I think this is probably one of the most difficult factors for us: we don't know when we will see everyone again and of course we miss our families and friends very much.
But, we stay positive and hope for the best. Everyone, please take care of yourself and stay healthy! I hope all this is over soon and I can continue to share positive content that is not so sad like now. In the meantime, let's all stay calm and protect ourselves as best as we can.