Hey everyone, I hope you are all healthy and still holding up with this new lifestyle. The past weeks our life has slowed down a lot and we have been spending countless hours indoors with the exception of some walks in the neighborhood. For over 8 weeks there have been no travel adventures, meetings with friends, new events or anything exciting that I can report. However, the weather was improving greatly and this means, winter is finally over! We are happy that at least spring has arrived and cheers us up - a little.
Covid-19 in Ishikawa: state of emergency
Last time I told you about the Covid situation in Japan. Since then, a lot has changed! The numbers are getting worse everyday so all prefectures have now declared the so called state of emergency. This means that the prefectural government has the power to ask businesses and schools to close down. It can also request that people should stay at home and not go out for having a drink or meeting friends. However, the government cannot implement a curfew as the Japanese constitution will not allow any restrictions that limit the basic rights of Japanese citizens. So, unlike some countries in Europe, there is no legal support of restricting movement or shutting down the whole country. This kind of "soft emergency state" still might work in Japan as the Japanese people tend to follow requests from their government in a disciplined way. Last week our prefecture has declared state of emergency and we are now waiting to see what changes will happen to contain the outbreak of Covid-19 in our city. So far, some businesses closed down, almost all facilities reduced their opening hours and some restaurants or coffee places only offer take out food and drinks. Major shopping malls are all closed and public transportation (bus, trains and flights) will be reduced in the next weeks. We are requested not to leave the prefecture to avoid further spreading and should try to stay at home as much as we can.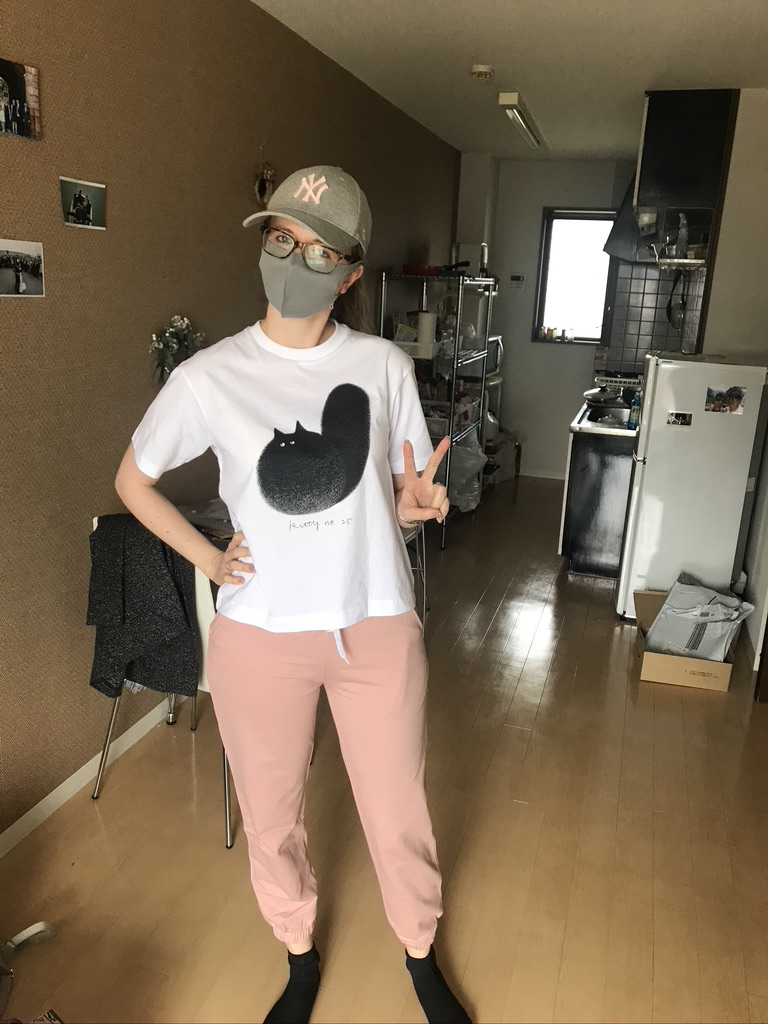 If we go out, we look like this
It will be difficult next week as the famous Golden Week is approaching fast and it will be one of the longest Golden Week ever! Two long weekends and one week off - for all Japanese people. This period is super important because it's the only time in the year where the Japanese people have a long holiday. Usually, Japanese people travel around during that time and visit their family or enjoy some nice vacation. This year however, it is a bad idea to do that because the virus will spread even more through travel movement. The government is really nervous and tries to raise awareness to stay put during the holiday season in order to avoid huge travel movements. It's disappointing that we cannot enjoy the benefits of this holiday and have to cancel all our plans and ideas. We try to find some Covid-19 "friendly" activities, such as cycling within the area of Kanazawa or taking long walks… Let's see about that…
Dealing with the everyday life consequences
Our working life has changed completely: Niklas now works from home and doesn't commute to the university anymore. We try to find a good rhythm of working at home together, including lunch and coffee breaks. ;-) At least, our apartment is big enough so we both have desks and space to work. I recently discovered that I can also work on our balcony (if the weather is nice enough!) even though the noise from the passing cars is very loud. But, sitting outside and enjoying the sun is so nice. Usually, nobody uses their balconies and you never see people sitting there so I am an exception. As long as the weather is not too hot, I want to use it as best as possible in order to get at least some fresh air whenever possible.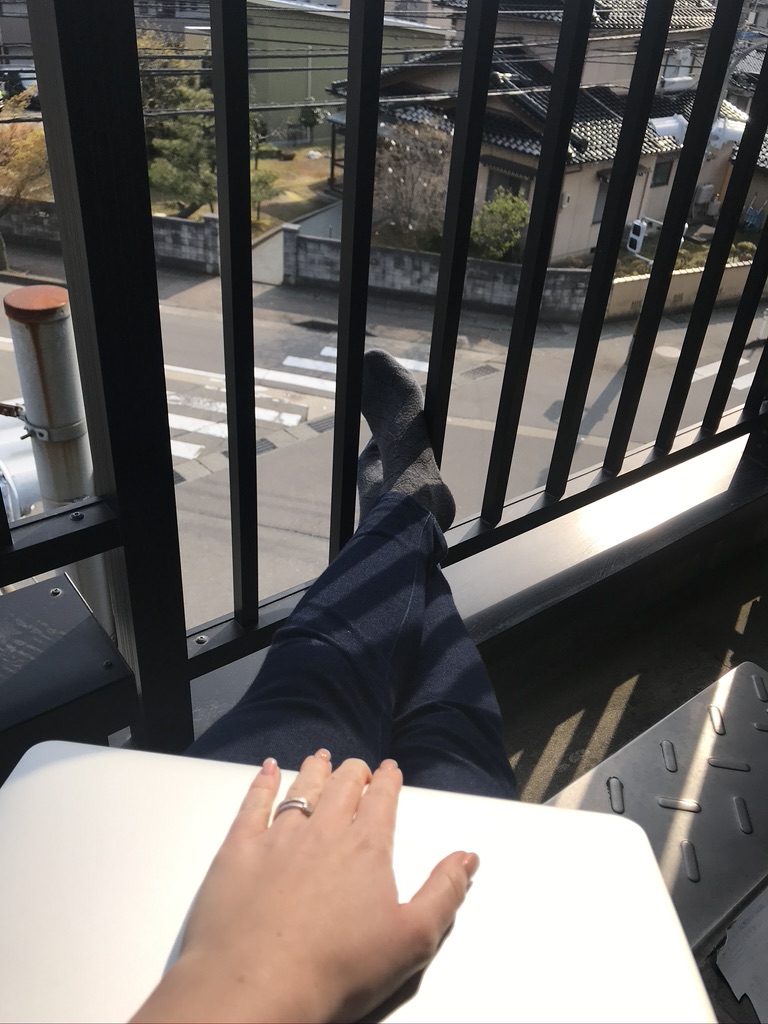 We also celebrated some important dates in a very different way than imagined: Easter holidays were super quiet, we just went out for a walk and cooked some good food.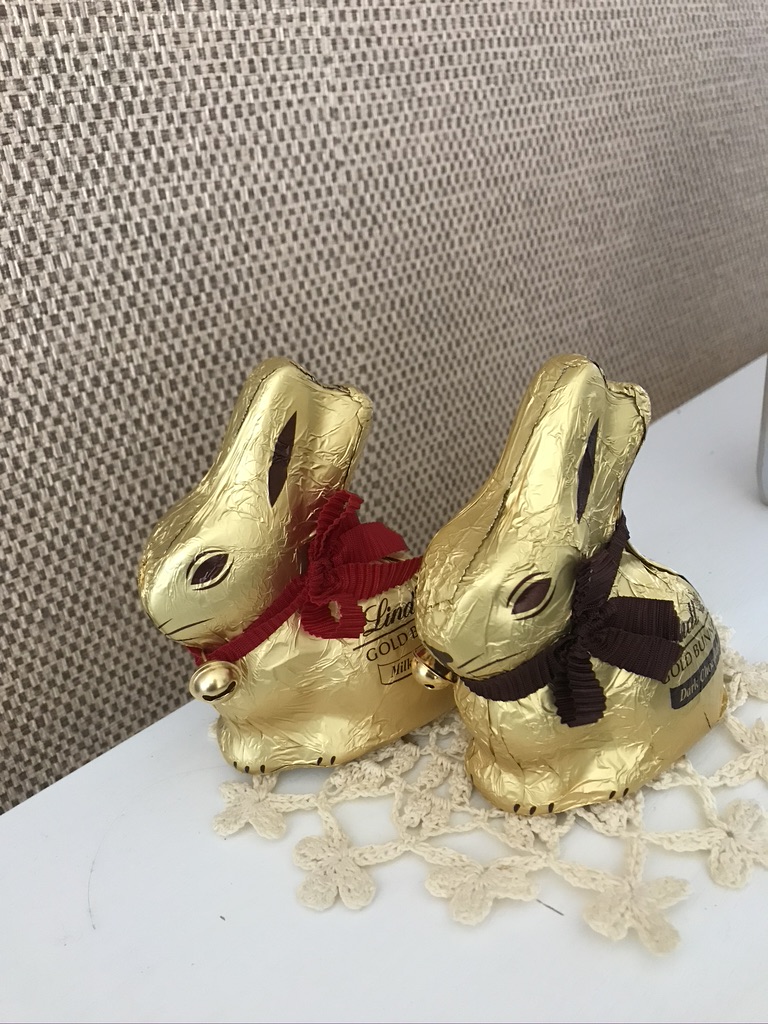 I was able to buy some Lindt chocolate for Easter
And our wedding anniversary (yes, it has been alreay one year since we had the big celebration in Nierstein!) was also quiet: we had coffee to go (outside in the nature) and enjoyed the cherry blossoms close to our home (next post will be about the cherry blossom season in Japan, so stay tuned for lots of nice pictures).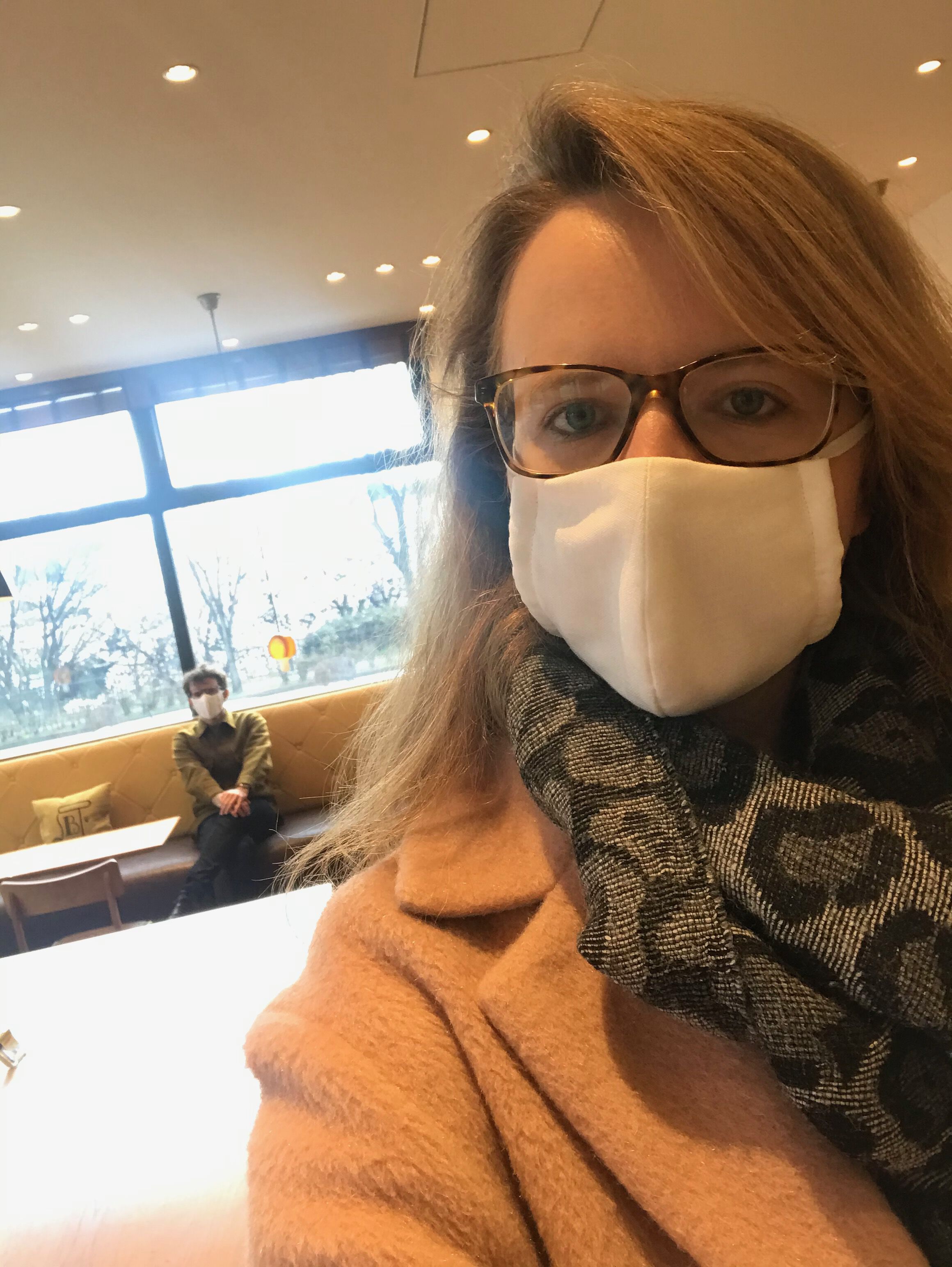 Spending our anniversary while keeping the distance and wearing a mask - the new normal?
It's strange for us as we heard that in Germany, for example, some of the strict measures start being lifted soon while the situation here becomes worse and the soft lockdown just started. Even though we already had measures in place far longer than in Europe! Sometimes it feels that this new state of living might go on forever… Niklas still has his work routine and adapted quickly to working from home. But I struggle to find a good structure for myself, often feeling trapped and not motivated at all. Being stuck at home I now realize how many people I met every week and how many projects I was following or working on. Some of them can be organized online but still, it's not the same. I miss meeting all the people and experiencing new things everyday. It's not only that I have a hard time finding a new rhythm - I am also very disappointed that all our plans for the next months like visiting our home, our families or going to new places, learning new stuff etc. are not possible and had to be canceled. We even don't know when the Japanese entry ban for German citizens is lifted, a state that is forcing us to stay here and forbidding us to travel to Germany. These times are tough and I hope, we can all get through this soon.
The positive aspect of this crisis is, that we now have a lot more Skype dates than the months before. Nearly every week we Skype with family, friends from Germany and now also from Japan and enjoy these moments so much. It's great that we can still communicate like this, even if we live far apart. Even my grandparents have become digital and I have video calls with them on a regular basis. Before Japan, I would not have imagined that we can shift our whole communication to the digital level. But here we are. At least these chats help us to keep positive in these difficult times.
We also started a joint workout routine to keep in shape. ;-) Staying at home so much, mostly sitting and eating, is not healthy…
We try to keep you updated about the situation in Japan as best as possible. Follow us on Instagram for more pictures and of course you can contact us anytime if you want to know more (or if you want to know when you can travel to Japan - probably not so soon though…). See you next time!