I can't believe I am lucky enough to experience my second Sakura season in Japan! Even though the situation is far from perfect - we are faced with an ongoing pandemic, restrictions to our everyday life and not being able to share this experience with anyone - we used the short blooming time to enjoy it as best as we could. This year, the Sakura bloomed earlier than usual. In fact, it is said to be the earliest blooming ever since they started to record it. Usually, the Sakura will bloom around early April in Kanazawa but this time, it reached full bloom end of March which is about 10 days earlier than expected.
The first days of the blooming we experienced a dust storm that turned the sky white, so we weren't able to go out to take good pictures of the flowers. However, on the third day, the weather suddenly changed and we had sunshine, blue sky, no clouds and beautiful flowers!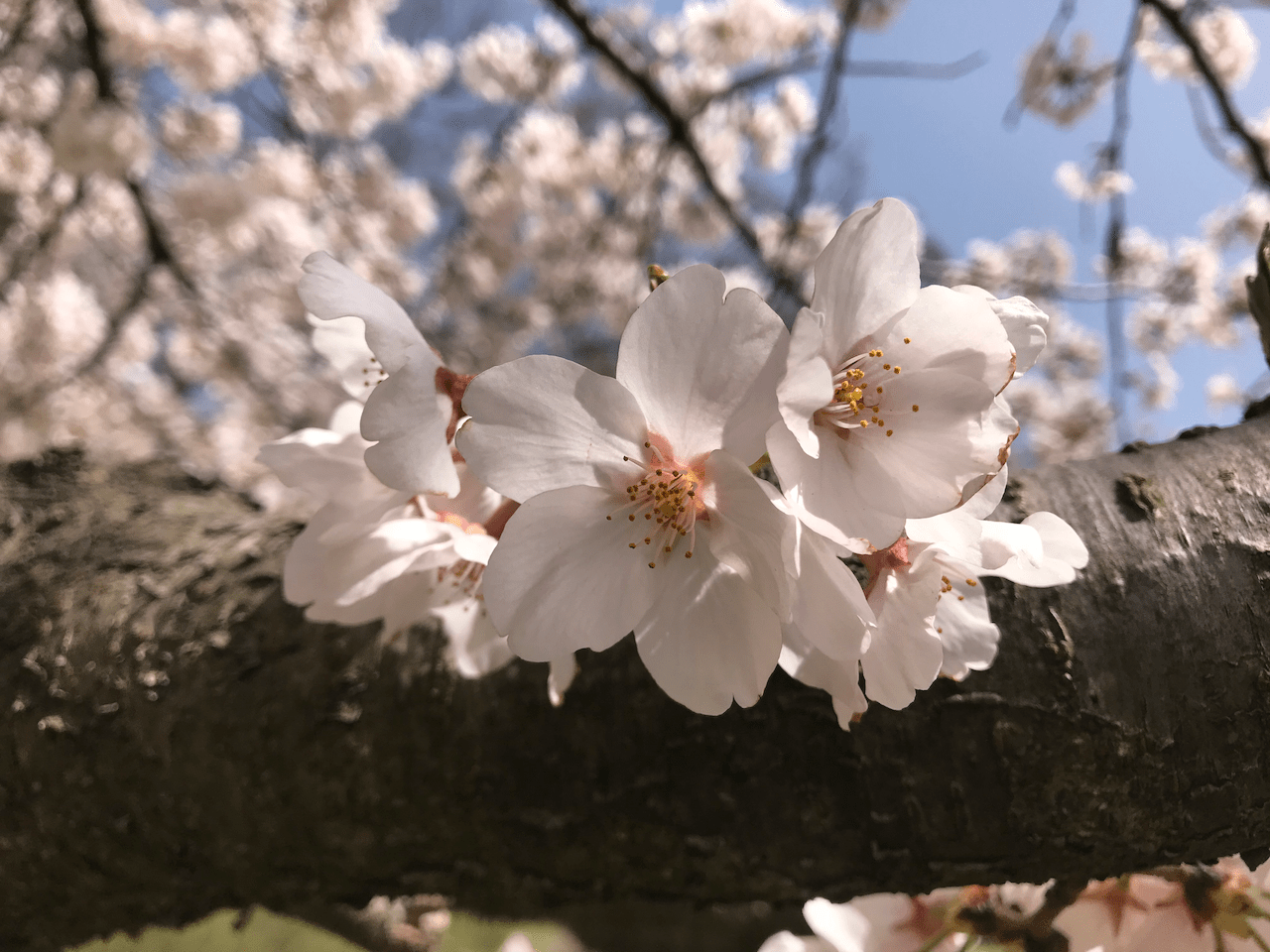 Perfect cherry blossom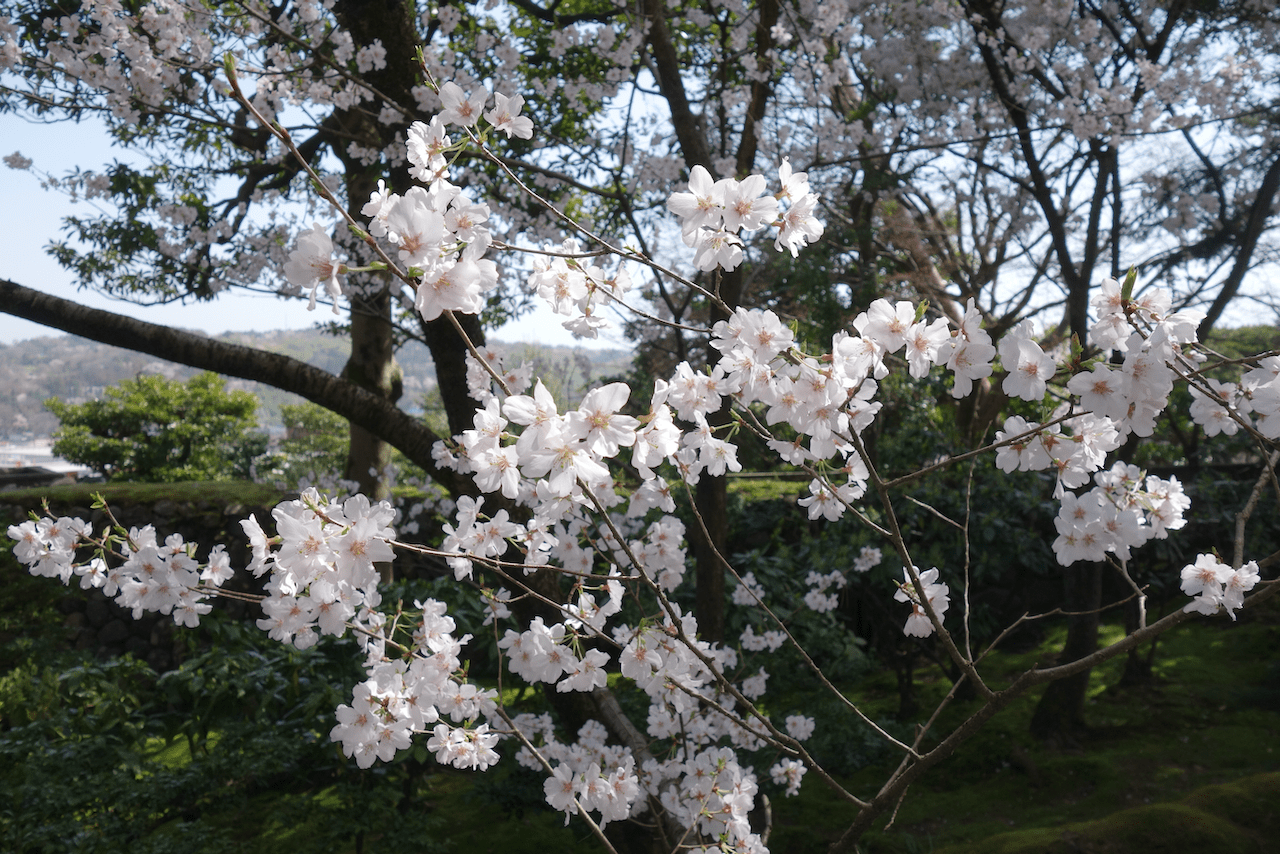 In this post, I want to share one of the most beautiful photos we took this year. We visited several places around Kanazawa to see all the different Sakura types.
Kenrokuen and Kanazawa Castle
Last year, we weren't able to go to Kenrokuen and Kanazawa Castle due to the State of Emergency, but this year it was possible again, so we went there for a beautiful morning walk. I think it's one of the best places to enjoy Sakura in Kanazawa.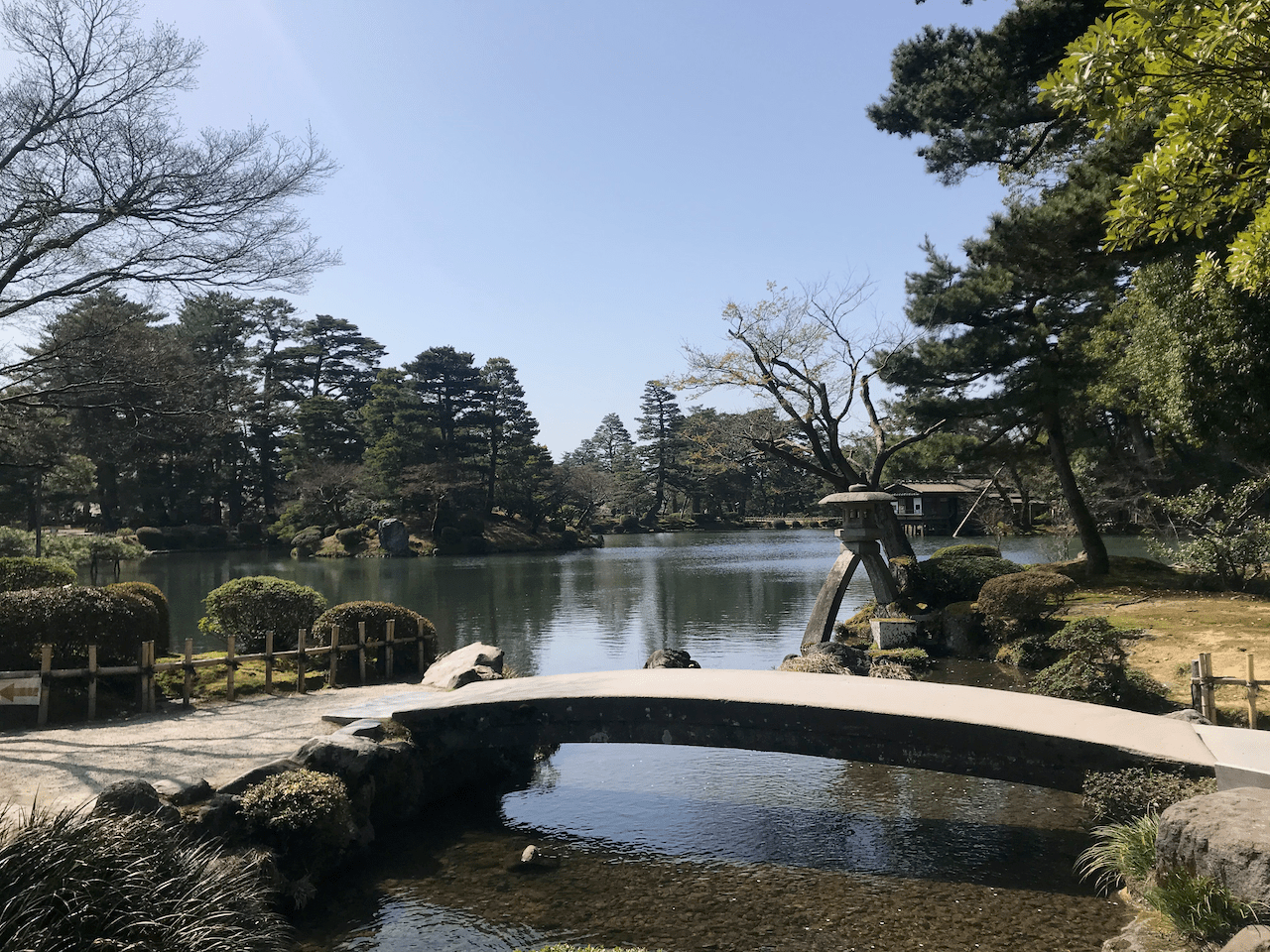 But first, another picture of the most scenic Kenrokuen lake view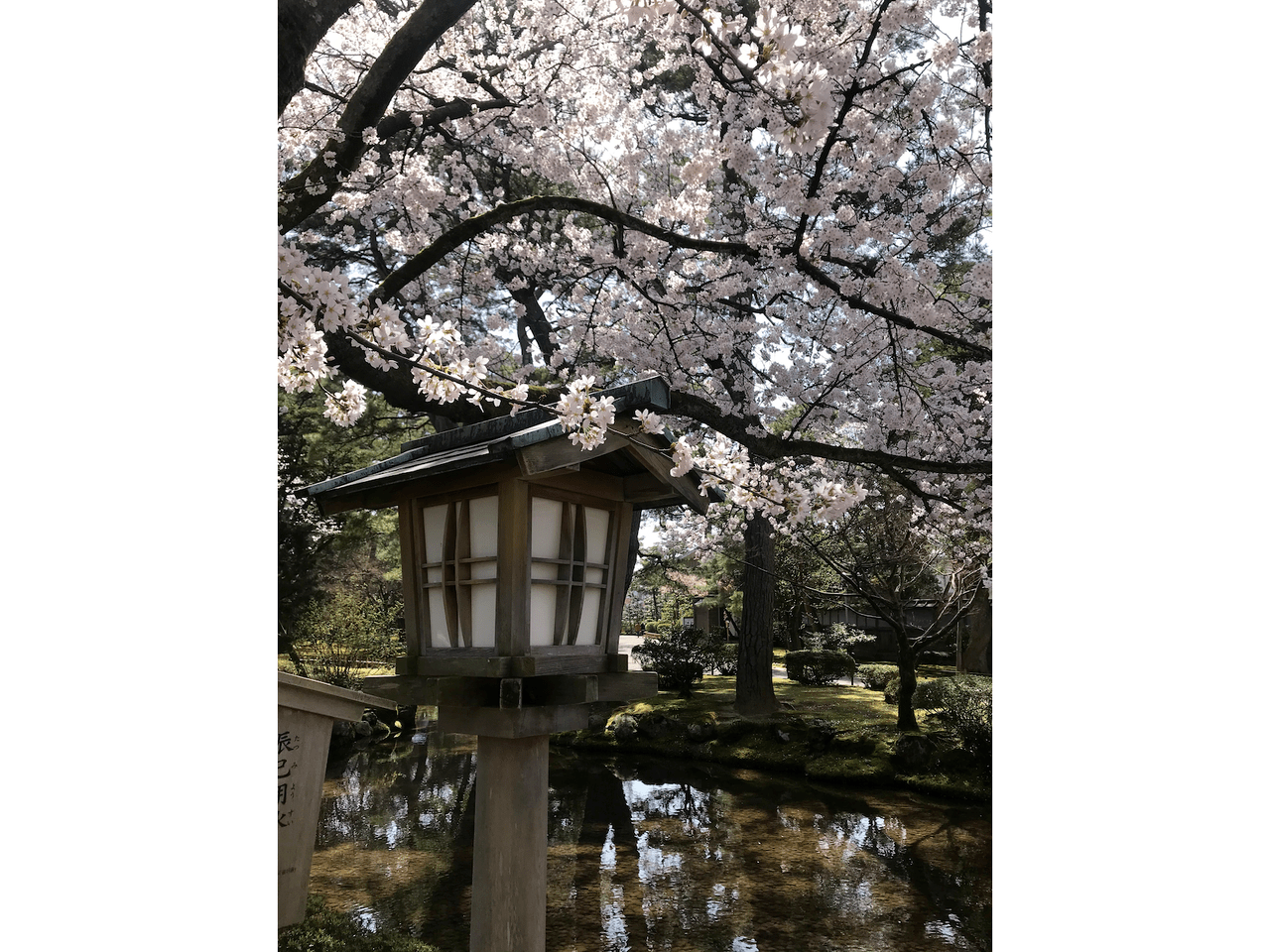 Kenrouken garden is beautiful in every season but during the cherry blossom blooming time, this garden becomes even more spectacular. And - admission is free during this period.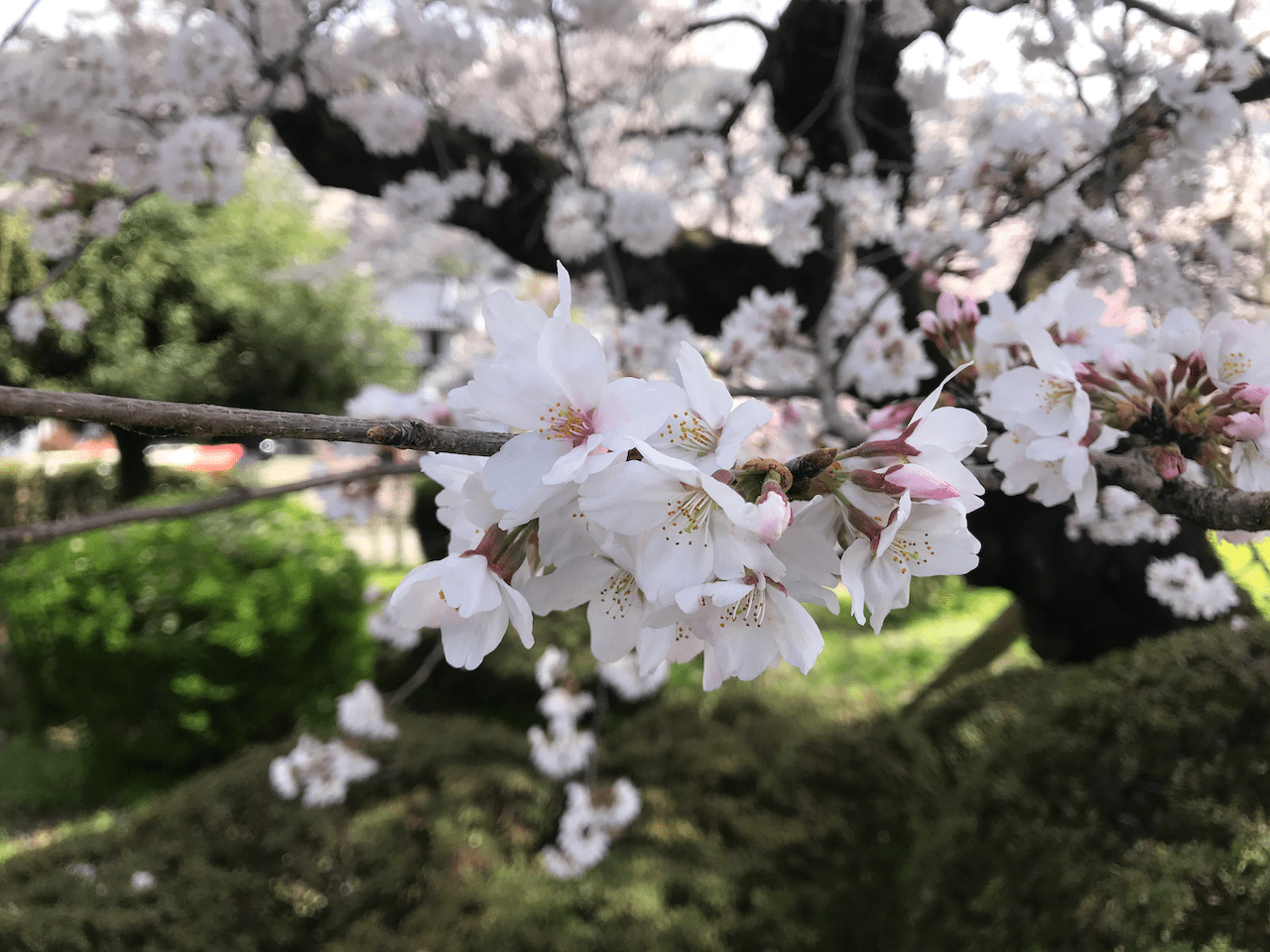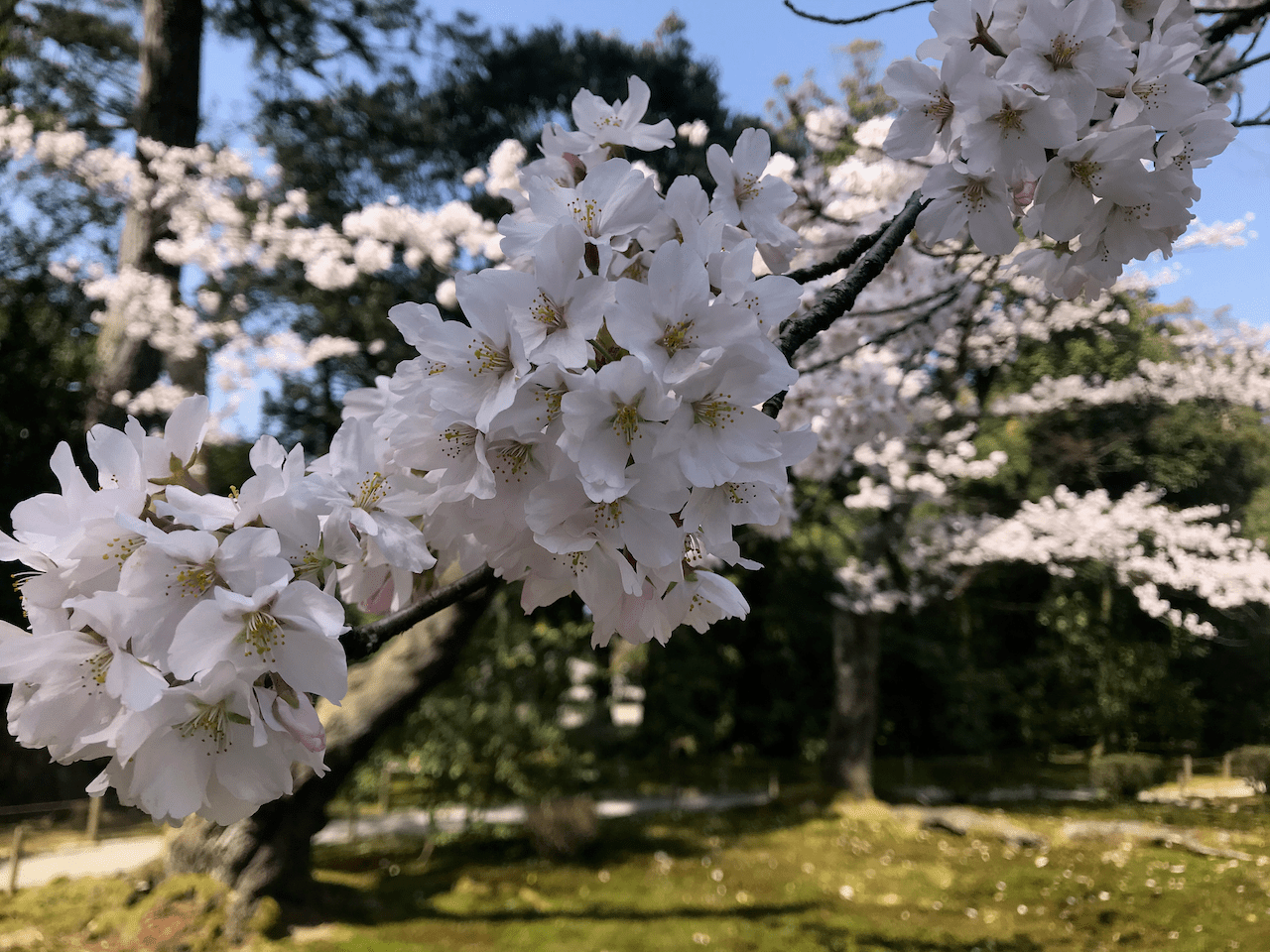 The flowers in Kenrokuen garden are nearly white and look so pretty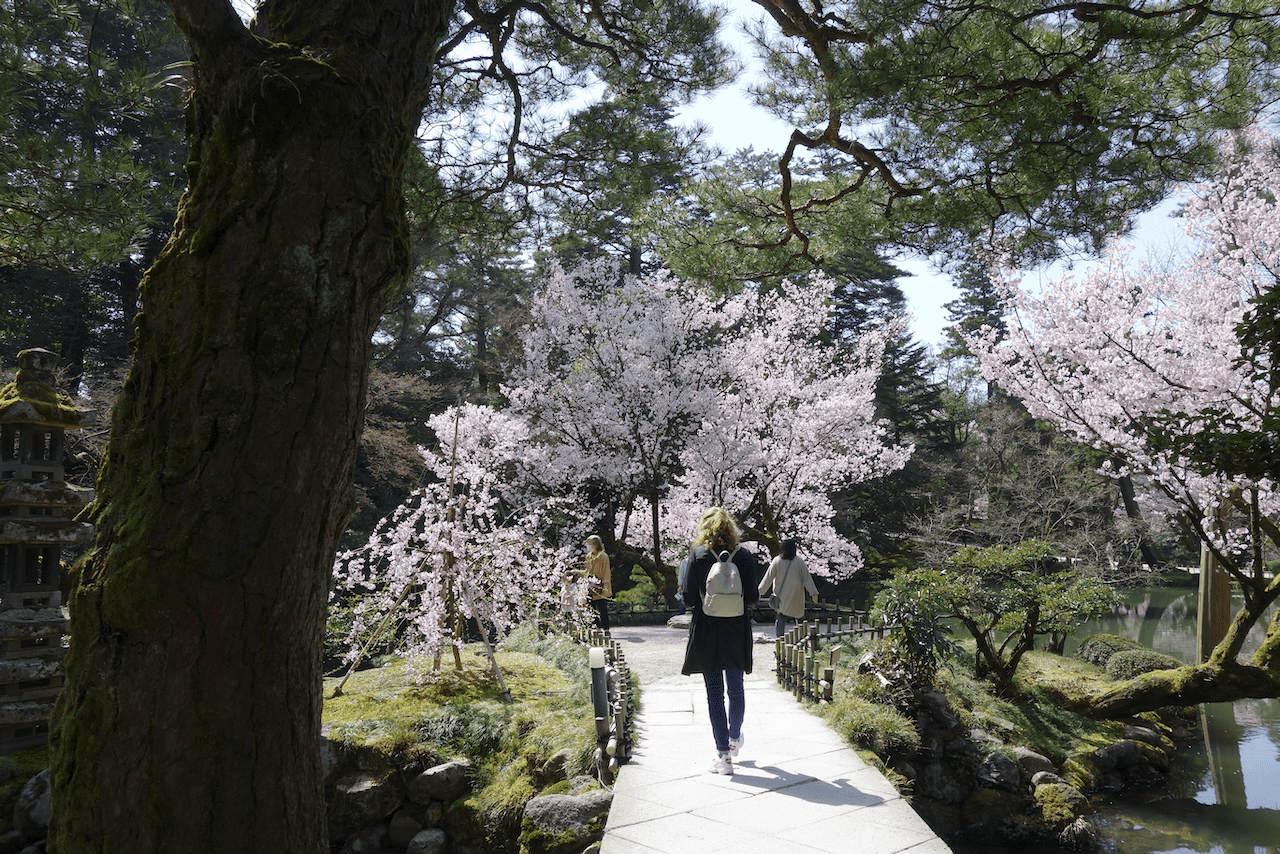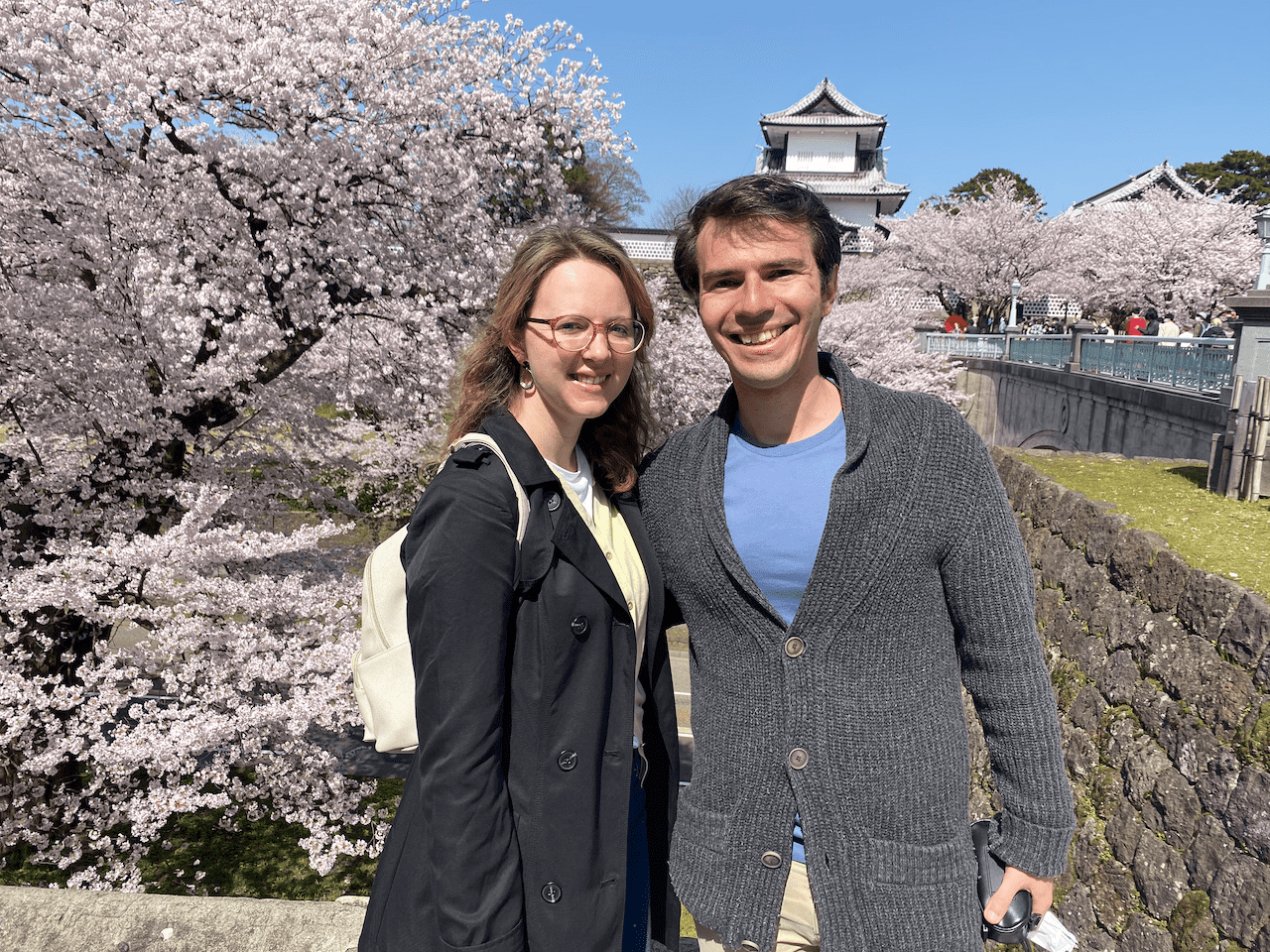 Despite not wearing a mask for the picture, it was of course mandatory for the whole area.
The place was crowded but not as much as during the weekend as we chose a weekday morning for our visit.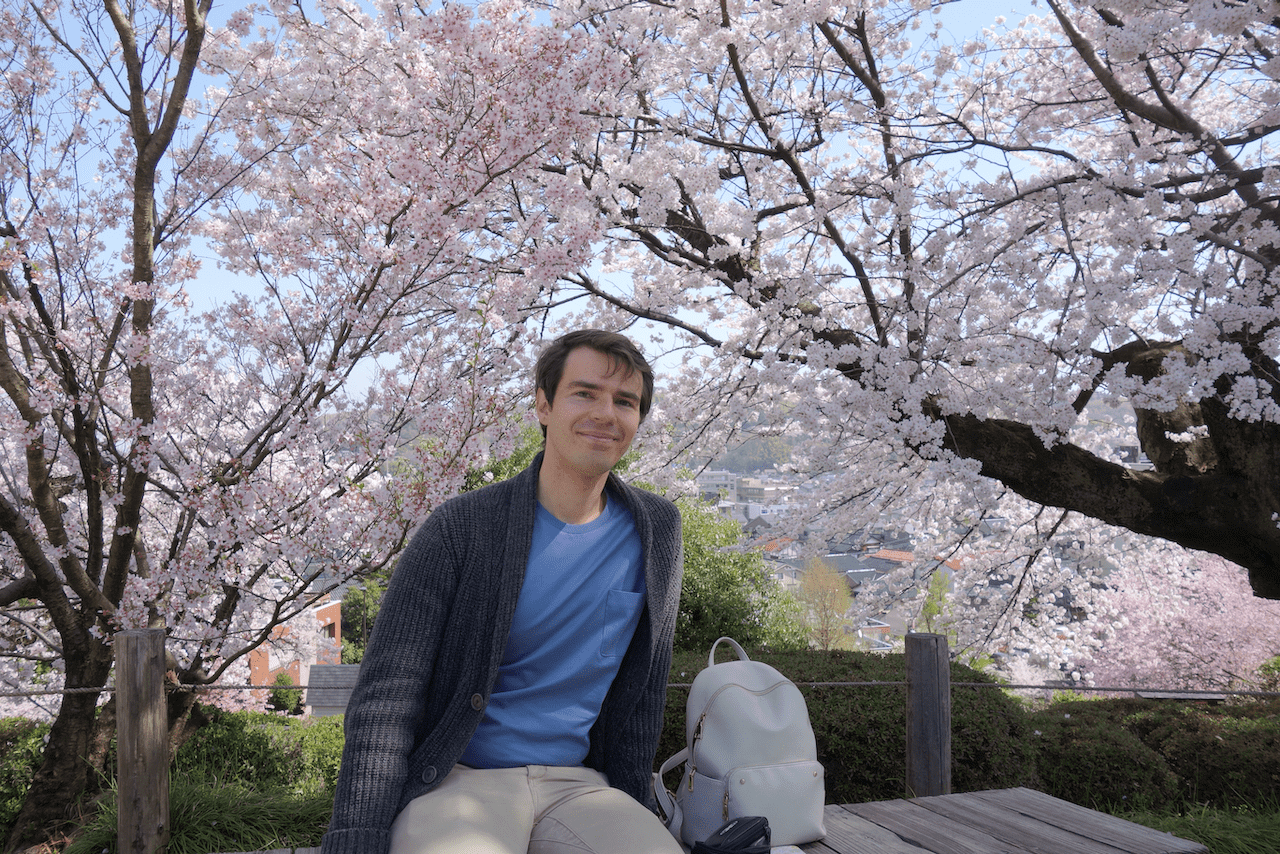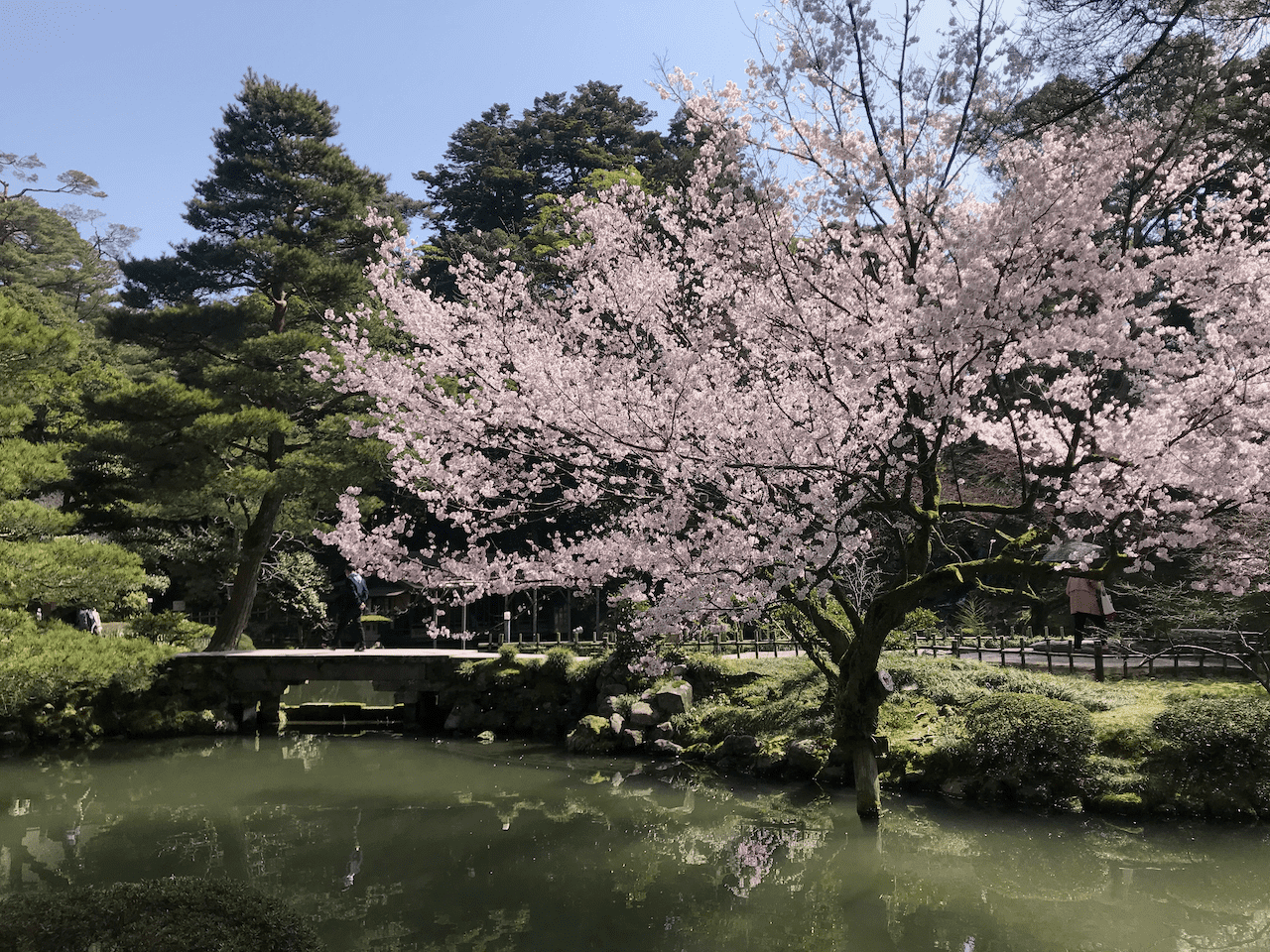 I really love how the color of the flowers transfomed the whole atmosphere of the park into an anime like scenery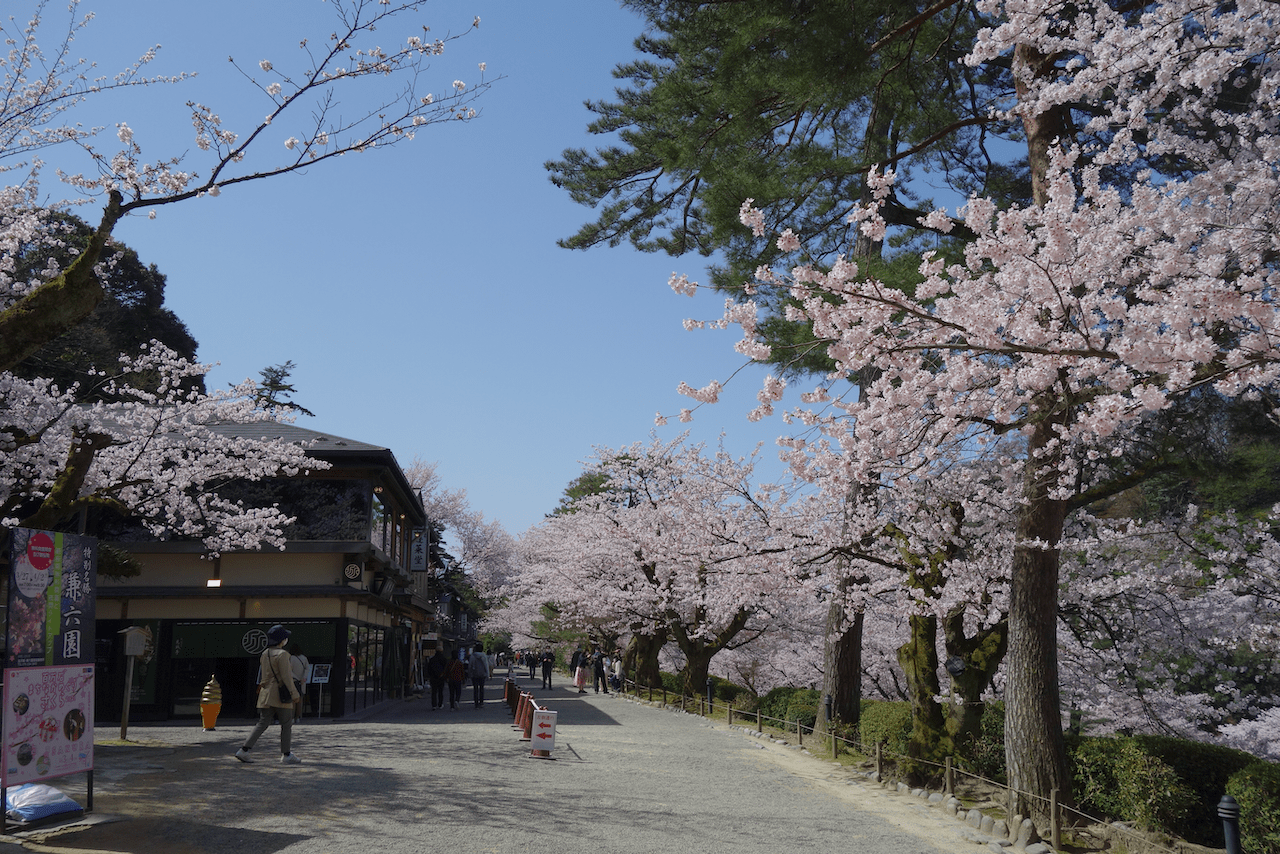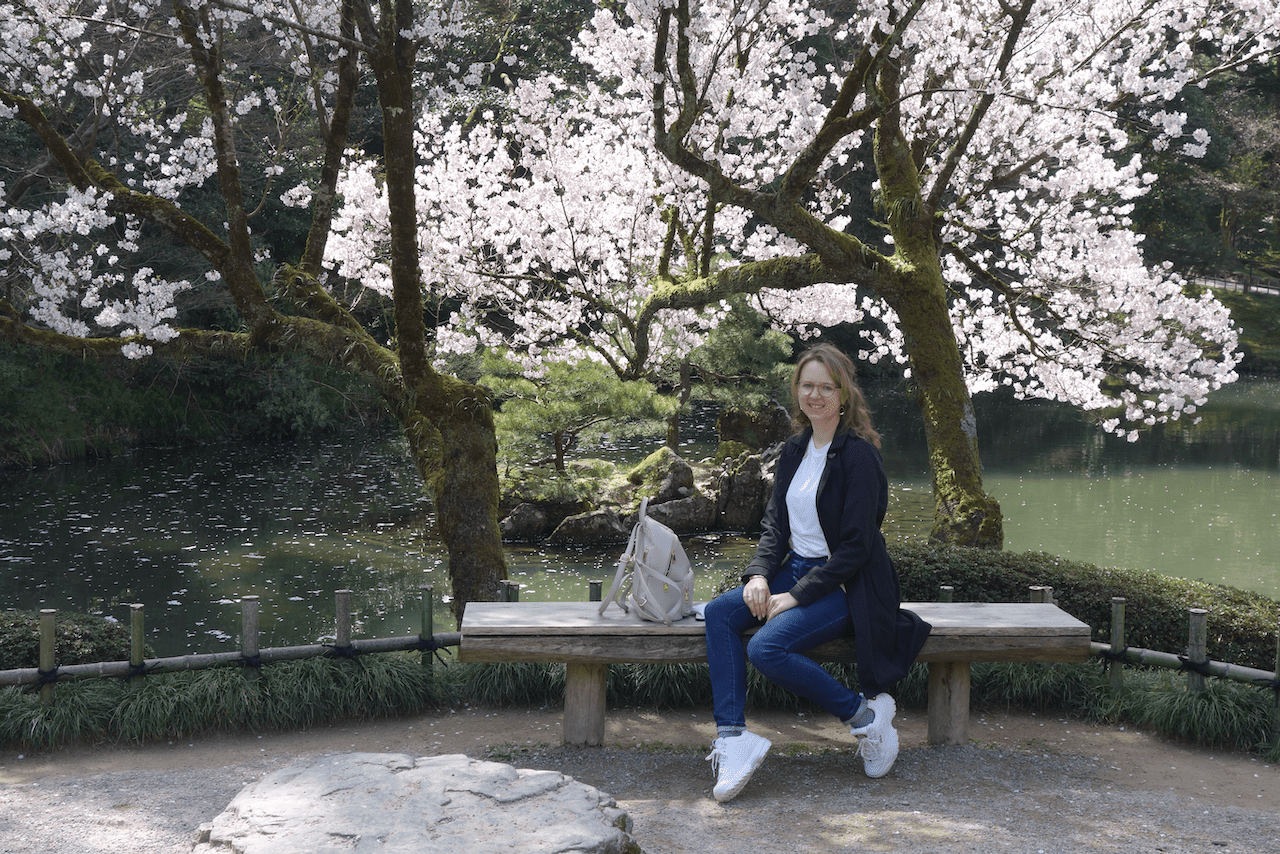 However, there still were a lot of people walking around Kenrokuen, so we tried to spend not so much time there. Many of them seemed to be tourists from other prefectures - we weren't sure if we should be happy about that or not.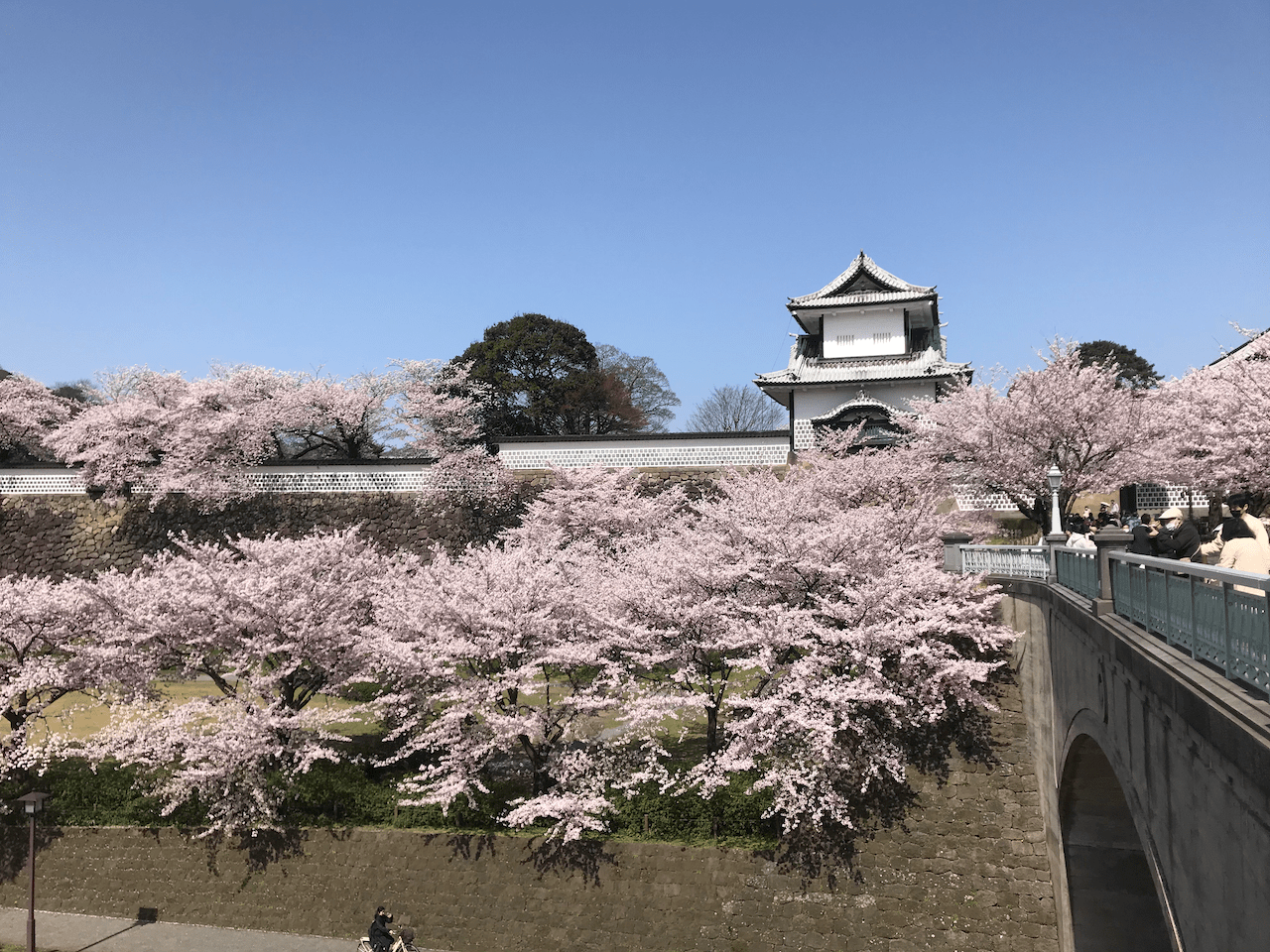 Most iconic picture we took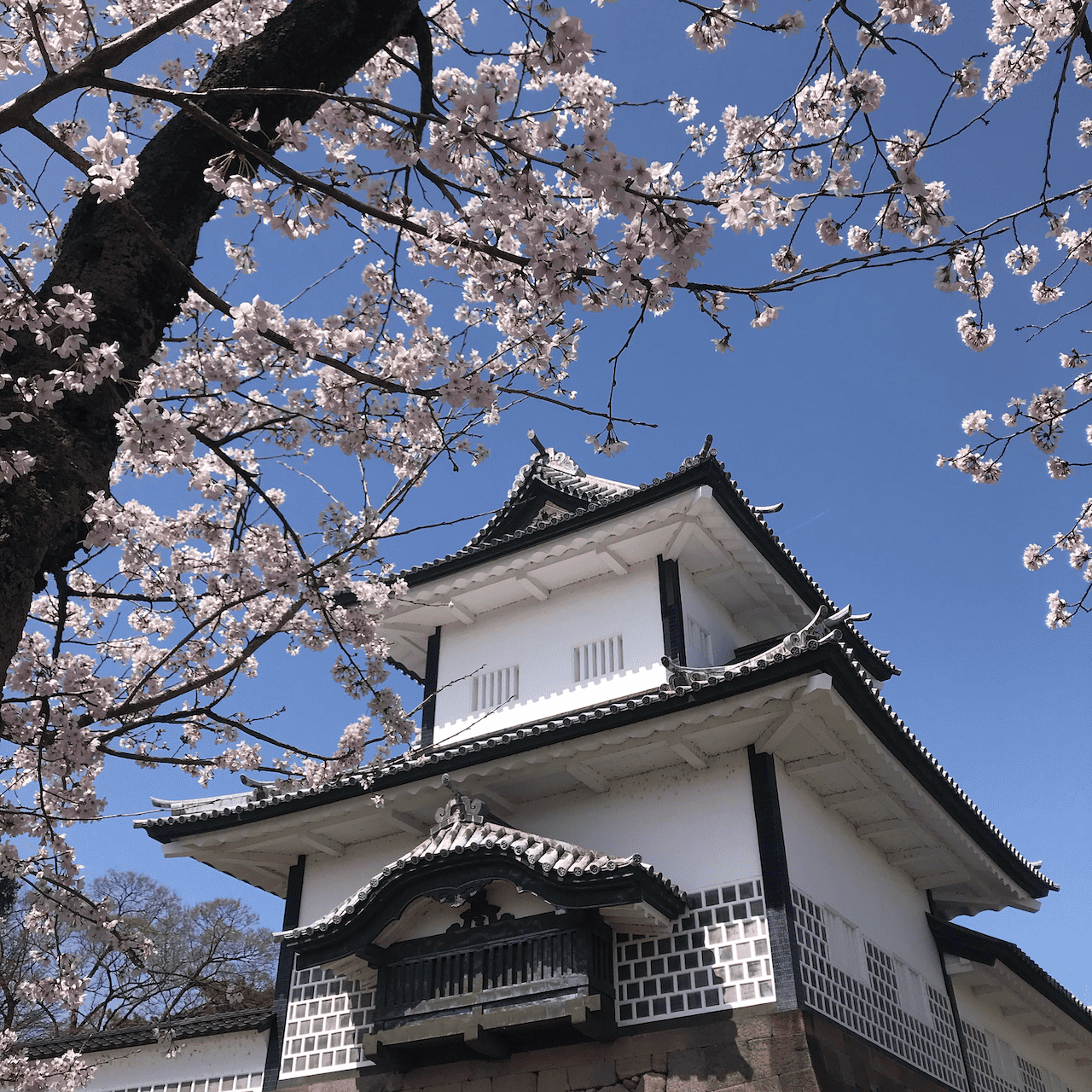 Kanazawa castle combined with cherry blossom trees in full bloom is so beautiful! We couldn't get enough of it.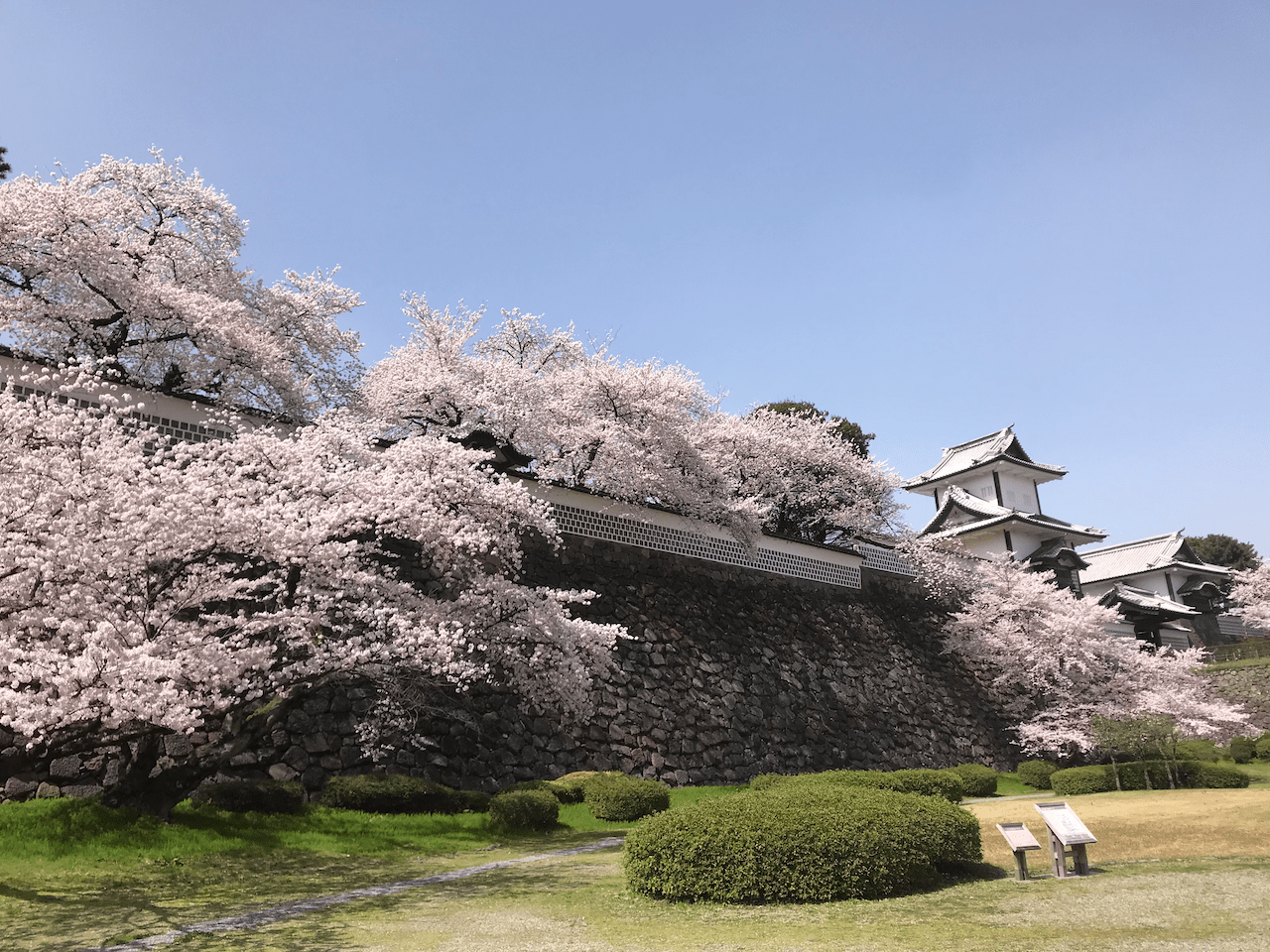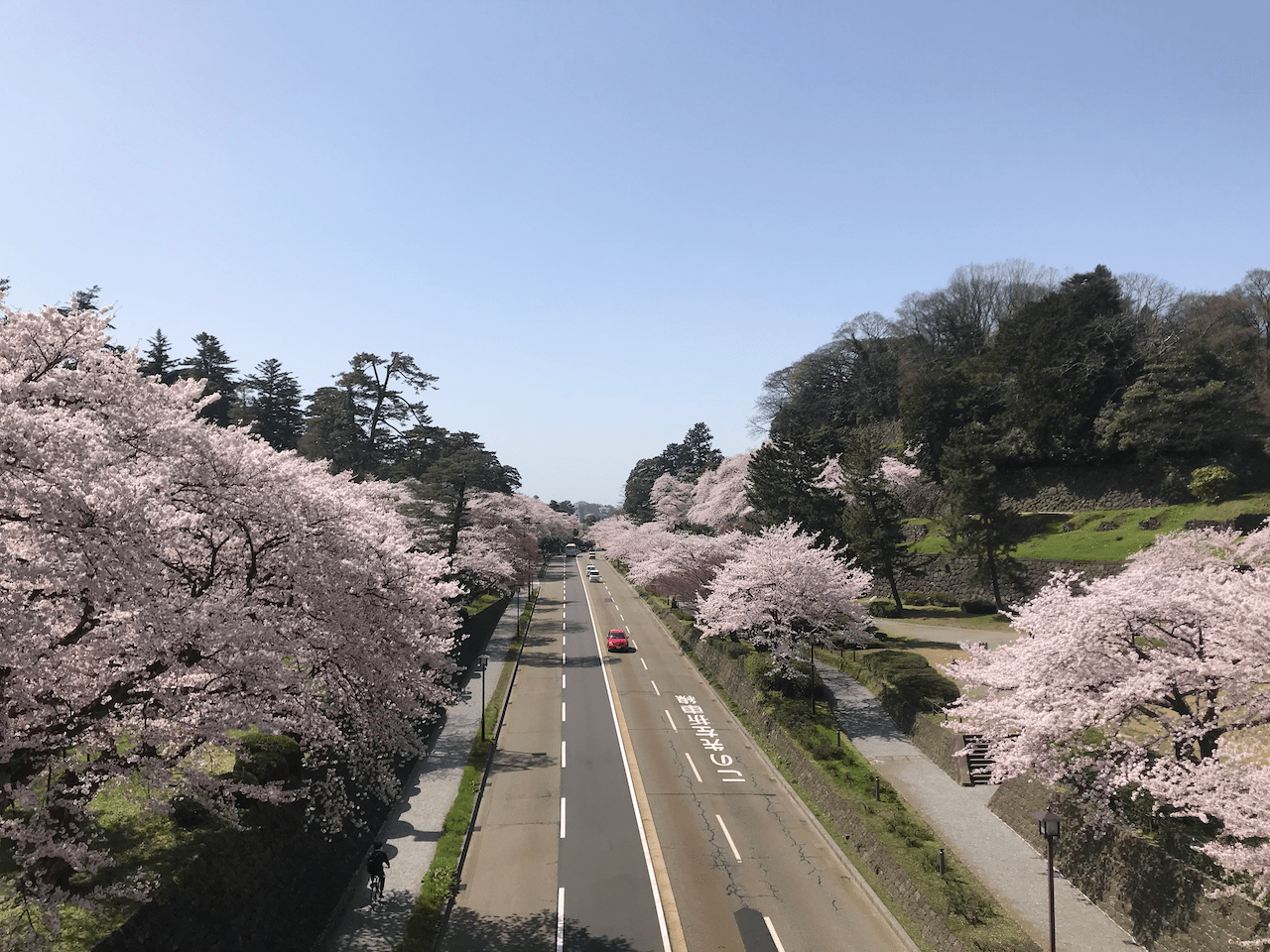 Even the streets look nice now!
Saigawa
Another beautiful location for Sakura Viewing is the park around Saigawa, Kanazawa's biggest river. It has a beautiful ally of Sakura trees and it's perfect for having a long walk under those trees.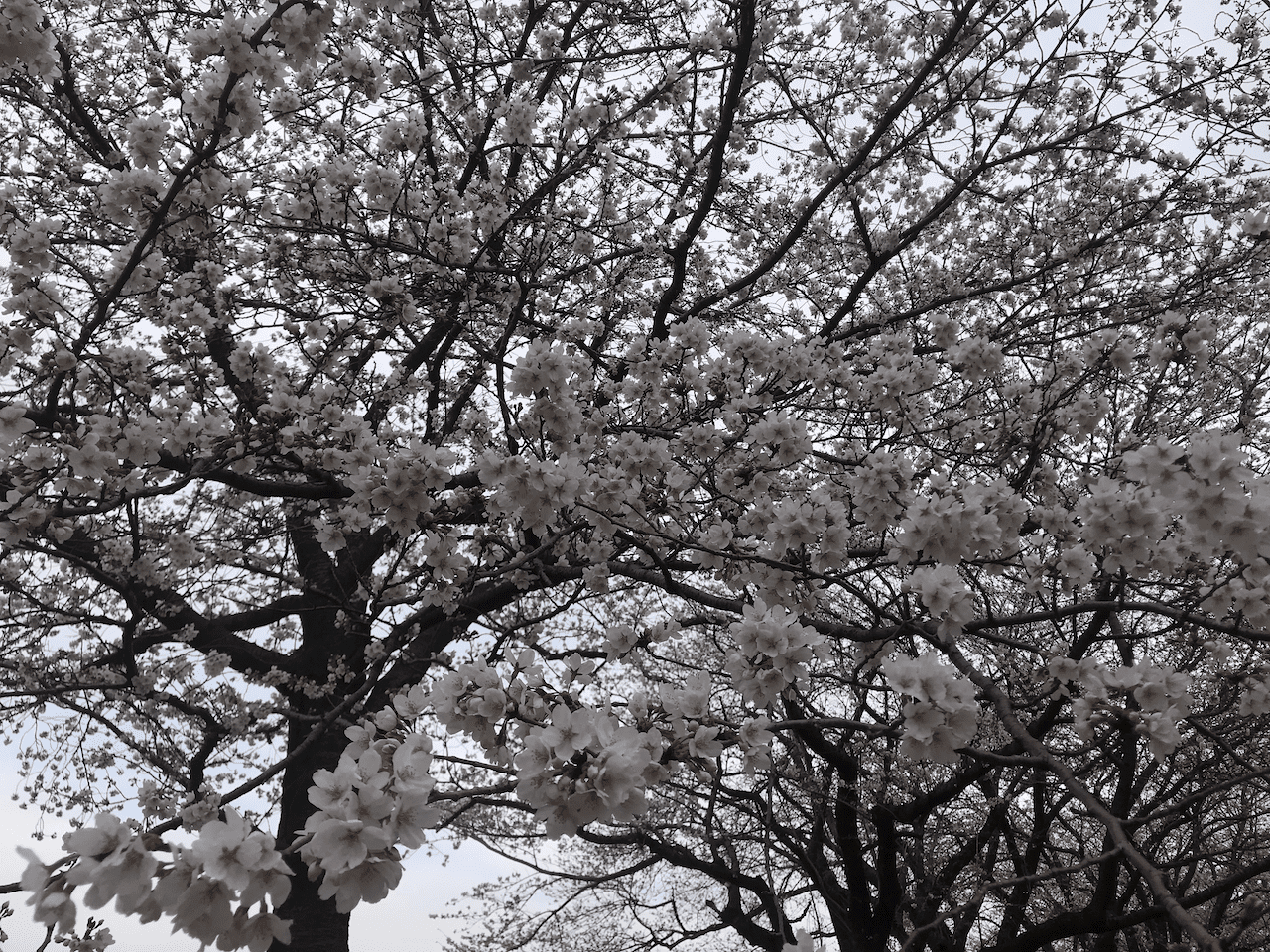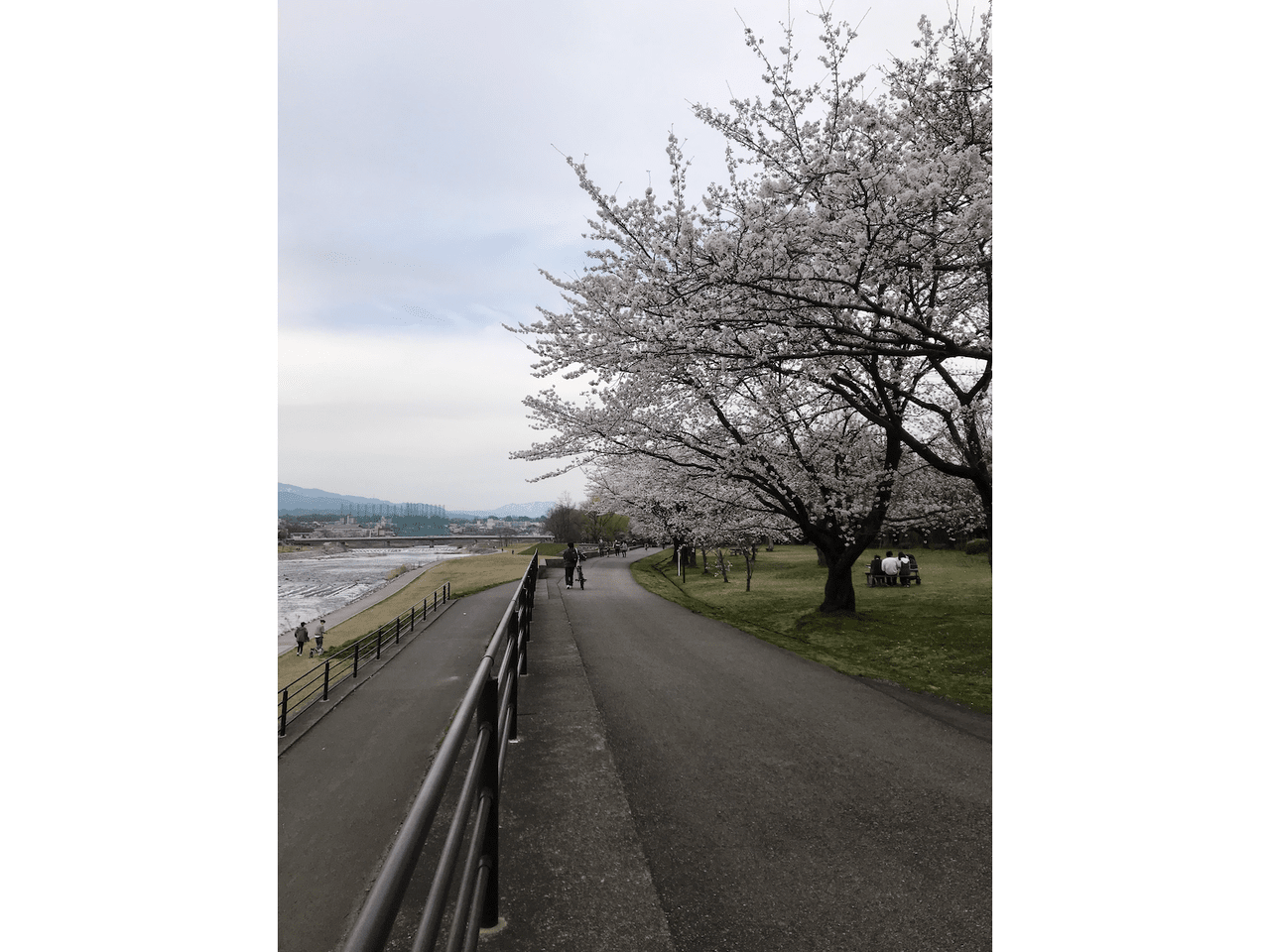 This year, Sakura picnics were not allowed so we couldn't stop and sit down under the trees. As it was quite chilly, it was not a big deal for us. There were also a lot of people here.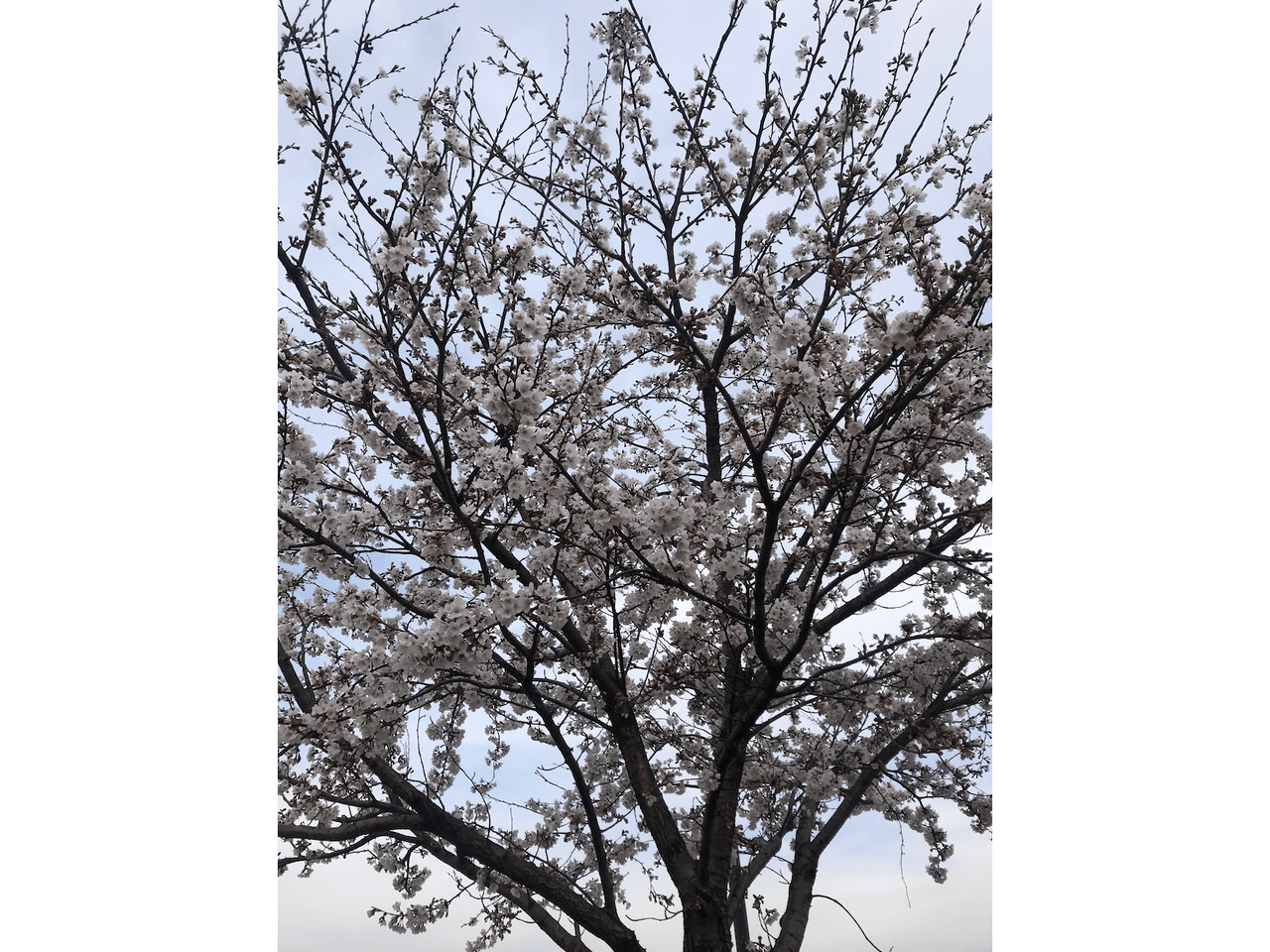 As you can see, the weather wasn't perfect on that day… No blue sky, no sun and chilly temperatures. But still, many people came to enjoy the flowers, therefore we didn't stay too long and couldn't really enjoy it.
Asanogawa
Another more quiet cherry blossom spot is the riverside of Asanogawa, the smaller one of Kanazawa's river that is close to our apartment. I went there to enjoy the Sakura which were already loosing their petals on that day. It looked like snow, very beautiful. The riverside is never crowded, you'll find only residents here who take a walk or sit at the riverside, so I could enjoy it without feeling too uncomfortable.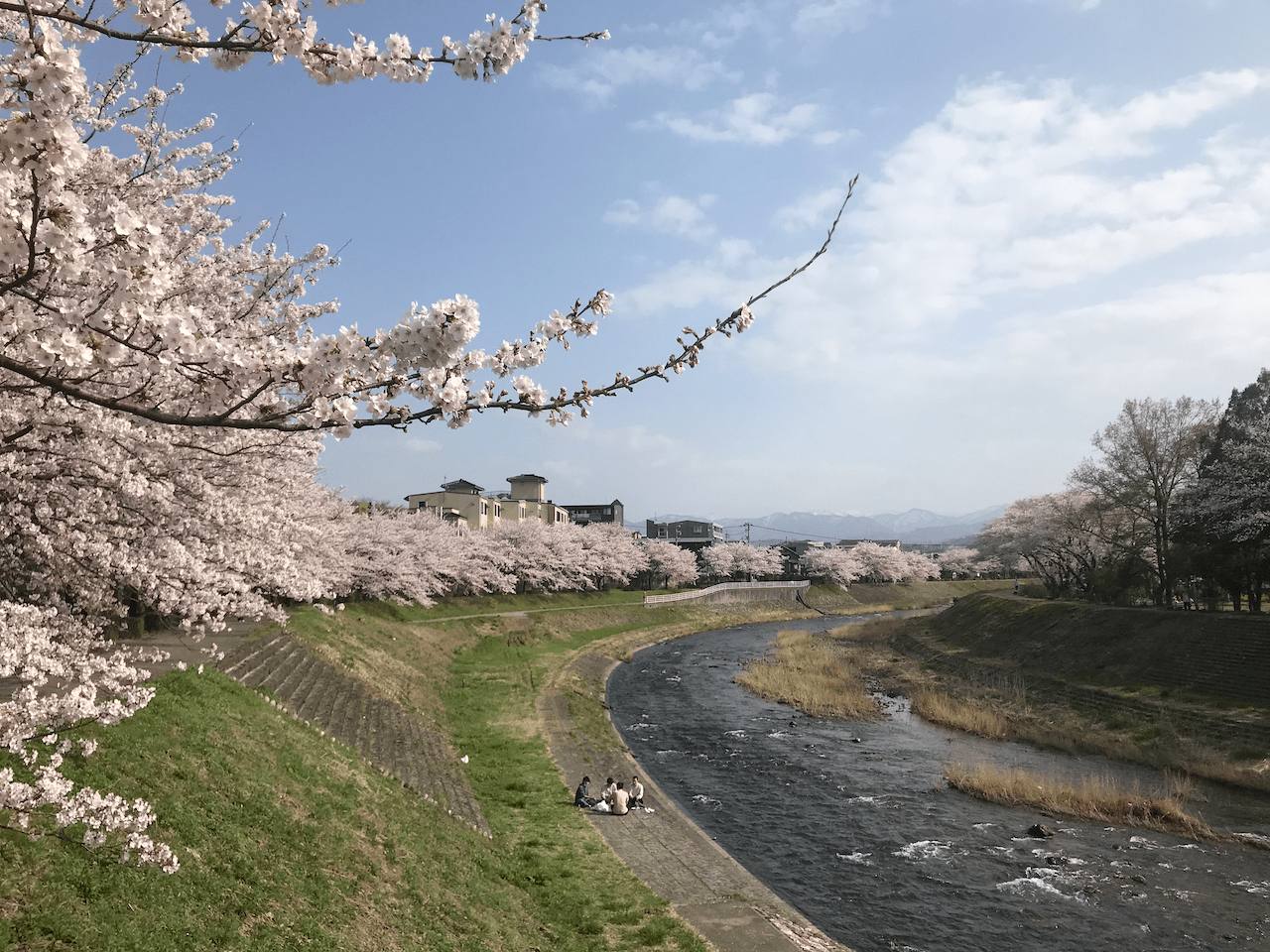 My favorite view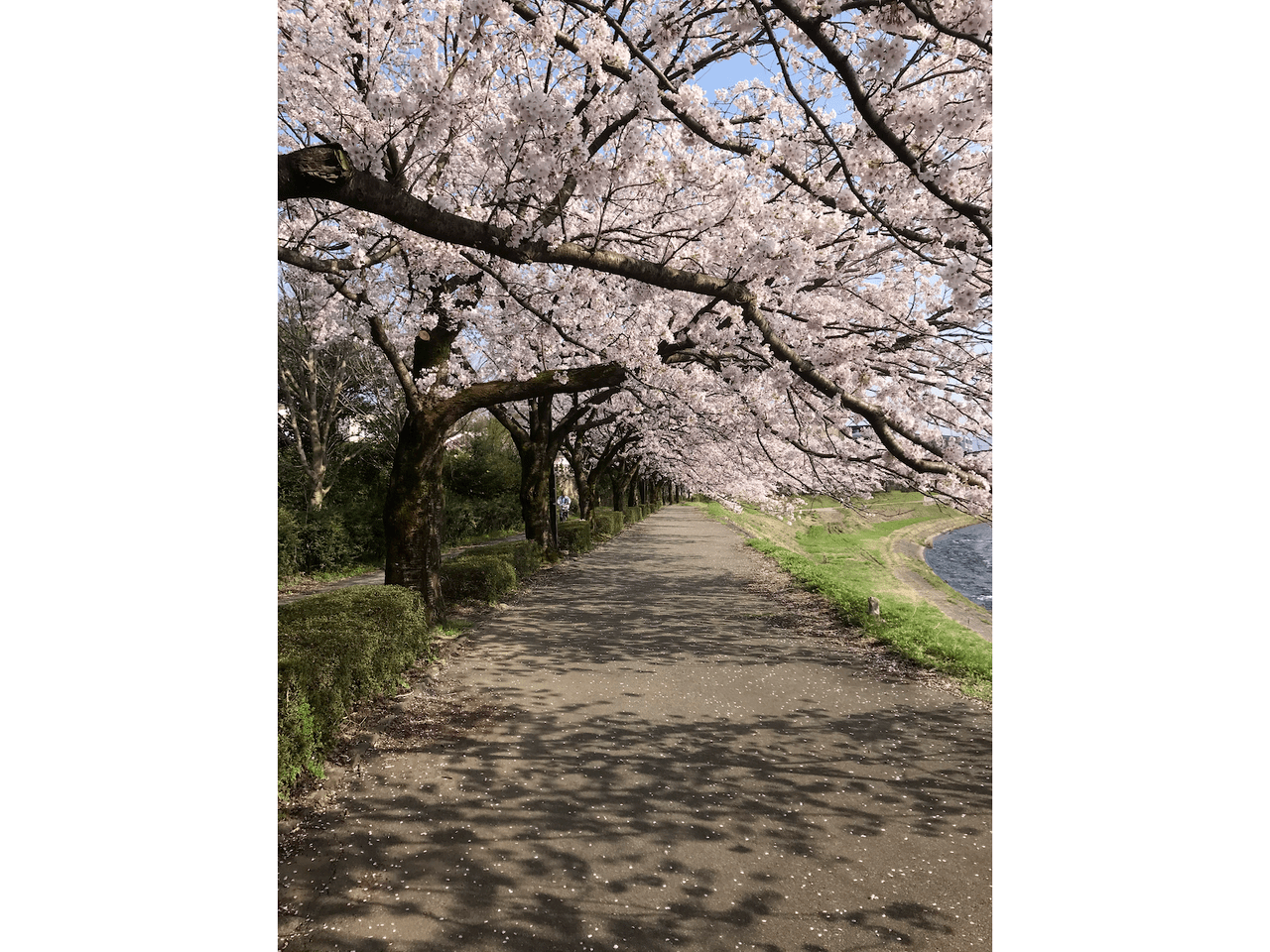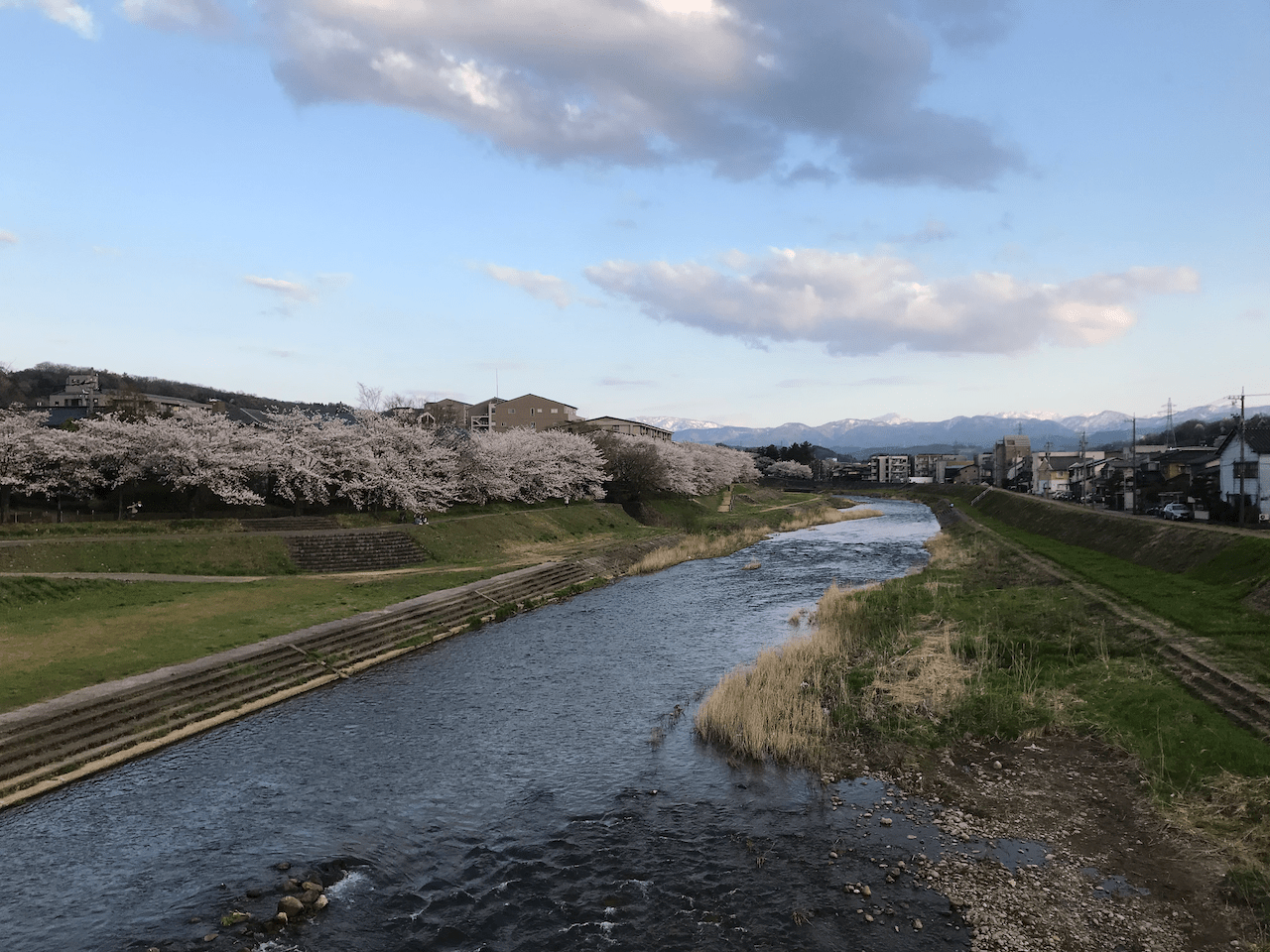 You could even see the mountains very clearly on that day, still covered in snow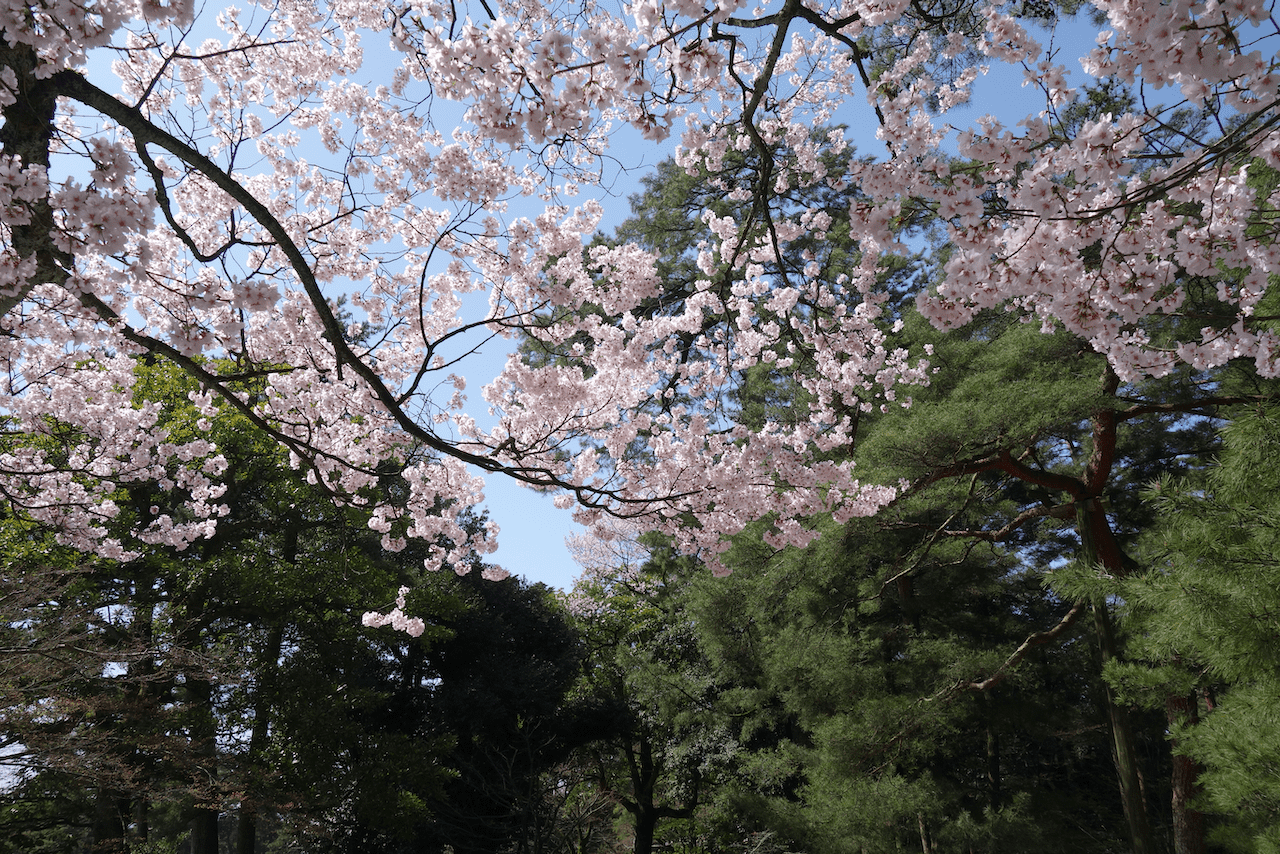 It has been a beautiful week and we enjoyed every second of it. Sadly, Sakura season is always super short, after one week the flowers already start to fade and the petals are falling down which looks like pink snow. Now, the flower blooming season has started and I can't wait for the next weeks of spring!
Up Next
Spring has come, the new semester has started and we are both really busy. A long planned trip didn't go as planned and we ended up in experiencing one of the worst weekends ever! So stay tuned for the next update and in the meantime, follow us on Instagram for more content.