Hey everyone, as the winter days in Hokuriku area are usually grey and full of snow or rain, it was a wonderful surprise to experience one sunny day last weekend. As we wanted to do something special, we decided to rent a car and drive to the famous world heritage village Shirakawa-Go in Gifu Prefecture. Already in 2019, one week after we arrived in Japan, we visited the "sister village" Gokayama, which lies about 15 kilometers north of Shirakawa-Go (refresh your memory here). As it was summer, the atmosphere was totally different. Therefore, we were very excited to see this famous place with a lot of snow - a site we only knew from various pictures until then.
About Shirakawa-Go
Shirakawa-go is located in the north-western part of Gifu Prefecture, about 80 minutes away by car (via Expressway). The village is also situated in a wider historical region known as Hida, which nowadays refer to the northern part of Gifu prefecture. It's a typical and remote mountain village, surrounded by high mountains of Hakusan National Park and Amo Prefectural Nature Park. Within the Hida region, villages are often located in particularly rugged areas of mountain folds with the Shogawa River in the middle, so that settlements were constructed in its basin. One of Shirakawa-go's key climate features is that its snowfall often is Japan's heaviest. Snow usually falls from December to March (2-3 m!), sometimes so heavy that connection routes with the surrounding areas become blocked.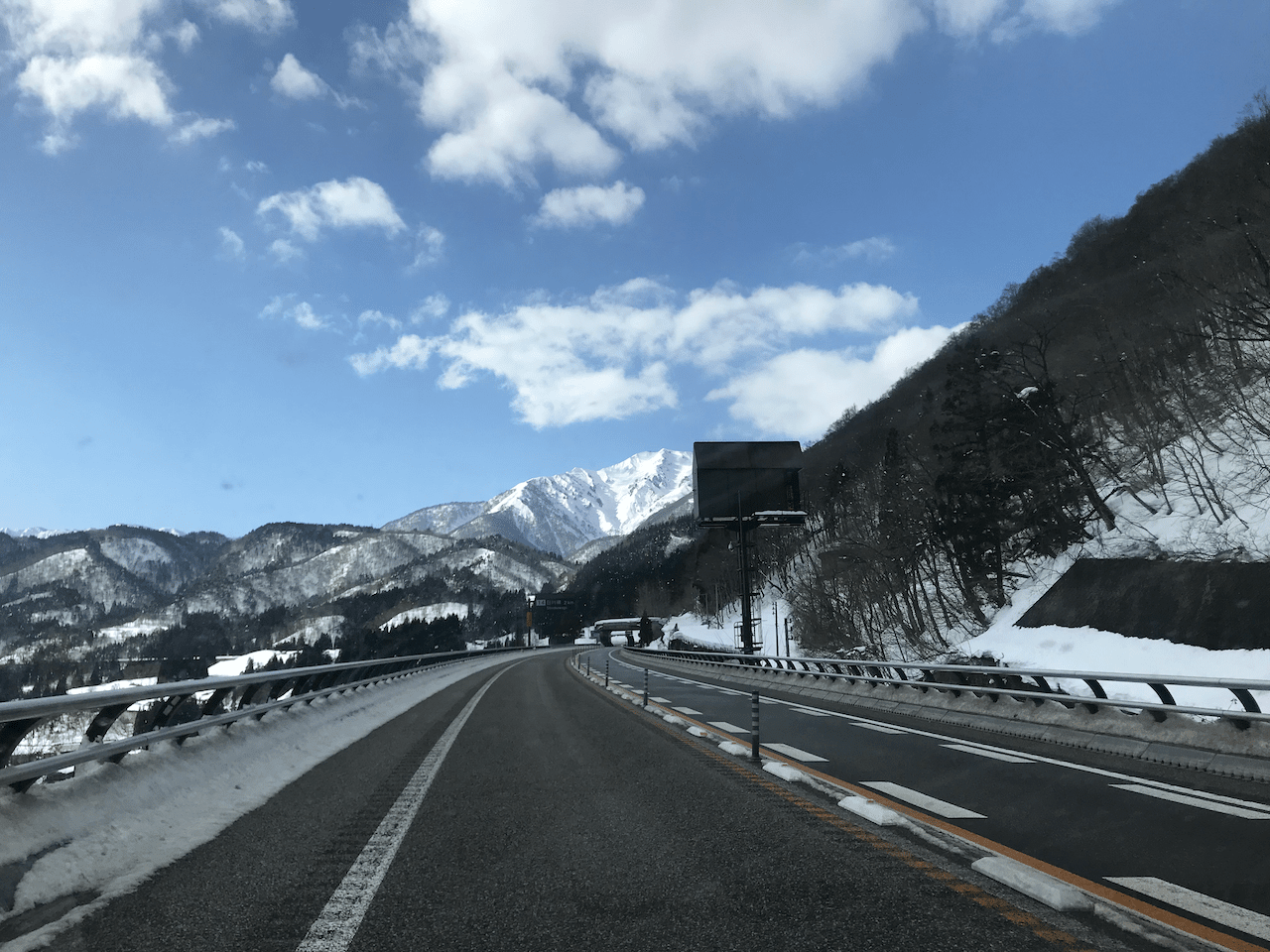 Lucky for us, the roads were clear on that day
The oldest traces of human life in Shirakawa-go are artifacts dating back to between 7000 B.C. and 2300 B.C. Multiple articles of pottery have been excavated, painting a picture of an independent Hida interacting with the surrounding areas.
Gasshou-Zukuri: the typical style of the houses
The special style of the rooftops is called gassho style, named after the resemblance of joined hands (for prayer) and is the characteristic feature of Shirakawa-go today. Gassho style houses are built from wooden beams that support their steeply sloped, thatched roofs.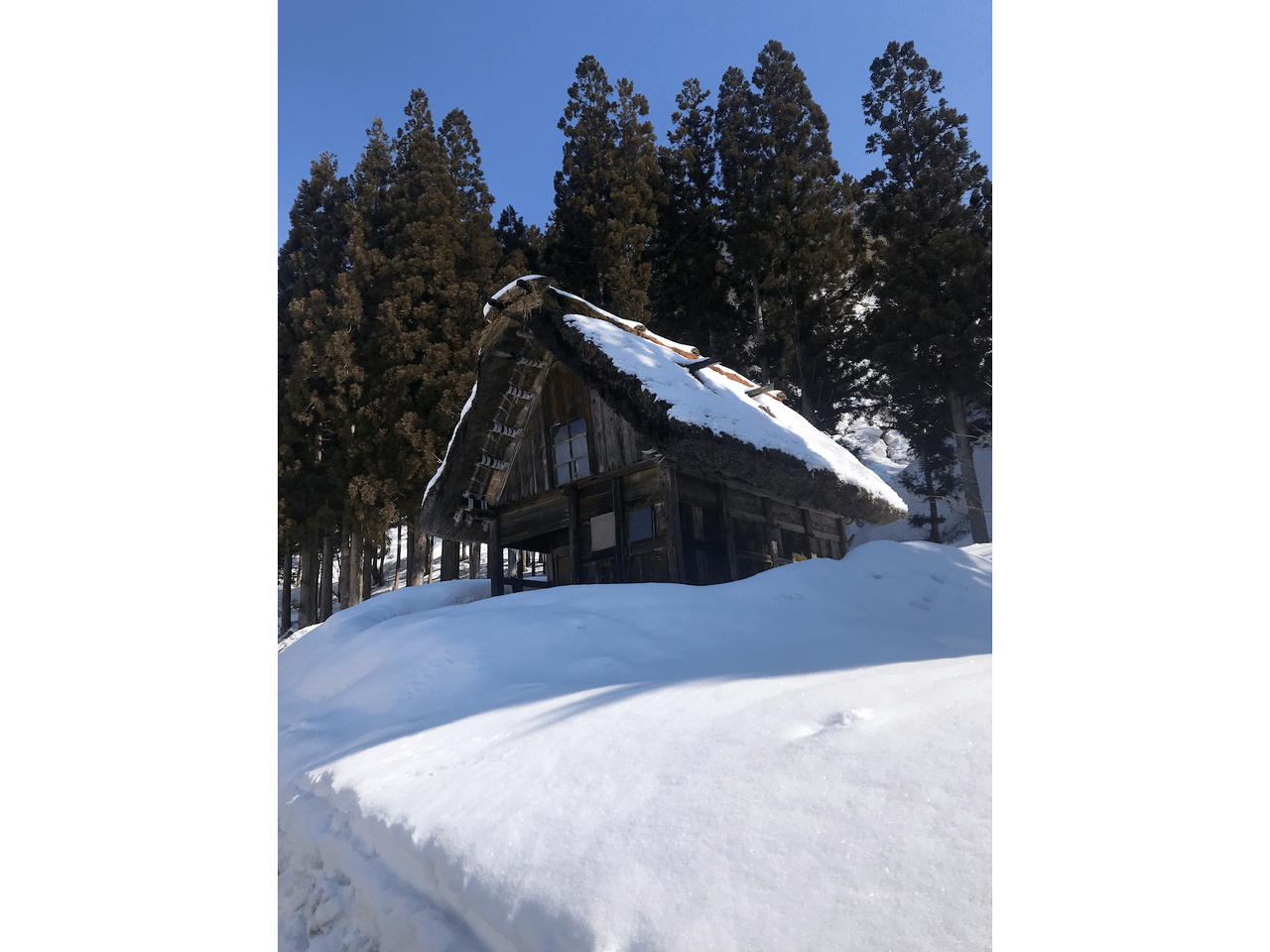 Typical gassho zukuri styled house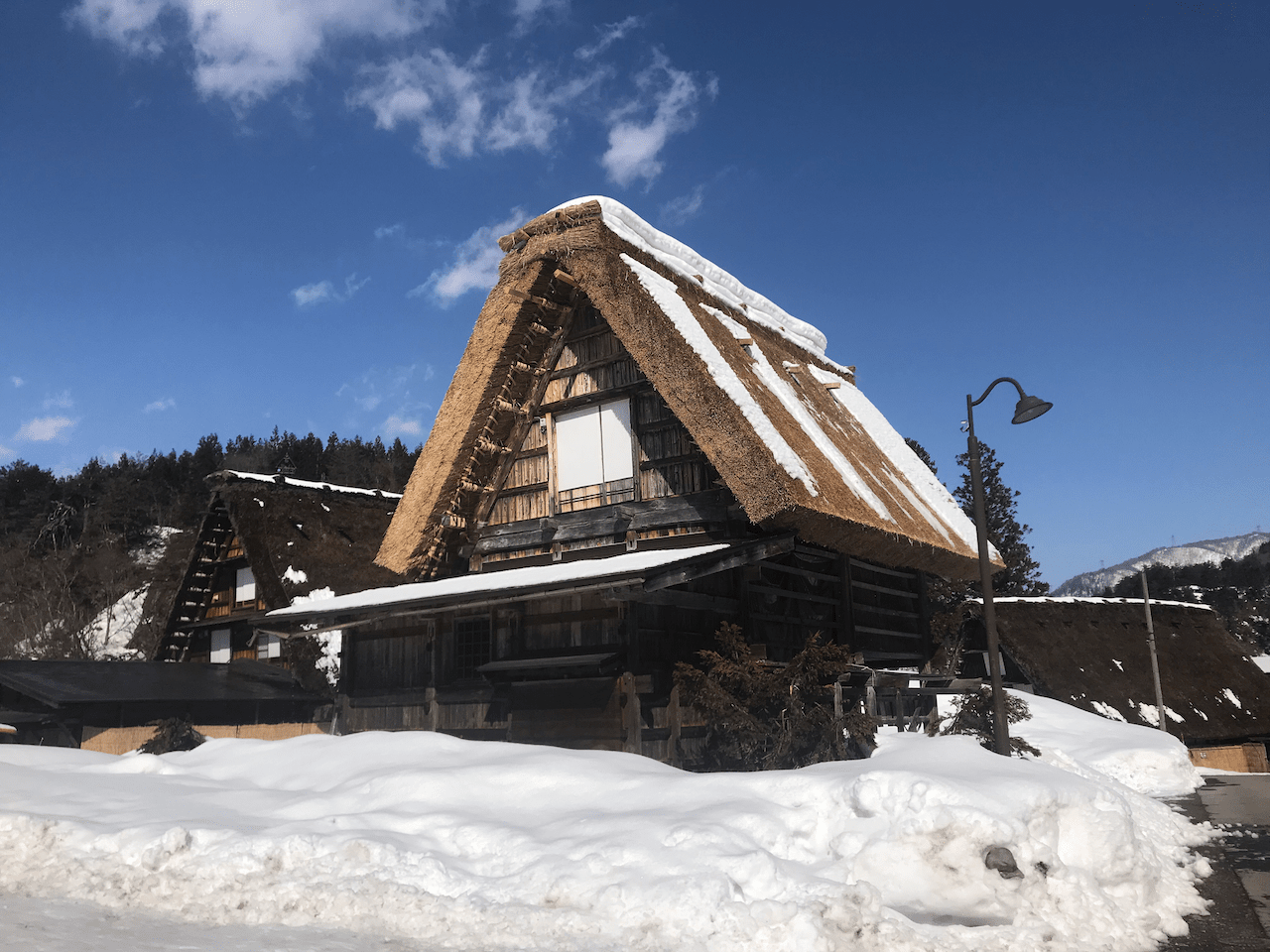 While similar buildings are seen in other provinces, in Shirakawa-go this style of building is known as "gabled gassho style", displaying a triangular shape resembling an open book propped up on its covers. This shape is perfect for the natural conditions in Shirakawa-go, characterized by great weights of snow which is deposited during heavy snowfalls.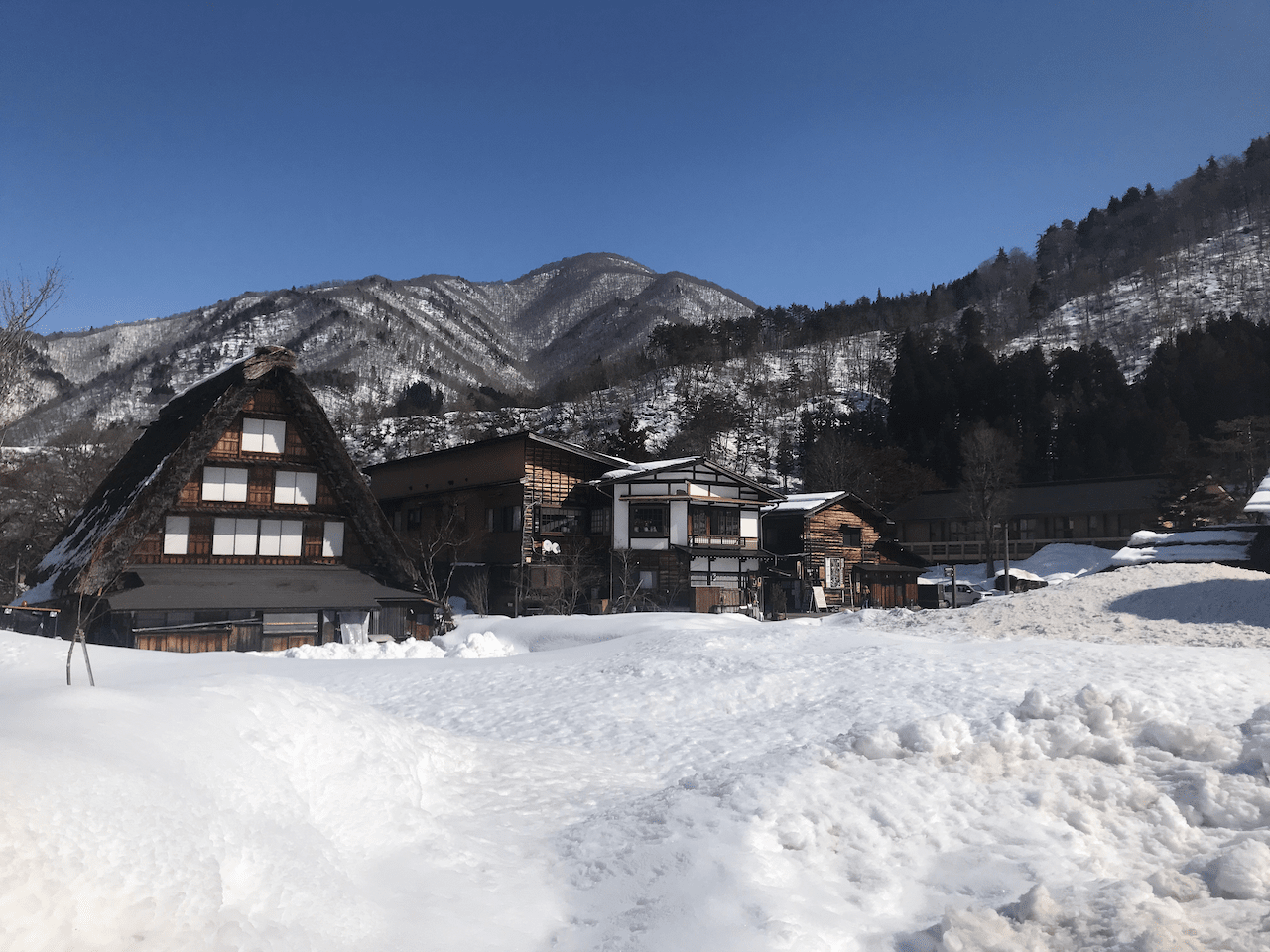 Additionally, the structures face to the north and south, taking Shirakawa-go's predominant wind direction into account and minimizing wind resistance, while controlling the amount of sunlight hitting the roof, to provide cool summers and warmer winters. I think that's a pretty impressive architectural style!
What did we do?
After a relaxing drive on the expressway, we arrived at a very sunny and snowy Shirakawa-Go. It was difficult to find a parking space as most parking areas were used as snow dump area! :D So we had to drive back and forth until we finally discovered a small parking area (that was covered in snow as well but at least, only 50 percent of it) where we could park the car.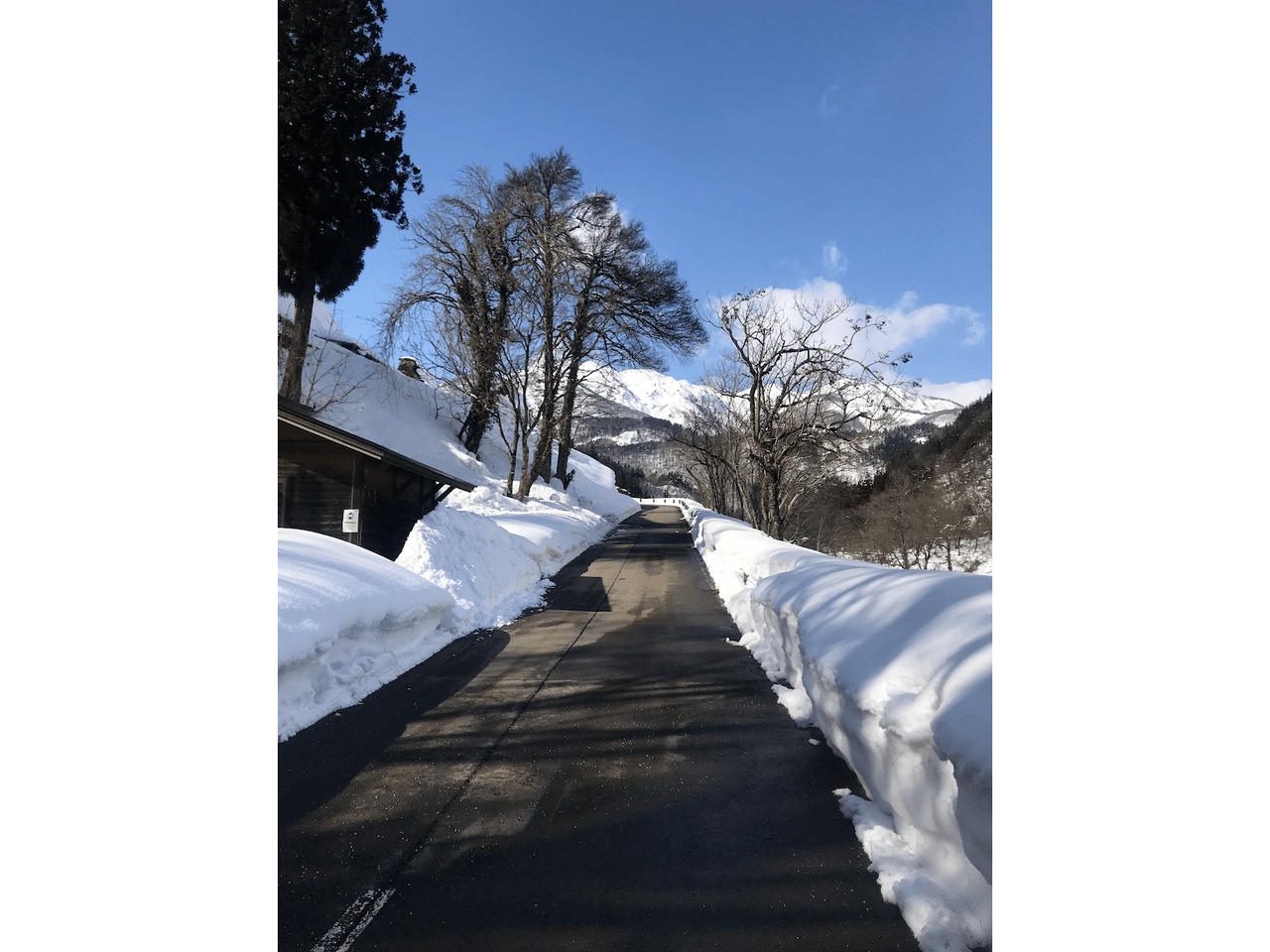 At least the narrow road to the parking area was free of snow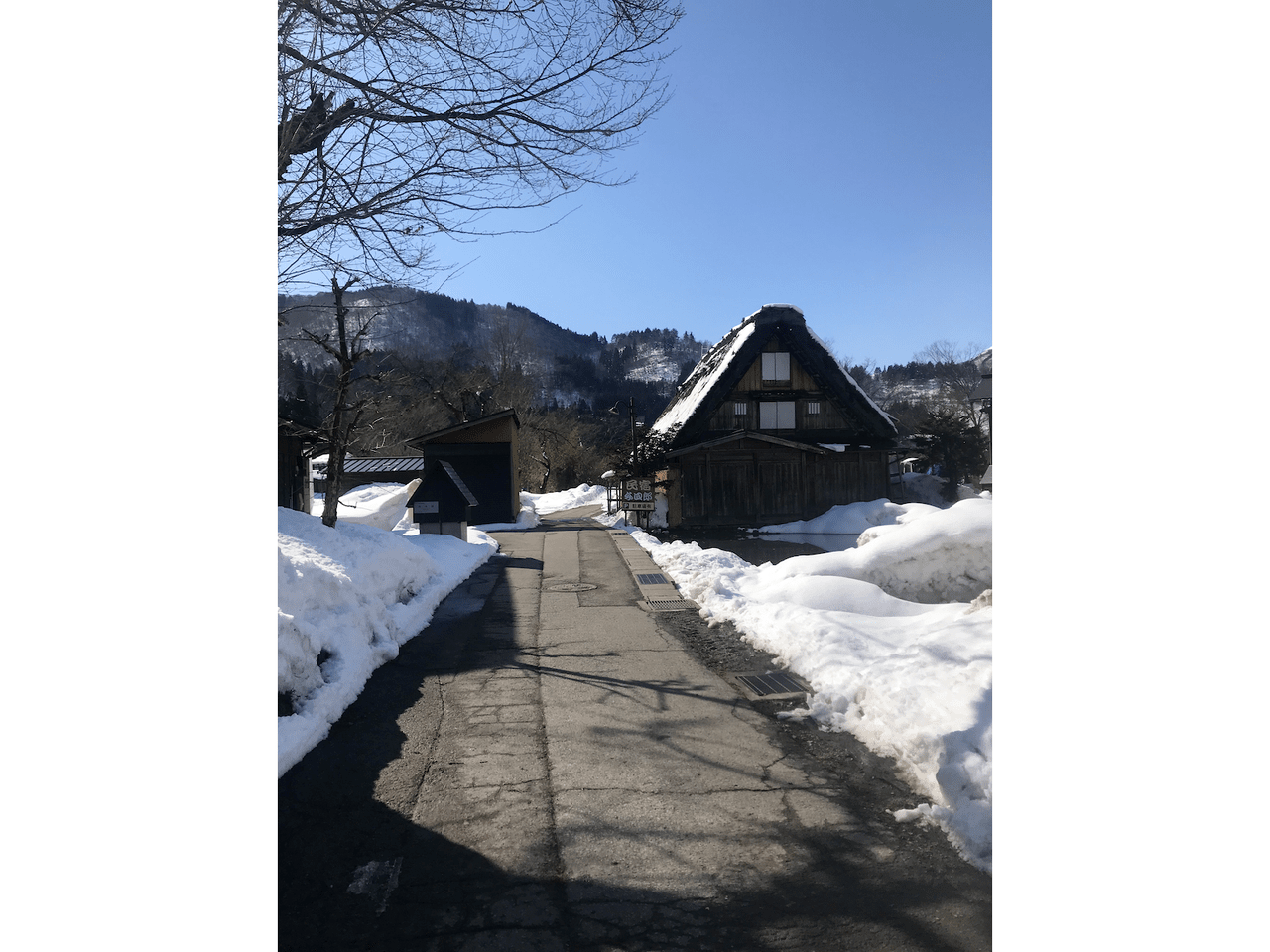 As it was morning time, there weren't many other visitors yet, so we enjoyed a very quiet village with a peaceful atmosphere. However, it was impossible to forget about COVID as there were signs everywhere, prohibiting you from entering when you wouldn't wear a mask and reminding you to use hand sanitizer all the time.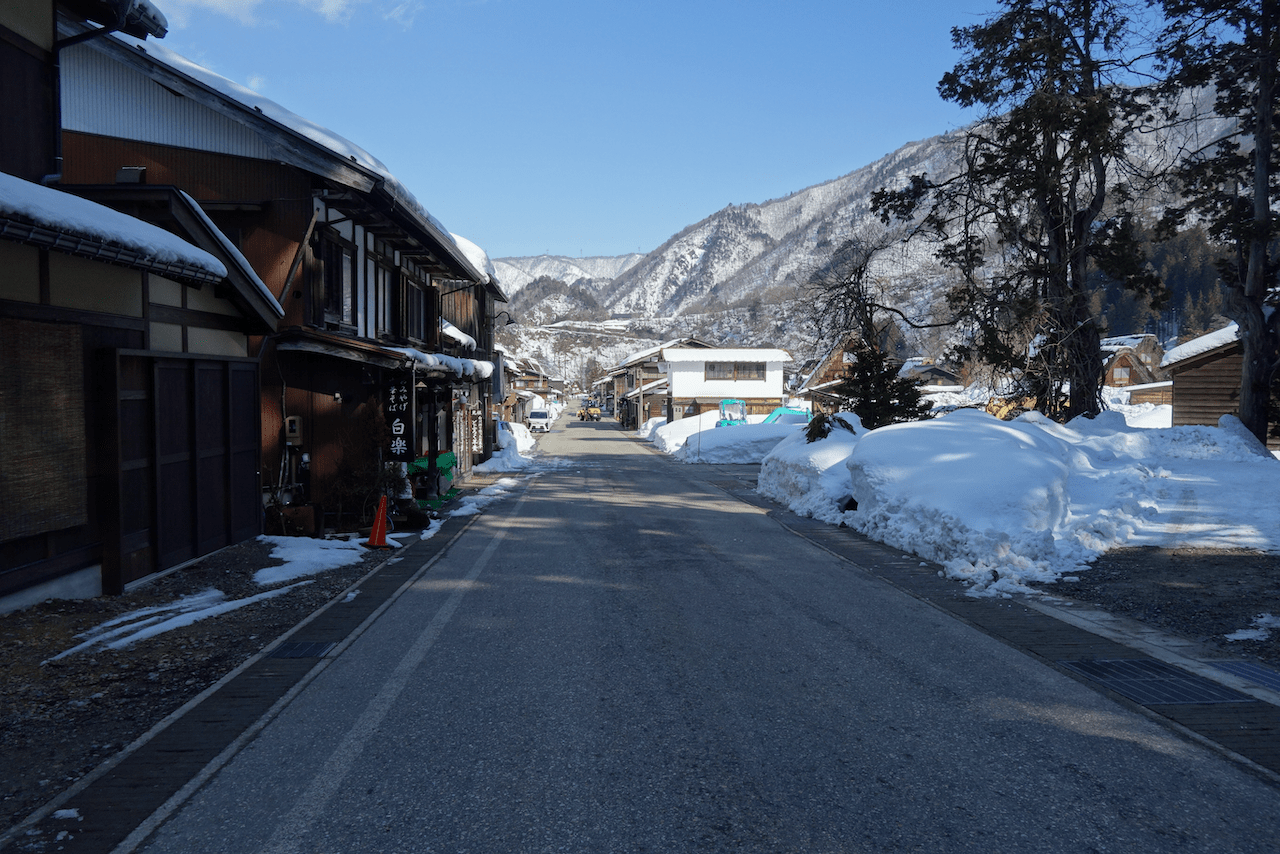 Entering the historical village, we didn't see any people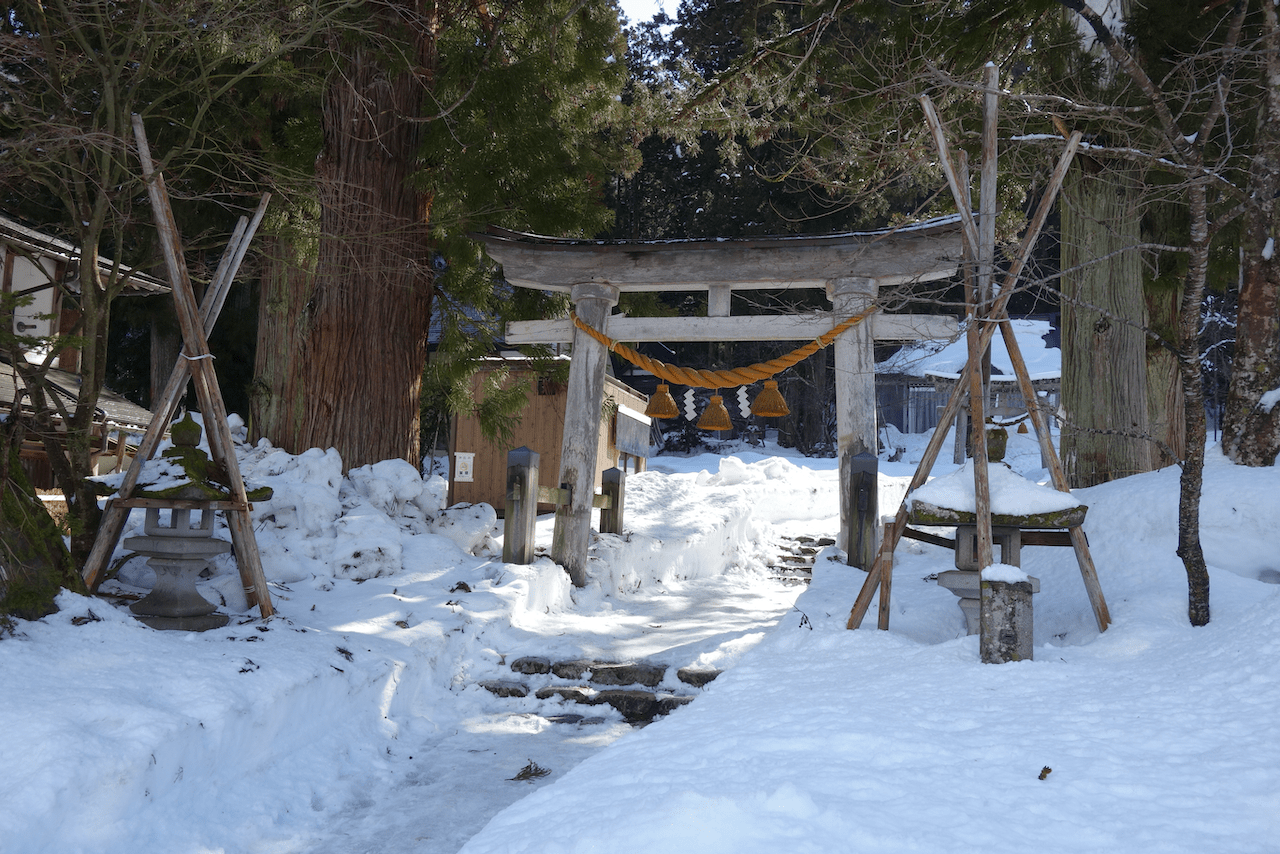 We didn't follow any planned routes, just walked around randomly and enjoyed the view of the old houses, partly still covered in snow.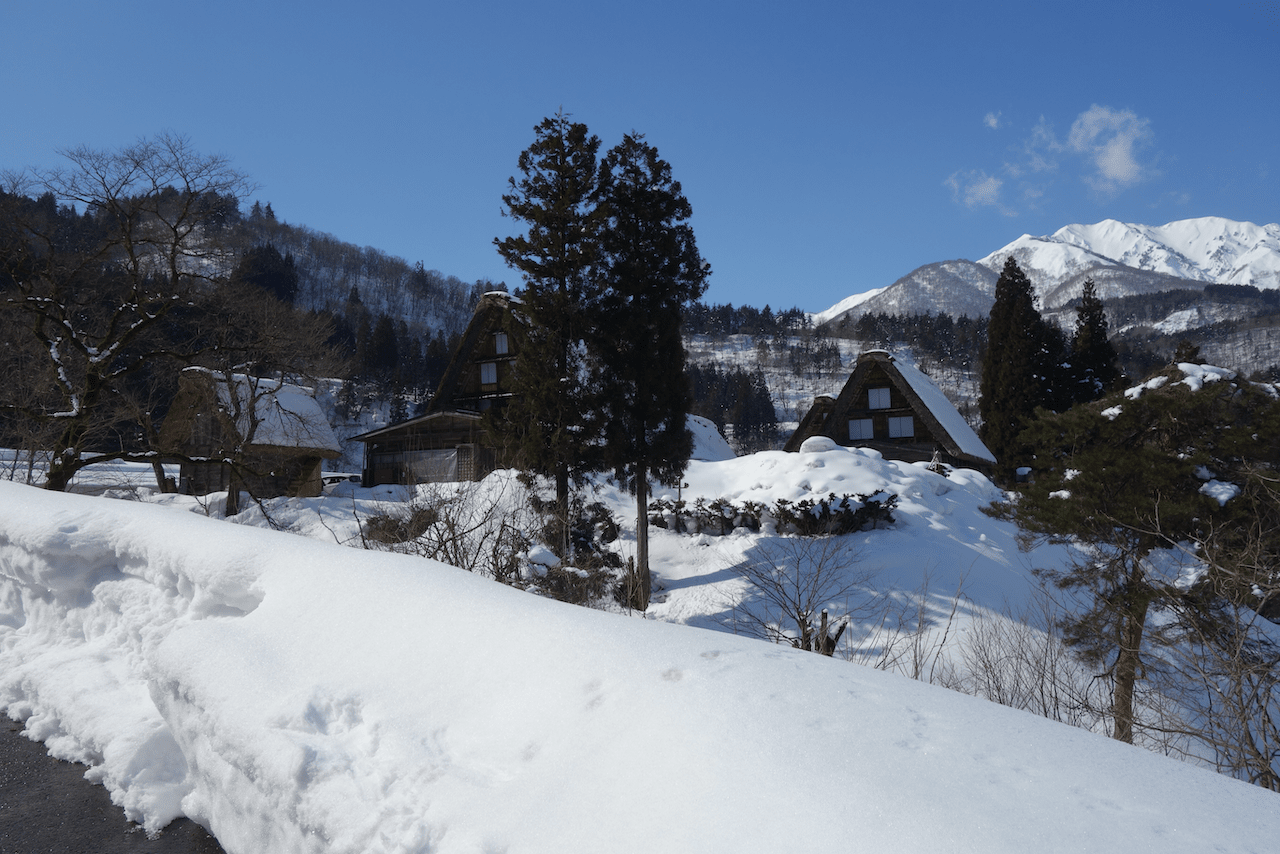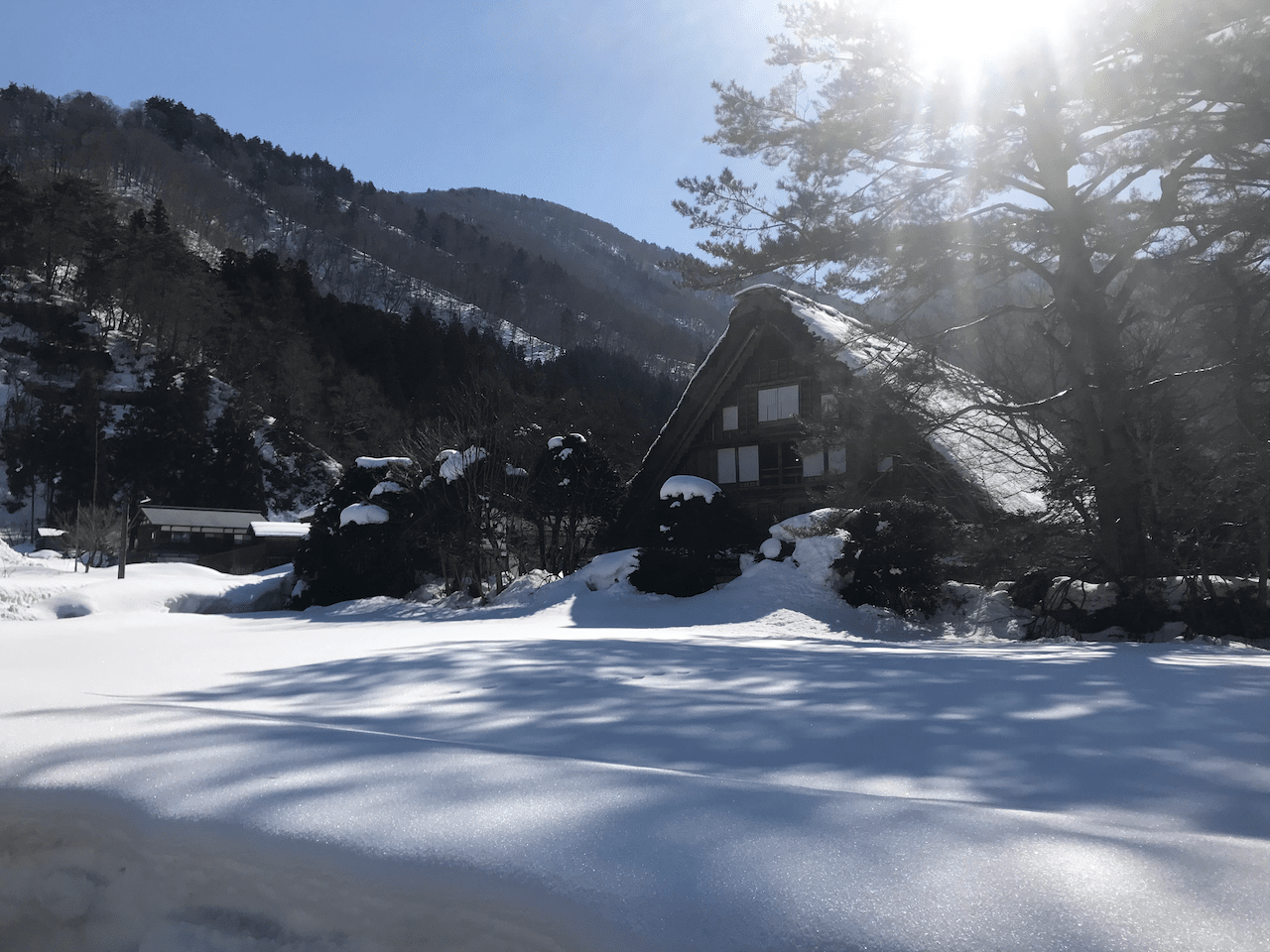 There was also a pedestrian bridge from which you could enjoy the stunning mountain panorama.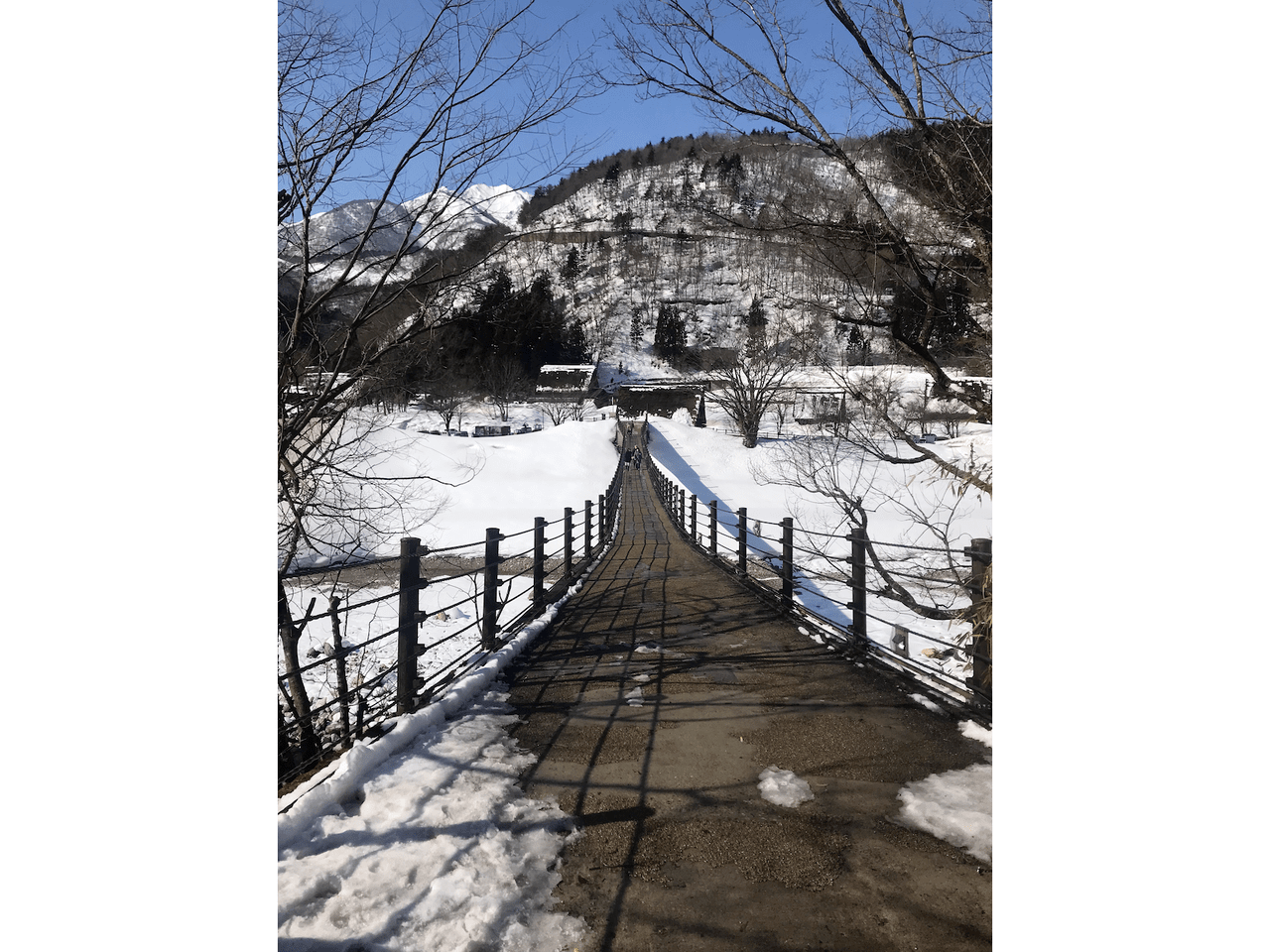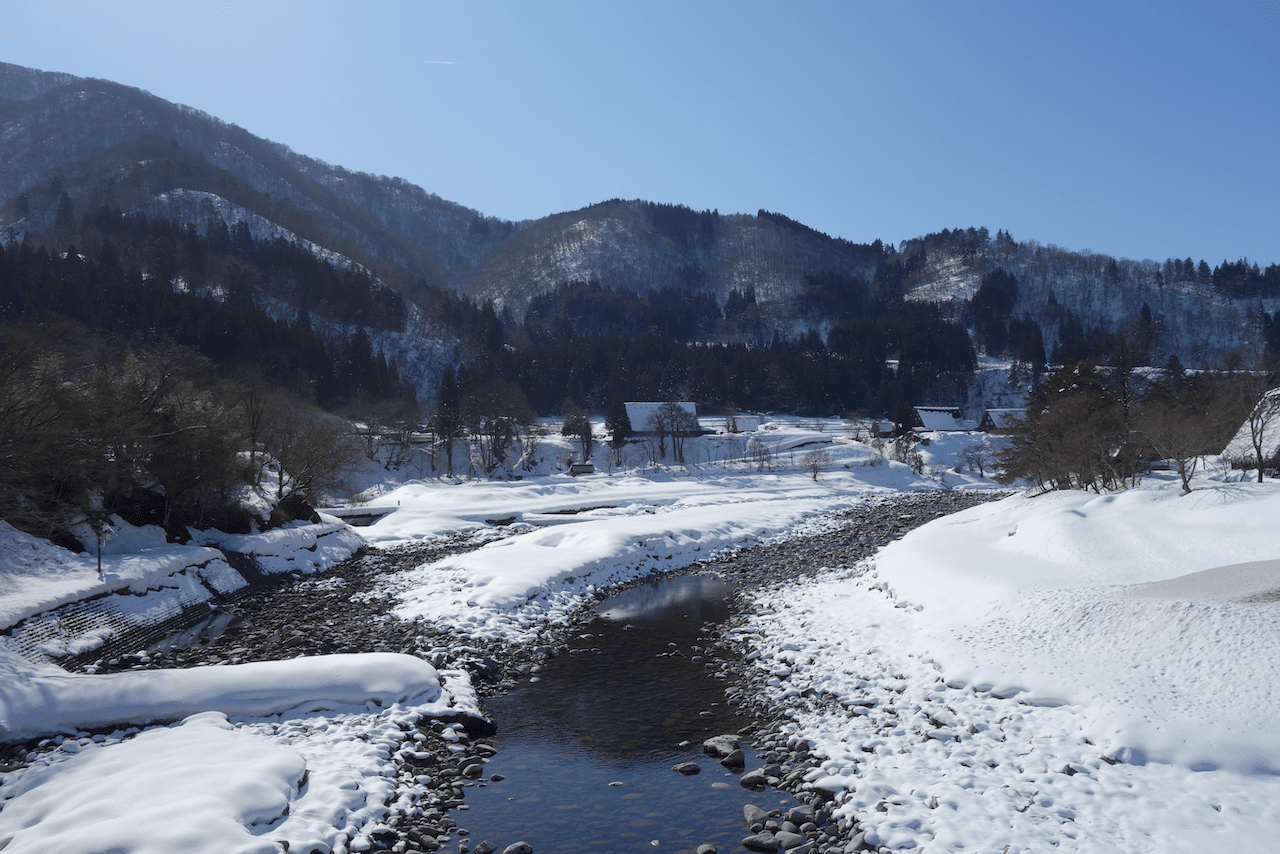 In the historical village you can find a lot of small museums, craft shops and of course "Omiyage Shops" (souvenir shops) where you can buy a lot of typical Gifu styled souvenirs. Also, there are many small coffee shops in the old houses which really surprised me as I would have expected only traditional tea places.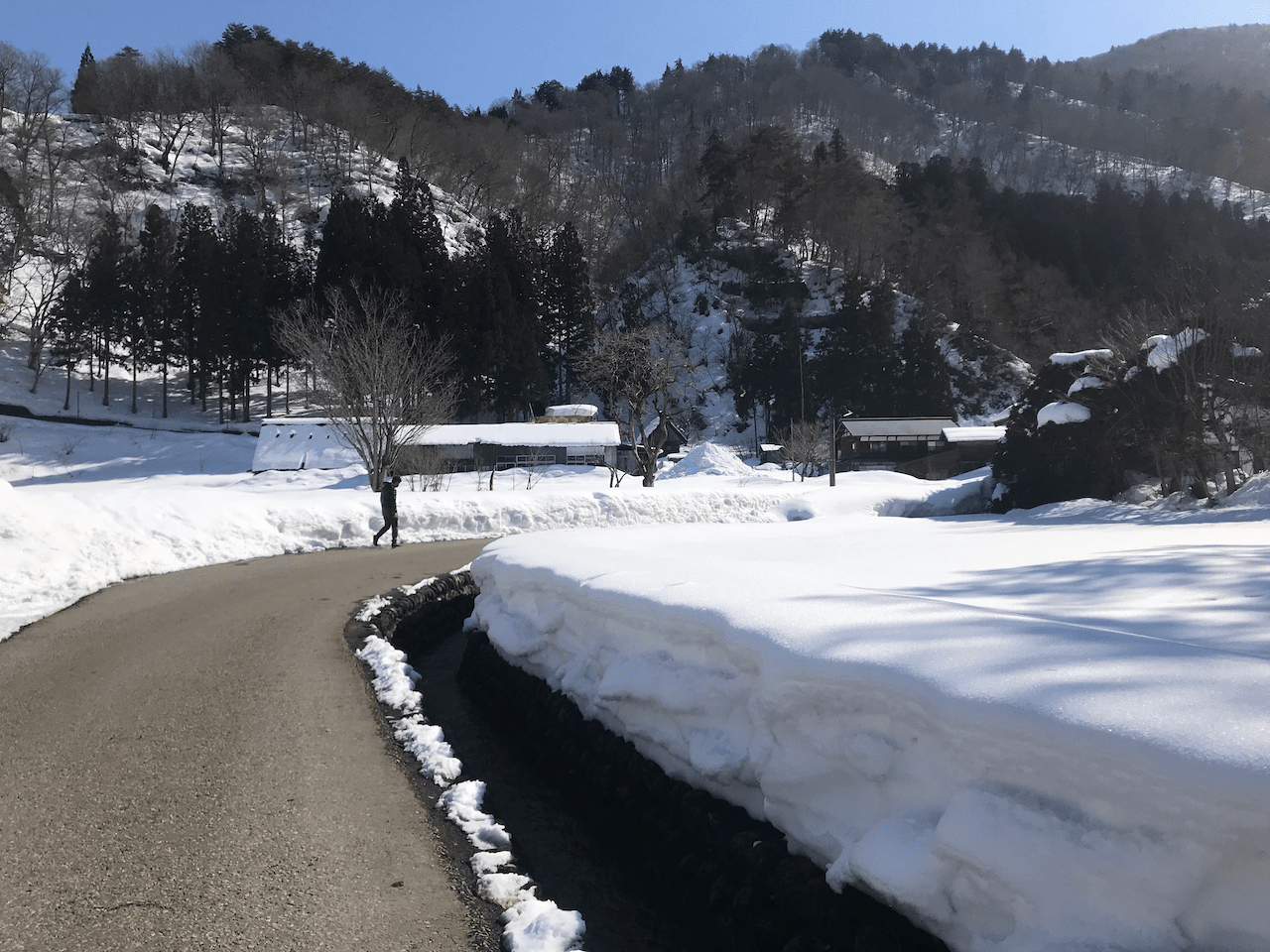 But also a lot of snow!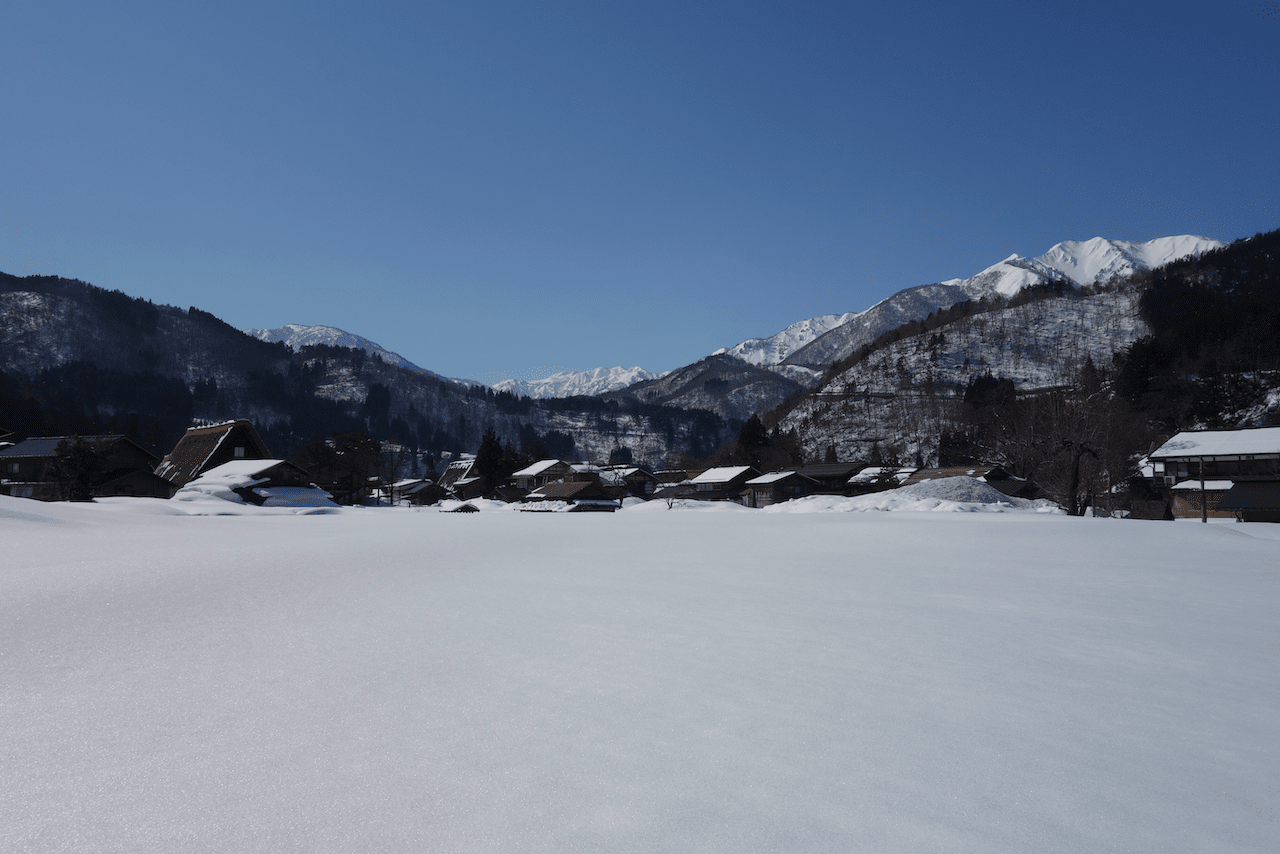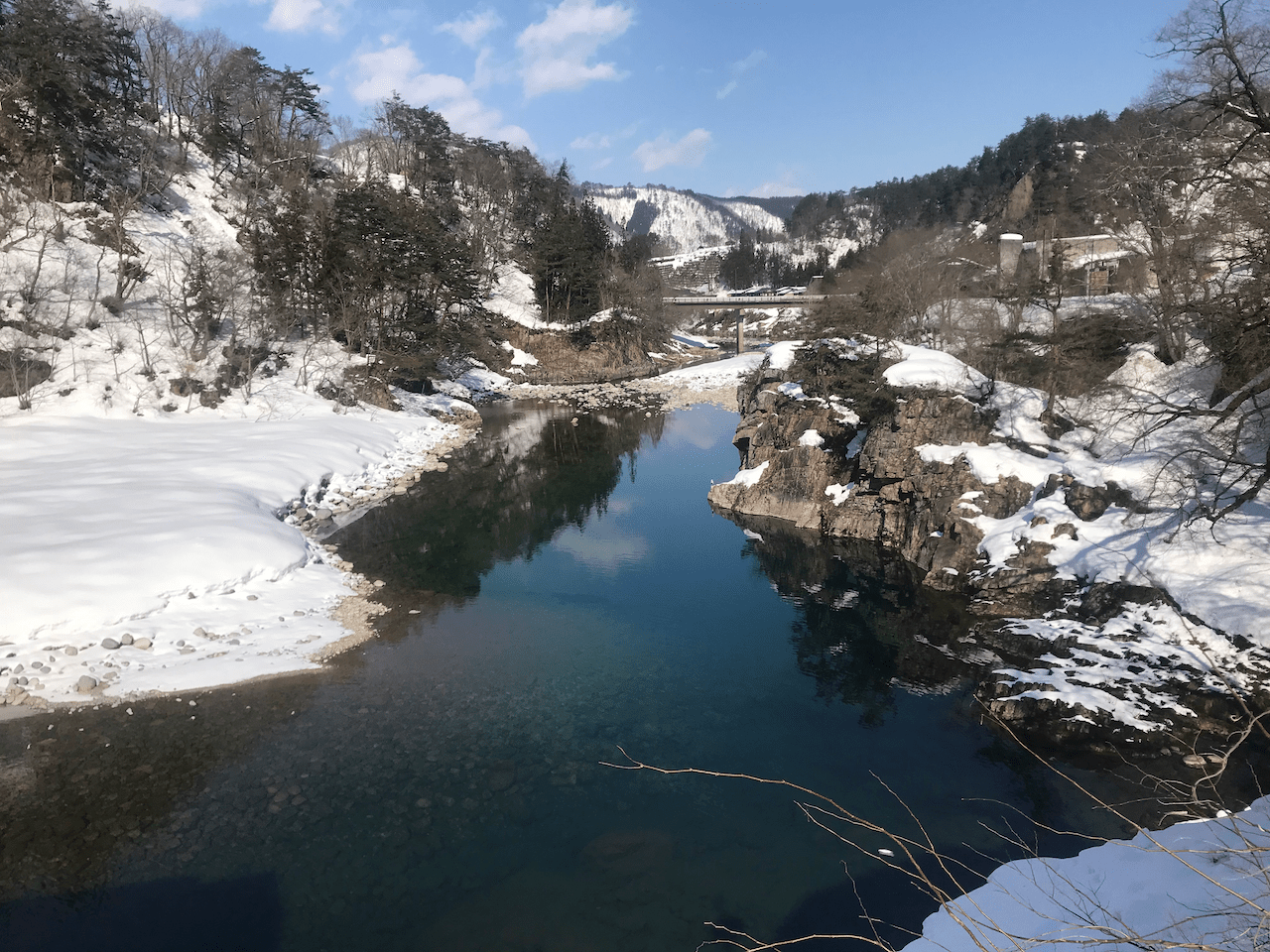 Magical river view
We followed a narrow road uphill to the observation point where we could not only enjoy the stunning view of the village from the top but also watch a lot of people with professional photo equipment that were lining up to get the perfect Shirakawa-Go shot.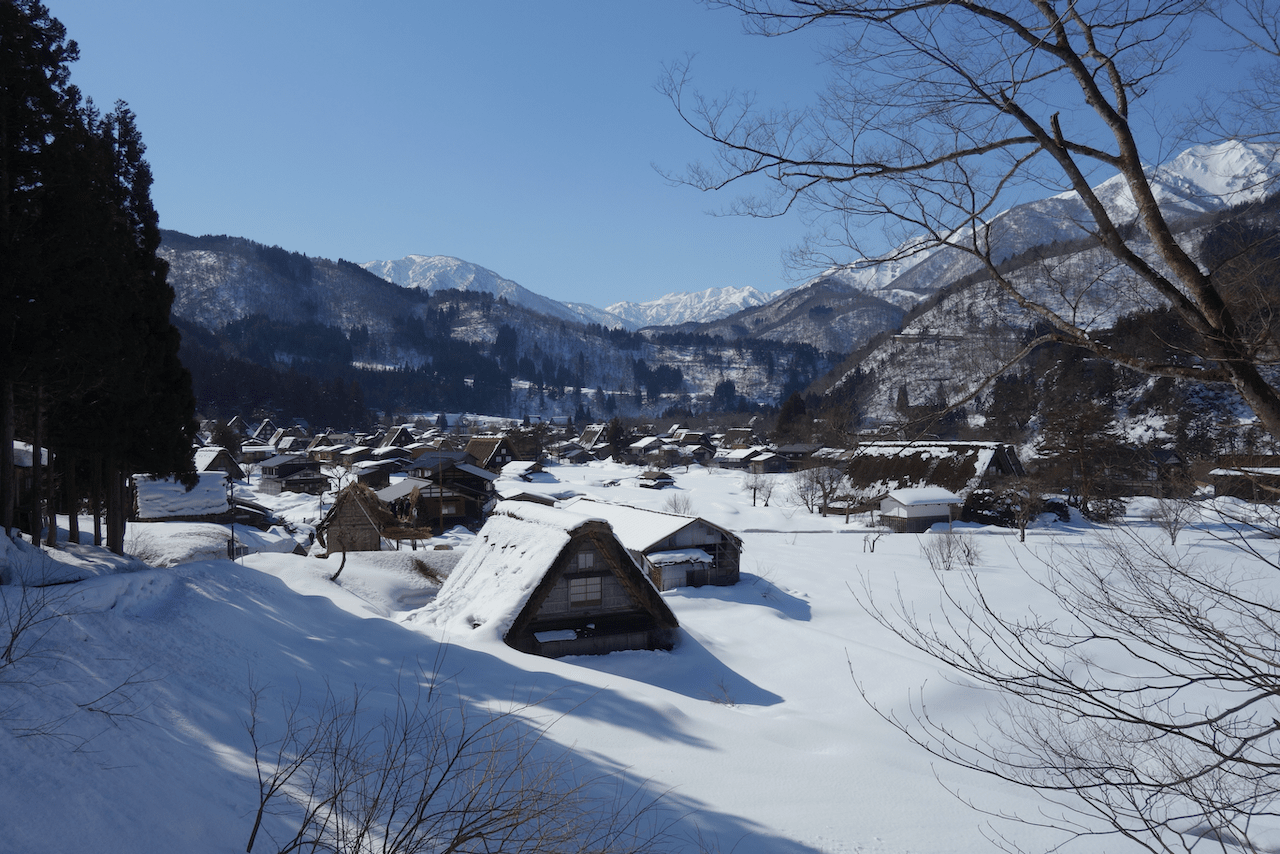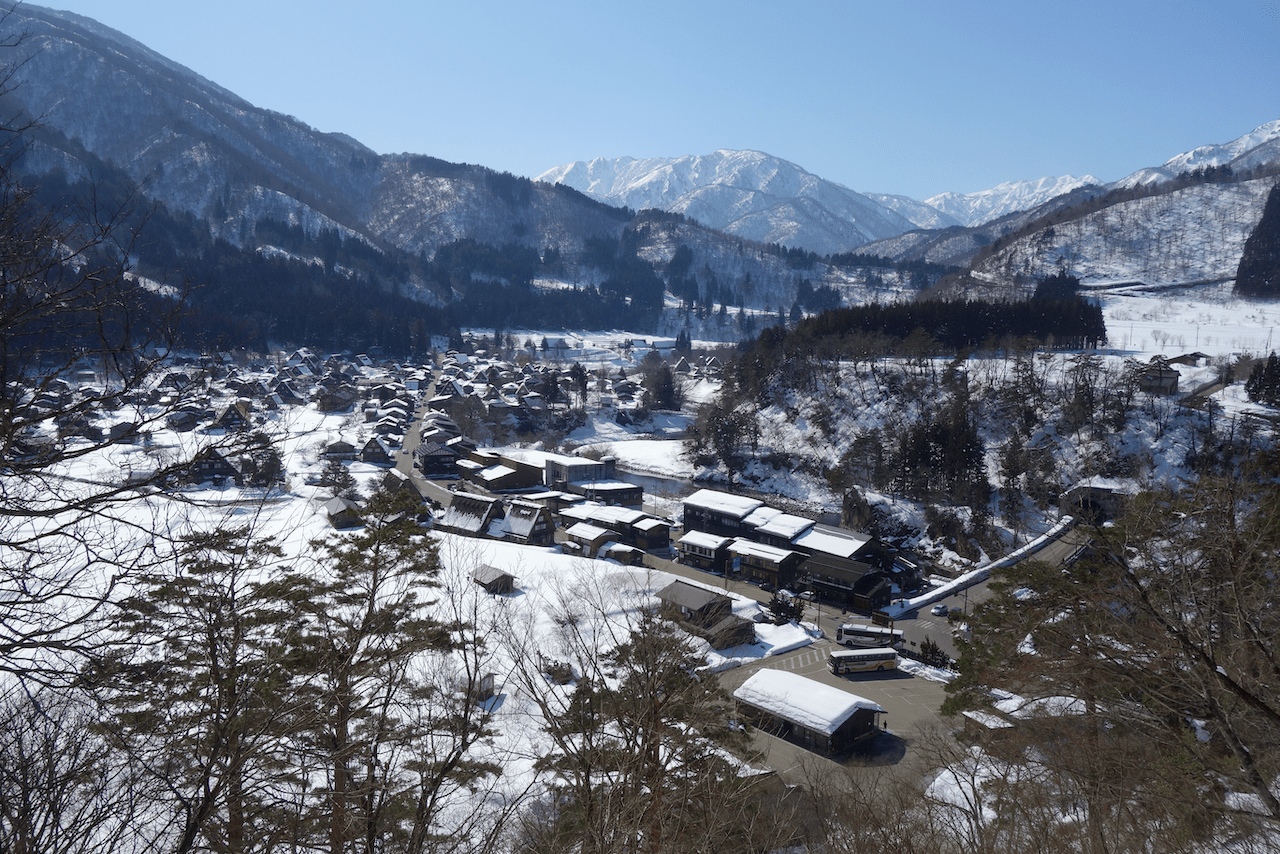 The famous Shirakawa-go view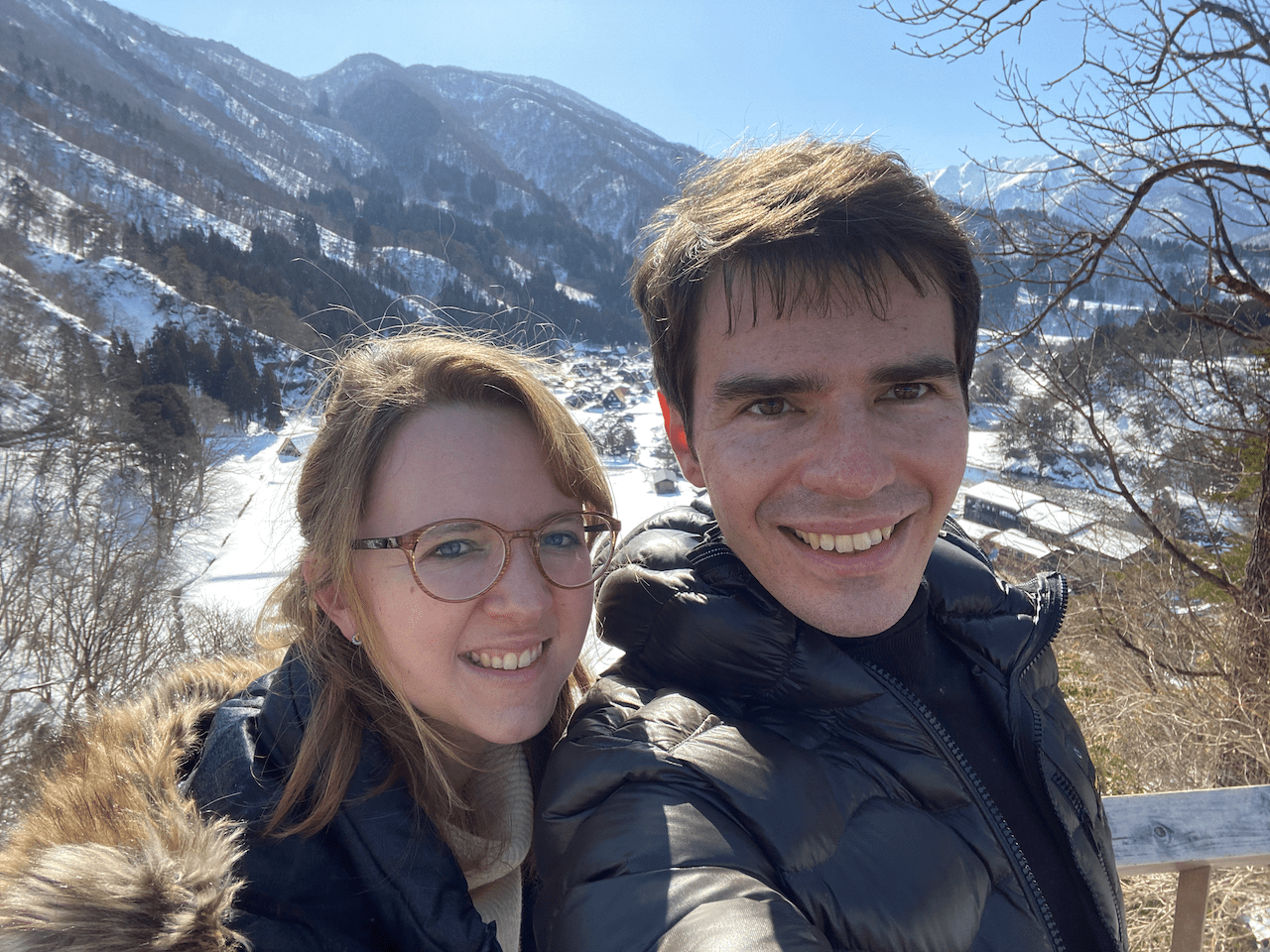 Some of them had really huge cameras with them, so I felt kind of silly when I took my pictures with my mobile phone only. ;-)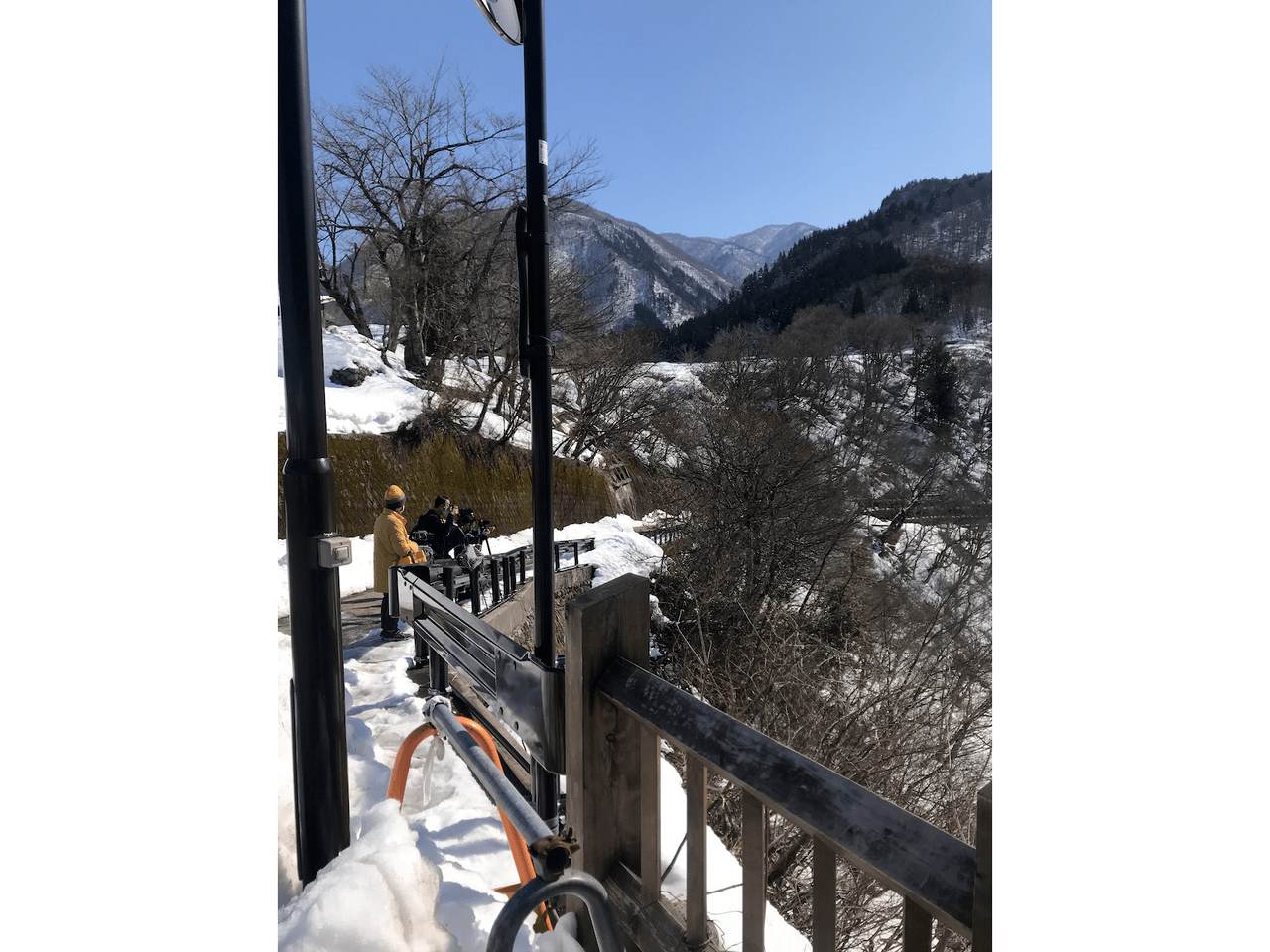 Not bad
We got some quick lunch in one of the very small local restaurants (lucky for us, there were not many other guests) and enjoyed a hot coffee in front of one of the many tiny coffee stalls. This coffee shop had only outside seats but as it was super sunny and not too cold, we could sit outside without any problems. It was fun to watch the other visitors walking around and how they were scared when huge piles of snow came down from the steep roofs.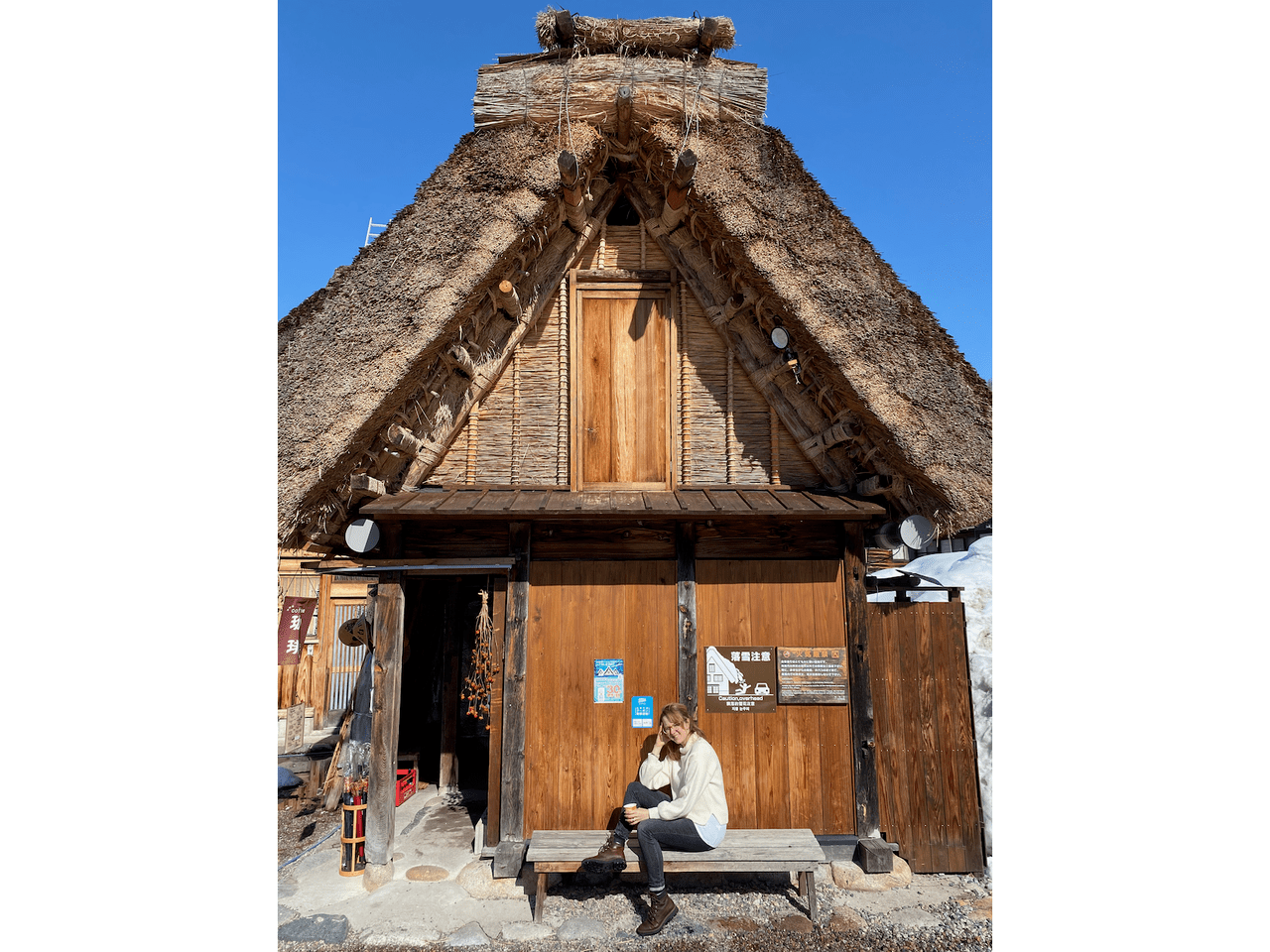 Drinking your coffee outside means that you can enjoy the sun while taking the mask off - perfect!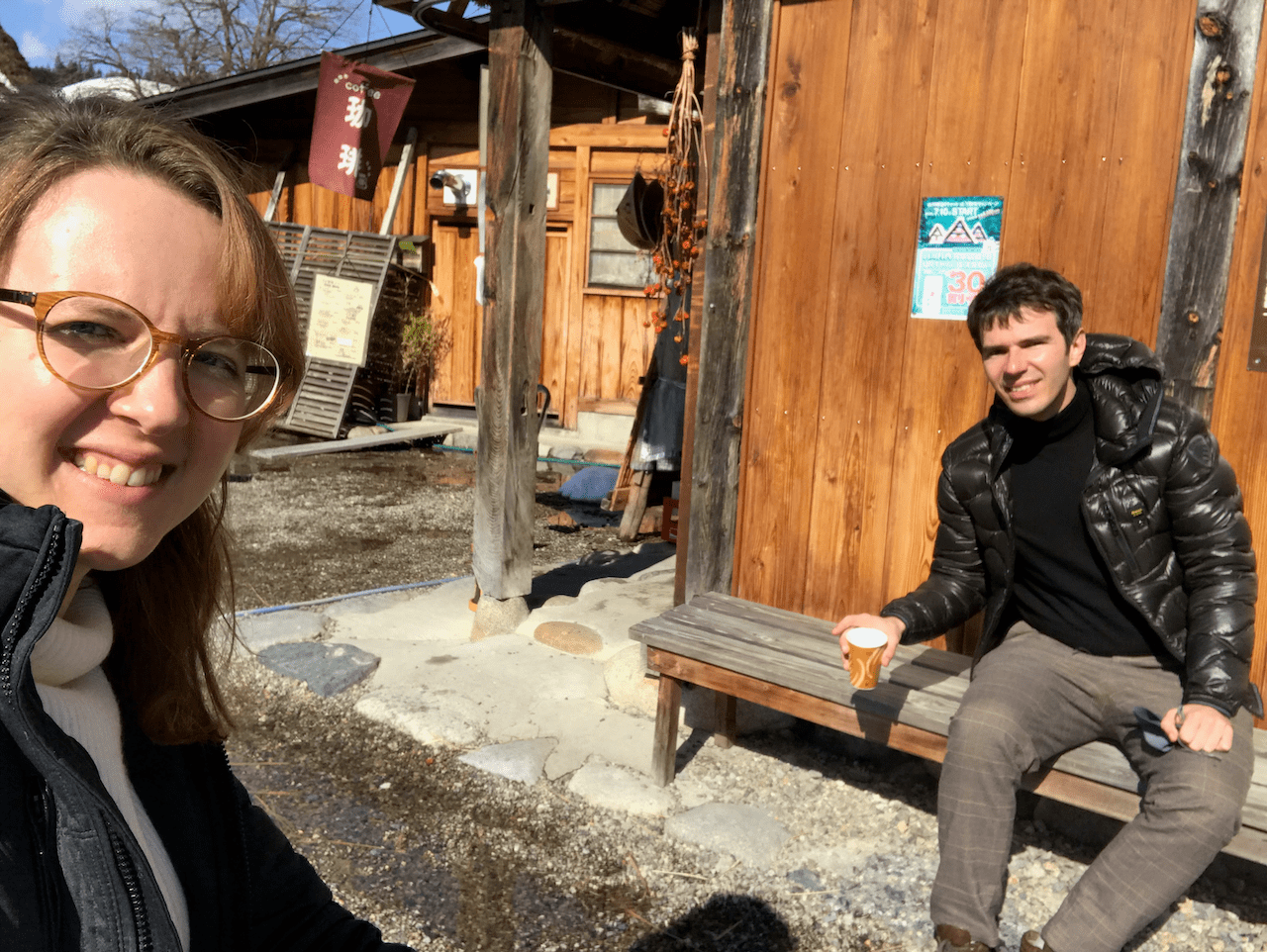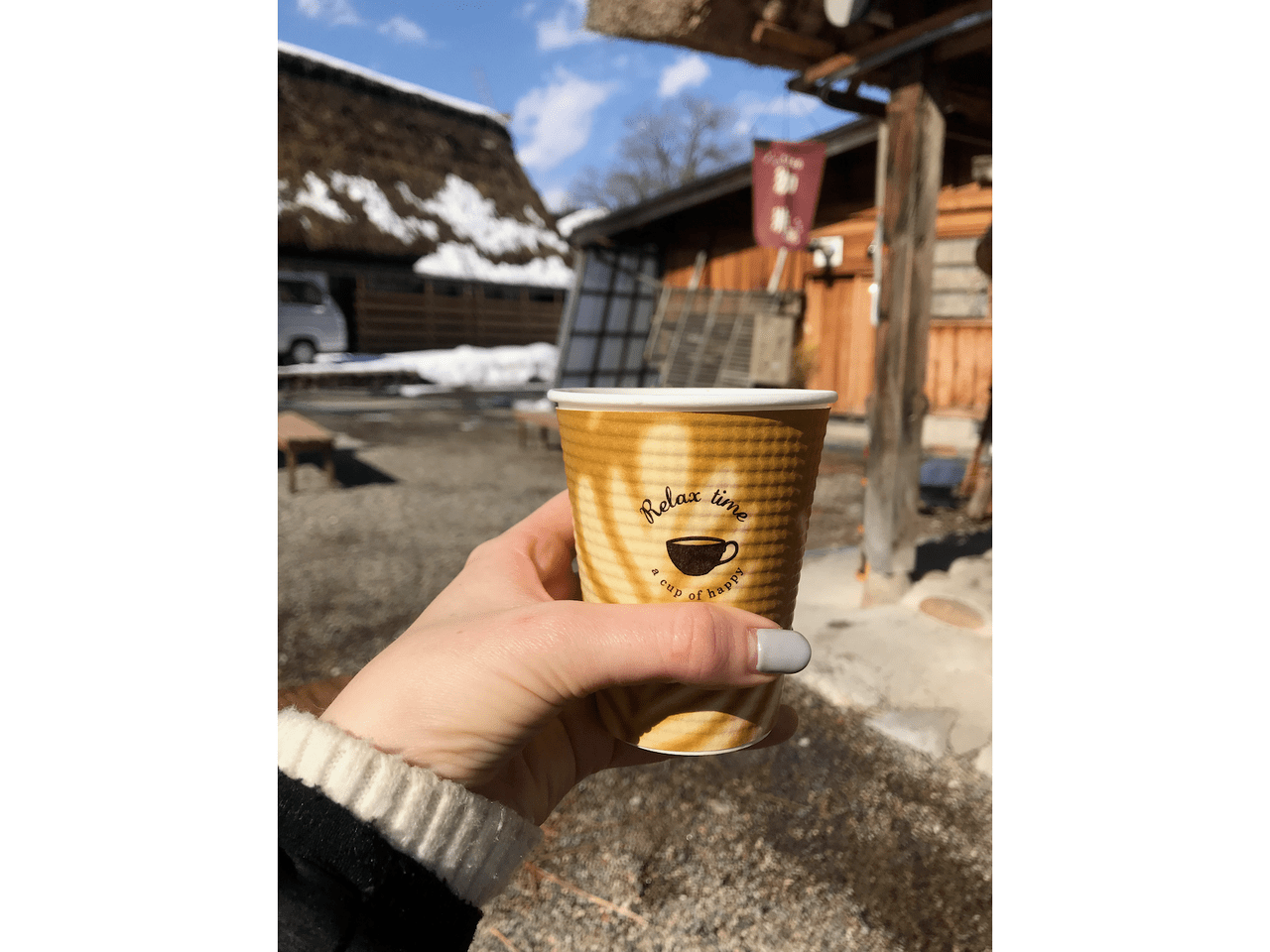 I will never get tired of the funny English marketing style in Japan
However, it was evident that there were more and more visitors arriving and many of them came from prefectures that are currently in a state of emergency, like Aichi prefecture. :o So, we decided to head back home. It was a beautiful short visit and it was really refreshing.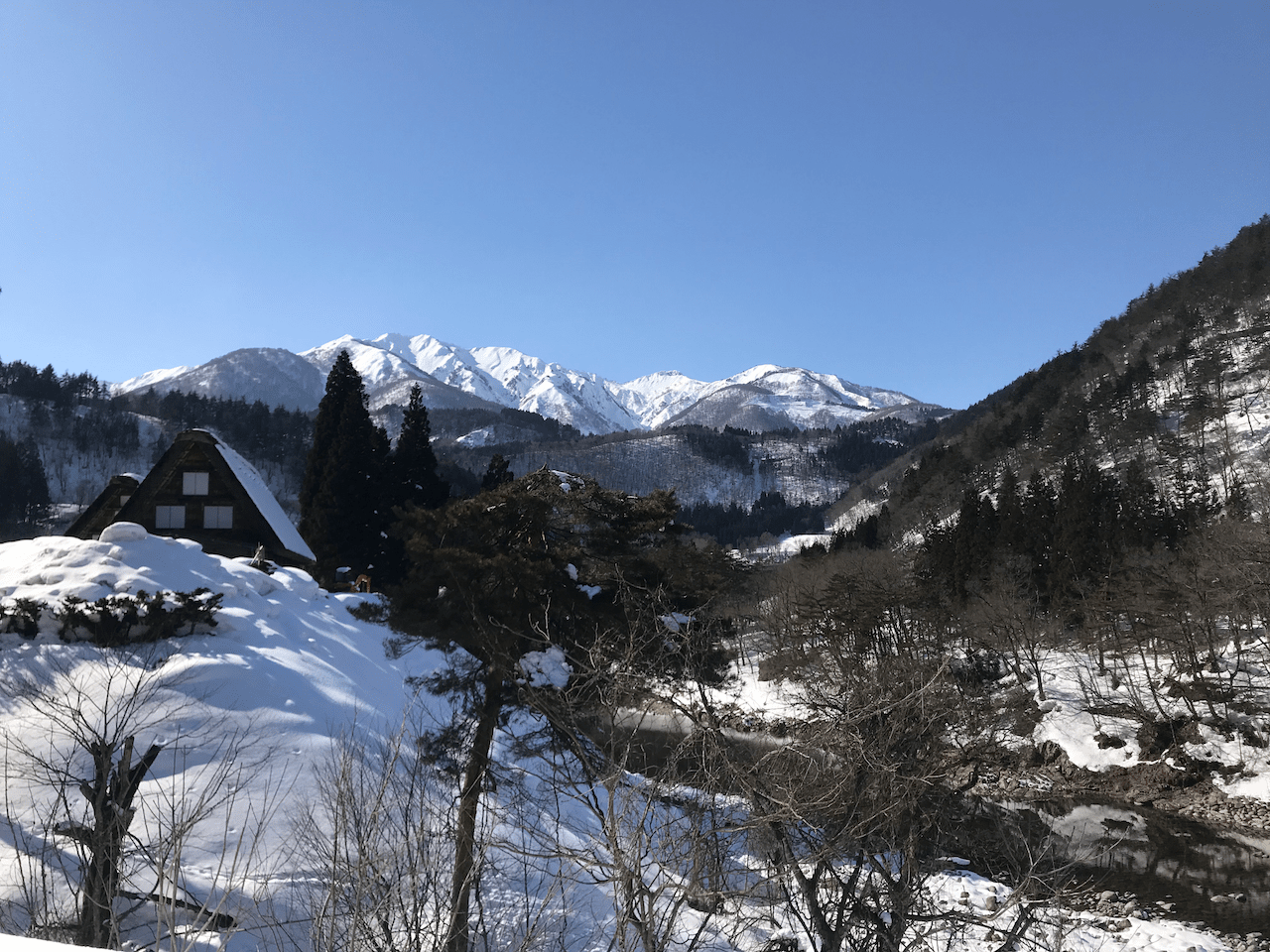 The top of Mount Hakusan looks stunning!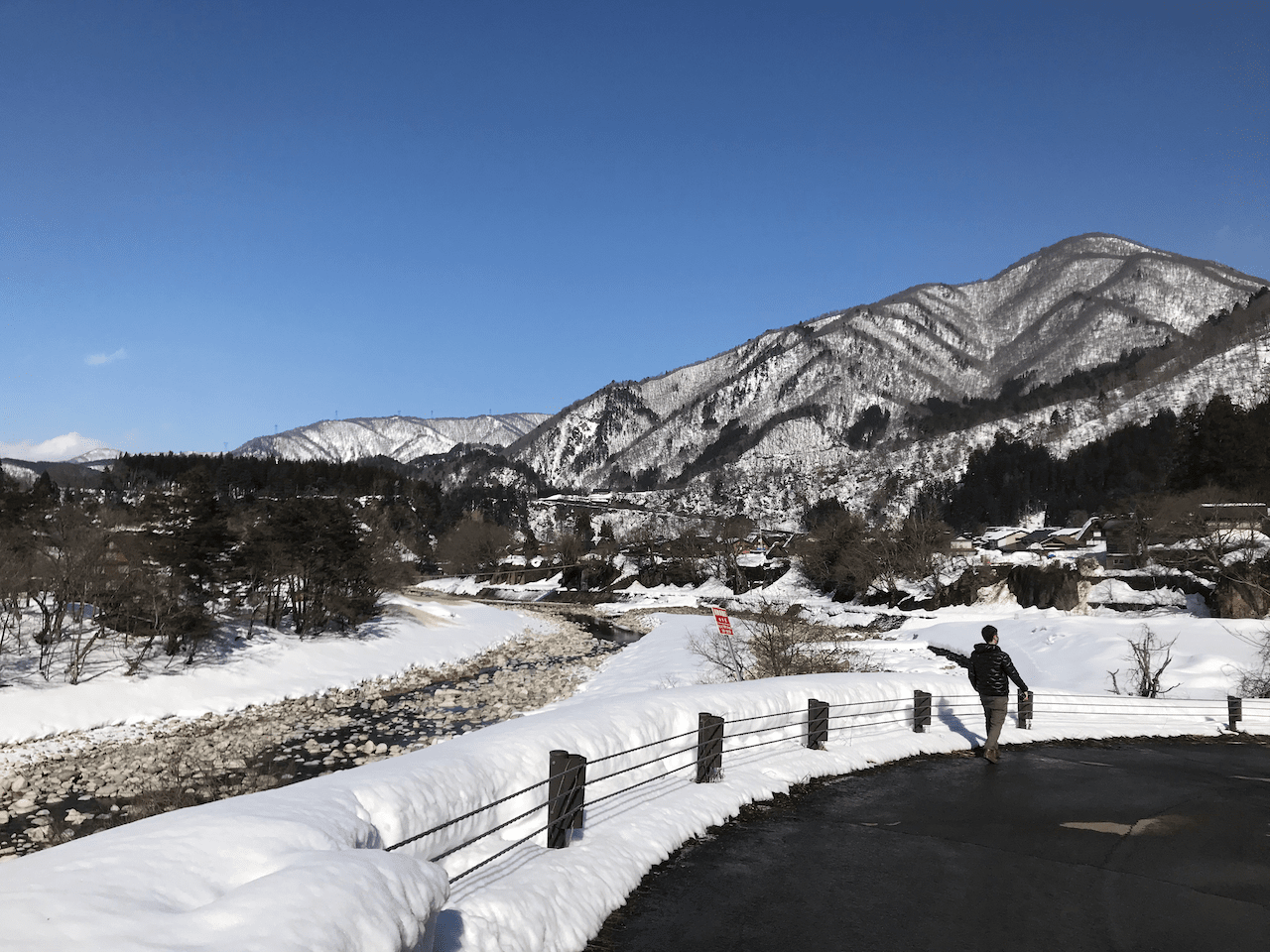 This must be the most beautiful parking spot
The blue sky and the snow together looked so beautiful and there was not a single cloud on the sky. Amazing weather! I am happy that we could finally visit Shirakawa-go (it was on my list for a long time) without crowds and with good weather. I was so happy!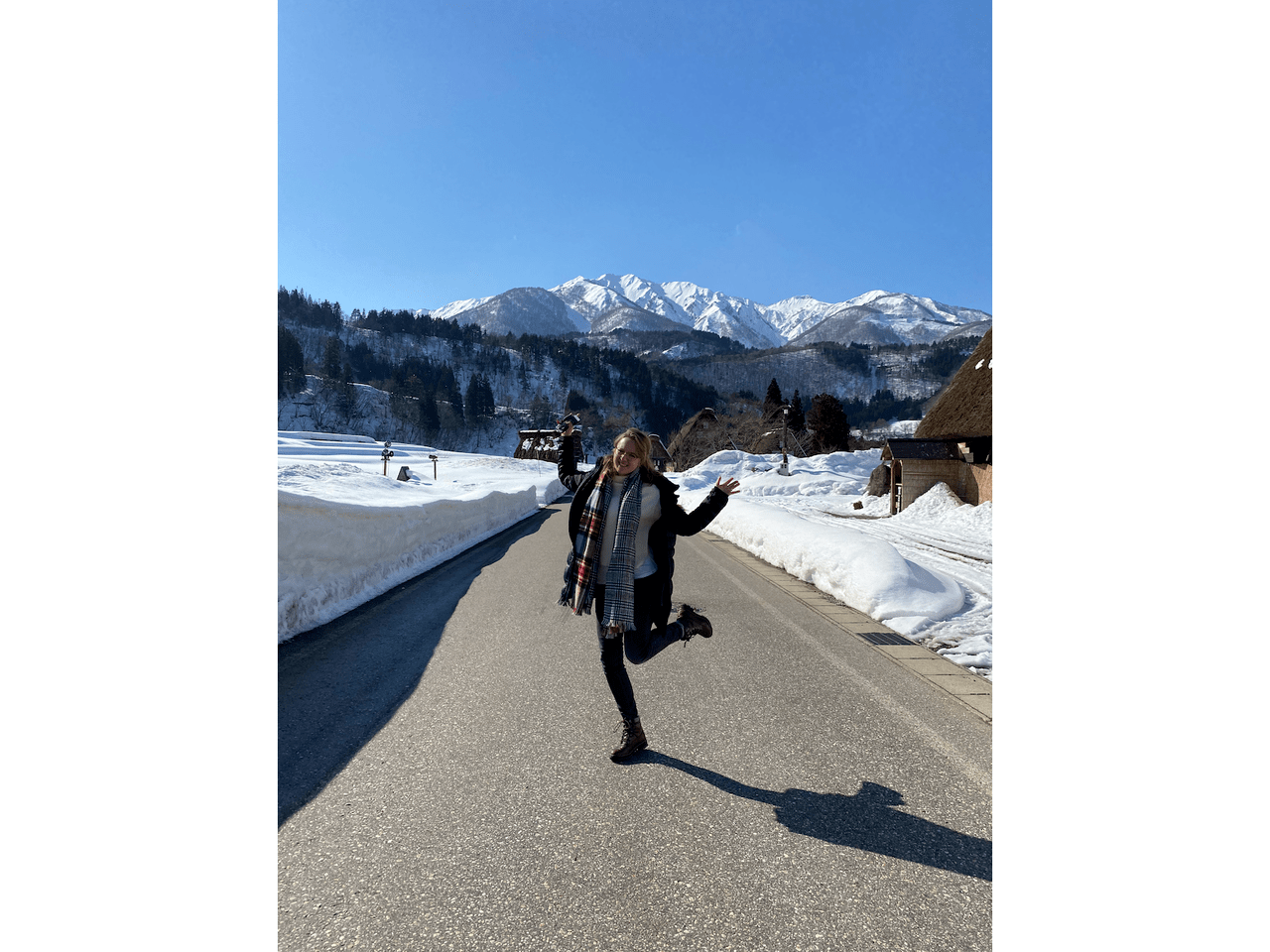 Up next
Besides this short mini trip, we don't have many exciting stories to tell. In the next post, I'll give you an update about the COIVD situation in Japan, our daily lives, our many museum visits and our upcoming projects. Check out our Instagram pages for more pictures and insights! Stay safe and healthy!