Did you know that there are wild monkeys in Japan that enjoy a hot bath in an outdoor onsen during cold winter days and you can even watch them from a close distance? Read all about our short winter trip to Nagano prefecture in this post!
Nagano prefecture
Nagano prefecture is a landlocked prefecture in the central part of Honshu. It borders more prefectures than any other in Japan and contains the point that is furthest away from the sea in the whole country. The prefecture lies in the northern part of the Japanese alps and nine of the twelve highest mountains in Japan can be found here. Because of the beautiful and various mountain ranges, the natural scenic beauty and rich history Nagano Prefecture has received international recognition as a world-class winter sports tourist destination, including hosting the 1998 Winter Olympics. Besides winter sports activities, Nagano offers also different activities like hiking in summer. It's a wonderful prefecture and I am glad I finally got to spend some time there to get to know it a little better. We planned a short trip, lasting 3 days to visit some of Nagano's most interesting spots: the snow monkey park in Yamanouchi (close to Nagano City) and the ski resort of Hakuba Valley.
Snow monkey park in Yamanouchi
At first, we went to see the famous snow monkeys. Visiting this place has been a huge dream of mine and I was more than excited when we finally hit the road to drive there.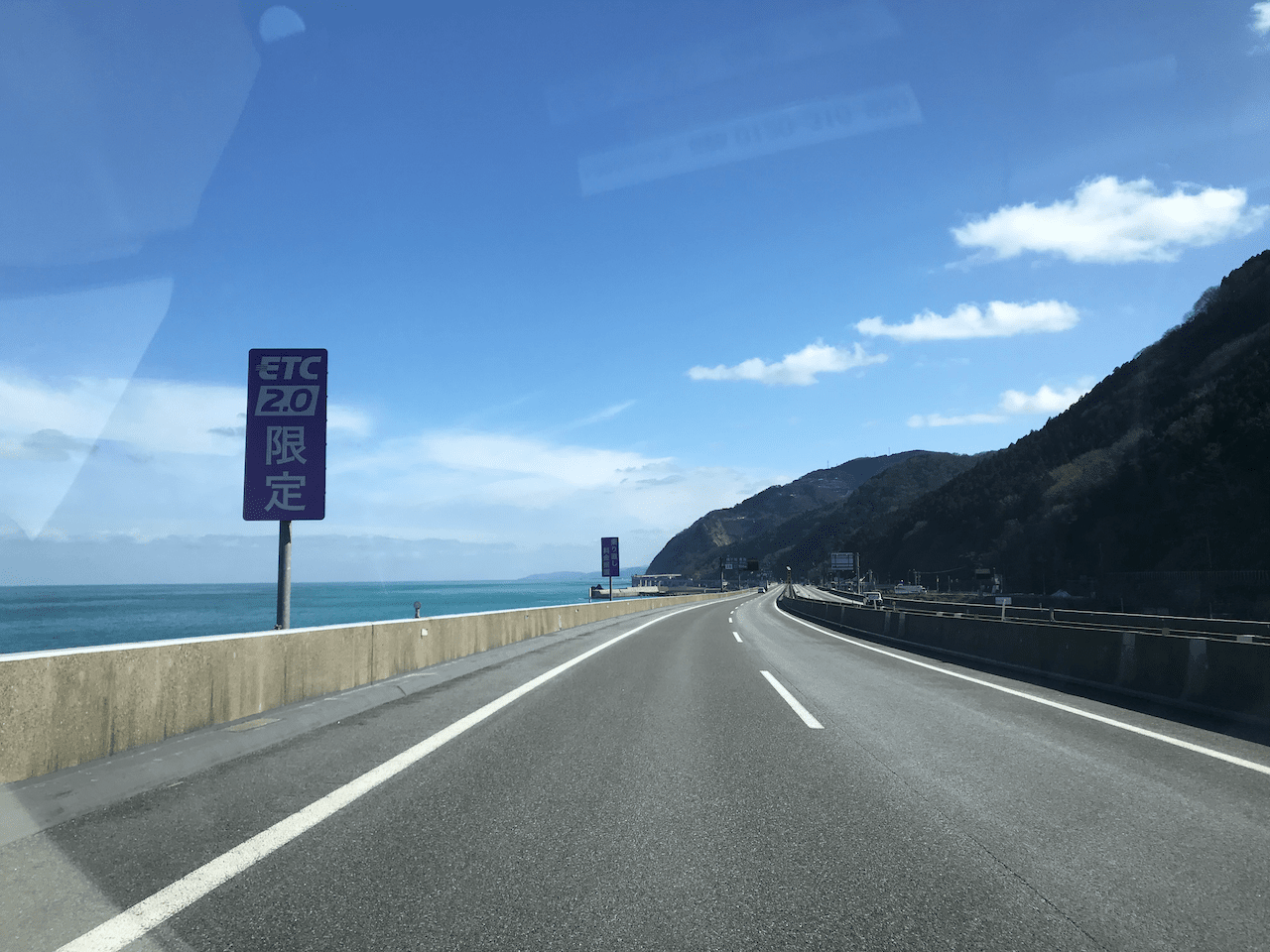 Passing the Sea of Japan in Niigata
The drive itself took us about 3.5 hours and led us through a beautiful scenery of the Northern Alps of Japan: We passed Toyama city with a stunning view of Mount Tateyama and the snowy areas of Niigata around Mount Myoko, a still active volcano. It looked very beautiful, covered in snow, but knowing that this one is still active is kind of scary.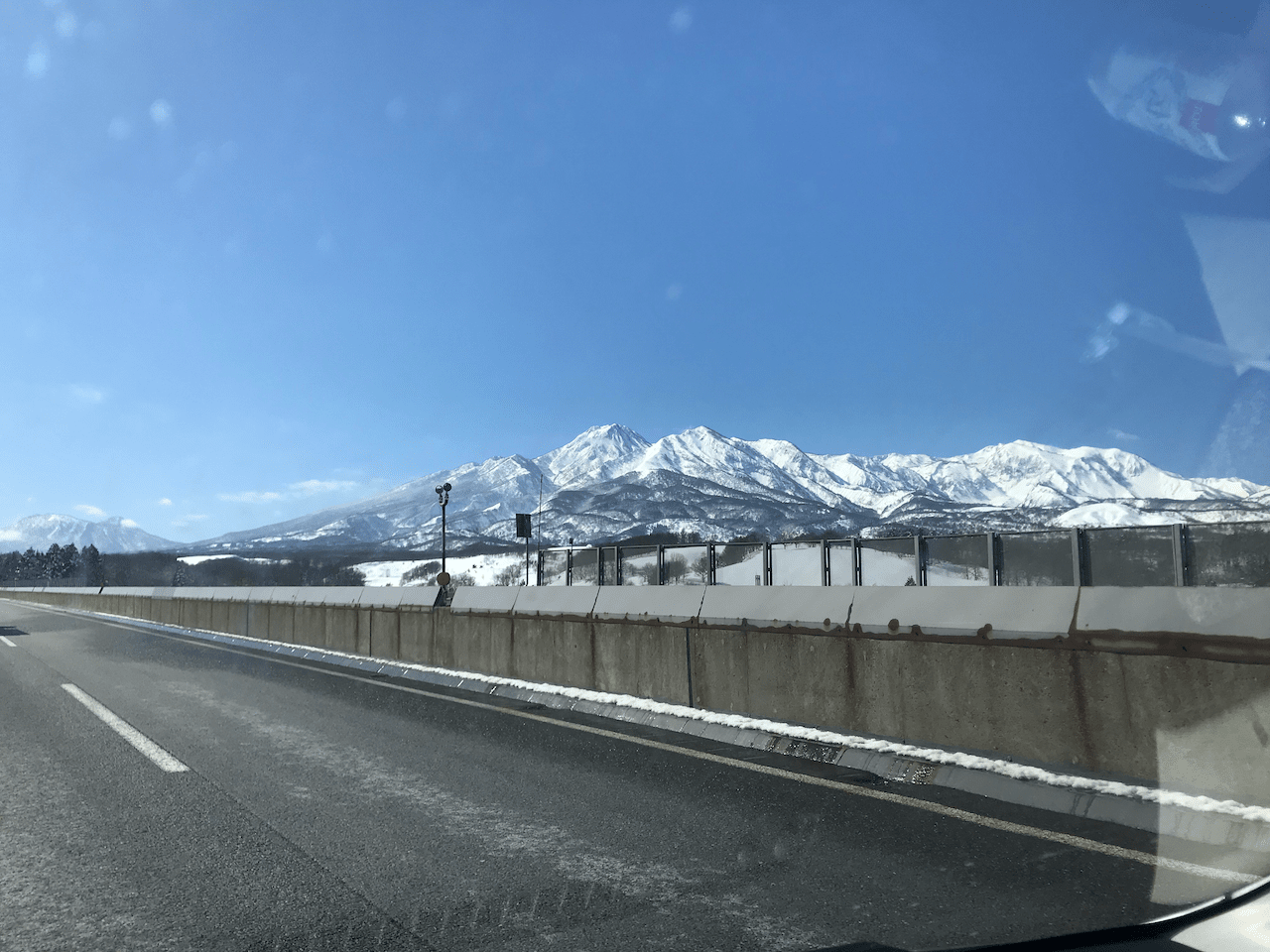 Passing Mount Myoko
For the most part of our trip, we could use the highway. Only for the last 30 minutes we had to use very small roads that led us up to the mountains to the city of Yamanouchi, where the entrance to the park was located.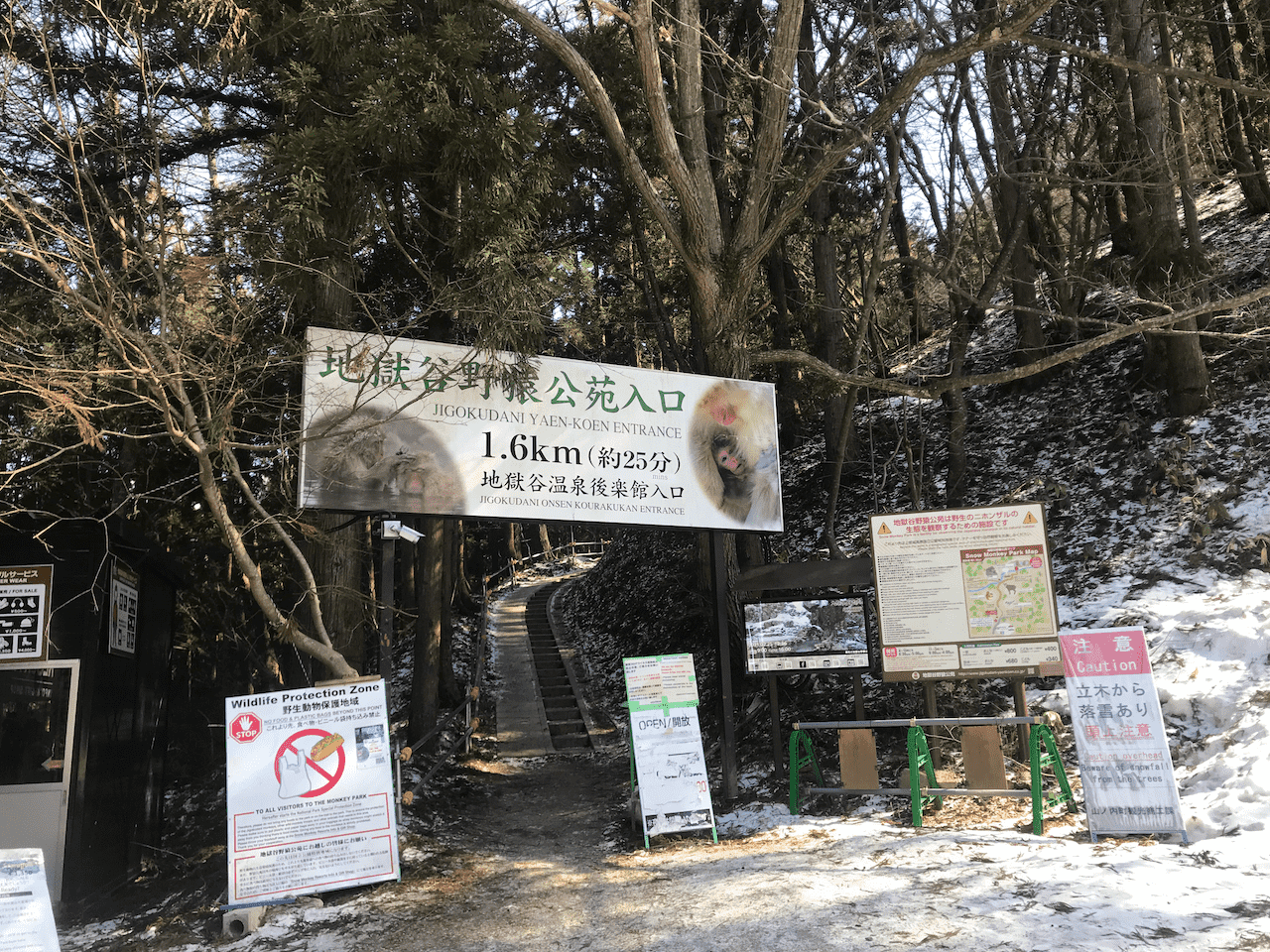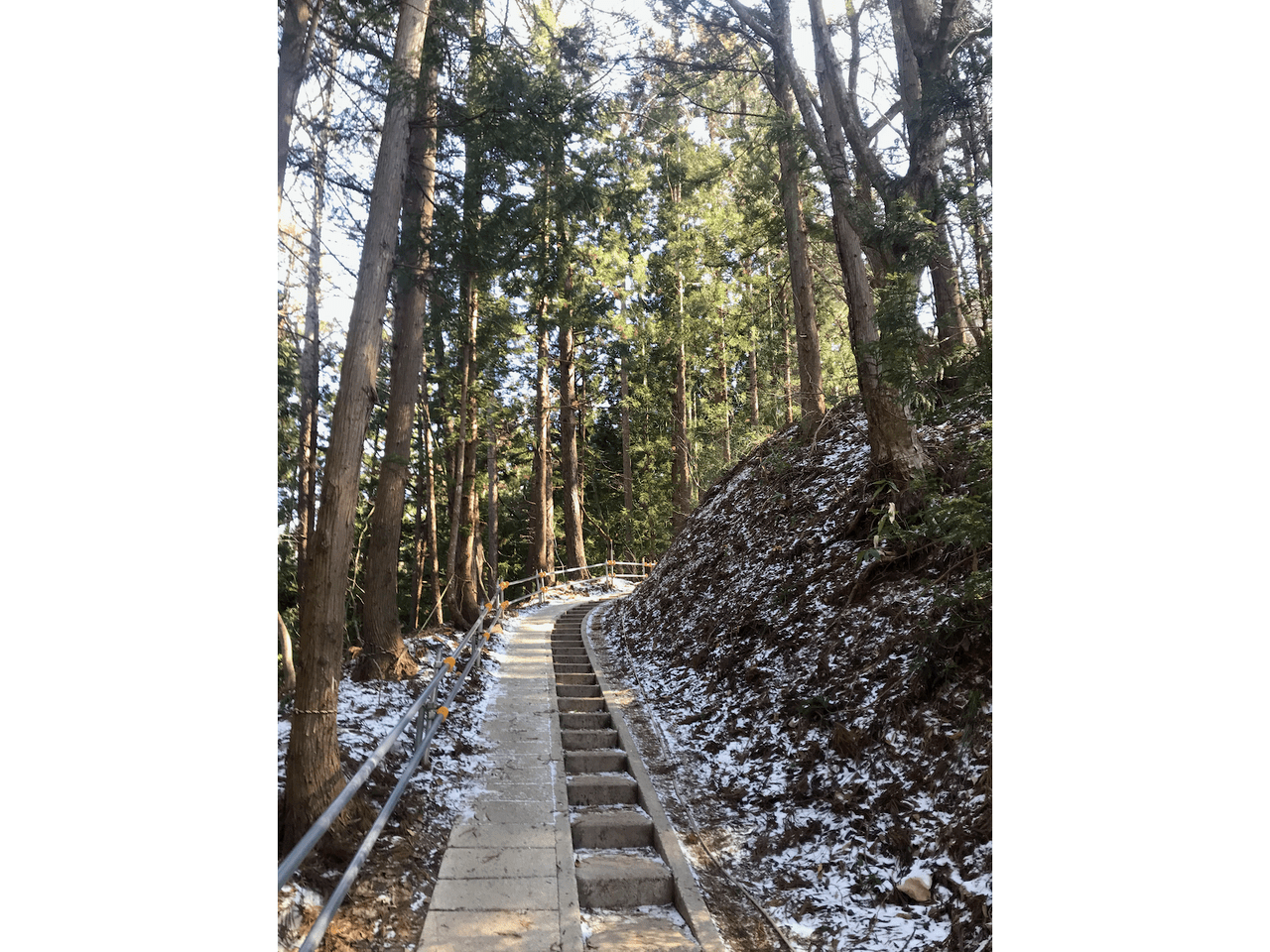 You had to follow this path through the woods. That alone was already spectacular!
The Jigokudani Yaen Koen, the snow monkey park, is inhabited by Japanese Macaques, which are also known as Snow Monkeys. It is located in the monkey's natural habitat, in the forests of the Jigokudani valley in Yamanouchi area. Jigokudani translates into "hell valley", a name that is rather fitting as there is a high volcanic activity underneath the ground, resulting in many natural hot springs around that area (but also in a constant smell of sulfur!).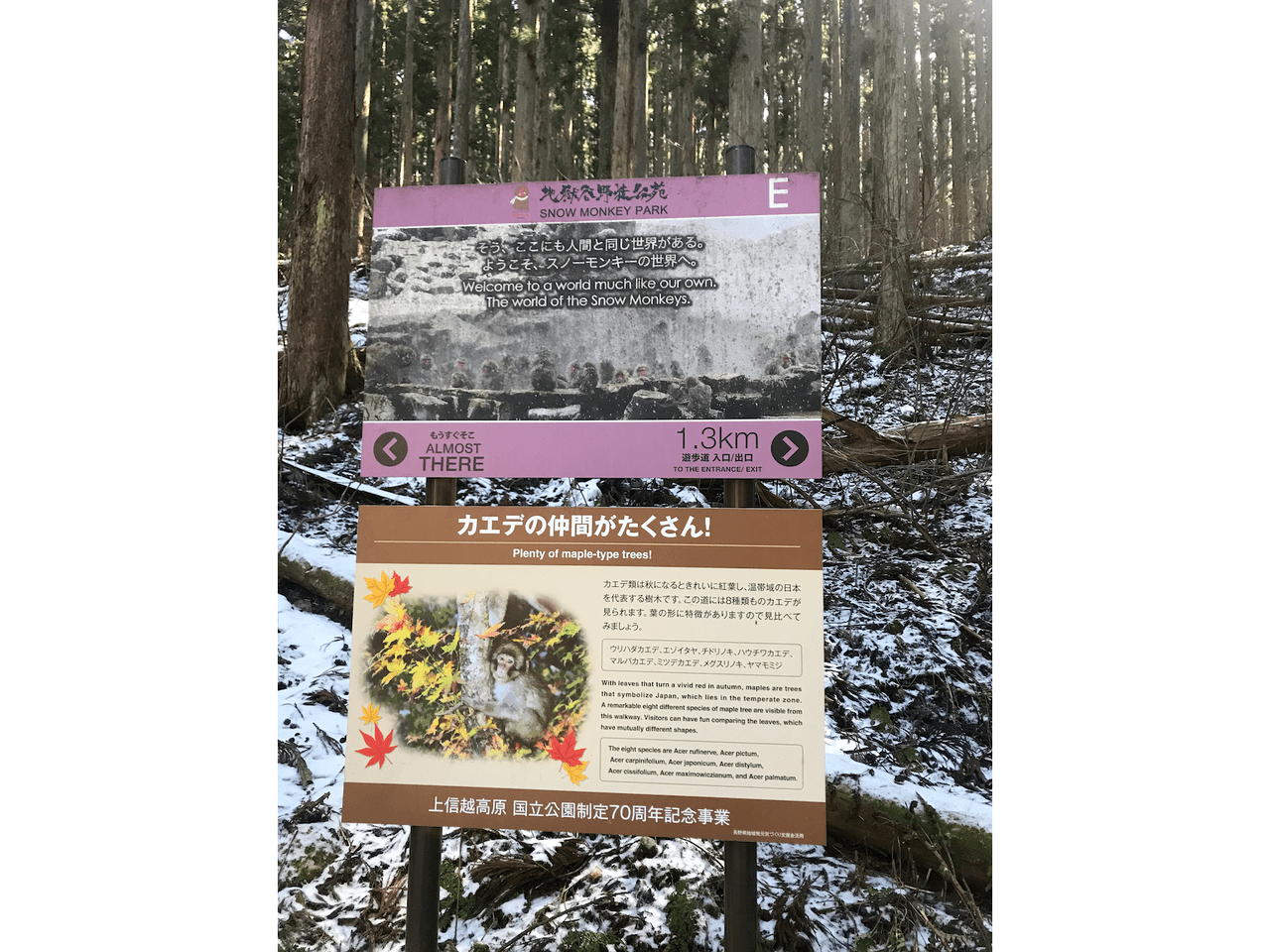 You'll find all those information signs along the way
The park has one man-made hot spring pool, where the monkeys gather, that is located a few minutes' walk from the park entrance. You can already see many monkeys along the path to the pool. The monkeys live in large social groups so it is very interesting to watch their interactions. As they are used to human visitors, the monkeys can be observed from very close and almost completely ignore their human guests. However, it is of course prohibited to touch or feed the monkeys. Those monkeys are wild animals, meaning that you should never disturb or approach them in any way.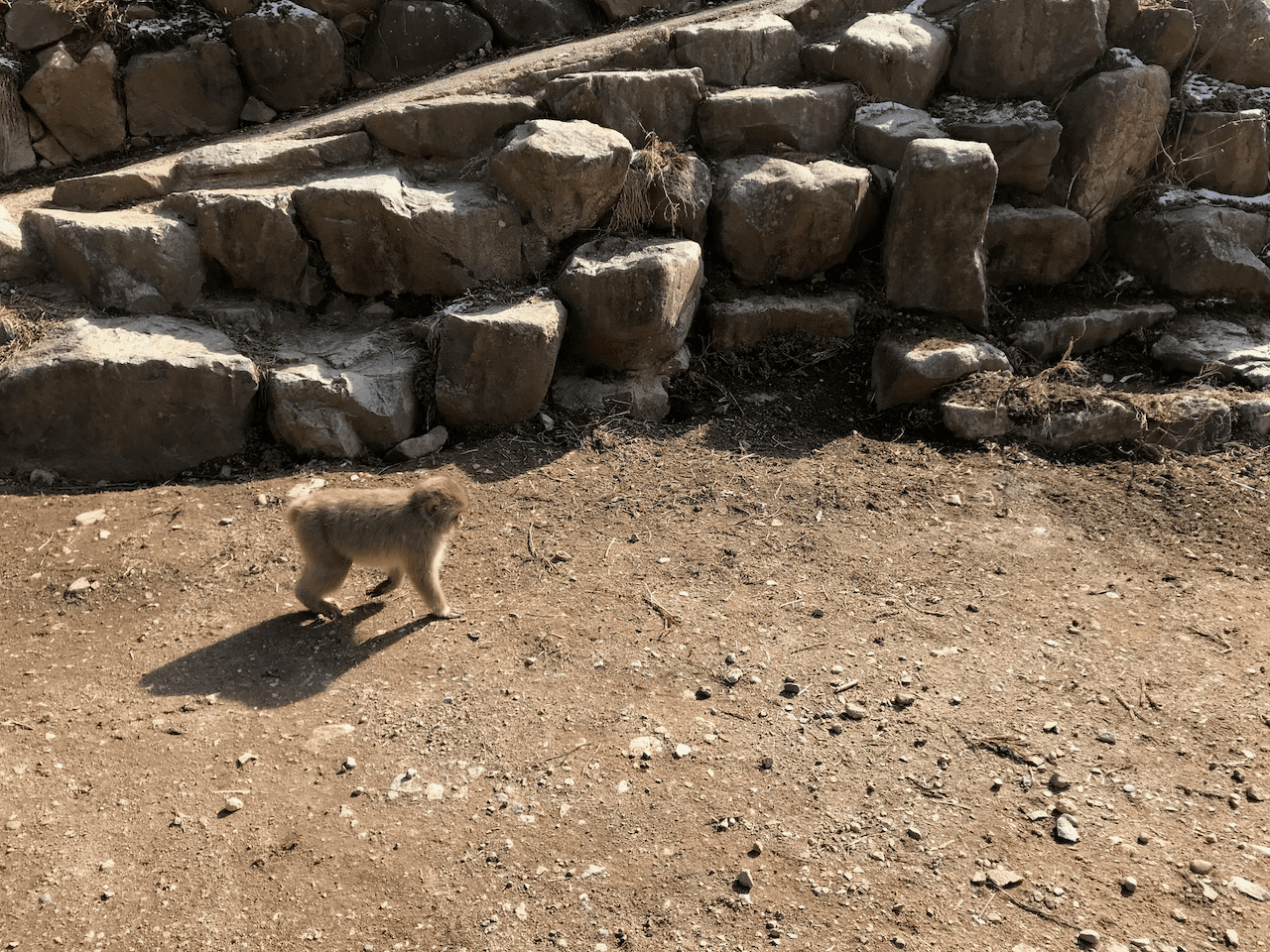 They really walk around freely.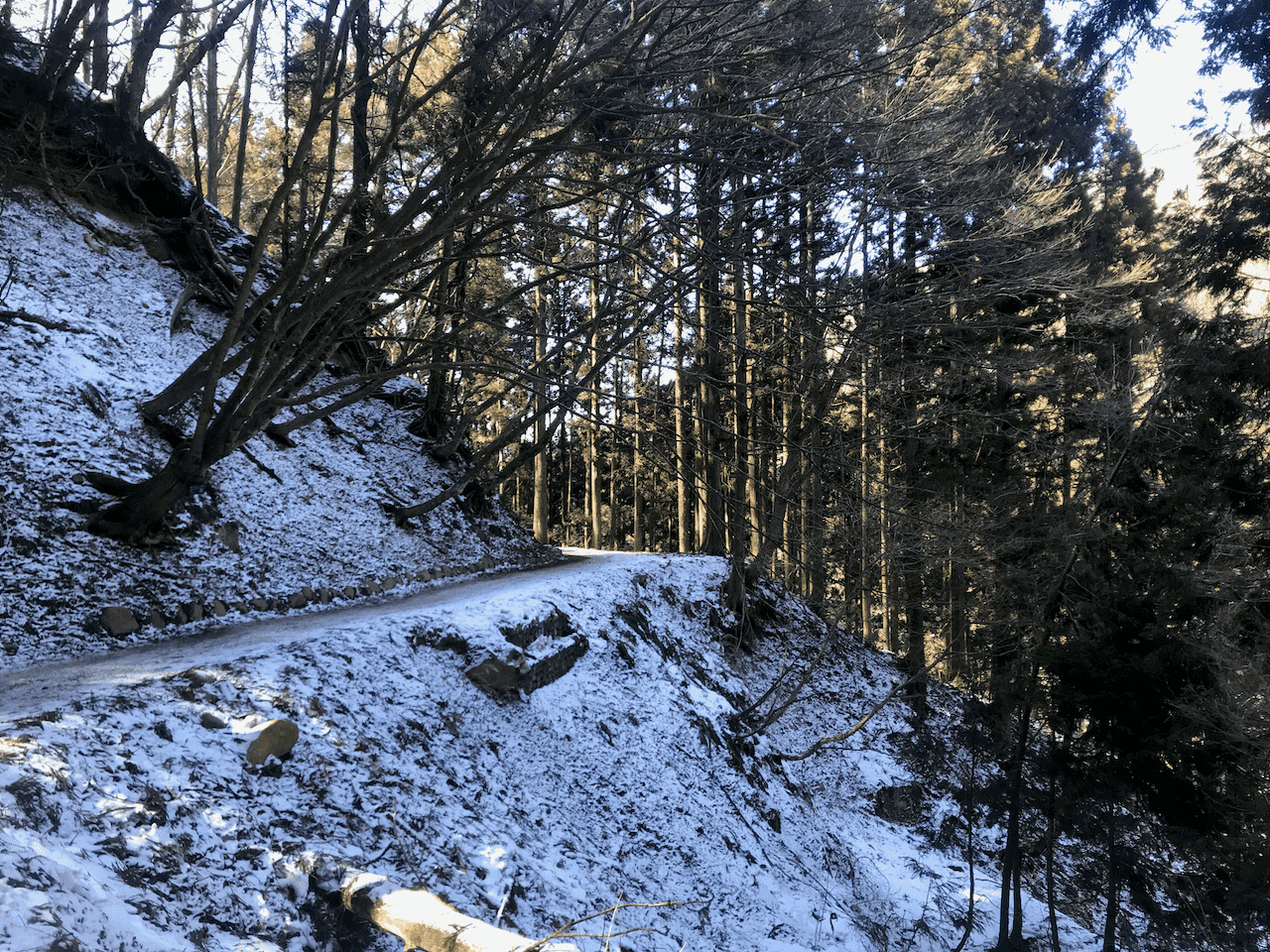 For accessing the park, you have to walk about 20 minutes from the parking lot through a wonderful forest before you reach the entrance. The path is even, so it's fairly easy to walk there even for small children. However, in winter this area gets really cold, so be prepared if you ever visit and wear a lot of warm clothes!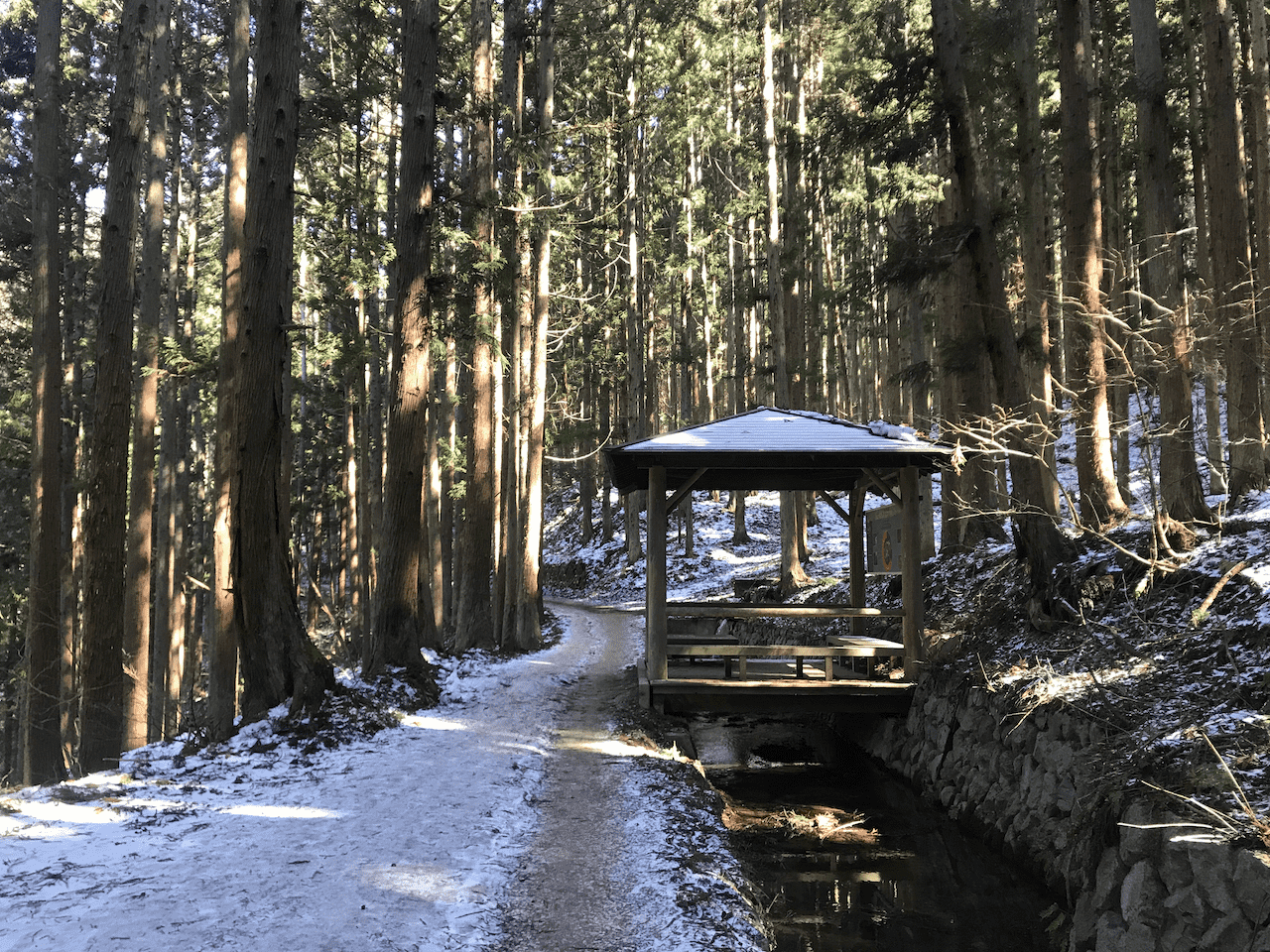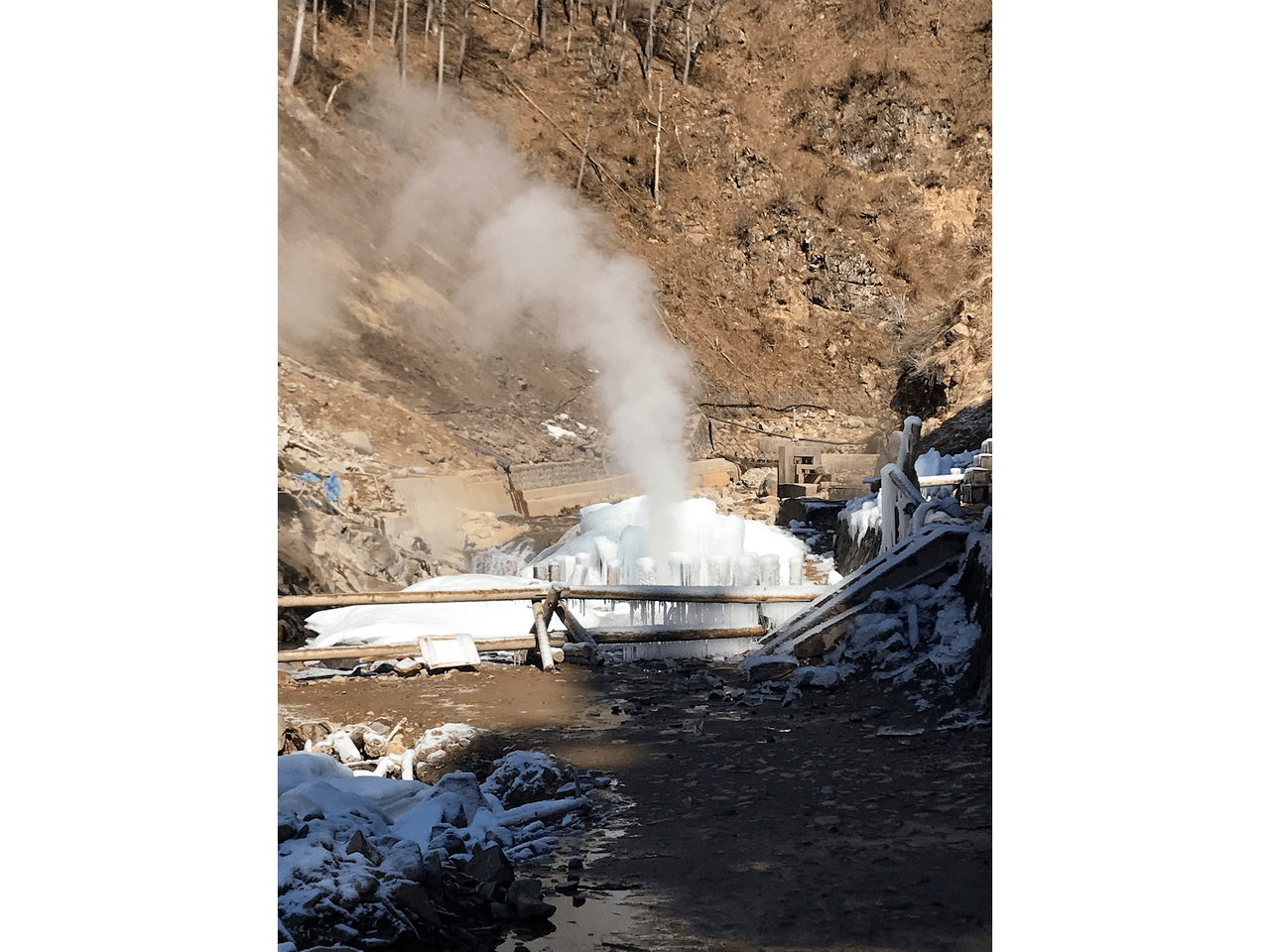 You can see how hellish this valley has been!
At the end of the forest path, there is a ryokan called Korakukan, located directly in the valley, which you will pass along the way to the monkey park.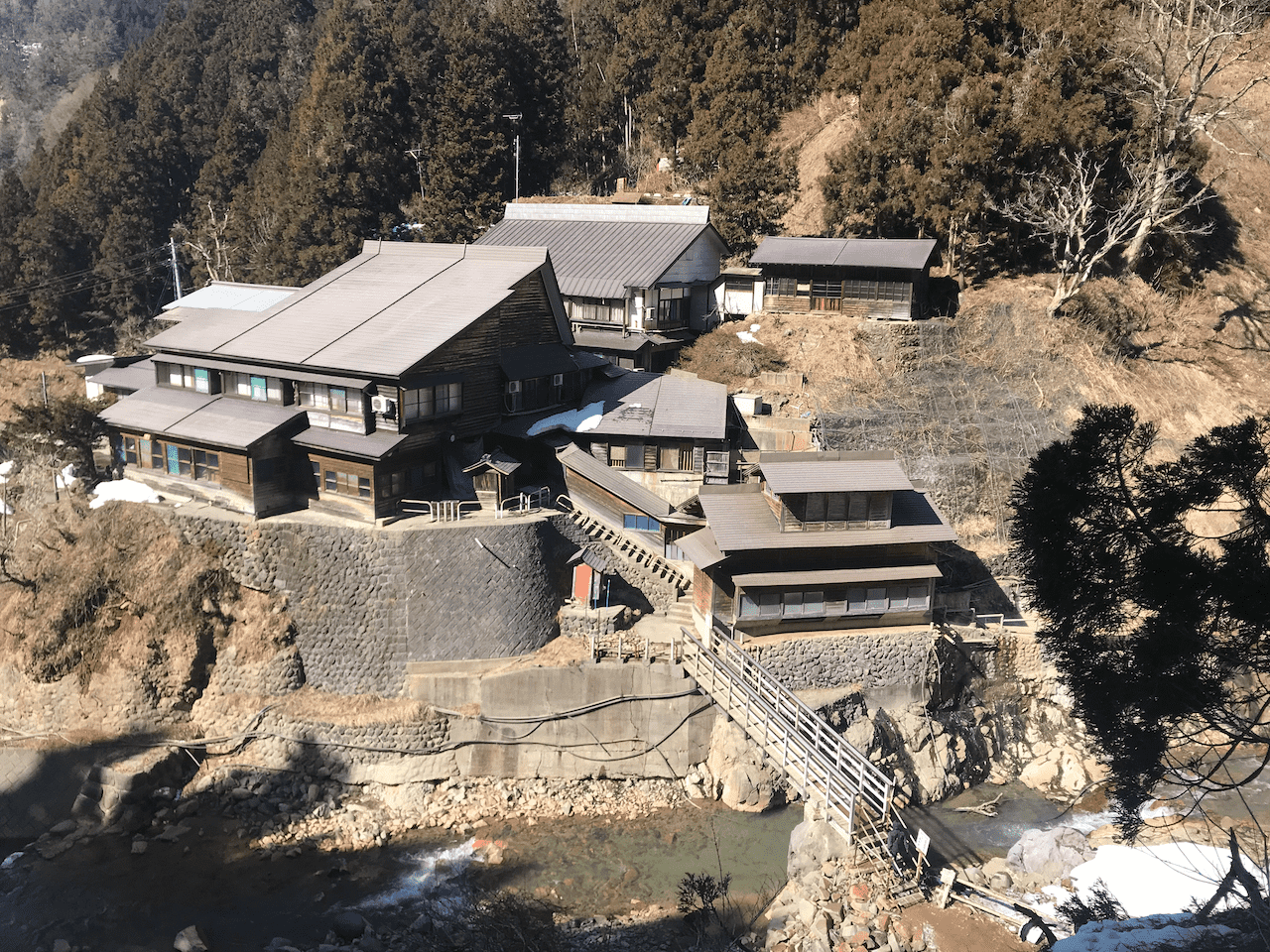 Who wants to stay there overnight, in the middle of the monkeys' home?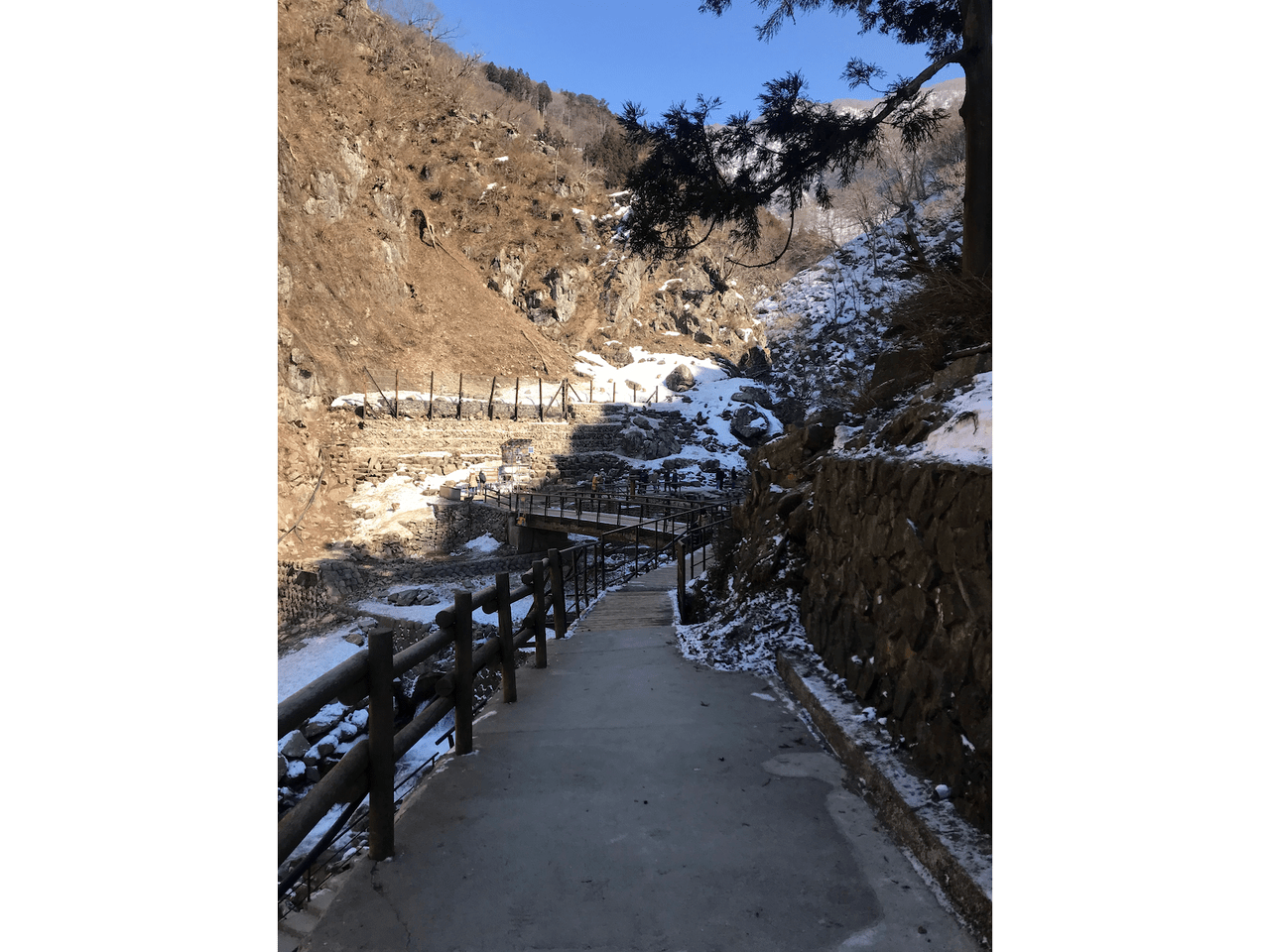 Finally we arrived at the designated monkey area
At the entrance, there is a small restroom and information center. You cannot take any food inside the park, so make sure to have a snack before. ;-)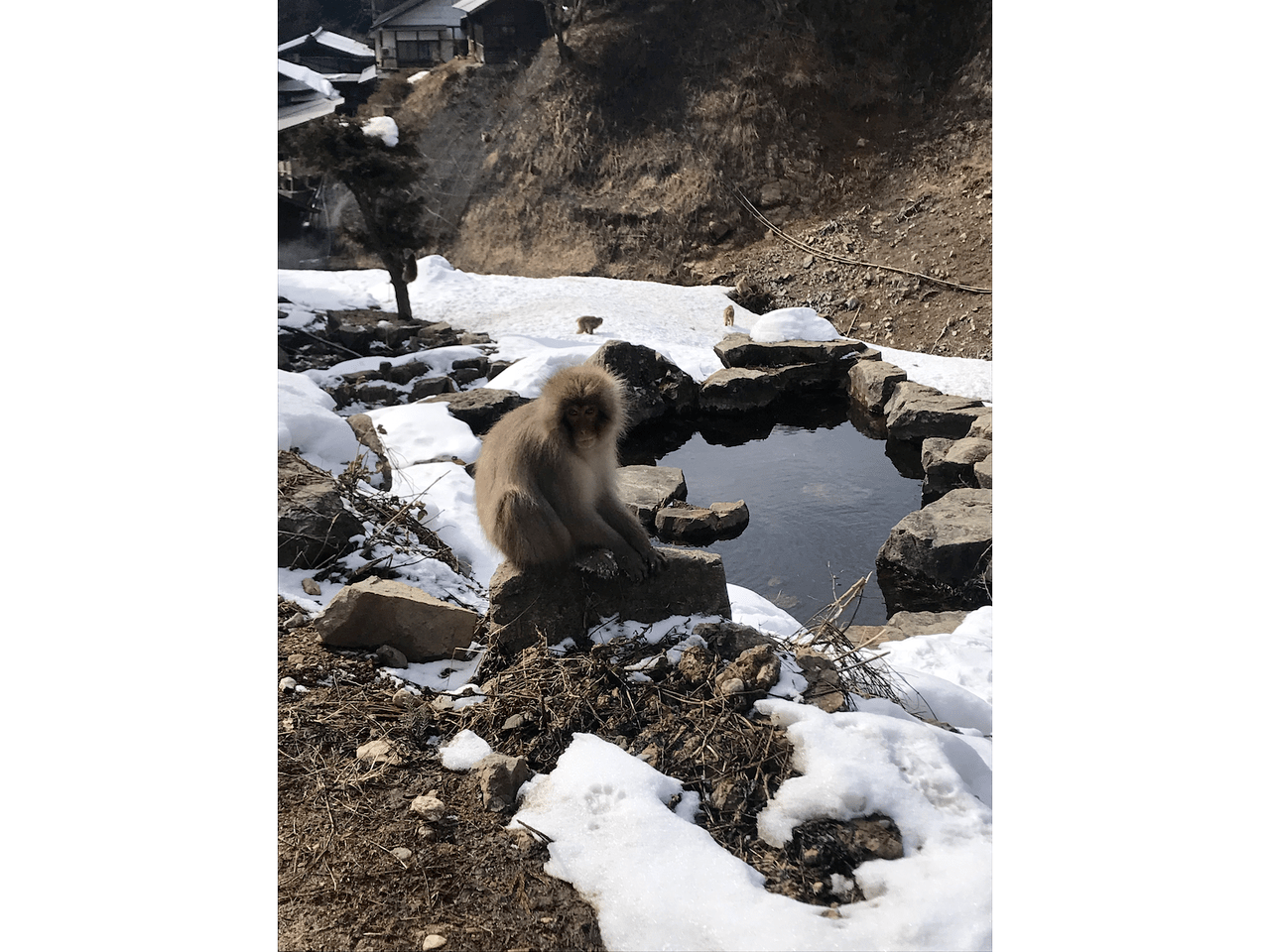 This monkey was my favorite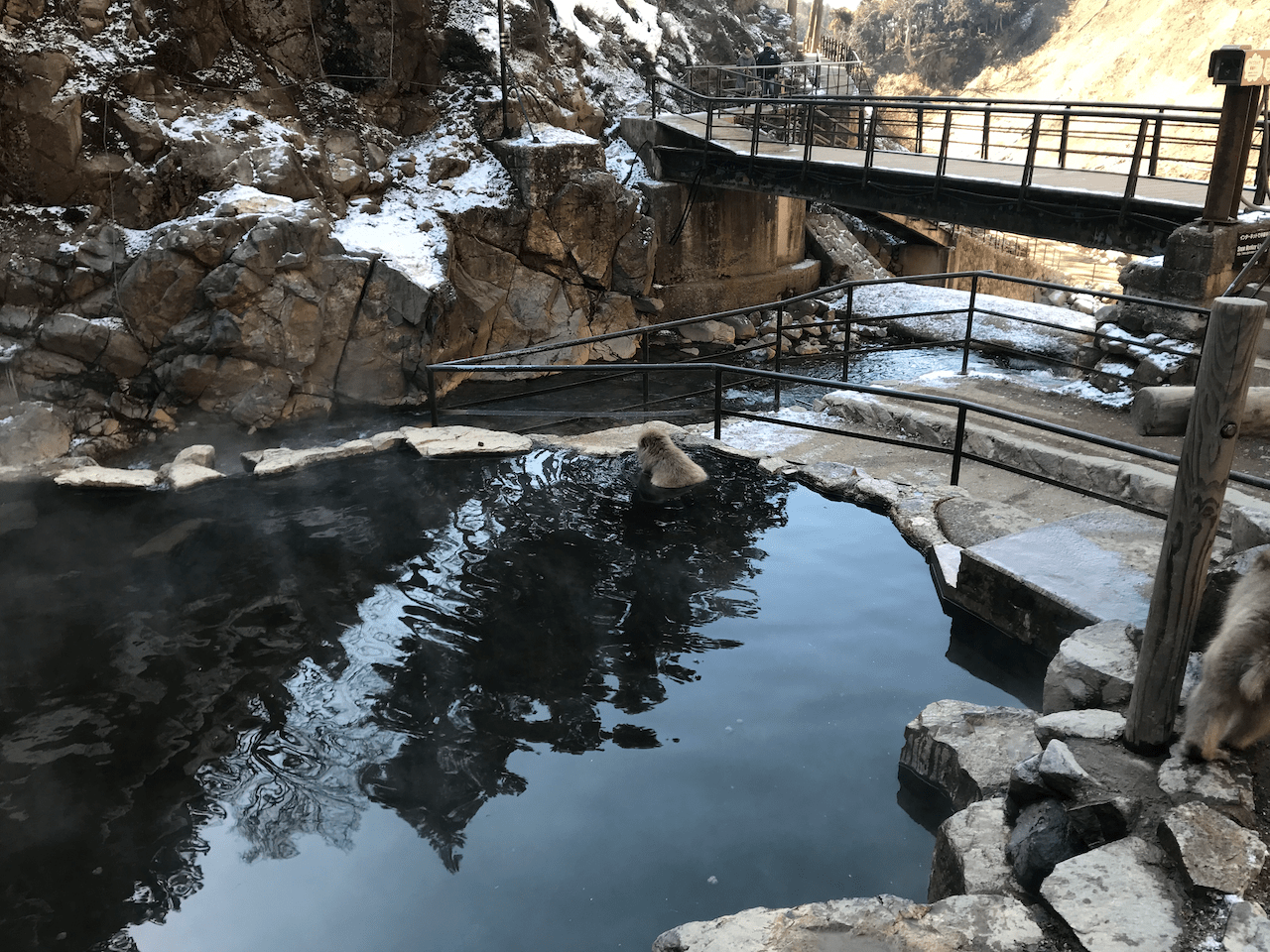 Enjoying the onsen atmosphere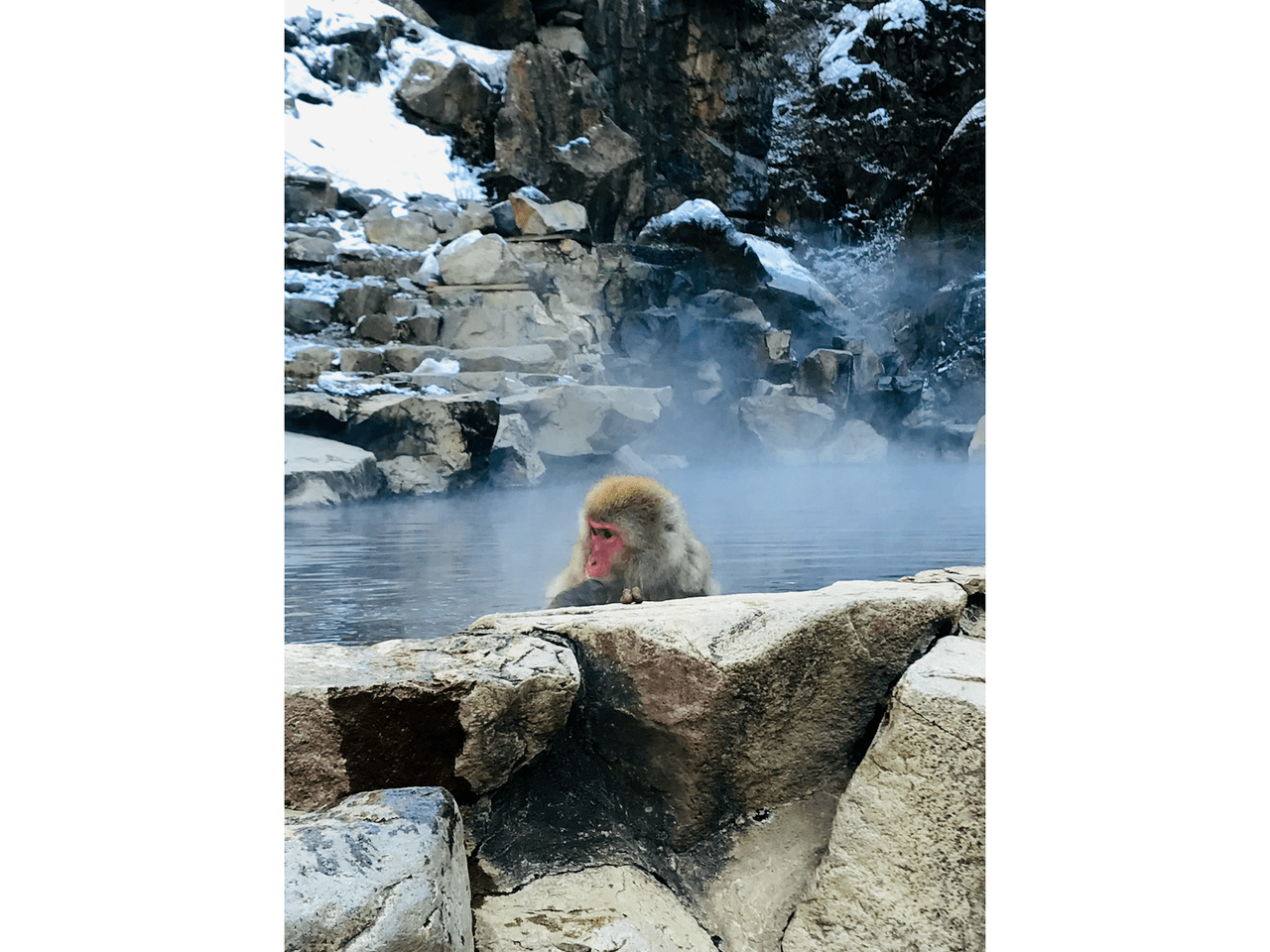 We had a lot of fun walking around and watching the monkeys not only take a bath but also play in the snow or chase each other around.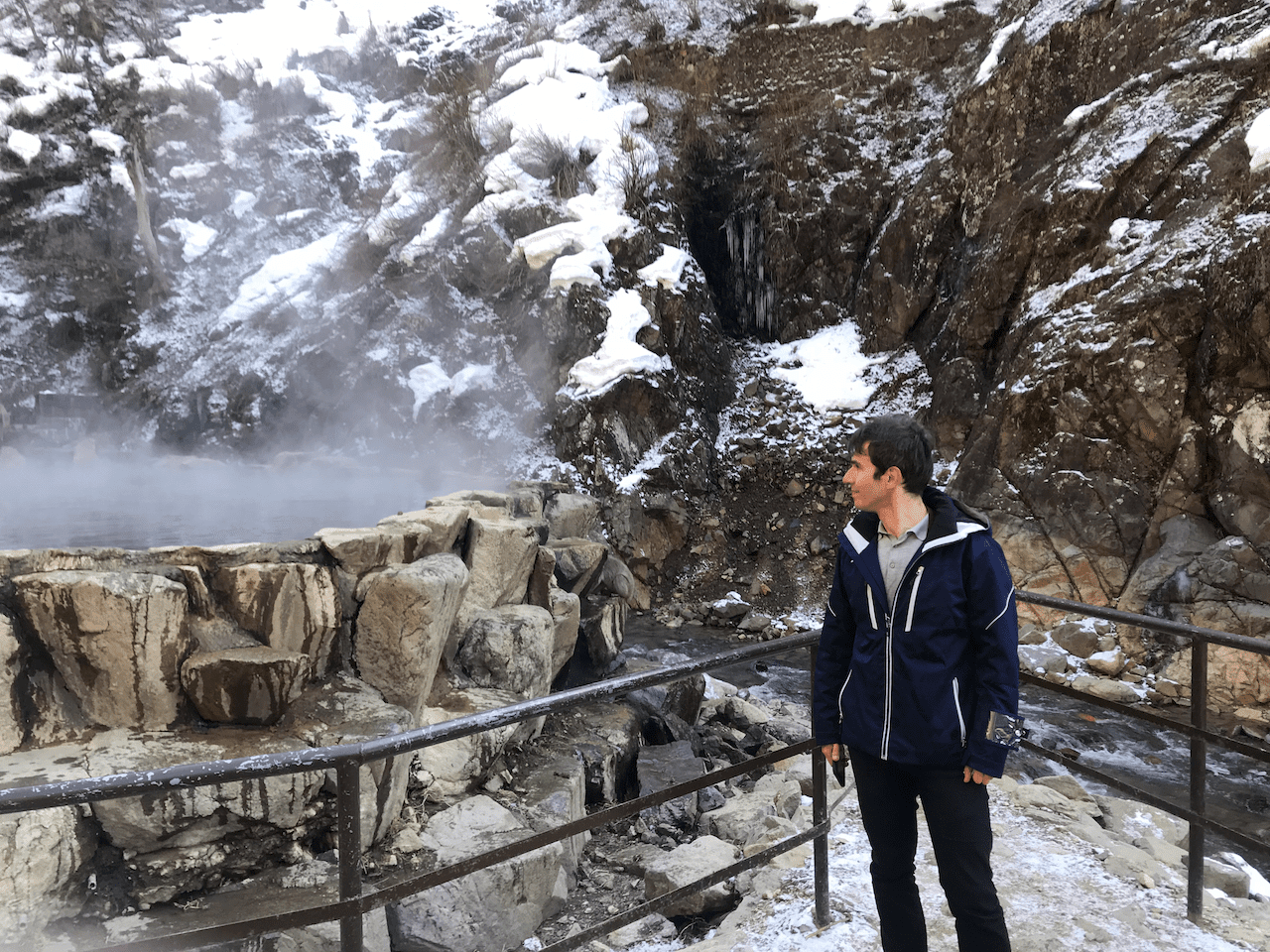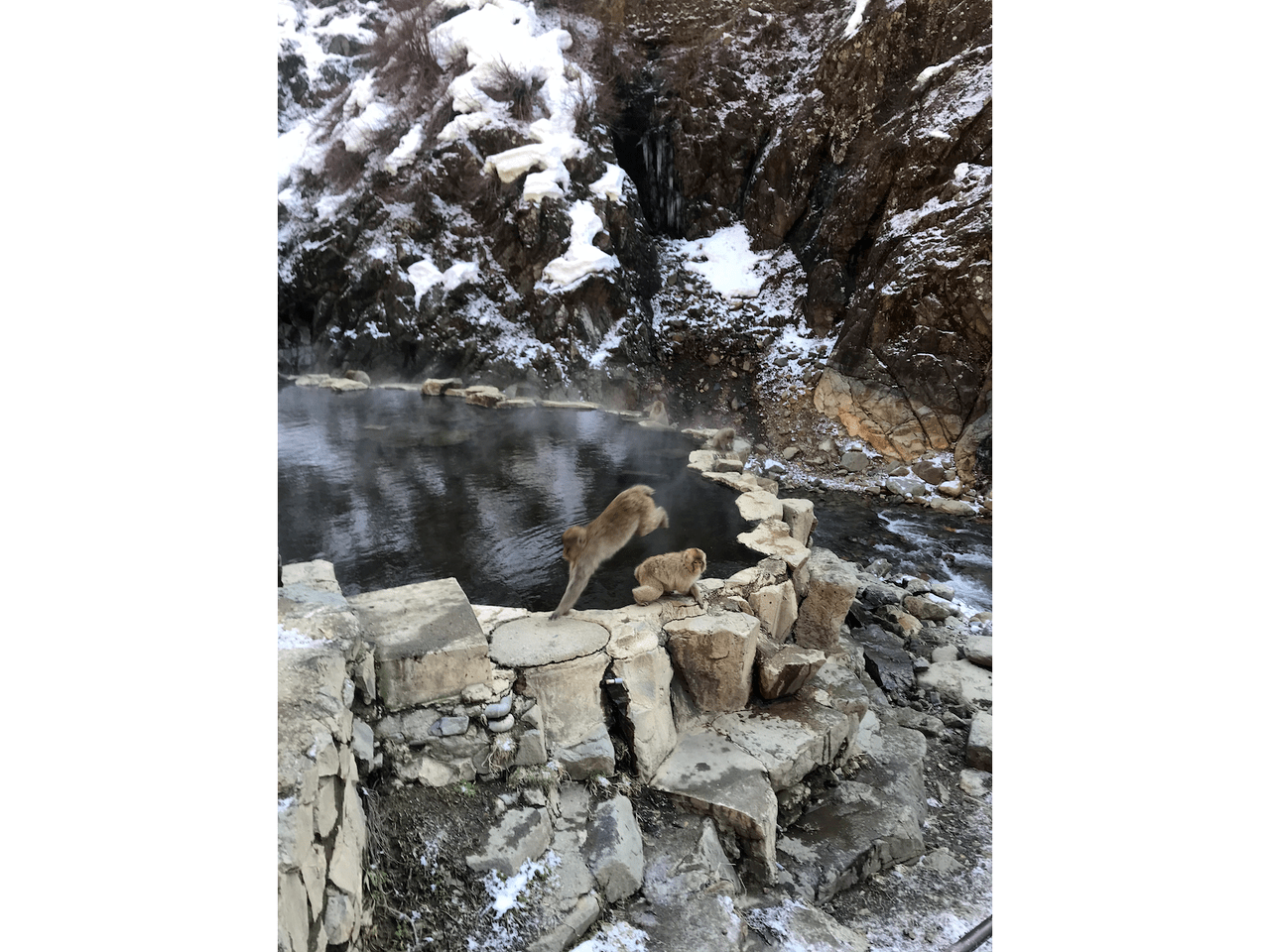 There were so many monkeys jumping or running around and some of them got really close! It's very interesting to see that they don't pay any attention to humans at all.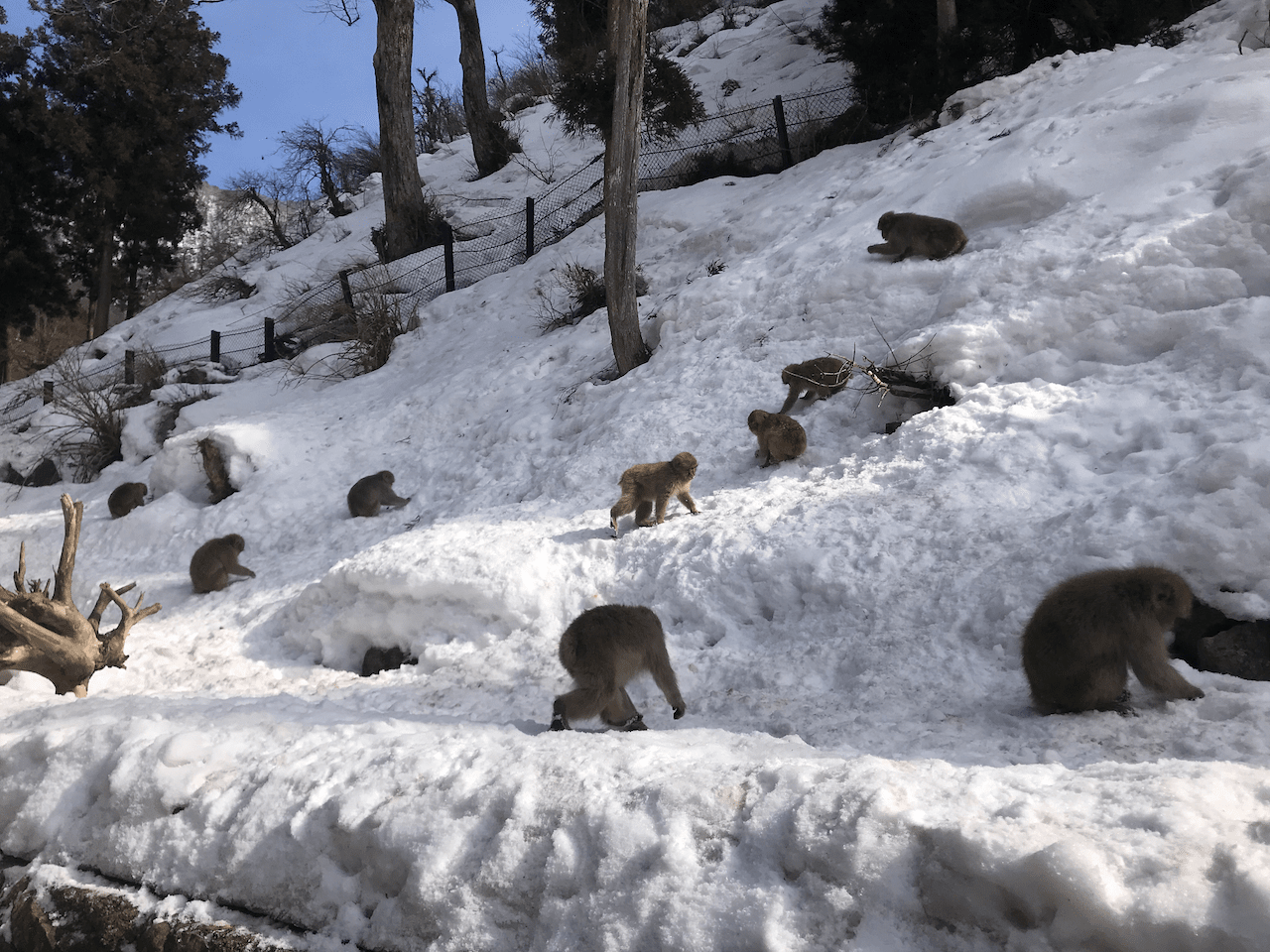 I don't know why, but those were eating snow.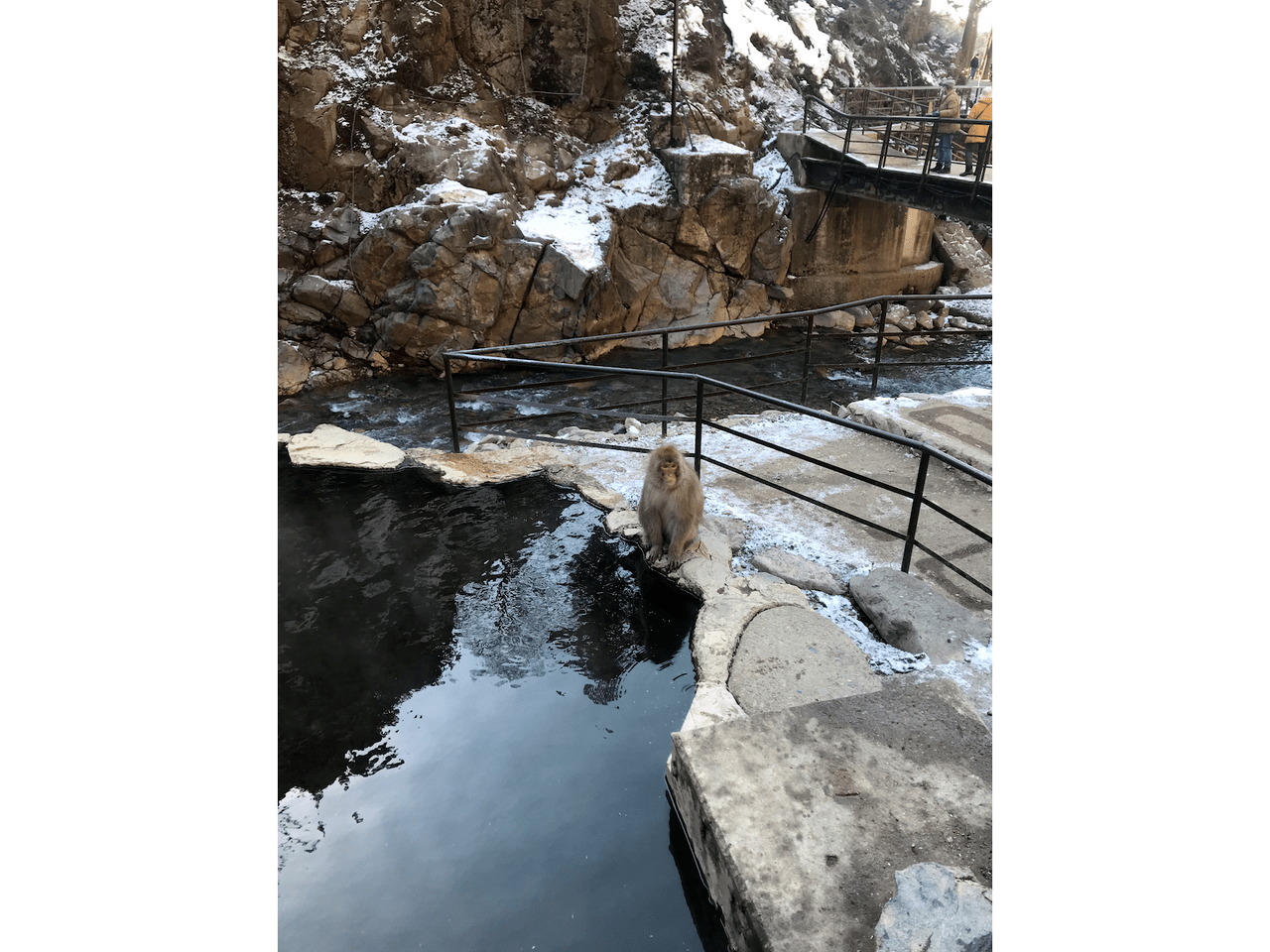 I am so happy I was able to finally see them.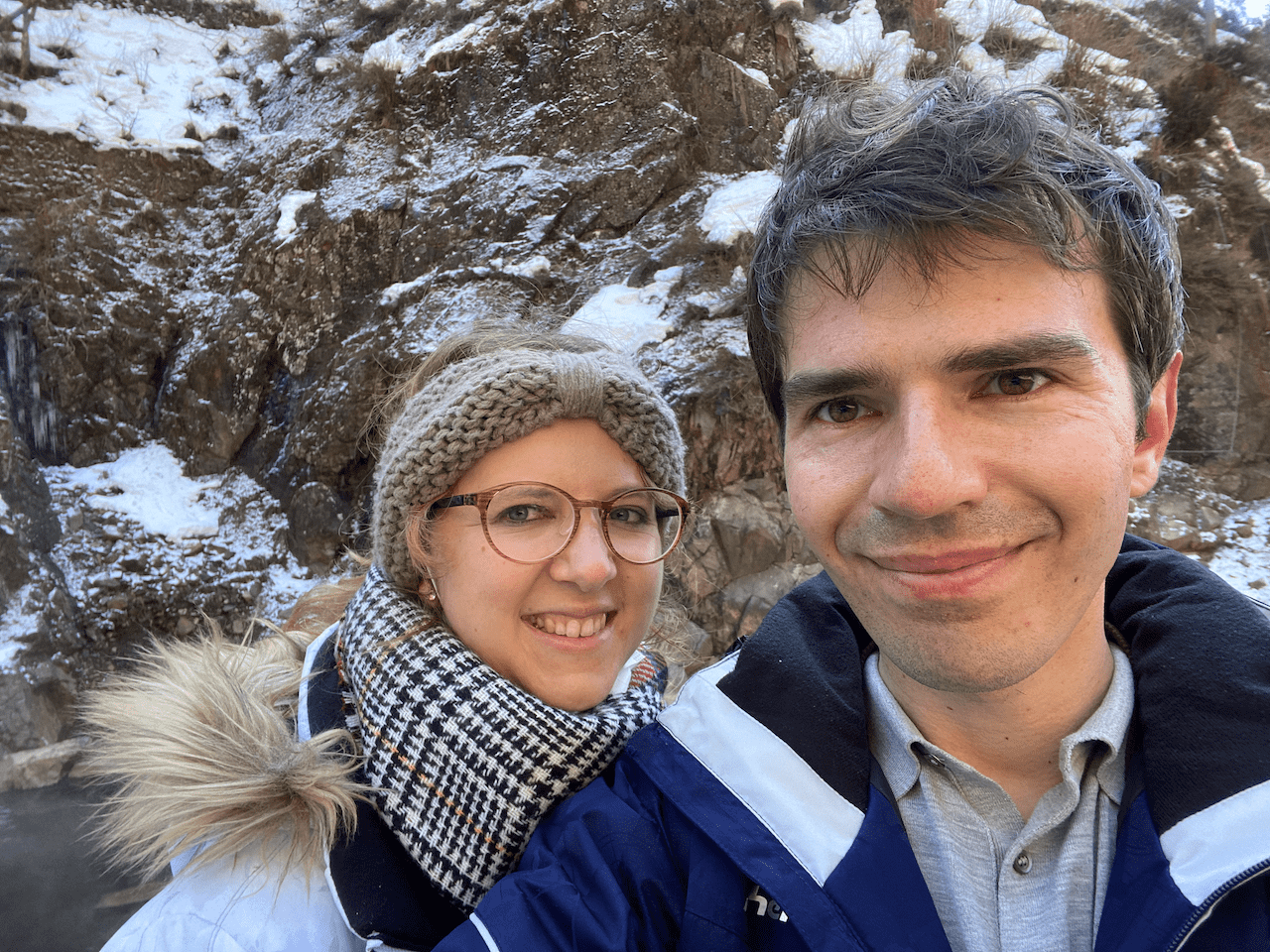 Skiing in Hakuba
Another famous place in Nagano prefecture is Hakuba Valley, one of Japan's biggest and most popular winter sport resorts. It's located within the Chubu Sangaku National Park, a volcanic mountain range that stretches across Toyama, Nagano and Gifu Prefectures, and includes several 3000 meter high peaks. In 1998, Hakuba was one of the sport areas for the Winter Olympics, making it famous in the whole world. Today, you can visit a museum if you are interested or ski on several former Olympic slopes. We stayed there overnight and enjoyed skiing at two different resorts, Goryu/Hakuba 47 and Happo-One, the former Olympic ski place. You can check out the different resorts and slope maps here.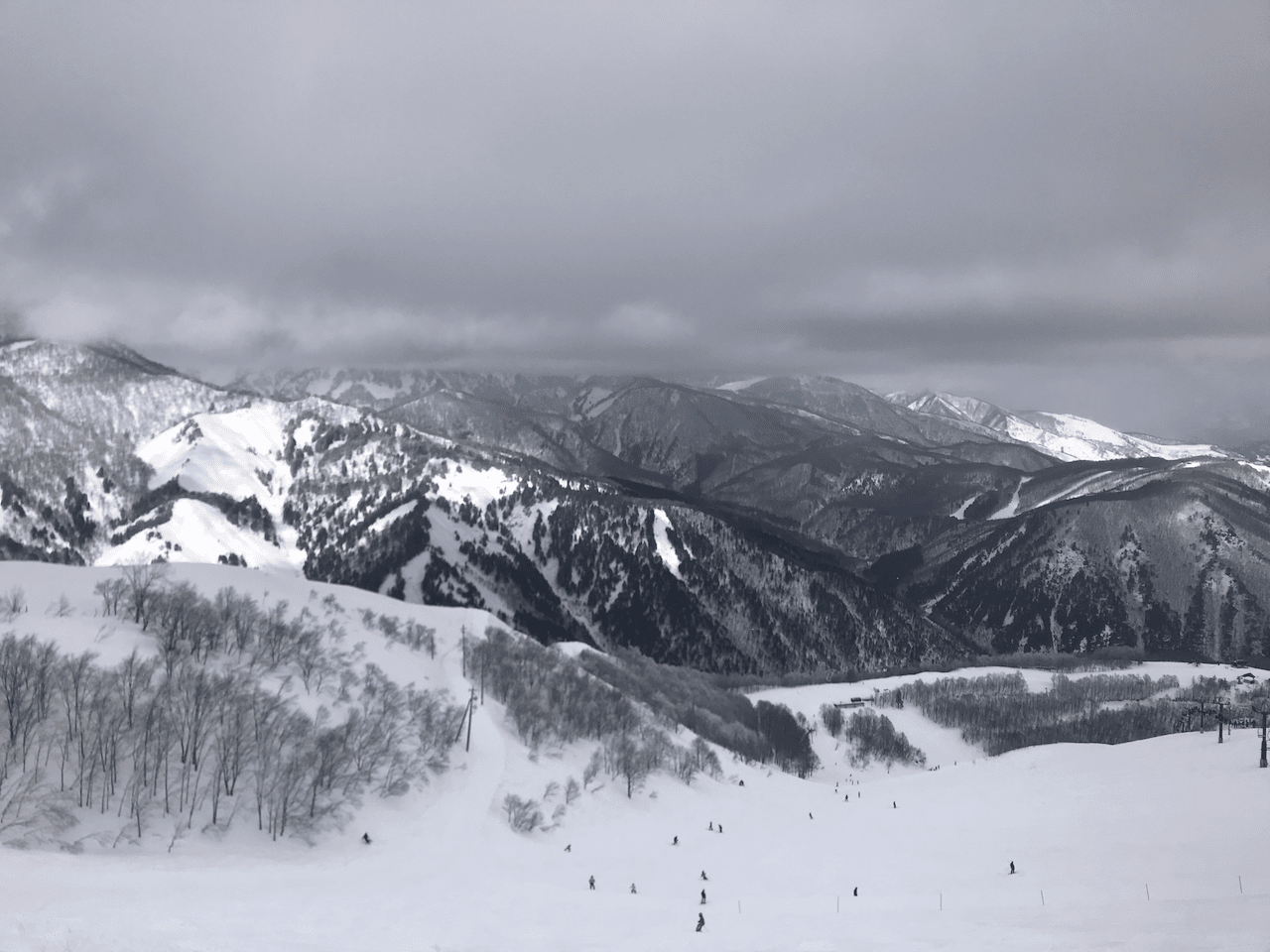 It was a great experience to ski at this places! The slopes were really challenging and as it was very cold (-5 to -8 degrees), the slopes were also super icy. On the first day, we had bad weather conditions and the top part was super foggy. We couldn't really see anything and sometimes didn't know which direction we should choose. That was a little bit scary.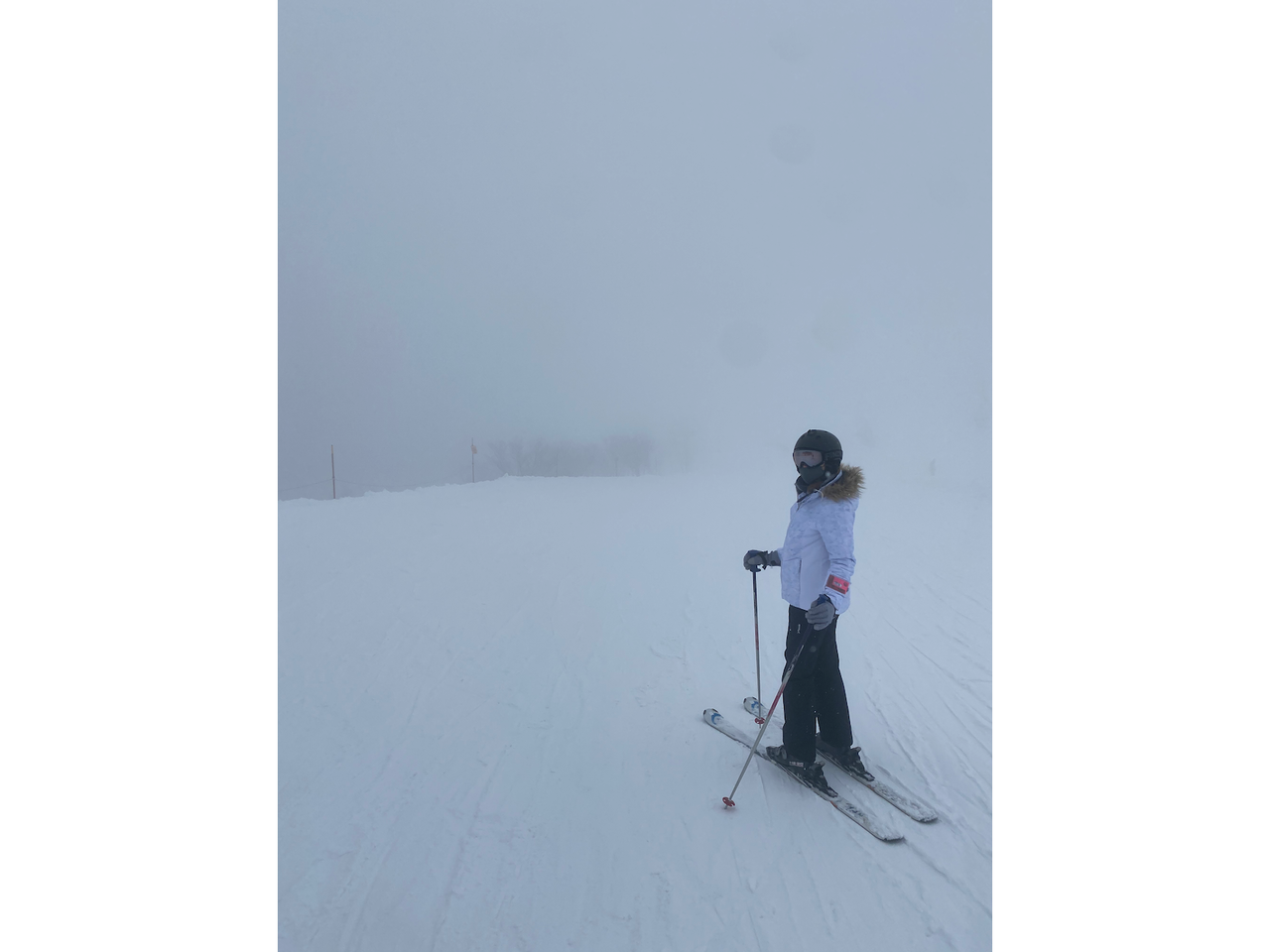 It was really scary that you couldn't see anything. Lucky for us, we always arrived at the correct ski lift.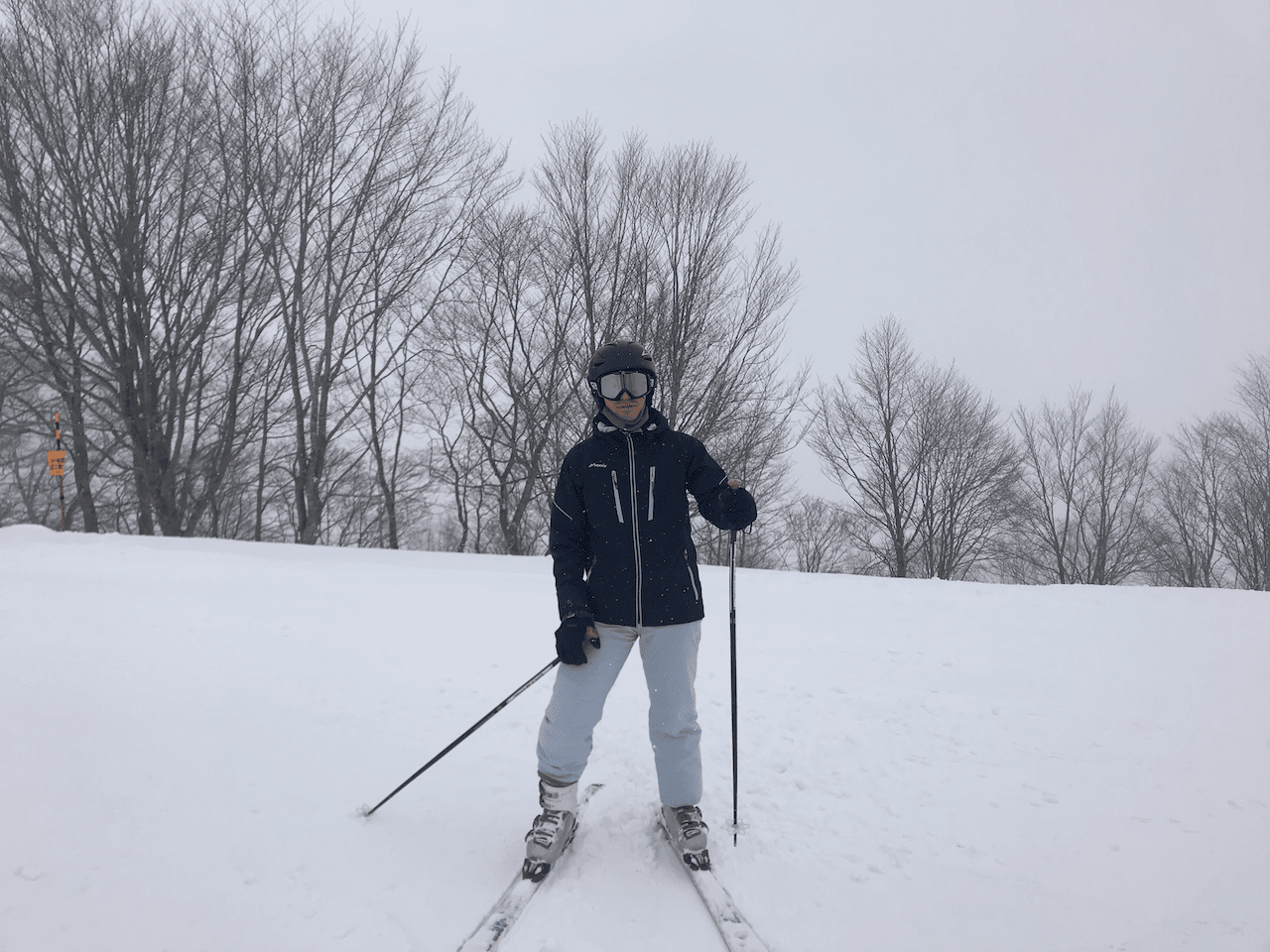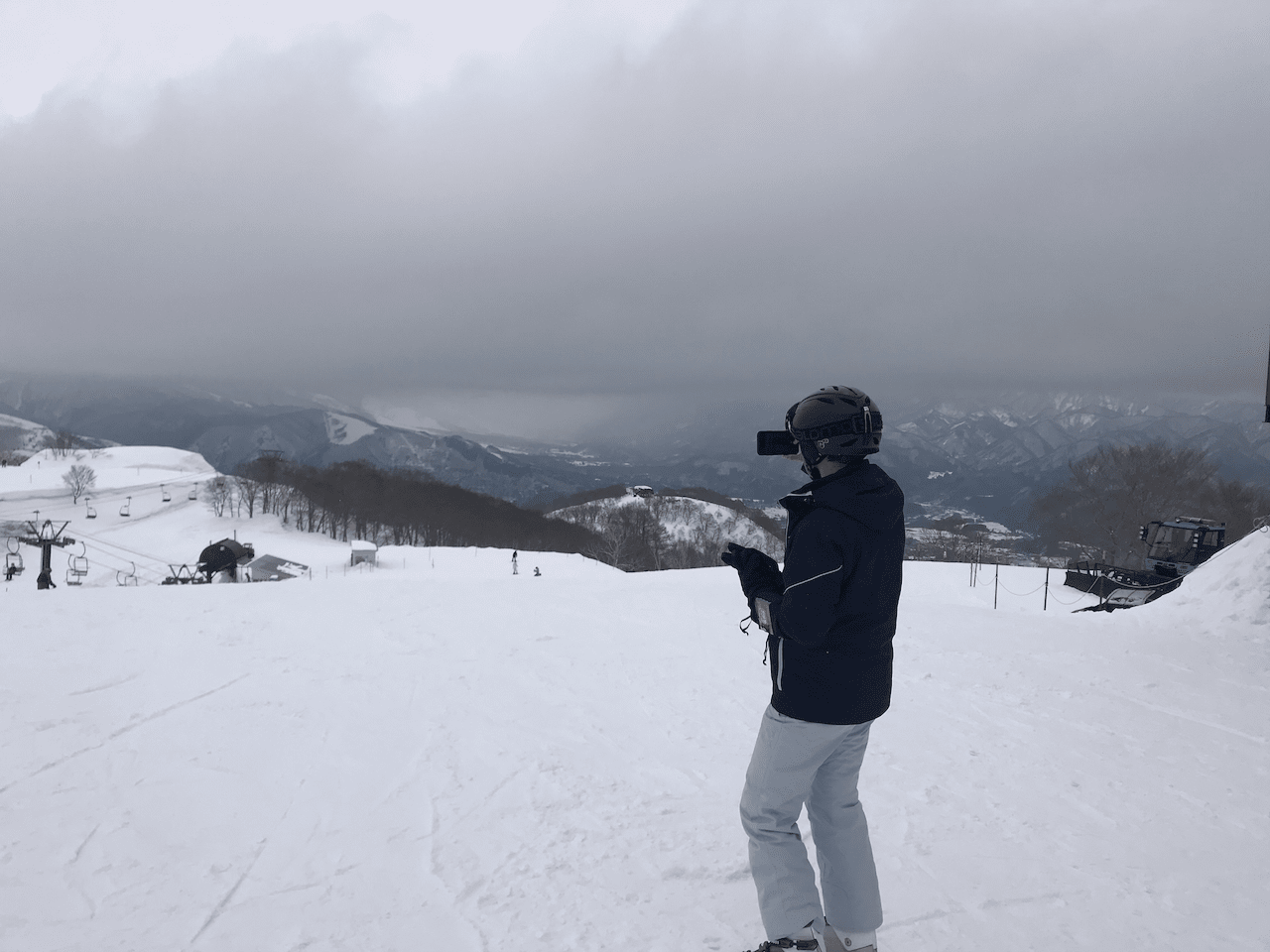 But on the second day, we were lucky: bright sunshine was waiting for us. The snow covered peaks of the high mountains looked amazing. I am really glad that we could spend time at this place.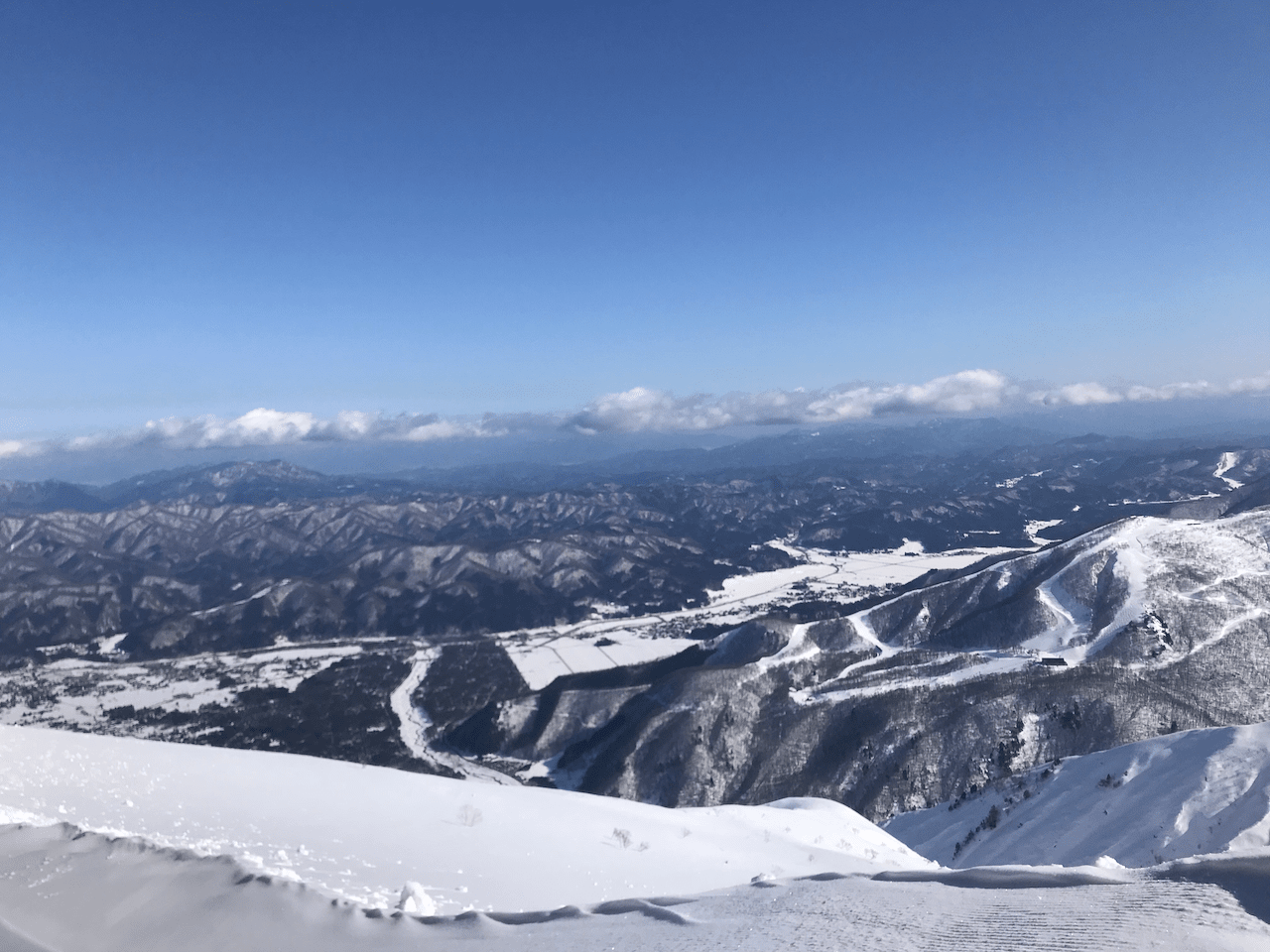 Stunning view from the top of Happo-One, the former Olympics ski area.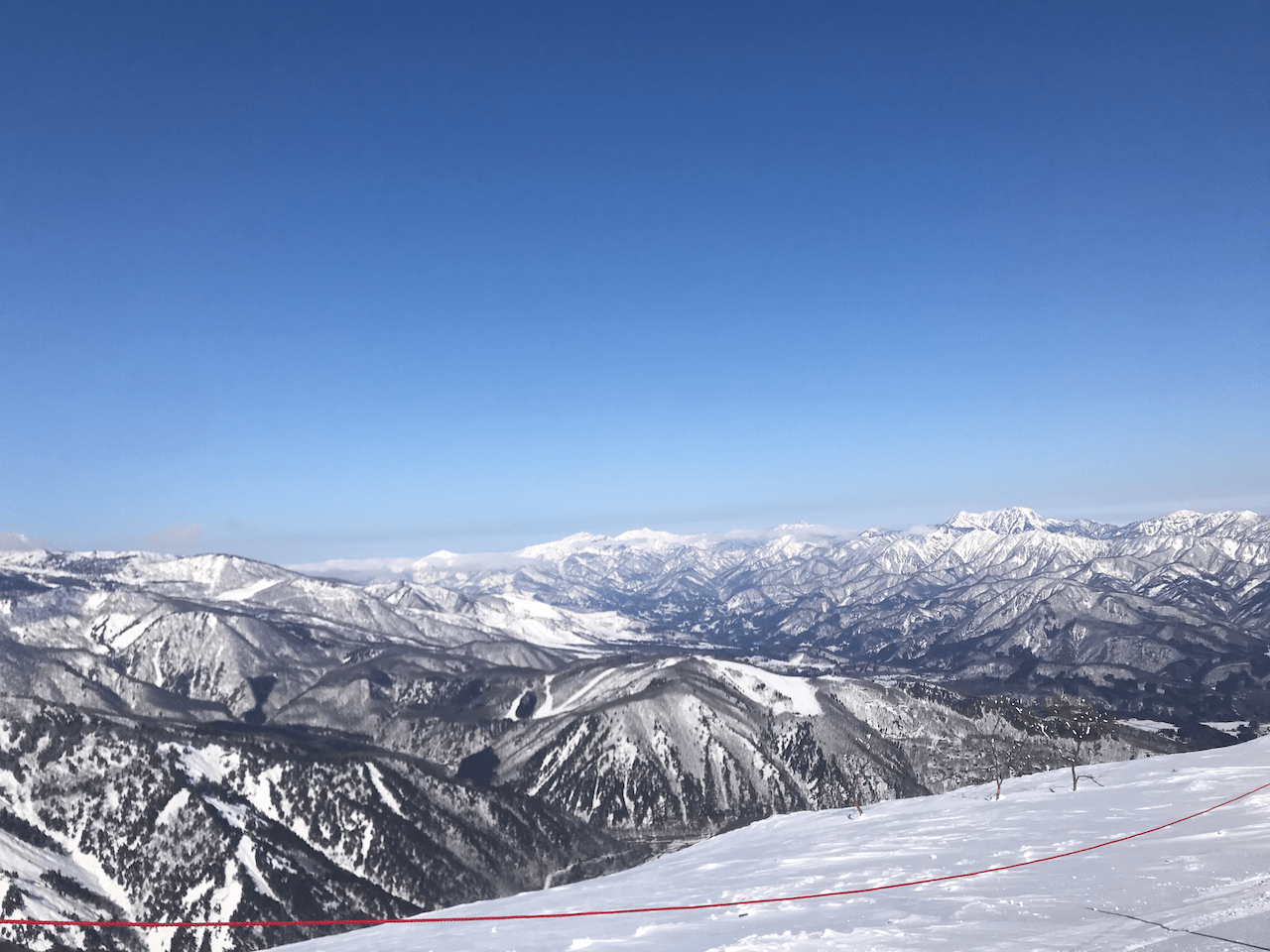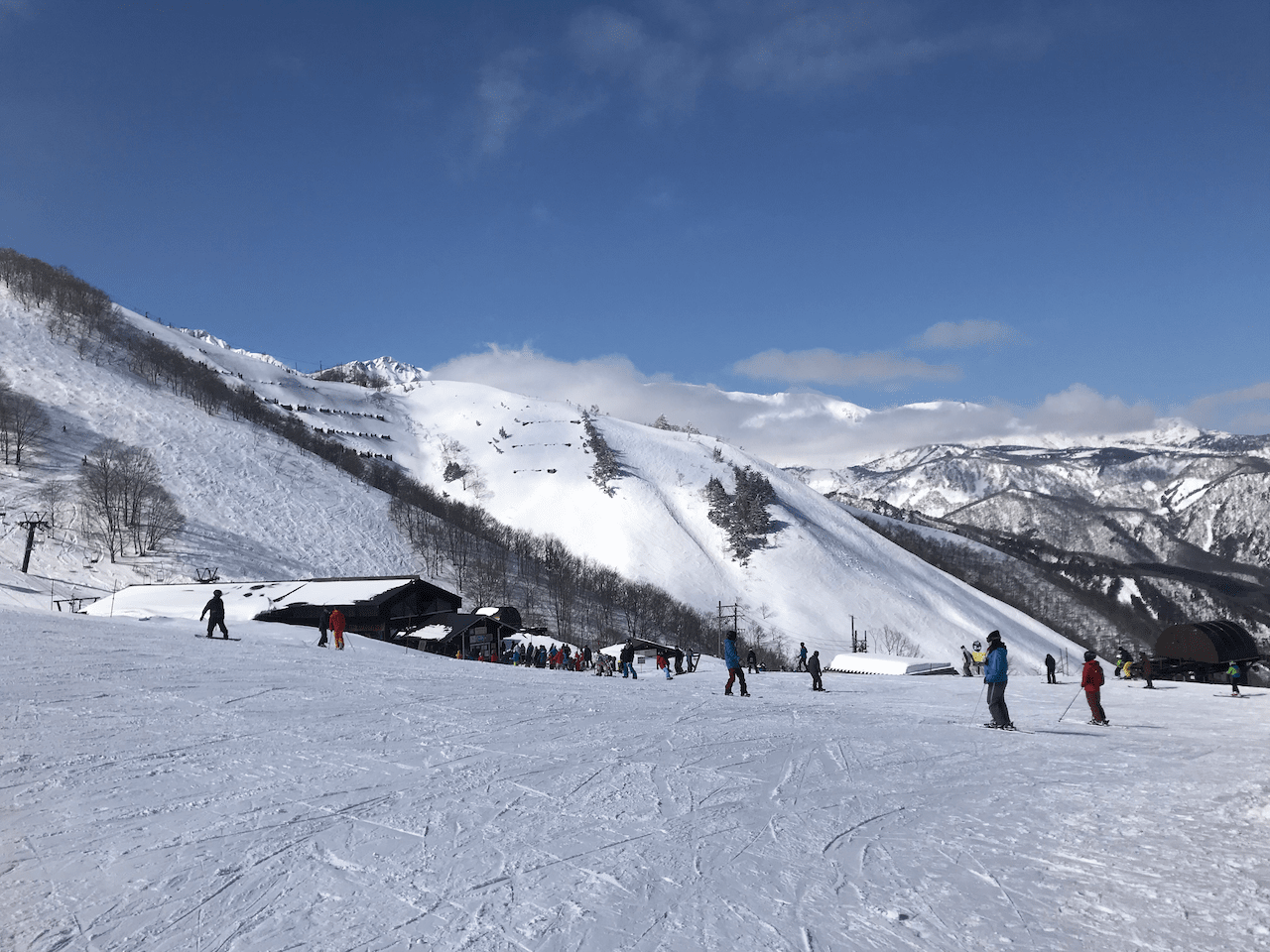 For COVID reasons, it was required to wear a mask all time, also during skiing. But it wasn't as uncomfortable as thought because the wind was so cold and the temperatures so chilly, that I was actually glad for the face mask!!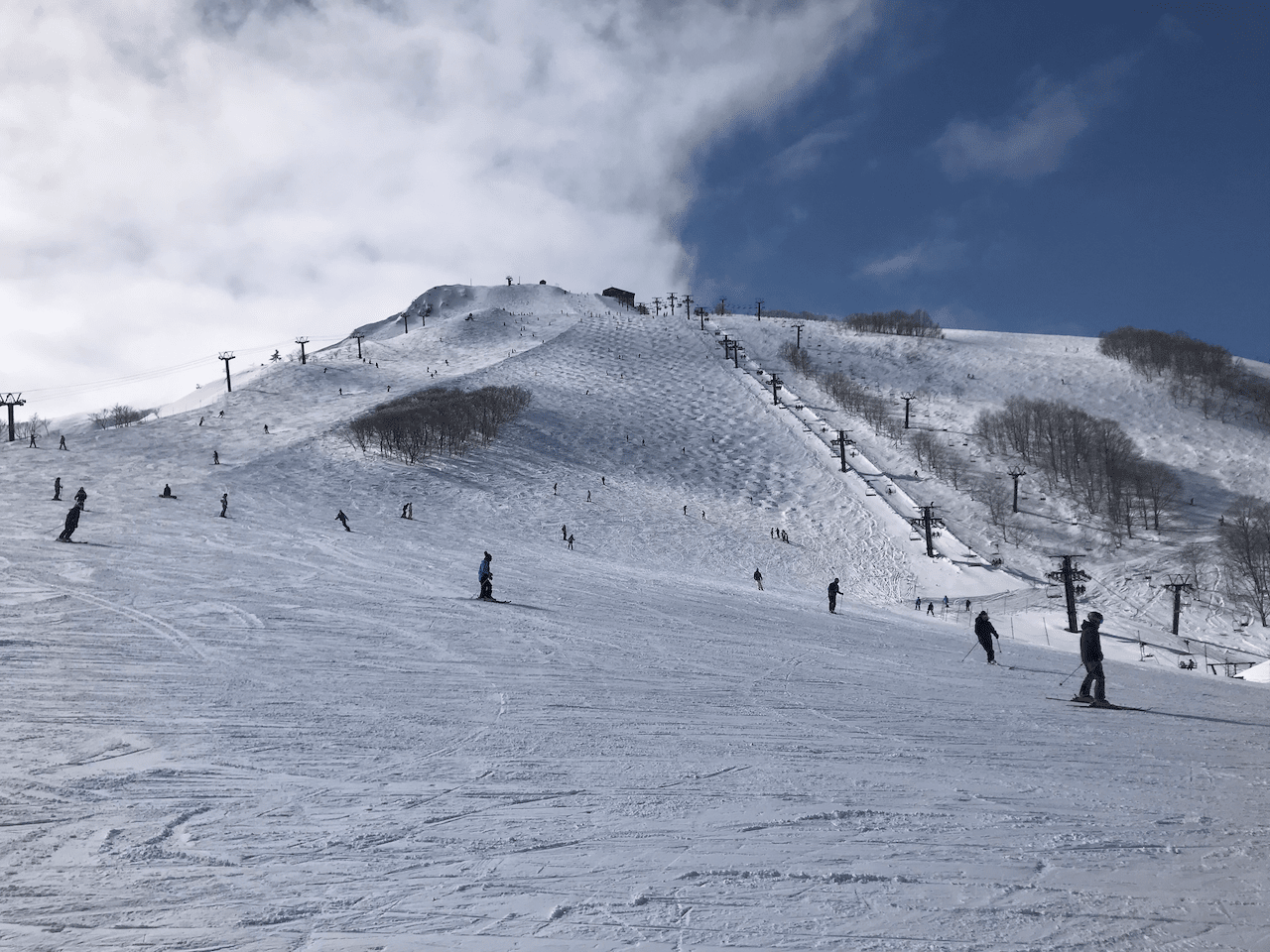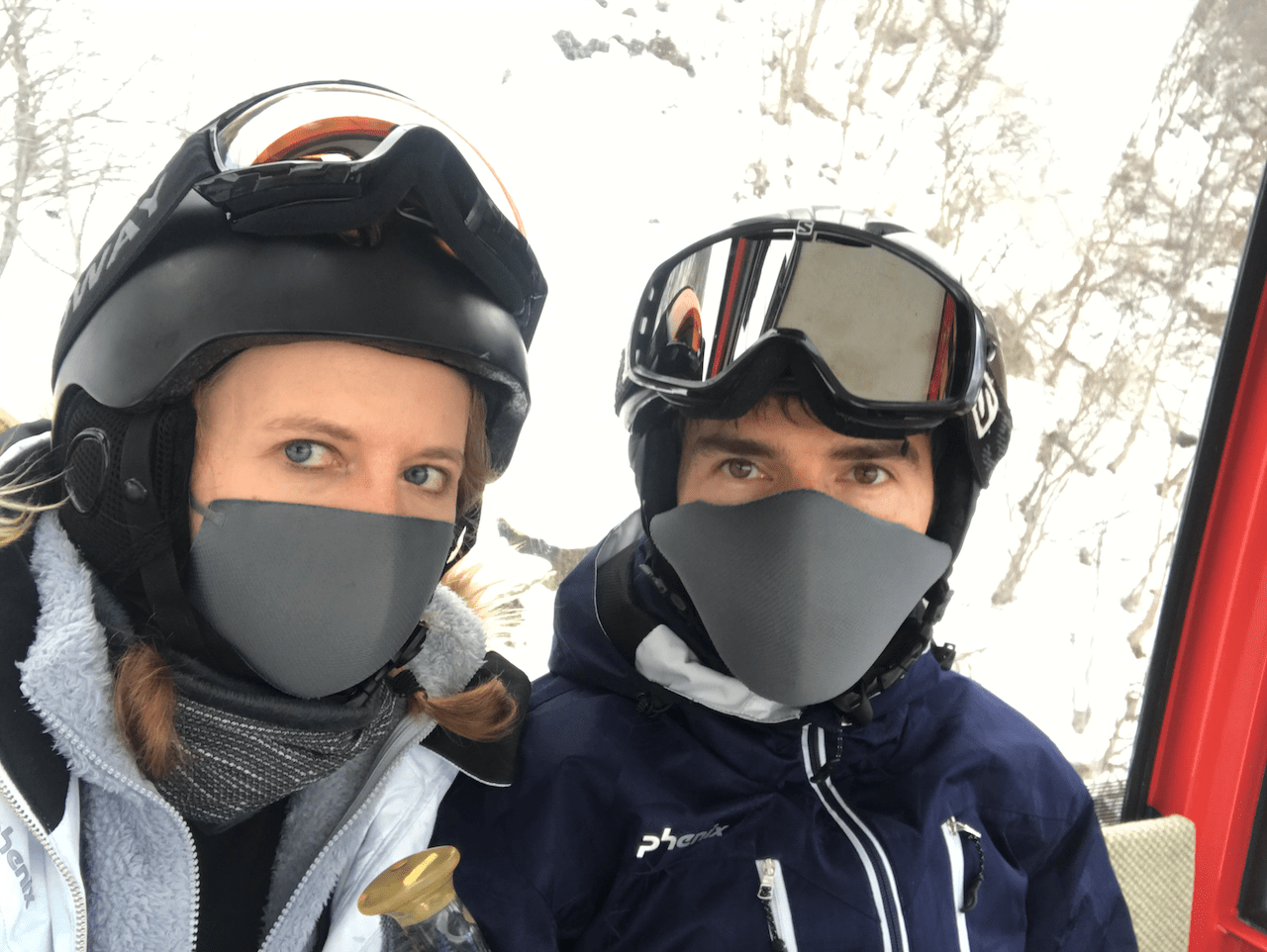 Up next
Winter season seems to be over and Kanazawa feels more and more like spring every day. Read more about our daily lives while we "celebrate" the one year anniversary of COVID in Japan. In the meantime, follow us on Instagram for more pictures!