Hi everyone, hope you are all doing all right and are healthy! Right now, a lot is going on and I hope you guys are all okay. In this post I want to tell you about our daily life in the past weeks. Spoiler alert: we experienced all kinds of weather situations and also (finally) some snow, there were some cancellations of big plans, we did go on a short trip to the mountains and we live among a virus outbreak…
Is it winter or spring?
As you could see in my current post about Forest Bathing, the weather didn't look like winter weather AT ALL. I told you in my last posts that this winter was mainly rainy and stormy but in this month we also experienced warm and sunny days where the temperature rose above 13 degrees. Those days were really nice and surprisingly mild, we tried to go out and enjoy the rare sun as much as possible. However, it's not easy to deal with those sudden weather changes, especially in this high frequency. I often got tired and had a bad headache. Especially the strong winds can be very tiresome and they reminded me of my time in Vienna, where those winds were blowing through the city every day and a lot of people suffered from it. But I loved the spring like weather, so I try not to complain too much.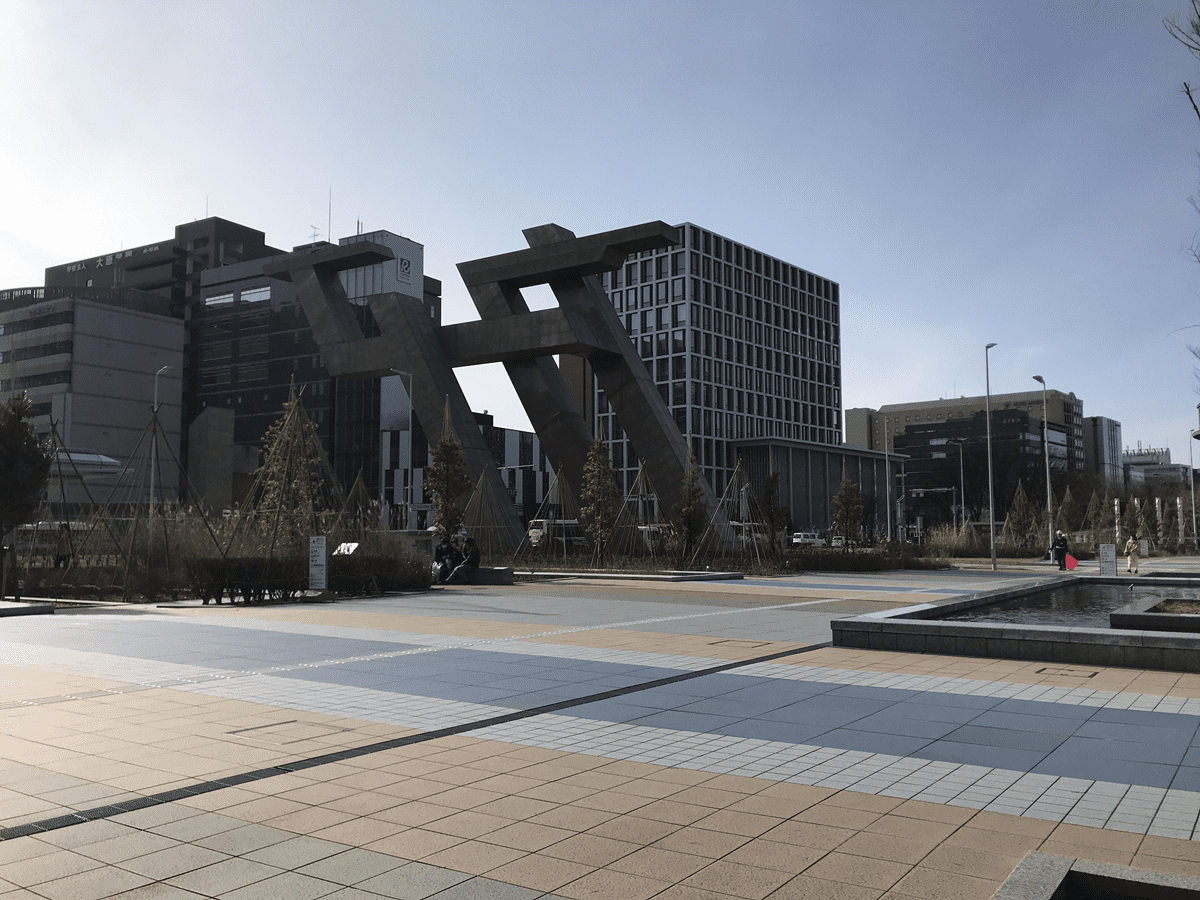 It was 15 degrees warm while I was waiting in front of the station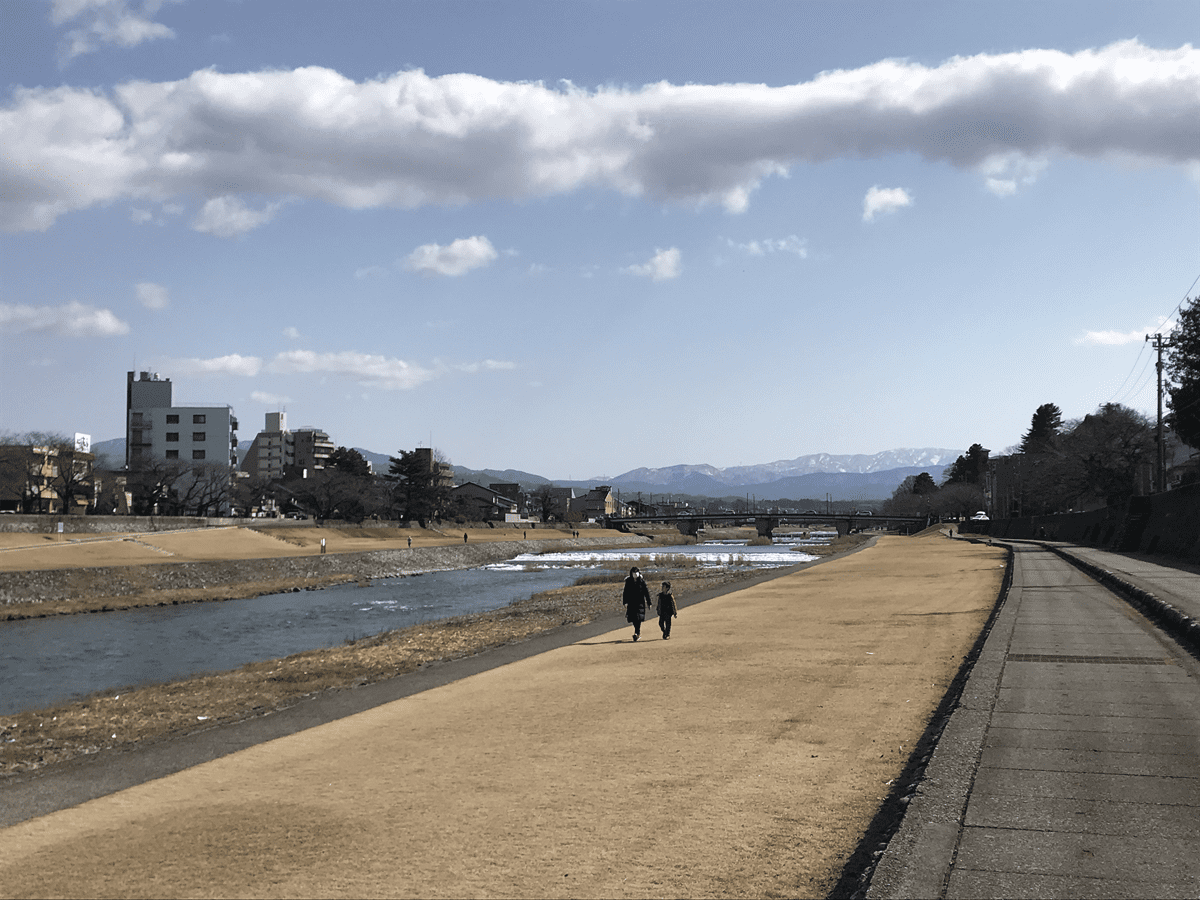 Saigawa River in late February - looks like a spring day
Contrary to that, there were some days with a lot of snow. Finally, we were able to experience the famous Kanazawa snow: very heavy and wet snow that lasts for days on the sidewalk but makes everything look so pretty.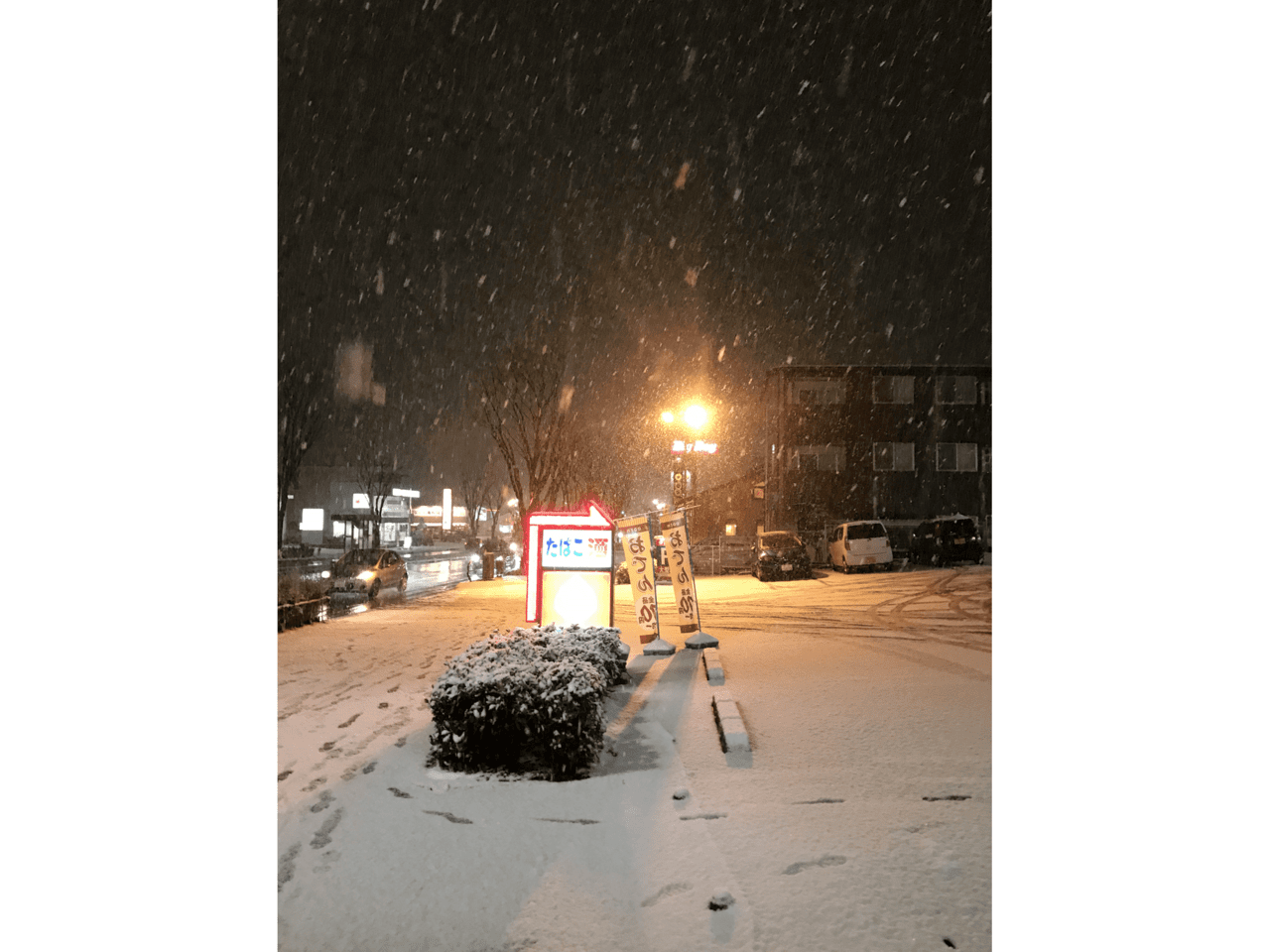 Finally it started to snow!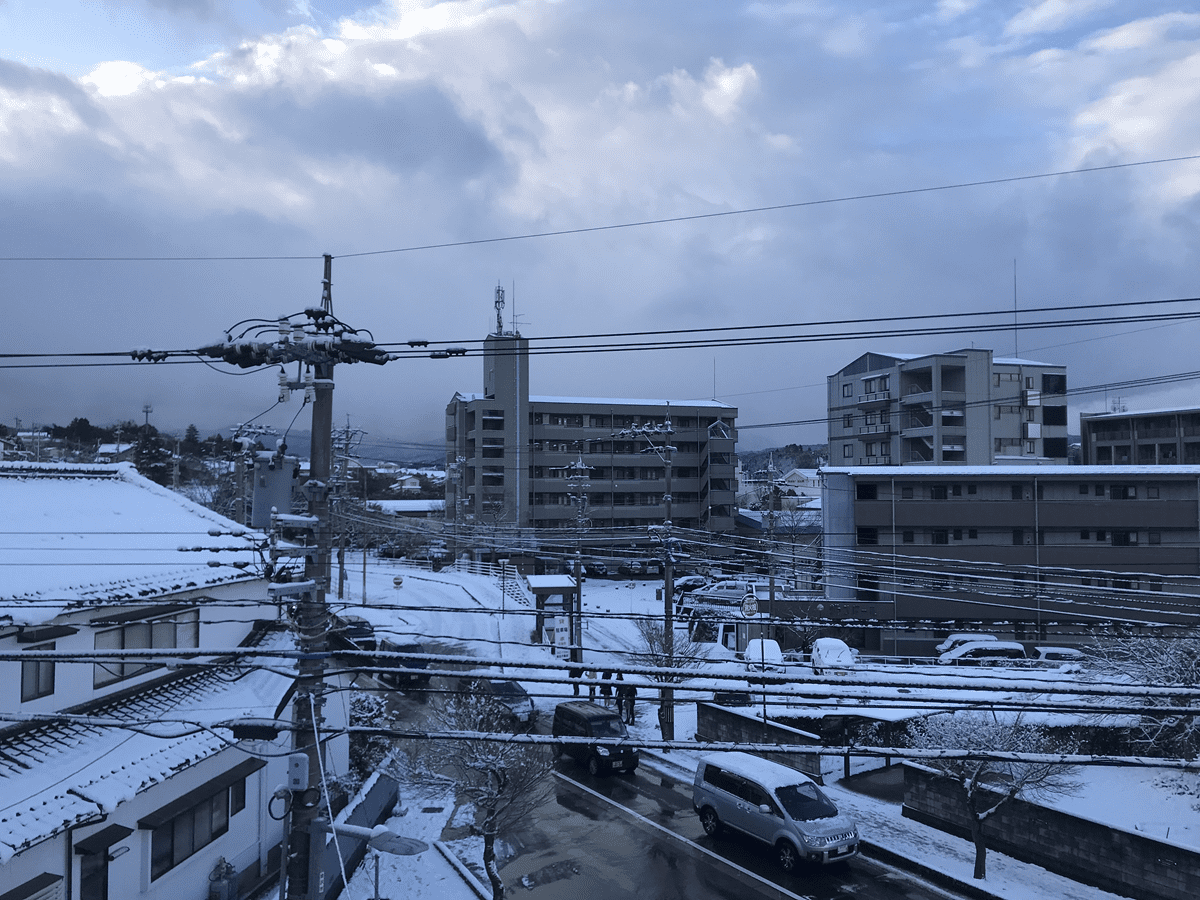 View from our window
Niklas and I went to Yuwaku Onsen to have a long walk through the snowy mountainside. Together with our friend Risa and her son Hugo, we enjoyed the winter wonderland and had a lot of fun, taking pictures and trying to convince Hugo to walk into the snow (he didn't like it at all!).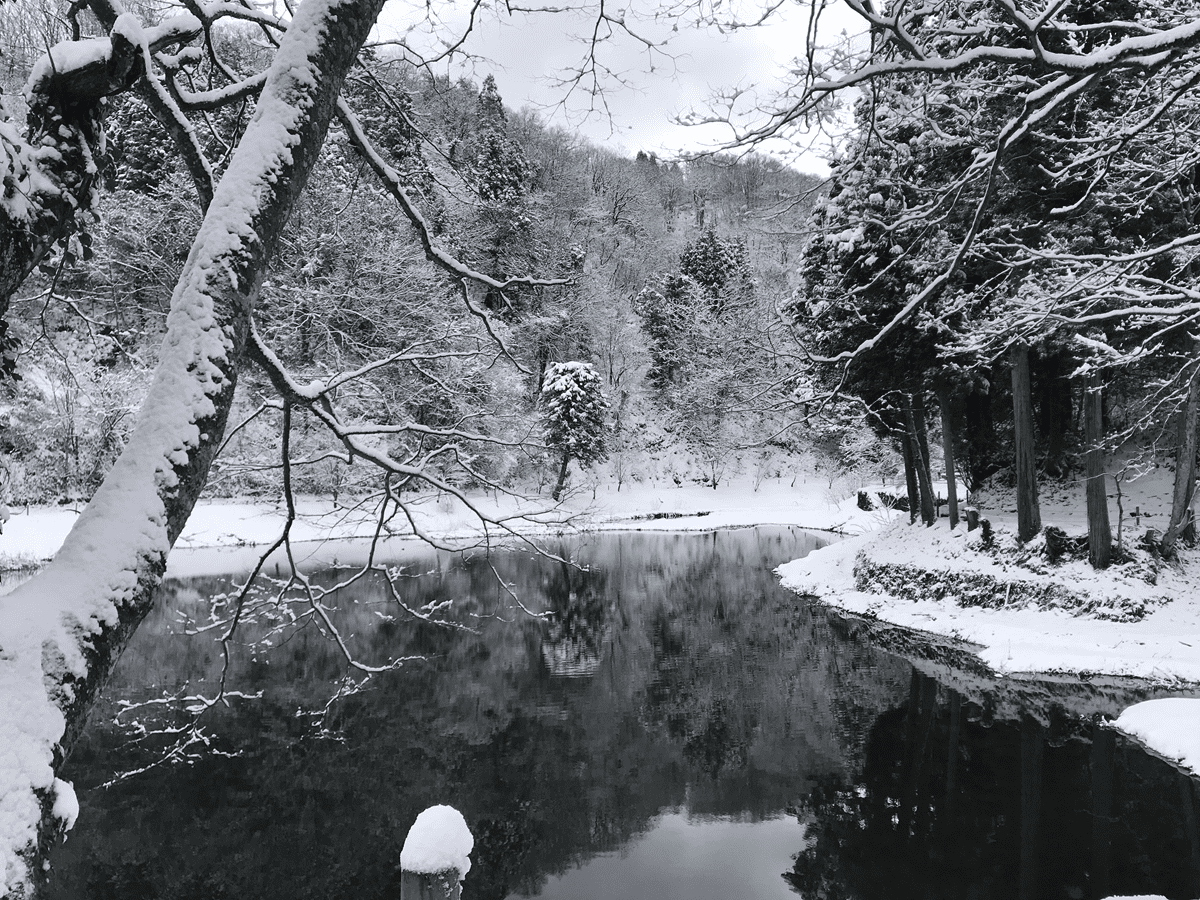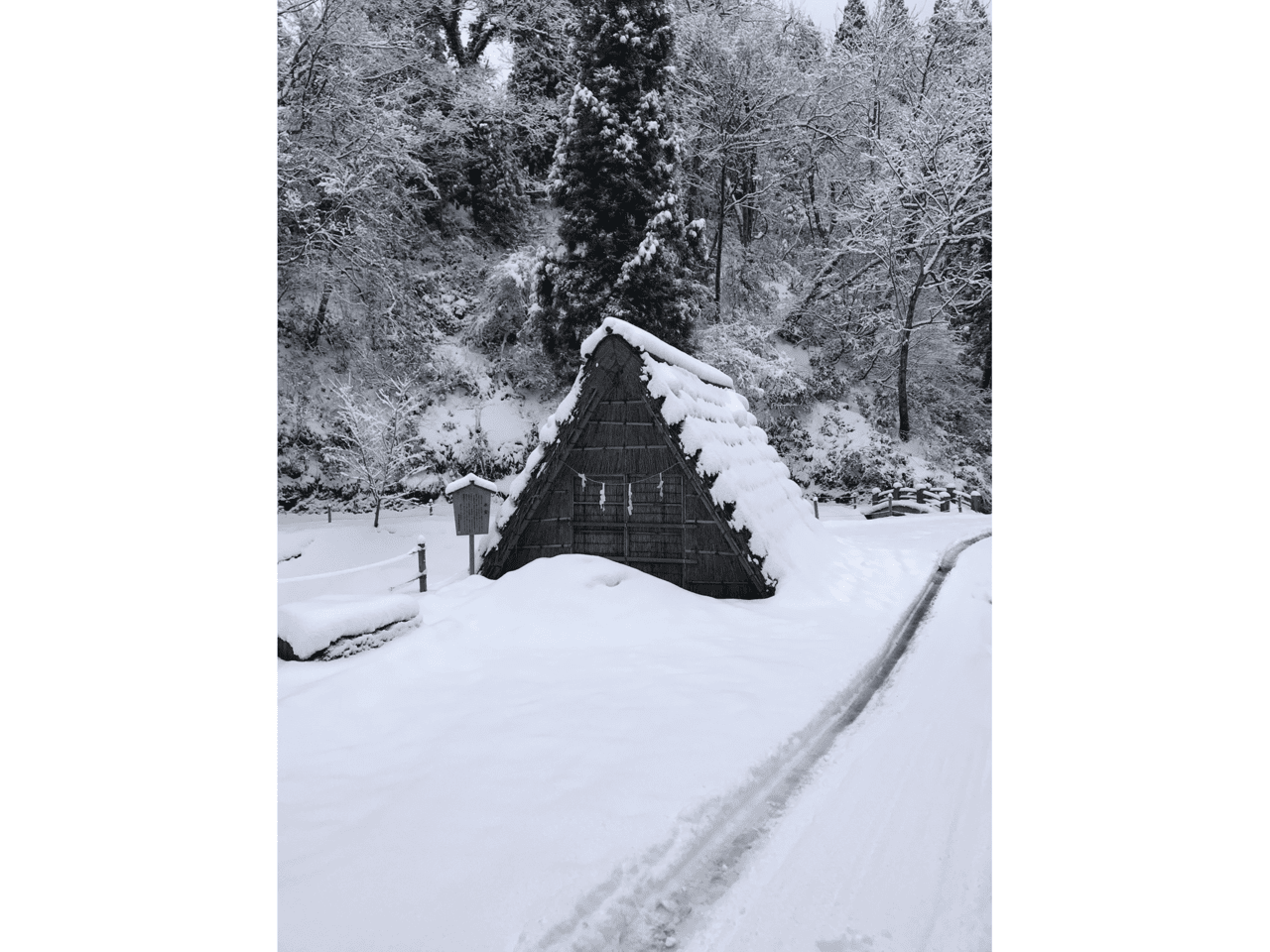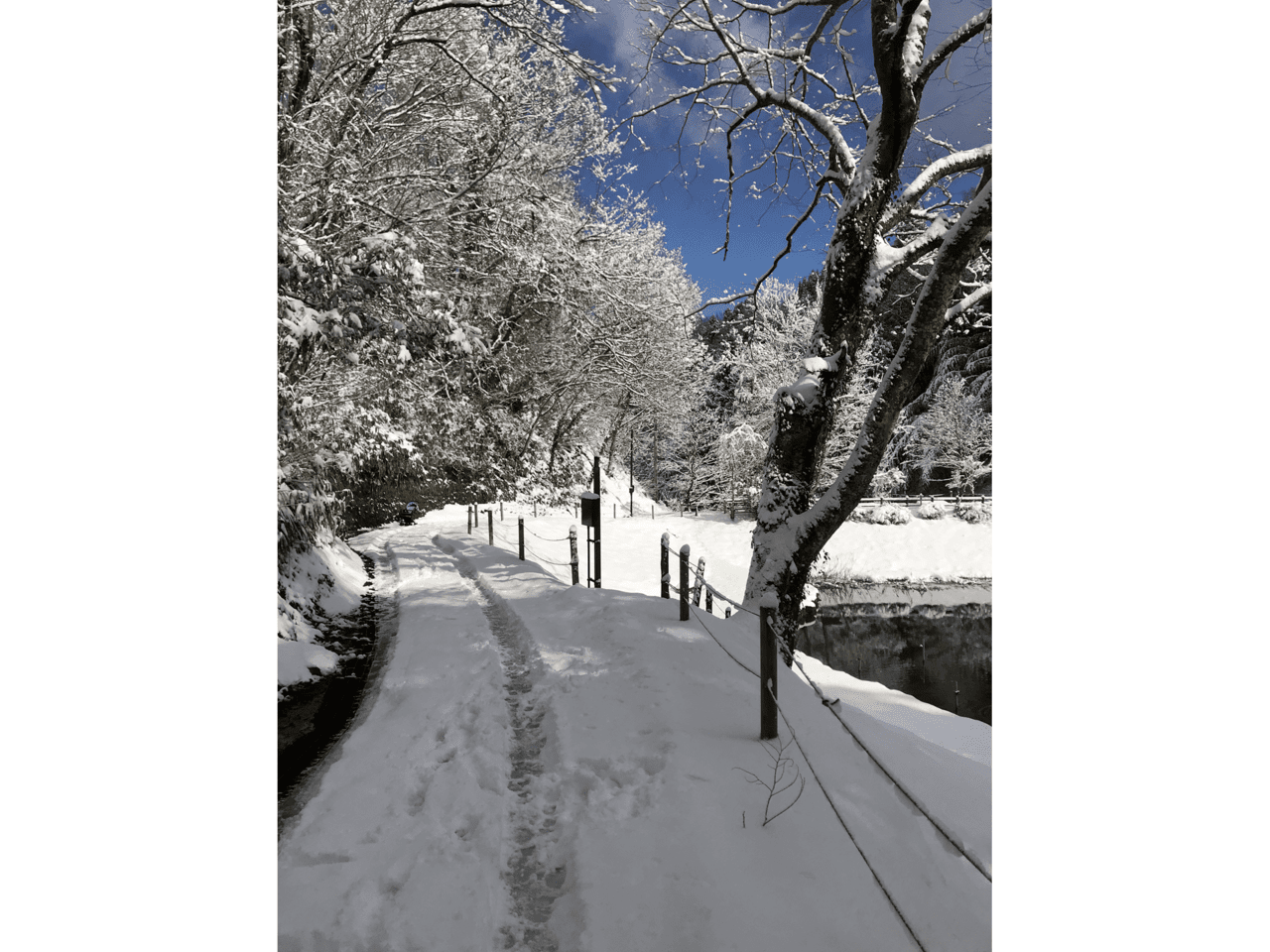 Afterwards, we visited a shrine next to the public bath house before we enjoyed the hot bath at the onsen. It's even more relaxing when you had a long walk outside at the cold air before. Truly refreshing!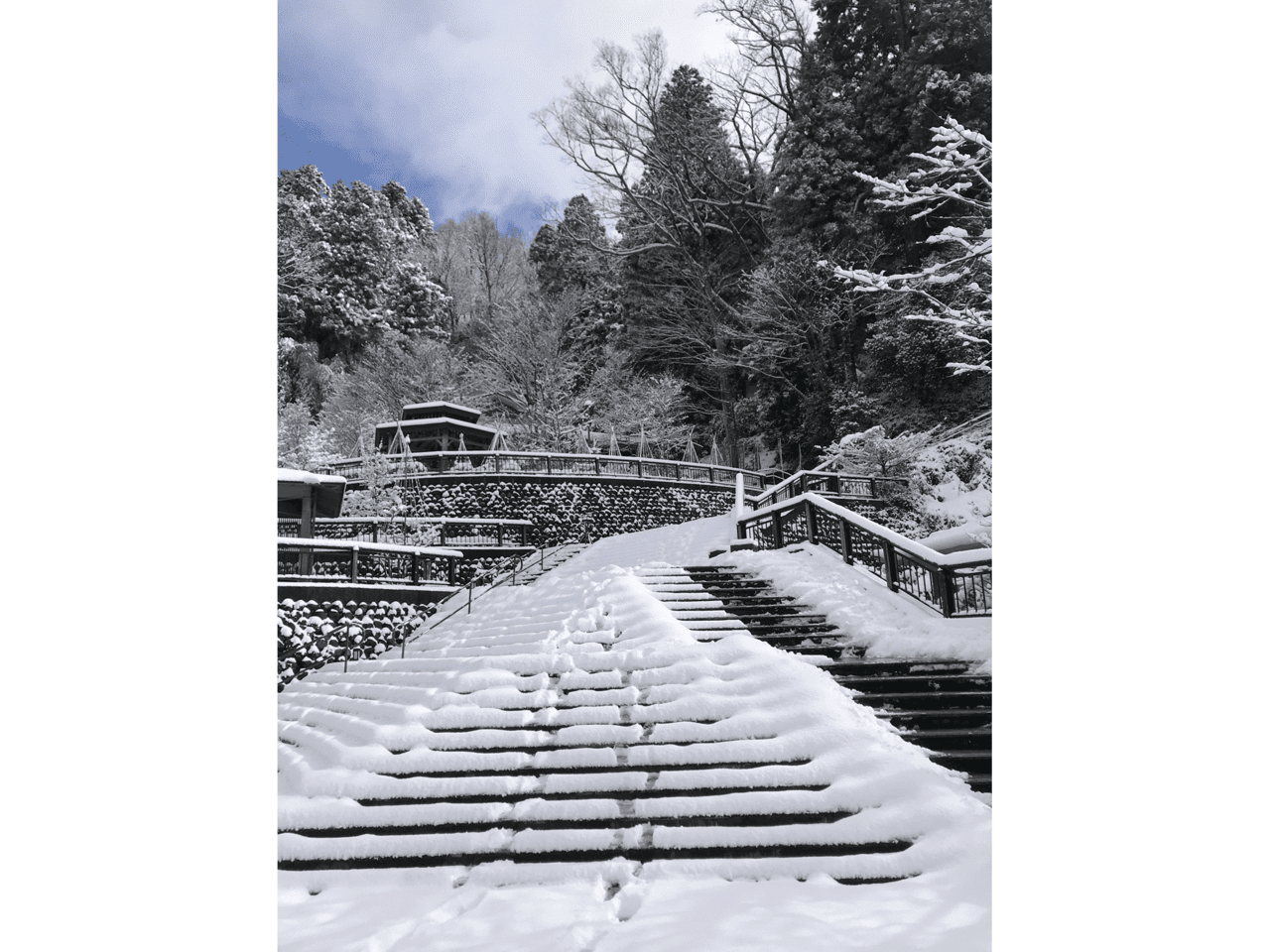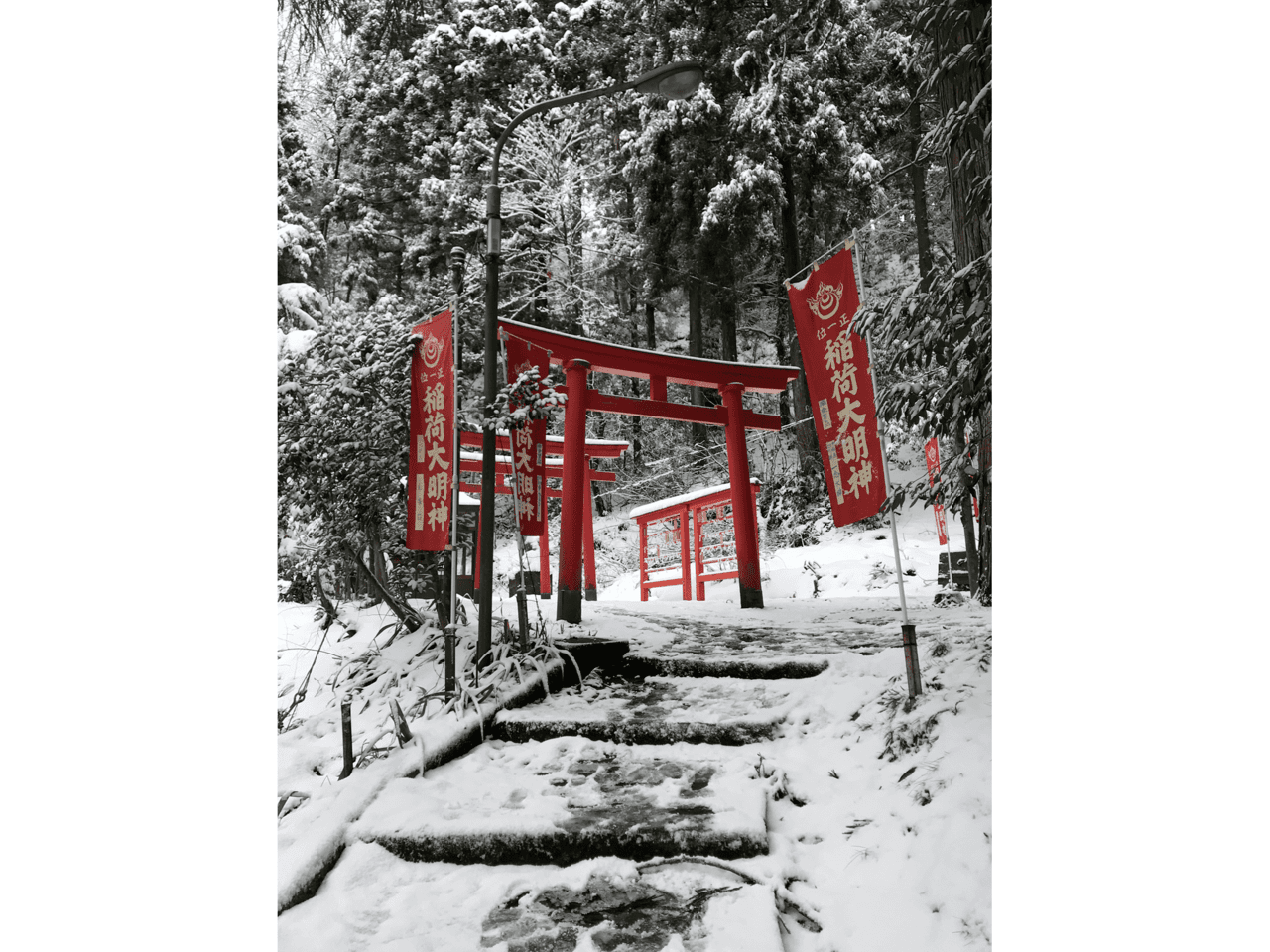 Sadly, the nice winter weather was gone on the next day but I enjoyed every second of it. :)
I was quite surprised how much snow fell down in a short time. It didn't take long until everything was covered in white and I don't exaggerate if I say, it was a lot of snow!! The main roads in Kanazawa are cleared from snow by warm water that comes out of hidden underwater pipes that are all over the city. Therefore, no salt is needed to melt the snow which is a nice treat for your shoes and the road tar. But that also means that everything becomes super muddy and wet. Now I finally understand why everyone wears big rain boots in winter. As it only lasted for few days, I had a lot of fun and was not too bothered by the conditions but I can understand that if it goes on for weeks, it will be very annoying. Also, clearing your car from the snow must be tiresome. I watched some people practically digging their cars out of masses of snow. Imagine that for everyday.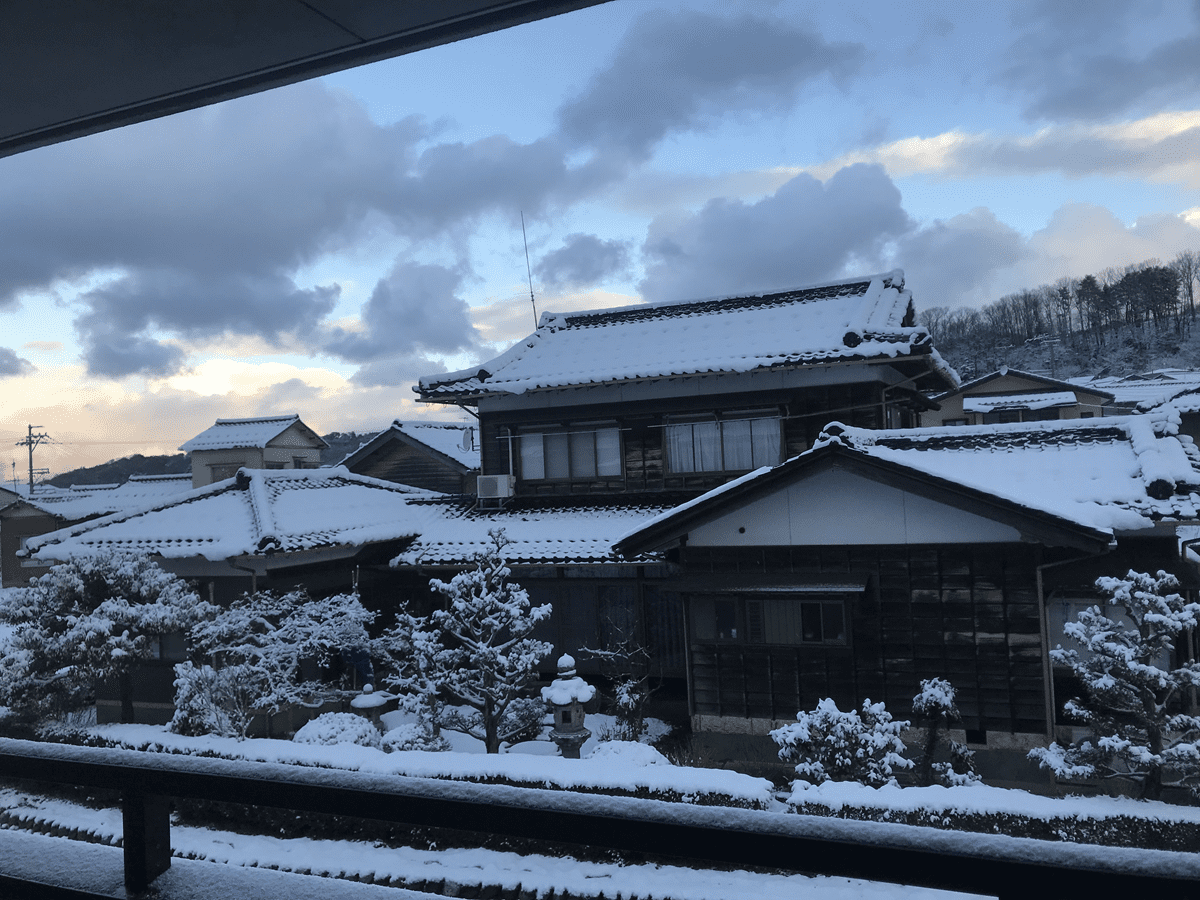 The house of our neighbor
Usually, it doesn't get colder than 0 or -1 degrees in Kanazawa, so the road clearing with water works perfectly fine and nothing freezes. But, one night the temperatures fell below -6 degrees and you can all guess what happened: the water pipes were frozen and all surfaces that were wet became very slippery. In the morning, I had to go to class and watched a lot of chaos: people falling down on the sidewalks, car crashes, lots of ambulances passing by… even our sensei fell down and hurt himself pretty badly. I was lucky and only slid along the sidewalk while trying to maintain my balance, doing the famous "penugin walk". But I saw so many people falling down! However I learned that this was an exception and usually, the water system works fine. As it was only one day, I try to believe it.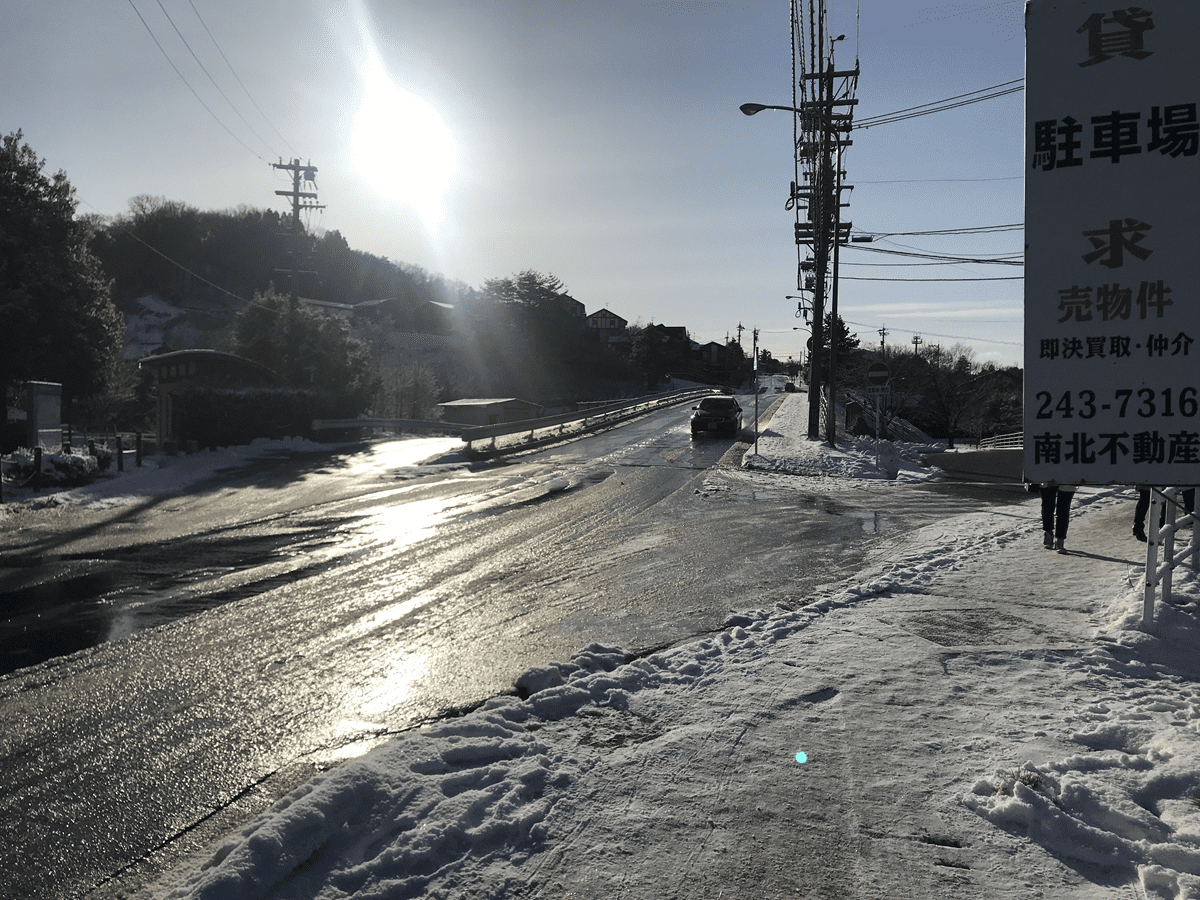 Every surface was frozen!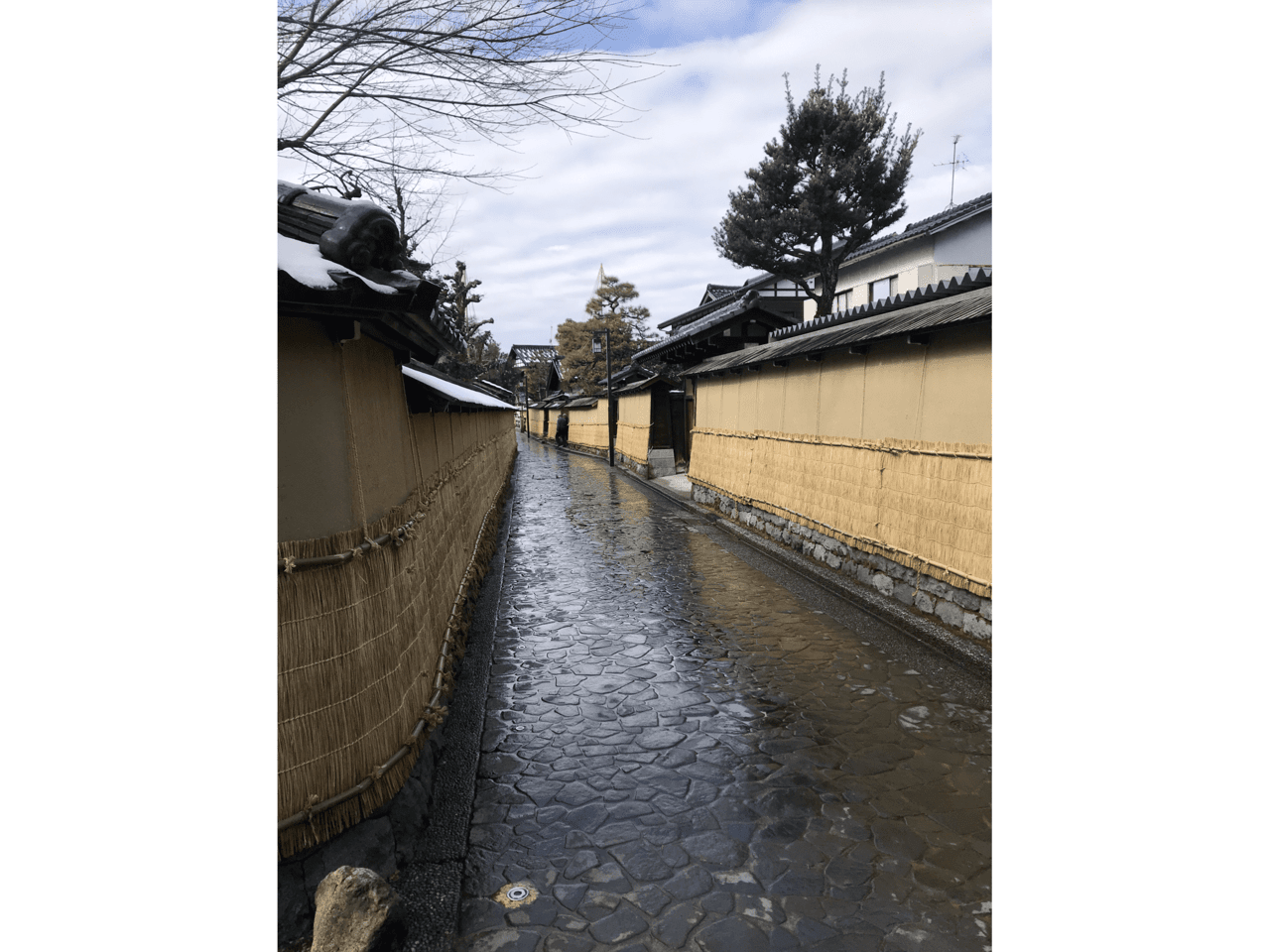 Even in the Samurai streets, the road was icy
The winter paradise didn't last long and soon, the grey and rainy winter storms were back. Strong wind, thunderstorms, hail storms and so much rain - I think I will never get used to it at all. In between, there are some short sunny moments and the temperature can rise very suddenly. It seems that nature is also confused as some cherry trees have started to bloom, way to early. You can also see many birds getting ready for spring now. I hope they will be all right when the cold winter storms are coming back…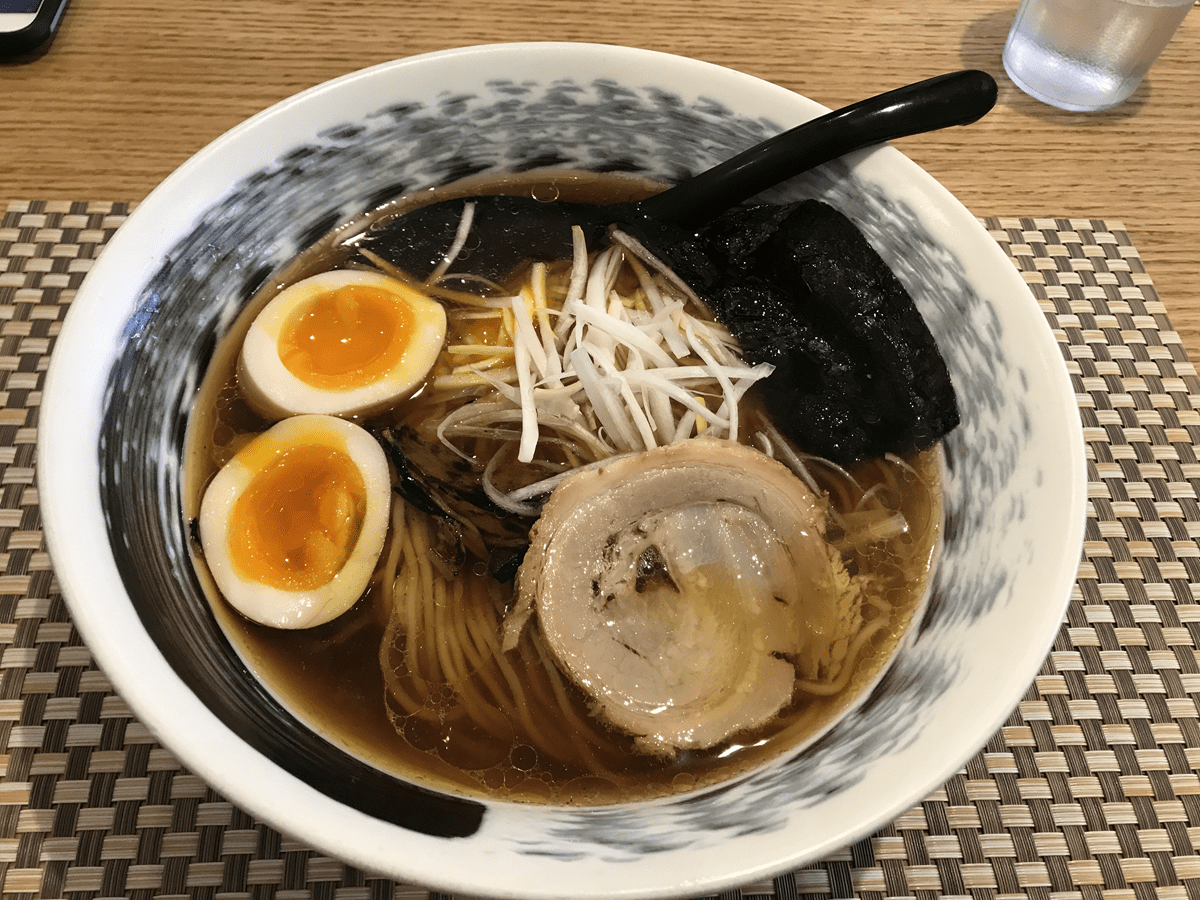 Best way to battle the grim winter: eat ramen!
I am counting the days until the actual spring will begin, the cherry blossom will be in full bloom and we finally can enjoy some nice days outside!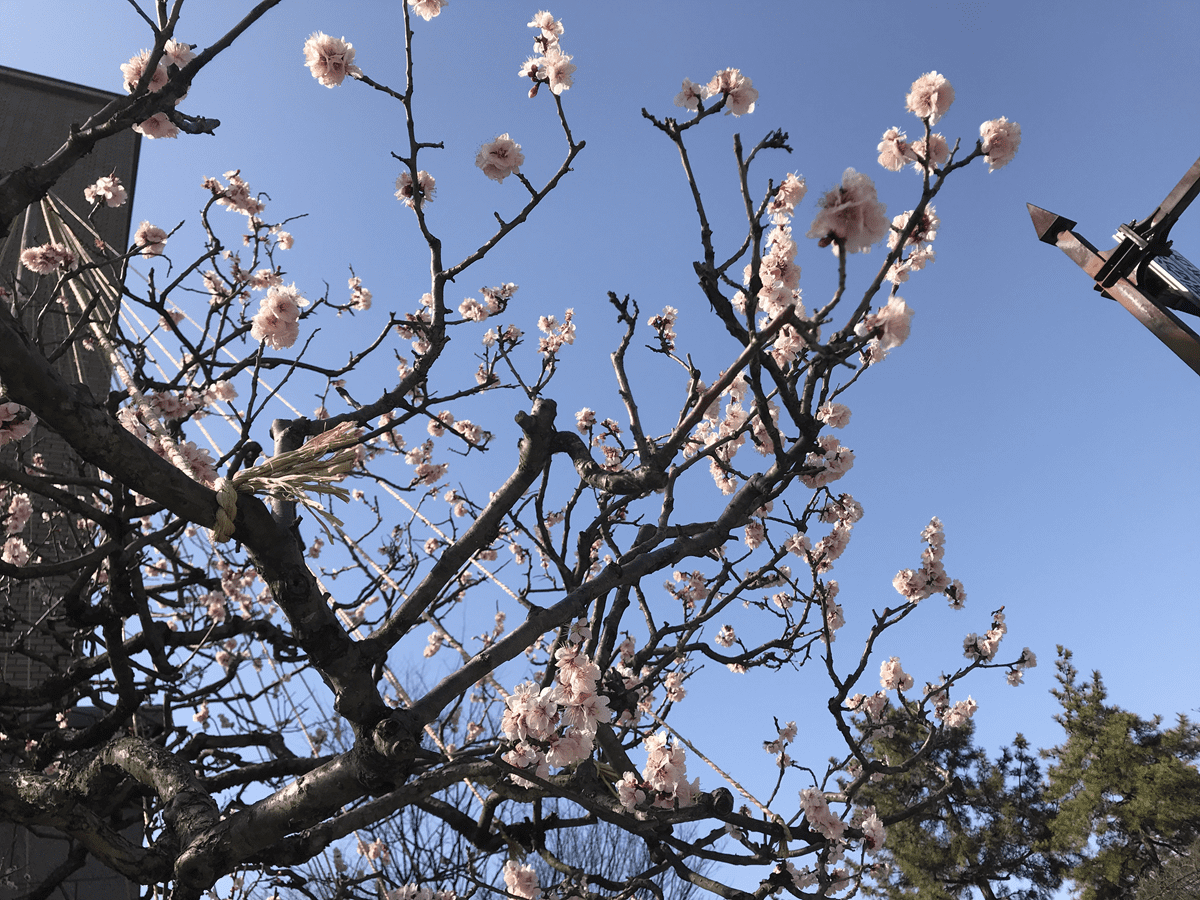 Some flowers are starting to bloom already
Corona Virus: How it affects our life
I am sure everyone of you is aware of this severe situation right now. The spread of this virus has started early in January in China and since then, the people in Japan were really afraid that it would come to this country. We followed the news daily since the first confirmed cases as Japan has a lot of Chinese visitors and officials here were really nervous about that. Early in the year, people were already trying to protect themselves against it (everyone was wearing masks) but it was still under control. The situation became worse when a cruise ship went into quarantine in the port of Yokohama and everyday more passengers got infected. Now, infections are everywhere in this country and for some days also in Kanazawa. The development doesn't surprise us but still, it's a little scary and to be honest, I don't feel very comfortable right now. Especially because you can see what happens if people start to panic. Everyone will run to the stores to buys groceries and other medical products so that soon everything will be sold out. When the number of virus infections increased, everyone bought masks and since then we cannot get some at the stores. These masks though don't help a lot to protect from the virus as many people are not wearing them correctly and most cannot filter out the virus particles. I think it's more a psychological reassurance but this means it's just a sense of false security. We are careful and wash our hands as often as possible but there is not much more that one can do than common sense behavior. Sadly, this negative development meant for me that I had to cancel my Taiwan plans and also my other travel plans to go to South Korea as it is too dangerous to travel around. I am so sad that I cannot visit my dear friend in Taipei as planned and have to postpone it for some other time. I was looking forward to it a lot. However, the current situation in Japan means, that we might have troubles entering Taiwan as it protects the boarders very strictly right now. So who knows, what would have happened! Better to be safe than sorry. We also completely canceled our idea of getting back to Germany for a visit in the next weeks and postponed it to late April. I hope, by then everything will be all right. We will keep you updated about our situation here. So far, we are okay and our life goes on as usual.
What else is going on?
We both are very busy with our daily tasks. Niklas is preparing a conference for March in Osaka and I hope to join for some days too as I want to visit this city again. Let's hope the conference can take place and won't be canceled. At the moment, it's impossible to predict what will happen. We also went for a short ski trip in the Japanese Alps, but you can read more about it in my next post. Just a short preview: the weather was super bad but we still had a lot of fun.
Also, I went to Karaoke with some girls from my network and it was super fun. Never thought that I'd say this but I want to go again. We rented the biggest room and even danced while singing together. If you ever come to Japan, you should do Karaoke if you get the possibility - it's a great experience.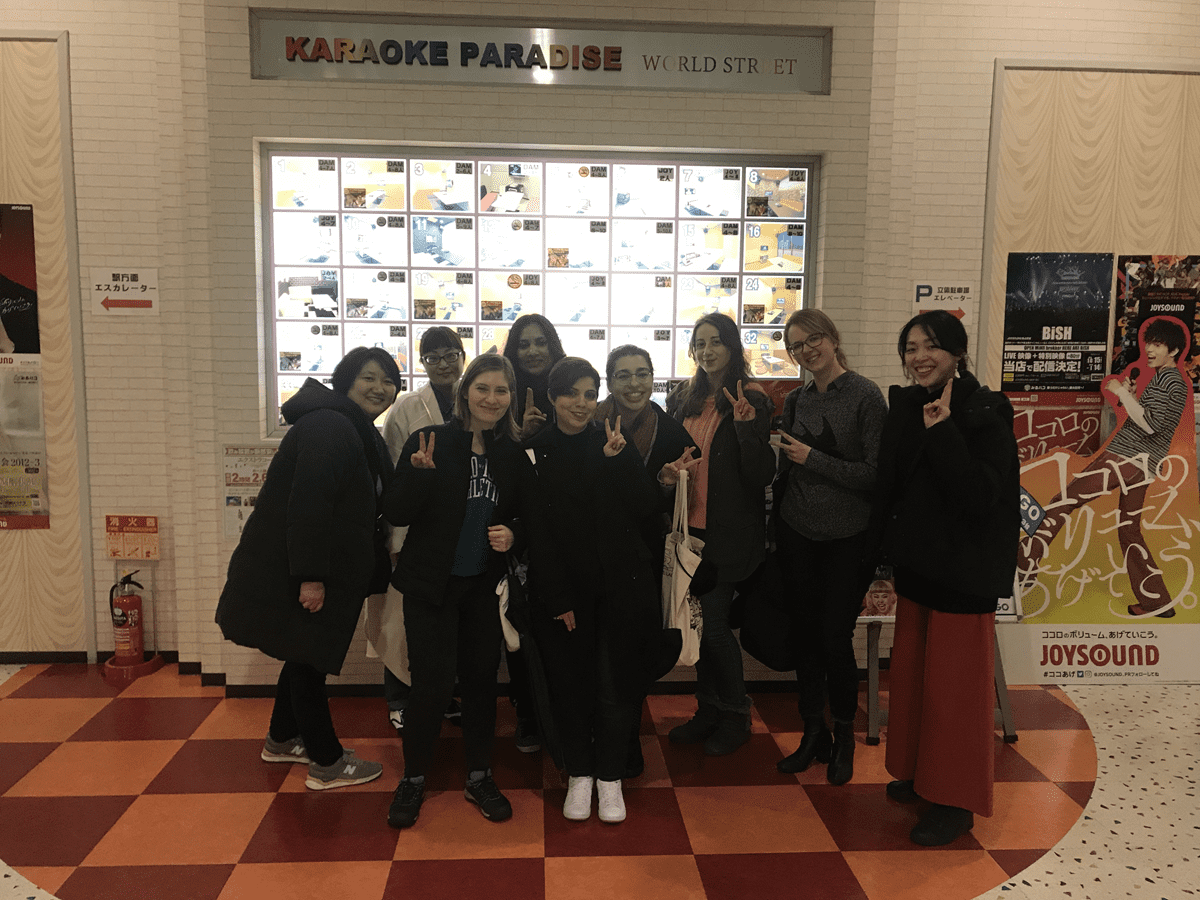 The Karaoke group
I continued to teach English every week at an adult English conversation class and have met so many nice Japanese people there. Most of them are so diligent and always well prepared for the lesson. I greatly enjoy talking to them and listening to their opinion about various topics. It's a great cultural exchange!
Up next: read about our ski trip and in the meantime, follow us on Instagram for more stories and pictures. Take care everyone!