Hey everyone, we wish you a happy new year 2020 and hope you all had a great party! No matter if you celebrated with a crowd of friends or together with your family or significant other, we hope you enjoyed this special time of the year. Did you make a nice new year's wish before the countdown? We hope it will come true.
In this post we want to tell you how we celebrated the beginning of a new year but also give an overview of Japanese traditions and customs regarding the time around New Year's Eve. Majestic temple bell ringing, mystical Shinto rituals and lots of food - get ready for learning about it all!
New Year's Eve in Japanese
The time at the end of the old year is very important. Japanese view the old and the new year completely separate, therefore the last days of the old year are a good time to finish all your remaining duties and clean your house. A lot of parties are held at the end of the year that are called "bonenkai" which means "Year forgetting". It's the time of the year where you should forget about the stress and the worries of the old year in order to clean yourself for the new one. Together with our friends Hikaru and Rumi, we experienced our first bonenkai some weeks ago (mentioned in one of our prior posts) and it was really nice! Often companies are hosting their own parties, similar to our office Christmas parties in Germany and people have mixed feelings about it (some love it, some hate it - just like the office Christmas parties in Germany I guess). However, it's a tradition that is taken very seriously, making it impossibly hard to find a place at a bar during the weekends of December as everyone is out, celebrating bonenkai!
In Japan, New Year's Eve is celebrated at home with the family. Fireworks are uncommon and therefore not used and there is no outside gathering in front of the houses to do the countdown together. So it's a little different from our way of celebrating the end of the year - but it's also common to watch Kohaku, a music competition show airing only on New Year's Eve. A red and a white team (girls team vs. boys team) "fight" through various performances for the favor of the audience (that can vote via remote control!). For this huge show, Japan's most famous performer are coming together and perform live on stage. If an artist is invited to sing there, it will mean a lot for his or her career in the future! This show is very popular and lasts the whole evening. The running time is about four hours and 30 minutes! Whew.
The minutes before midnight, most of the bigger Buddhist temple ring their bells, this custom is called Joya no Kane. The bell is rung for 108 times as this is said (within Buddhist belief) to be the number of worldly desires that a person experiences during their life. Striking the bell symbolizes to let go of these desires and leave them in the old year. A monk is supervising the striking but in some temples, visitors are encouraged to strike the bell for themselves! The sound of the huge bells can be heard throughout the neighborhood.
Afterwards, you can go directly to a shrine to pay the Shinto gods your New Year's visit and make a wish for the new year. However, you can also do it at the first days in January if you prefer to go back into your warm home! At big shrines, you can expect to see some small stalls, selling ornaments and even get some (sometimes hot) sake! It can be a very special experience to visit these holy places at night when there is so much going on.
How we celebrated
As most people here spend this day at home with their families, we expected not much action from New Year's Eve and didn't plan anything big. Contrary to our last New Year's Eves, that had been very partylike, we had a quiet celebration at home. It was raining heavily the whole day, so we even stayed indoors most of the day and watched some Netflix series (The Witcher, highly recommended if you like this genre) until it was time to get dressed up a little bit and start cooking some nice dinner to get into the mood, even a little. Afterwards, we watched the famous kohaku show for a while and what can I say, this is indeed crazy! It reminded me a little of the Eurovision Song Contest, only more packed with show acts and really crazy ideas (like e.g. big, dancing Pikachus). We had a lot of fun watching it.
As midnight was approaching and the rain had stopped, we finally decided to go out and search for a temple where we could ring the big bells. Unfortunately, there is no big temple in our area so we had to walk quite a bit (about 3km… at least it was snowing a little on the way which was very romantic) to get to the next big temple that was open. I must admit, it was very strange to walk along deserted streets on New Year's Eve close to midnight. In Germany, everyone would be outside with friends or family and wait for the countdown. As there are also no fireworks, it's really a quiet affair in Japan. The only thing we could hear were the deep sounds of the temple bells, that resonated along the empty streets. Combined with the snow, it was a magical experience. We went to a temple near the Higashichaya district and later to another one inside the district and also rang the bell as well as prayed at the temple for good luck in the future! It was a cool experience as there were suddenly a lot of people lining up to ring the bell and everyone was so cheerful and excited.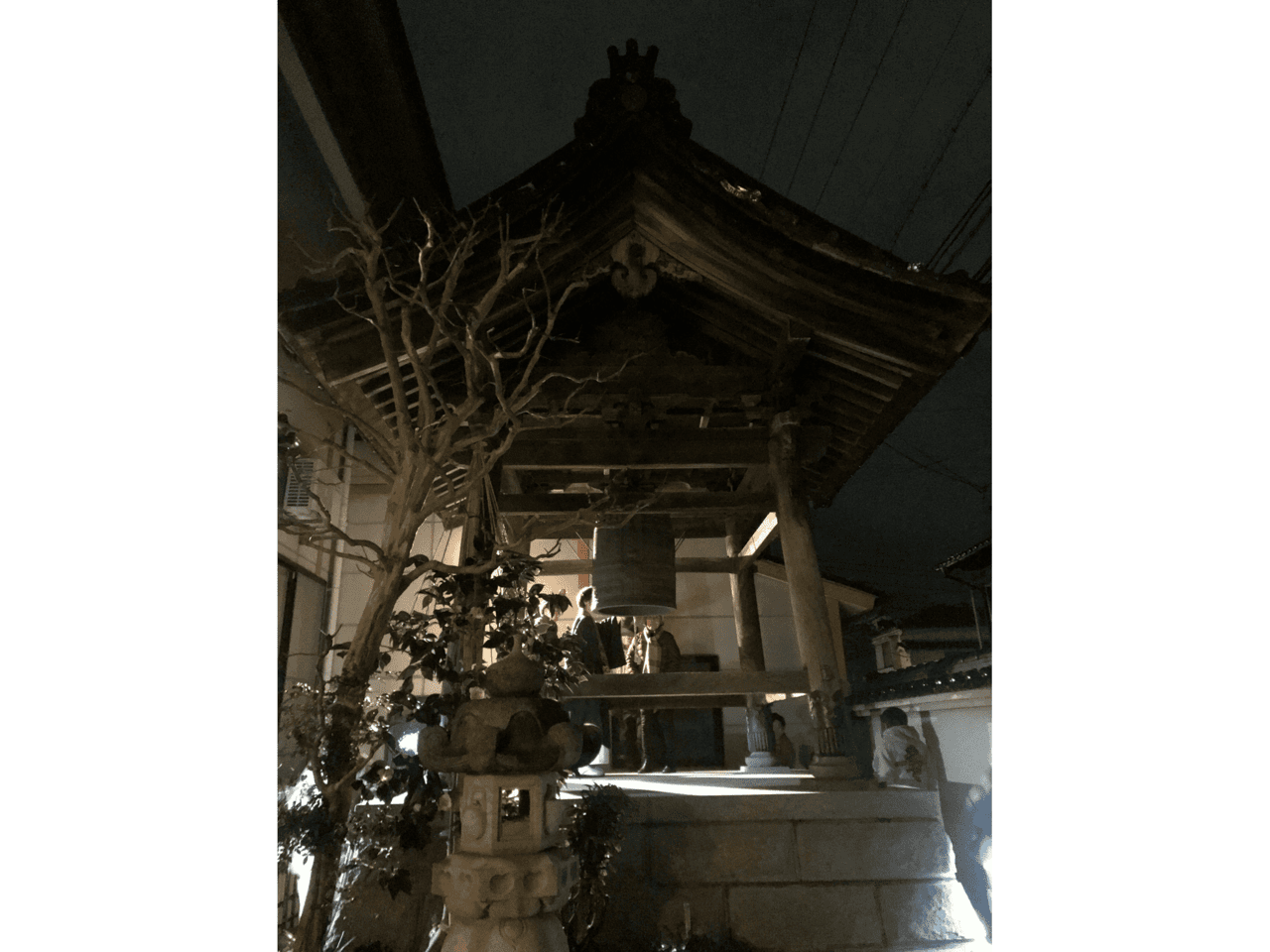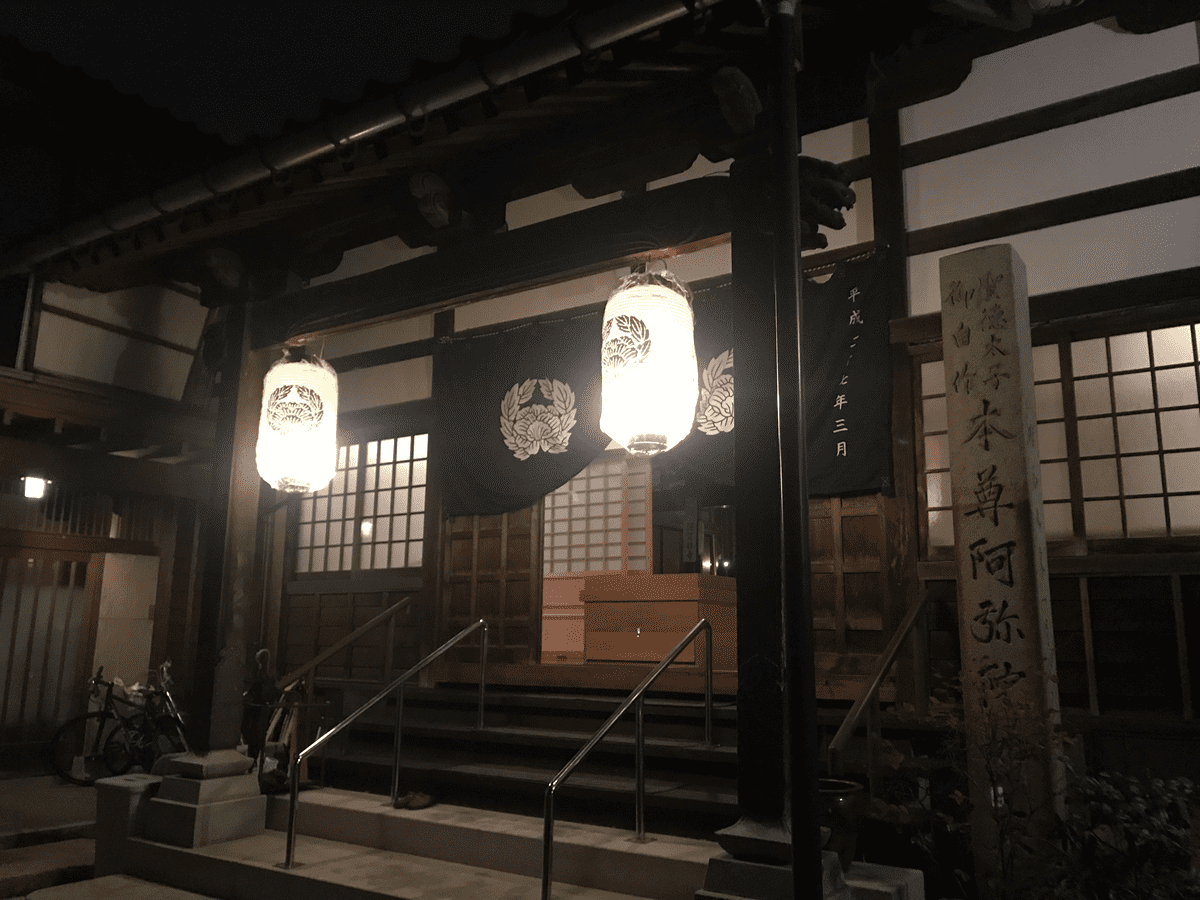 Here is the place to pray after ringing the bell
We also met some Japanese men who took us to the shrine directly after midnight so that we could make a wish for the new year! The atmosphere at this shrine (also in Higashichaya) was really special. There were a lot of fireplaces, little stalls selling crafts, ornaments and lucky charms and of course free sake! We stayed there for quite a while, watching the people praying and greeting each other and enjoying this truly magical place.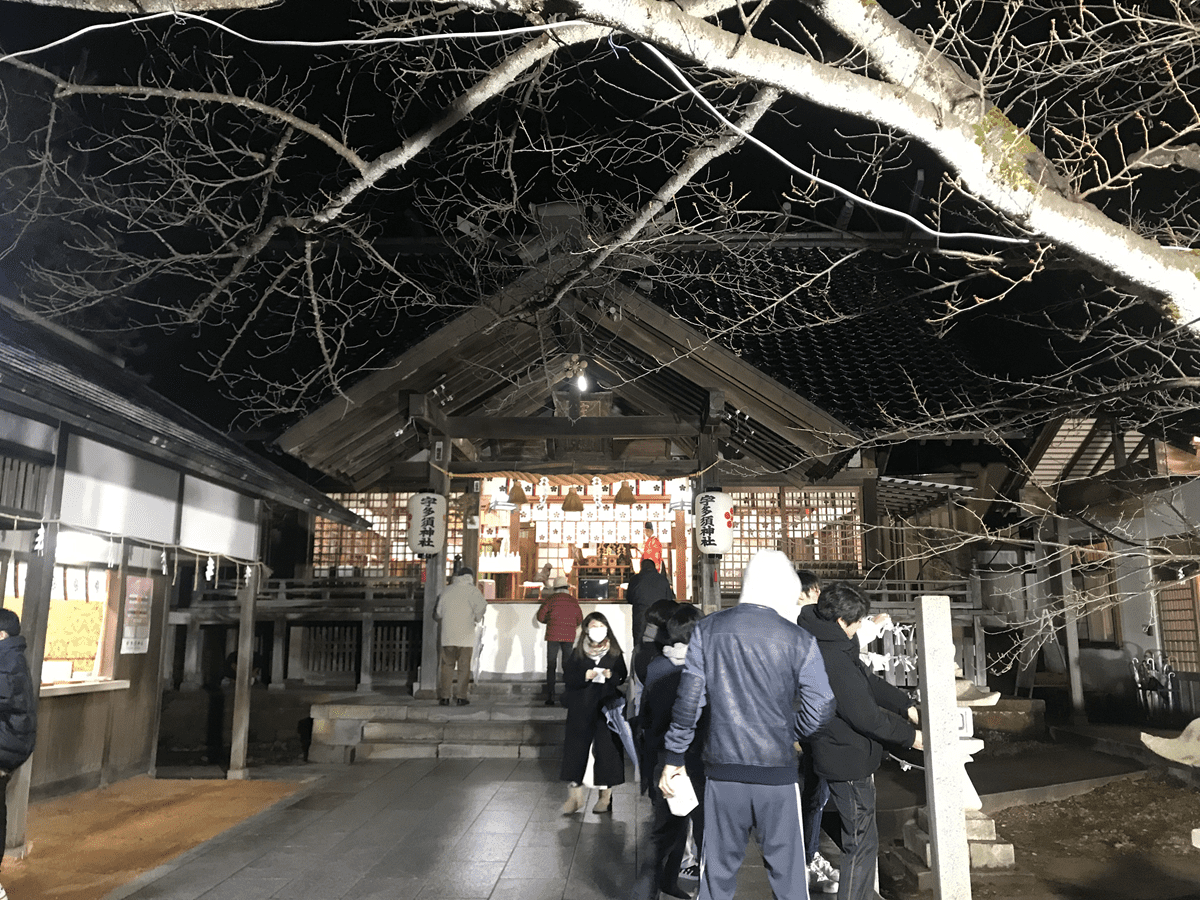 People on their way to pray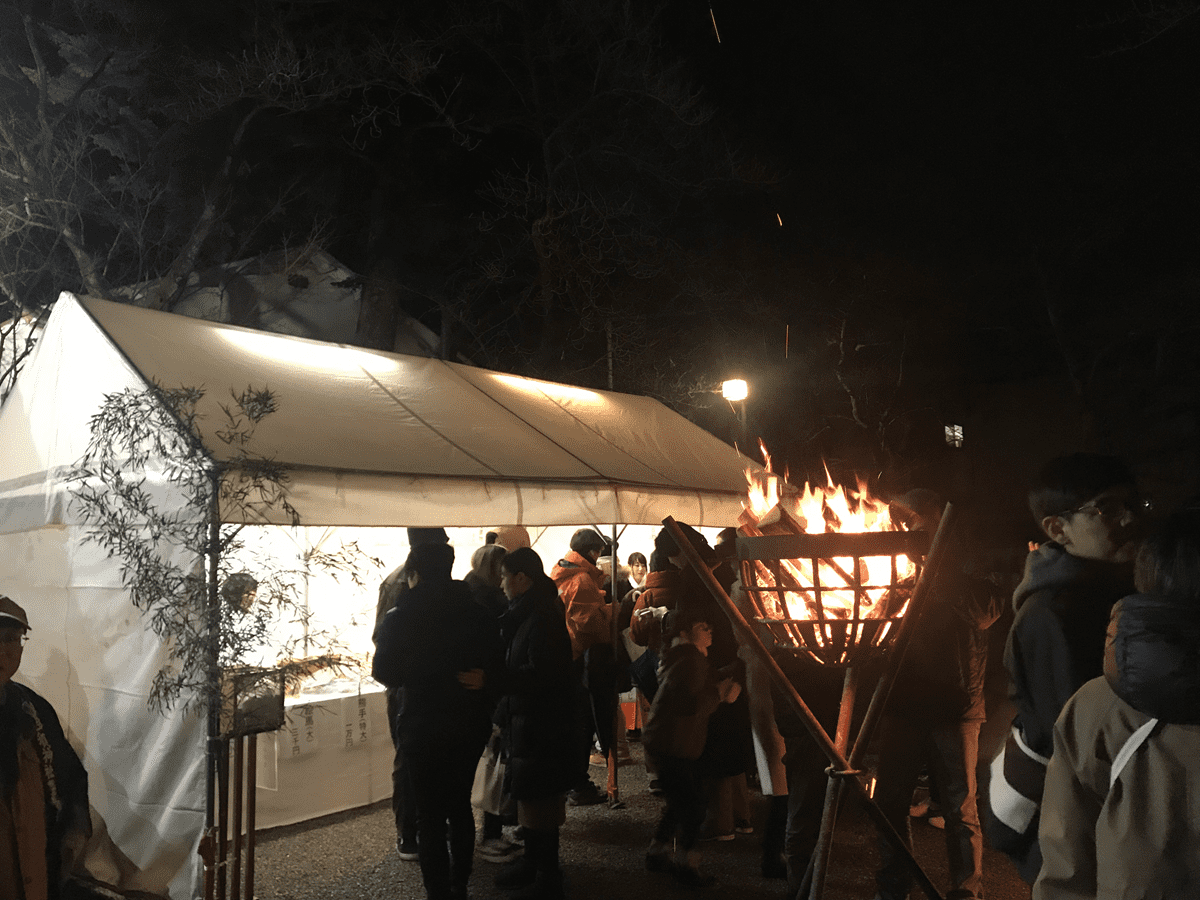 Stalls selling good luck charms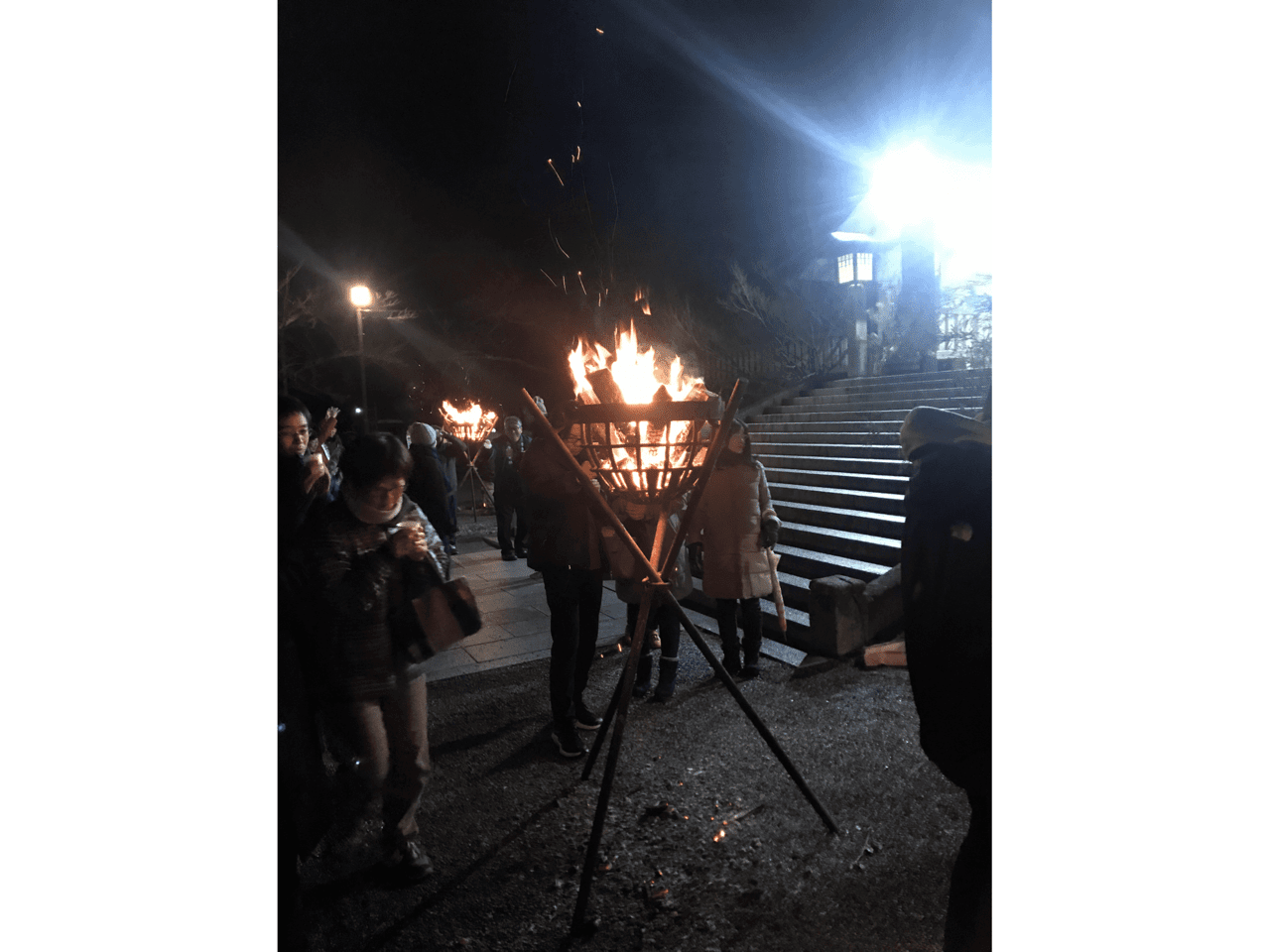 First selfie of the new year. ;-)
Although we had to walk quite a bit to get to this place (and of course to get back home afterwards), it was worth it! We had a special midnight and could take part in some important Japanese customs.
Shogatse - the first days in the New Year
On January the first, it is a tradition to relax at your house with your family and to rest. You can read more about the whole customs around this day here. However, I want to highlight one special custom regarding the food: it's the time of the year that is reserved for a very special set of food that is only eaten for the new year celebration! As supermarkets and shops are mostly closed, it is common to prepare this food called "Osechi ryori" before New Year and to eat it during the first days. All dishes are either pickled or fermented, so that they don't get bad over night and you can eat some days from this box. Nice add-on: the women in the family don't have to cook and stay in the kitchen all the time but also can rest a little (as Japan still is very traditional, this is a serious advantage…). You eat the osechi bento together with your family and you can drink some sake, as it goes very well together with the osechi food. For example, it can contain some cooked shrimps (ebi), symbolizing a long life or black and sweet beans. There is often a lot of different tofu and omelet as well as pickled vegetables. You also eat as special kind of soup called Zoni, a style of soup that is only served on New Year's day. Its ingredients vary from prefecture to prefecture, but you always have mochi(Japanese rice cake). Additionally, the presentation of the food is very important. Focus is on the balance of colors as well as on an elaborate and delicate arrangement. Our friend Yoko invited us to have osechi ryori with her and she did a magnificent job, not only in terms of taste but also regarding the arrangement of the food (see picture below).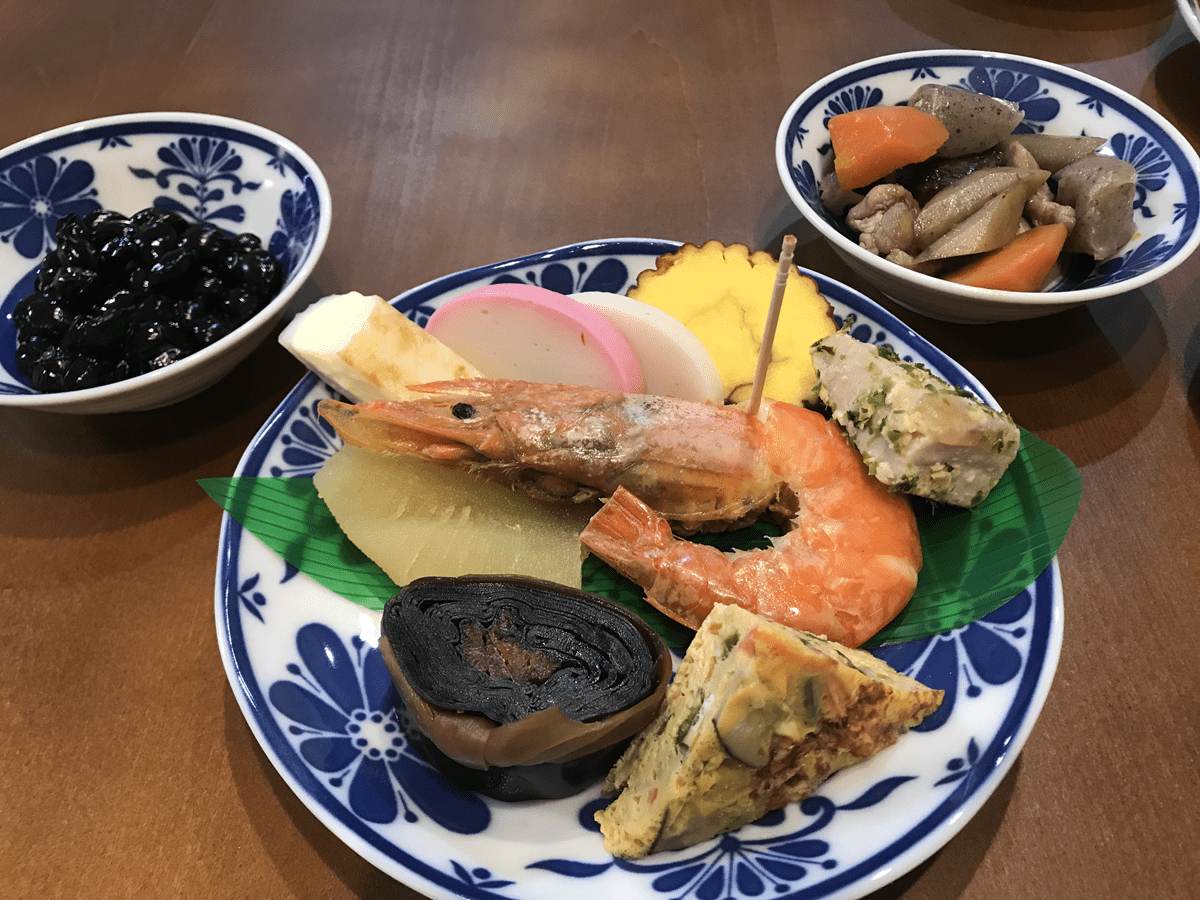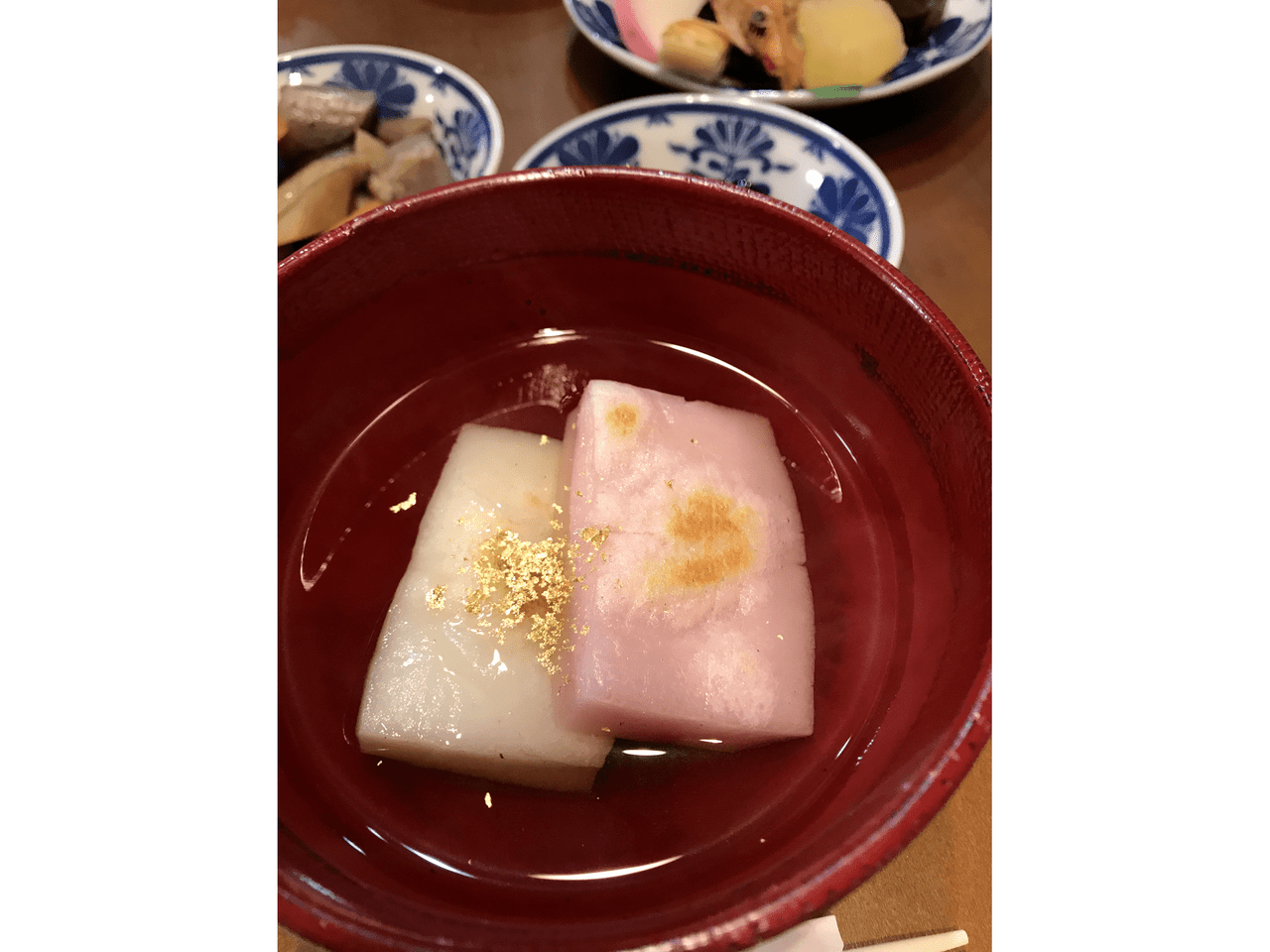 You can buy big osechi bento boxes at the supermarket (but you have to order them early!) or you can go the hard way and prepare everything yourself. This will take a long time but it's worth it.
Thank you Yoko for your invitation and for being a perfect host!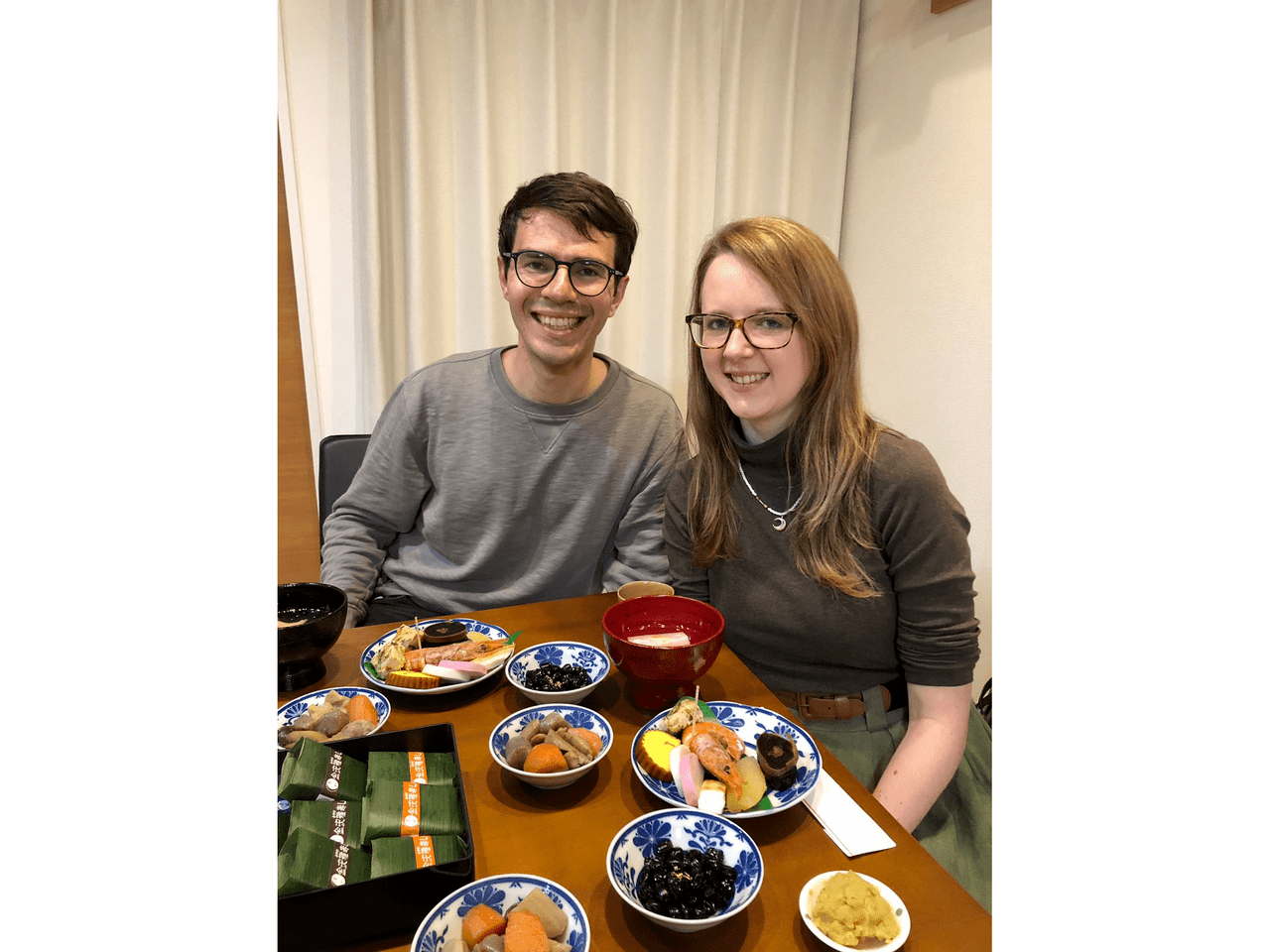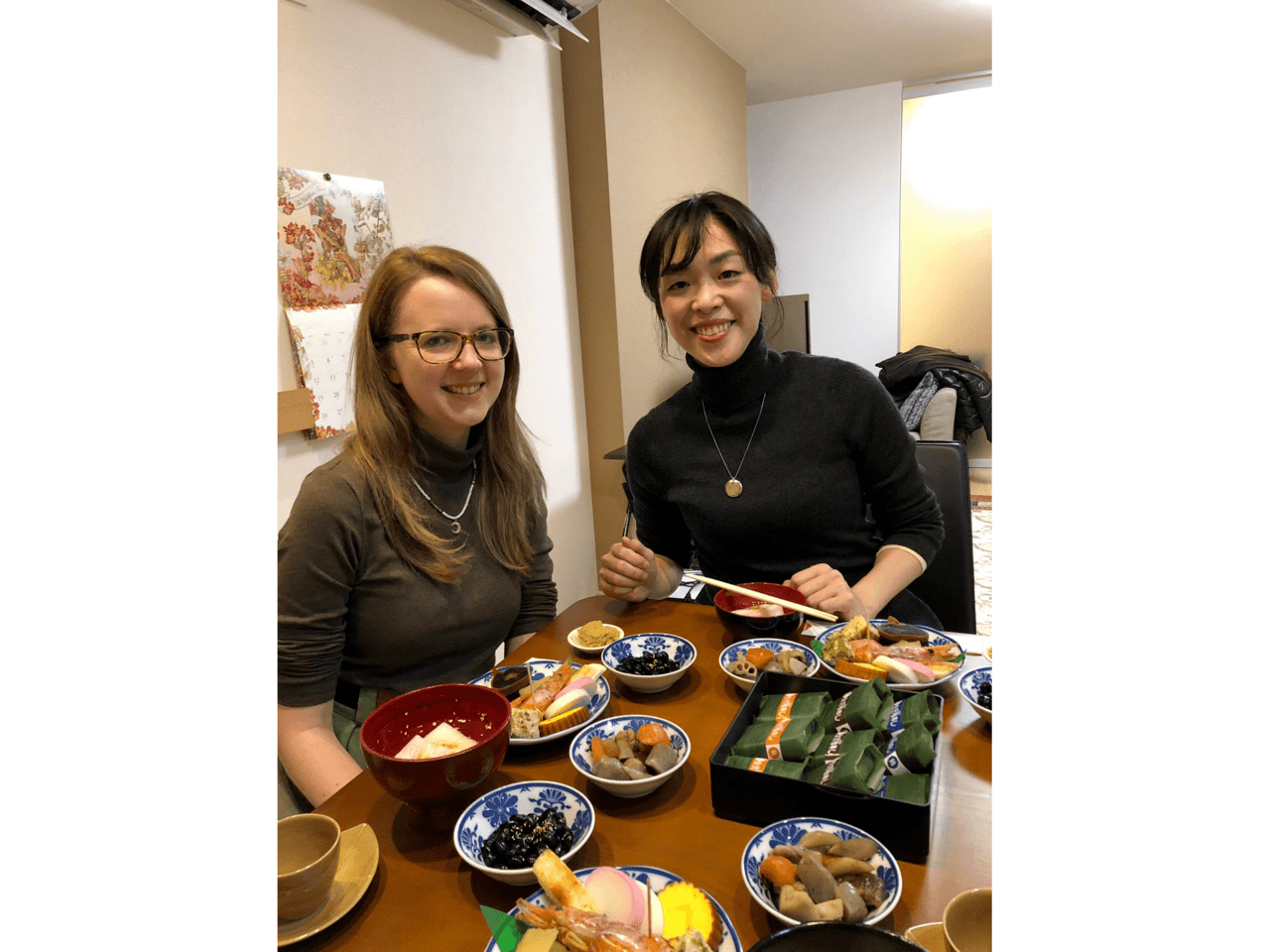 Visiting Oyama Jinja Shrine
As mentioned above, the first days of the new year are reserved for a shrine visit. There you will make a wish for the new year and maybe also read your fortune in the so called "omikuji". There you'll find many information about your health, marriage, money, business etc.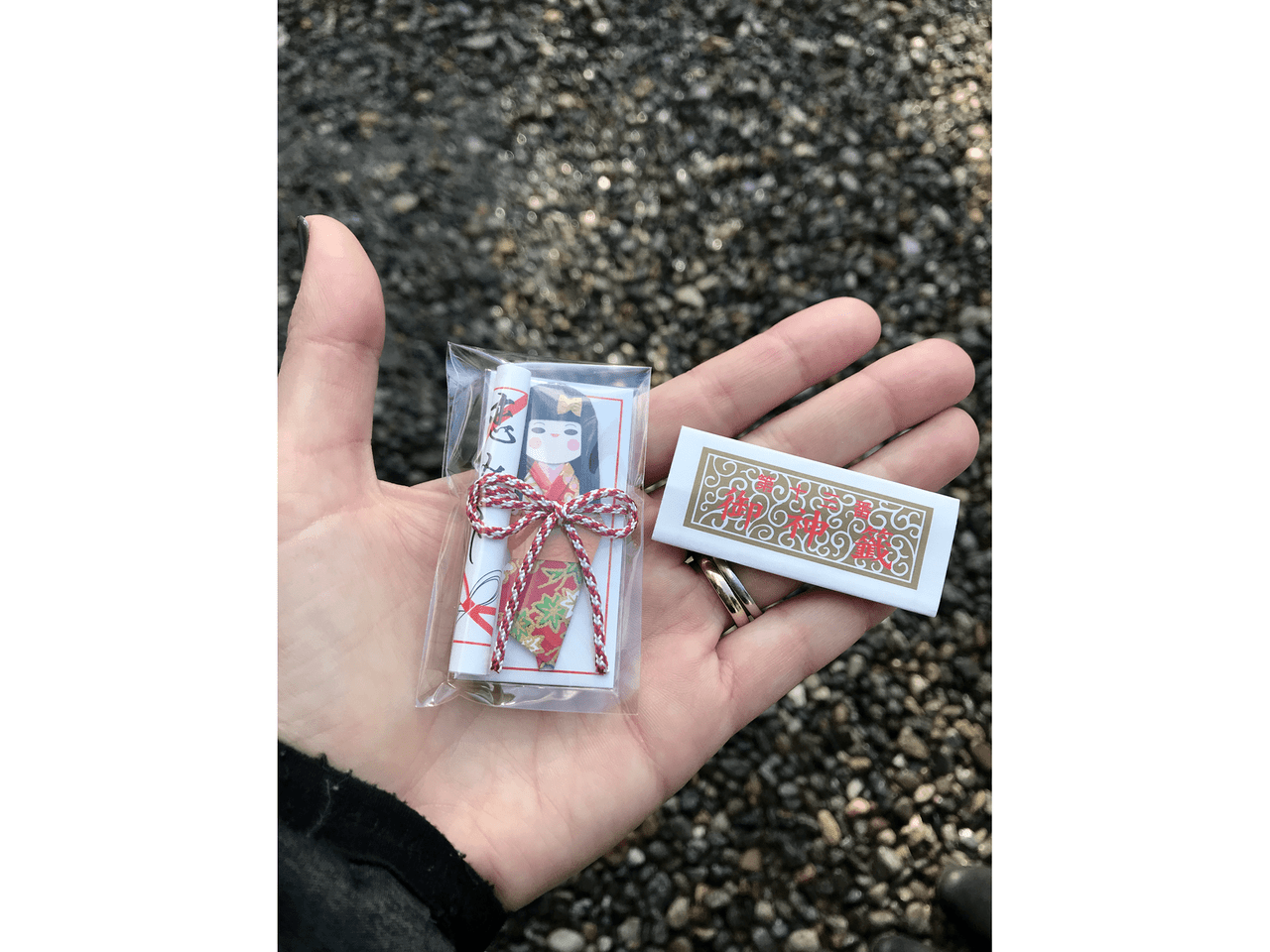 That's how they look like. You open them and read all important information about your future. And if you have bad luck…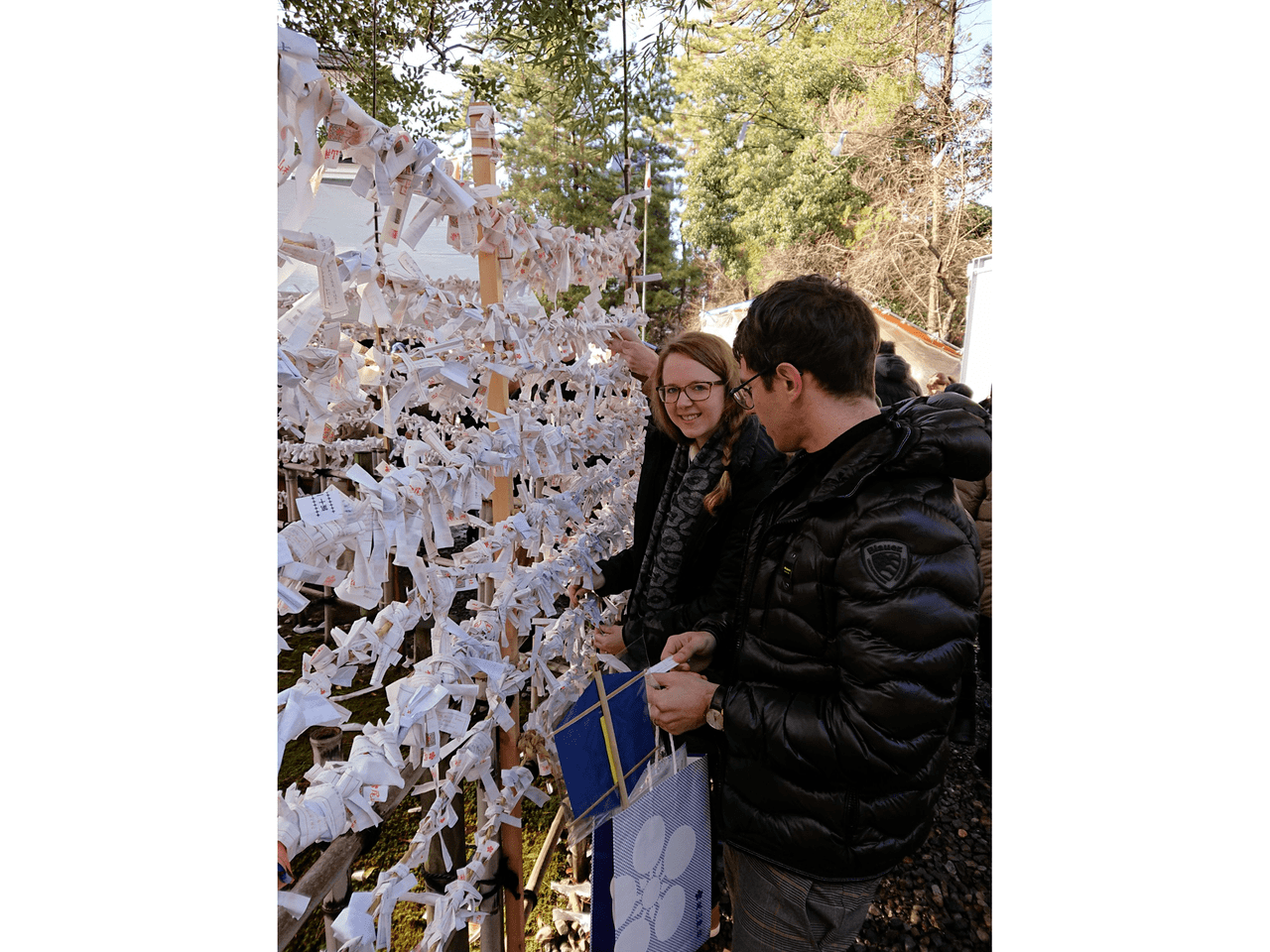 … you can pin them at the shrine and leave your bad luck there!
Together with our friend Natsuki, we went to Oyama Jinja Shrine on the second day of January because I wanted to take part in the Yakubarai ritual.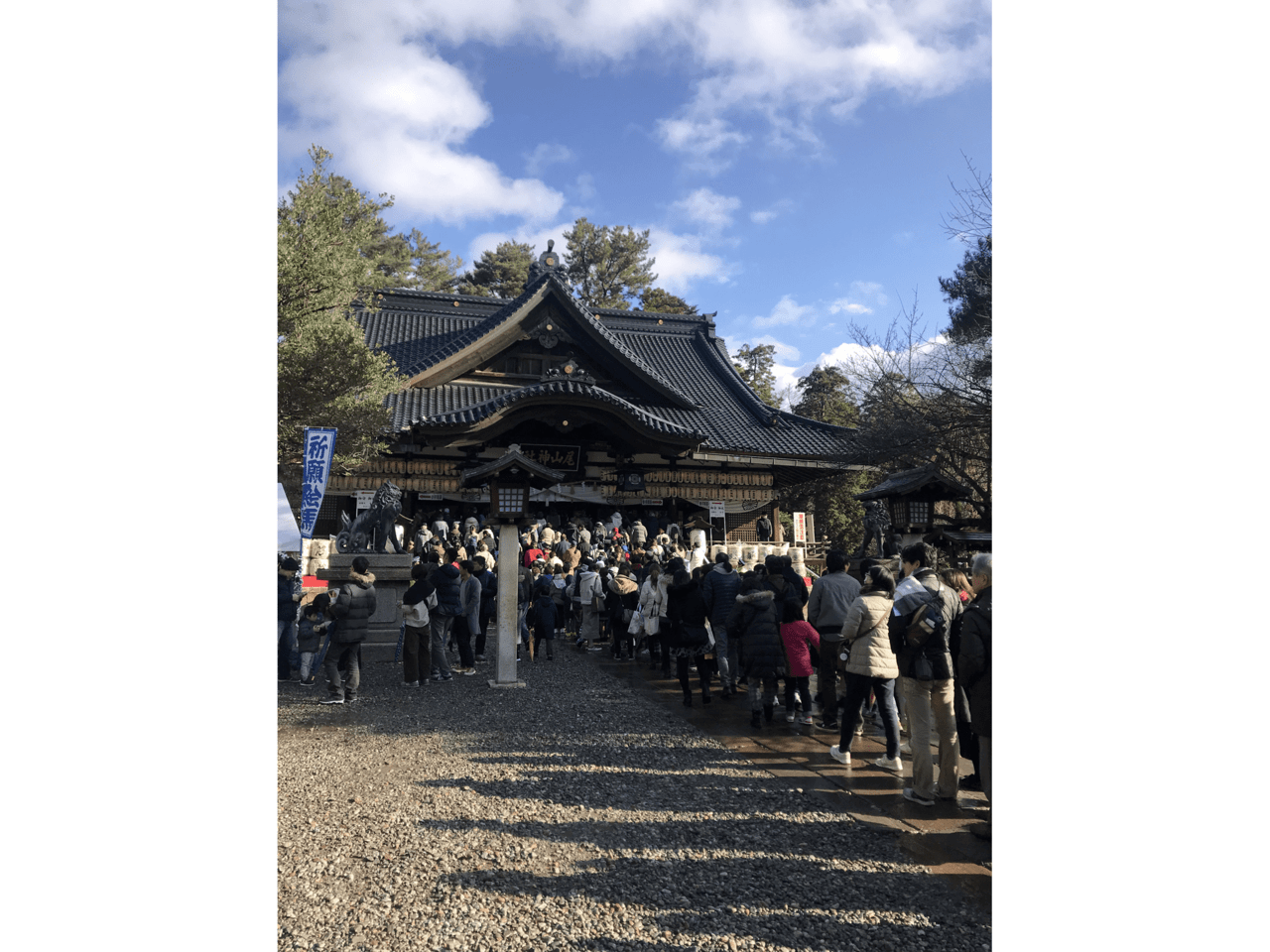 A lot of people are coming to the shrine for their prayer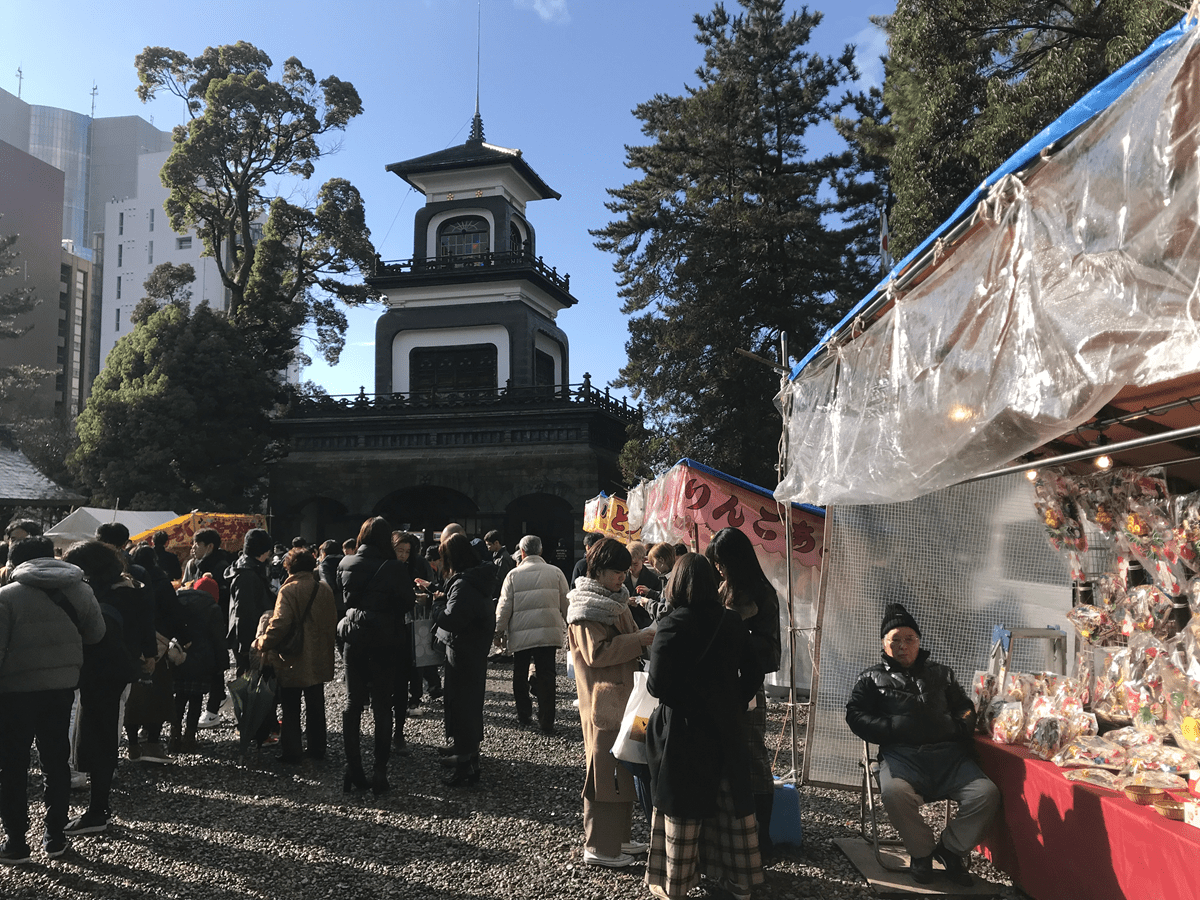 In Shinto belief, there are certain ages within the life of men and women that are cursed and I happen to be in the cursed period for females (31-33 years). In order to deal with this situation, you can get Yakuabrai and all bad luck will be removed. So, I thought, why not, there is no harm in trying, so let's do it! I had to pay a fee and write down my name and address, then I was admitted into the shrine where the ritual was performed. It was a very interesting experience, I can tell! Natsuki briefed me what would happen and what I had to do (not much!) so I was prepared but still nervous.
A nice Tokonoma at the waiting area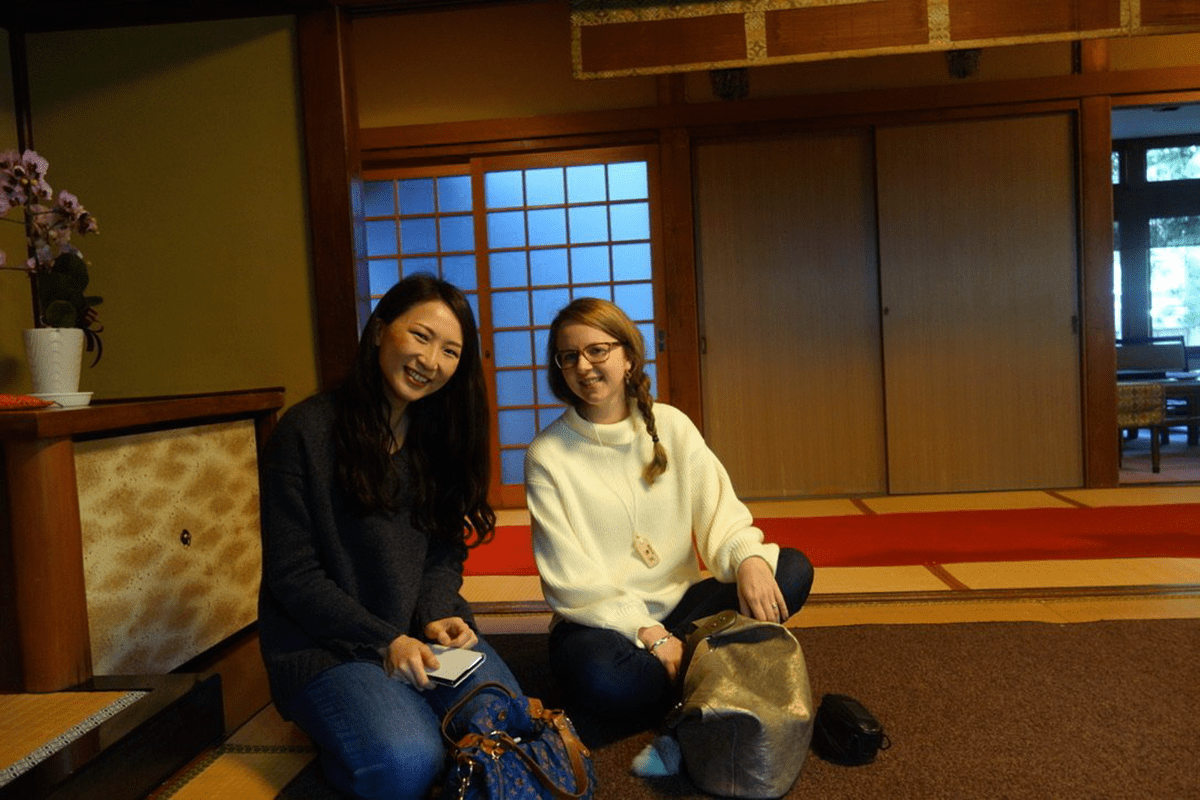 Last briefing before Yakubarai
The whole ceremony took about 30 minutes and mainly consisted of a priest reciting a spell and reading all names, addresses and birthdates of the people receiving the ritual (including mine, which was really cool). Every participant had to get to the front at the end, do the offering and pray to the Shinto gods. Afterwards, we got some sake and a bag with lucky charms. Then we had to hurry outside because the next group of Yakubarai participants was already waiting!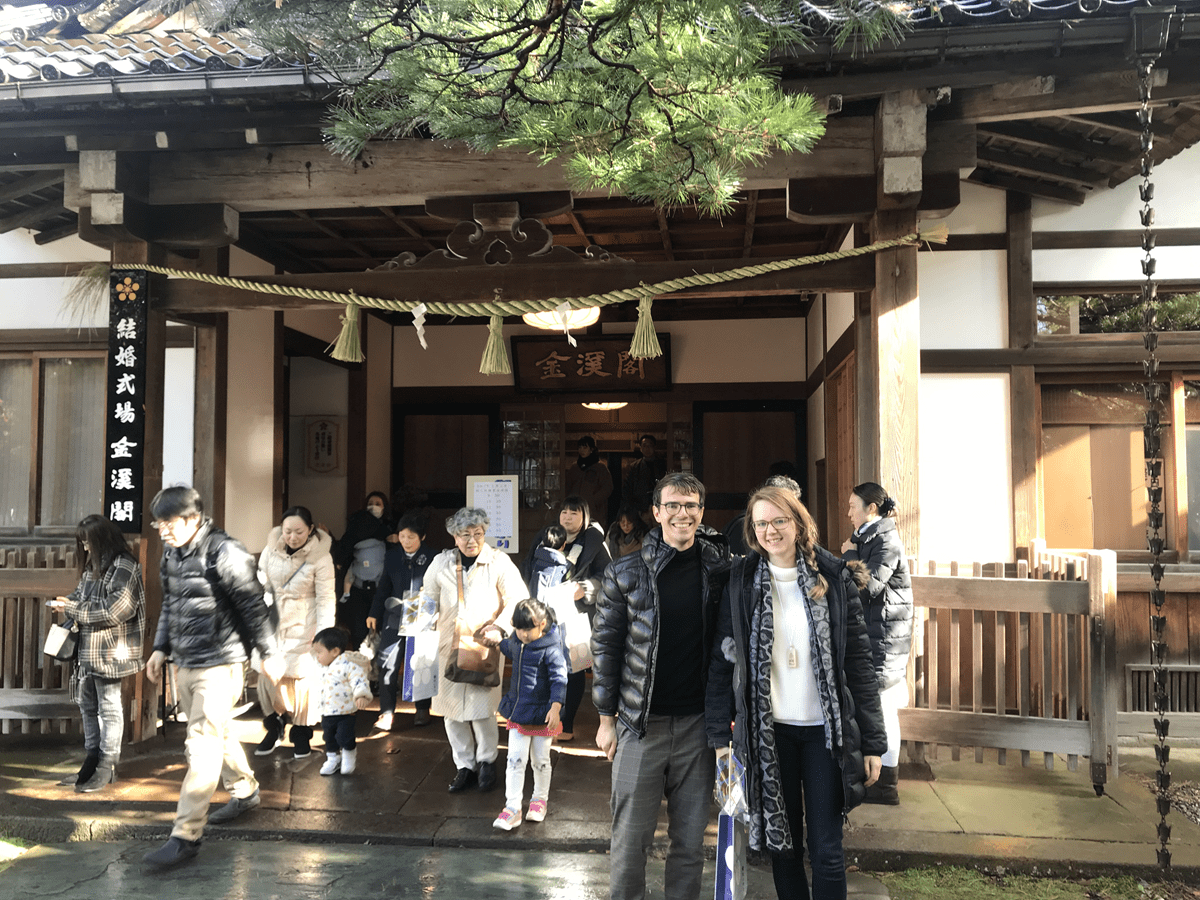 After the ceremony, the rain stopped and it was bright an sunny!
We had a great time at the shrine, not only taking part in the ritual but also walking around the various food stalls, tasting snacks and hot sake as well as getting our complicated fortune information fully translated by Natsuki. Thank you so much for bringing us here and showing us everything! We had a perfect time.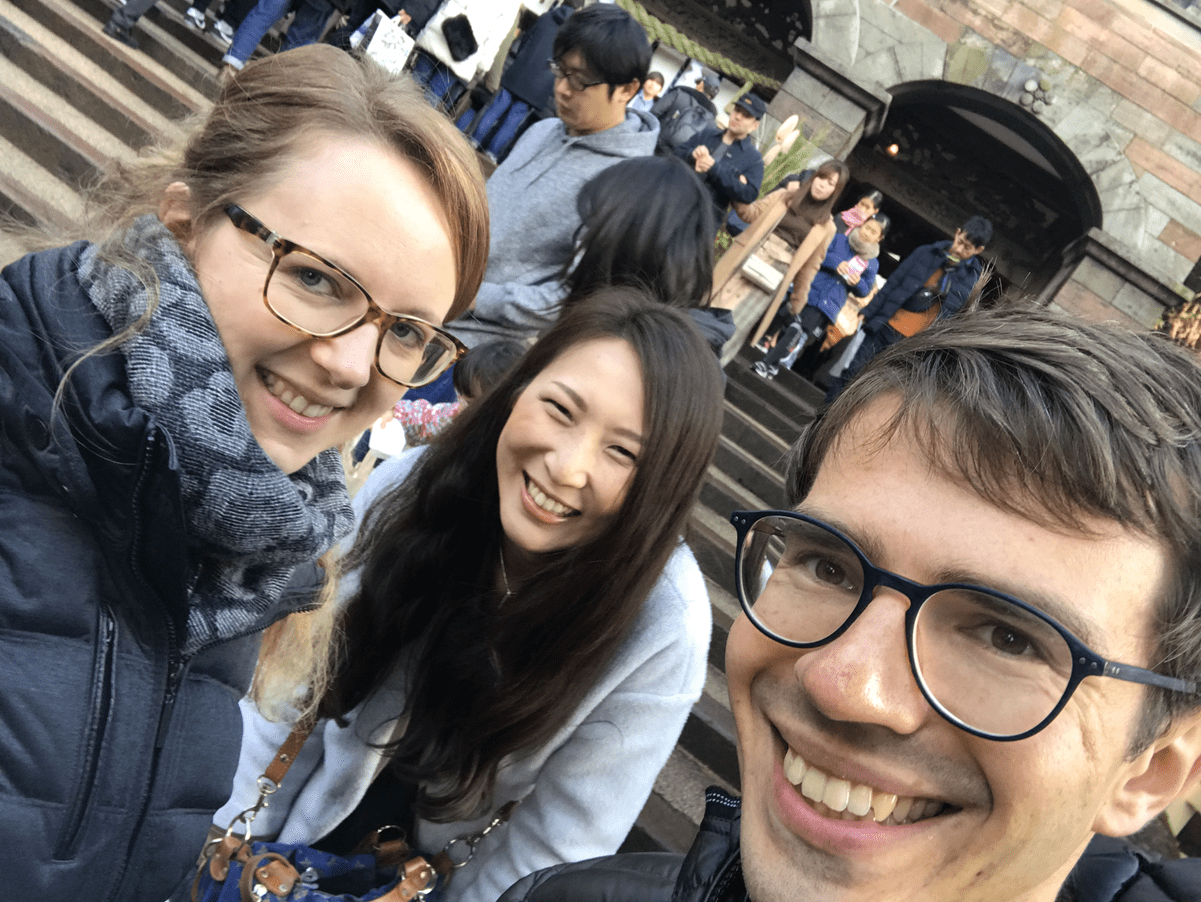 Now, we have to get back to daily life, work and studying so stay tuned for more and follow us on Instagram for getting more pictures. ;-) See you next time!