Hi everyone, as promised we want to tell you how we spent Christmas in Japan. I guess most of you are wondering, if and how Japanese people are celebrating Christmas, right? Don't worry, you will find all answers to your questions in this post!
Japanese Christmas traditions
As Japan is no country with a Christian background and culture like Western countries, I was surprised to learn that Christmas is also a big deal here and aggressively advertised in every possible way. Soon after Halloween was over, every store was full of Christmas products, decorations and music. And, I mean, it was really every store! The city center was suddenly full of beautiful night illuminations, making us feel a little like being home. Still, the Japanese Christmas approach is very different from our traditional way of celebrating the holidays:
1: Lack of religious background
The biggest difference is of course the lack of the religious background, that is defining our Christmas celebrations. In Japan, this is not very relevant. Apart from the few people with Christian belief (about 1% of the main Japanese population) who spend the holidays similar to us, the story behind Christmas doesn't have any visible role in the way of celebrating it. Understandingly, the Christmas days are no public holidays, everyone is working and all stores are open. For us, this was a strange difference from our home, as we usually storm the supermarkets before Christmas to get enough food for the holidays because they stay closed for some days.
2: Commercial Christmas with different decorative approach
However, the commercial aspect of Christmas is very big in Japan, as every store uses the holidays for advertising products, special deals or food. You also can't escape the Christmas songs that are played in the shops since the end of Halloween. Some decorations are similar to ours, e.g. the illuminations on the streets or big Christmas trees in public spaces. But when we were looking for traditional Christmas decoration, we couldn't find a lot of things similar to our German decorations, for example a Christmas wreath with four candles (ours was a little DIY, as we bought LED candles and a plastic wrath that looked "christmas-y" enough) or more religious symbols.
3: Christmas is a couple's holiday
Christmas Day is more considered to be a couple's day, similar to Valentines Day (also a big deal here), so it's common to spend the evening with your significant other. First, you'll enjoy a Christmas cake together, before going to the city and having a look at the illuminations, before you'll end up in an expensive restaurant for a romantic dinner. Celebrating with your family is very unusual and some people might even feel sad for you because you don't have a boyfriend or girlfriend to spend it with!
4: Special food
In Germany, we have traditional Christmas dishes including goose, fondue or even potato salad with sausages. In Japan, there is one specific food that is related to Christmas: Fried Chicken! Yeah, you read that correctly. Especially KFC Fried Chicken is super popular and lots of Japanese people eat that for Christmas. The story behind this crazy tradition is just perfect marketing. KFC launched some special Christmas menus some decades ago and since then, Japanese people had connected this food to the holidays. At first, we didn't really want to eat it… but the marketing is strong, I can tell you! Additionally to this, it's a big tradition to eat cake on Christmas day. Usually, the Christmas cake is a strawberry cream cake decorated in an elaborate and cute way, it is also comparatively tiny and costs a lot! We did discuss a long time if we should buy one for Christmas or not but in the end, we didn't and made our own dessert (and resisted the very strong marketing!).
Our Christmas: German and Japanese styled
Now you know some interesting facts about Japanese Christmas traditions. But how exactly did Niklas and I celebrate Christmas? Well, as it was the first time for us to celebrate it together as a couple, we tried to choose some of our own traditions and some of the Japanese ones to make it truly special. Sunday before Christmas, we went to a classical violin concert, where our friend Ken was playing the violin. Together with one of our Japanese friends, Natsuki, we enjoyed one hour of nice music. They even played some Christmas songs! A nice start for the holidays.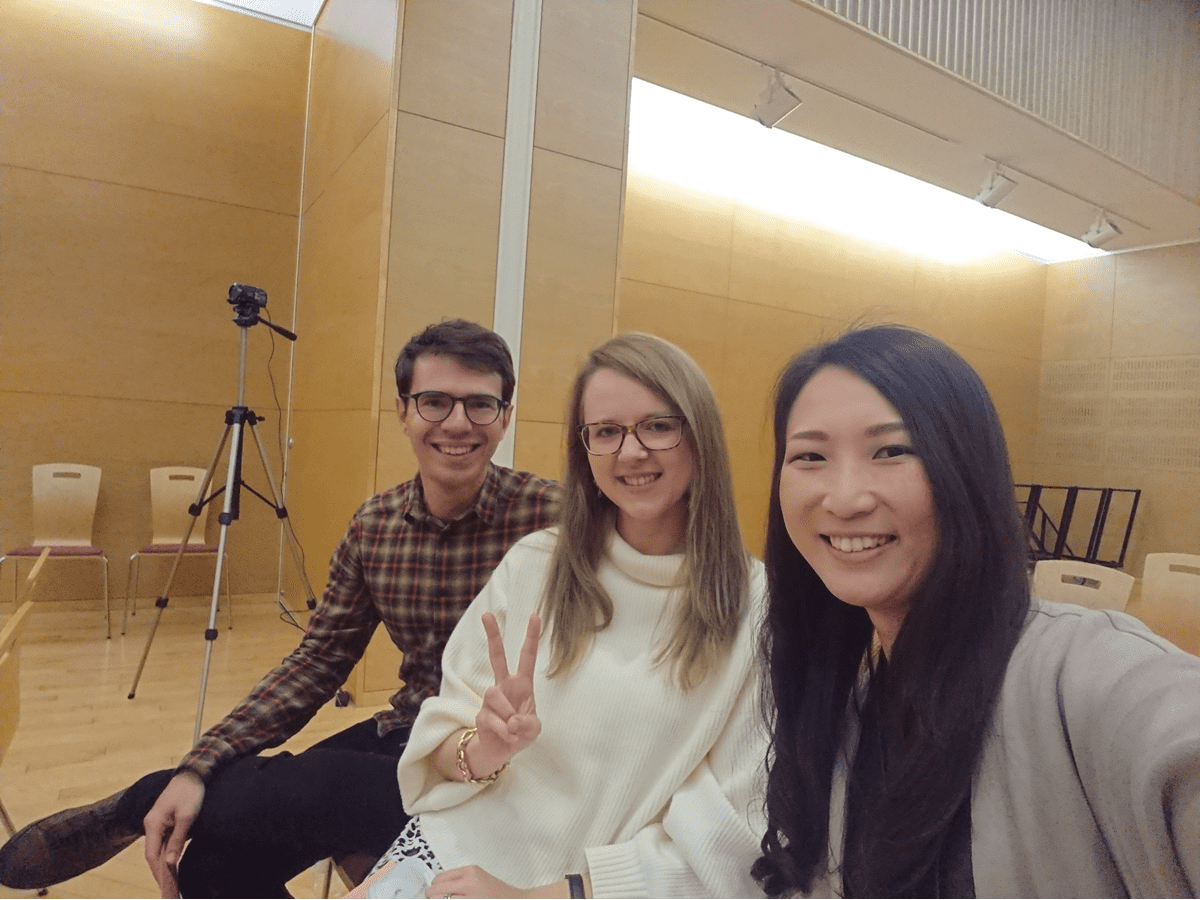 Waiting for the Christmas concert to begin
On December 24, we did our grocery shopping in an surprisingly empty supermarket and got us some fried chicken, as we wanted to try this interesting food tradition. I was very happy that our supermarket had prepared plenty, as I've seen a lot of pictures of endless queues in front of various KFC stores and were not in the mood to wait a long time. And that's how we had fried chicken for our first Christmas food of the season!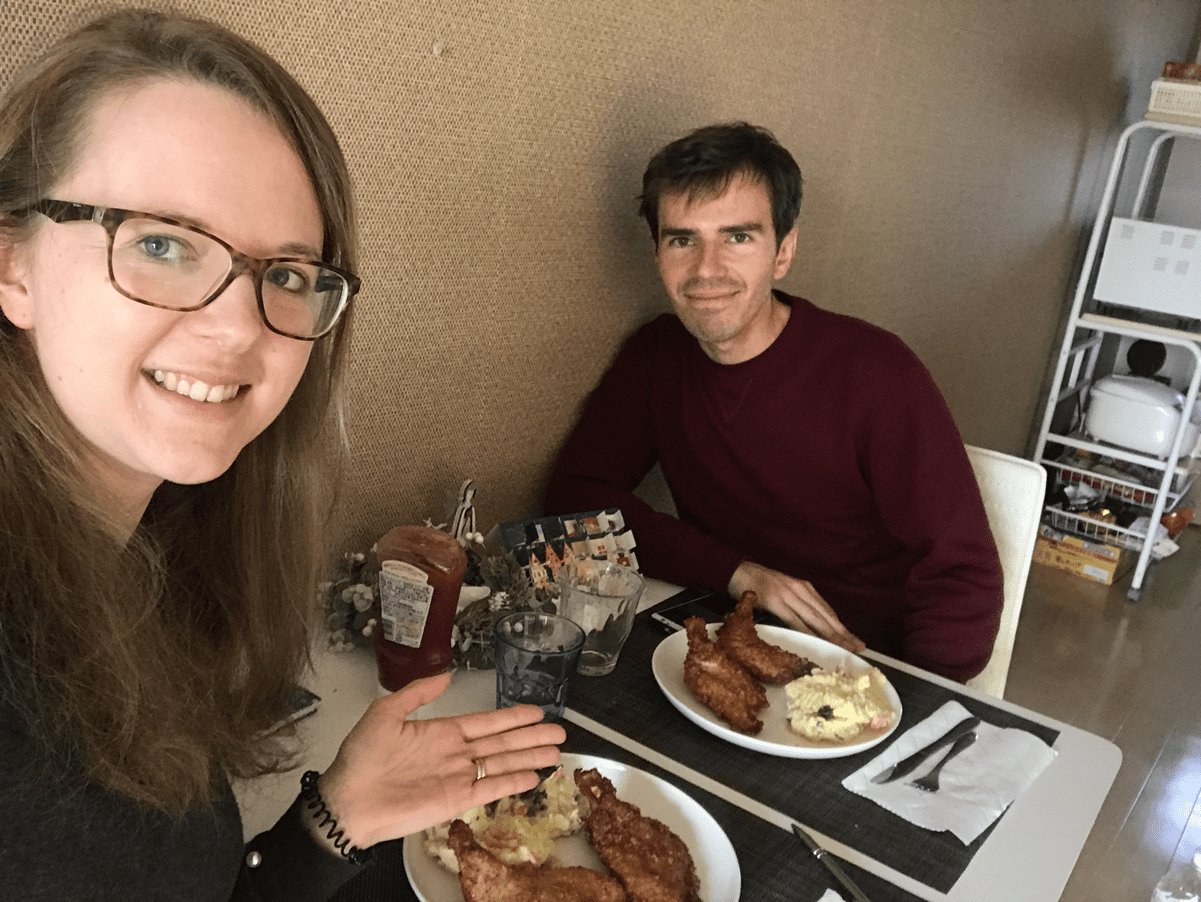 I can't believe it but here we are - fully falling for the marketing but enjoying the food so much!
As there are no real Christmas trees in Japan, I decided to decorate our newly added gum plant so that we could have at least something that looks like a Christmas tree. To be honest, I kind of like this unconventional style! In my opinion, this is a good compromise for bringing German traditions into Japan.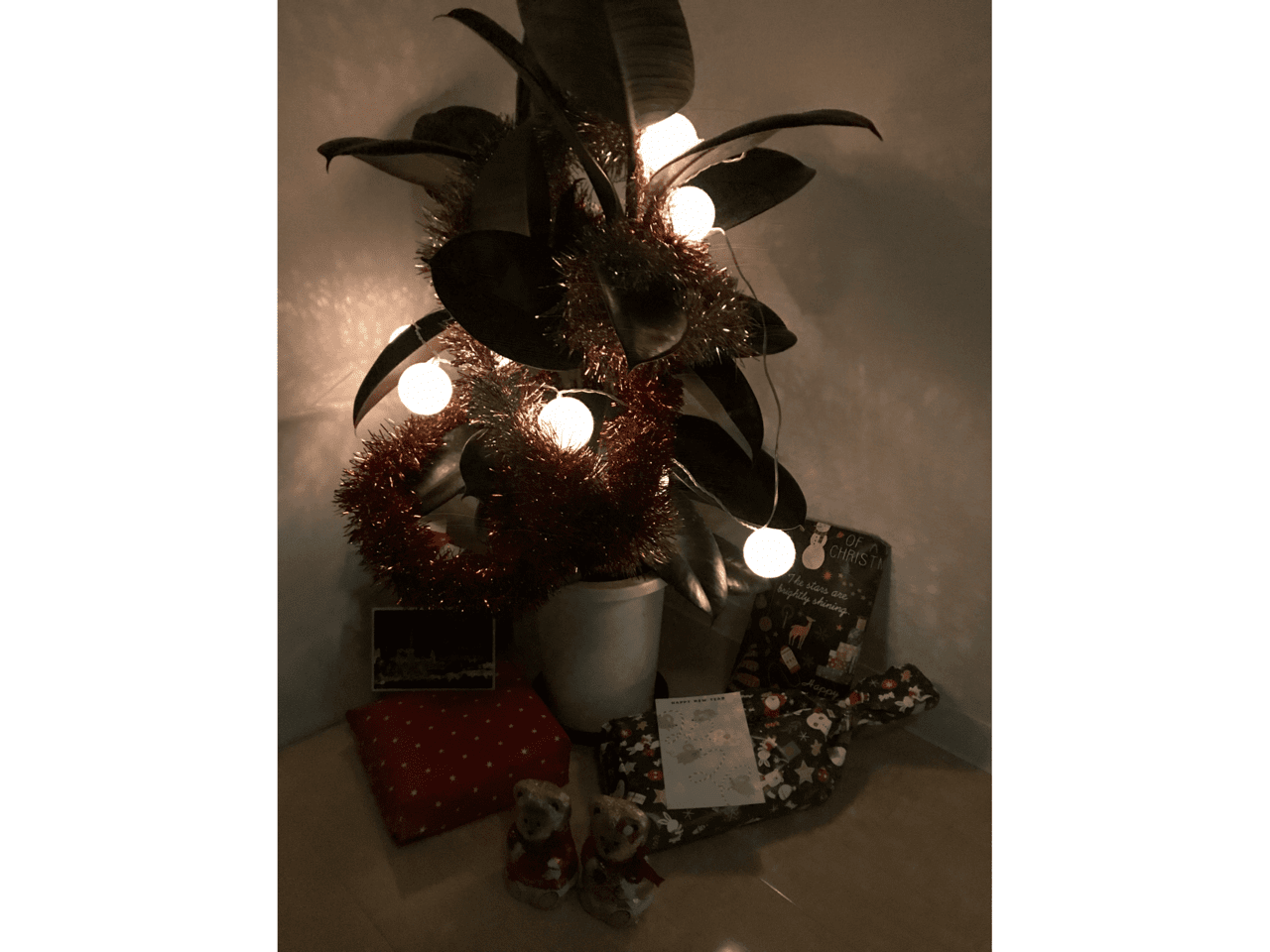 In the evening, we called our families (it was early afternoon for them) to wish them merry Christmas and comfort them that we couldn't be there with them. It was a little emotional for everyone… but thanks to video-chat we didn't feel so far from each other and that's at least some small comfort. After this, we had our dinner (this time we cooked it ourselves), lasagna and some home made chocolate mousse, before we opened the presents. And we tried to get at least one good couple picture in front of our "tree", which was surprisingly difficult. I hope you like the result.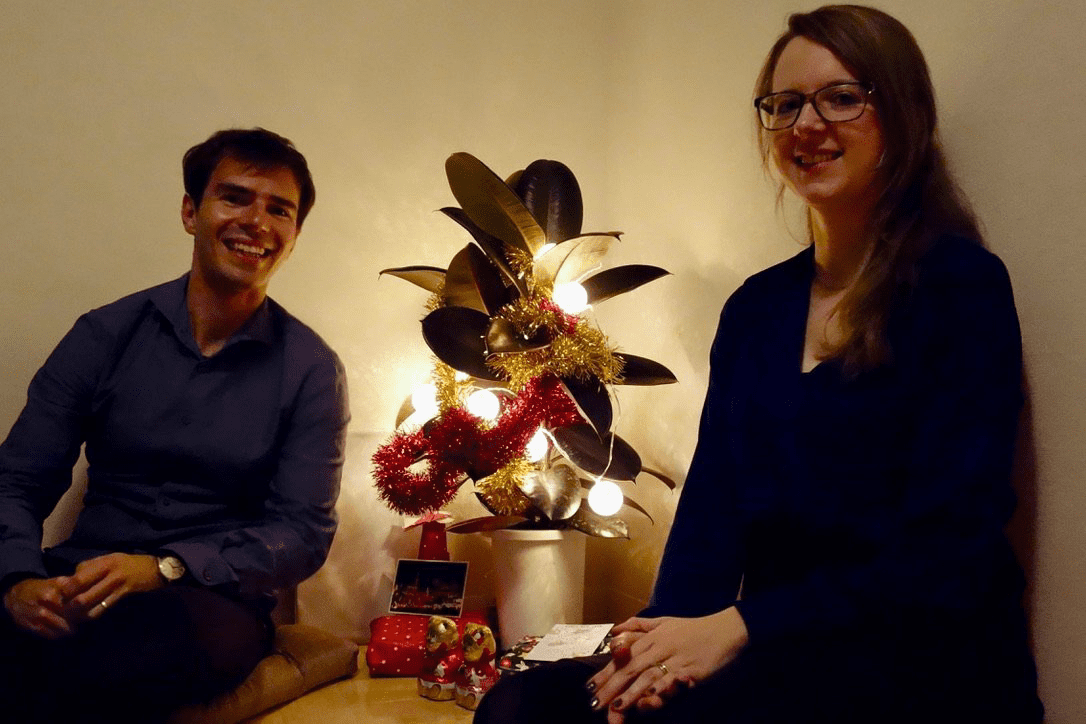 Merry Christmas to all of you!
It was a very relaxing first day of the Christmas holidays. :) On the next day, we prepared our big Christmas lunch. In Germany, we were both used to big Christmas dinners and lunches, so we tried to cook something more fancy (kind of difficult without a oven but our microwave could make things possible) than usual so that we also could add some festive feeling to our food. This time, we had steak with potato gratin and beans. After this nice lunch we went to the city to take a walk and see the Christmas illuminations (very Japanese!). It was a really nice atmosphere and we spotted a lot of couples doing the same.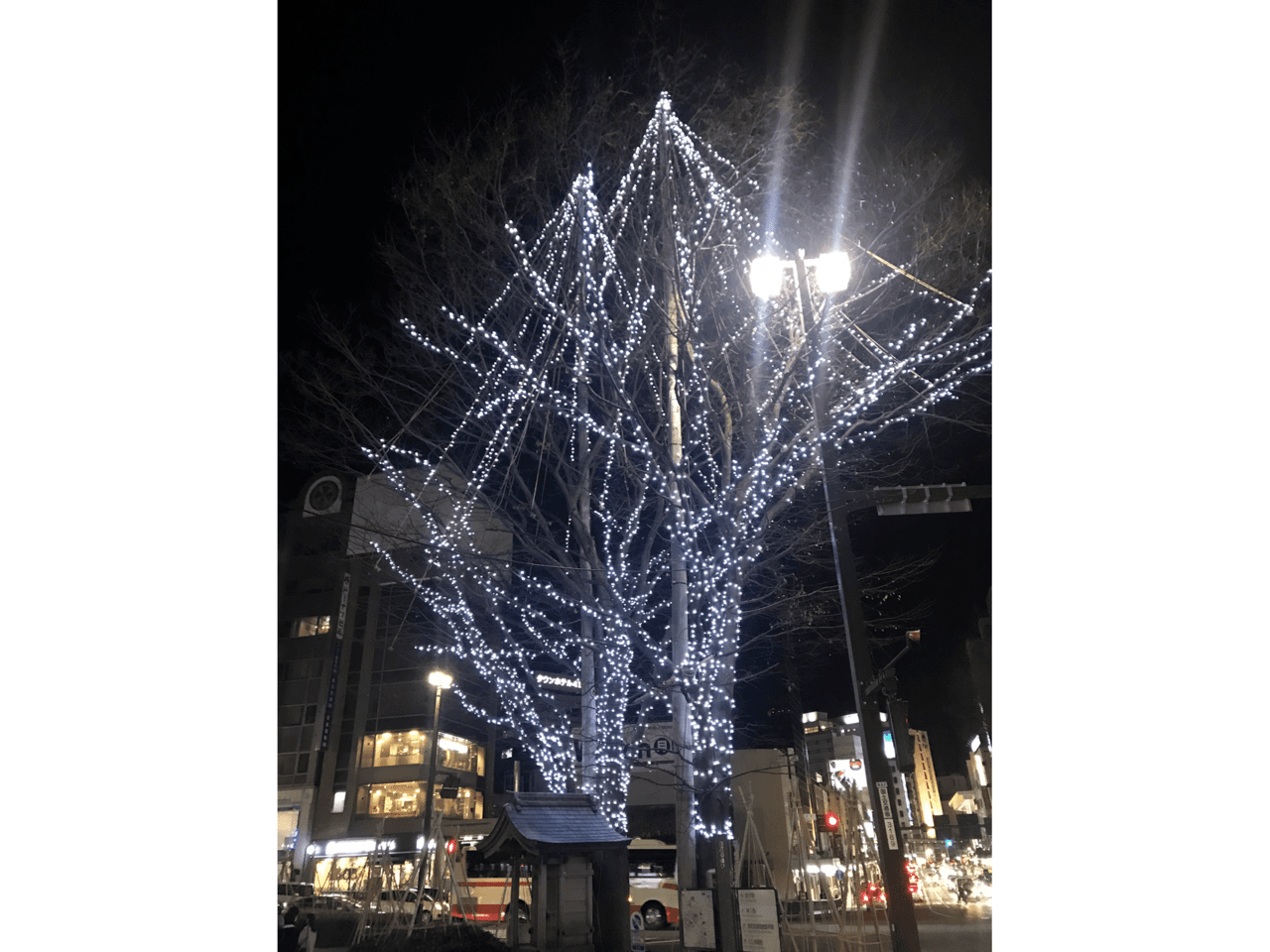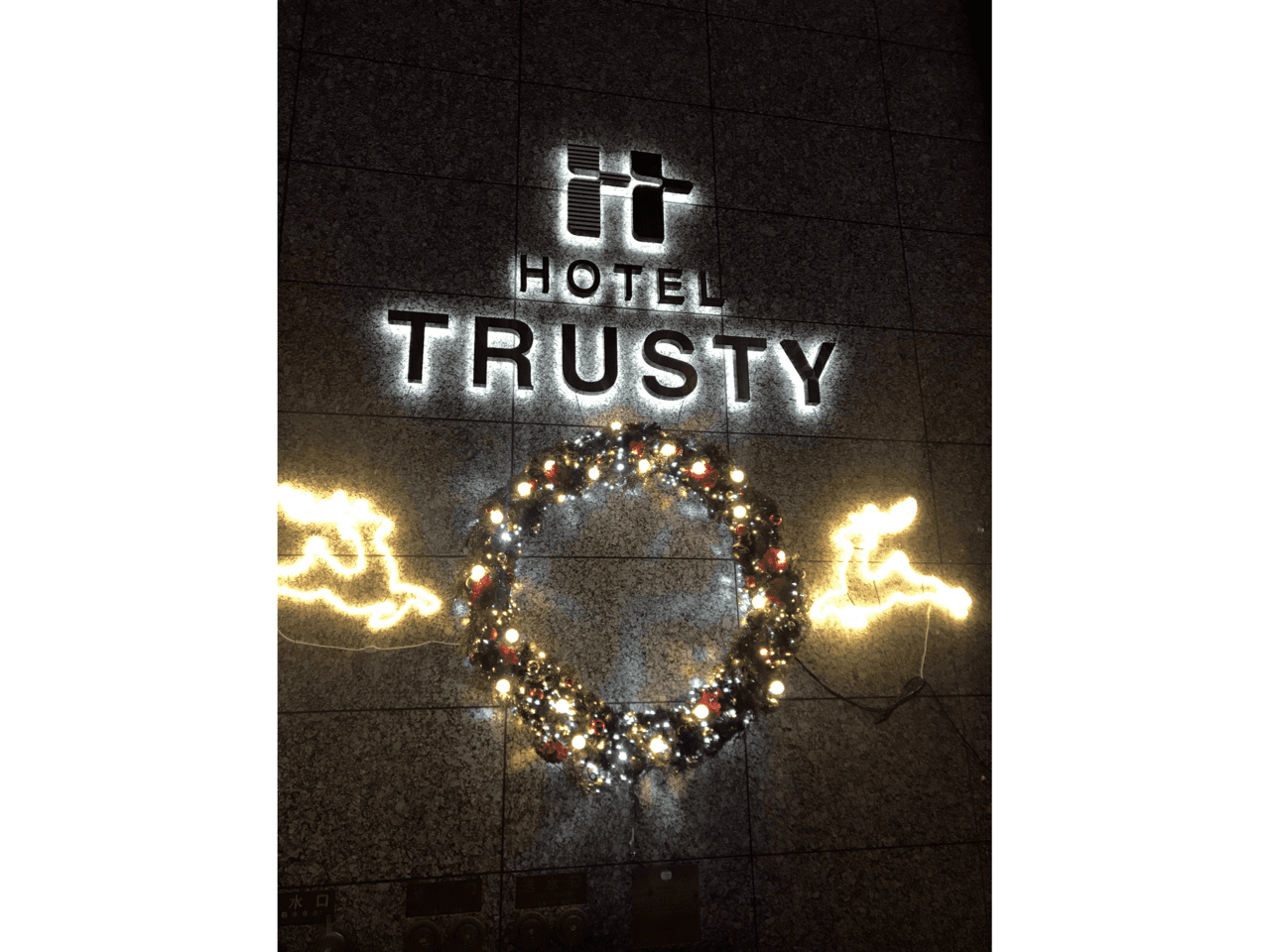 Most of the hotels also decorated their exterior accordingly
We also went to a catholic Christmas mass in Kanazawa's only catholic church. Although being advertised in English, this mass was completely in Japanese! For us it was a bit strange but also interesting. Even without understanding lots of what was being sad, we kind of knew what they were talking about. I was also surprised that there were so many people attending!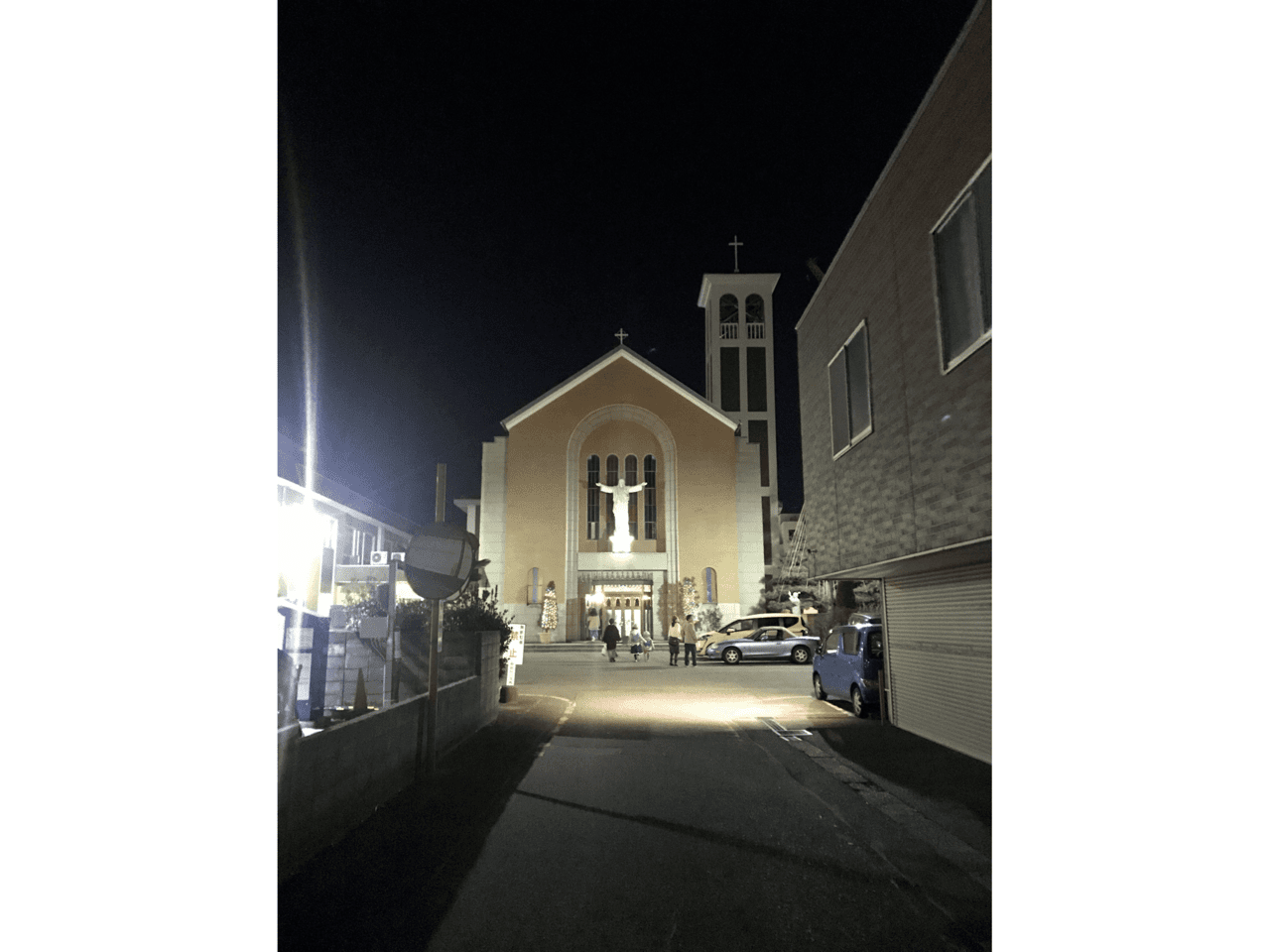 Afterwards, we had some pancakes (maybe some kind of substitute for the Christmas cake we didn't have) and went to see the new Star Wars movie (my big Christmas wish hehe). I am not going to spoil anything here, don't worry. But whoever wants to discuss it with me, feel free to contact me. I have a lot to say about it. :D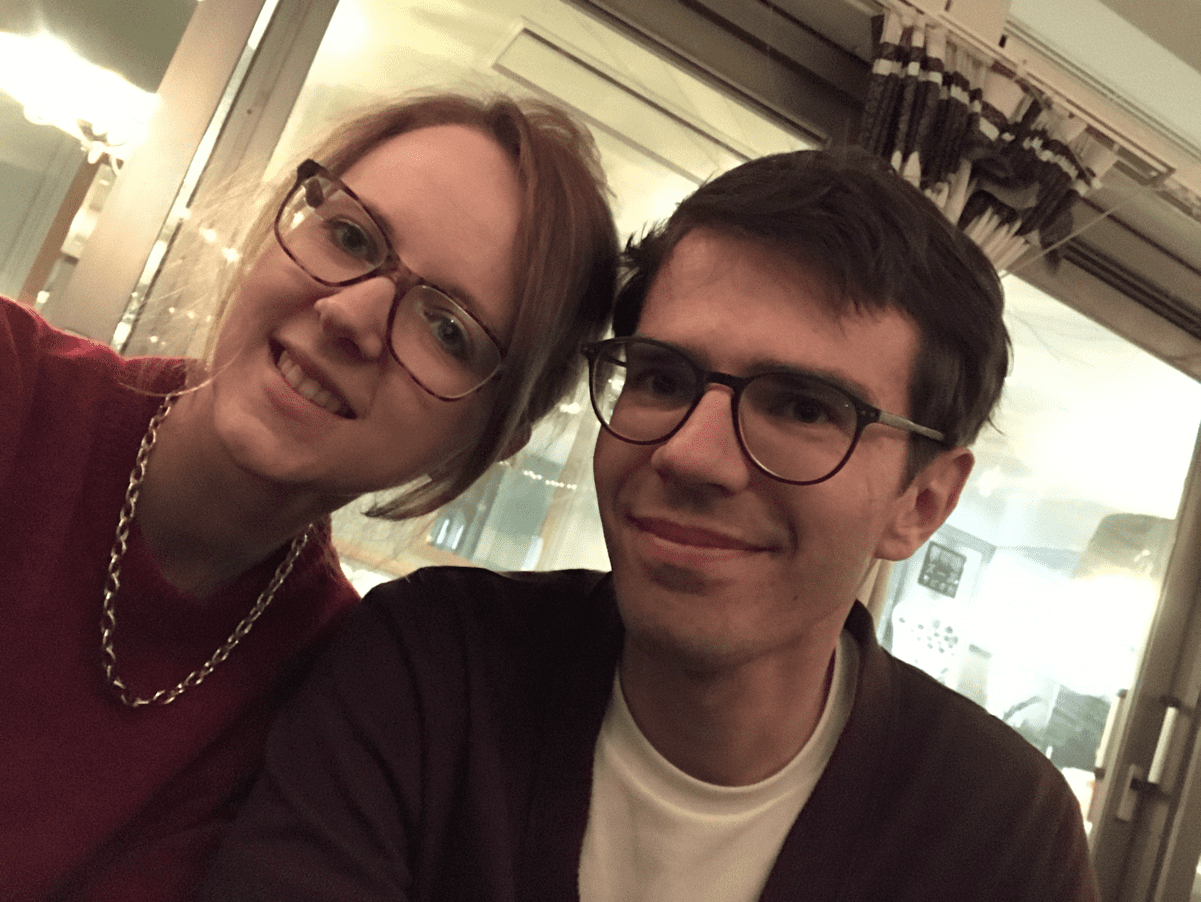 Enjoying Christmas as a couple - the Japanese way of celebrating
International potluck party
This year, we were spending the holidays on our own in a foreign country. We both were afraid that we would be feeling very alone and homesick during that time. Therefore we decided to try something new and invited international friends, who were also on their own and looking for some holiday company. Some of our Japanese friends were curious about it too and also joined the party. Our guests all brought snacks with them - either Japanese styled sweets or dishes from their home country. It was awesome! We had a great buffet and also very good drinks, thanks to Niklas alias the bartender.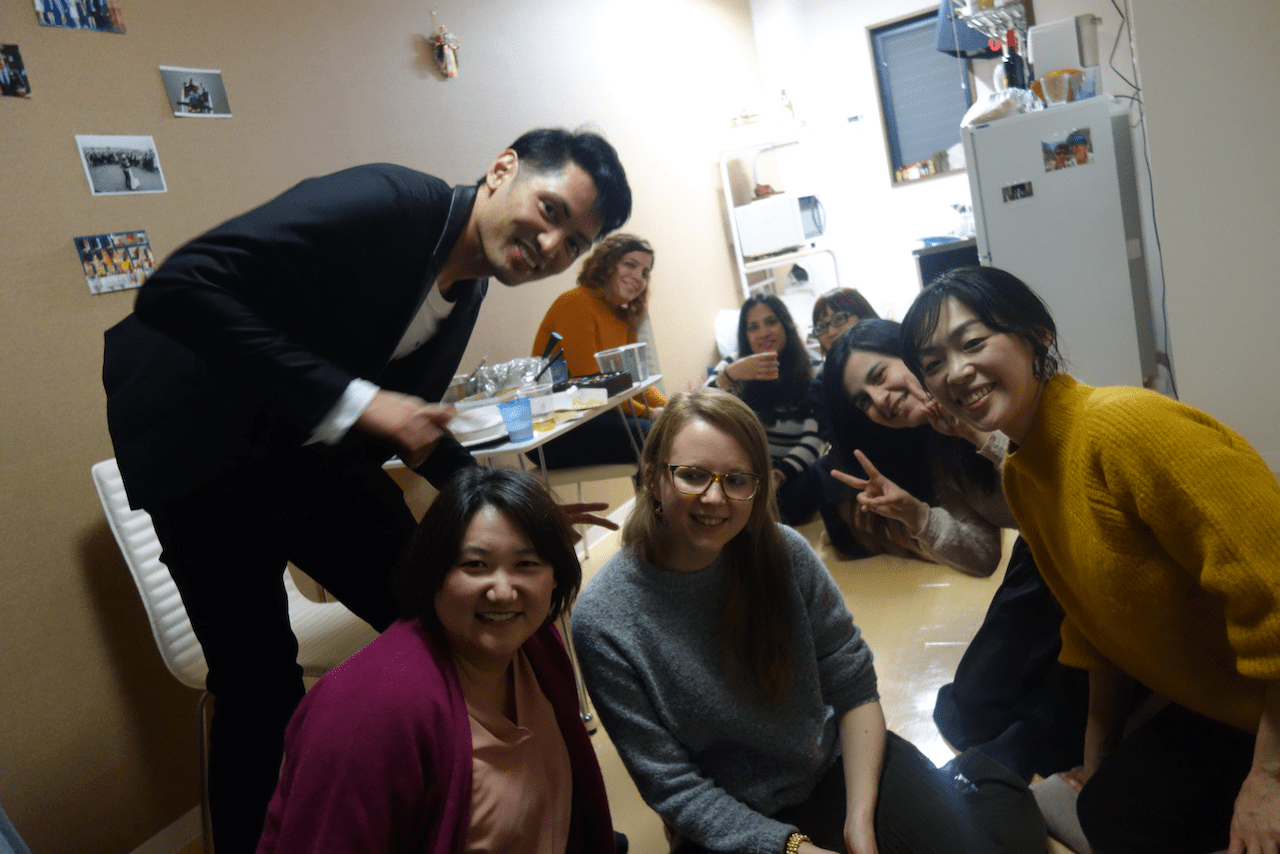 As this was a party in Japan, everyone sat on the floor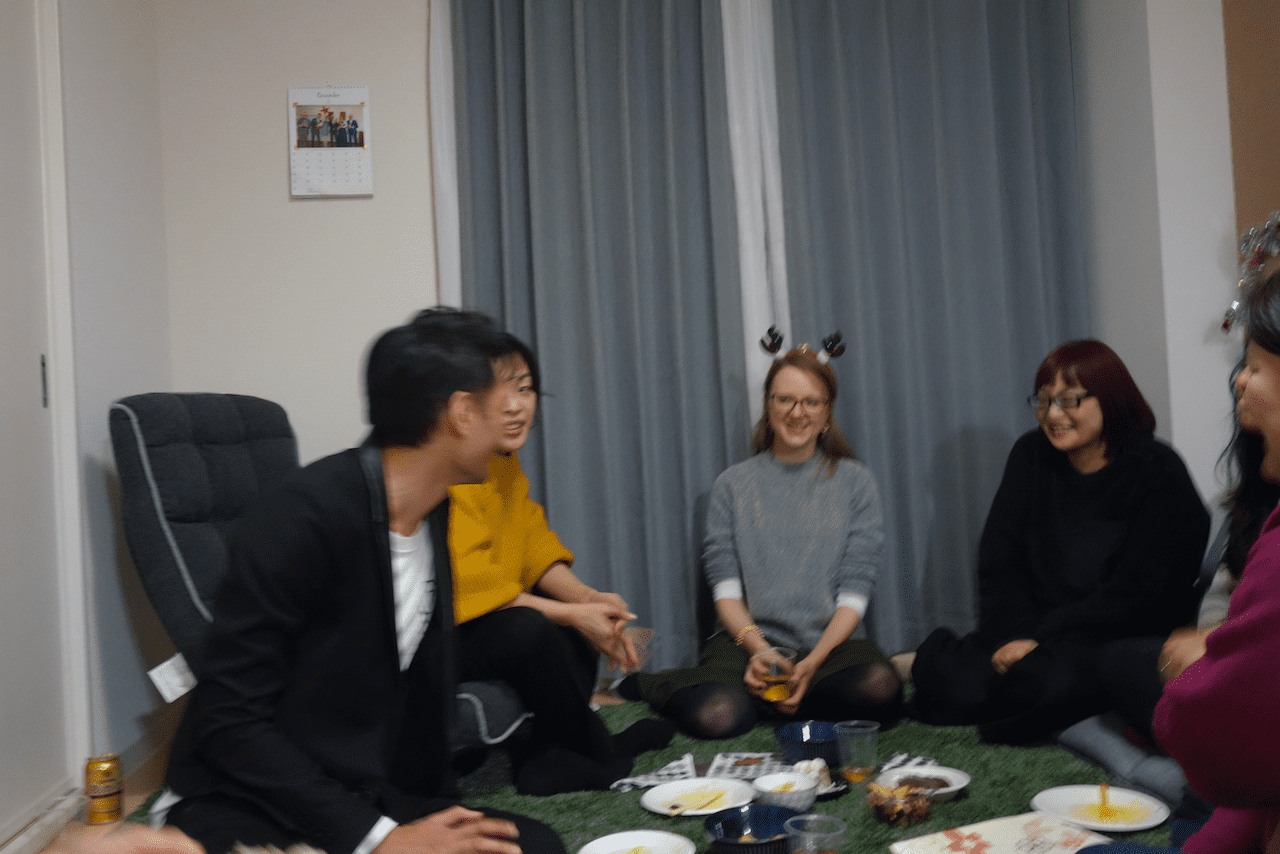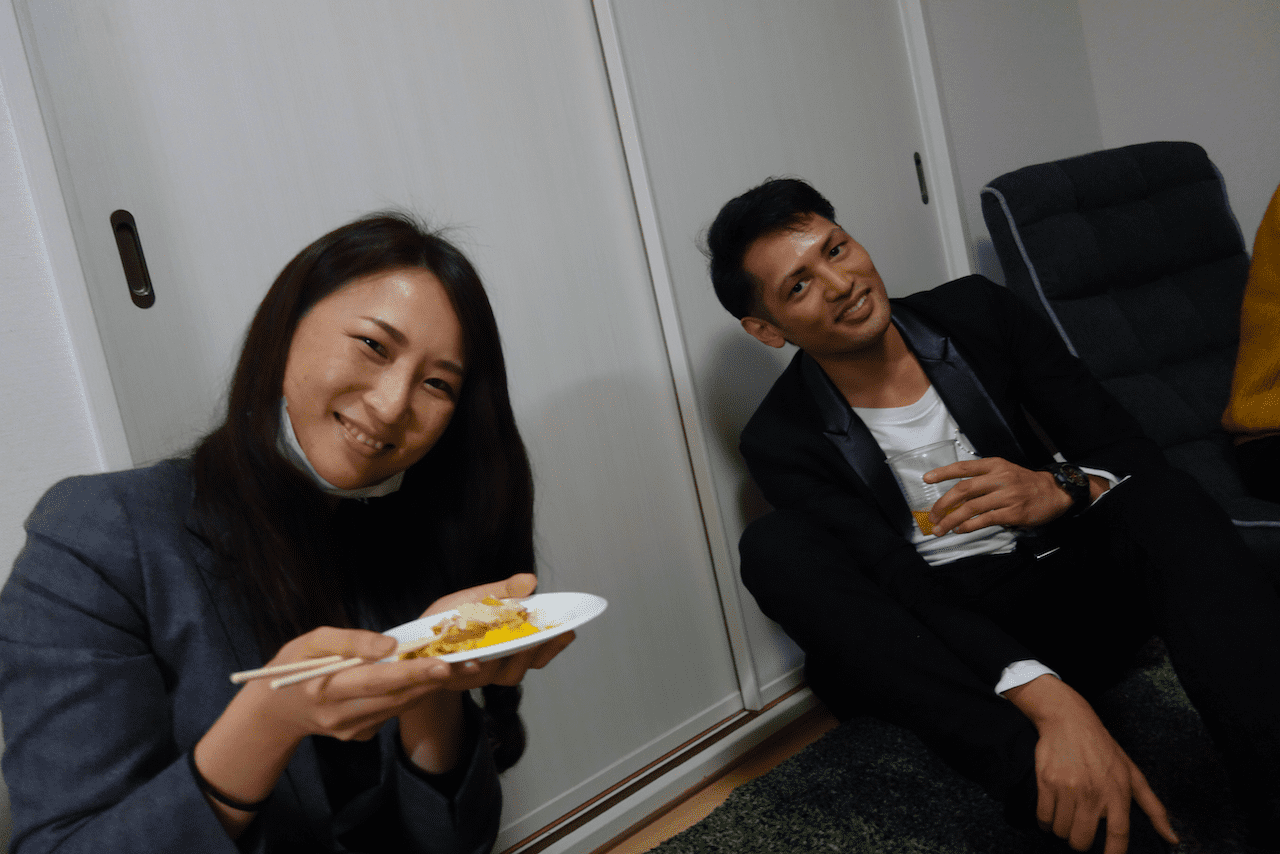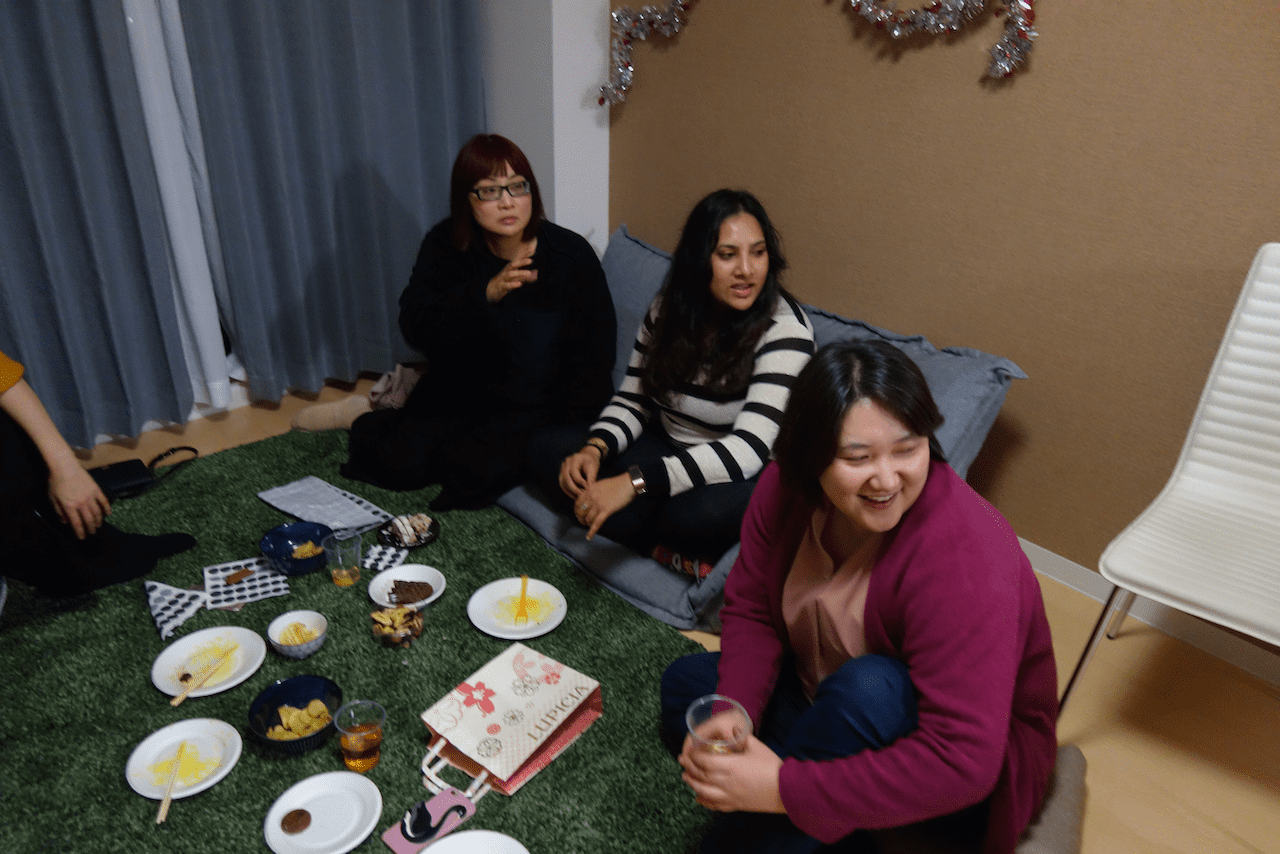 Our guests stayed long and enjoyed the atmosphere. As a gimmick, we had set up an artificial Christmas fire place. And our youngest guest, baby Hugo, loved it the most!
Having such a celebration together with so many people made us very happy. It showed us that we had met so many cool and special people along our way in Japan and that any fears to be alone in this country were unnecessary. You can find friends and feel home at any place in the world, as long as you are open for it and not scared of new experiences or new people. This realization was one of my biggest Christmas present.
Goodbye 2019!
Now, the year is nearly over and the new year is already waiting to begin. And what a year it was for us! After six months in Japan, we are still impressed of our new lives here. Even if it now feels almost normal and we have established our every-day-life, every day is and adventure and really special. We adapted quite well to the lifestyle and to the culture and enjoyed it a lot. Sometimes, we still struggle with seemingly easy every-day-life tasks (going to the post office is a nightmare) or with the weather here, but most of the time, we manage fine. We found so many good friends during the last months and are overwhelmed how friendly and warm they are and how welcoming we felt because of them. The people we met are always extremely helpful and supportive. We couldn't have done anything without all the friends who are with us in this adventure.
Regarding our future here in Japan, I am positive that it will be fine. I guess it will still be very adventurous, sometimes in a scary, sometimes in a funny way, but we will face everything that comes and enjoy every minute of it. I hope you stay tuned for the next adventures in 2020! We wish you all a happy new year!