Hey everyone, this week is full of events and one special highlight follows the next one! Today, I want to tell you about my first big trip within Japan: on Wednesday, I went to Osaka on my own to meet my dear friend Yuka.
So, in case you are wondering, Yuka is a Japanese woman who went to Germany to work there as a nurse. I met her at the beginning of the year as I was looking for a Japanese person living in Mainz for language practice. We met one afternoon in a cafe, together with Niklas and her boyfriend Andi and the rest is history. We became really good friends! During my last days in Germany, she told me that she would be able to visit her family in Japan for two weeks and that we could meet in Osaka and that's how I found myself in the express train (the so called Thunderbird) to Osaka on Wednesday morning.
Going by train is a perfect experience, especially for me as I am used to really crappy service from Deutsche Bahn (commuting in Germany by train is no fun!). Here, all trains were absolutely on time, clean, quiet and I experienced zero problems (again, going by train in Germany, you will experience the opposite). The train ride took almost three hours but it was very interesting to watch the landscape and to listen to the various announcements. You have to practice Japanese as often as you can. ;-)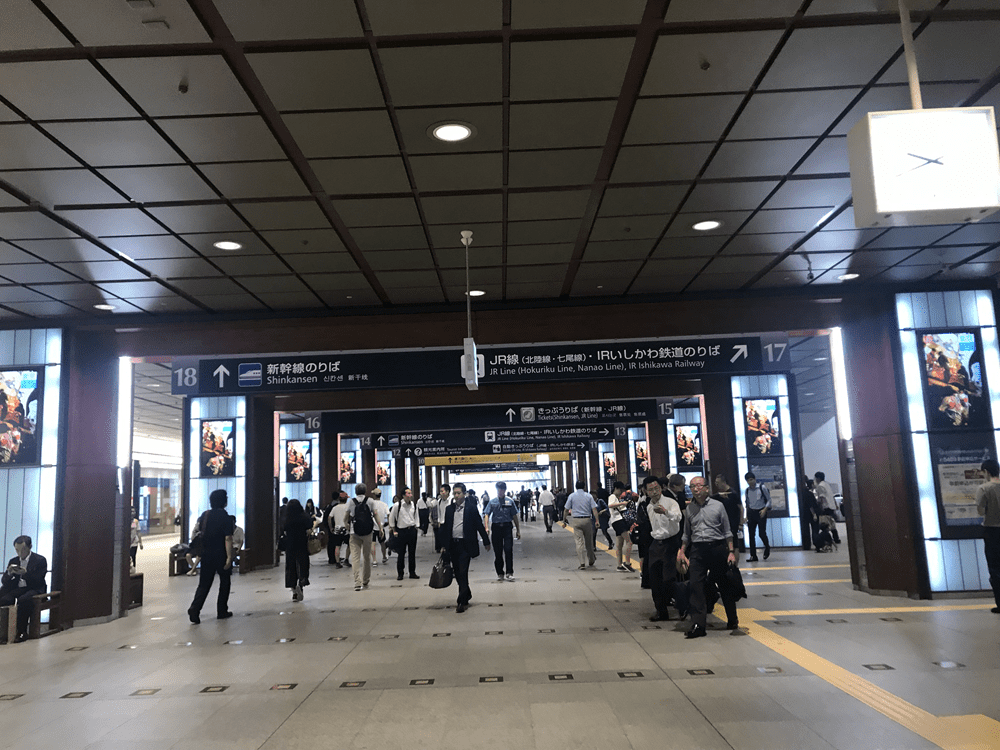 Nice and calm Kanazawa train station
Arriving in Osaka-Shin station, where I would meet Yuka, I was quite shocked. By now, I only know Kanazawa station which is a peaceful and quiet station. Osaka was crazy! Thousands of people, a labyrinth of various entries and exits, endless lines of shops and it was soooo hot! Trying to find Yuka was a little bit difficult and at the end, she found me in front of the Starbucks as I was too frustrated to continue searching the meeting spot. Haha! But it was all forgotten the minute we saw each other. We were so happy that we really met in Osaka! Yuka had just arrived this morning by plane but was quite fit so we directly went to the Metro and into the city center.
The metro system is very complicated and I was happy that Yuka was there to guide me through the various pathways and to help me to buy the correct ticket. But again, if you have done it once, you can manage it on your own afterwards. Just don't be distracted by all the noise, the music and the different ticket machines…
Our first stop in Osaka was the Namba Station, one of Osaka's city centers. You exit the metro (not that easy to find the correct exit) and enter a buzzing metropolis! My first reaction was simply "wow" (as well as "oh my god why is it so hot?"). We started our city trip with a visit of a ramen restaurant called Ippudo where Yuka introduced me to the authentic way of ramen. I had the classical ramen dish based on pork and enjoyed it very much!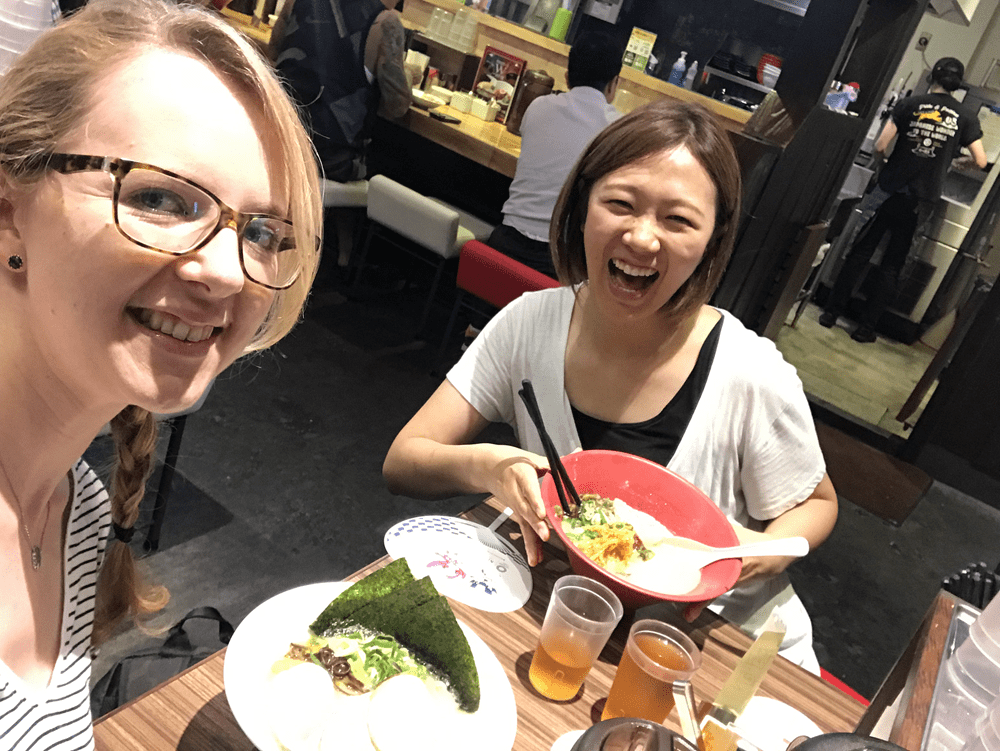 After this refreshment we started our Osaka tour at the buzzing streets of Shinsaibashi Shopping Arcade where you could find restaurant after restaurant, it was completely crzay! There are so many places for every taste, truly amazing.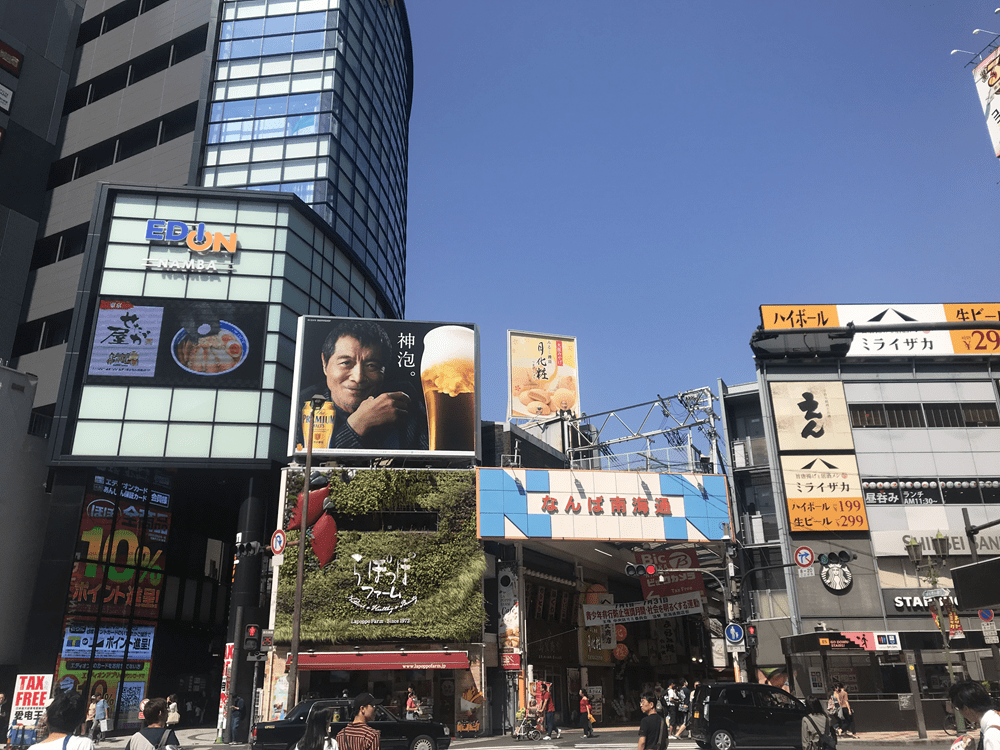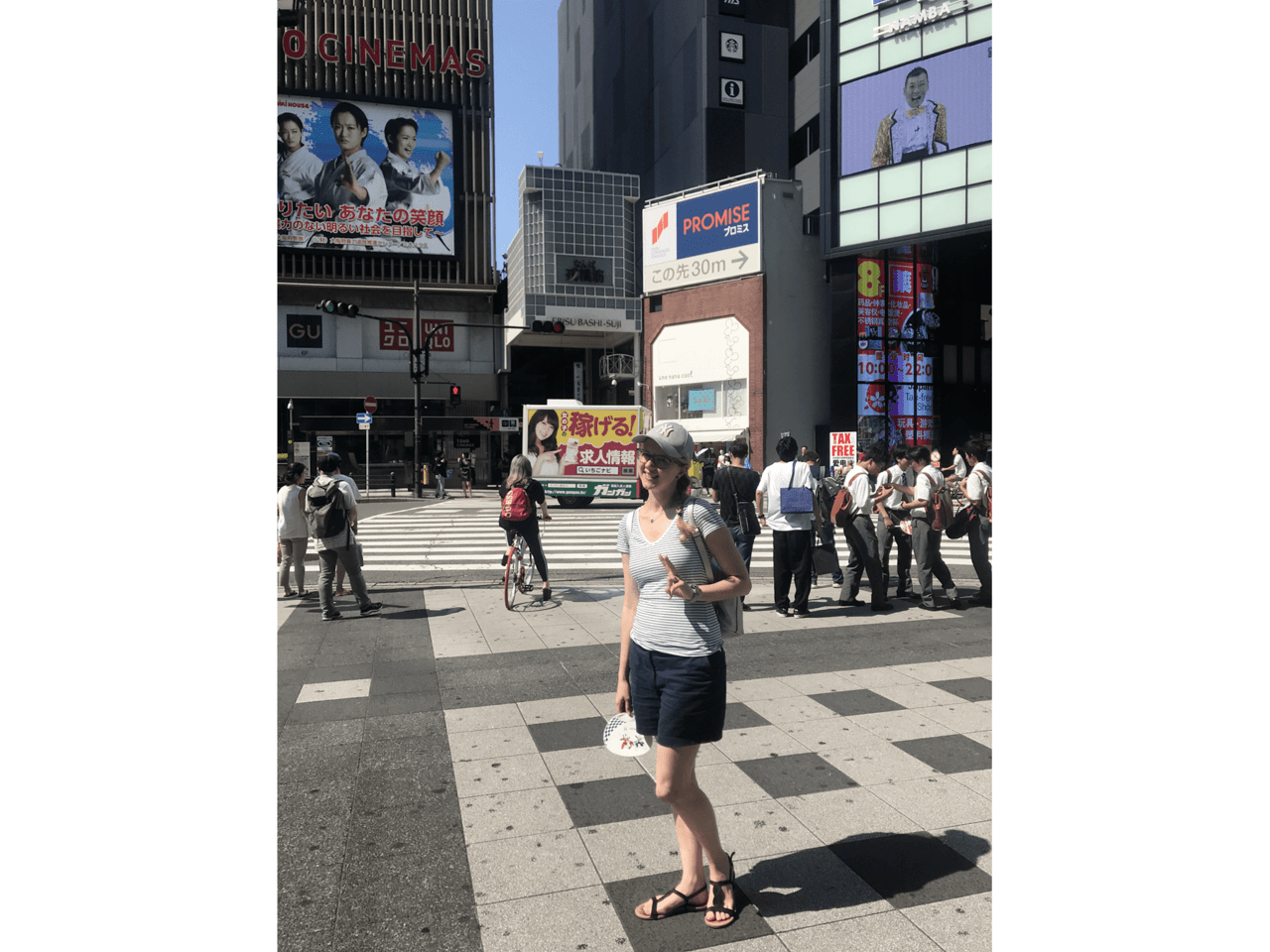 Sweating but so happy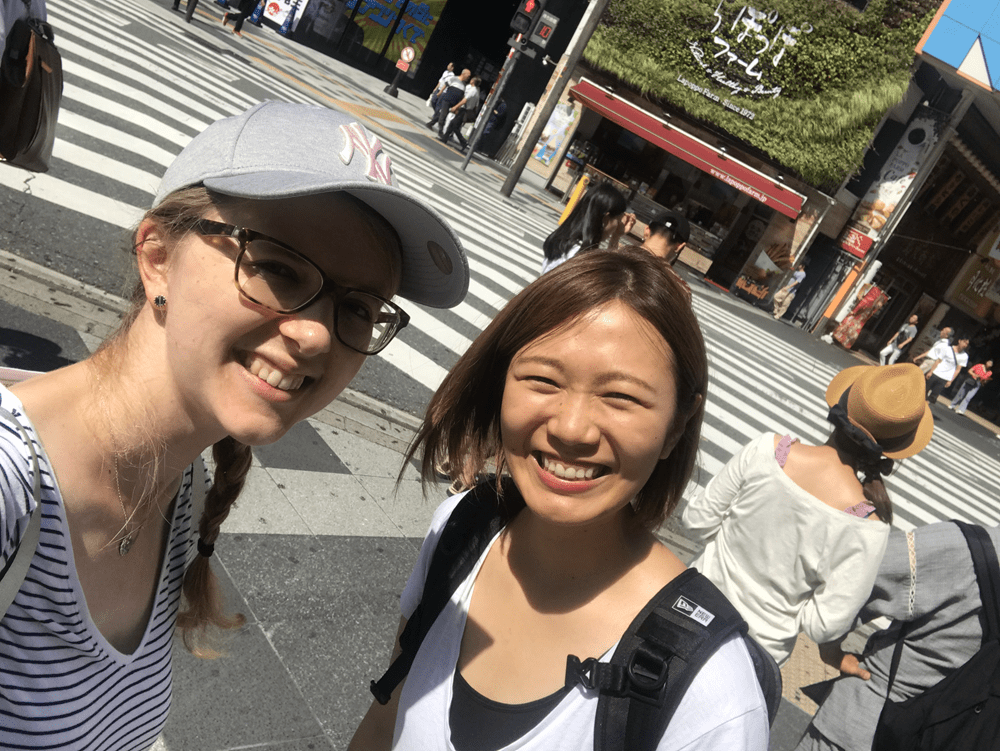 Happy to start the city tour!
Behind the Arcades, you enter Doutonbori, one of the famous places of Osaka. Again, I find it difficult to describe the feeling I had while passing through these streets. That's probably how I imagined Japan. There were so many neon lights, huge advertisements, food places, etc. I didn't know where to look first.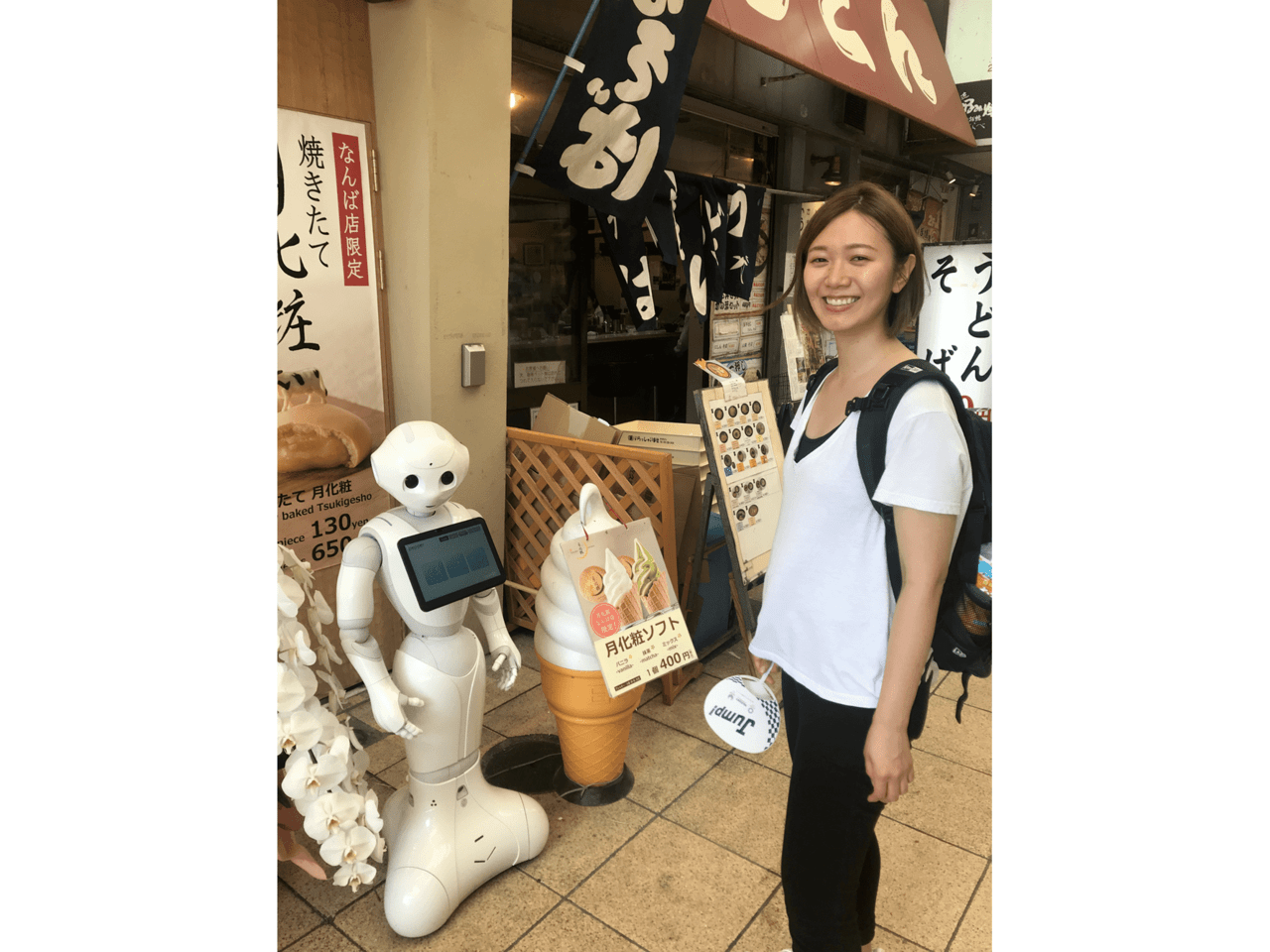 Pepper is taking your orders - sadly, he only spoke in Chinese to us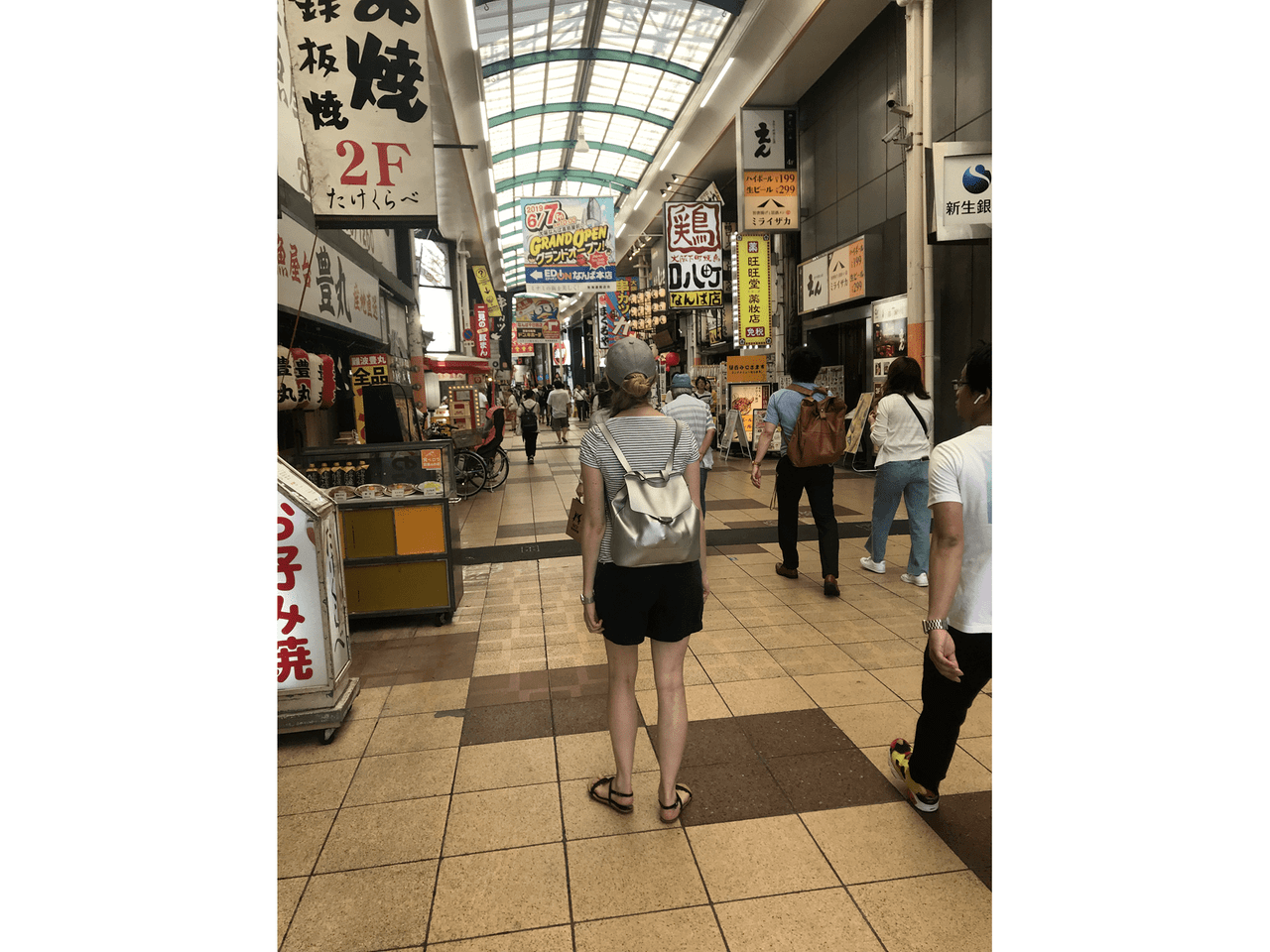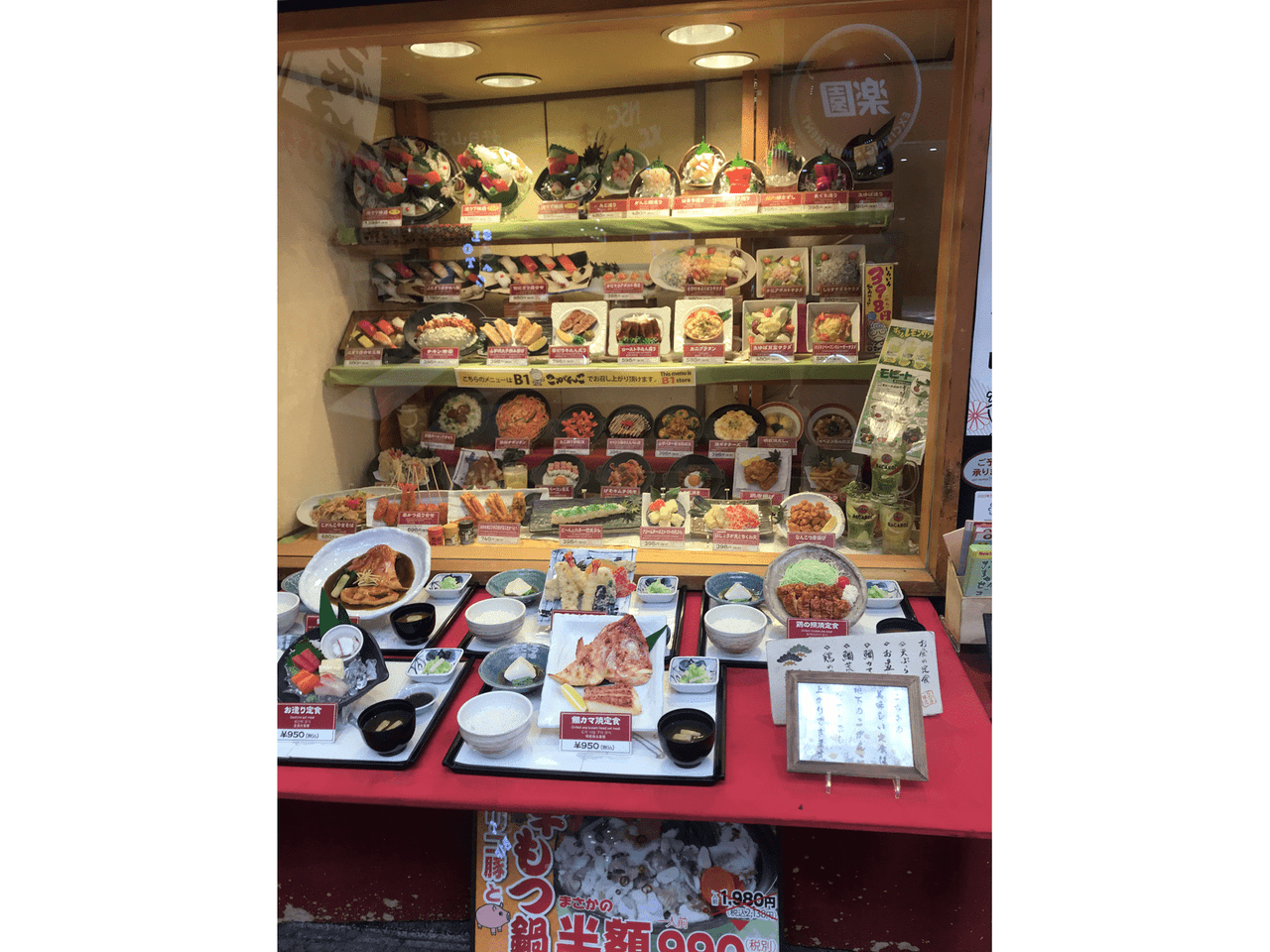 It was great to enjoy it with Yuka together, we had so much fun taking pictures and doing all the typical tourist stuff. Like, e.g., making a picture in front of the famous Glico Man.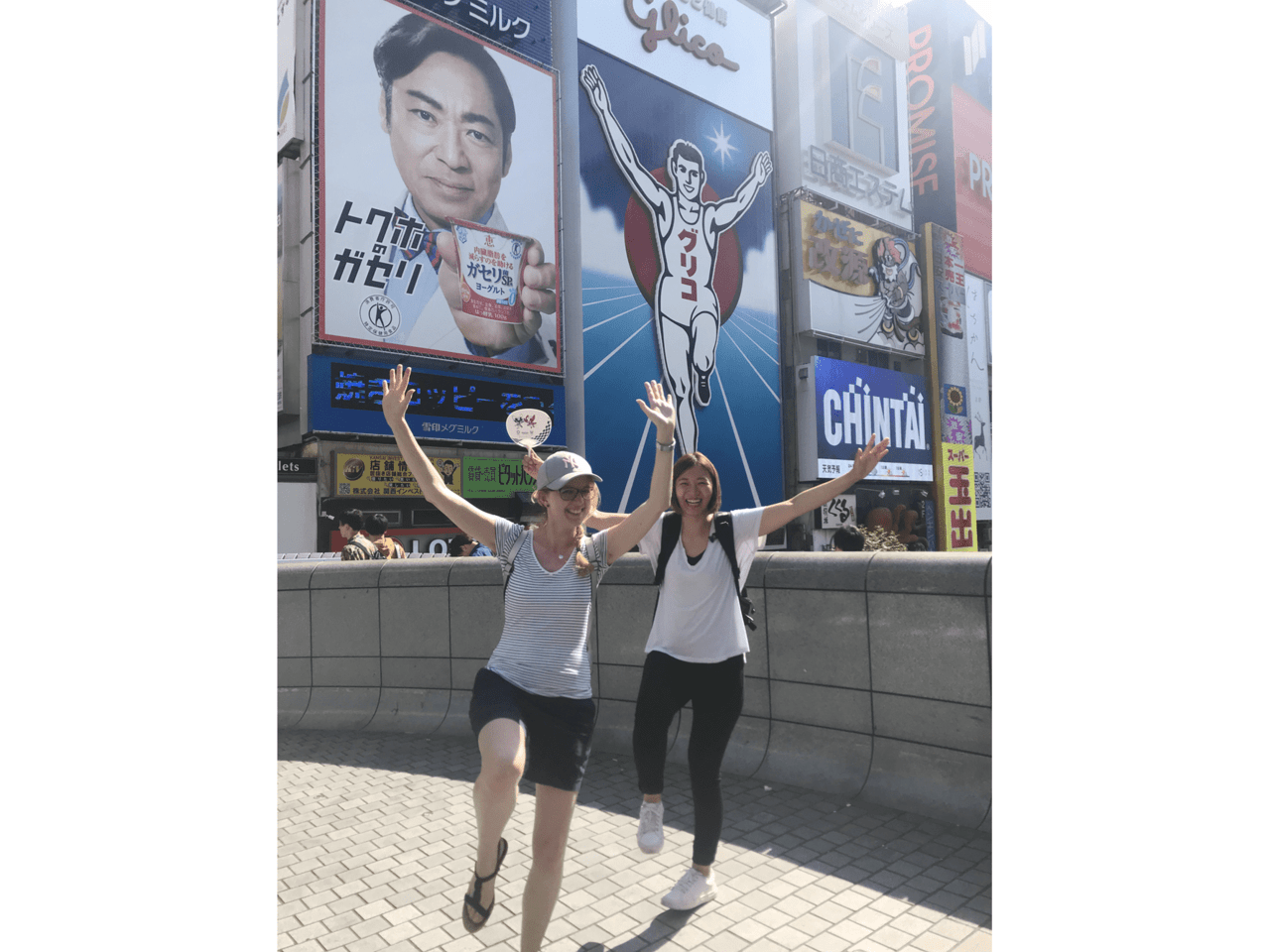 Posing in front of the Glico Man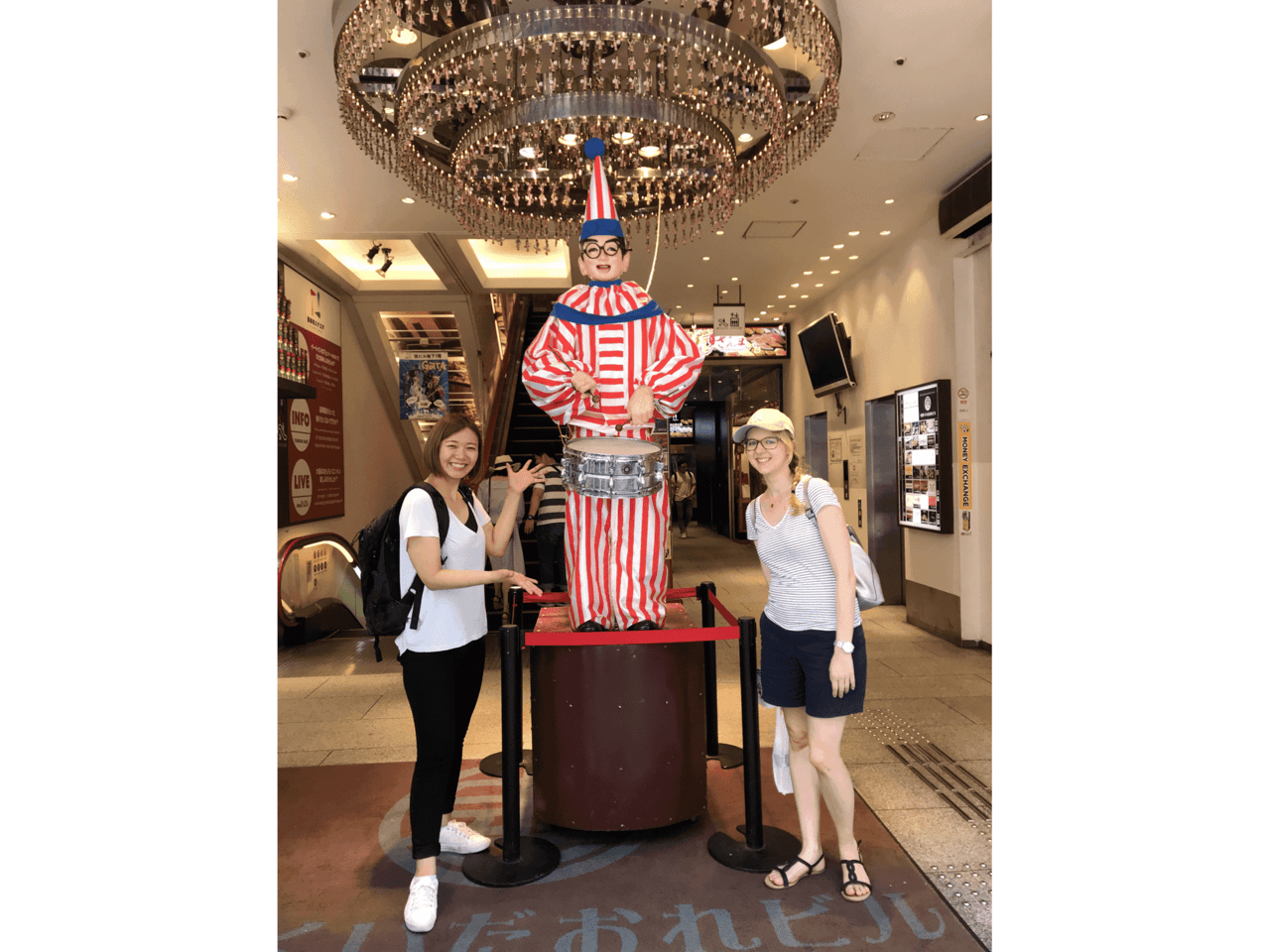 We then continued our walk and arrived in the America Mura, a district that is also famous for shops and restaurants. Again, lot's of stuff to see!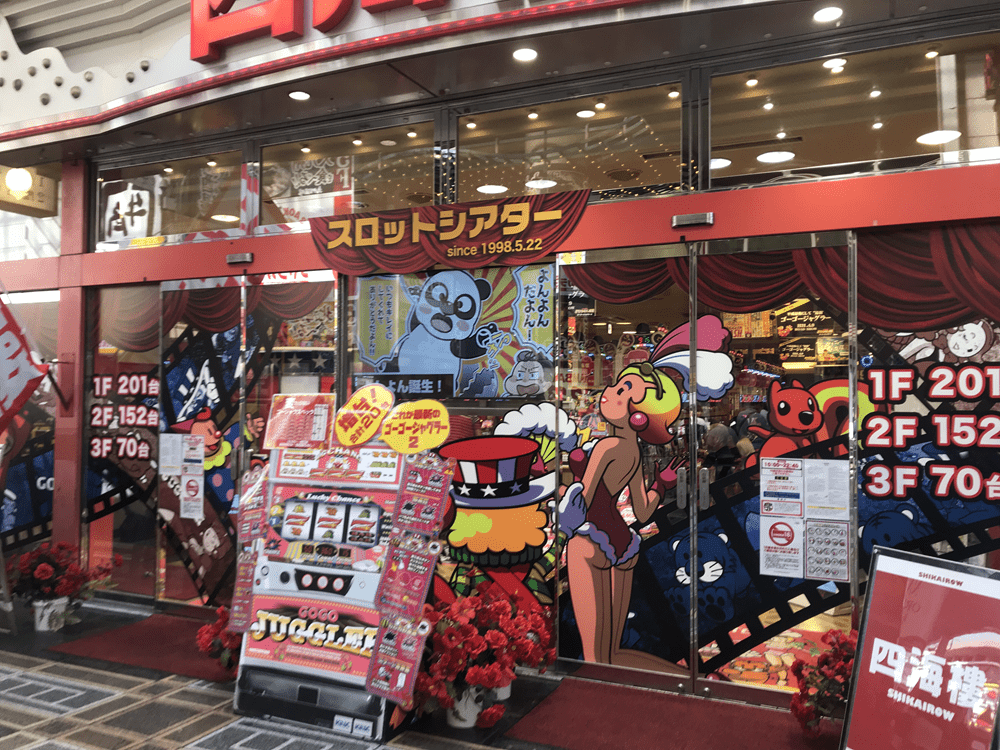 Gaming halls (Pachinkos) everywhere…
While walking back to the metro we encountered a Mario Cart race - but, as Yuka pointed out correctly, only tourists were participating in this race…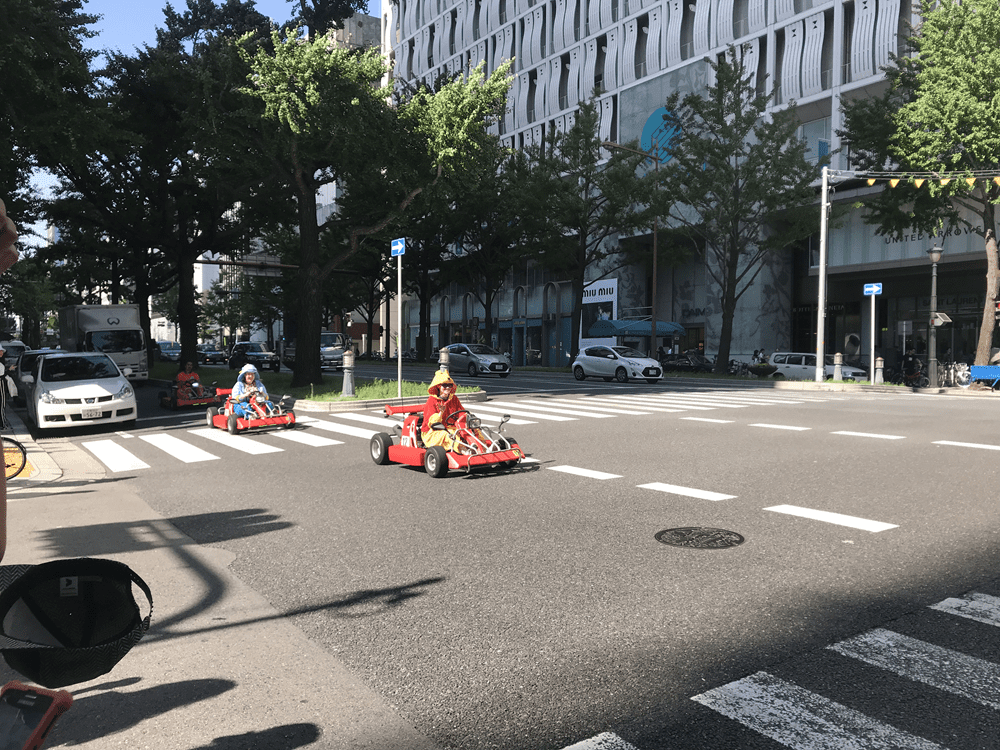 After Namba we went to the other city center called Umeda/Kita. The station of Umeda is located in the center of this district and is characterized by its unique and futuristic architecture. Again, I was just amazed by the design of the buildings and the various impressions I got from looking around. On top of the station building you can even find a huge ferris wheel! How crazy is that? Of course, it was also very busy, just like Namba, but still it felt a little bit different.
After purchasing my first Manga books in Japanese (Yuka chose two books for me that would be very easy to understand) we went to the famous Pokémon Center at one of Umedas big shopping malls. And oh my god, I was feeling like a 14 year old all over again! It is a merchandise shop where you can buy every Pokémon as stuffed animal as well as other fun stuff like Pokémon boxer shorts, socks, T shirts, plates, pens, etc. It was absolutely crowded with people from all over the world but still it was a great experience. And, I have to admit, I bought a Pikachu - I couldn't resist!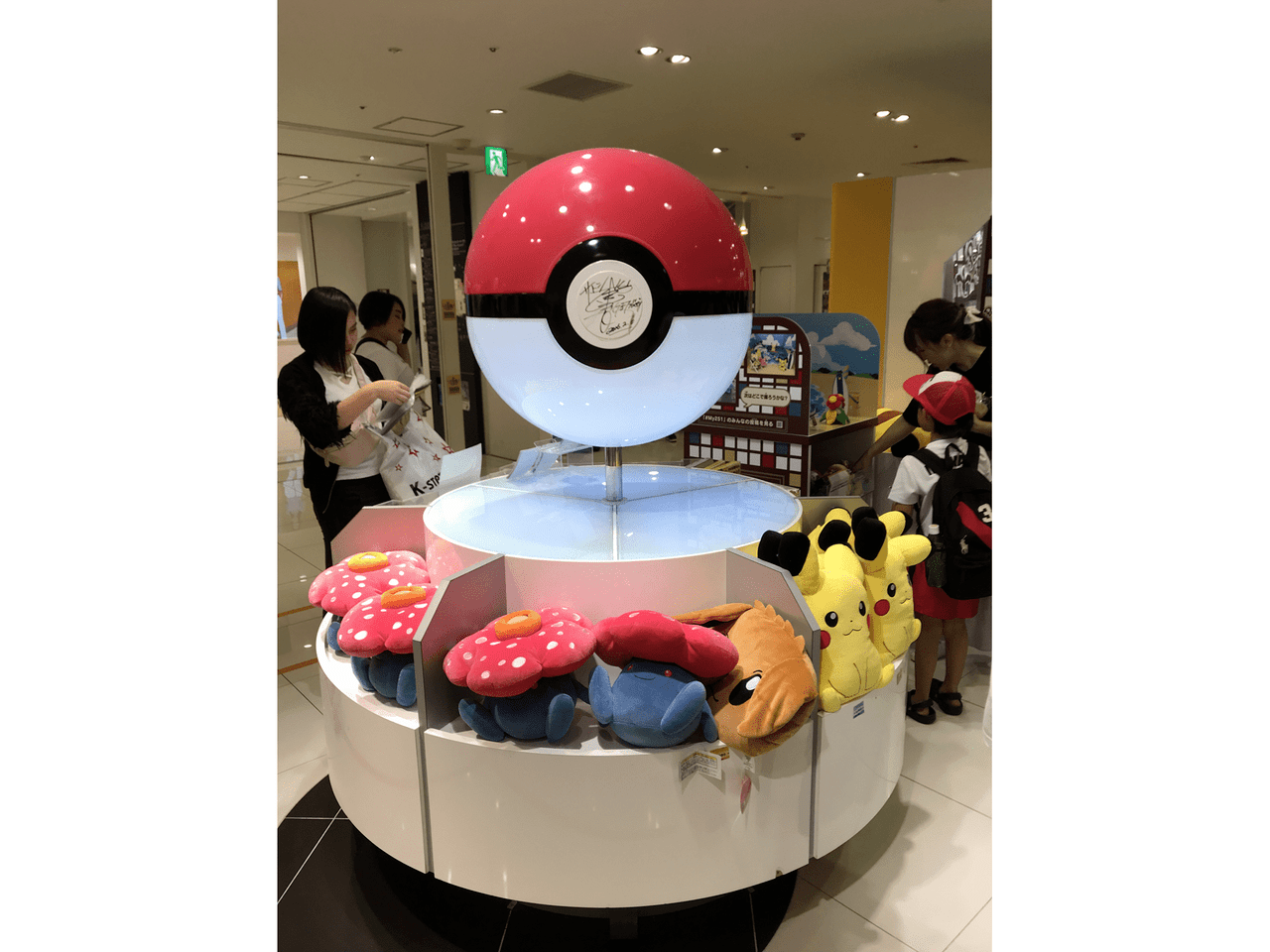 Welcome to Pokémon center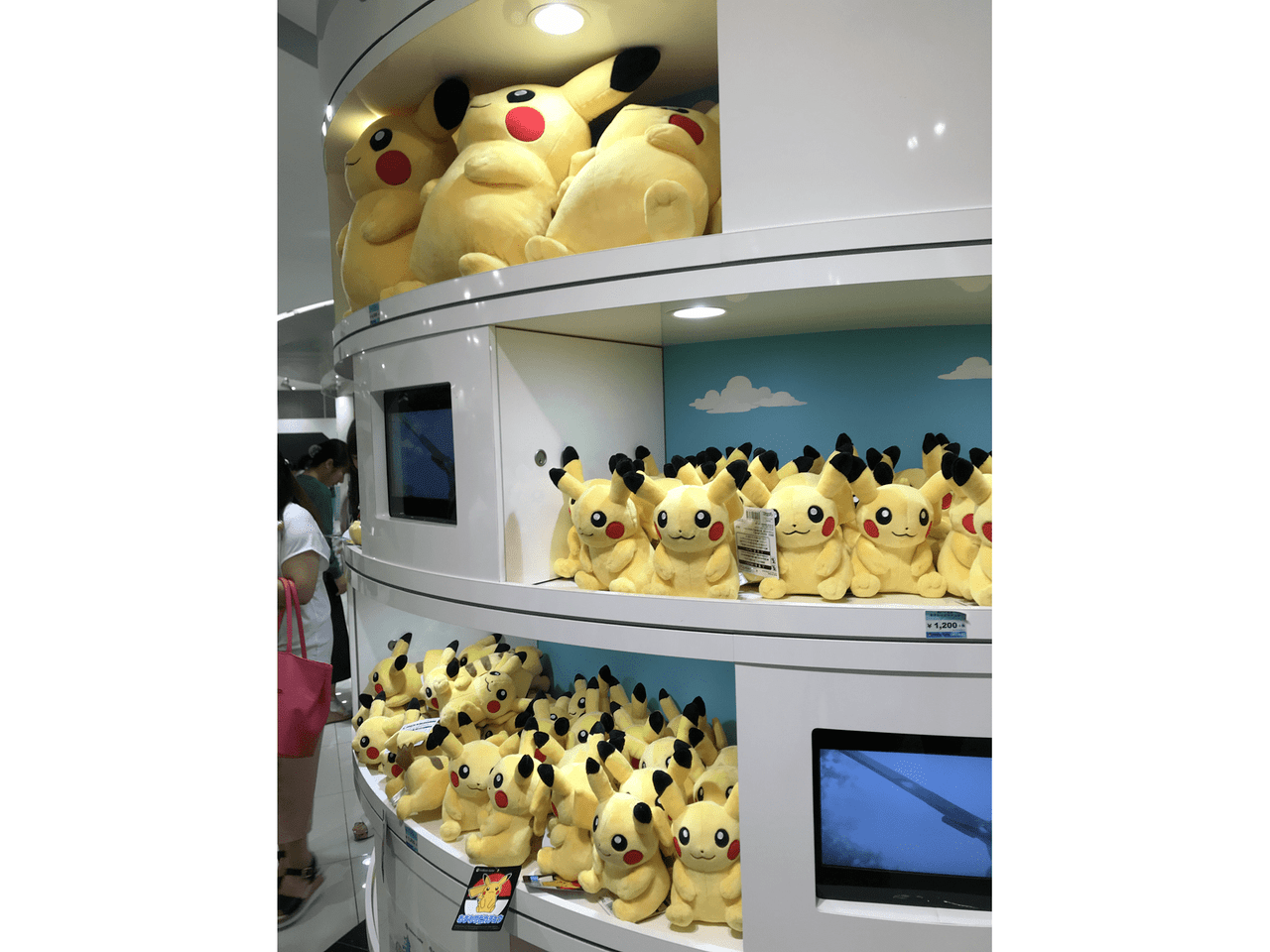 One of those is now living with me hehe
We also passed a Studio Ghibli shop were we found a huge stuffed animal of Totoro (if you have time and are interested, you should watch the movie "My neighbor Totoro", it is a touching story). Of course, we had to take fotos!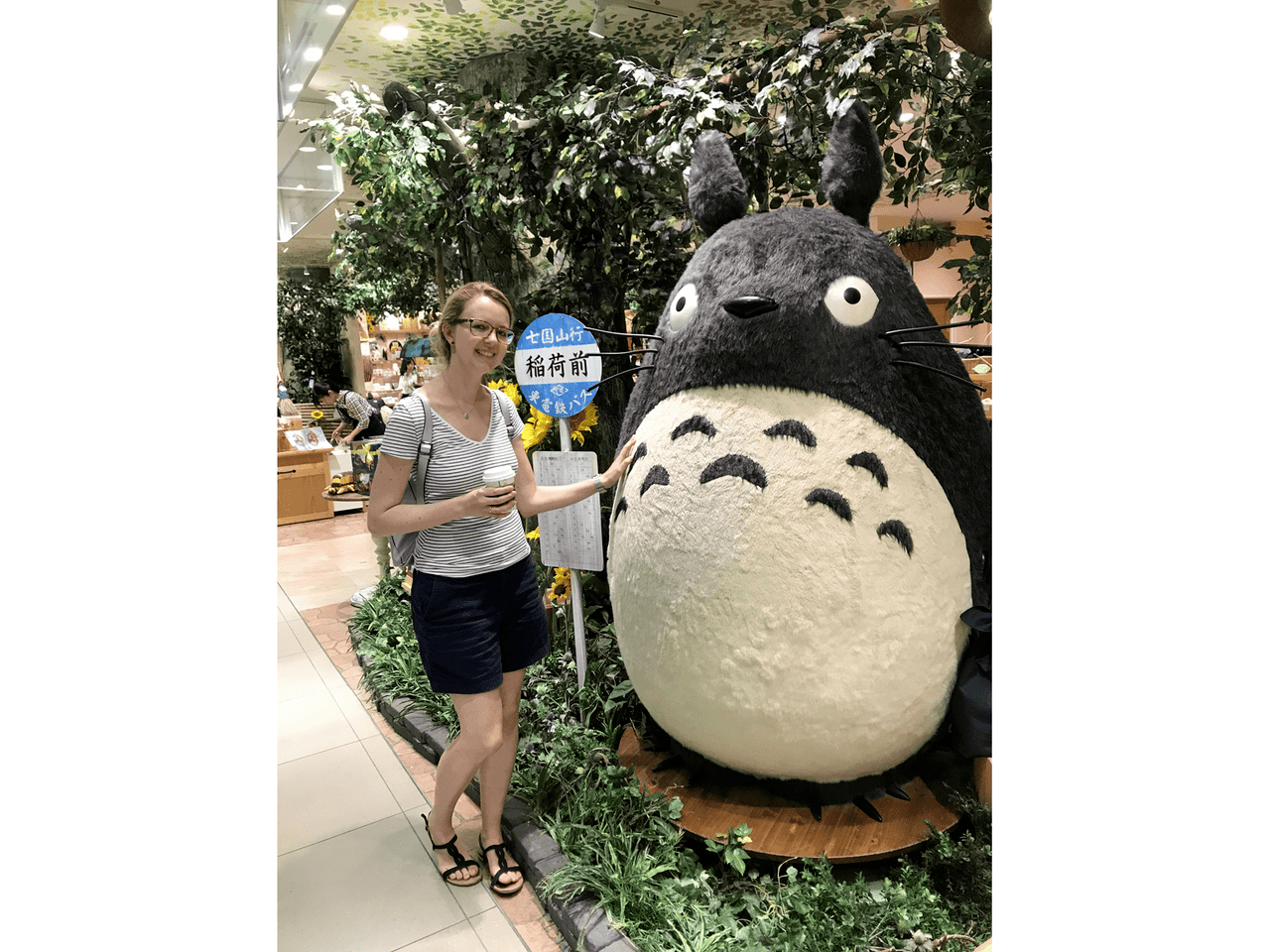 Afterwards we were so tired and in need of a calm rest. So we went to an observation deck that was located in an intermediate area of the huge shopping mall building. Have a look at the pictures, the architecture is so amazing!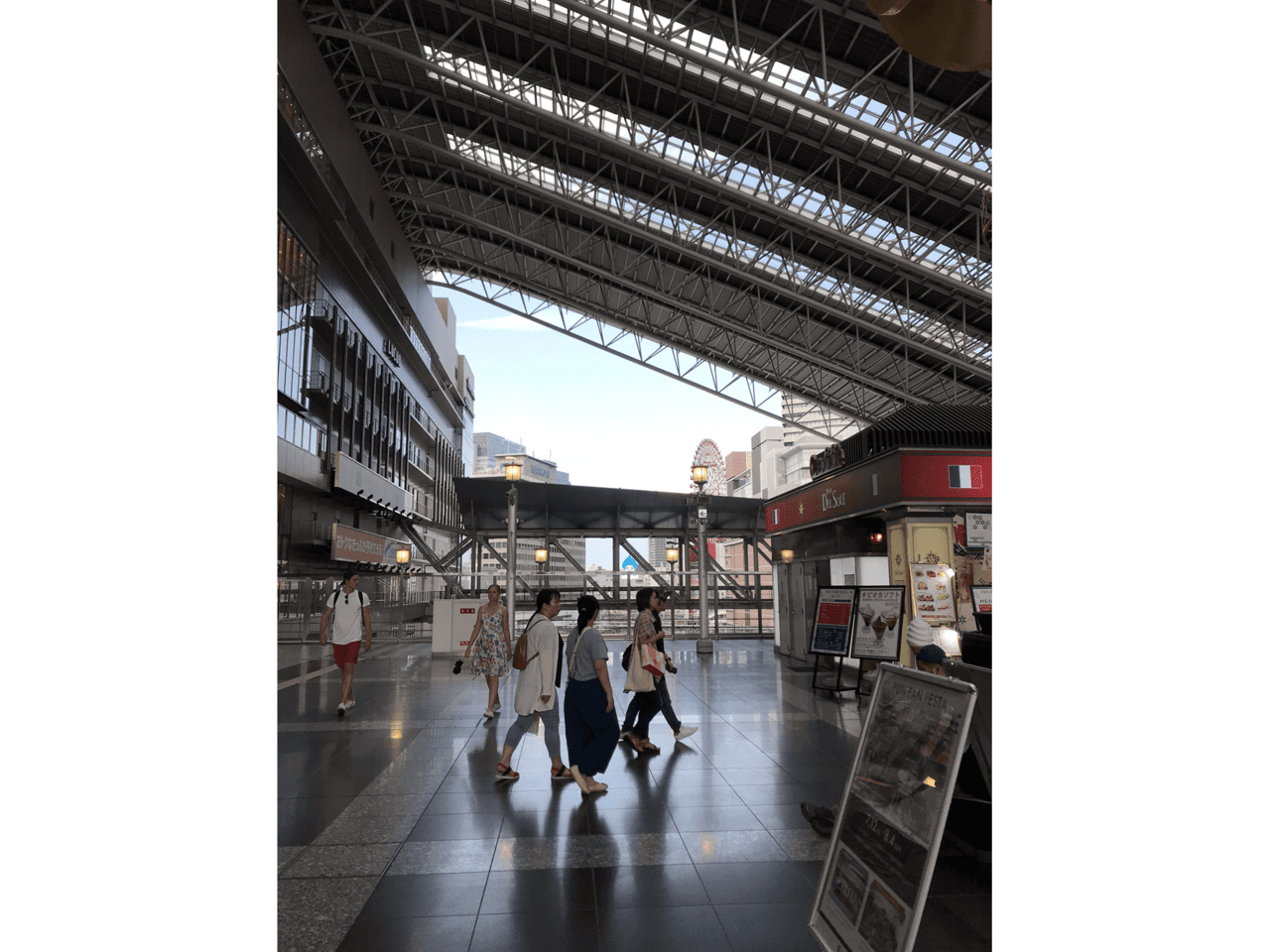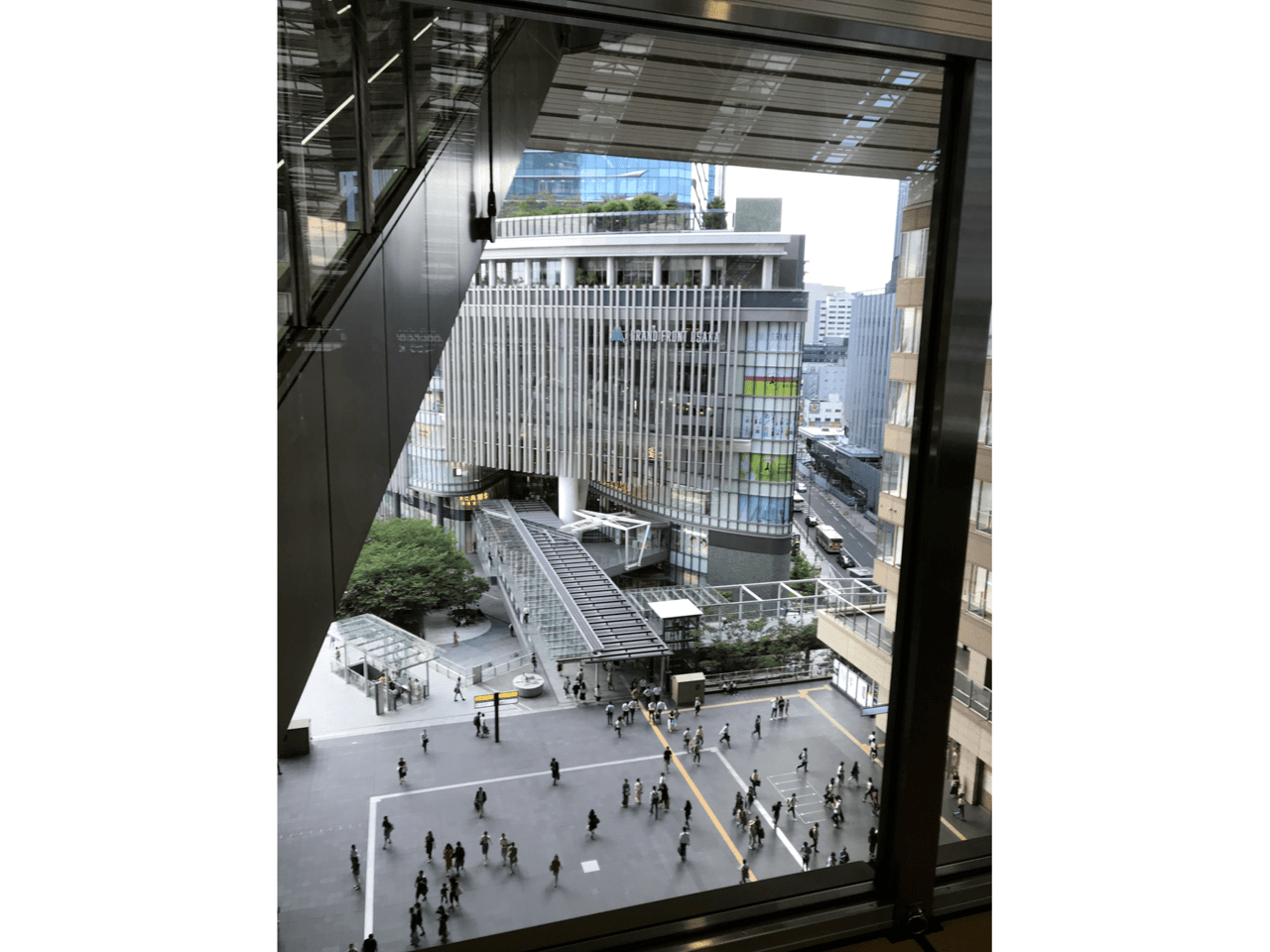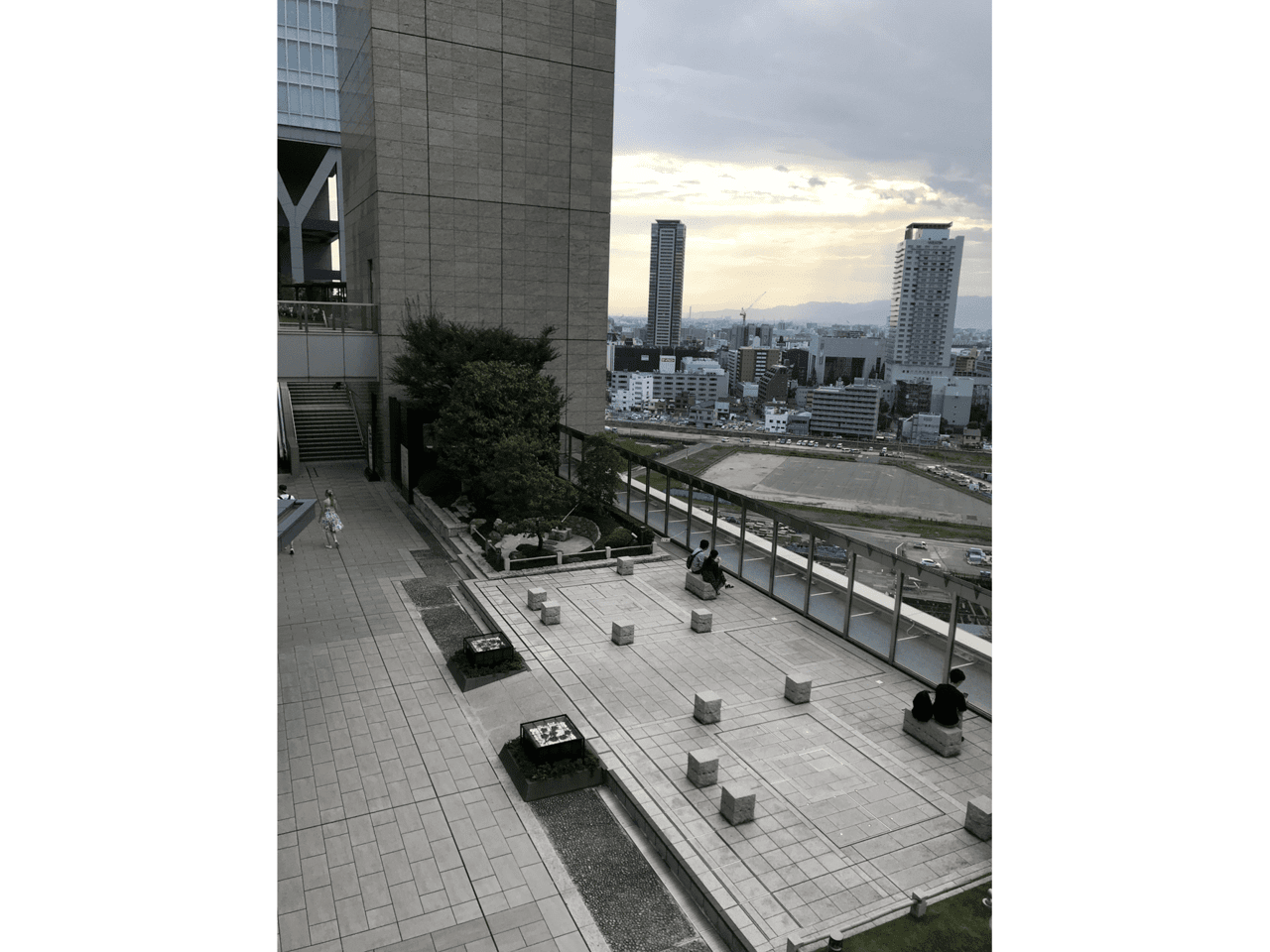 Observation Deck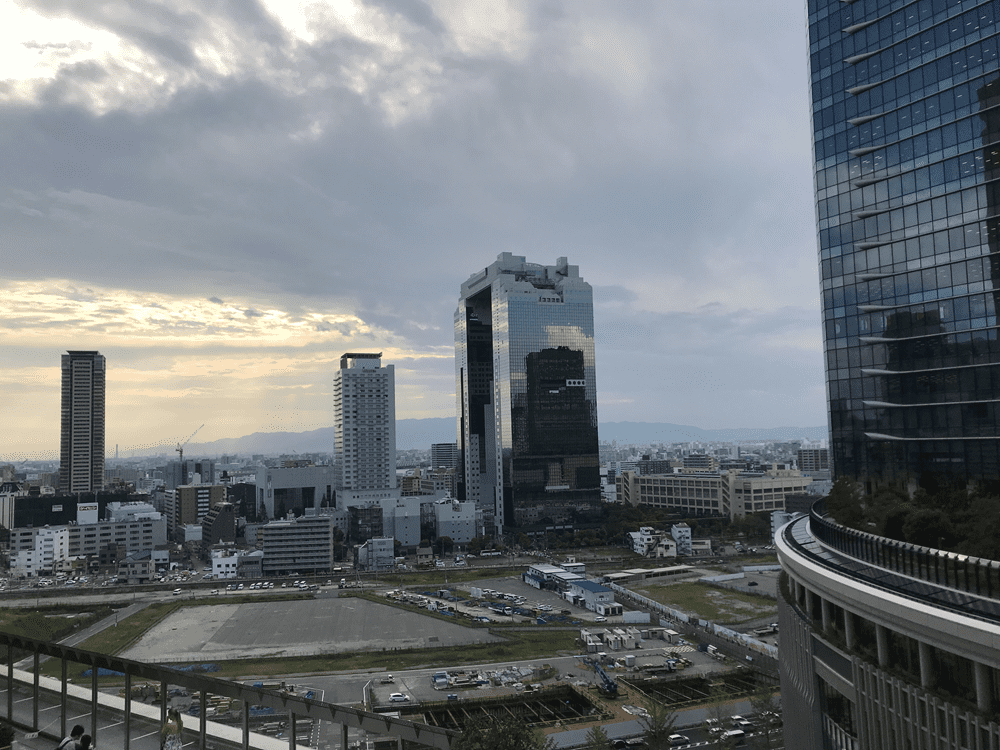 We chose to have a coffee at the patio and used the remaining time of the day to have a long chat about a lot of things. It was just perfect - even if we come from different countries and cultures, there are so many topics that are important to both of us and where we have the same opinion. It was an inspiring conversation.
Sadly, we both had to leave as Yuka had to travel to her family and I had to catch the train home to Kanazawa. Back at Shin-Osaka station, we exchanged some gifts (Yuka brought lots of good stuff from Germany to Osaka!!) and had to say goodbye.
Thank you Yuka for this perfect day! I had great time exploring the city together with you and I loved catching up on all hot topics while having coffee. This international friendship is so special and I am happy and glad to be your friend! I am looking forward to seeing you again, maybe already in Japan next year, who knows?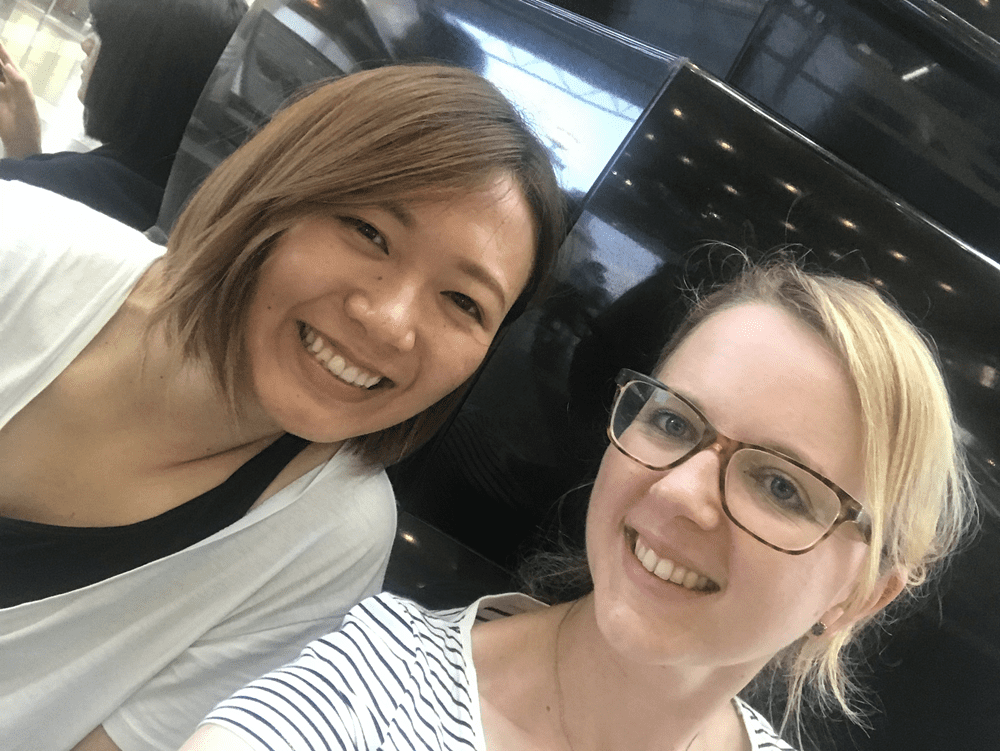 The next days we will be very busy as Niklas family will visit Kanazawa and we will travel to Tokio together. I try my best to keep you updated but I guess, it will take a while until I can upload our next adventures and pictures. So be prepared for new content that will follow within the next two weeks, but in the meantime, if you simply can't wait, you can also follow us on Instagram and have a look at our stories and photos. :)