Hi everyone, sorry for the delay regarding this post but as I have told you the last time, we have been quite busy during the last two weeks! Niklas family has visited us in Kanazawa for some days and afterwards we went to Tokyo together. So, there is a lot I want to tell you about this visit and, of course, about the crazy city of Tokyo!
As some of you might know, Niklas' parents and both his brothers spent their summer holidays making a road trip through Japan, as they wanted to get to know the country their son is spending one year of his life in. Before they arrived at Kanazawa, they had already been to Kyoto, Matsumoto and Hakone, getting to know traditional Japan as well as the vast and beautiful nature of Japans mountains. If you are interested, you can read the travel diary of Niklas father, where he gives an overview of all sights and experiences of their journey. It might be particularly interesting for you if you plan a road trip through Japan and are looking for inspiration.
Niklas' family arrived on July 28, the birthday of his mother, therefore our first action was to have a fantastic sushi to celebrate her birthday and our reunion in Japan! The sushi restaurant was really great, we enjoyed lots of delicious sushi dishes. As special highlight, some of the dishes were delivered by a mini Shinkansen that was driving to us on the conveyor belt directly from the kitchen. Needless to say, we had a lot of fun. Afterwards, another highlight was waiting for us: the Hanabi. Hanabi means "fireworks" and it is an important custom in summertime to hold these firework shows. They are everywhere in the country throughout the summer and it is not only the fireworks but also the whole "festival" character that makes it so special. Lots of people wear the traditional Yucata (summer kimono) and walk along the streets and one can buy lots of food. Interestingly, fireworks are not that common for New Year's Eve. That's why you should enjoy the firework shows in summer as they are truly huge and amazing! After dinner, the Hanami of Kanazawa was about to start and we managed to find a good spot on a pedestrian bridge where we could watch the show and enjoy the various colors and shapes. A truly special gift for Niklas' mum.
Watching the fireworks together - even though it was late at night, it was still so hot!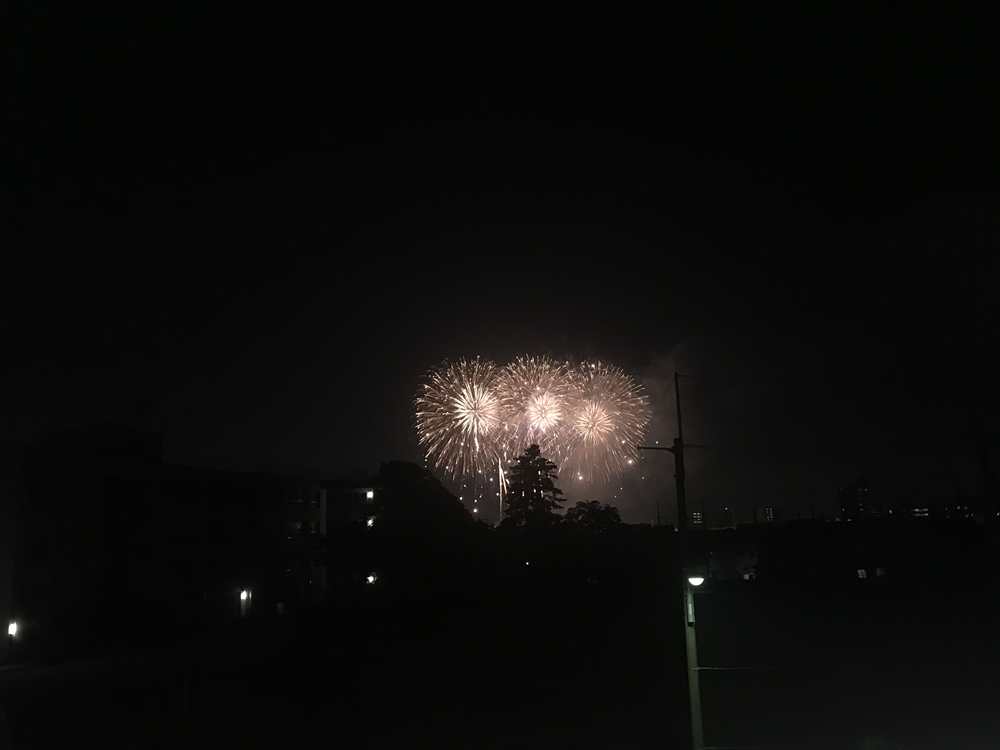 During the following days, Niklas' family explored the sights of Kanazawa during the (very hot) days while Niklas was working and I was having some appointments. They enjoyed Kenrokuen Garden very much and Niklas father even managed to get a short guided tour (together with Niklas youngest brother) through the famous Noh theater of Kanazawa where he learned a lot about this theater culture and had a look at the facilities. Niklas' family also visited us at our home and we were proud to show them how technical our apartment is and how we manage our life in Japan. We also walked around a little bit to show them our neighborhood and I think they got a good impression of our every-day life.
The last day of their stay in Kanazawa, we went to the university to show them around (again, it was extremely hot and the walk through the grounds was exhausting) and we had some nice lunch at one of the many university cafés, located on the upper floor of a large building with a great view over the campus grounds and the nearby forests. Although it was hot and dry during the last days, the plants are still green and dense. It is a great view! The first weeks, we haven't been able to see so far as there were clouds and fog everywhere, due to the rainy season. But now, with a clear sky, the view is so different and the nature looks so beautiful.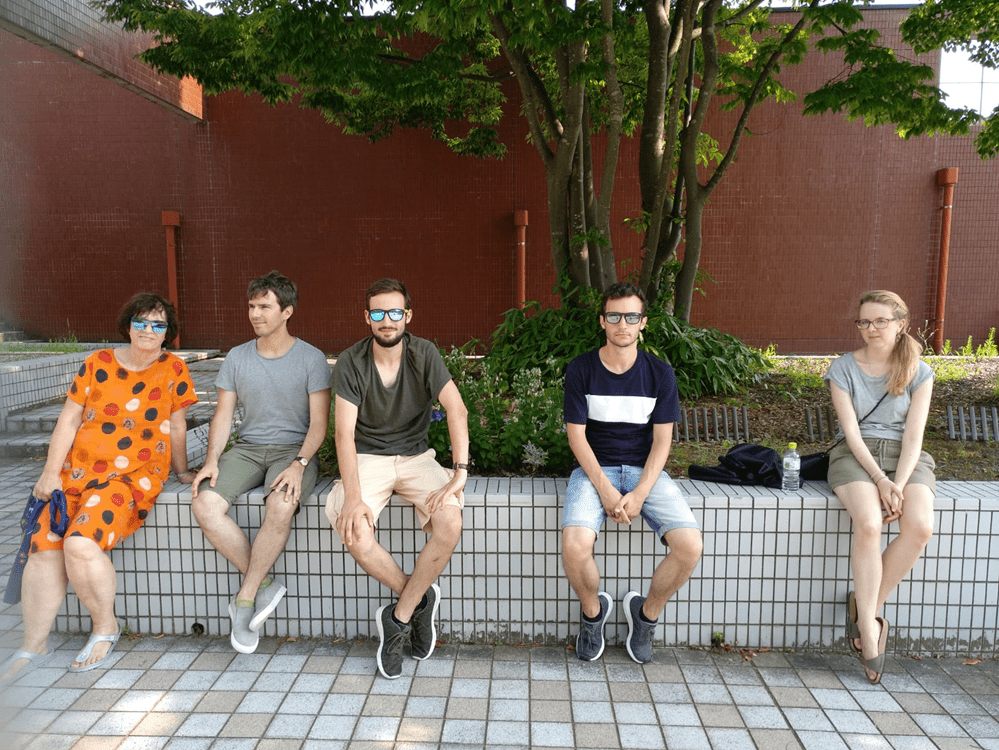 Short break in the shade. As you can see, we were all suffering from the heat.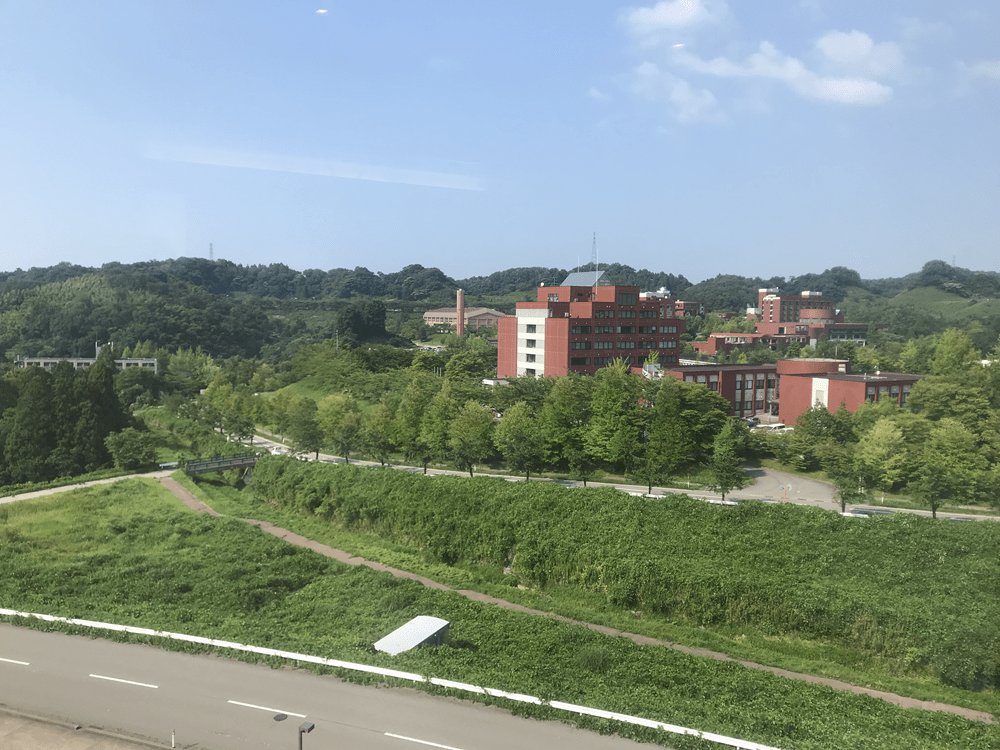 View from the university restaurant - truly spectacular!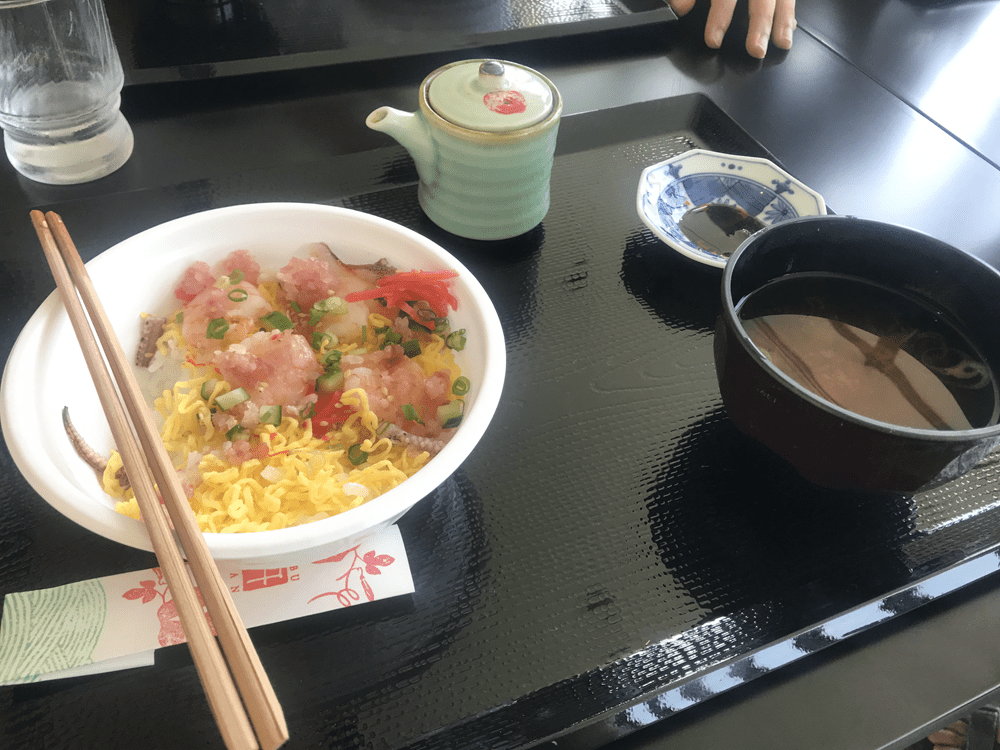 Rarely had such good food at a university facility in Germany!
And afterwards, we drove to the seaside to fulfill the wish of Niklas' family to have a swim in the Japanese sea. As they travel around by car, we were quite flexible and chose to drive to Chirihama Beach Drive, a long beach where you can drive at the sandy shoreline with your car and enjoy this special experience. The beach itself was not crowded, only a few other people were visiting the site and driving around.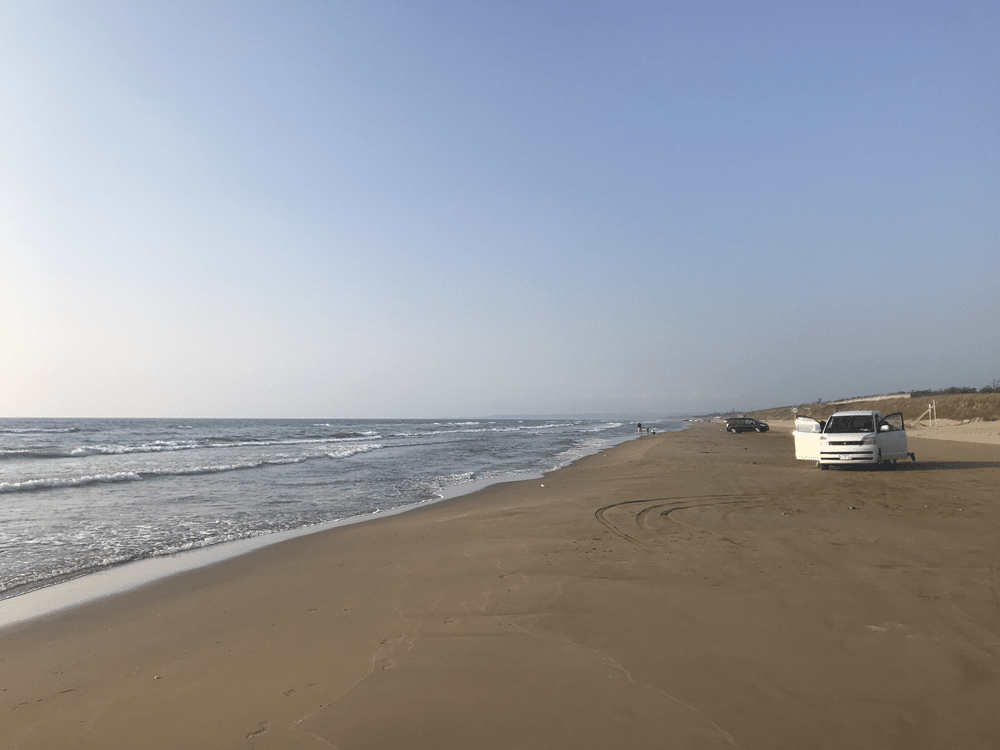 It was very interesting because we were the only group of people where some of us went into the water for a swim. All the others just made a short stop and had an intense photo shooting in front of their cars before leaving the beach. No one stayed for a swim or for sunbathing. Very bizarre! In fact, the whole beach was quite deserted as all little restaurants or shops were closed - and it wasn't even that late. Apparently, there is a different kind of beach culture in Japan than the culture we are used to from the Mediterranean sea.
We were lucky to watch a fantastic sunset and enjoy this spectacular view. It was a perfect last evening for their visit!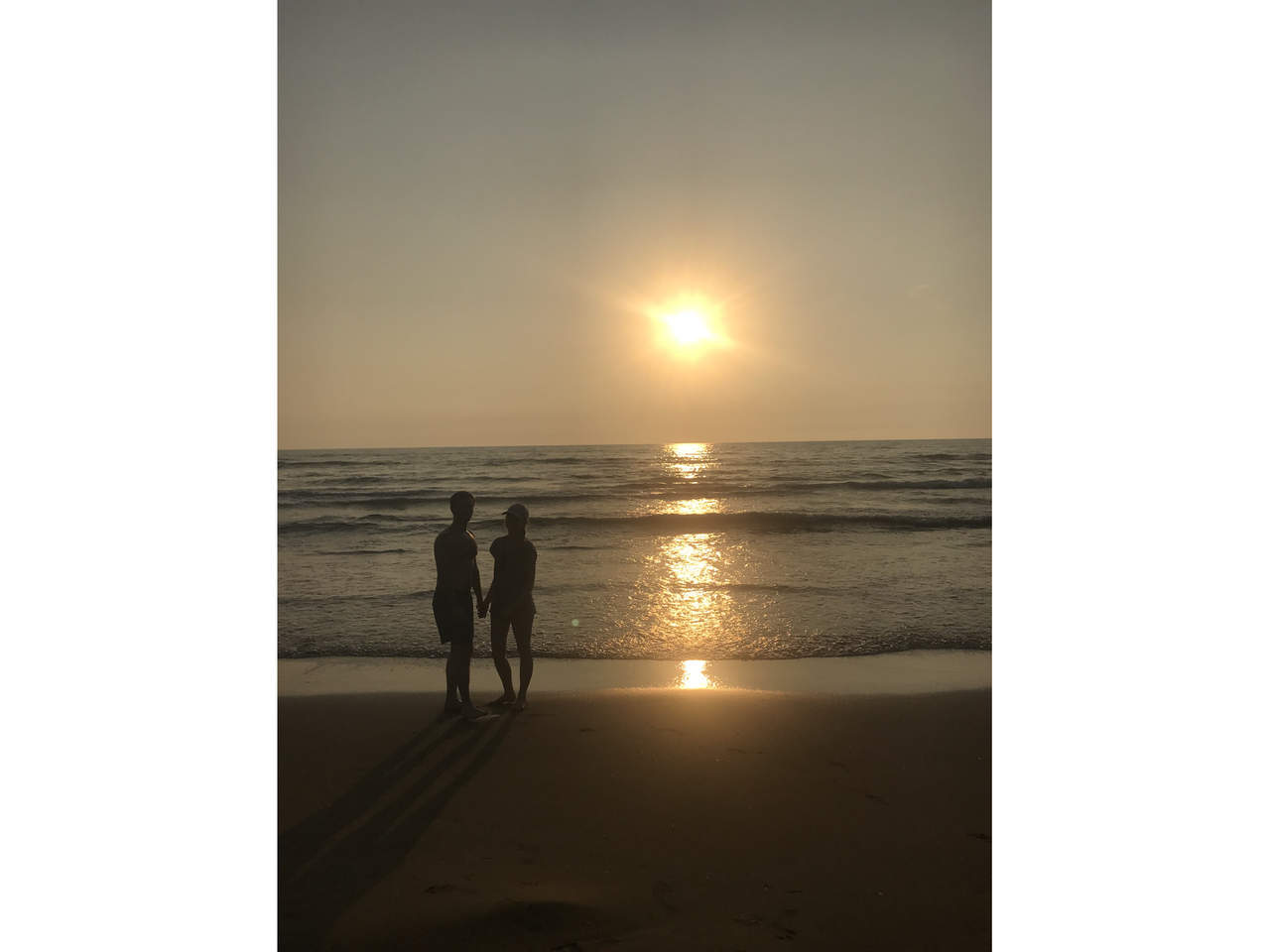 No more words needed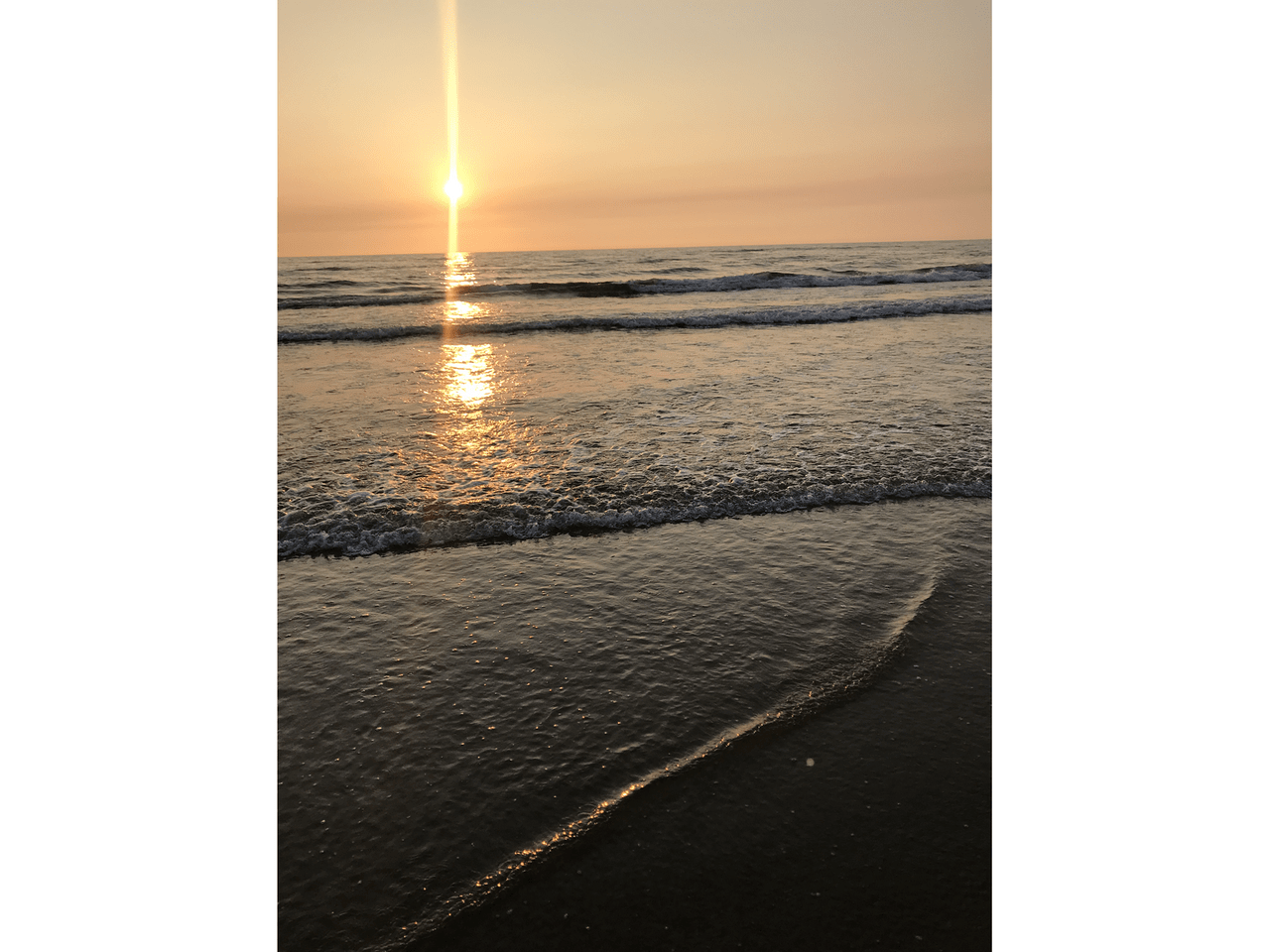 On the next day, Niklas' family drove to Tokyo while we stayed behind and followed them in the evening by the Shinkansen, the fastest train in Japan. This was a great experience! Not only are these trains super on time, they are also very clean, silent (no one is making any noise) and super fast. It was dark outside so sadly, we weren't able to watch the landscape, but we felt that the train was constantly running on high velocity. Very impressive. After three hours, we arrived at Tokyo Ueno station and had our first Tokyo experience: everything was crowded and huge, it took a while until we found the correct Metro entry and then we had to figure out how to book the correct ticket… But, anyhow, we managed and our hotel was only two stops away, so it was easy in the end.
Our APA Hotel was located in Tawaramachi, in the east of the city. This part of the city is also called "Edo", as it was the original part of Tokyo in the Edo period. The streets are narrow and contorted and you can find lots of small craft shops there. It is an interesting part of Tokyo as it is not so hectic like other areas of the city. Not so far away you can find the Tokyo Skytree, the highest building of Tokyo and one of the highest tower in the world (634 m)! During nighttime, you can see elaborate lightning effects that look very pretty.
On our first day, we decided to start our sightseeing in Asakusa, one of Tokyo's older parts and very close to our hotel. We went by Metro (difficult to figure out which type of ticket we should buy!) and started with one of the most famous sights of Tokyo: the Senso-ji temple. To go there, we had to walk through narrow streets and pass many shops and restaurants. So much to see everywhere, it was very busy. But as we arrived at the temple site, it was even more hectic: this Buddhist temple was huge and at the same time extremely crowded. Lots of tourists, doing typical sightseeing stuff (selfies, etc.) but also Japanese people who came to pray. Impressive, as the atmosphere wasn't spiritual at all!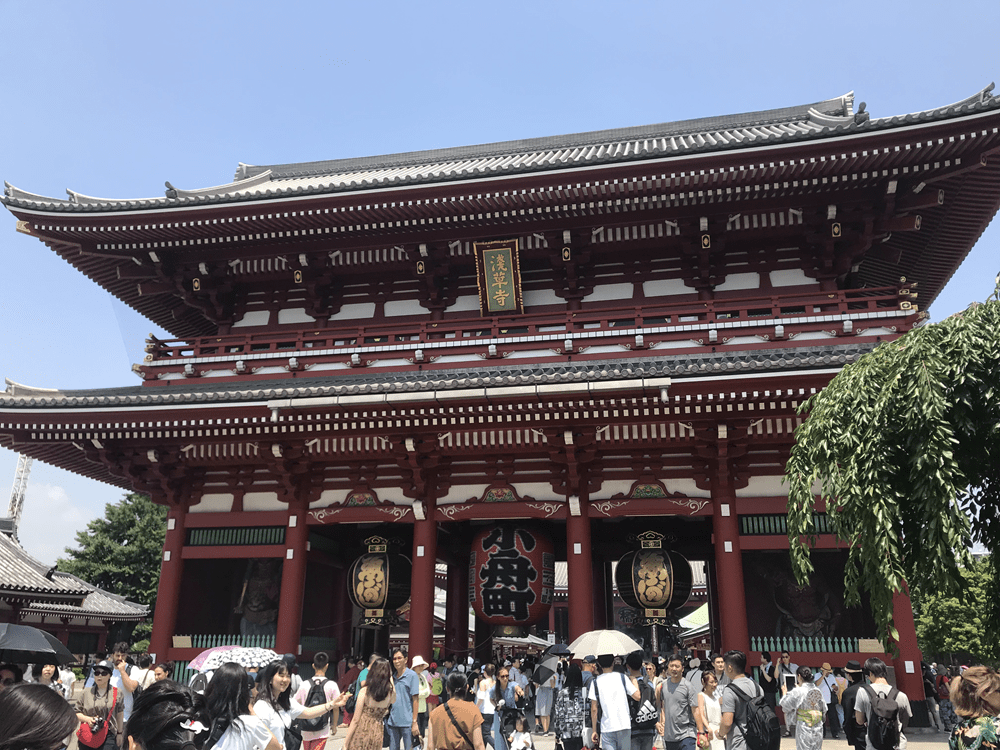 The Senso-ji temple - crowded, hot but impressive
People believe that this smoke helps to stay healthy and sane. It smelled pretty nice actually.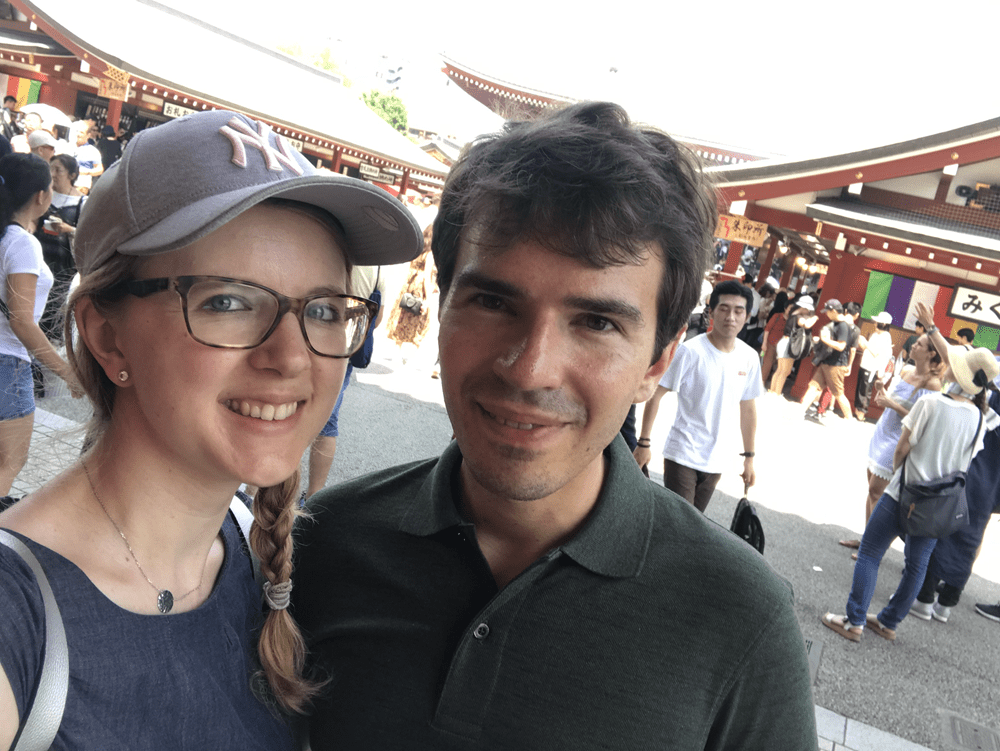 Too hot! But still smiling for the camera
After exploring the site, we went to the Sumida River to get a good view of the Tokyo Skytree.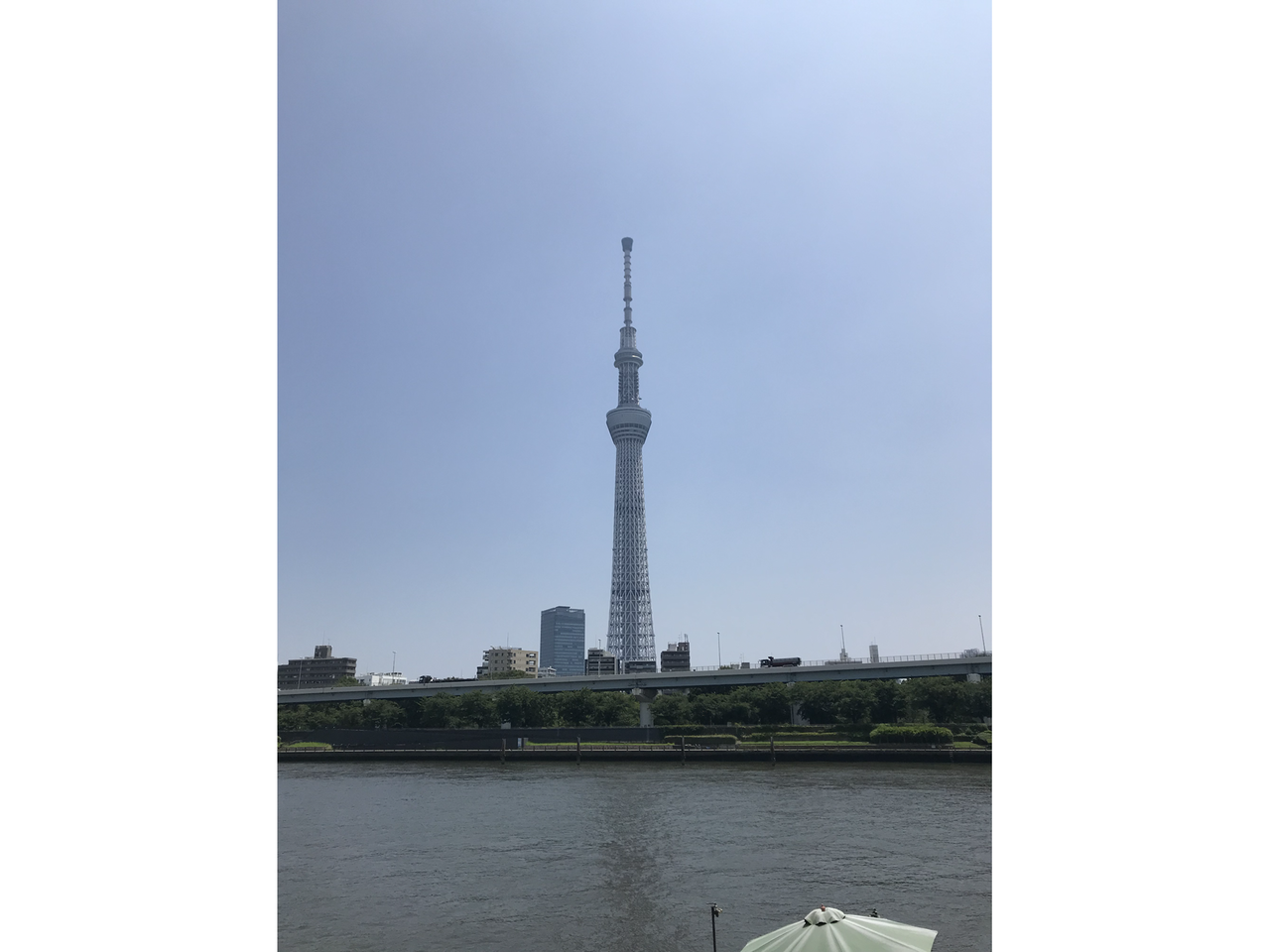 As it was very hot, we didn't stay there for long and hopped back into the cold metro to get to our next destination: the Ueno Park. This huge park is located within the city of Ueno and as soon as you enter the grounds, you forget that you are in the biggest city of the world. Broad ways, huge trees and lots of shrines and temples can be found in this park, even a lot of museums and a zoo! Being able to maintain such a park in a city, where space is a constant struggle is pure luxury!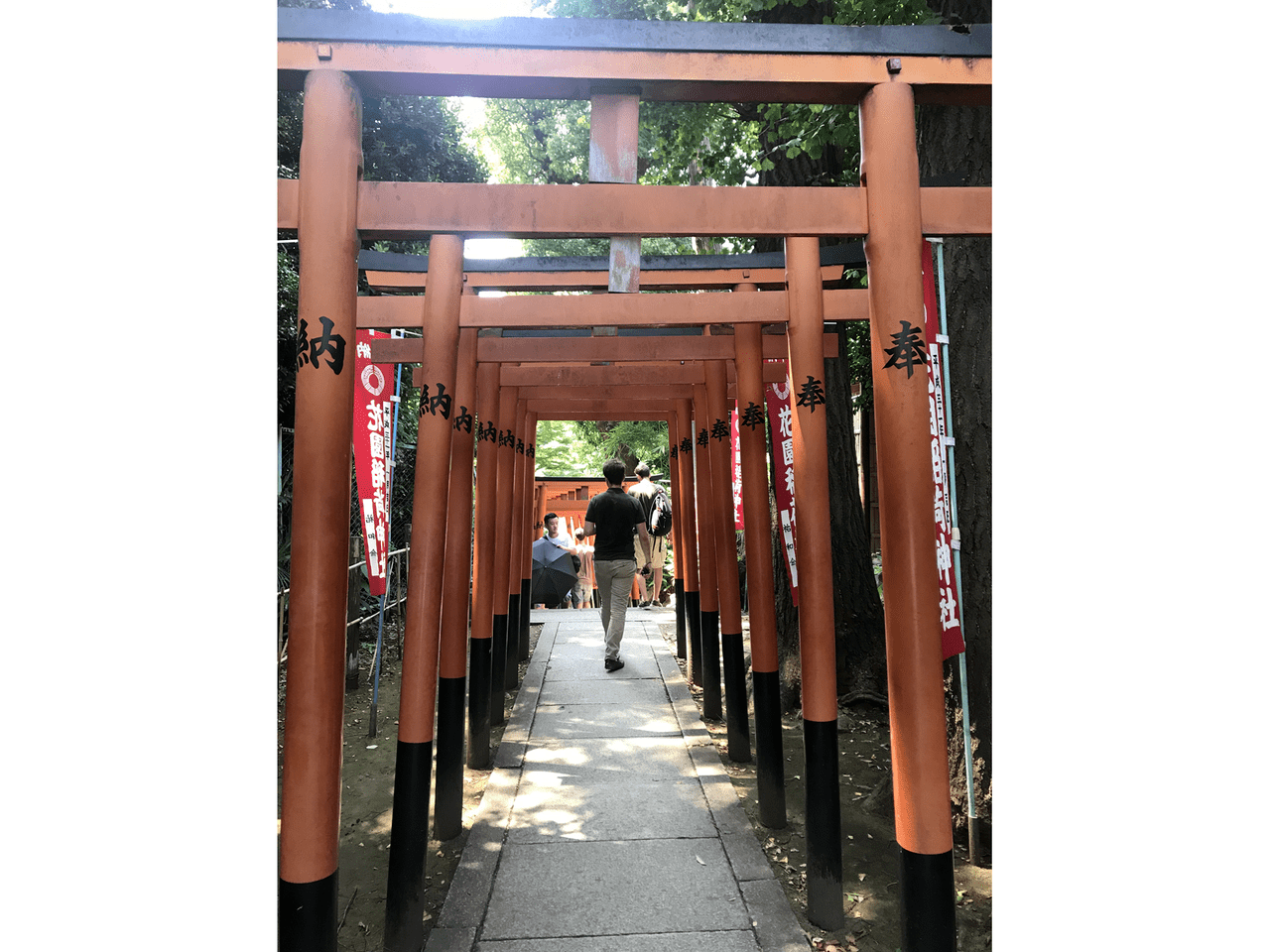 Red gates leading to a shrine
Due to the heat we rested a bit and had some snacks before the next big highlight waited for us: the popular and super crazy Shinjuku district! Shinjuku is especially famous for its station. It is said that this is one of the busiest station in the world, managing more than 3 million passengers per day! We experienced it for ourselves, this station is huge, crowded and finding the correct exit is a very confusing task. But, as soon as you exit the station, you are definitely feeling the Tokyo vibe: the layout of the streets, the skyscrapers, the noise, the people… this is how you imagine Tokyo. We had a stroll through the Kabukicho, the red light district of Shinjuku that is very famous for its vibrant and crazy nightlife. Even by day, it was a lot to process. Of course, we also passed the strange Robot Restaurant that you can find in every timeline of Instagram Tokyo travelers. It is impossible to describe the different noises, sounds and music tunes that we were bombarded with while walking through these streets. Absolutely crazy!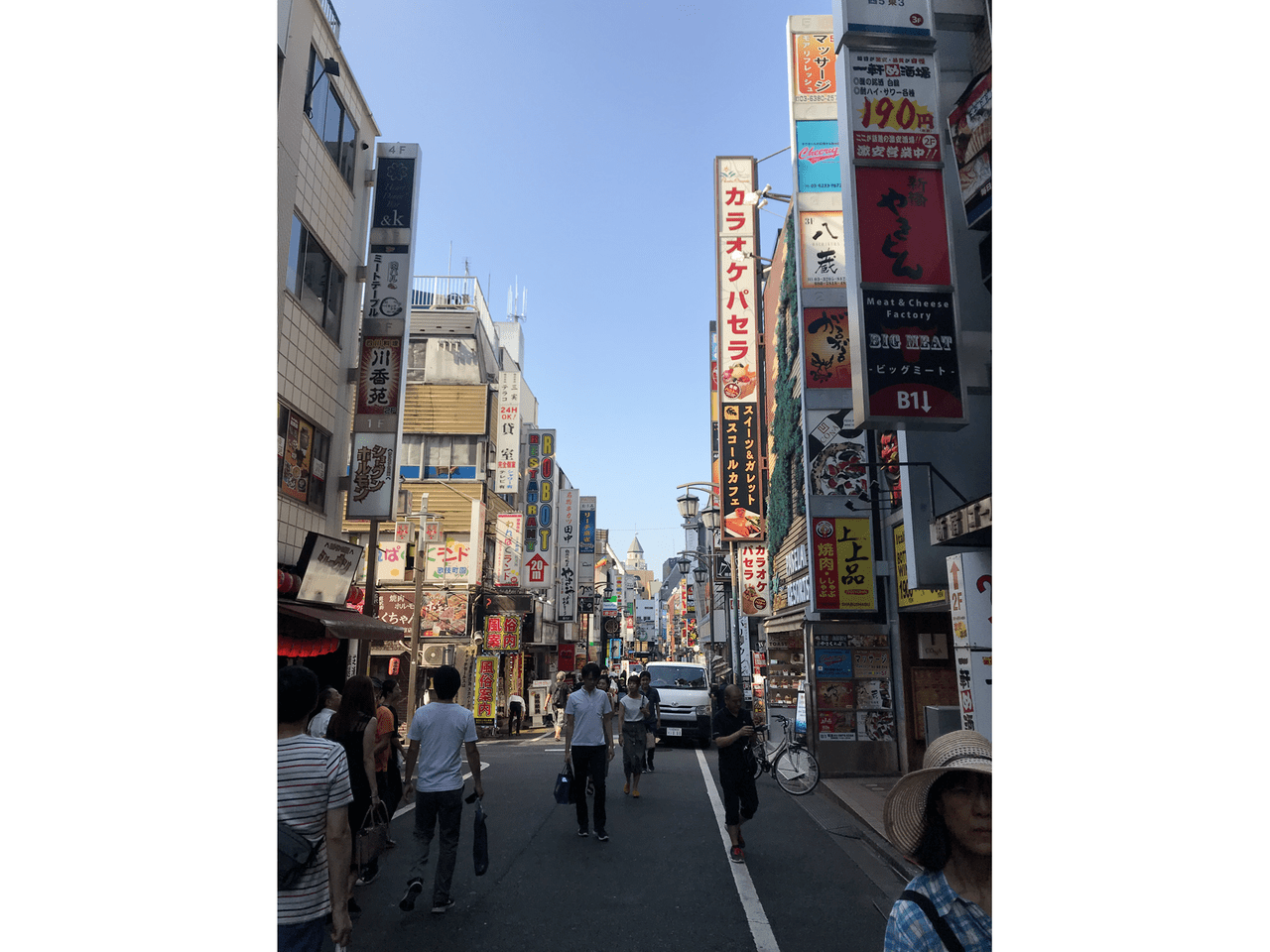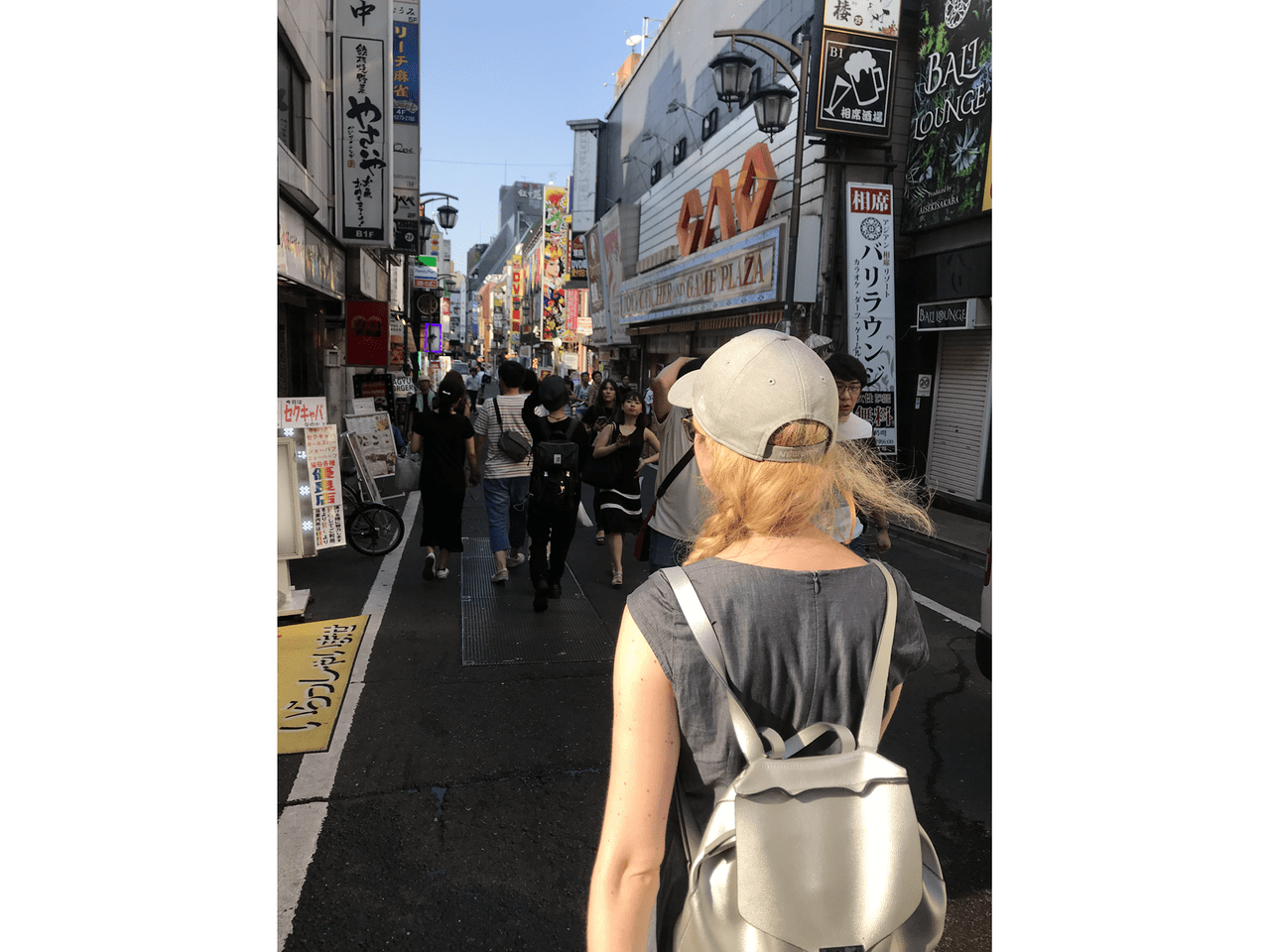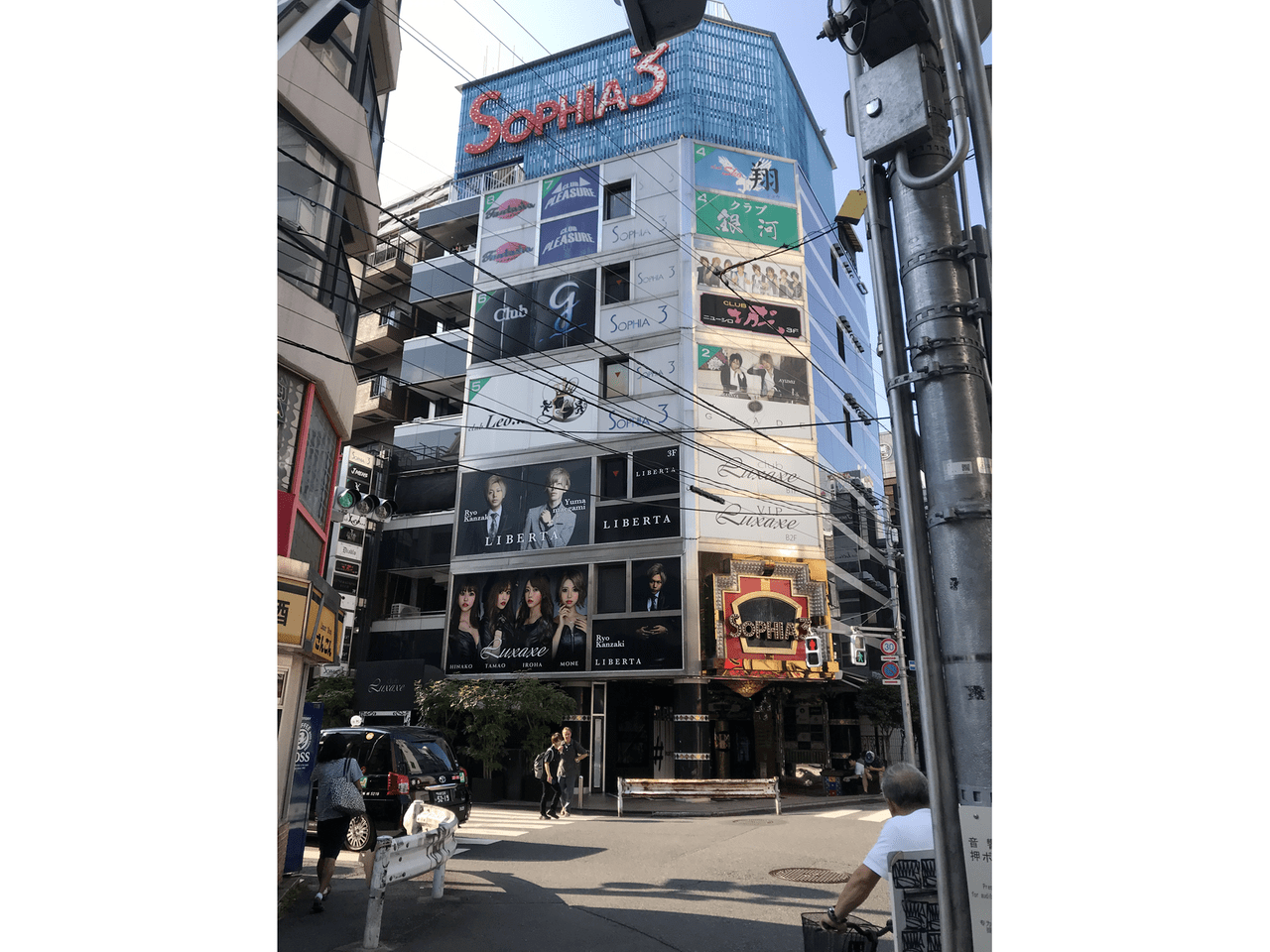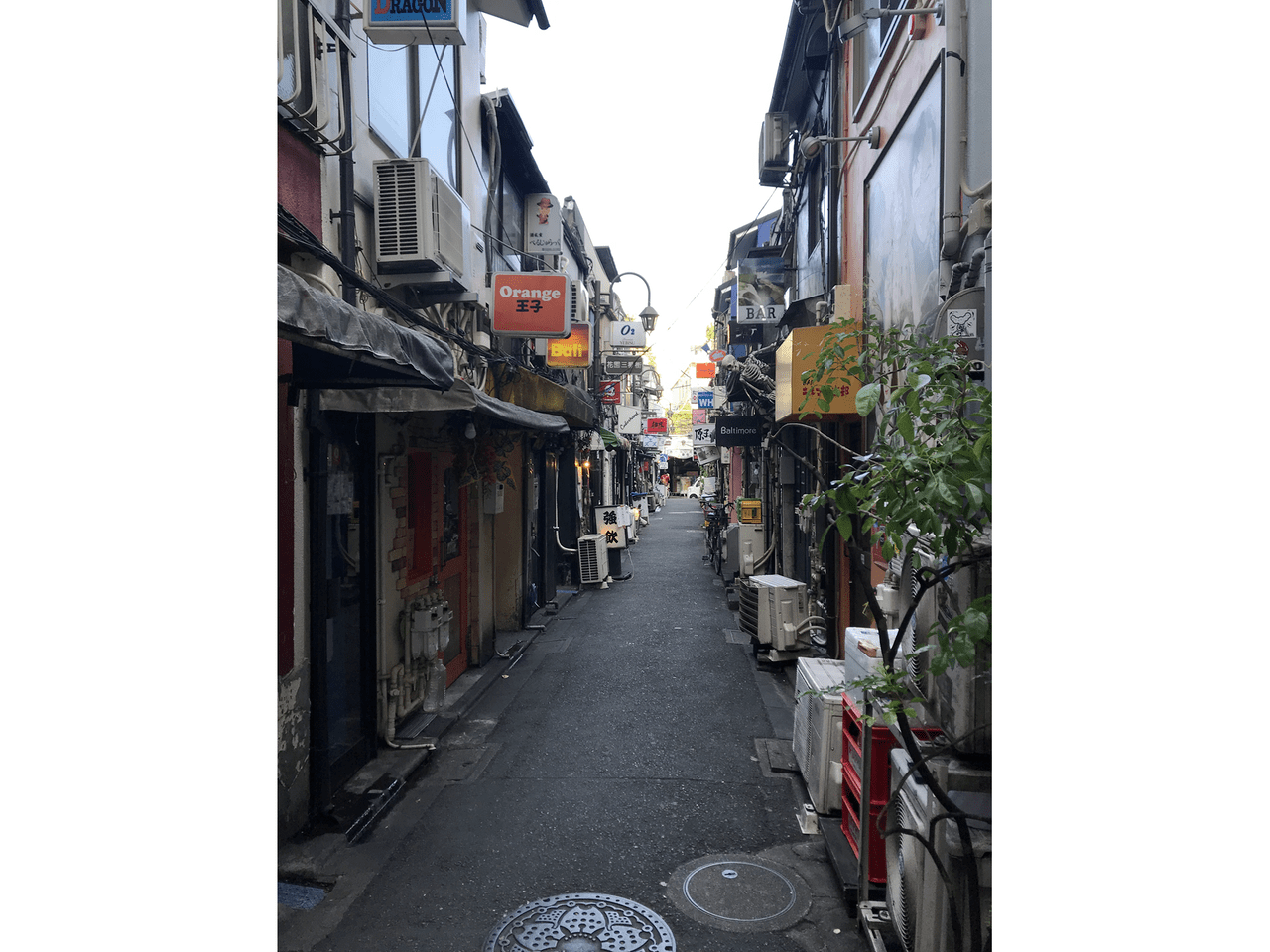 Golden Gai, a small district within Kabukicho with very small streets and strange bars
After passing Golden Gai, narrow streets with shady bars, we started our way to the last and biggest highlight of the day: a drink at the New York Bar (52nd floor!) of the Park Hyatt Hotel! Before 7 pm you can enter the bar for free and enjoy the stunning view of Tokyo. The building alone is impressive, but the hotel facilities are even more overwhelming. The movie "Lost in translation" was shot in these facilities and it's no wonder that movie stars like to stay in this hotel. It is truly fantastic! But nothing prepared us for the view of the city we had from the bar - we were completely speechless. After ordering expensive drinks we just sat there and watched Tokyo from above. As it was sunset time, we had a good view of the city lights and we even were able to see the silhouette of Mount Fuji at the horizon. Just wow! If you ever visit Tokyo, I recommend you do exactly this!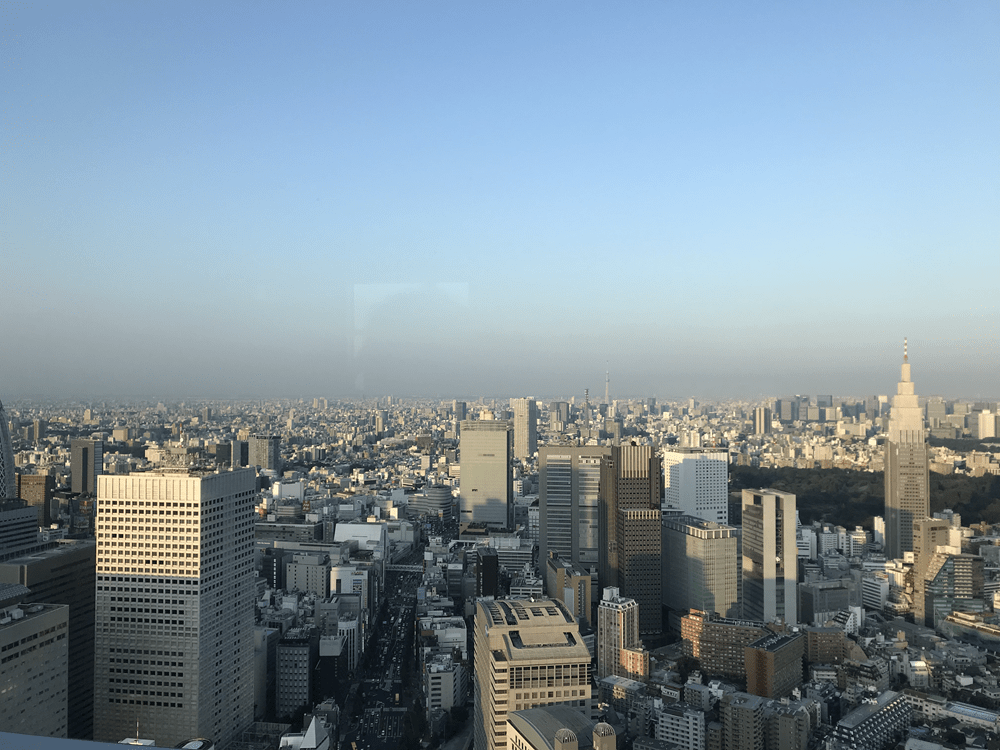 Amazing view!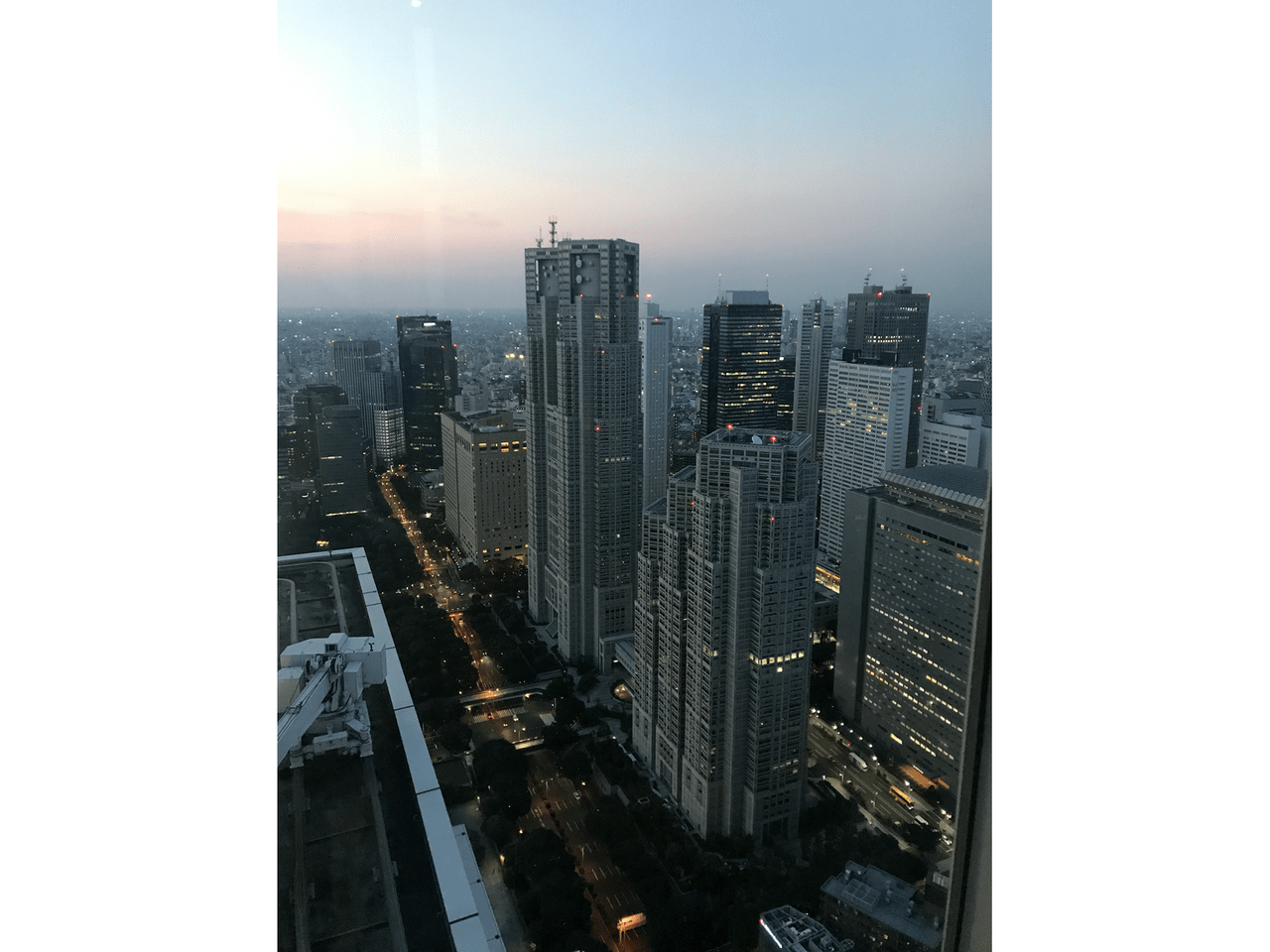 You want to know more about our trip? Stay tuned for part II of the Tokyo report for more!
Every-day-life stories
This time just some quick facts about train riding in Japan. Having travelled by Shinkansen, Thunderbird and the Tokyo Metro trains, I have experienced different aspects of the train systems in Japan and I have to say, I am impressed. And I think, other countries can learn a great deal from it! Obviously, the Japanese train system seems to be extremely efficient and successful, as there are nearly no delays! Wonder why this is the case? There are several factors that lead to this huge success. First, the railway tracks are separated by train type, e.g. the Shinkansen train has its own tracks where no other train type is running. The Shinkansen tracks are also built in a special way and design that allow the constant high-speed of the train and makes it the safest transport vehicle in the world! Furthermore, the maintenance of all railroad tracks is excellent and diligently conducted (in comparison to the Deutsche Bahn - the state of the railroad network in Germany is kind of horrible and the maintenance works are not helping to reduce the chaos).
But not only the technical side is important - another huge impact factor is the behavior of the people. Even in Tokyo, where so many people use the metro trains at the same time, I have never seen chaotic or rude behavior (e.g. pushing people out of the way) that usually leads to delayed departure times (because people are not really able to get into the train car). There are colorful lines and marks all over the platforms, indicating the exact place to wait for the train and showing you how to queue properly. And surprisingly, everyone complies to these rules. And no chaos on the platform means no chaos while boarding and therefore no passenger causes delay. Clever! Also, in the Tokyo Metro, most platforms were secured through special gates that only opened when the train had arrived. That also helped that people behaved in a disciplined way.
So, again a lot of rules (some of them mostly unspoken) to follow and complex train systems (you have to figure out with which kind of train you will travel in order to find the correct ticket machine!) to understand, but at the same time this effective system helps you to travel without stress and hassle.