Hello everyone, while the super typhoon Hagibis is haunting Japan, I thought I'd use the time and write about our big hiking trip that we did at the beginning of October: the climbing of the holy mountain Hakusan. With 2702 m of height, Hakusan is one of the highest mountains in Western Japan. His peak is covered in snow nearly all the time, except from July to October, that's why he is also called "the white mountain". For the Ishikawa prefecture, the Hakusan plays as special role. As he is considered to be a holy Shinto god, people from Ishikawa often thank him when bad typhoons turned out to spare Ishikawa from their bad consequences. Read here for more information.
There are three holy mountains in Japan: Fujisan (Fujiyama), Tateyama and Hakusan. As the Fuji can only be climbed in July and August and is usually over crowded (for an detailed report, ask our friend Björn. He climbed Mt. Fuji while visiting Japan), we chose the Hakusan as our holy mountain to climb. Fortunately, Mt. Hakusan is very close to Kanazawa, only a 1.5 hour drive away. After discussing this plan for a long time and waiting for the perfect weather conditions for an even longer time, together with Niklas colleague Patrick and his wife Saori, we decided to give it a try. Saori has a lot of experience with this mountain as she has worked as member of staff at one of the lodges for some weeks.
The tour we chose to do was quite challenging. We would start at a parking lot at around 1200m of altitude and climb all the way up (1500 m of altitude in total) to the peak and back down in a roughly 20 km long hiking path that would be full of steep climbs and hopefully breathtaking views.
We started at 6 am and arrived at the parking lot Betto Deai at around 7:45 am. An early start but as the round trip to the peak and back would take us about 8-9 hours, so we were eager to start as early as possible. The sunset was predicted for 17:45, so that was the time we needed to be back at the car. Quite a bit of pressure!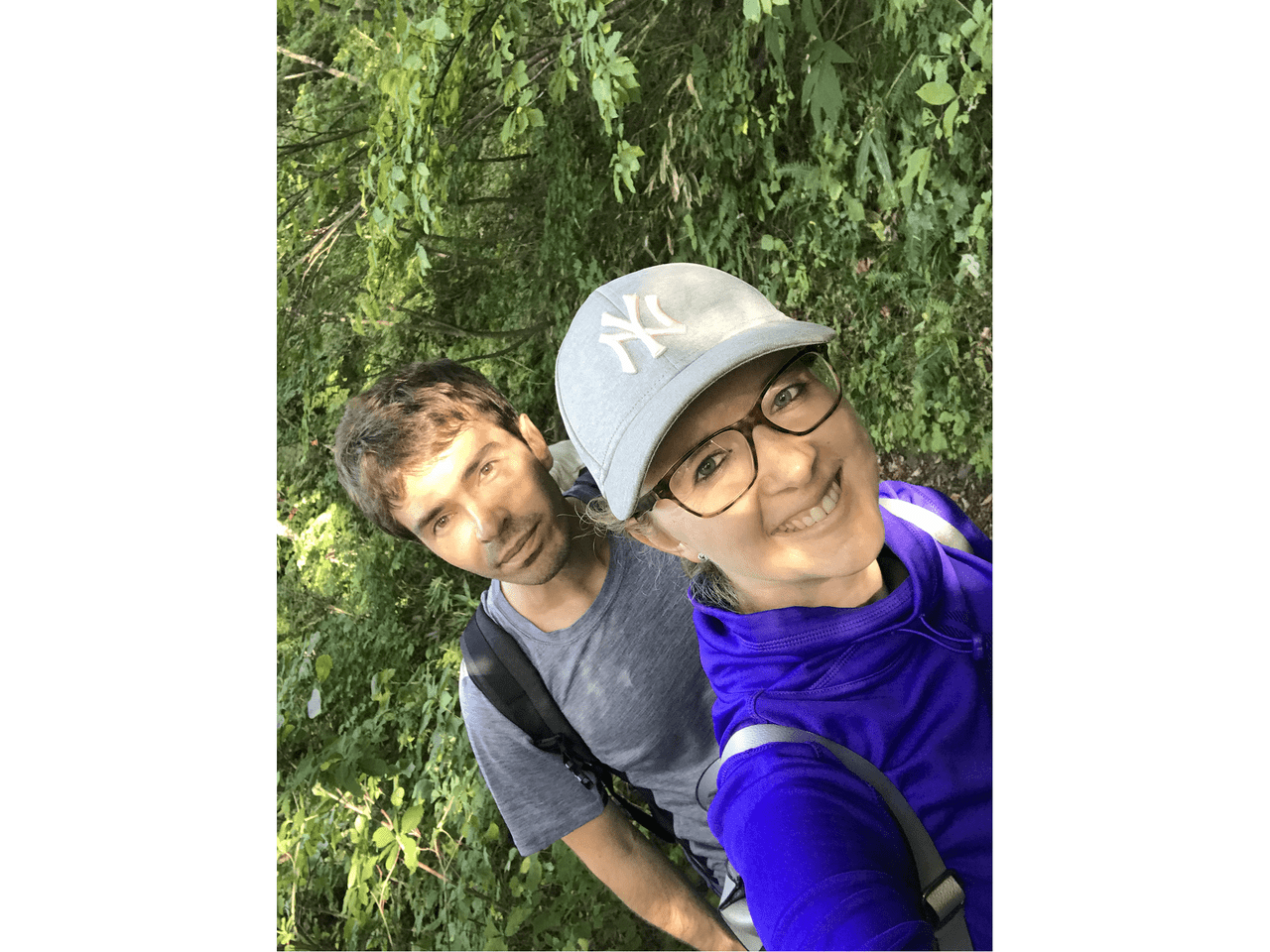 A few minutes after the starts we were still smiling happily
The weather was brilliant, it was sunny and there were only few clouds, so we started our tour with perfect conditions. The first two hours through the woods were tough, as the air was very humid and the path was so steep. Also, big ugly snakes were creeping through the bushes next to the path and I was constantly a little scared. :D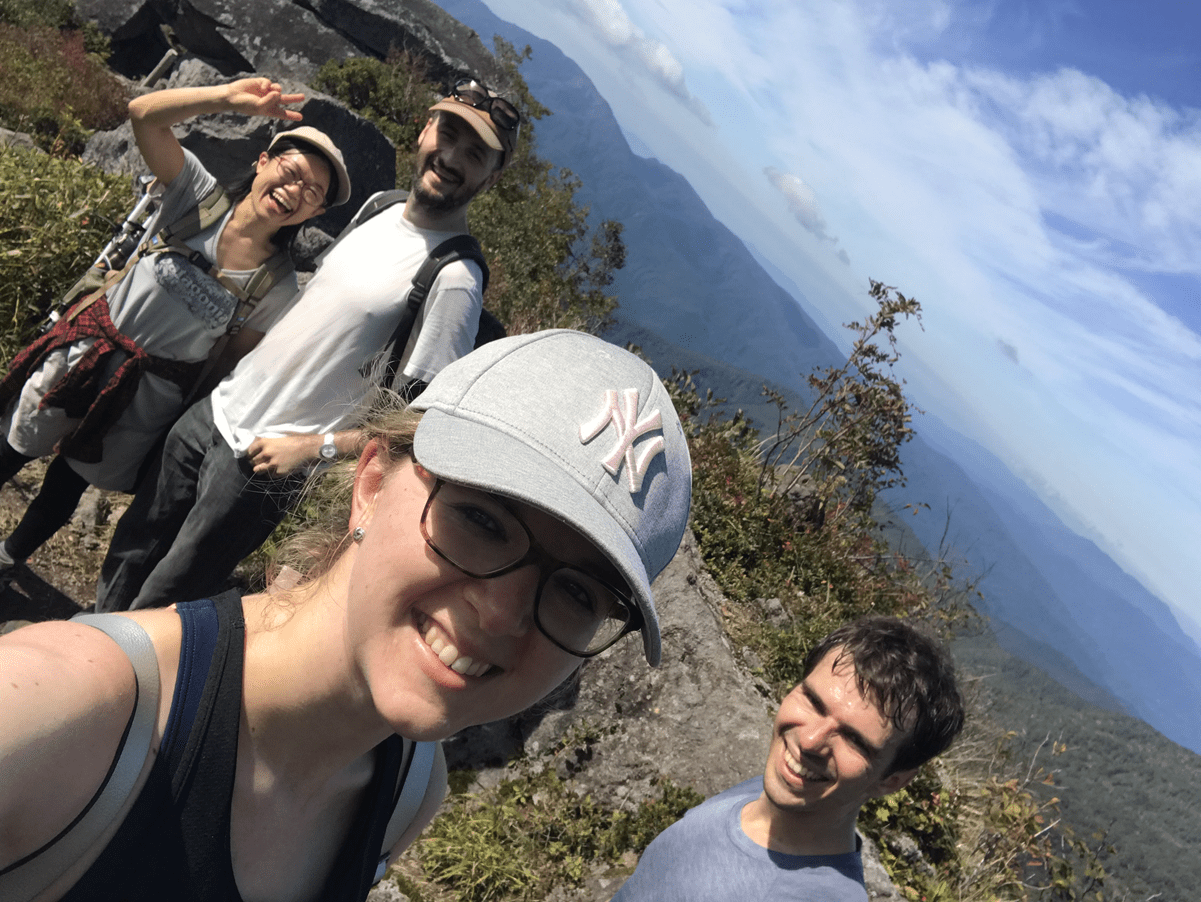 The squad after the first two hours of climbing. Slightly out of breath but still happy
The higher we came, the more stunning the view got. After 3 kilometers we left the woods behind and were climbing through steep grassland. The view was fantastic! We had a perfect panorama in front of us.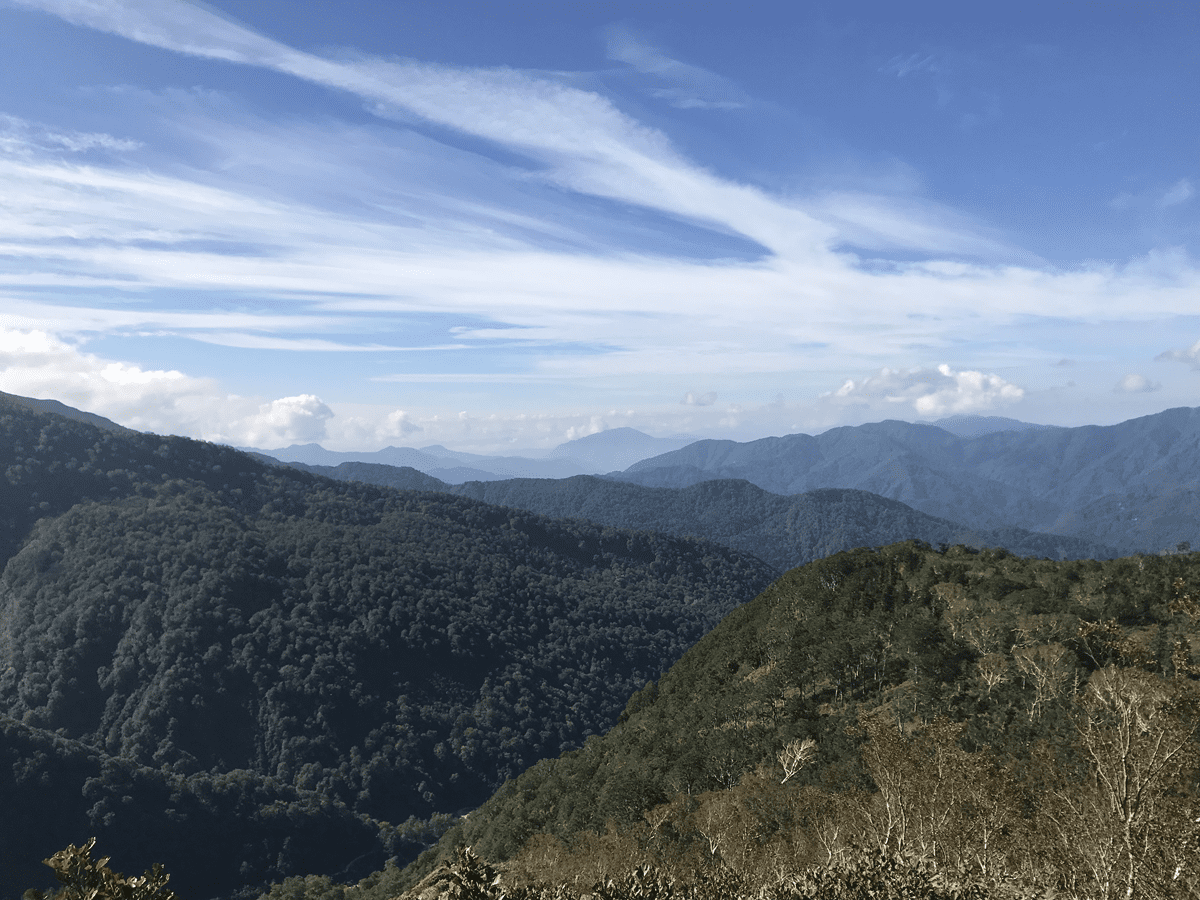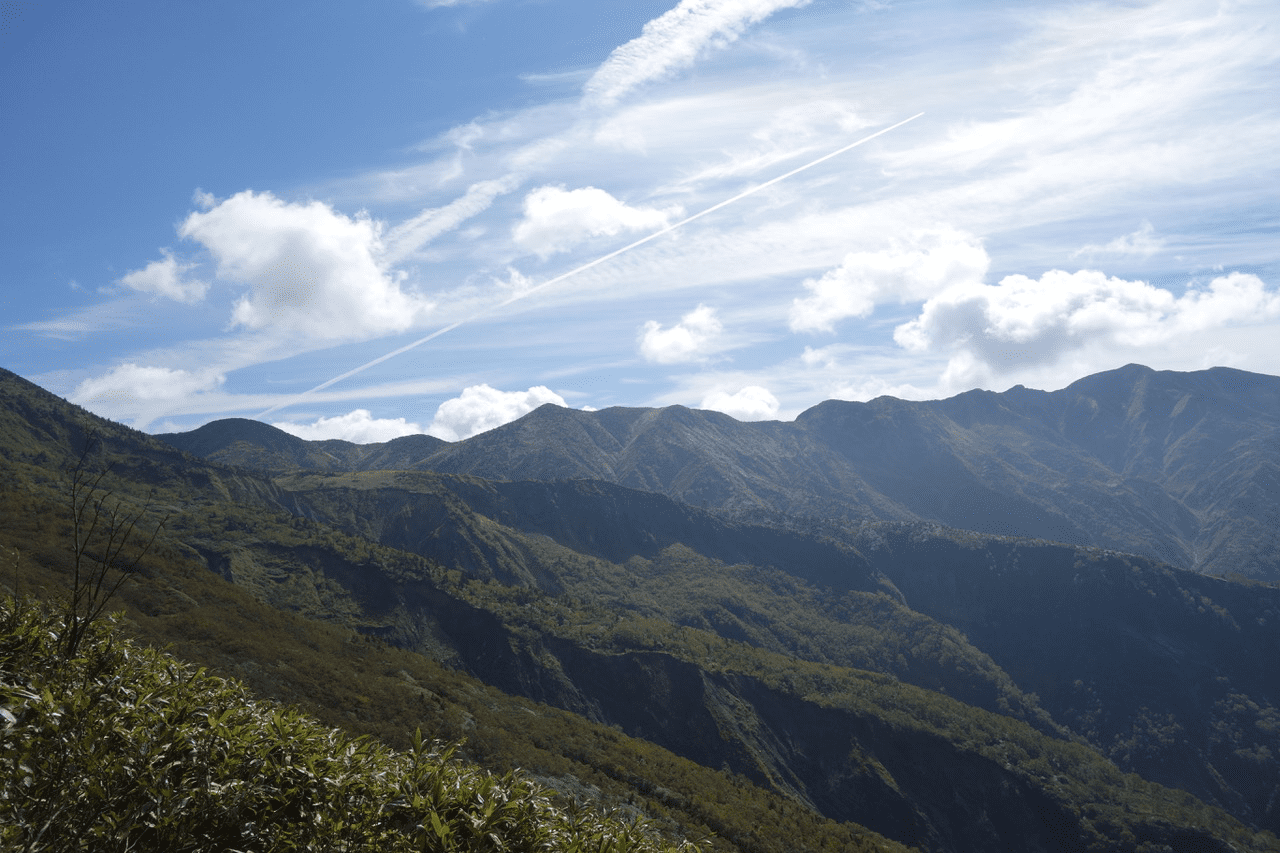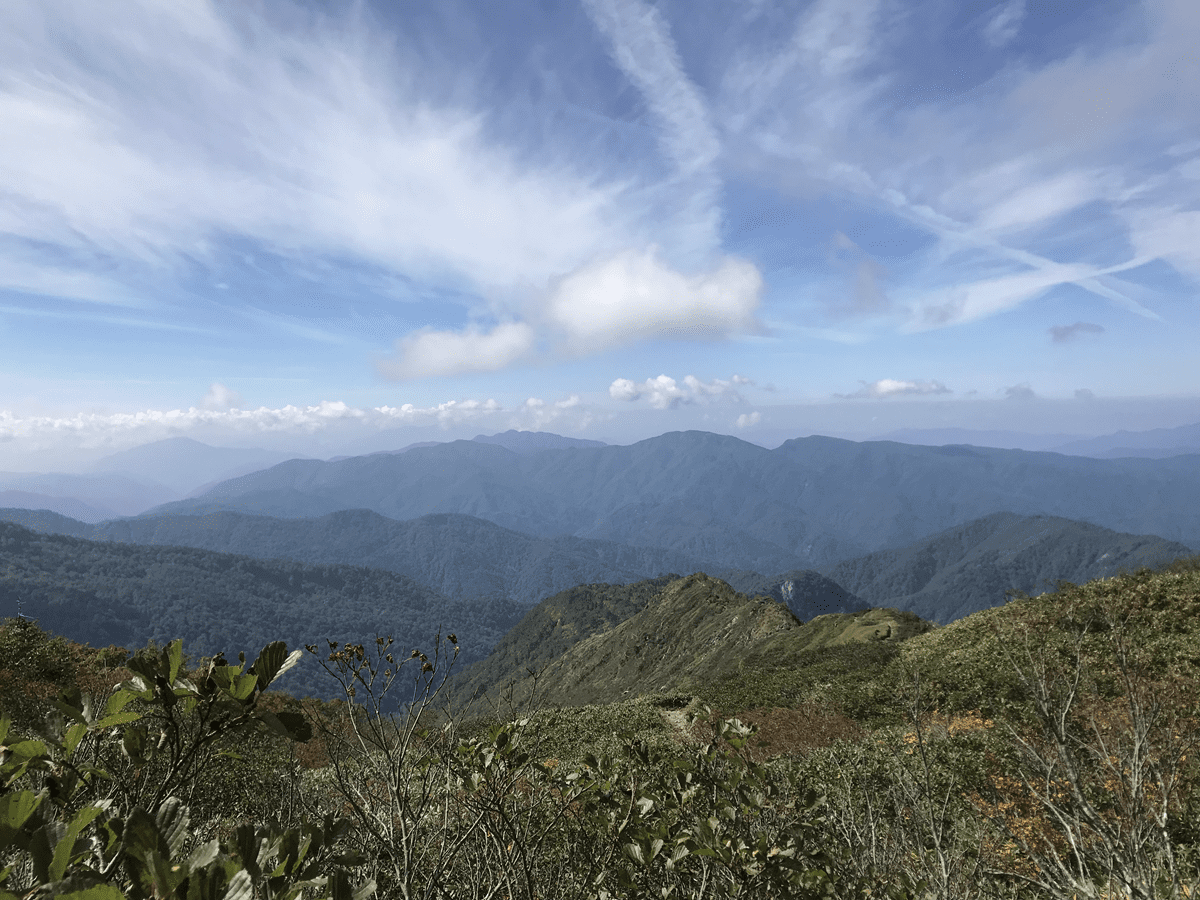 What an amazing view!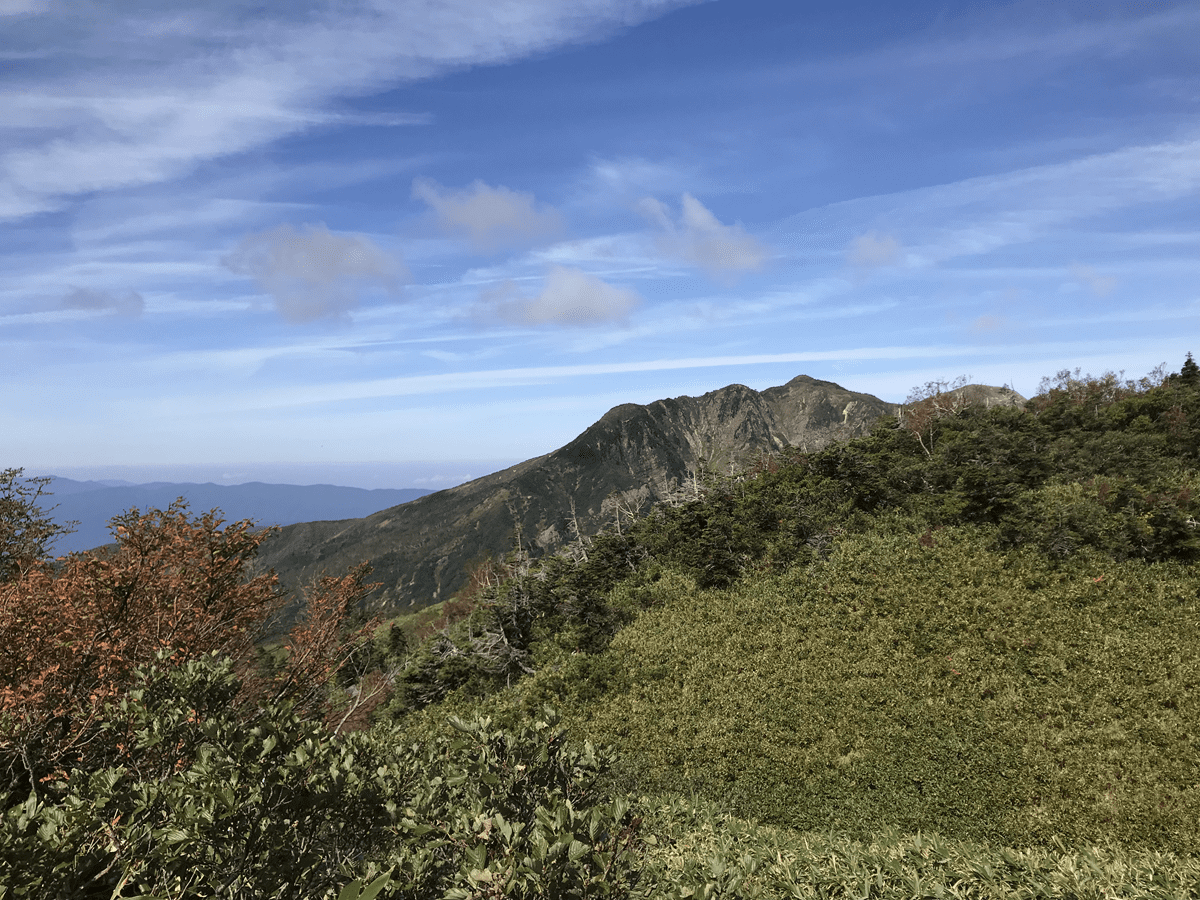 Also, it was the first time that we saw the Hakusan peak. Still a long way to go.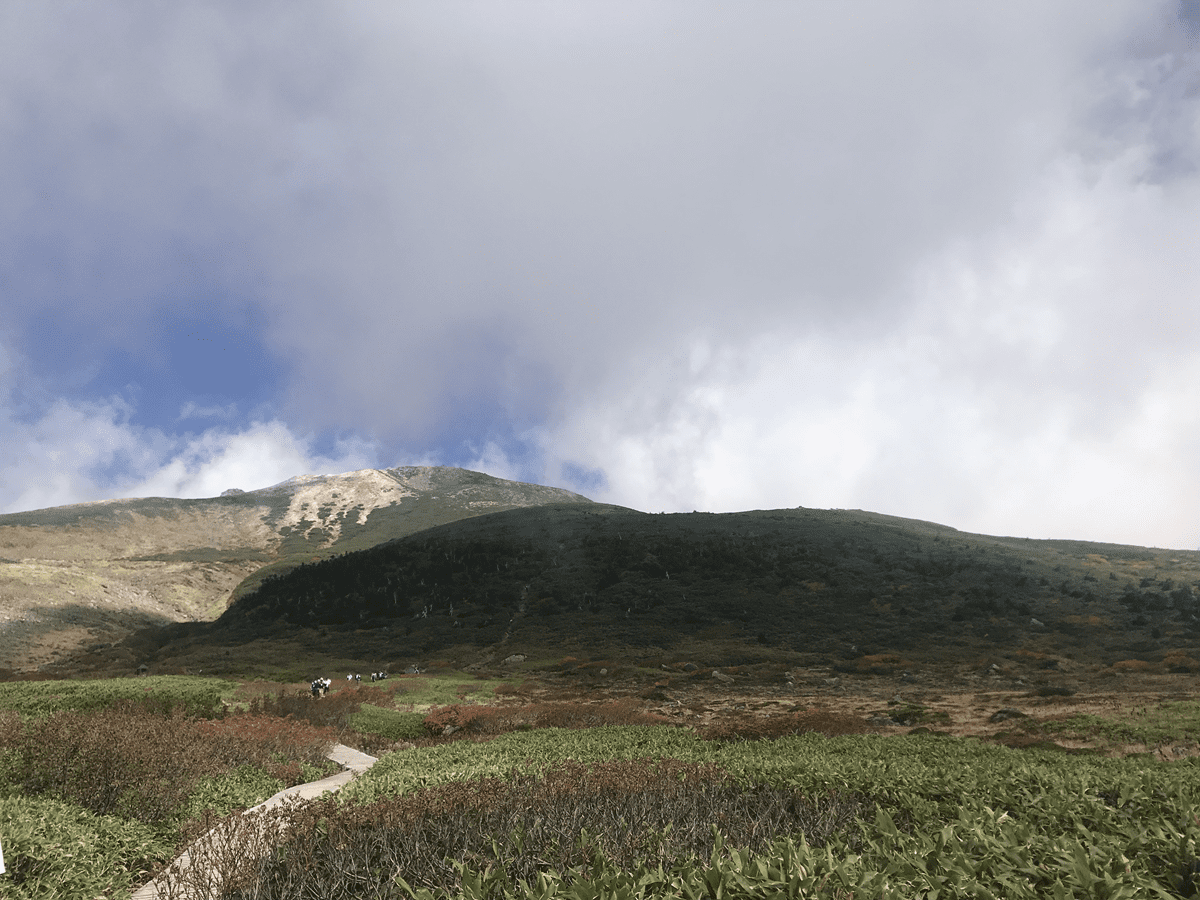 Hakusan peak. Slowly, the clouds were starting to get more and more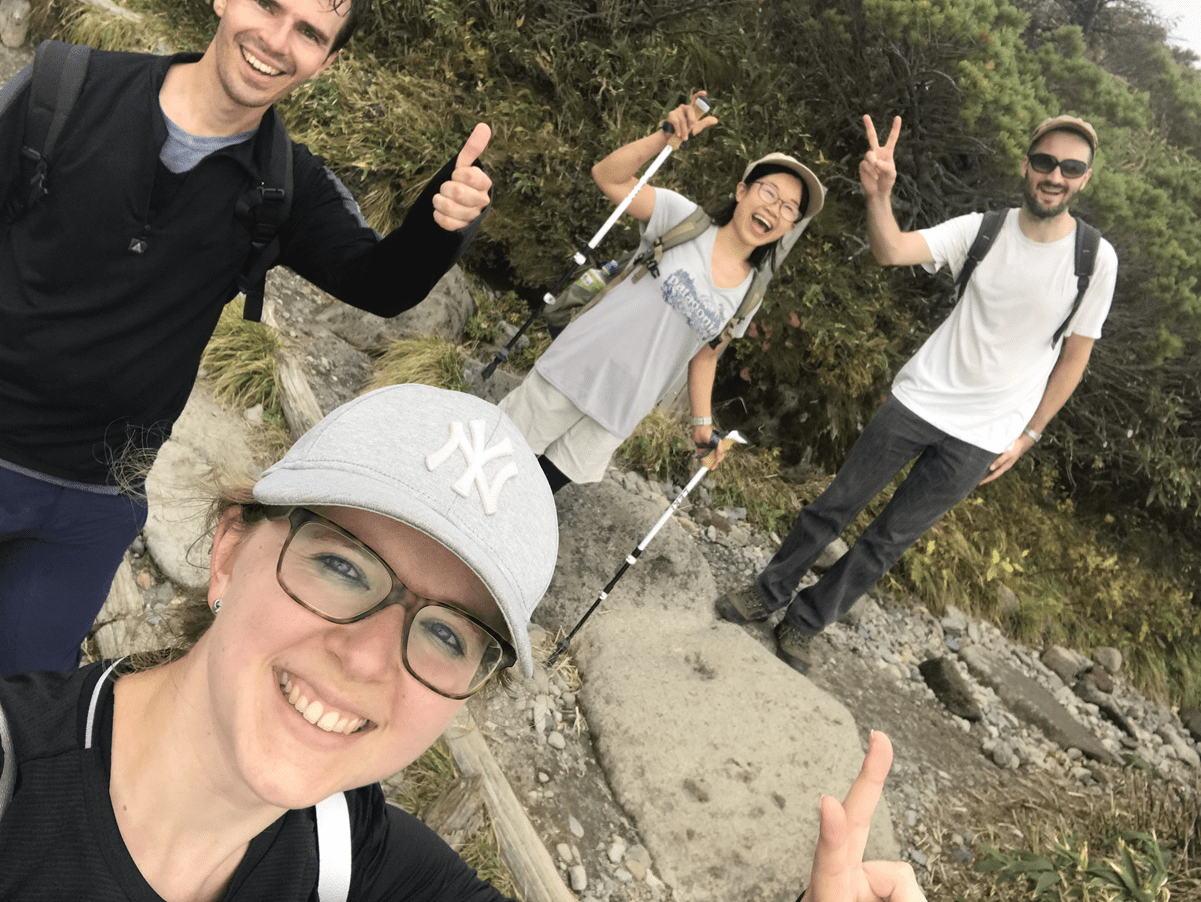 Nearly at the lodge!
At least, there was one short flat path that guided us through grasslands with nice flowers and some red leaves. It looked very nice! At the same time, clouds started to appear and made the view a little spooky.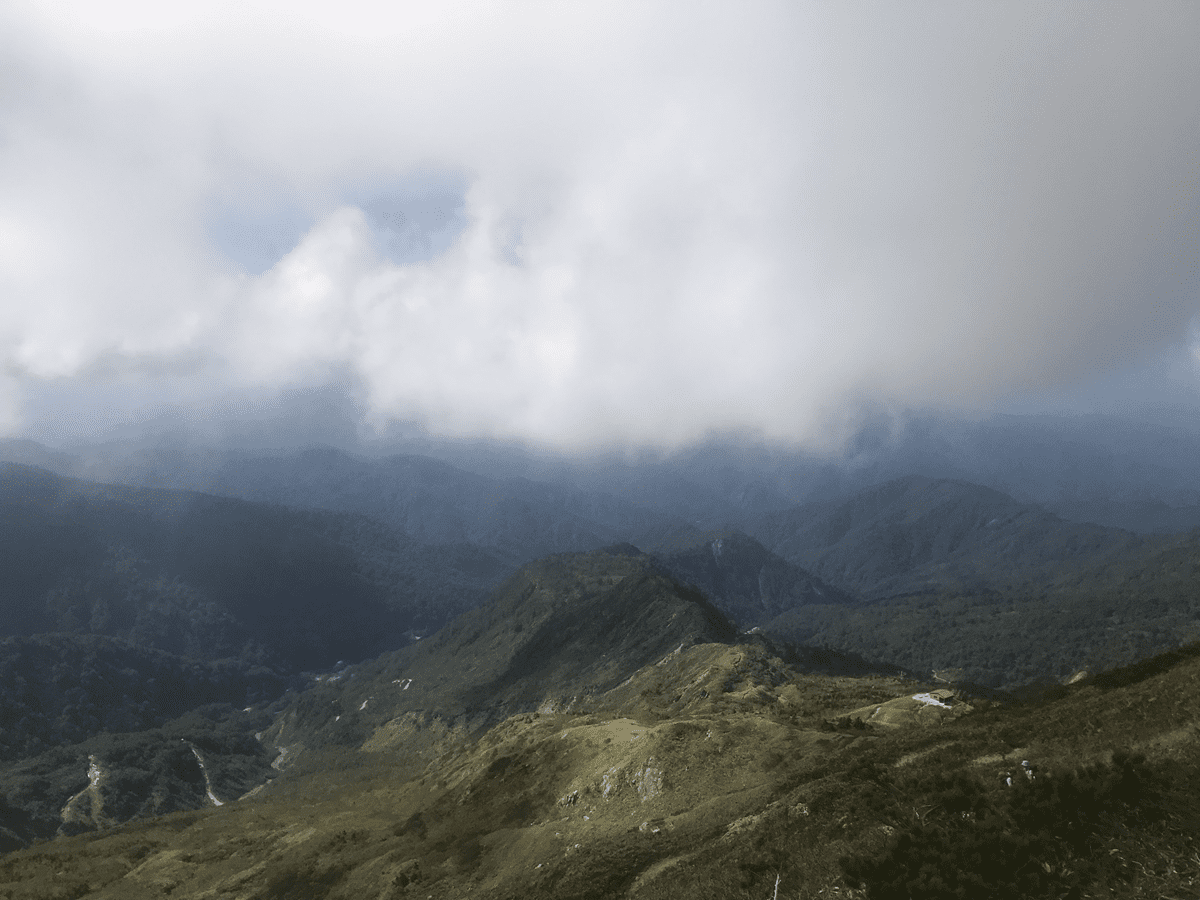 Reaching the Morudo lodge was such a perfect feeling of success. After four hours of climbing, we had a short lunch break (enjoying our nice sandwiches and free dessert that Saori provided us due to her connections to the hut staff) and prepared for climbing the last 300 meter of altitude for the peak.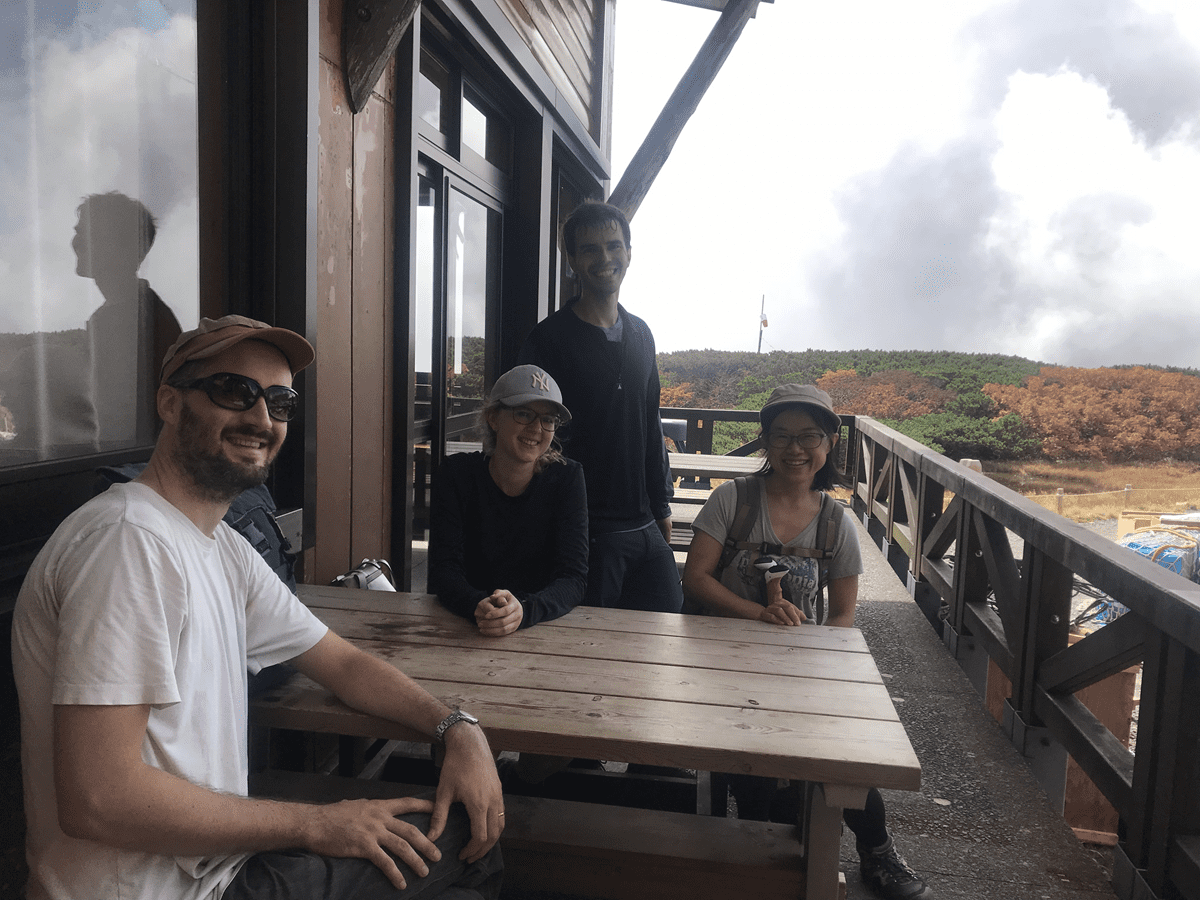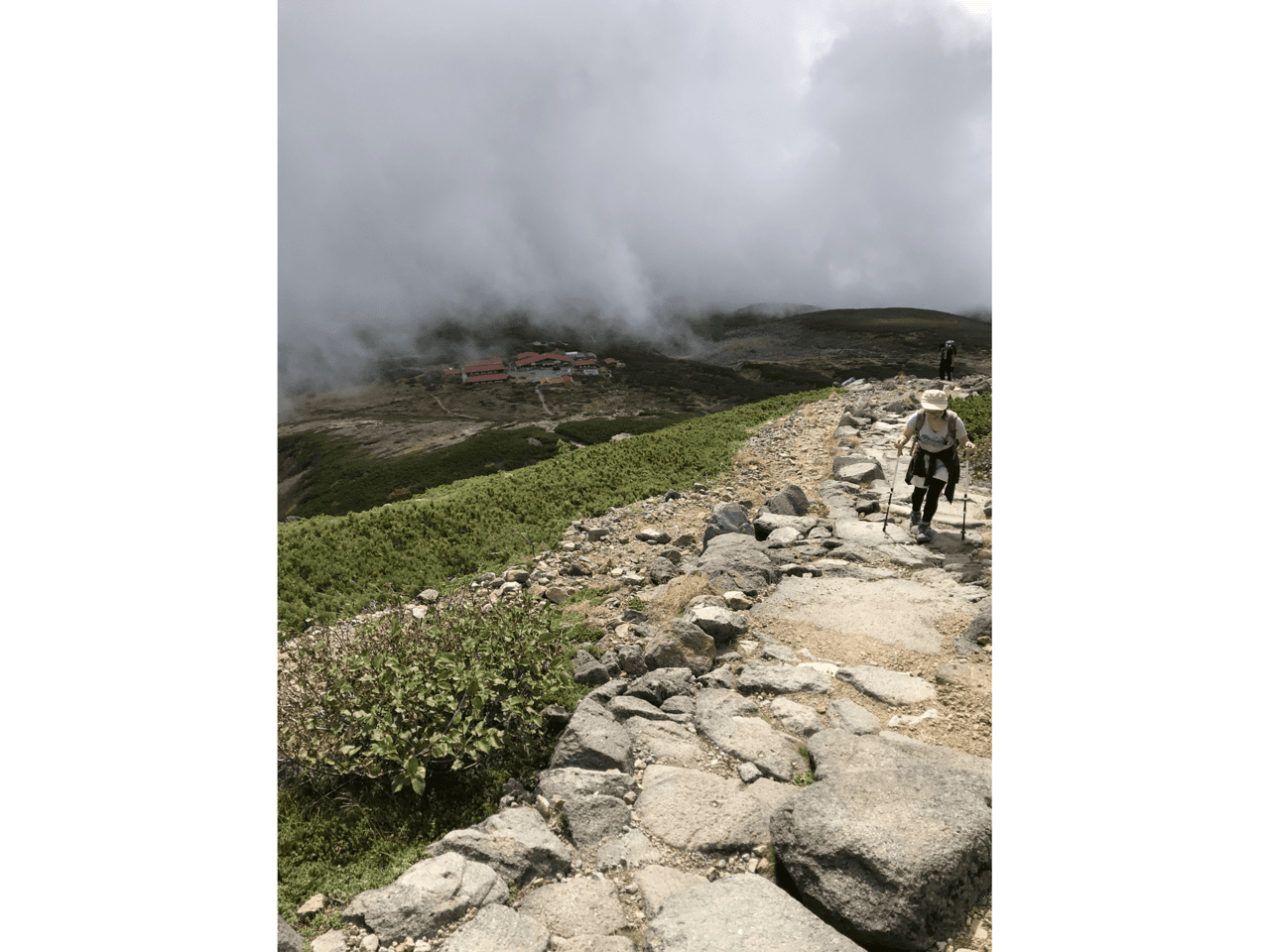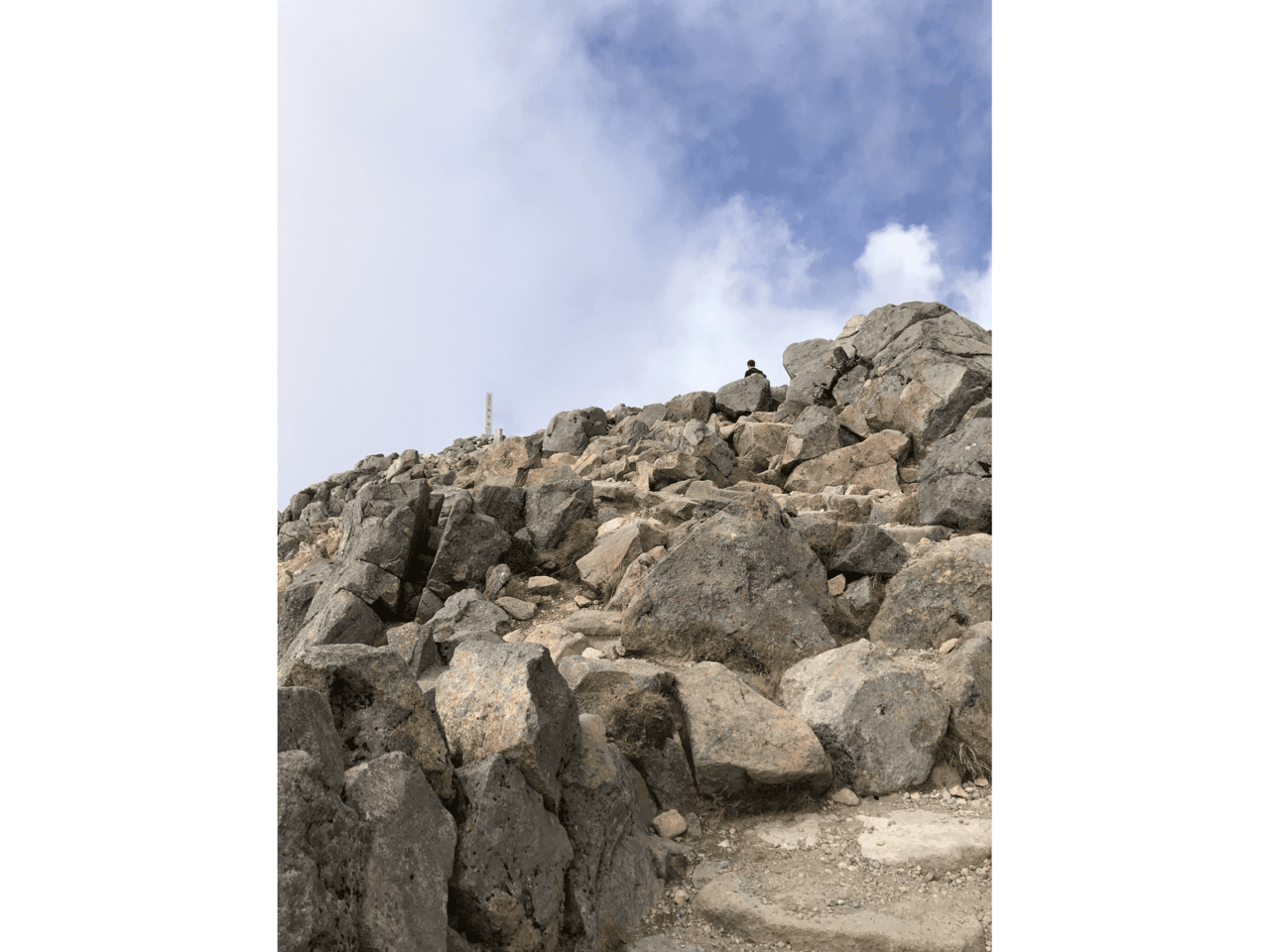 Here we are - the peak of the holy mountain. Over four hours after we started, we finally reached our goal.
Again, Hakusan tested our minds and bodies, but finally we made it and reached the Hakusan Hime Okumiya, the shrine that is on top of the mountain.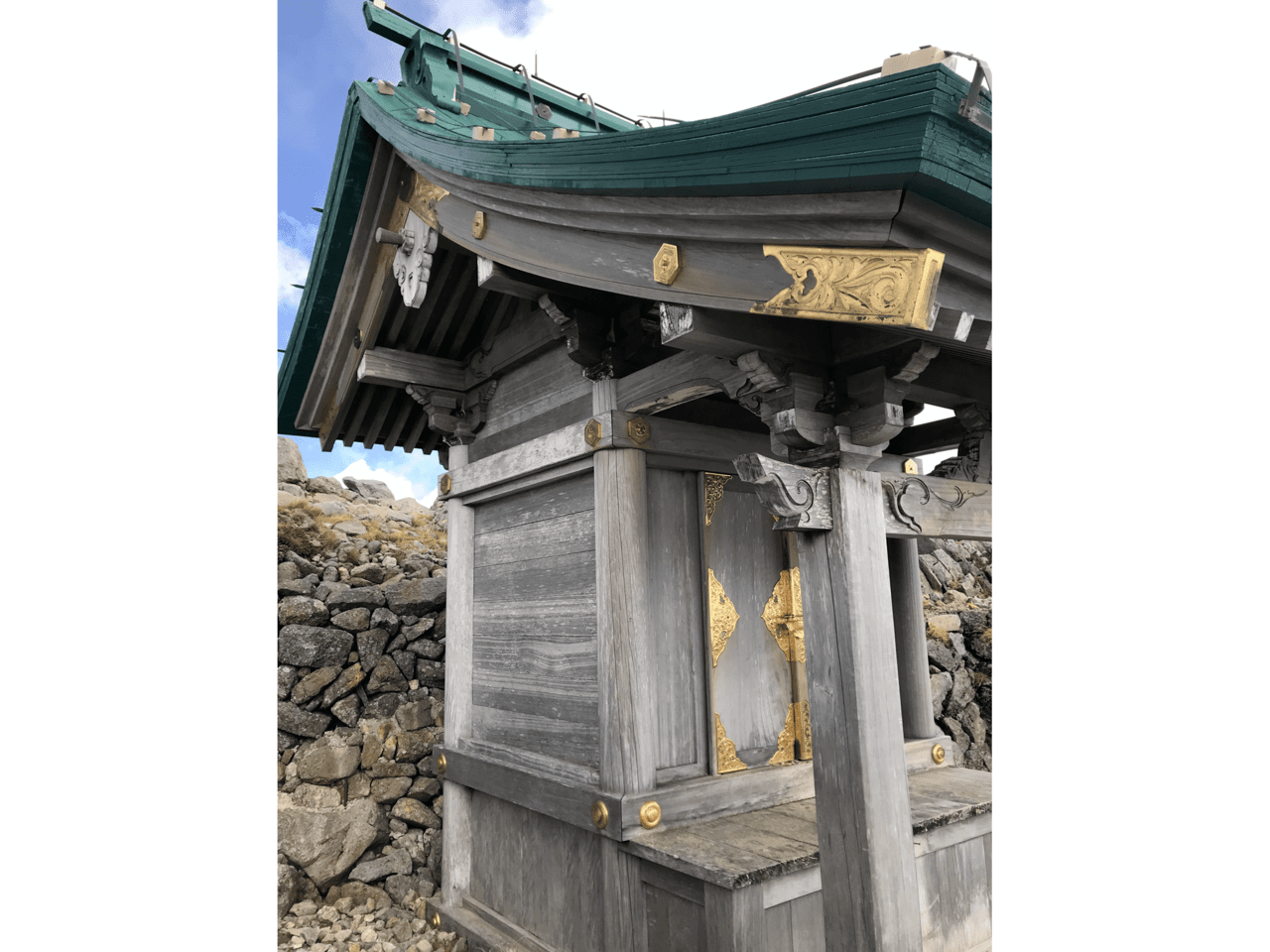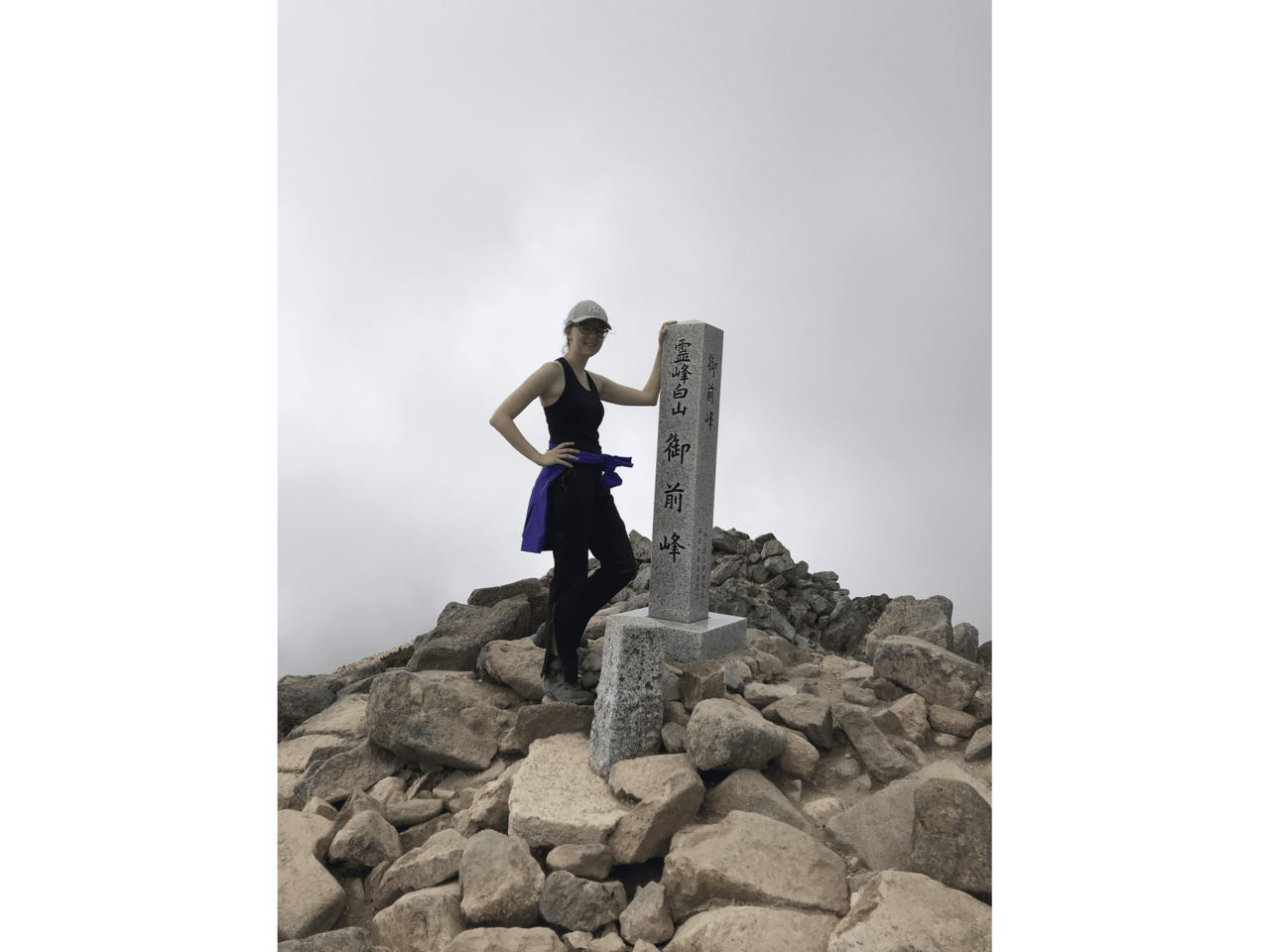 At last, I have arrived at the peak. Everything hurts but the feeling is just perfect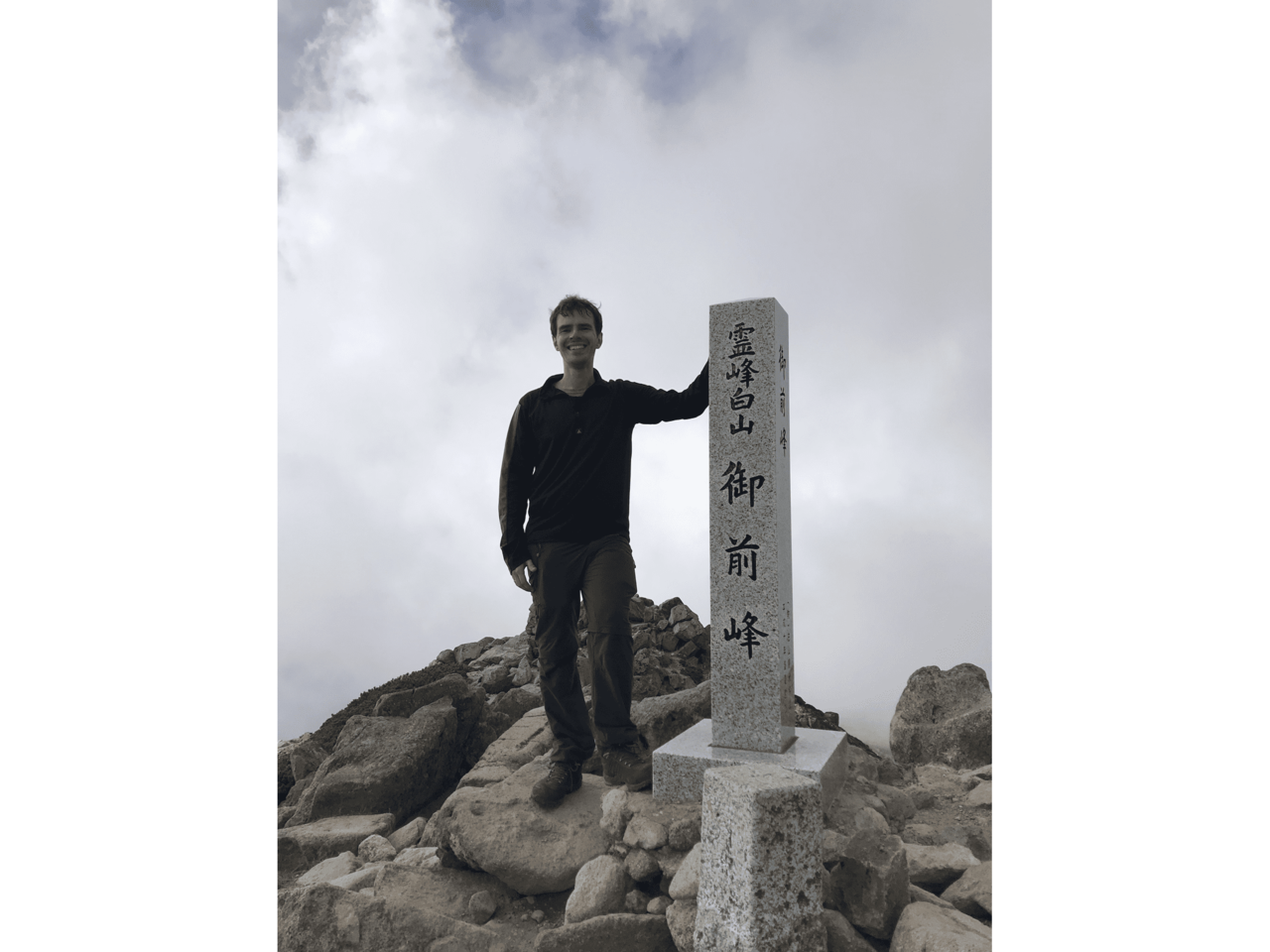 Proud and happy!
Sadly, the clouds were getting more and more, so we couldn't see anything from the peak at all. On a clear day, you can see the other two holy mountains as well as the Pacific and the Japanese Sea at once. I was a little disappointed that it didn't work out, but that's how it is with Mt. Hakusan…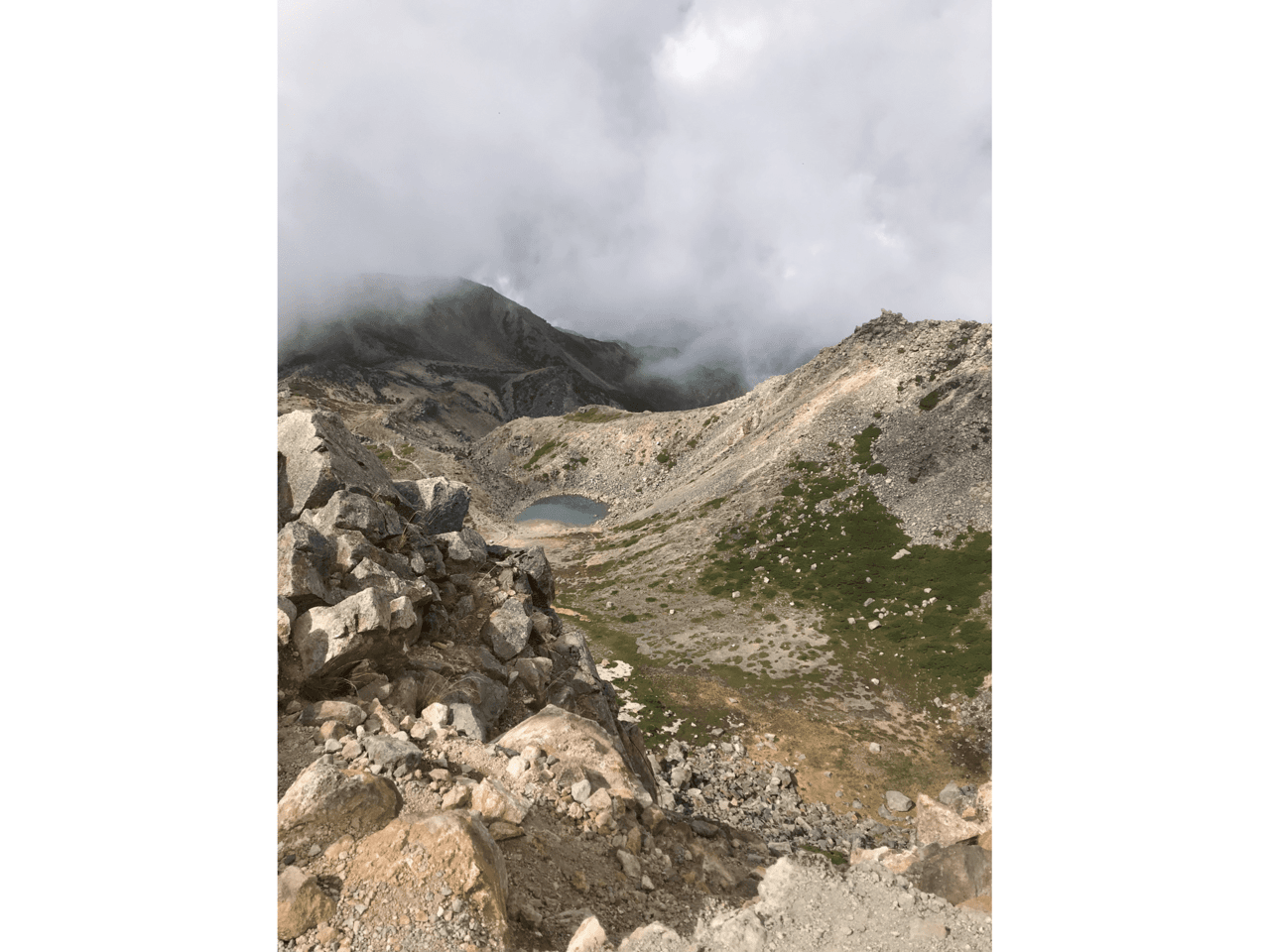 ![](/OctoberFirstentry/Top view.png) Down there, the Morudo lodge seems to be so small
The climb down was very challenging, too. We were beginning to get tired and also sloppy, so we had to pay close attention to our steps. The first part was very nice as Saori chose the other route for us to go down and we had a longer part of the way in the flat grassland area. There, you could see so many bushes turning red and with the thick clouds around us, it was a very interesting atmosphere.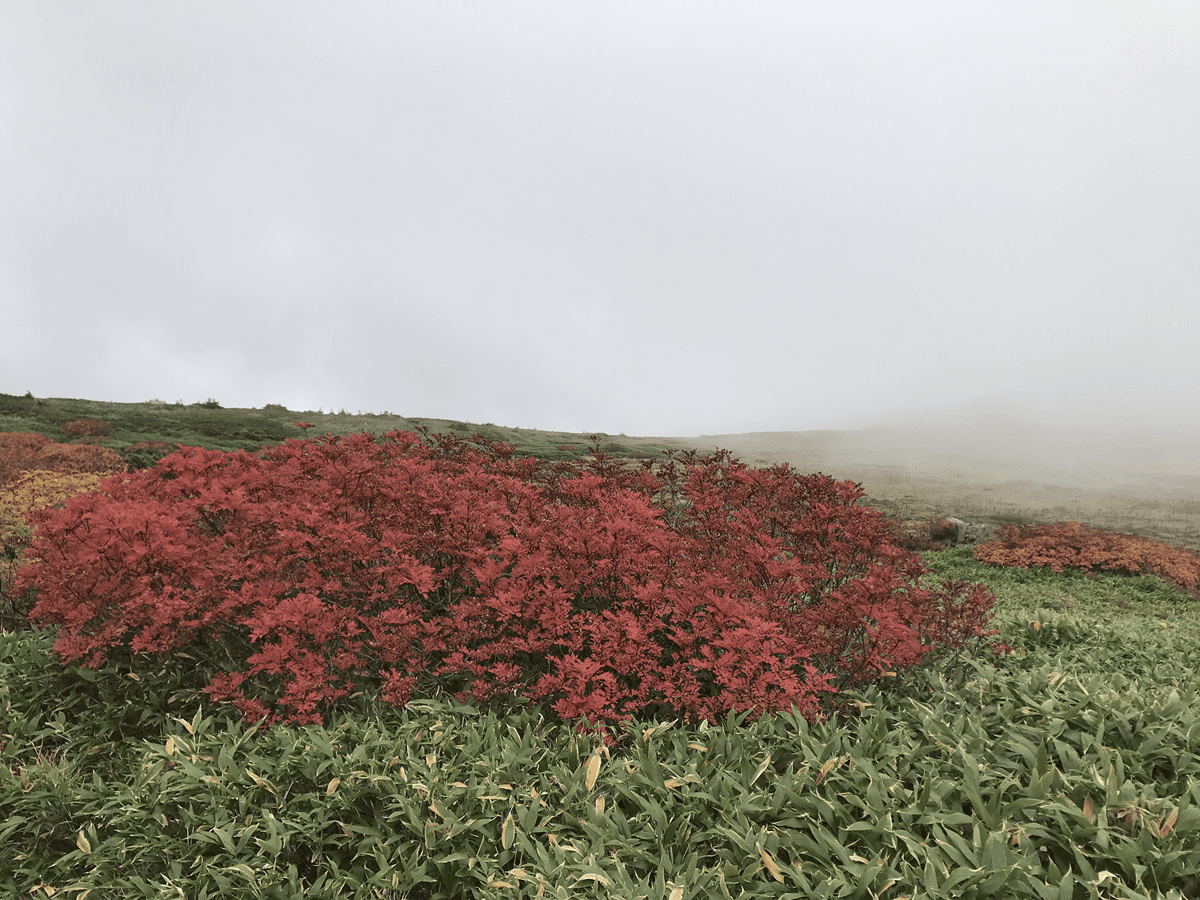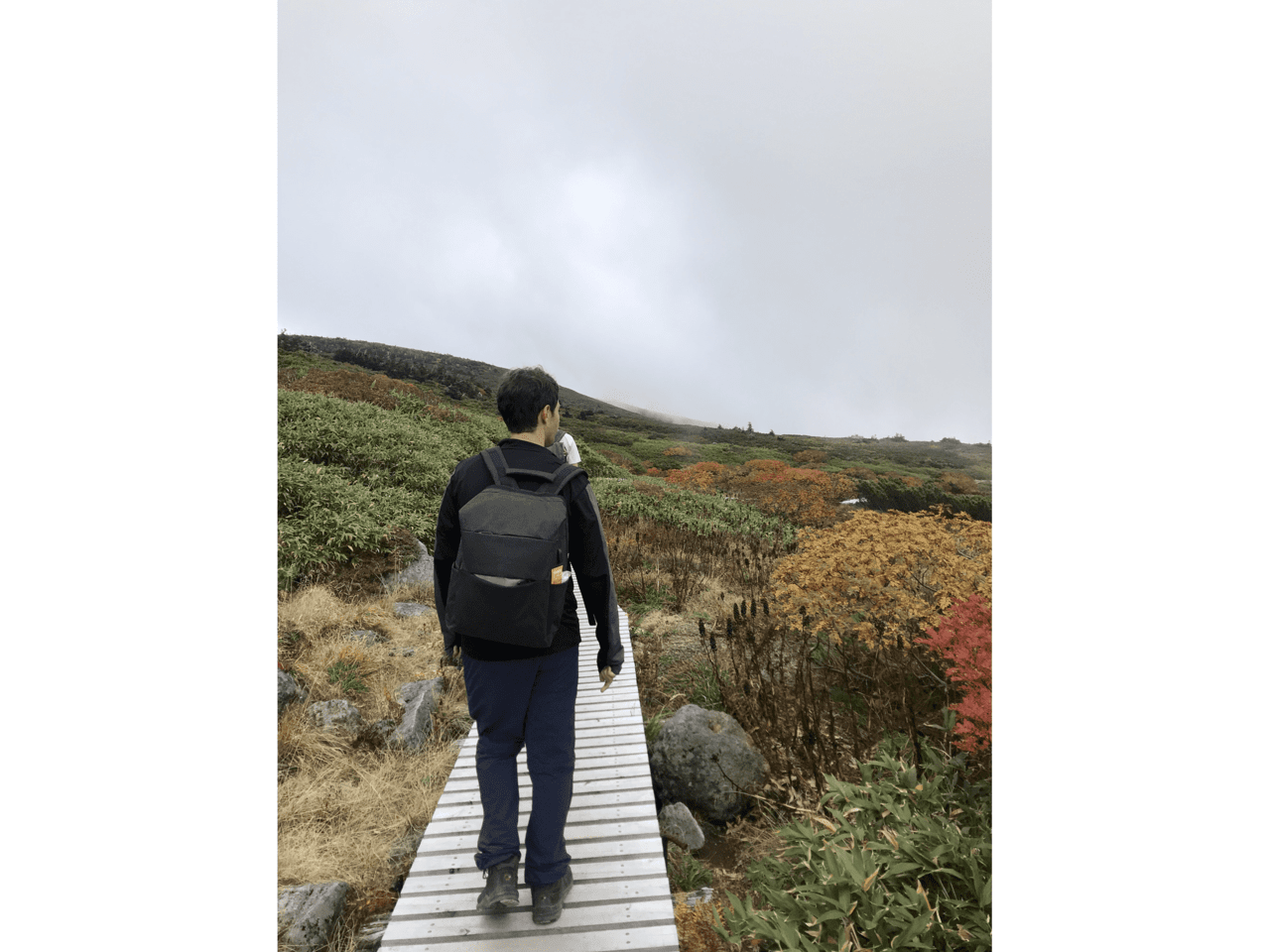 Niklas walking through the cloudy grasslands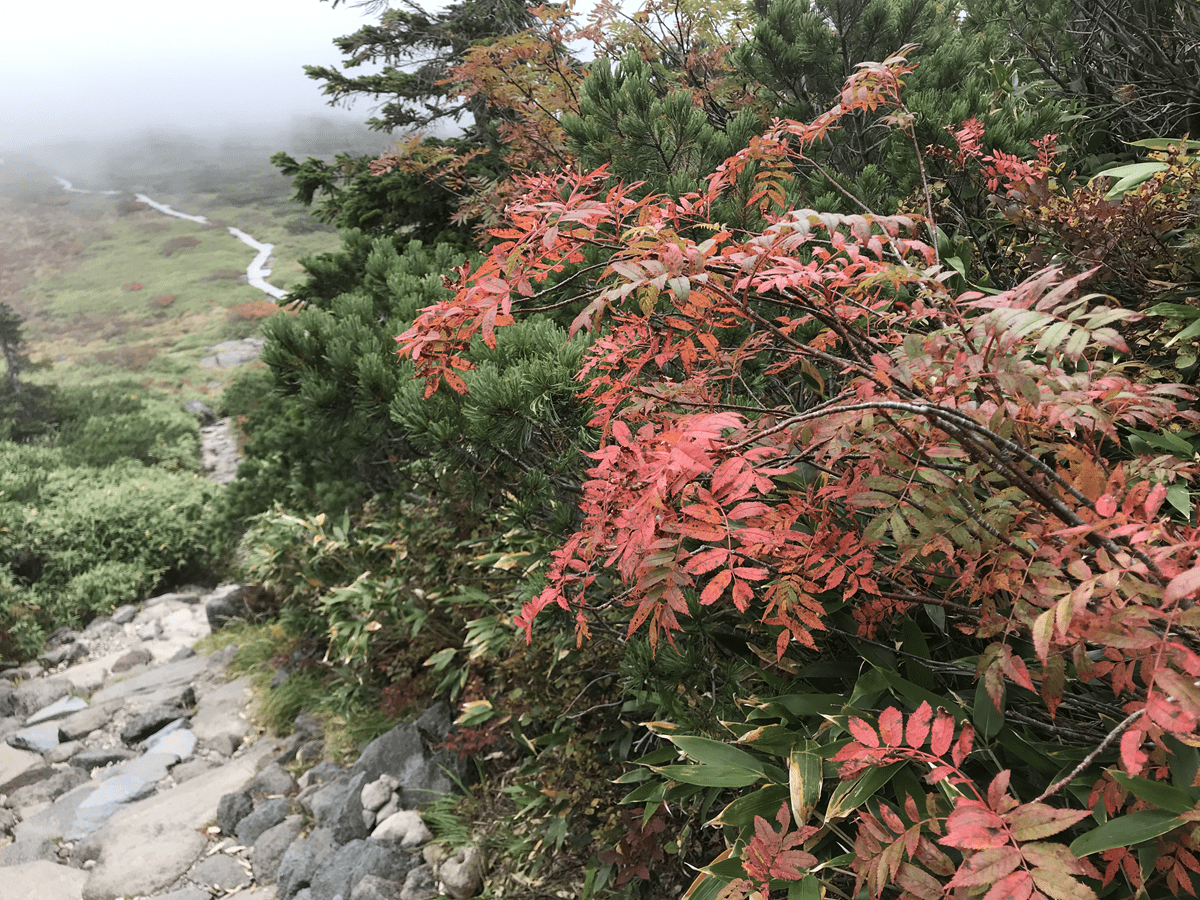 Afterwards, the way down was againg quite steep but way better to manage than the climb upwards. However, the time went by quite fast and we had the feeling that we didn't really get forward. Often, there were signs, indicating that we only made 500 m in the last minutes but for us it felt so much more. We grew kind of frustrated and annoyed as you can imagine.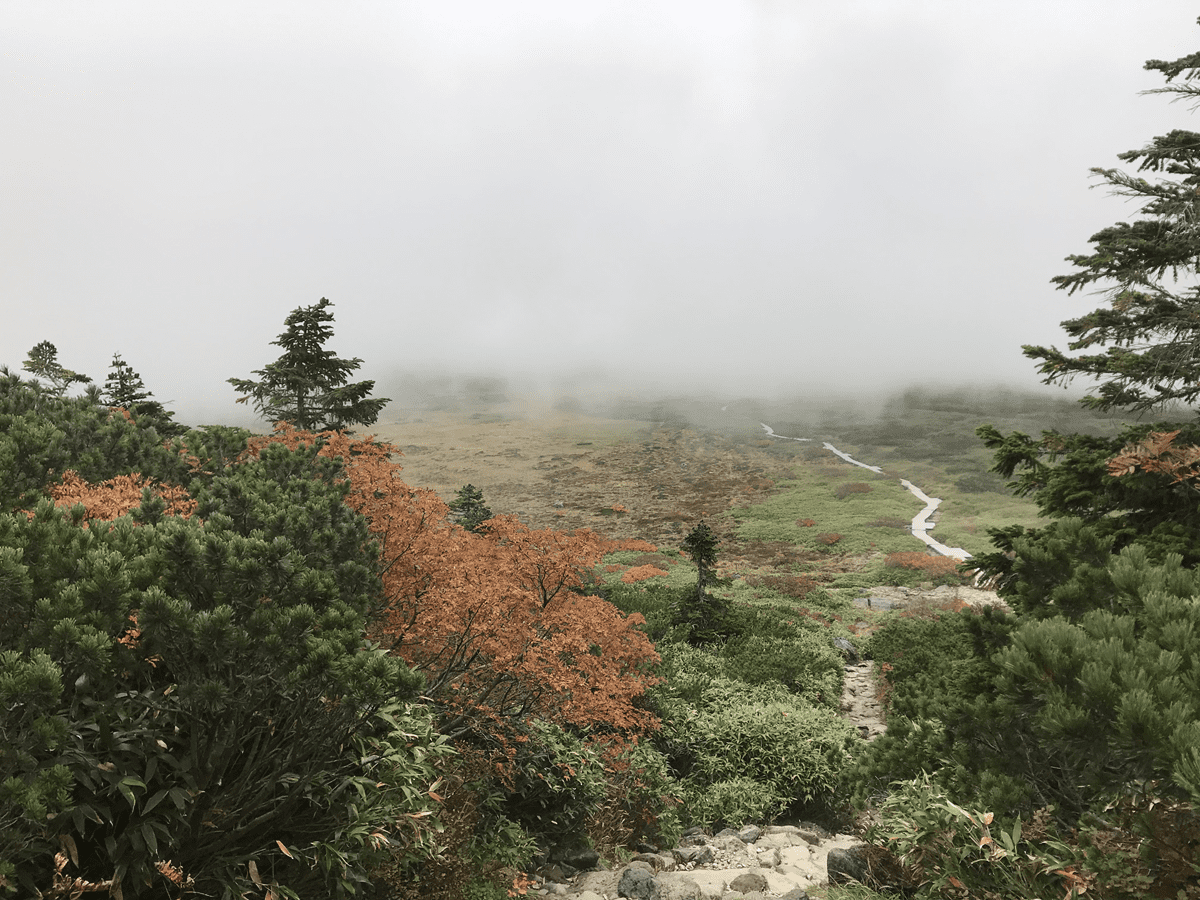 At least the view was so nice
But, finally, after walking down for what felt ages and climbing down a very frightening stone stairway with no railings, we made it back down to the parking lot! Passing this impressive bridge at the end was a spectacular finale for our long walk. Needless to say that at that point, everything hurt like hell. We arrived at the car just minutes after sunset and were proud but so tired.
The end is near - at this point, I couldn't even walk a flat area anymore, so I was glad that the car was very close.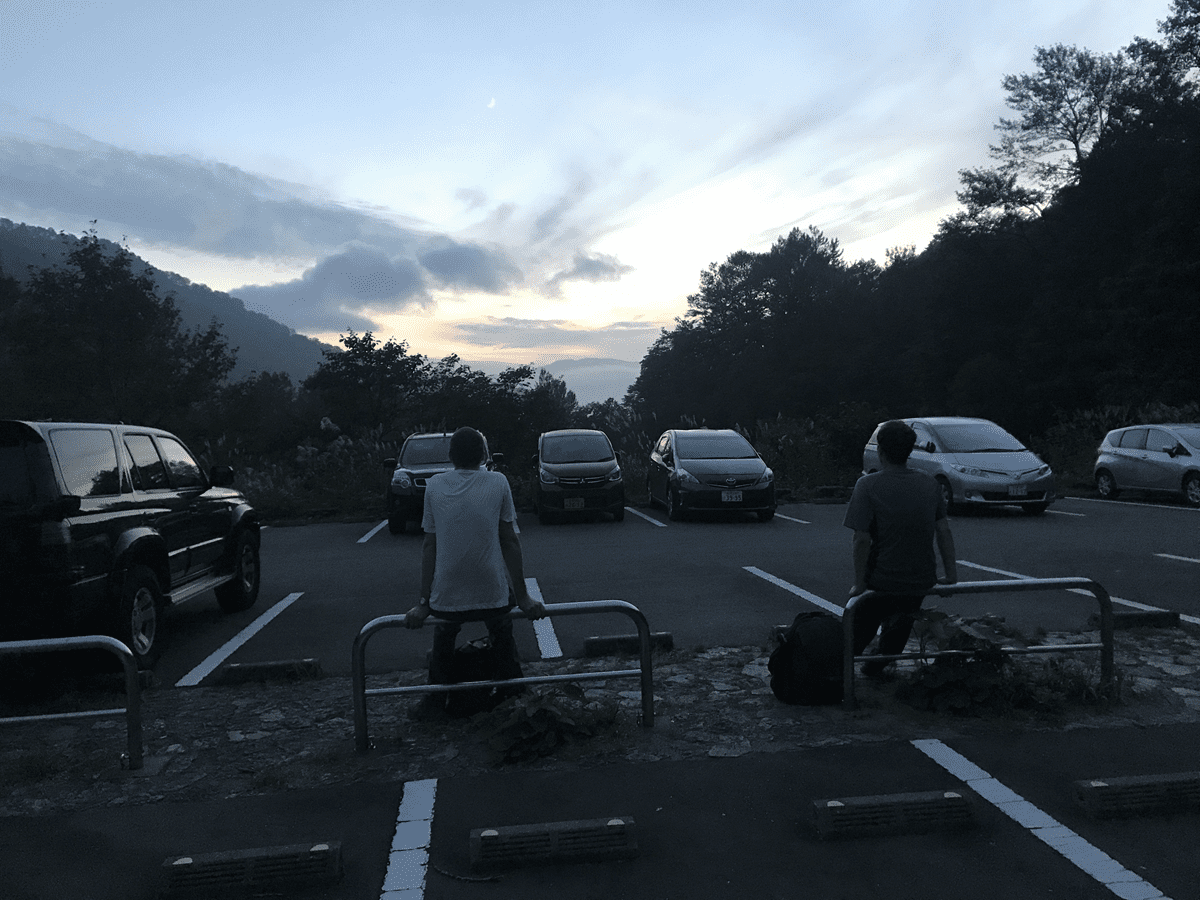 Watching sunset at the cars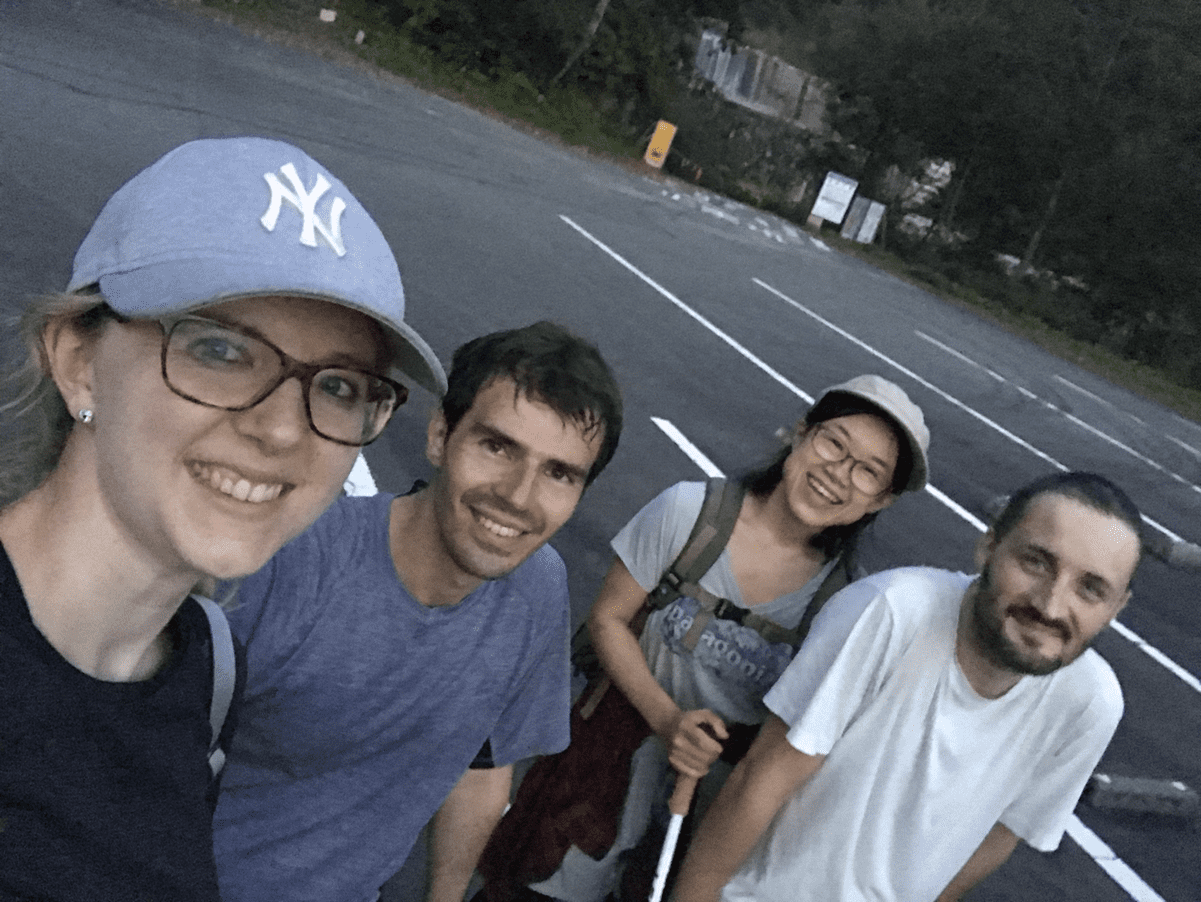 The squad survived - but as you can see, a little tired. ;-)
Saori drove us to a popular restaurant were we ate some nice Okonomyaki (Japnese pancake) and we finished this crazy day with a nice meal with our friends. Being proud but extremely exhausted, we arrived home safely and were grateful, that everything had gone well. No injuries, no other dangers - we climbed the holy Hakusan safely and were glad to have made this experience.
Spoiler alert: the following days were like hell. I couldn't go upstairs or downstairs and my shoulders were burned with a nice sunburn. :D But, it was totally worth it!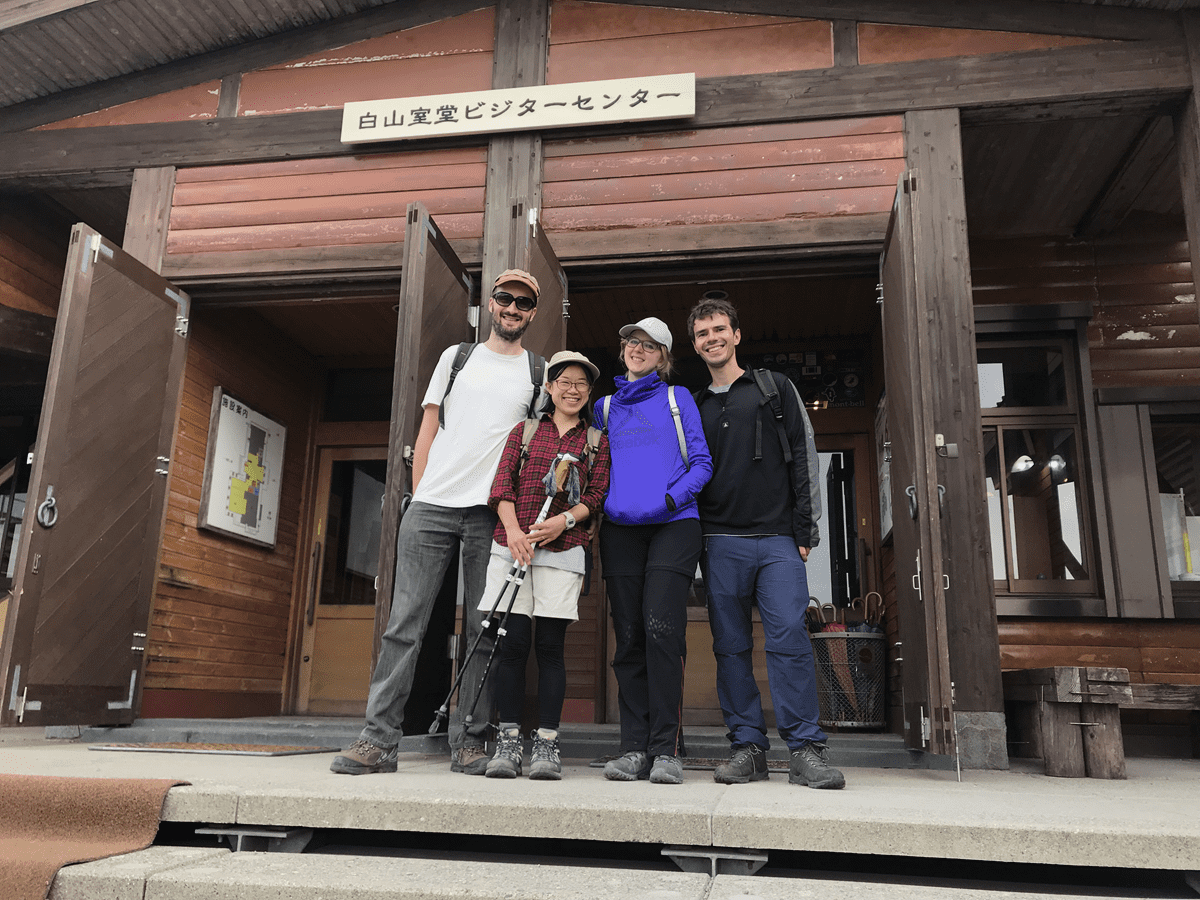 Thank you guys for an amazing day!!
How to climb the Hakusan: five tips for your hiking trip
My report got you curious and now you also want to do this hike? Here are some tips that can help you prepare for your trip so that you can really enjoy it.
1. Respect the mountain
Hakusan is over 2000 m high, this terrain is usually not so easy going than smaller mountains. You will face different weather conditions, difficult and steep tracks as well as your own exhaustion that will bring you to make mistakes. Before you start, check out the weather (it should be a day were absolutely no rain is predicted), inform the local police that you are climbing in this area (this is mandatory, don't forget it) and check out the emergency contacts of the facilities in advance. Also, if you are not feeling 100% ready and fit, don't go. There is no possibility to leave the mountain easily (no cable car, no trains) and the terrain is often not easy to reach for helicopters. Therefore, you should only start the tour when you are really prepared for it. It's no easy peasy hike.
2. Prepare enough water and food
Compared to hiking in the Austrian Alps, the infrastructure regarding cozy huts is very different in Japan. If there are open huts, there is not always the possibility to enjoy a hot and lovely meal. So, be prepared in advance and pack enough food that gets you going through the hike. The Hakusan climb is very difficult and demanding, you will drink a lot of water as the first part of the hike is very humid (due to the woods you have to pass). You will need energy from your food as the hike will demand a lot from your body. Make sure to pack sweet and salty snacks (nuts, salty crackers, chocolate, energy bars) as well as fruits for having lots of small snacks during the way.
3. Prepare for different weather conditions
As mentioned before, in this altitude the weather can change very quickly. Make sure to wear professional hiking boots and outdoor gear, like hiking trousers or shirts, made of a special fabric (UV protection!) that helps you keeping warm or cooling off. Also, bring a solid outdoor rain jacket and warm sweater (made of fleece is best). What I did forget was that the sun intensity is very high. Despite wearing a hat, sunglasses (important for protecting your eyes) and sunscreen, I got a pretty nasty sunburn on my back and in my face (with a nice little allergic reaction some days later). So make sure to bring enough sunscreen with a high intensity level and put it on more than once. Don't repeat my mistake :D
4. Logistics
On Hakusan, you can stay the night at the lodge and watch the sunset in the morning. It's very popular among people so make sure to book your sleeping place at Murodo in advance. If you don't want to stay overnight and do the day tour, like we did, I would advise you to go to the mountain by car. There are busses running from Kanazawa station but it's quite stressful to be back on time for the bus schedule. If you miss the bus, you are left alone at the parking lot, deep in the mountains. Busses are okay if you stay at the top overnight, but otherwise I would not recommend it. There are many parking spaces for car, but keep in mind that during the weekend, the hike is quite popular and therefore a lot of people are going to be there, especially on a sunny day. We chose a weekday for our tour and were lucky as there were only very few people hiking on that day.
5. General rules
Please don't pick any flowers or take rocks or stones with you. Disrupting behavior like this is a burden for the ecosystem, please respect it. Also, don't throw away your trash in the mountains. Bring it back down with you and don't leave anything behind. Take a bear bell with you (meeting a bear is unlikely but you never know) and be aware of your surroundings. Also, don't go in the bushes on your own if you have to pee as there are wild snakes that might feel slightly disturbed by your presence. ;-)
But, the most important thing: enjoy the hike! It will challenge you very much but afterwards, you will be so proud that you did it! :)