Hey everyone, I hope you are all fine! We survived the typhoon and are now experiencing the true autumn feeling of Japan. Today I want to tell you about the nice weekend trip in Ishikawa Niklas and I did two weeks ago for our anniversary. Yes, you got that right: already one year married! :o Time flies! After hearing so much about this place, we finally managed to visit Kaga Onsen, a popular town south of Kanazawa that is famous for its hot springs and public bath houses.
Kaga Onsen is not one single city, it rather consists of four different small towns that are located close to the sea but also in the mountains: Yamanaka Onsen, Yamashiro Onsen, Katayamazu Onsen and Awasu Onsen. Therefore, a large area is covered by the district of Kaga Onsen and there is a village for everyone's taste. We decided to stay overnight in the little village that is located in the mountains called Yamanaka Onsen. Translating the name, it means "in the middle of the mountains" and it's a very fitting name.
Day at the mountains
After having a nice breakfast in Kanazawa at Curio Café we took a Highway Bus that brought us directly to Yamanaka Onsen. We were lucky with the weather, there was a lot of sunshine and it was still quite warm, so we strolled through the nice little streets, mainly the Yugo-Kaido street, admiring the craft shops (as Yamanaka Onsen is very famous for lacquerware craft) and enjoyed the peaceful atmosphere of the mountains. They even had speakers everywhere, playing typical Japanese styled Koto harp music.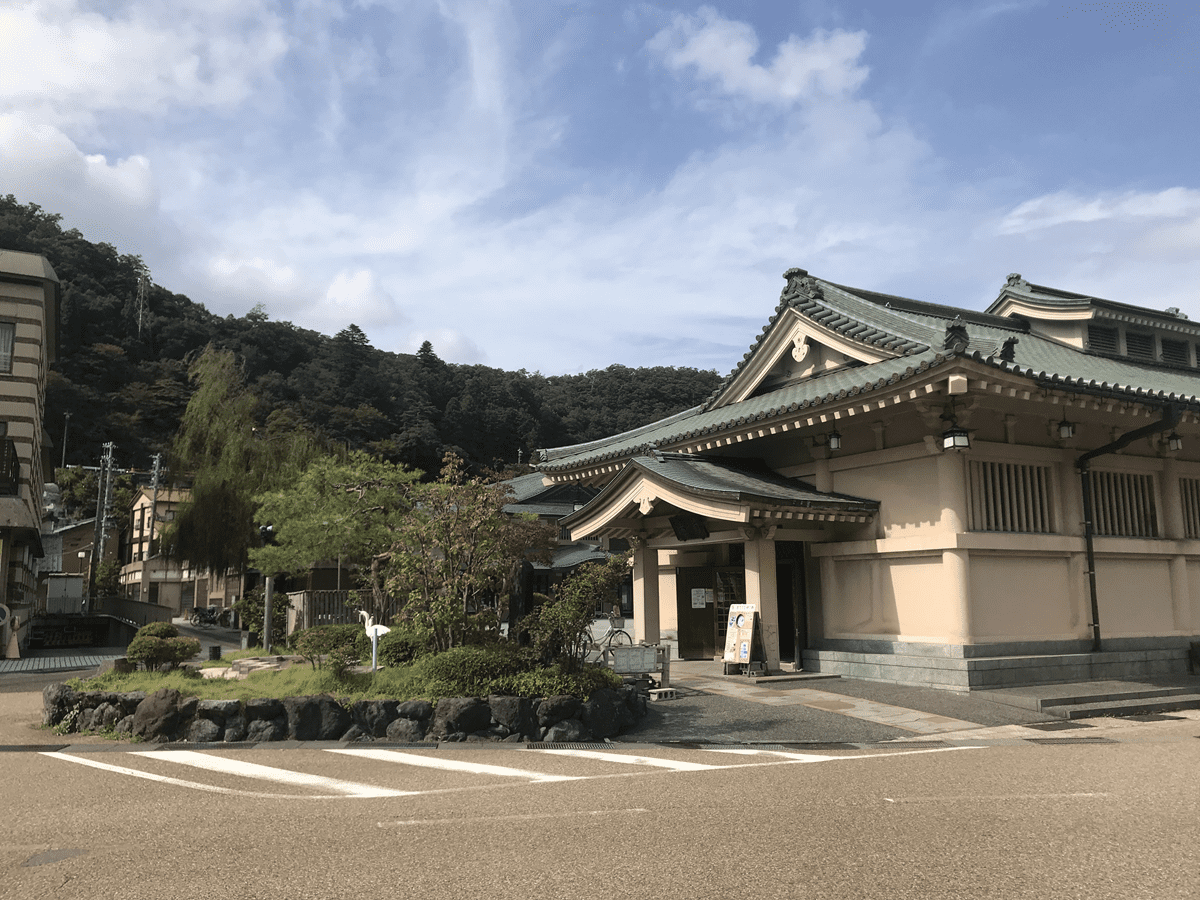 The public bath house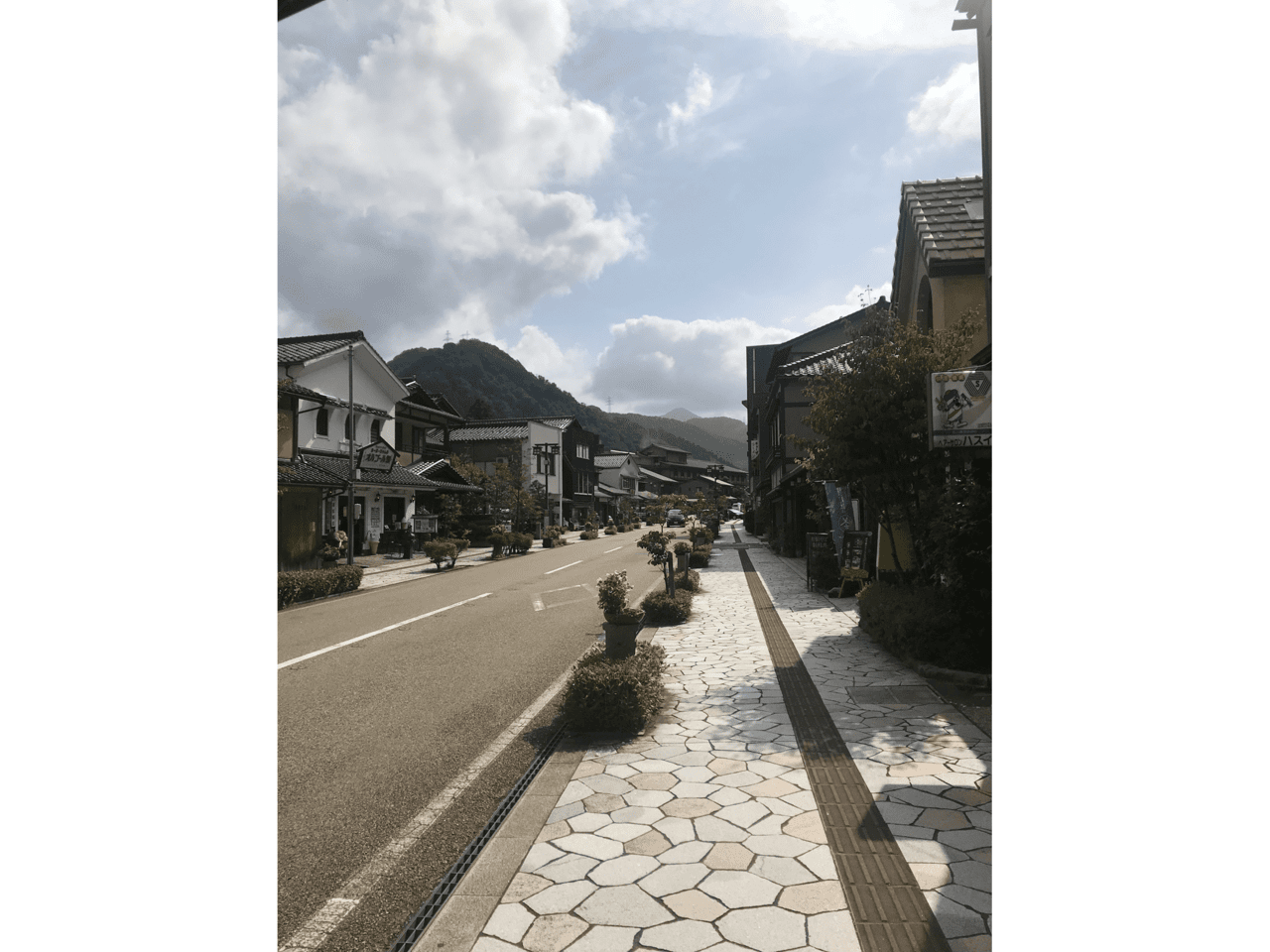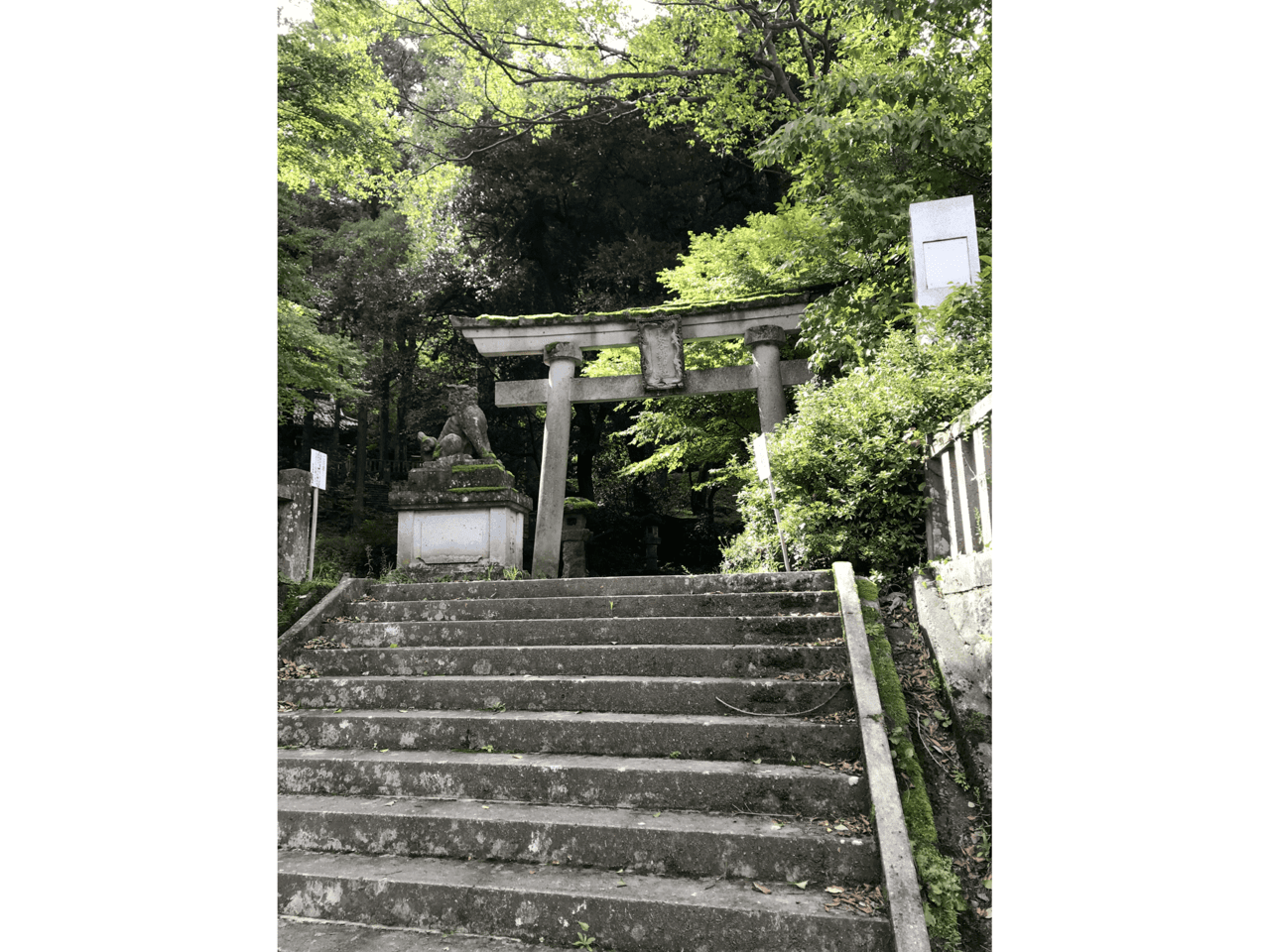 We also came across a remote shrine, covered by lots of moose. Very mysterious atmosphere!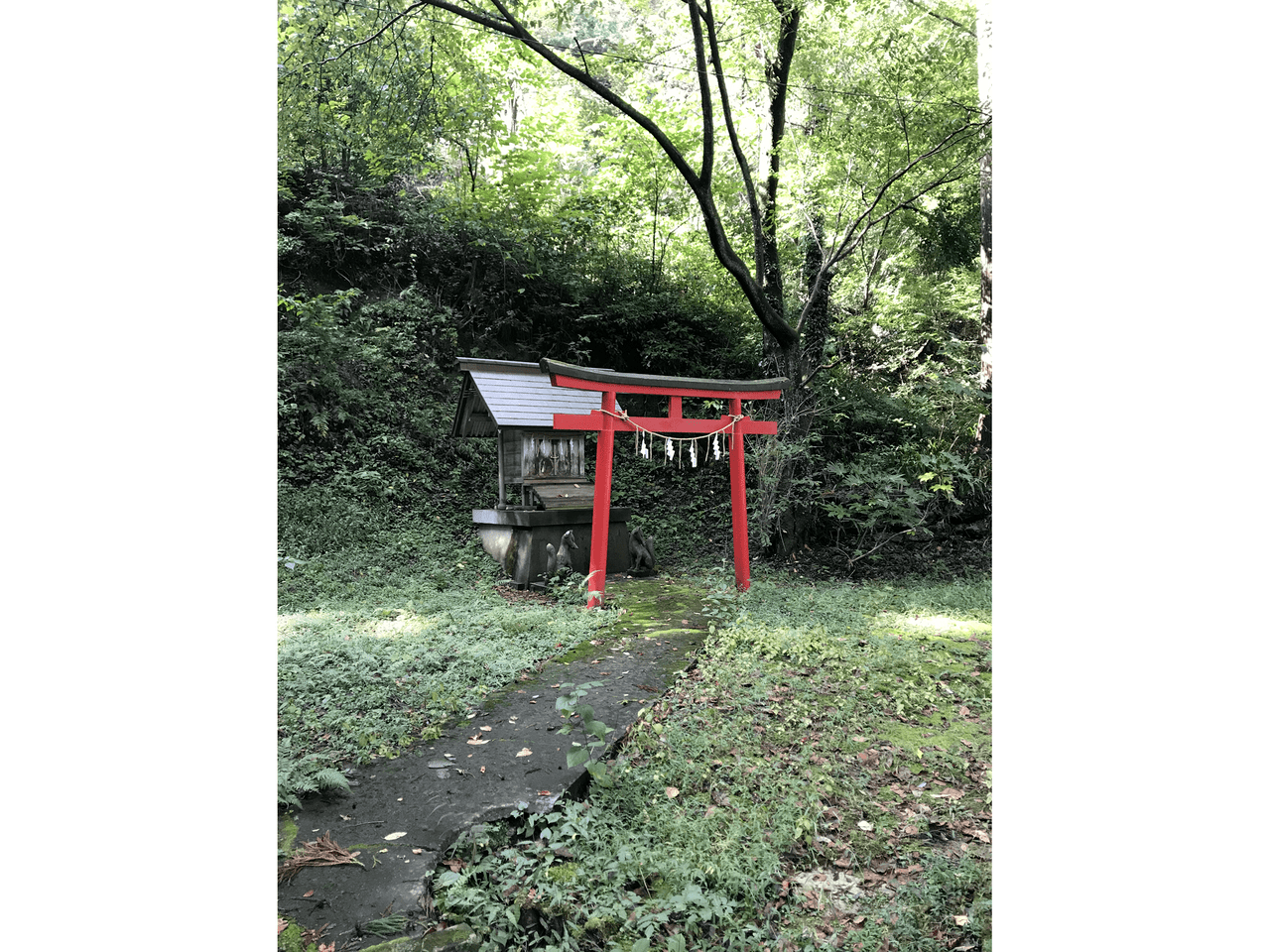 Our hotel was located directly above the green Daishoji river that runs through the village and is the main tourist attraction. From the window of our room, we had a perfect view down to the water and the mysterious gorge with so many green and wild trees surrounding it. Impressive! As it was a Japanese styled hotel, we got a tatami room with futon beds but as we do have at home, it's no problem for us to sleep on that anymore. However, the hotel staff was a little concerned if we were okay with that. So, if you book a hotel room in Japan and are not good at handling a futon bed, you should always make sure that you book a "western styled room" as there will be beds you are used to.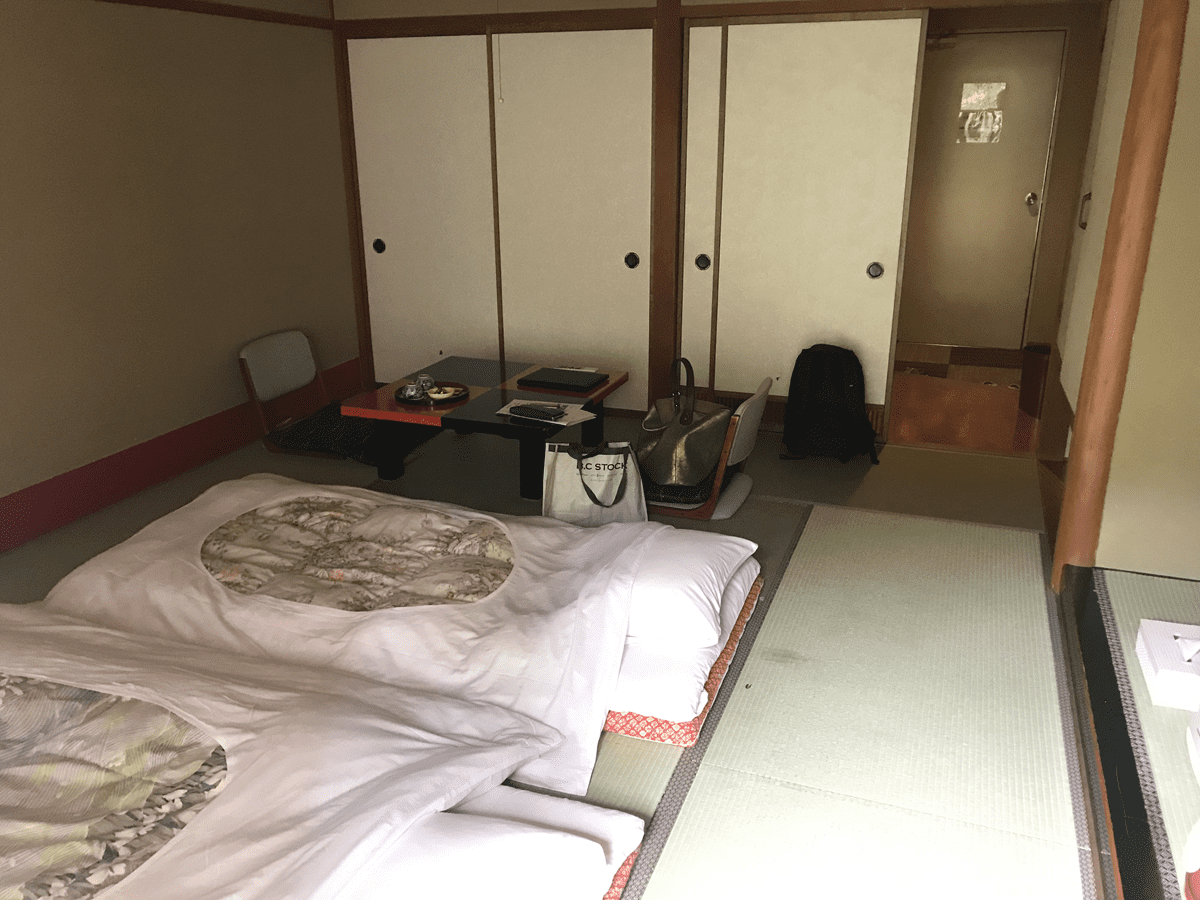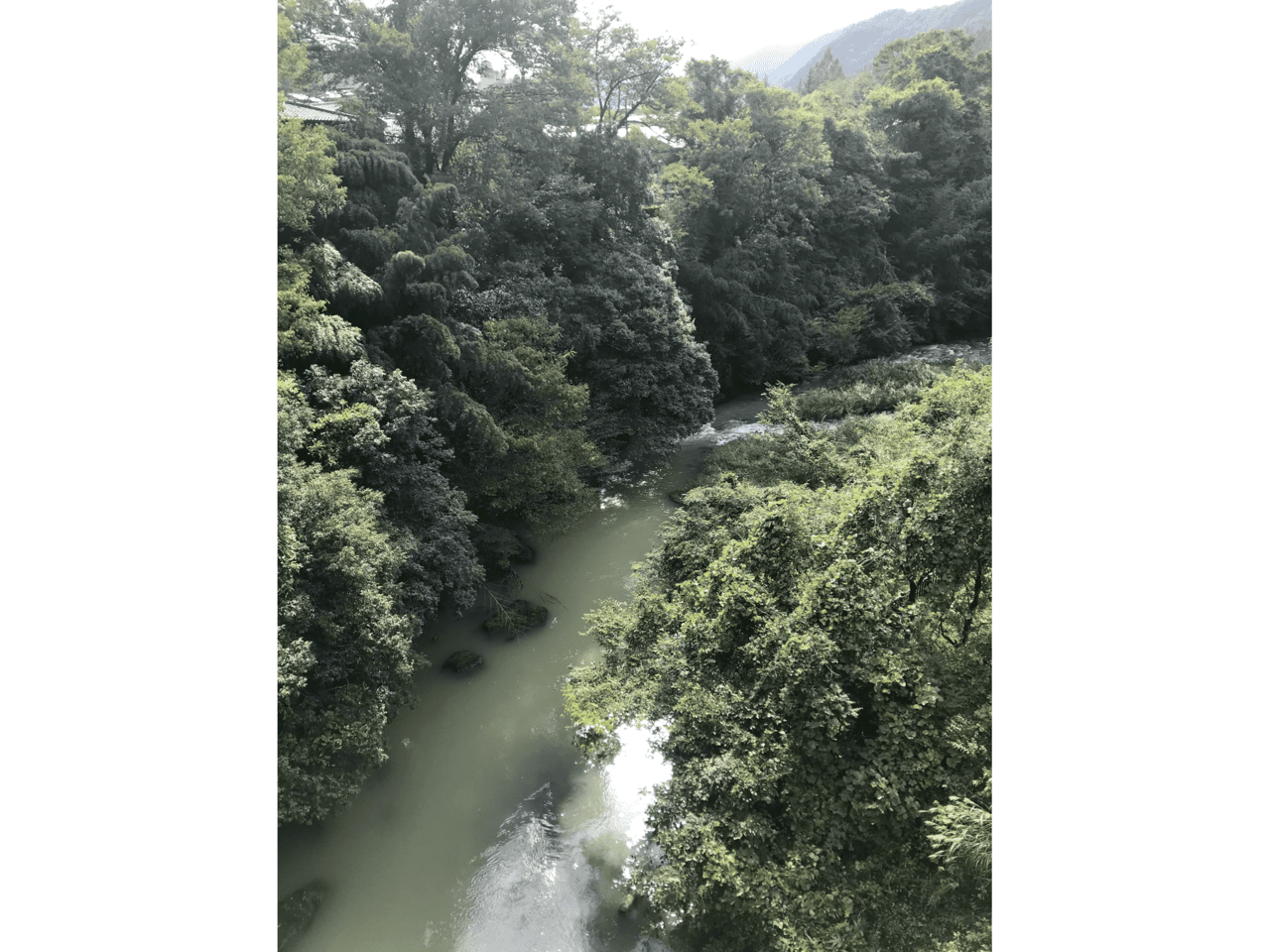 Here you can see the Daishoji river and its green color.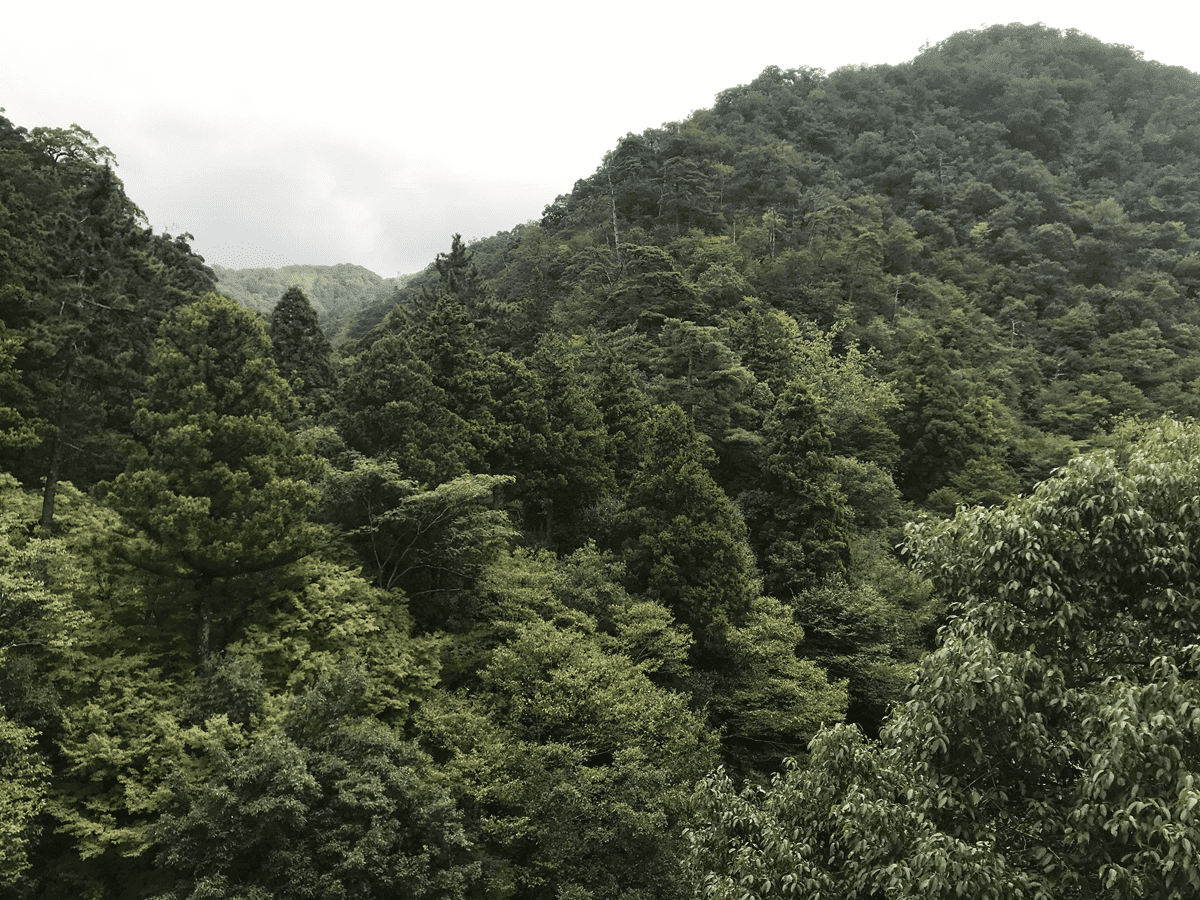 The nature was still so green, even if it's beginning of October!
After a short break at the hotel, we decided to have walk down at the Kakusenkei Gorge that runs parallel to the village and is the most famous attraction of this place. Crossing the Ayatori Bridge, we entered the gorge and made a short stop for some hot tea at this cute little outdoor teashop called Kakusenkei Kawadoko: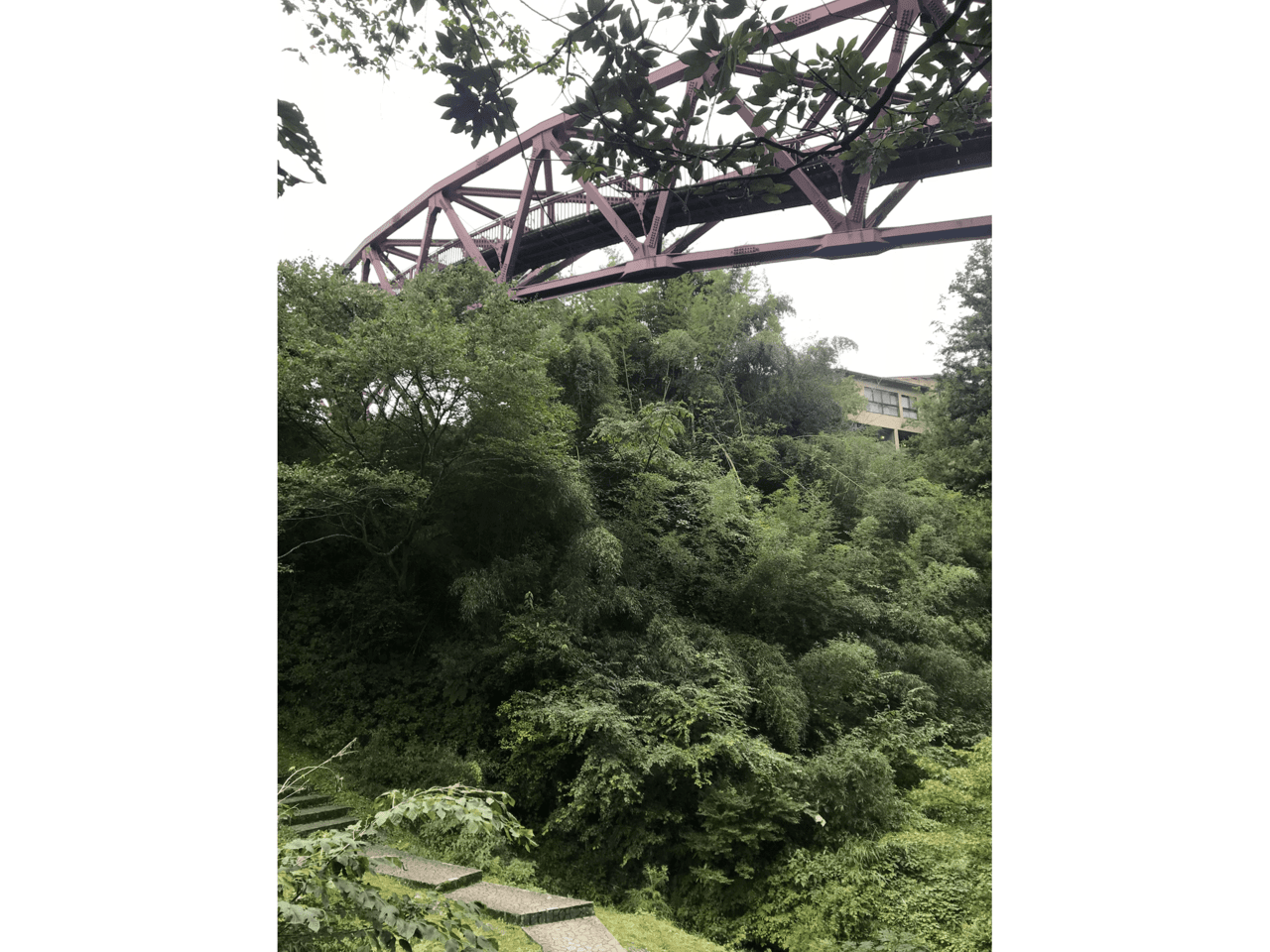 The famous Ayatori Bridge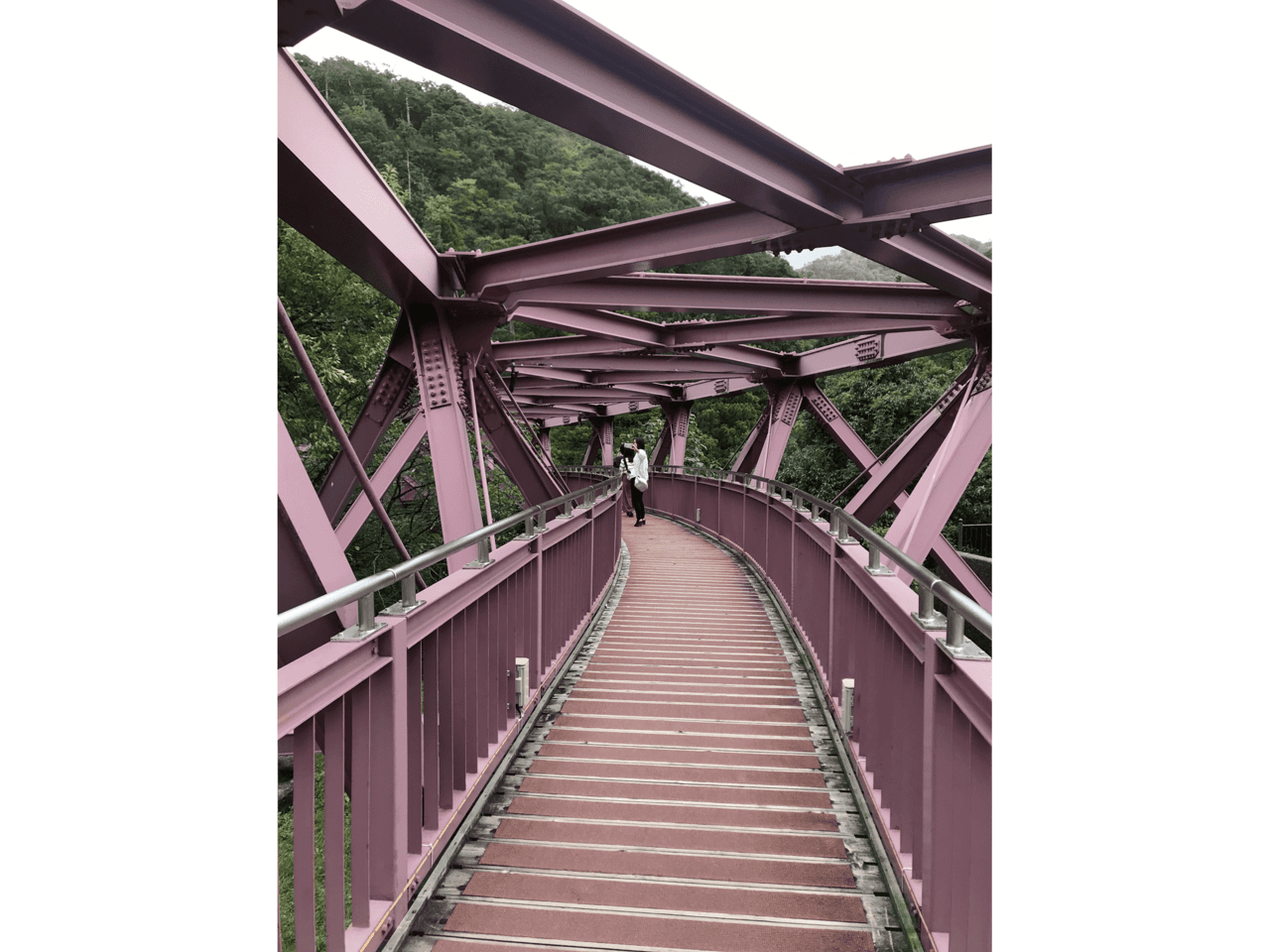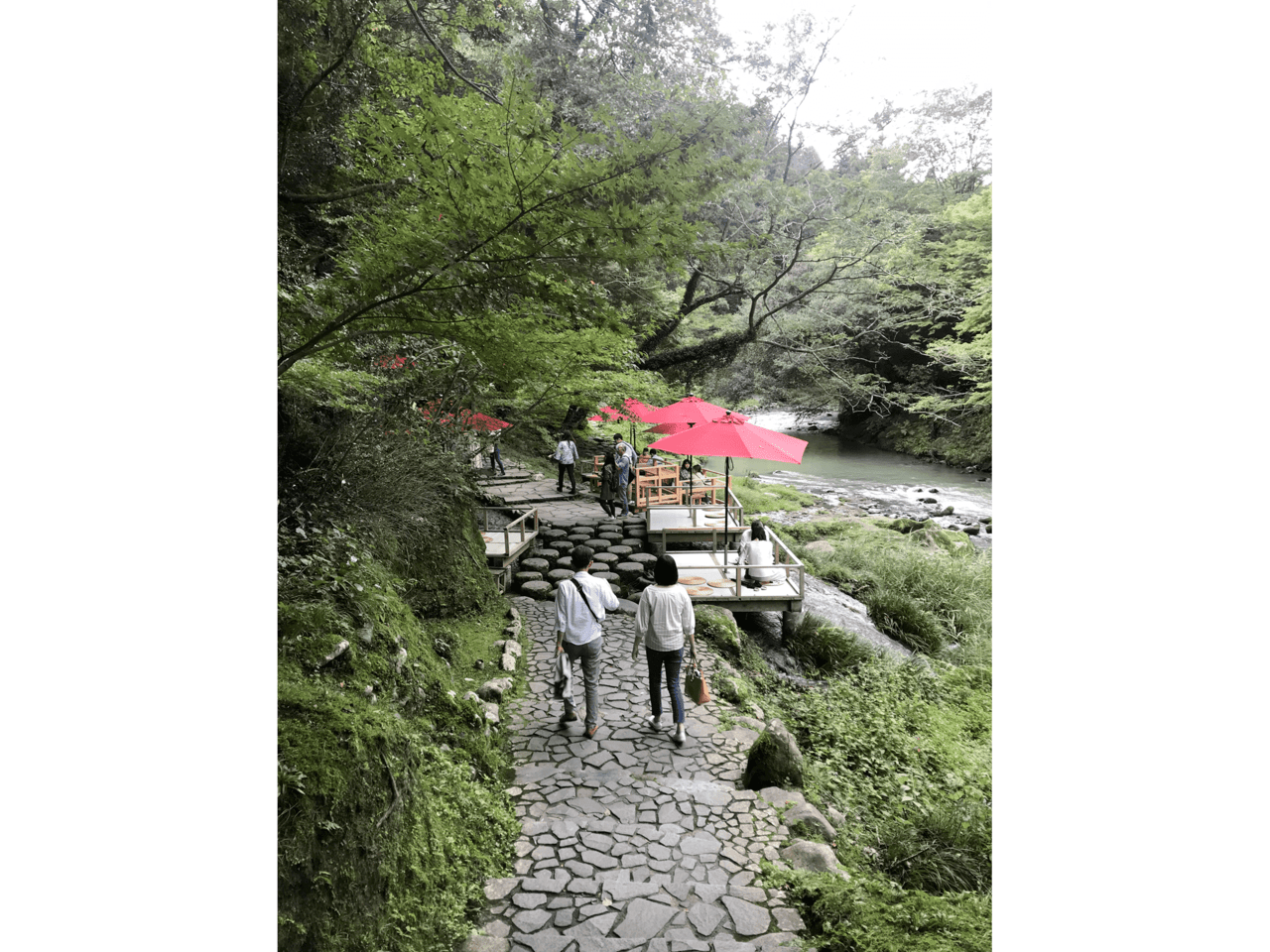 Nicest outdoor tea place I've ever been to!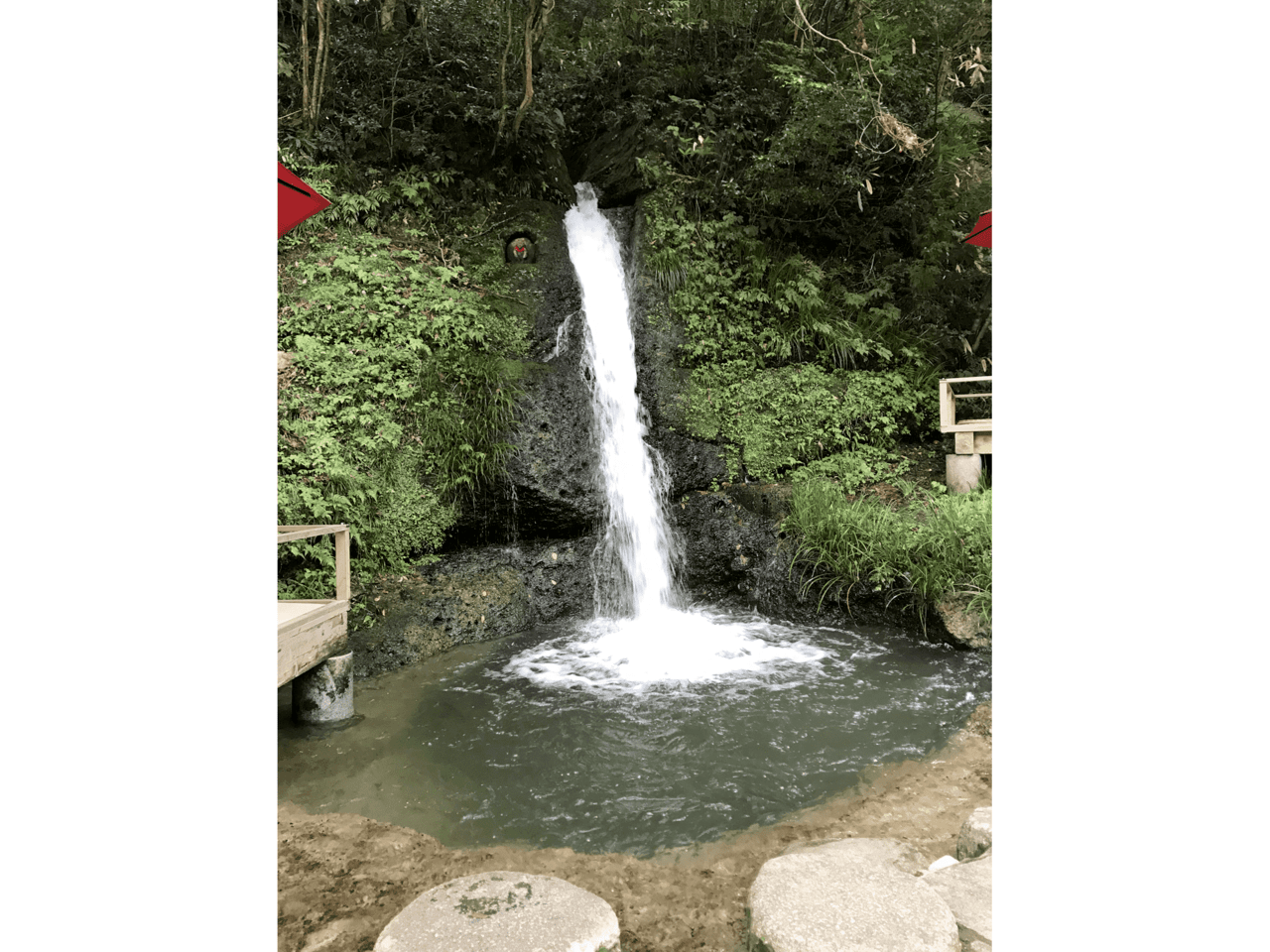 There, you sit on tatami mats directly next to the river and in the water that comes down from a waterfall! It's really a cool location and if you ever visit this village, you absolutely must have a tea there. We watched the nature for a while before we continued with the tour that led us through such green nature, it was so impressive.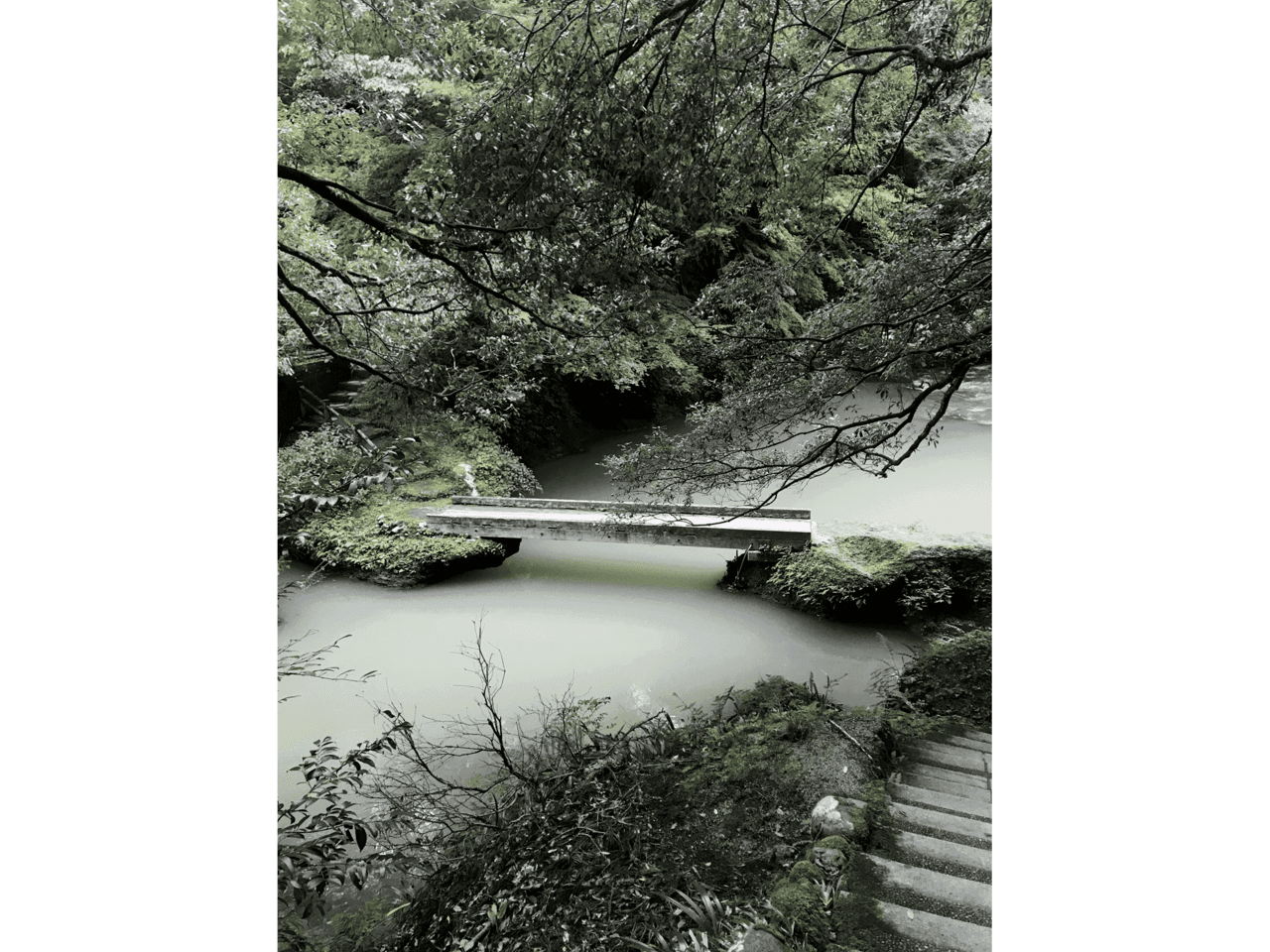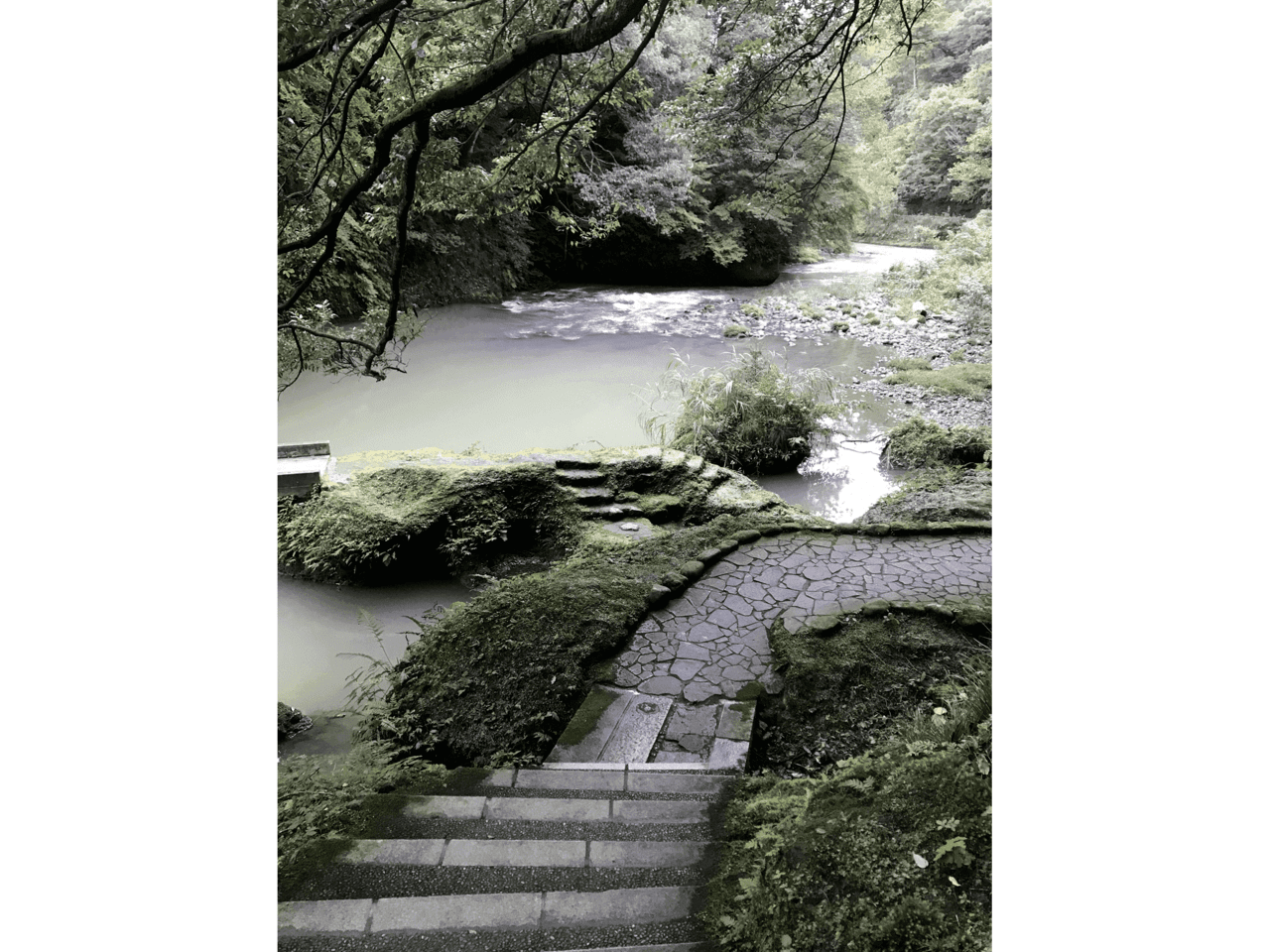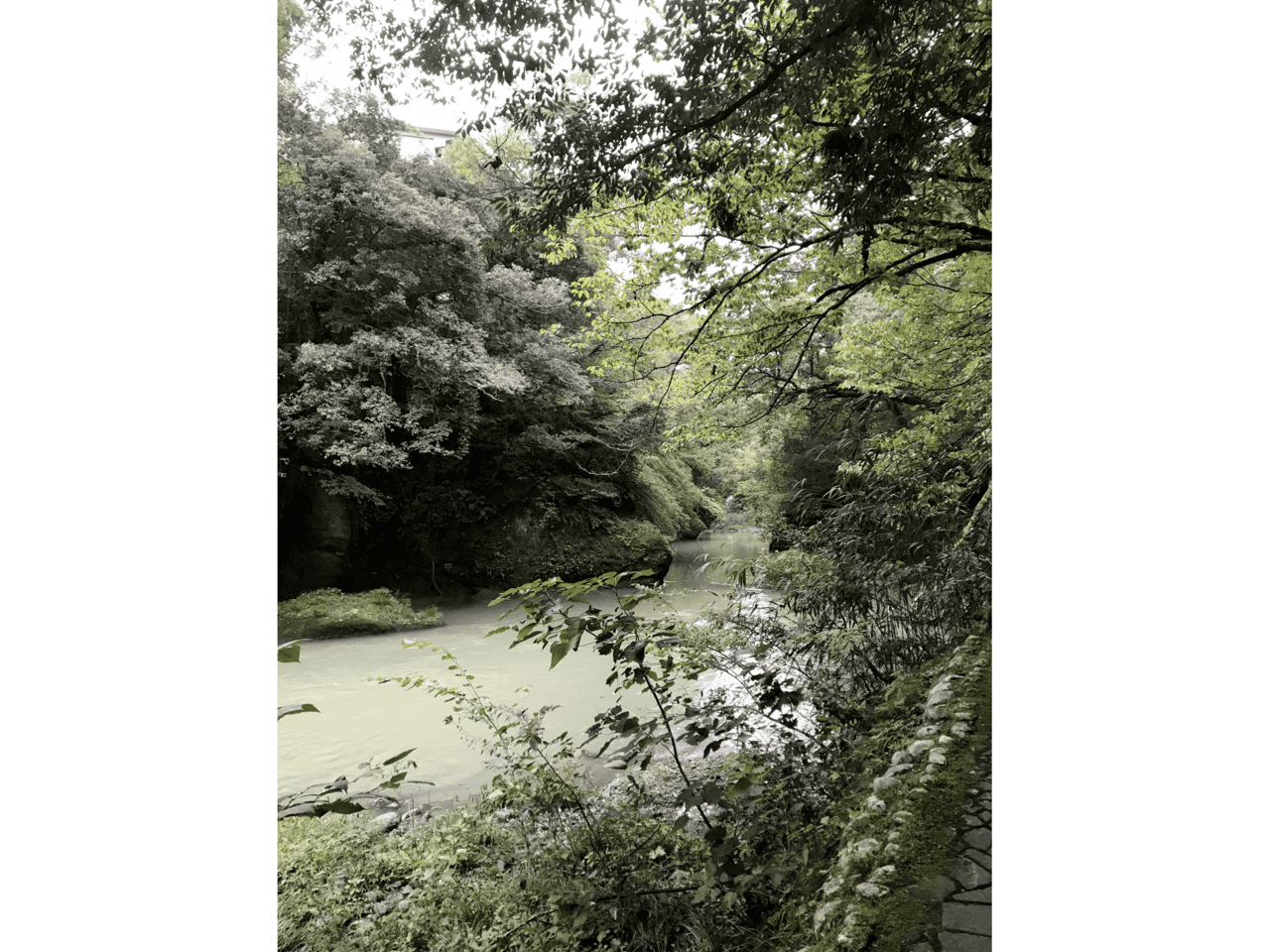 We also went uphill for visiting a remote shrine from where you had a nice view over the village.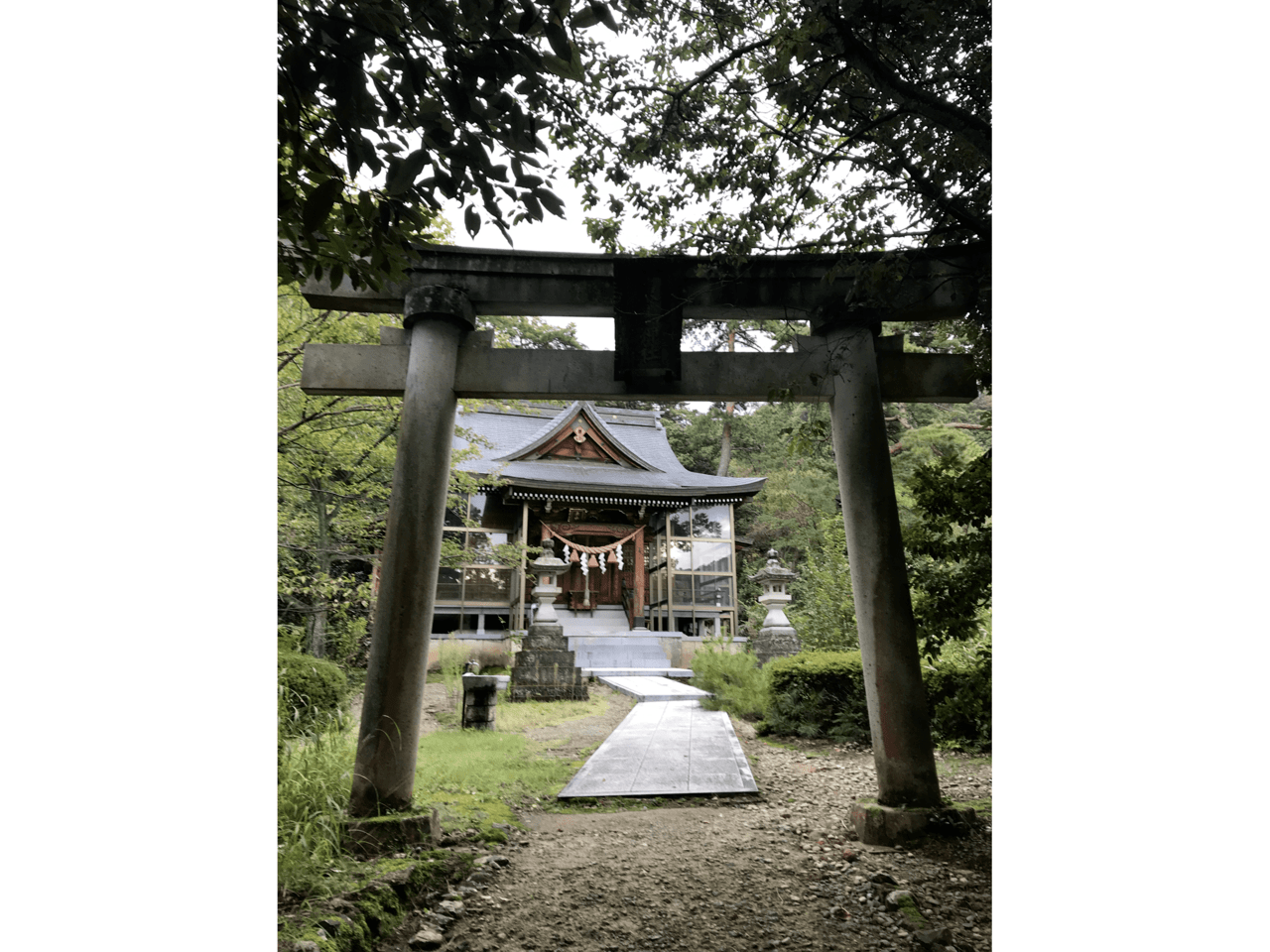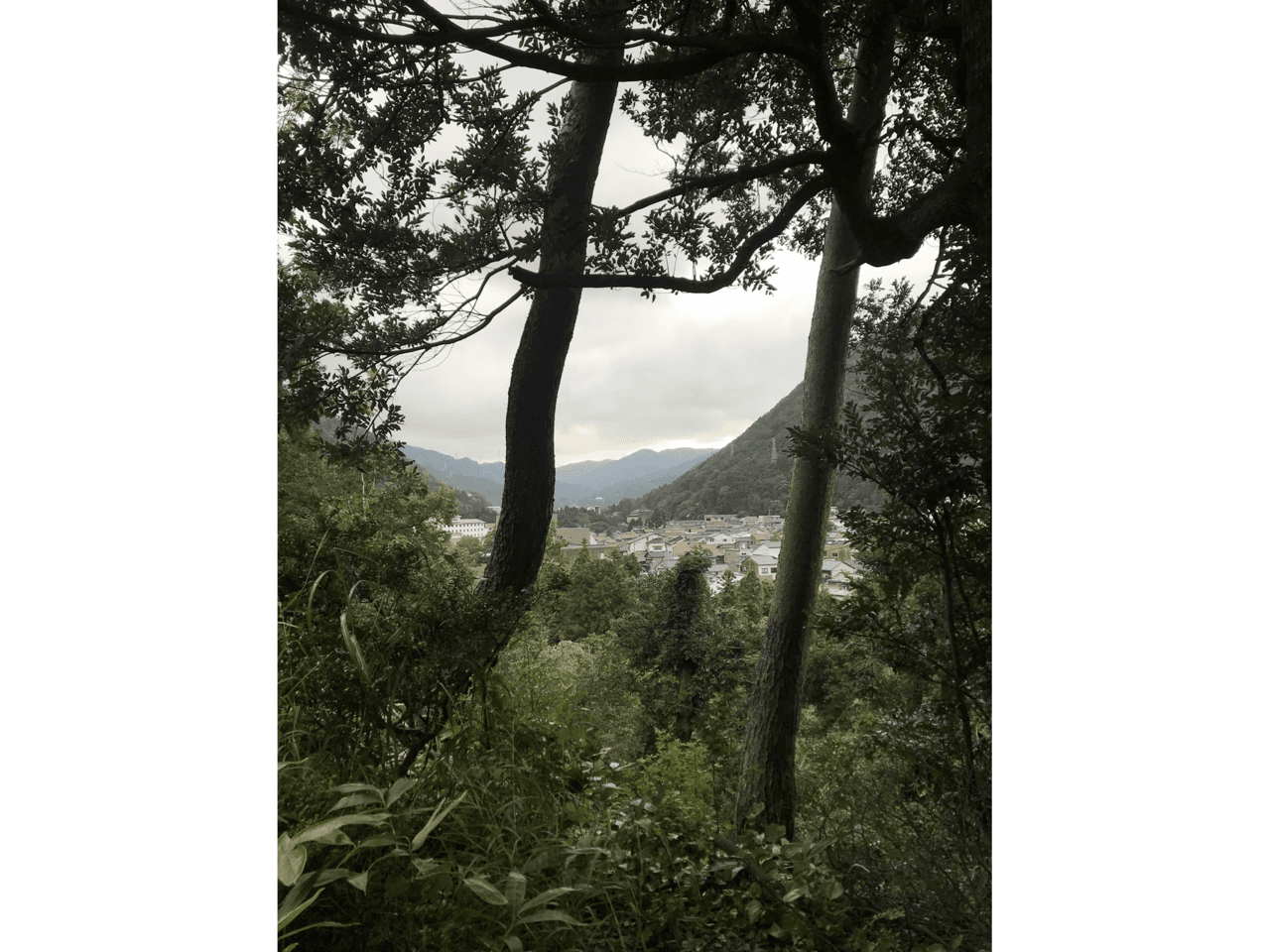 Yamanaka Onsen from above
Sometimes, the air smelled a little strange because of the various hot springs that are underneath the village. We had to adjust to that smell, but after a while, it's okay and you don't realize it anymore. But still, also the hotel room smelled kind of off because of the sulfurous quality of the hot spring water.
We finished our little tour at the main center of Yamanaka Onsen in front of the big public bath house where you can sit down and have a nice and relaxing foot-bath. There is one public foot-bath place where the water comes directly from the hot spring, it is really pretty hot but helps you relax immediately.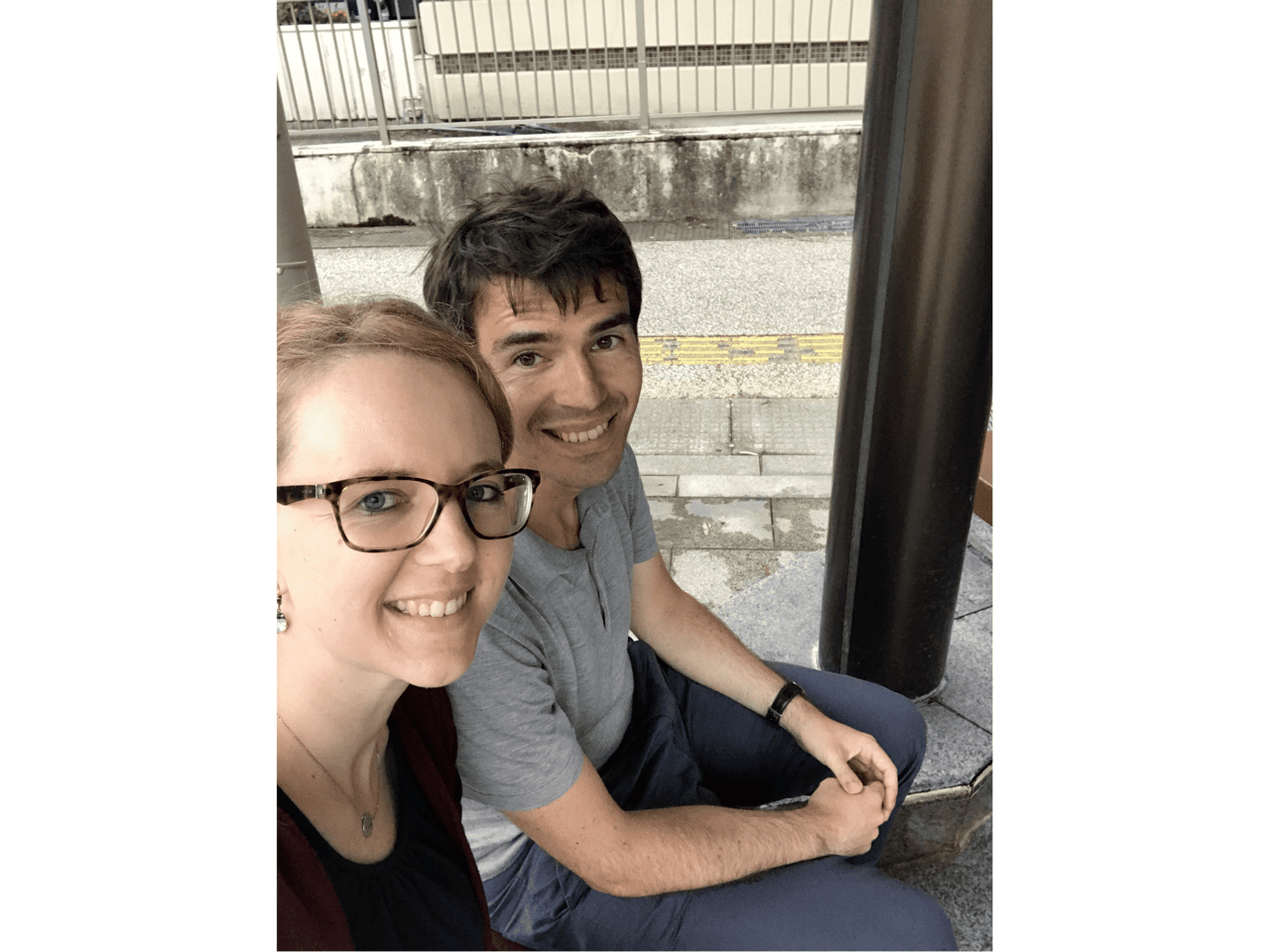 It's warmer than you might think…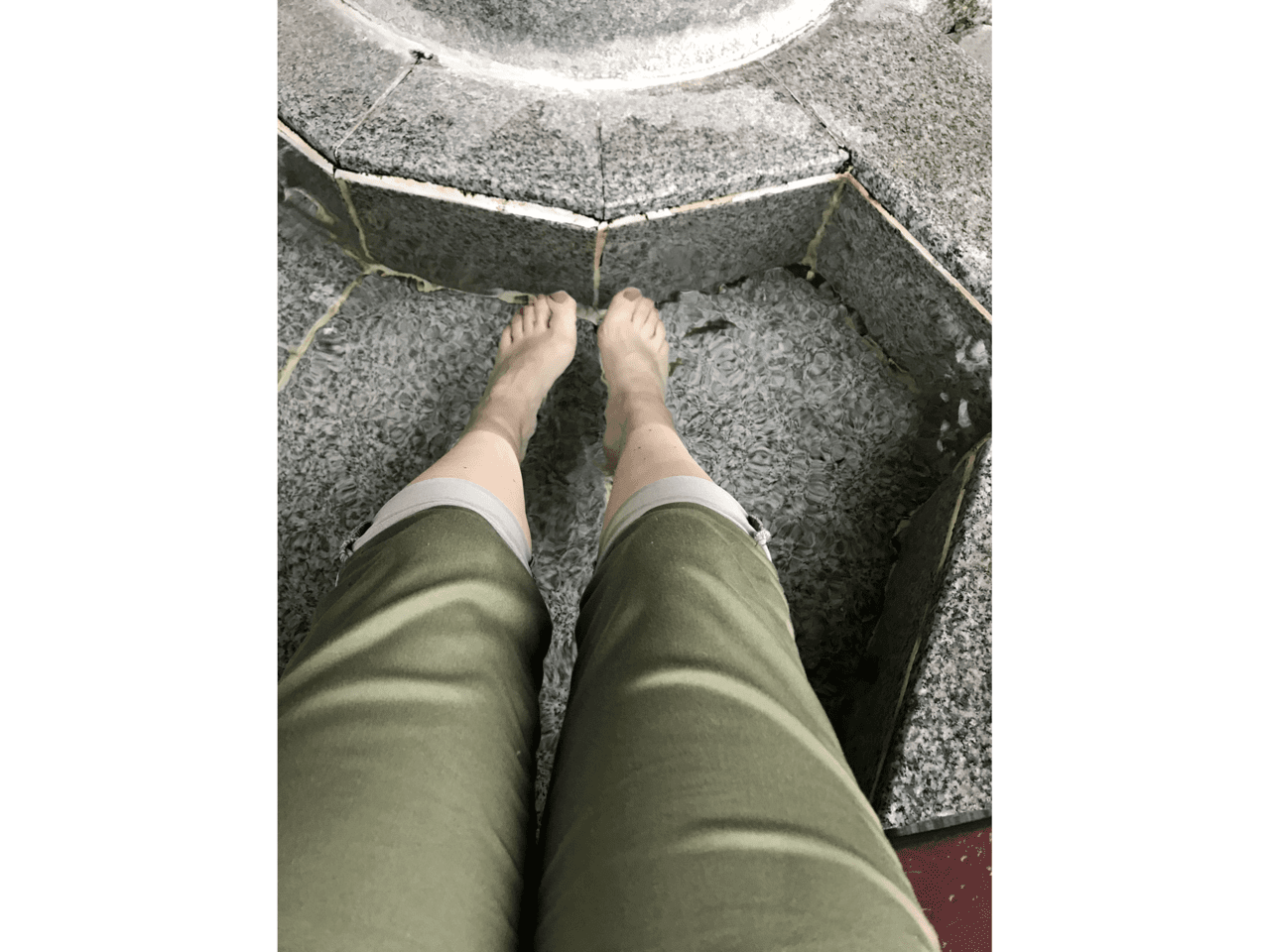 Our plan was to get a fancy dinner to celebrate our anniversary, however after 6pm, everything went suddenly dark and all shops or restaurants we could find were closed! We were a little surprised but it makes sense, as the typical Onsen guest will have a nice and fancy dinner at his hotel and not outside. Of course, we didn't book a dinner at our hotel so there we were, struggling to find food as we were getting more and more hungry. Lucky for us, we found a very tiny restaurant, run by an old lady who conjured a fantastic teishoku meal (Niklas got fish, I got Hamburger steak) that wasn't even expensive and tasted good. However, we were the only customers so it was a little awkward, especially as the large television was running in a very loud volume. But, we had a nice dinner and went back to the hotel with happy smiles on our faces. :)
After a wonderful hot bath in the private Onsen area of the hotel (I enjoyed an outdoor hot spring pool, it was perfect) we went to bed early as in Japanese hotels, the breakfast is served extremely early and we didn't want to miss that!
Day at the sea
It was the first time for me to enjoy a Japanese and Western style mixed buffet breakfast and my expectations weren't disappointed: there were fish, rice, miso soup, lots of pickled vegetables, but also Chinese food, a small corner with toast and even ham! A strange mix for breakfast but everything was really delicious. As breakfast stopped at 8:30, we checked out early and went back to Kaga Onsen station to get on the loop bus which would bring us to the seaside of the Kaga Onsen area. As the weather was pretty nice, we were looking forward to see the beaches and enjoy the sea.
At Kaga Onsen, there is a quite interesting way to go around and see all places this town has to offer: just use the so called Can Bus. There are two loops, the mountain and the sea route, that takes you to all interesting places and sights. You buy a day ticket and can get on and off anytime. We chose the sea route and boarded the bus and a nice lady from the tourist office staff accompanied the whole tour. She explained and highlighted all important sights. Of course, it was all in Japanese, but thanks to our lessons, we were able to understand a little of it. Also, she was very anxious that we would get off at the right station (she asked us before where we wanted to go) and was even trying to explain in details where we should walk and where we should get back on the bus later. It was a little funny for us as the village at the sea was tiny and there were not many possibilities to get lost.
It was very windy at the sea so that our nice little walk was not so comfortable but we managed to get some nice pictures and enjoyed the salty air of the sea!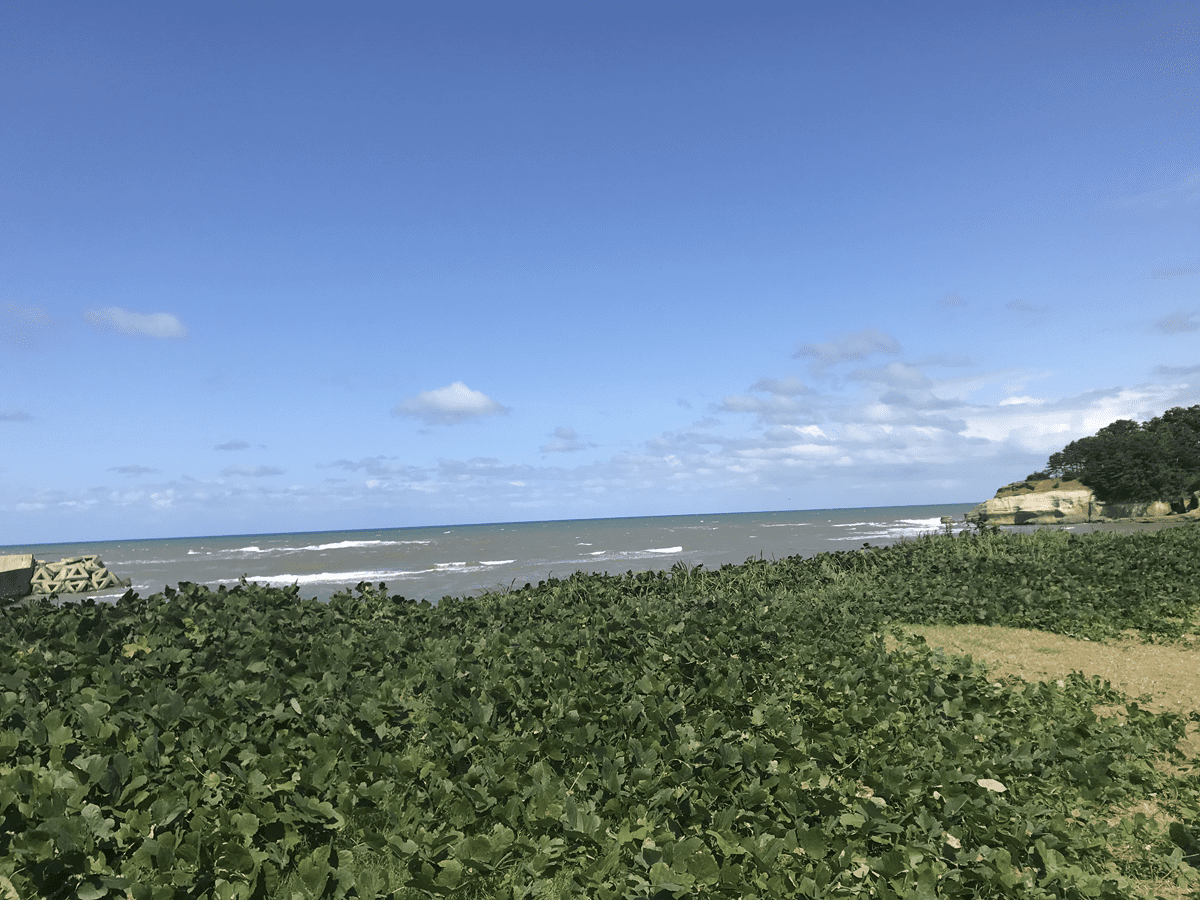 Also, we had a nice lunch at a small restaurant, again run by an older Japanese lady who served also some kind of set meal and was happy that we were able to talk in Japanese because English would not have been possible. :D Meanwhile we are able to understand in average about 60% of a Japanese menu and we can order the basic stuff pretty well, however if you are not able to do that, it's really difficult to get along. It is a little crazy: they have this Can Bus and English speaking staff to show tourists around, but at the local shops and restaurants, you will sometimes still have a hard time getting along without any knowledge of Japanese. This contrast is so interesting. You could see that this area is now visited more and more by foreign tourists, however still not enough to ensure a foreigner friendly infrastructure everywhere.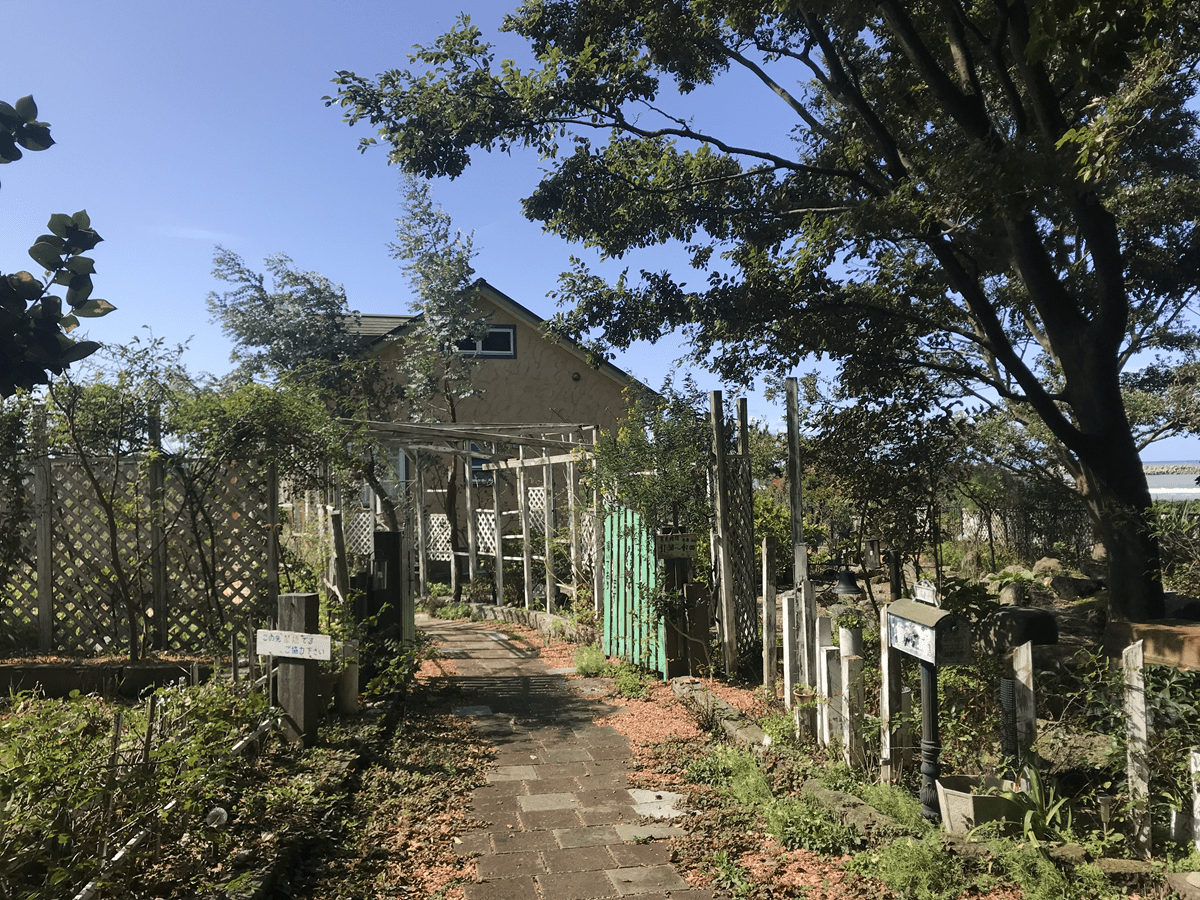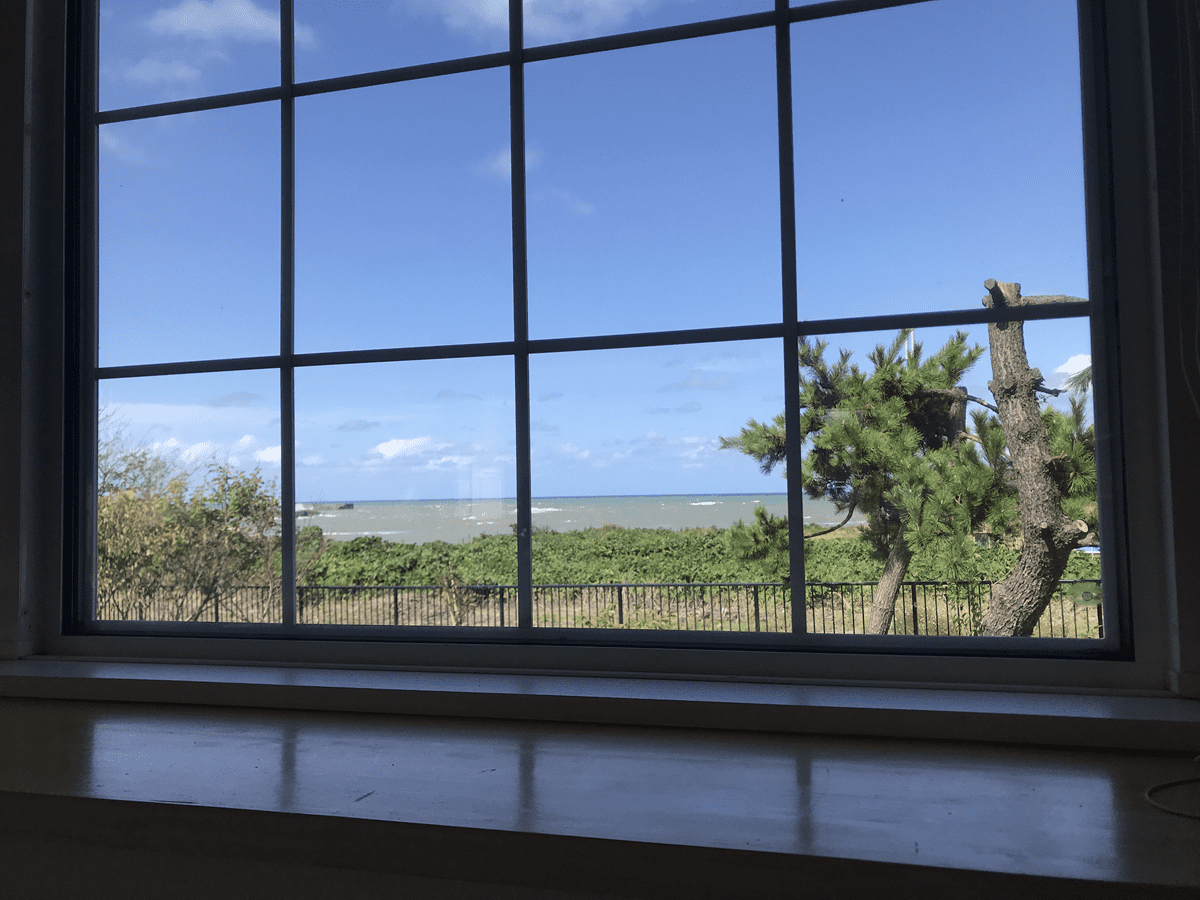 Perfect view for lunch!
After the lunch we went to see the Amagozen Cape, a pretty impressive landmark along the beach from where you could watch the incoming airplanes for Komatsu Airport! We walked through a small park and followed a path that brought us near the shoreline, however you could not enter the shore (and you would not want it as the sea was very rough that day).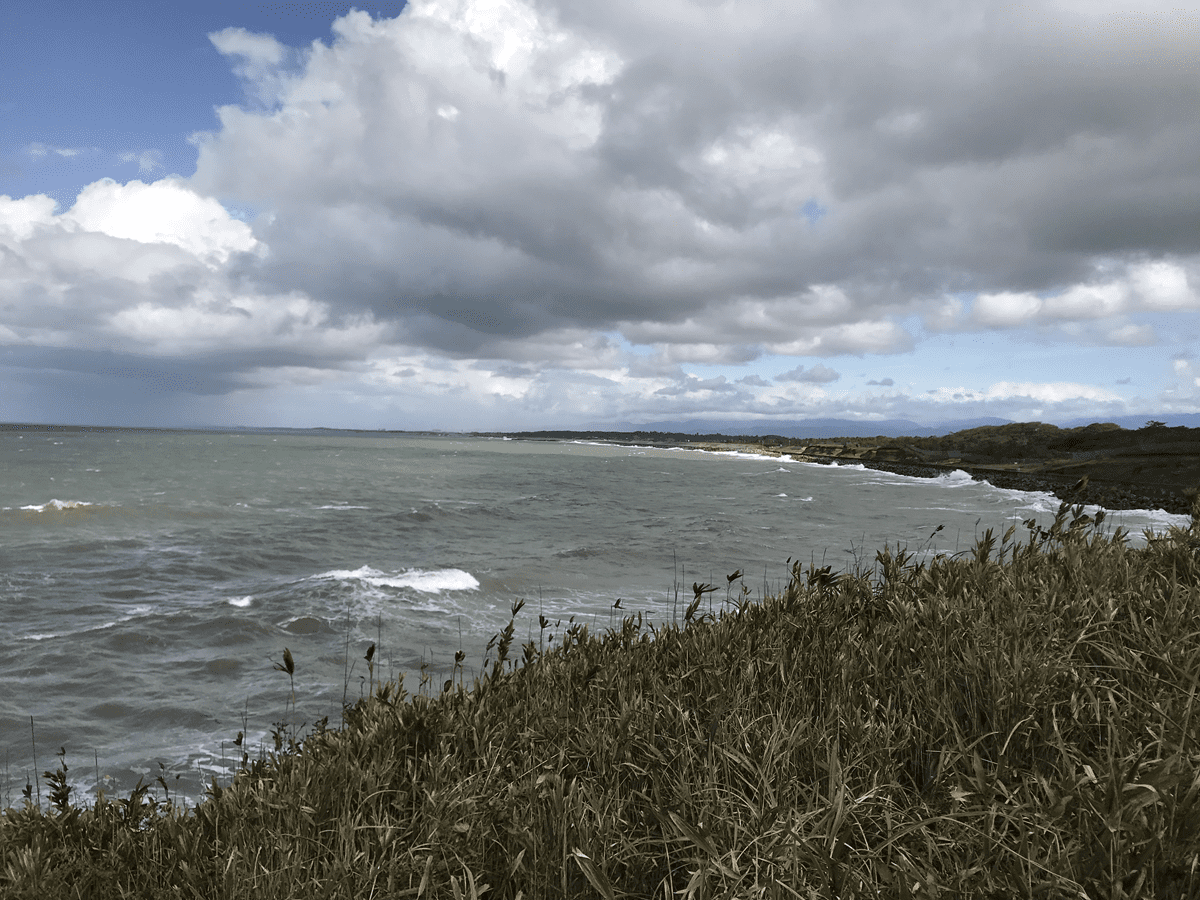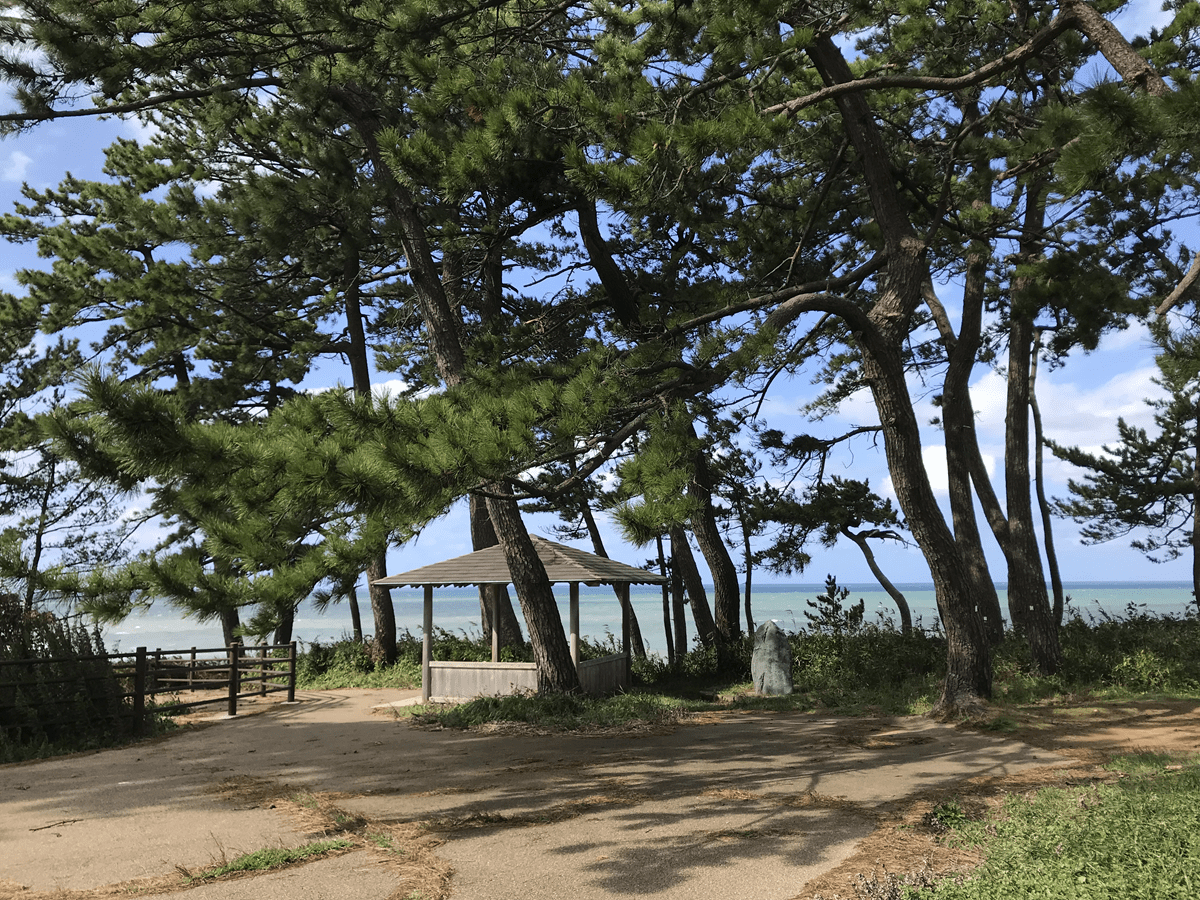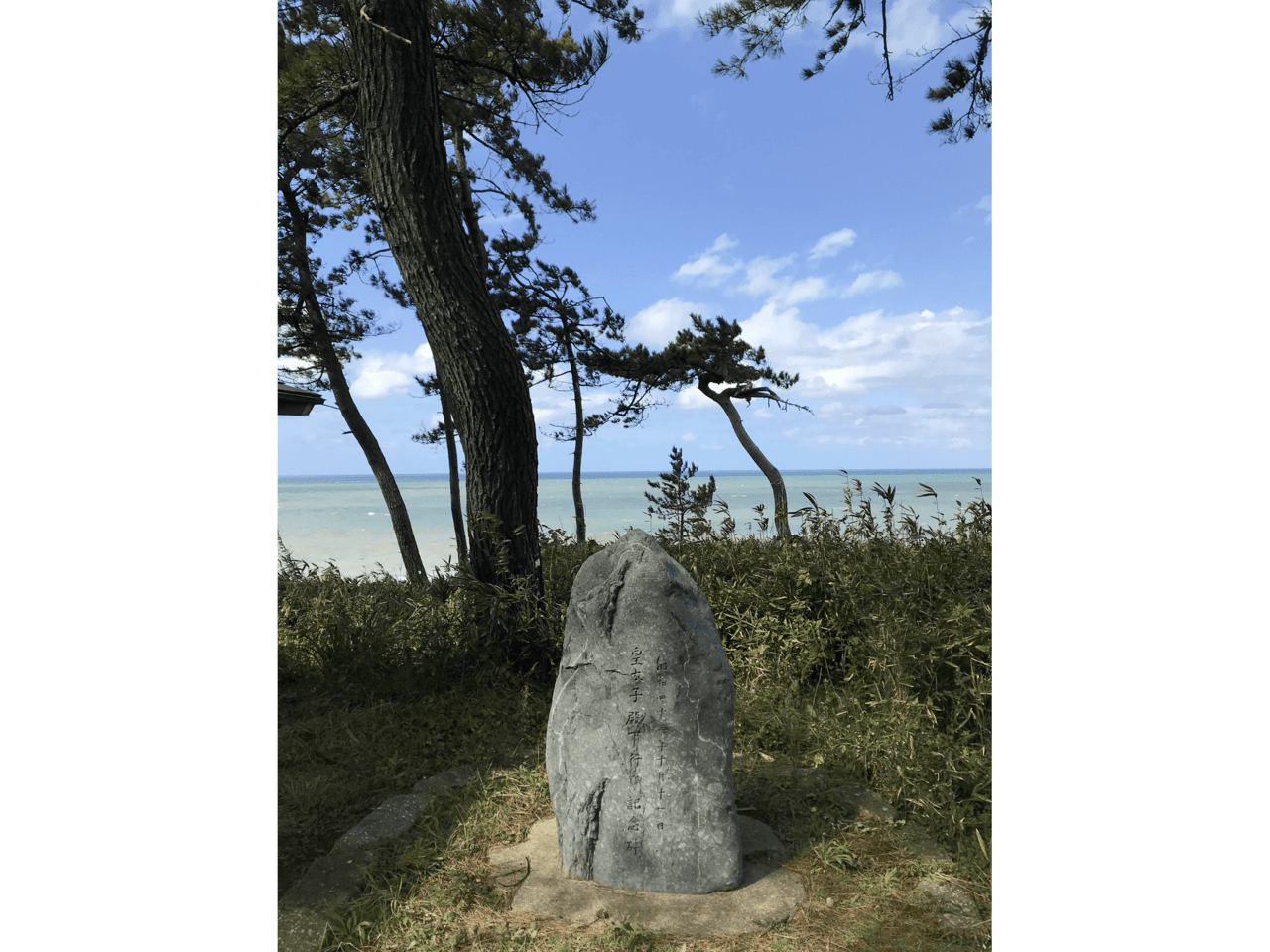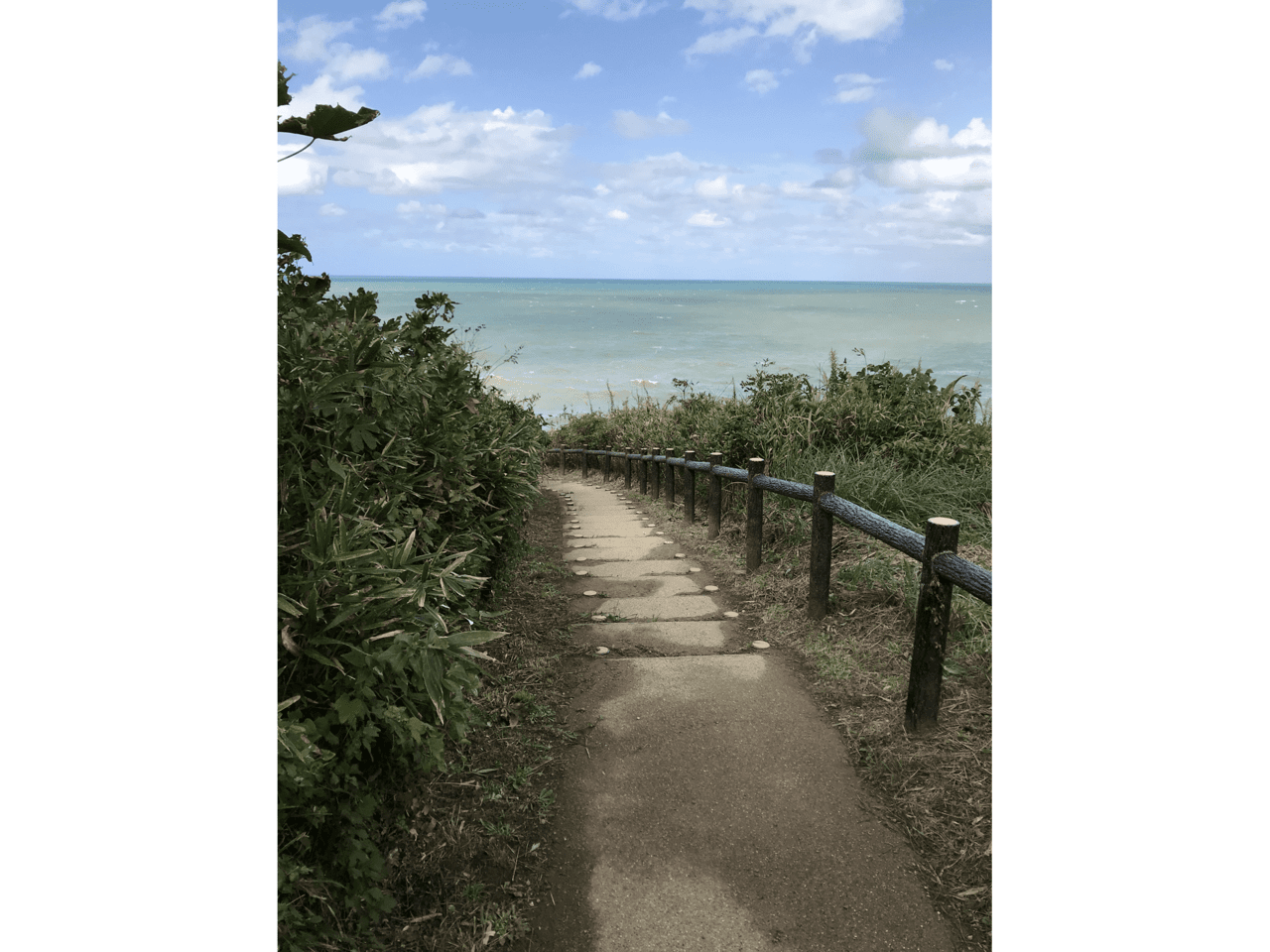 After this adventure, we took the Can Bus back to the station (our tour guide from the previous ride was on this bus again and greeting us with a loud "Welcome Home!" She seemed to be relieved that we didn't get lost… which would not have been possible…) to catch the train back home to Kanazawa.
Last adventure for the day: the train service had stopped due to an accident but it took us a long time to figure that out because the staff was kind of hiding from us (Speaking English and explaining what happened? Oh no!) and we had to decipher the hand written Japanese, informing about the problems, ourselves. After a stroll through a shopping mall to kill waiting time, we were informed last minute that the trains would start soon and a train to Kanazawa was currently waiting at the tracks for passengers. I can tell you, we were really happy to catch that train. ;-)
Should you visit Kaga Onsen?
If you have the chance, then you should definitely go. It's a nice area with lots of different landscapes and so many different public bath houses! Also, the craft is very special and worth a closer look. The infrastructure for tourists without a car is really good, you can do everything by bus or train. Huge advantage: there are not so many tourists around so you can enjoy this area without the feeling of getting crushed by too many people.
For our anniversary, it was a perfect get-a-way spot and we can absolutely recommend it to you!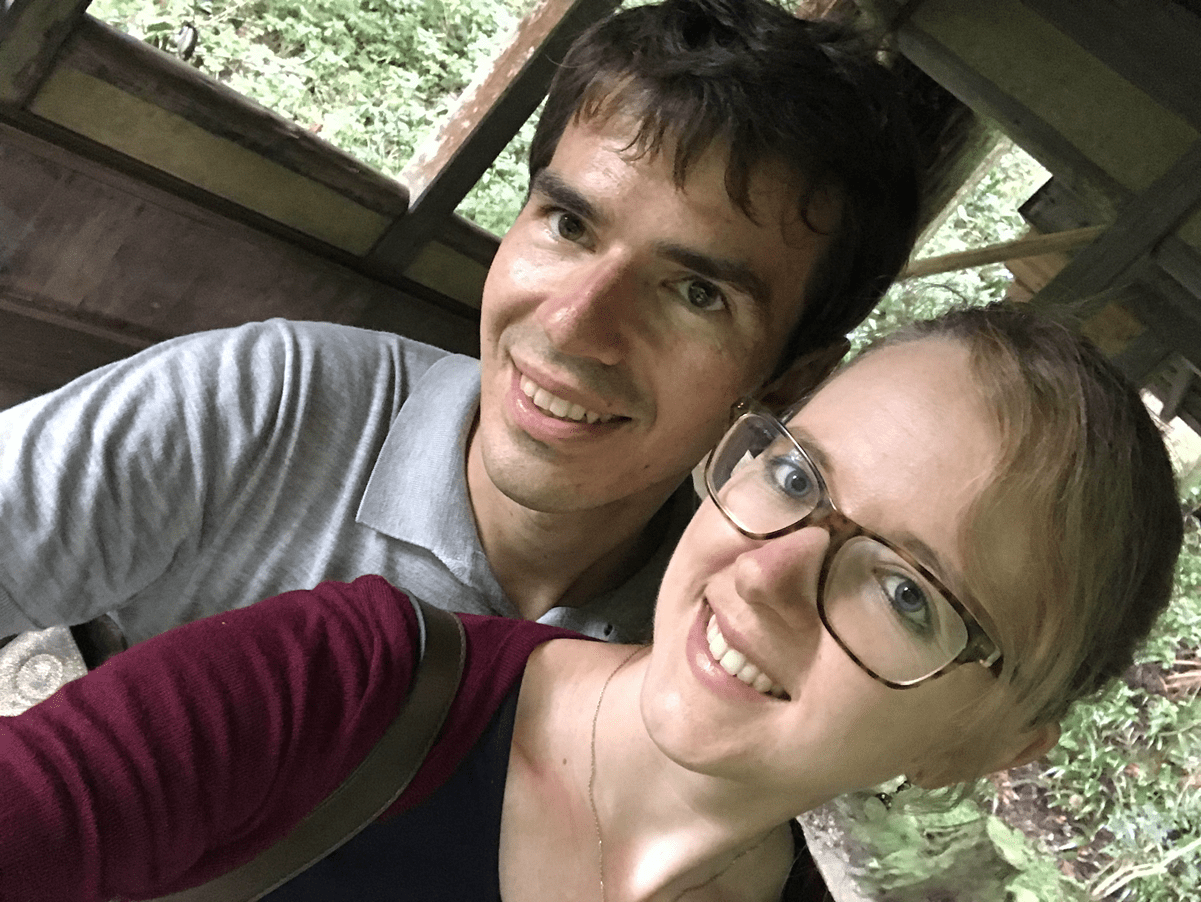 To many more years to come! :-*