Hi everyone, in this post I want to share our memories of our most recent trip to Wakura Onsen! We have only stayed there for less than 48 hours, so our route is suitable for everyone who doesn't have too much time and wants to see some highlights.
Due to the COVID crisis, foreign tourists cannot enter the country. Therefore, the tourism sector is facing an economic crisis never seen before. In this year, only inbound tourism will be possible and now, as the situation in Japan seems to be mostly under control, people are encouraged to support their local tourist economy and spend some money on hotels or other related businesses. Also, many prefectures try to boost the local tourism by supporting hotels to offer their guests special offers to get them to stay there. Even some Shinkansen tickets will be cheaper for a while to make traveling more attractive. Due to various special offers we were able to find a great last minute hotel deal at Noto Peninsula, which is close to Kanazawa and which we have wanted to visit since our first day here!
About Noto Peninsula
Noto Peninsula extends about 100 km north of Kanazawa and is part of the prefectures of Ishikawa and Toyama. It is famous for its stunning nature: the coastal lines, the mystical forests and the rural atmosphere are not only fascinating for Kanazawa citizens: many visitors from Tokyo or Osaka come for a weekend trip to enjoy this special place. The main tourist centers are Wakura Onsen and Wajima Onsen. But even with many tourists coming to visit, the cities have kept a relaxed atmosphere.
We decided to stay one night at a Ryokan at Wakura Onsen, which is the most famous hot spring resort in Ishikawa and get some distance from the city and the daily life. Spending a night at such a Ryokan, a traditional Japanese styled hotel, is something everyone who comes to Japan must do at least once! We already stayed at various Ryokans, which were however quite small and not as luxurious as the one we chose for Wakura Onsen. Therefore, I was not only excited to see Noto but also to experience the Ryokan.
What we experienced during our trip: spa, great food and nature
We only visited Wakura Onsen and Noto Jima, as we didn't have too much time. Of course, there is still a lot to see in Noto. But even on this short trip we could already experience some cool things!
Day 1: Discovering Wakura Onsen
We came to Wakura Onsen by express train which takes around one hour from Kanazawa station. There are only fews express trains running during the day, so better check the timetable in advance. Besides us, there were only few people on the train, so we felt very safe and comfortable. When we arrived at the small station, a lot of busses from the various hotels were already waiting for their guests to drive them to their destinations. We were surprised about that service and really happy to be driven to the hotel instead of having to walk there. A good start! :)
Our hotel Noto Raku didn't disappoint: from the first minute, we were greeted by very friendly staff, the female staff was wearing Kimonos and the interior design was really impressive! A highlight were huge floor length windows at the backside of the lobby where you could sit and watch the water. So nice!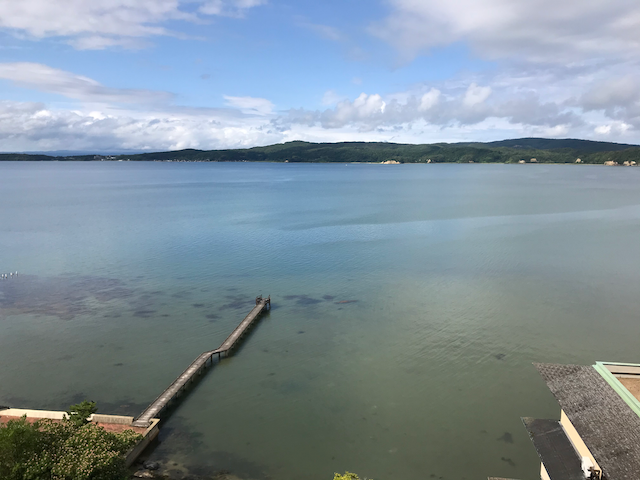 View of the bay area
After our check-in we were shown our Japanese styled room by the friendly hotel staff. The room was so cool - we were happy that we booked a seaside room, we had a great view of the bay and Noto Island and as the weather was nice, we could even enjoy a sunny view. During daytime, we only had a table in our room to sit and relay.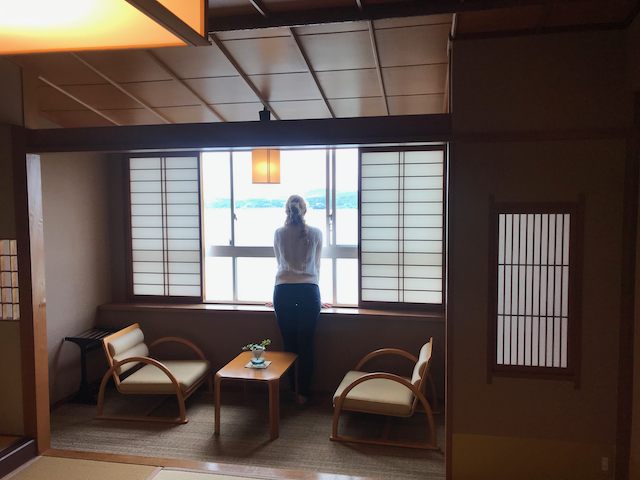 Our hotel room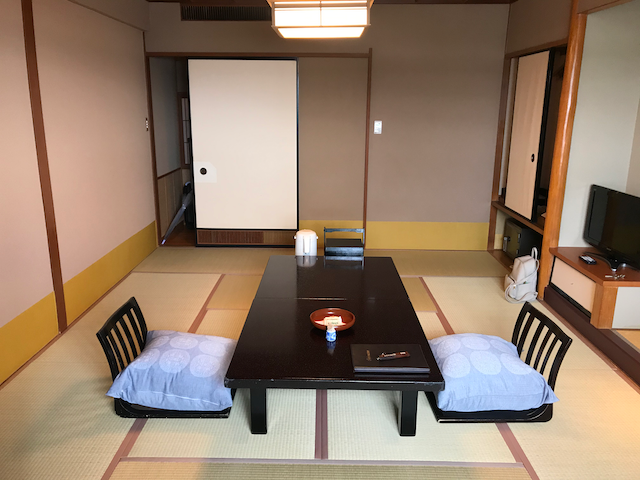 The futons would be prepared by the hotel staff during our dinner time.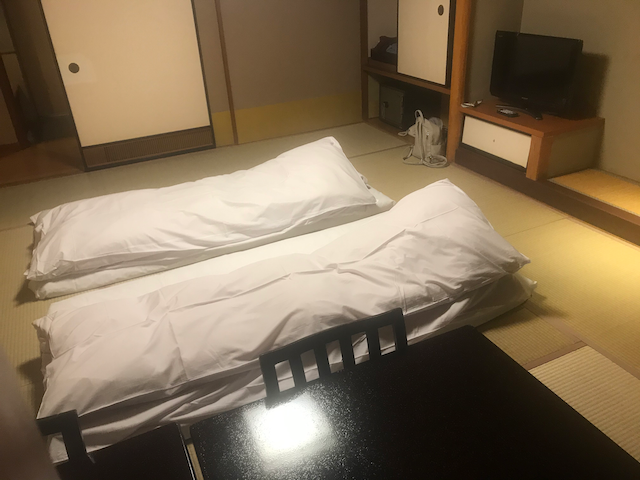 As the weather was so nice and we still had the whole afternoon for ourselves, we decided to take a walk through the hot spring town and discovered the nice public foot bath at the sea.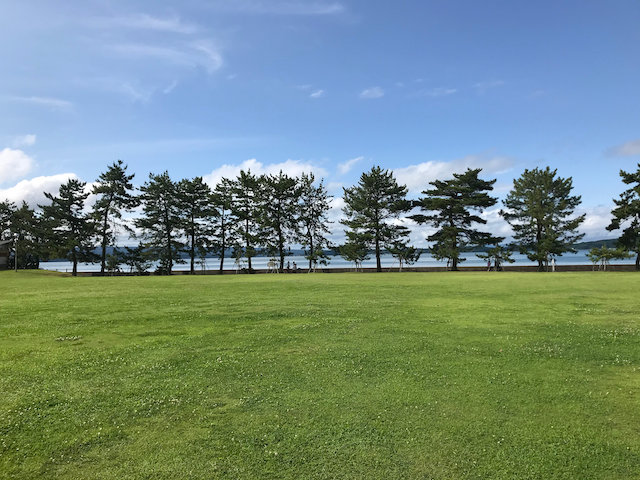 Seaside park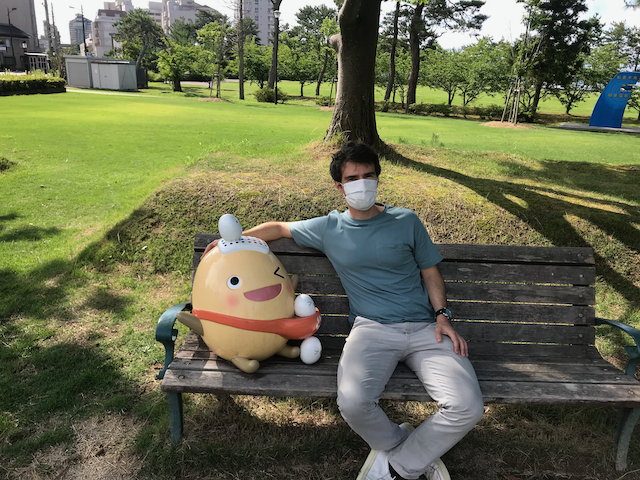 You can reach every major sight of the town within 20 minutes by foot. Strolling around is super relaxing (not much traffic) and interesting as you can see many different hotels. As most of the buildings in Wakura Onsen are big hotels or Ryokans, it's really a touristic place. However, we also discovered small and nice parks, shrines, small streets and various boutique shops which all contribute to the cozy atmosphere of the town. There is even a park where you can discover some famous temple buildings and take part in meditation practice.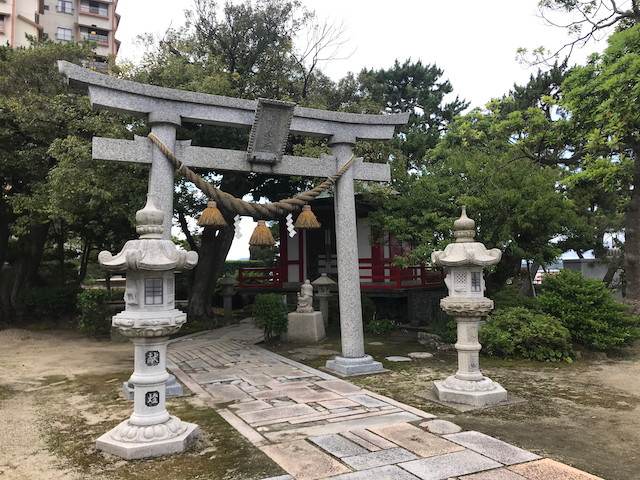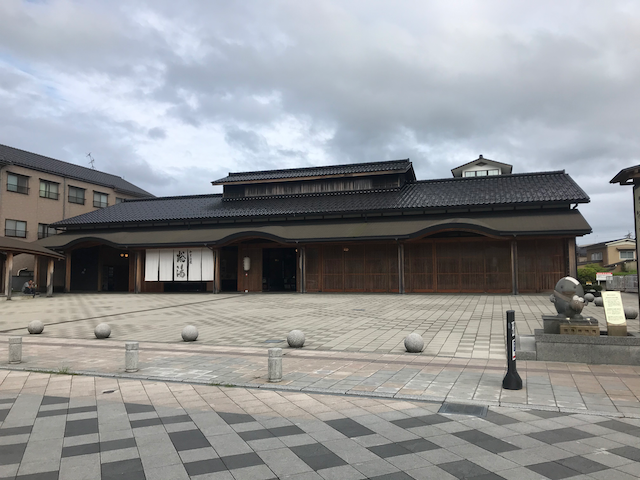 As we were really lazy, we spent a most of the time at the public footbath in front of the sea (it was so hot!), watching the bay and relaxing. Again, there were not too many people walking around, so it was not crowded and we didn't feel uncomfortable. I highly recommend to try that if you are in that area.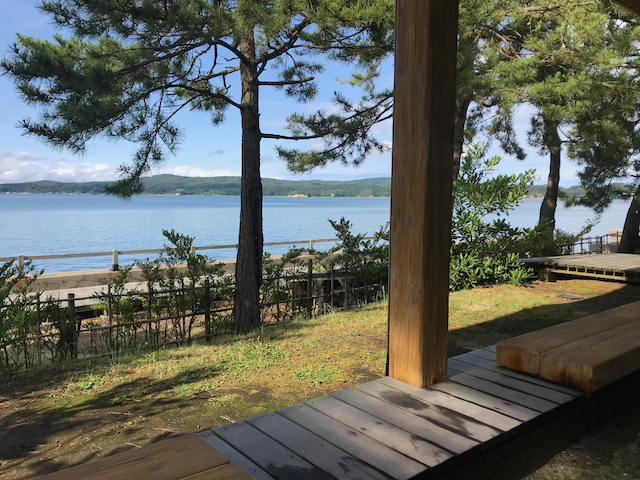 Footbath with a view!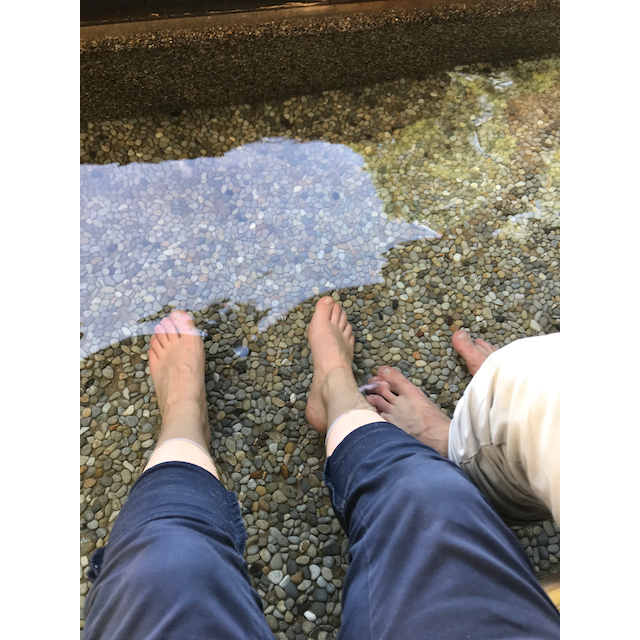 The water was really hot by the way…
After our walk around the small town, we went back to the hotel to enjoy the spa area before getting ready for dinner. The onsen area was really big! Both men and women onsen had various outside baths from which you had a perfect view of the bay and Noto Island. I enjoyed it a lot. The water temperatures were quite high so you cannot stay too long in the water, otherwise you'll get dizzy pretty fast, especially during this humid weather. If you book a nice hotel, make sure to spend enough time at the onsen area! Not only is the water of the hot spring good for your body, but the view of the sea is unique - at least in Ishikawa prefecture.
We enjoyed a perfect Japanese styled dinner, with various small dishes that were served faster than we could eat!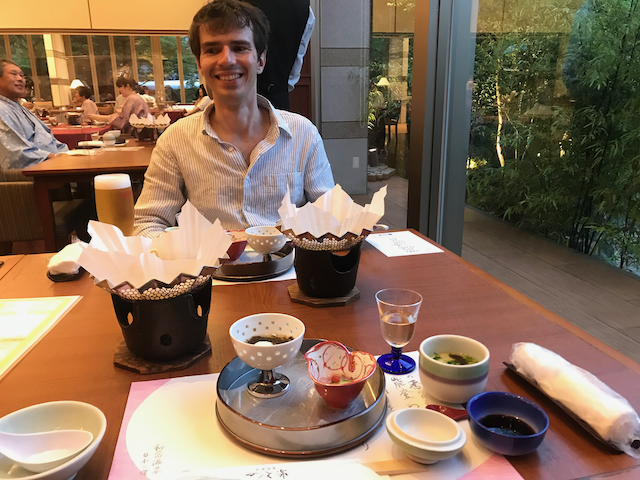 Typically, dinner at a Ryokan is served very early so you have time afterwards to go back to the onsen area if you prefer. Also, breakfast is served rather early (between 7 and 8 am). Therefore, we decided to have a short walk after the dinner along the shore to digest all the food before heading to bed. Bathing in onsen water really makes you tired!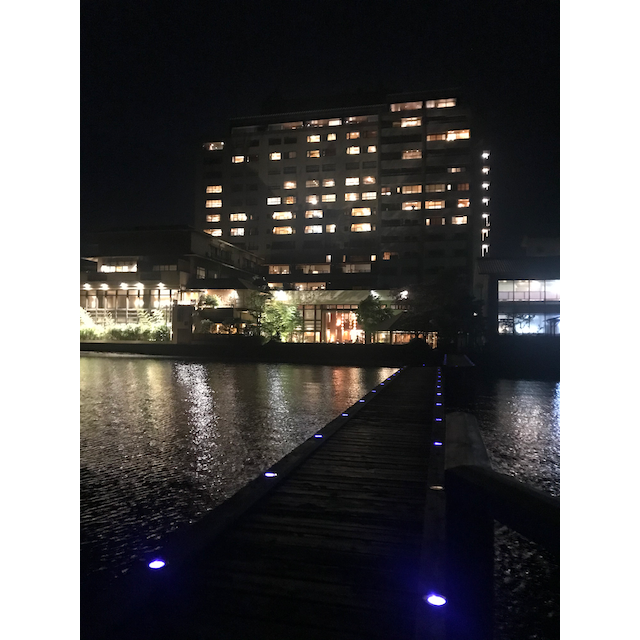 Day 2: Discovering Noto jima
Sadly, the weather was really bad the next day. When we got up and had our first look outside, we were greeted by pouring rain. :( Before having breakfast, we enjoyed another bath at the onsen area (the outside bath is also nice when it's raining) to get a relaxing start of the day. Breakfast was traditional Japanese - this means that you get a lot of small dishes like various salads, fried fish, egg, rice and soup. During breakfast, the rain got even worse, so we decided to try an indoor activity as having a walk outside was impossible.
We decided to visit Noto Jima and took a local bus to go to Noto Jima Aquarium, a famous and very popular place in Ishikawa that was recommended to us by various friends.
The bus ride took about 20 minutes and was quite nice. The route takes you all over the small island so that you can see different natural aspects like deep woods, stunning coastlines and very small villages. The aquarium itself is located directly at the sea and has a lot of outdoor areas. The view was very nice! Again, it was not too crowded and most visitors were families with small kids.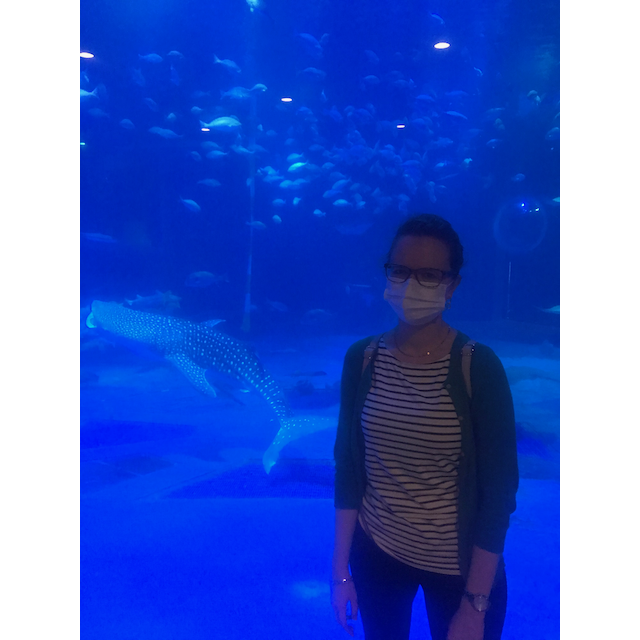 There is a huge fish tank, several meters high, where you can watch various types of fish (even big sharks!) swimming around.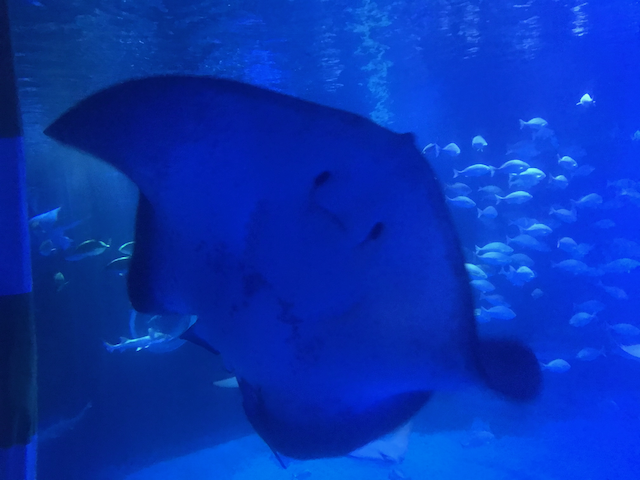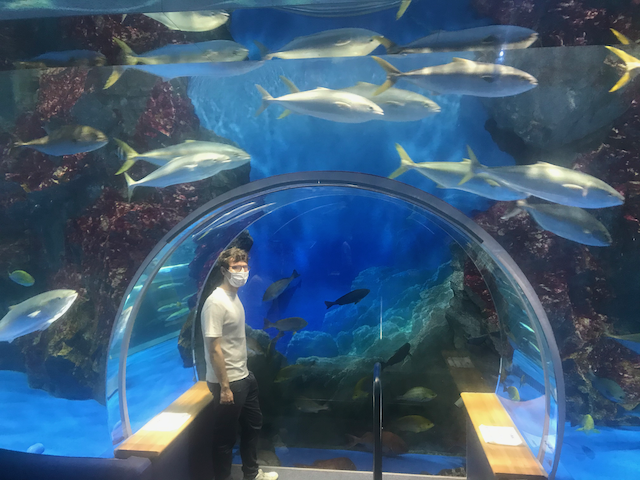 We enjoyed the facility a lot, there was so much to see like penguins, dolphins (including a show), beautiful and colorful fish as well as super creepy and dangerous ones. :o When walking around outside, we often were lucky as the rains stopped for a short time and we could walk without getting too wet.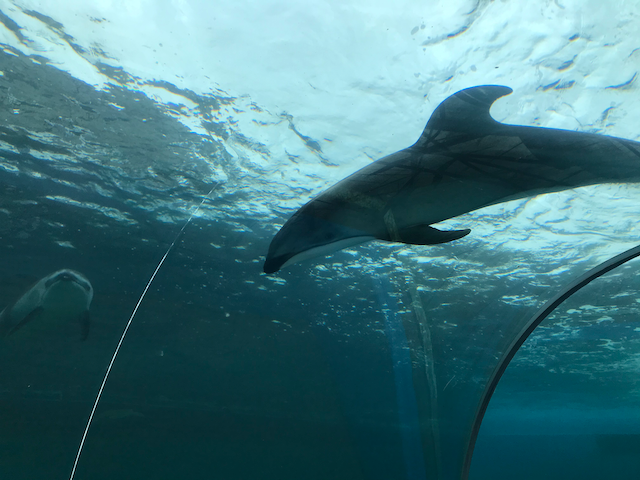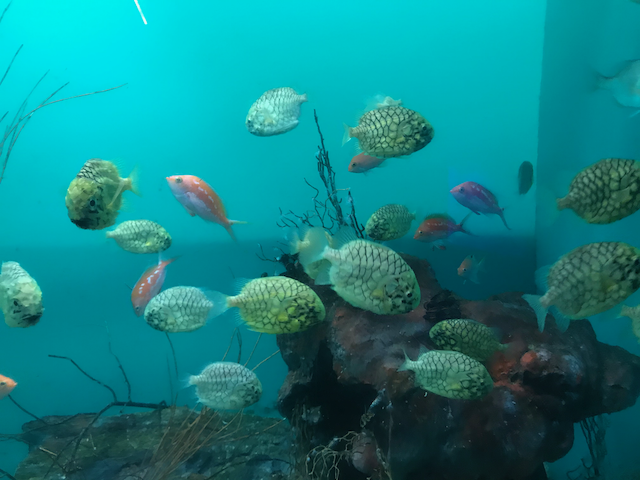 At the end, we had lunch at a restaurant directly at the shore where we could watch people trying to fish.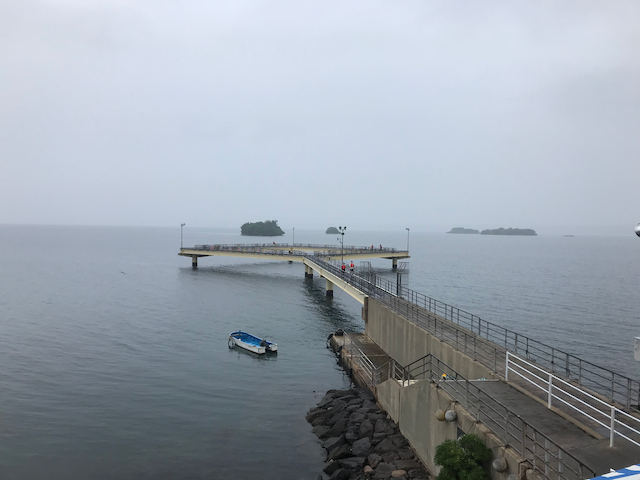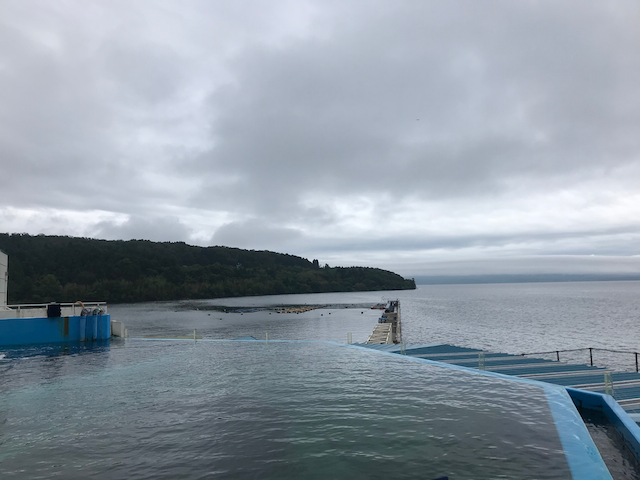 After that cool experience, we went back to Wakura Onsen train station and traveled back home to Kanazawa, feeling refreshed from the short trip to Noto's mysterious countryside. Again, we were lucky as heavy rainfall started in Kanazawa after we arrived home safely. One day later, the whole train service was suspended due to the unpredictable and dangerous weather.
As we enjoyed Noto so much, we already planned our next trip for the end of July.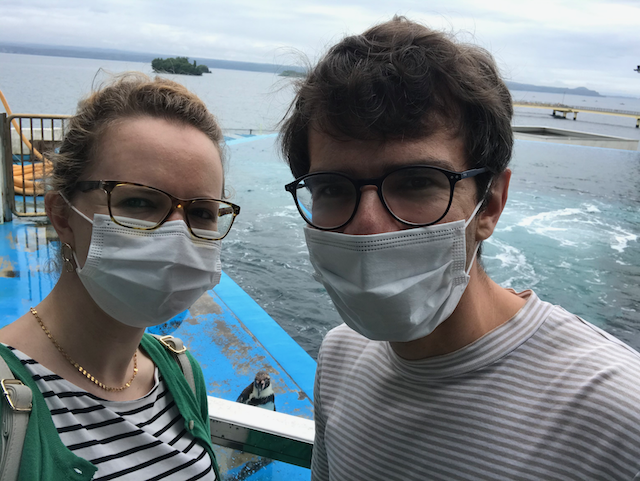 So stay tuned for more updates and pictures, hopefully coming soon. In the meantime, follow us on Facebook or Instagram for more pictures and insights! Stay safe everyone!