Hi everyone, I hope you guys are all healthy and safe while enjoying your summer vacation! For us, vacation is still a little bit complicated and we mostly stay in our prefecture. But we enjoy various day trips, mostly on Sundays! It seems that we have started to implement a new tradition. ;-) That's why in this post I will tell you about our hiking trip to Mount Hakusan.
As you might remember, we visited the national park already twice, in fall and in winter, but never in the hot summer time. Because the temperatures are too high already, we decided to do a small and easy trip to discover the nature instead of hiking up to the top - our muscles still burn when we think about our trip last year!!
This time, we met with Sho-san, with whom we already hiked through Iouzen (check out this post) and did the Hakusan winter hike (read about it here). He wanted to show us some interesting spots in the Hakusan summer nature: hidden trails, alpine flowers, a huge stone in the river as well as the fresh traces of bears. Together with our friends Sumie and Mochiko, we started our drive in Kanazawa very early (7 am). The past days, it has been all rainy and dangerous but this Sunday, the weather was peaceful (but hot). We were really lucky.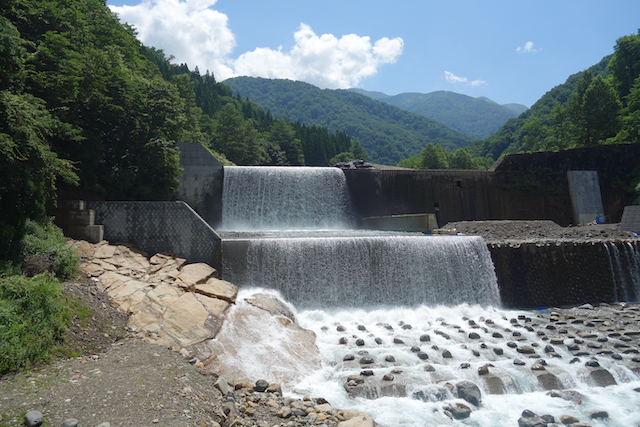 Tedorigawa River was really impressive on our way to the parking lot
Hiking around Ichinose Visitor Center
After 1.5 hours of driving, we arrived at the Ichinose Visitor Center, located next to the Tedori River. The center is one of the entries to the Hakusan peak hiking route. Here you can receive information about the condition of the trail and other important hiking topics. Inside, there is also a small exhibition about Hakusan national park where you can find lots of information about the animals and plants that can be found here. The rangers there can answer your questions as well. Due to the ongoing pandemic, we had to get our body temperatures measured and received a sticker, indicating that our temperatures were fine to get the permission to enter the hiking routes. Very strict! The sticker had to be pasted to our clothes so it was visible at all times. Also, we had to wear masks at the visitor center. I am glad that I brought one with me. The parking space was already occupied when we arrived so I guess, as there were many people hiking on the mountain, they had to implement these strict measures to prevent possible clusters.
Lucky for us, Sho-san showed us only very remote places so we barely met anyone on the hiking trails!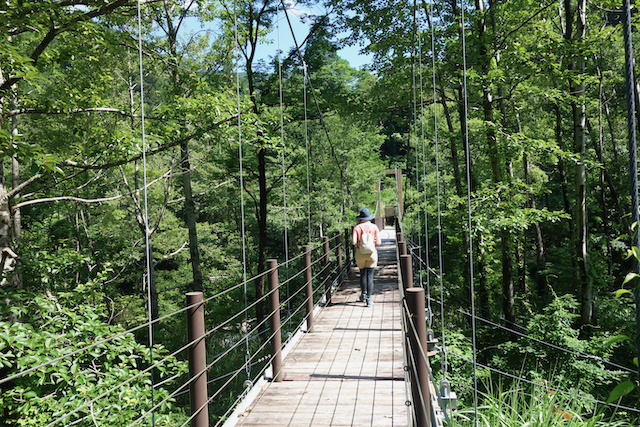 We had to cross Tedorigawa to get to the first trail.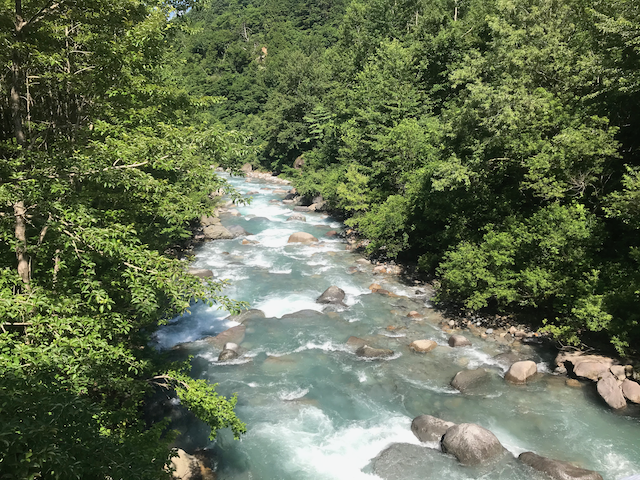 Due to the heavy rain in the past weeks, the river was really lively!
We started our small tour with a trip deep into the woods, following a very small path that we would have never found on our own. Also, after some time, the path was flooded with water! So we had to walk (more like: fight our way) through the dense green scrub which was not easy at all!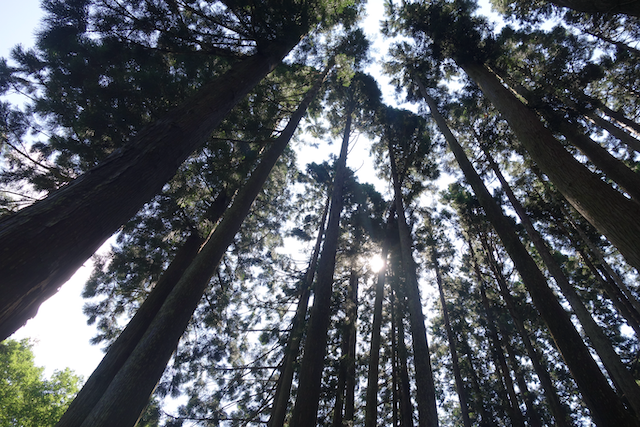 High trees everywhere
The trail we followed was closed due to the flooding problem and due to the fact that a necessary bridge, crossing the Tedori River, has been washed away! So we couldn't go really far on it. However, Sho-san had discovered some traces of bears on this path and as he wanted to show them to us, that's why we went there.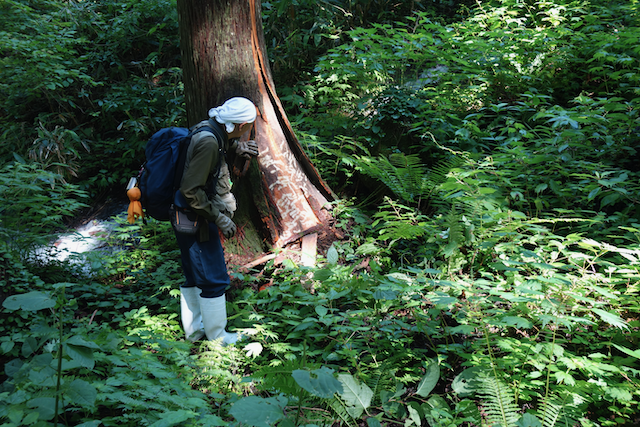 At the moment, bears come out at night and nibble and scratch at the bark of the trees in order to get underneath because this part of the tree tastes sweet! As it's mating season for the bears, they need additional sugar for their diet. Therefore, you can only find this behavior in July. On the pictures you can see the scratches of the bears very well. Sho-san told us that these traces were only some hours old. :O While walking around, he found many more and it was really fascinating for us.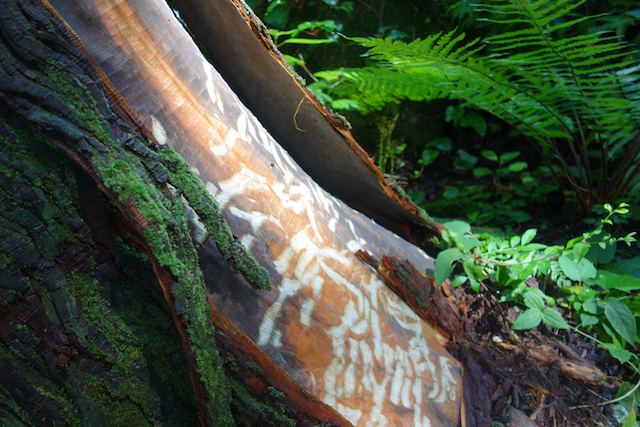 Afterwards, we went back in the direction of the visitor center and hiked another path where we could see many different summer mountain flowers.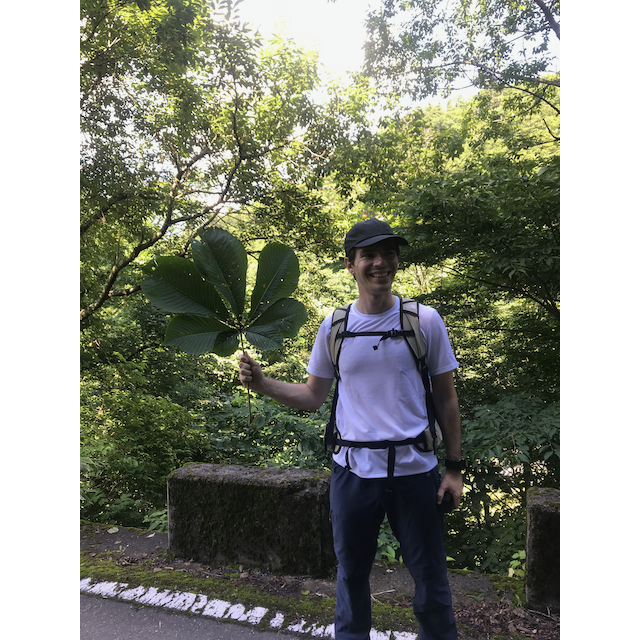 And again, we found some big leafs!
Sho-san explained us how these plants can be used for seasoning or even medical purposes and I was surprised to see how many of them are useful if you know about it!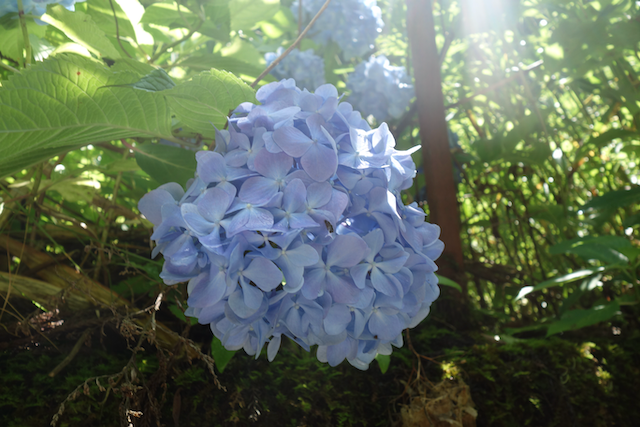 My favorite flower - apline Ajisai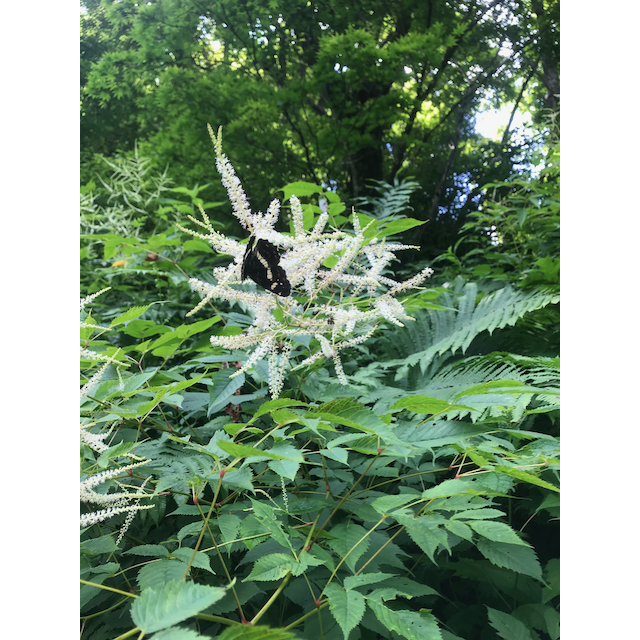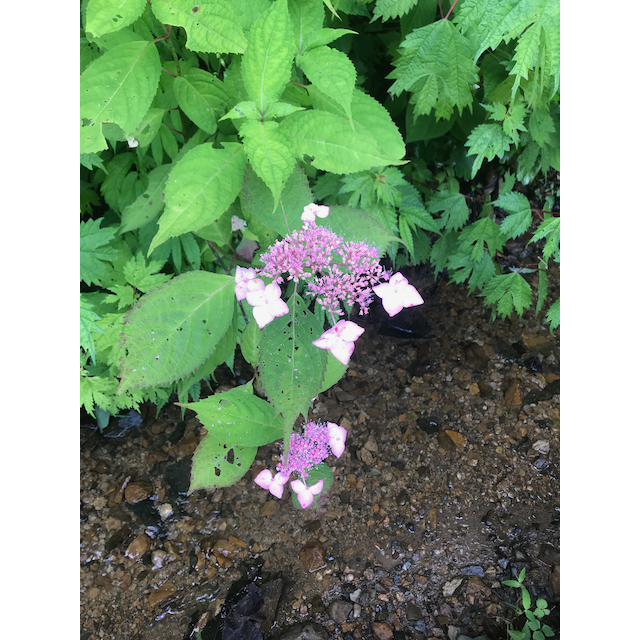 For the last part of our hiking trip, we went again uphill (very steep!) in order to reach a nice observation point from where you could see the top of Mount Hakusan!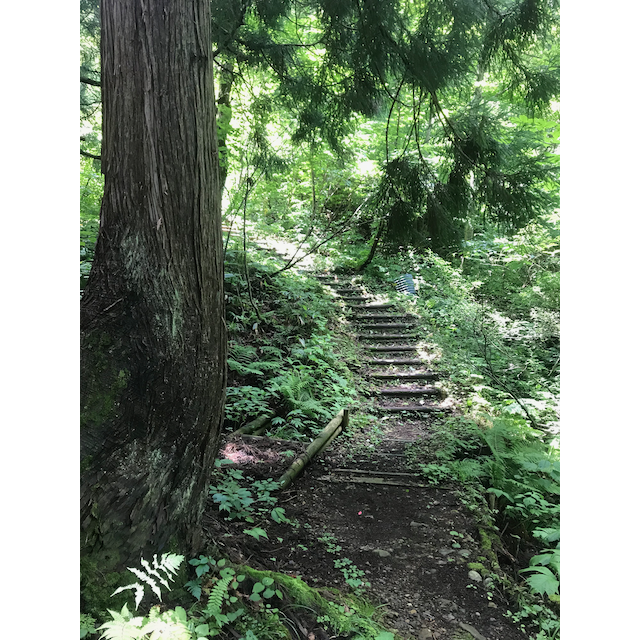 It doesn't look too hard but climbing that way while it's super humid outside… that's another story!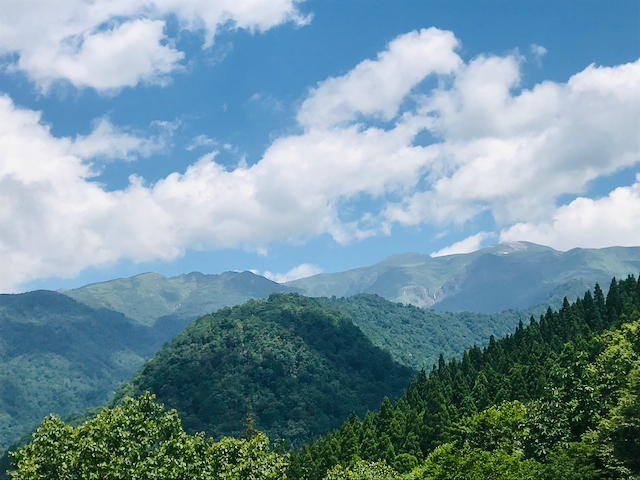 Perfect view of the holy mountain
There we had a nice lunch break and enjoyed our food while watching the holy mountain. The view was really nice, as it was such a sunny and bright day. However, the temperatures were getting really hot - going uphill in this condition was tough. I don't know how people can hike to the top in this weather! If we go again, we will have to wait until late September before I feel able to do it.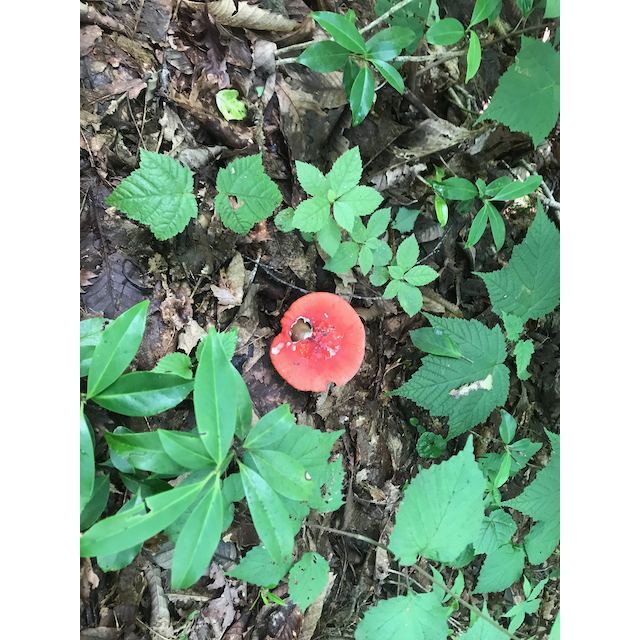 We also saw some pretty poisonous mushrooms :0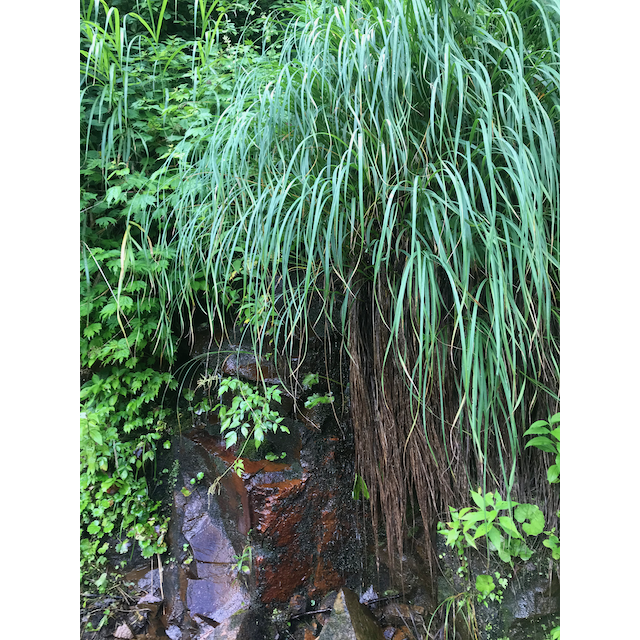 Hakusan Tedorigawa Geopark: Hyakumangan no Iwa Rock
As Sho-san wanted to show us another highlight of the Hakusan Tedorigawa Geopark, we headed back to the visitor center and our cars to drive back in the direction of Hakusan City. After some minutes, we made a stop next to the river to see the famous Hyakumangan no Iwa Rock. This sandstone rock is huge and weighs over 4,8000 tons! It is said that it came down in the 1930s during a huge flood and has stopped at this place due to the geographic conditions of the river bed.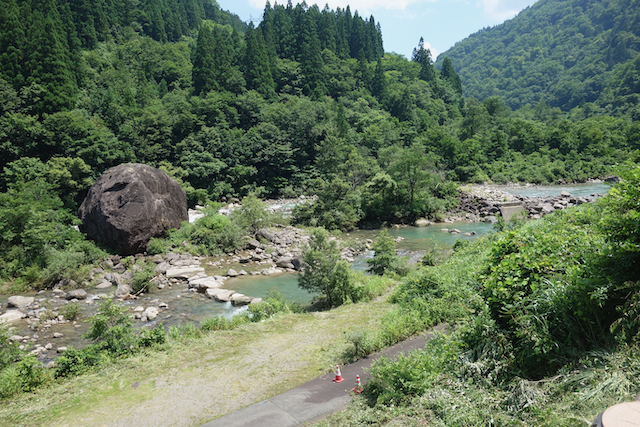 We spent some time at this river and enjoyed taking pictures while climbing over the stones of the river bed. The water of this river is so clean! Just sitting there and watching it was already so relaxing.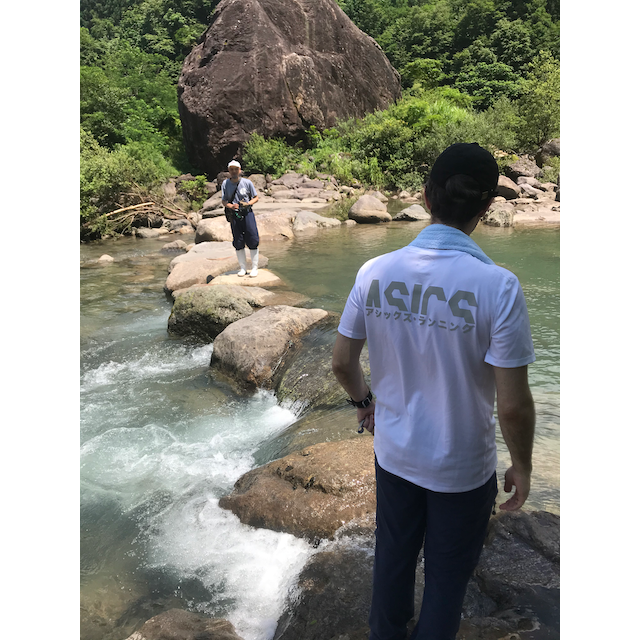 However, I was not satisfied with only sitting around and started to climb over the rocks as well. And…I was not careful enough while doing that and fell into the water! :o As you can imagine, my whole clothes were soaked through and I really felt stupid. My mobile phone was in my pocket as well so I was quite concerned that I destroyed it. But the promise of being waterproof seems to be real as it is still working just fine! So apart from some bruises and scratches, I was okay and got cooled down by the water. My clothes were functional hiking clothes and got dry super fast. Everyone had a good laugh and it's a fun story to tell.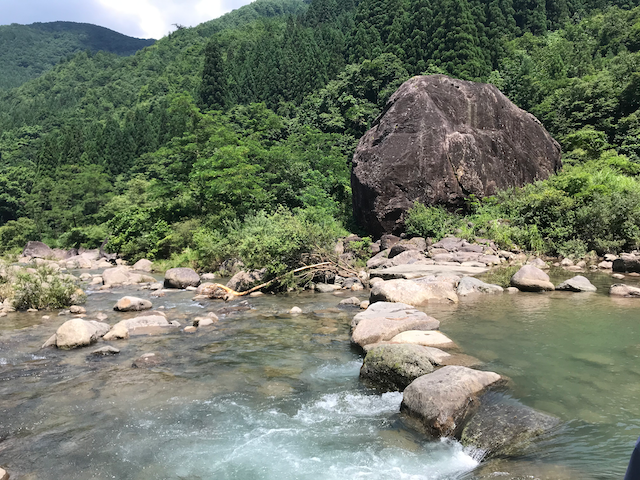 At least I will always remember my short swim in this river. ;-)
Before going back to Kanazawa we made a brief stop at the house of some friends of Sumie and Mochiko. This couple was also with us during the Kurakae Yama Hike and we heard that they were thinking about turning some rooms of their house into a café! We were served excellent coffee there as well as homemade sweets and could refresh our bodies after the hike. It was really funny and I want to come back to get some more good coffee. ;-)
A huge thanks to Sho-san who always manages to teach us so many things about the Japanese nature and shows us so many different plants! We are always amazed by his vast knowledge about the alpine life at Mount Hakusan. And thank you Sumie for bringing us all the way to this place. :) Special thanks goes to Mochiko who rescued me out of the water! :D
Up next
At the moment, rainy season is still not over… We will tell you about our last weeks, waiting for borders to open (spoiler alert: they are still closed) and dealing with the rising temperatures (spoiler alert: not well). Also, we went to Noto again and saw so many beautiful places! So stay tuned for more updates. :)