Hi everyone, today I want to tell you about our trip to Takaoka Shi, a nice city located in Toyama prefecture close to Kanazawa. We went there for a day trip and explored the city by foot. So here you will find a good itinerary for visiting this city in one day that covers some major sights.
About Takaoka
Takaoka is the second largest city in Toyama prefecture and located at the west part of the prefecture. It's close to the sea and from there you can also travel to Noto Peninsula to visit the famous hot spring resort Himi. In the Edo period, at around 1600, Maeda Toshinaga of Kaga took control of the city and promoted the development of Takaoka as an industrial city, enforcing the importance of trade and commerce. Manufacturing of Takaoka copperware and lacquerware started to grow in this time.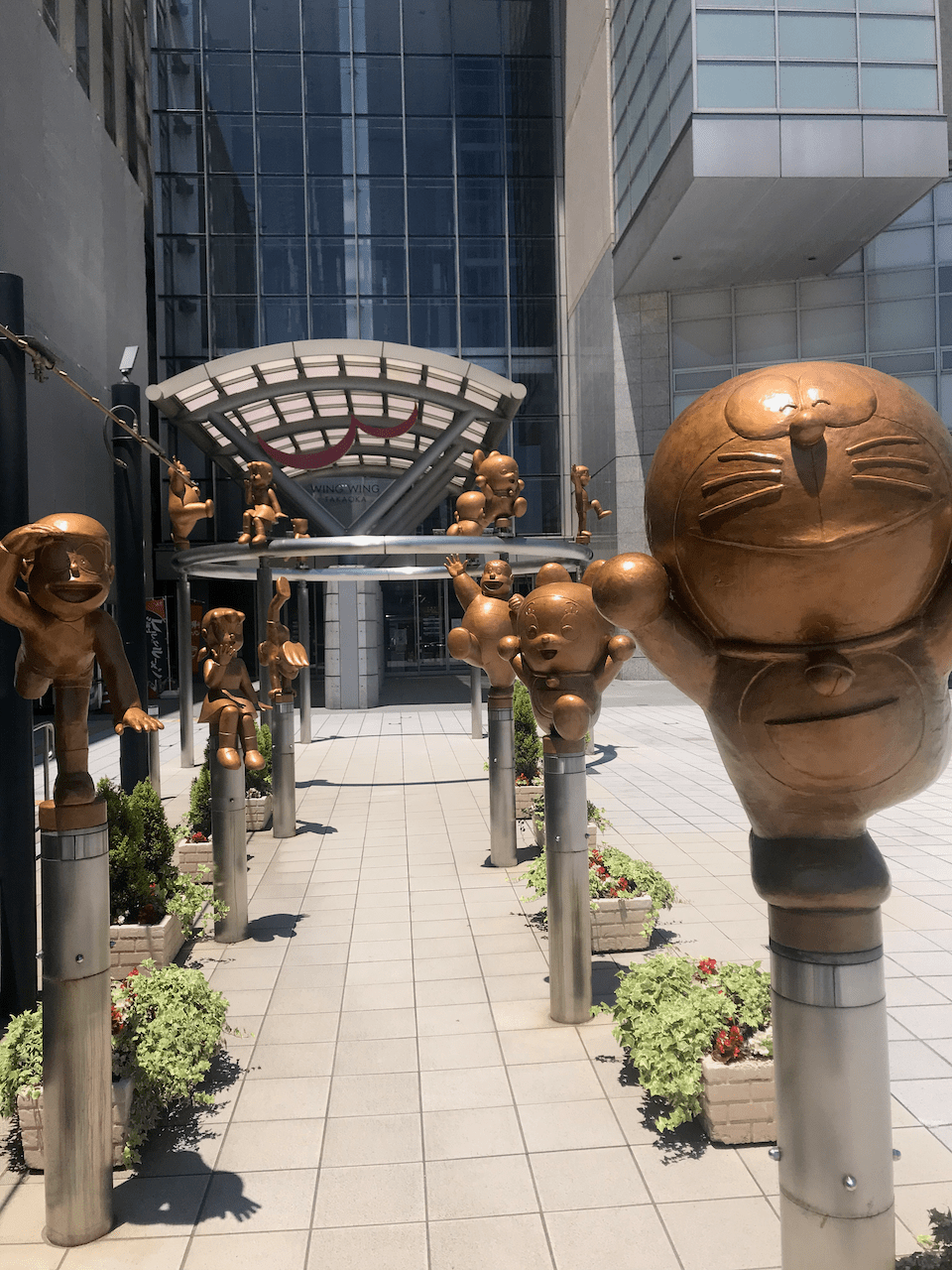 Of course, Takaoka is also famous for Doraemon, a well known Japanese animation series. The authors are from Takaoka, Toyama, therefore you can find a lot of statues all over the city and even a Doraemon styled tram. :)
How to get there from Kanazawa
We were really lucky because we had such good weather. As rainy season is in full swing and already brought some horrible rainy days, we didn't know if we would get a good day but the luck was on our side and it was sunny. We took the Ainokaze Toayama Railway Line, a local train that takes about 50 minutes to Takaoka city and runs along the Shinkansen track. It's a nice train ride where you pass a small mountain area before entering the huge Toayama bay area. Sadly, the great Mount Tateyama and other high peaks were not visible on that day, they were hidden in clouds. You can also travel by Shinkansen from Kanazawa to Takaoka - it's super fast but very expensive. Therefore, if you have time, take the local train and safe some money.
When we arrived in Takaoka station, all important sights were listed on a map, all in English, and it was super easy to figure out where to go and what to see.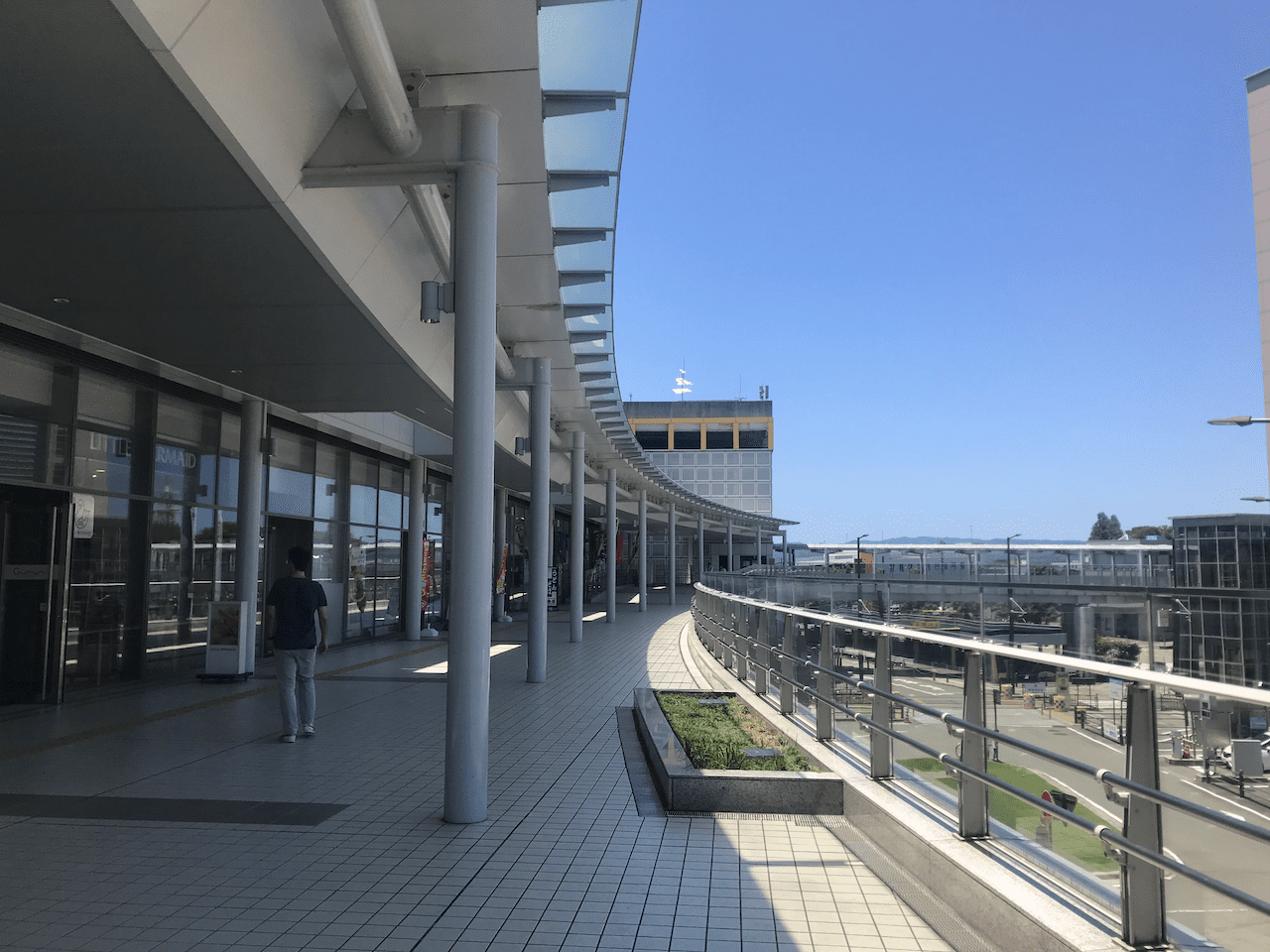 The station building is quite big and we took some time to figure out which exit to take…
Our route
We arrived in the morning at around 11 am and we left Takaoka at 5:30 pm. We also had a longer lunch break in between. You can reach all described sites easily by foot.
Daibutsu
We started our sightseeing tour with the great Buddha statue, the Daibutsu. This statue, made of bronze, is 16 meter high and the third largest Buddha statue in Japan. You can easily reach it by foot from the station, it only takes 10 minutes to walk.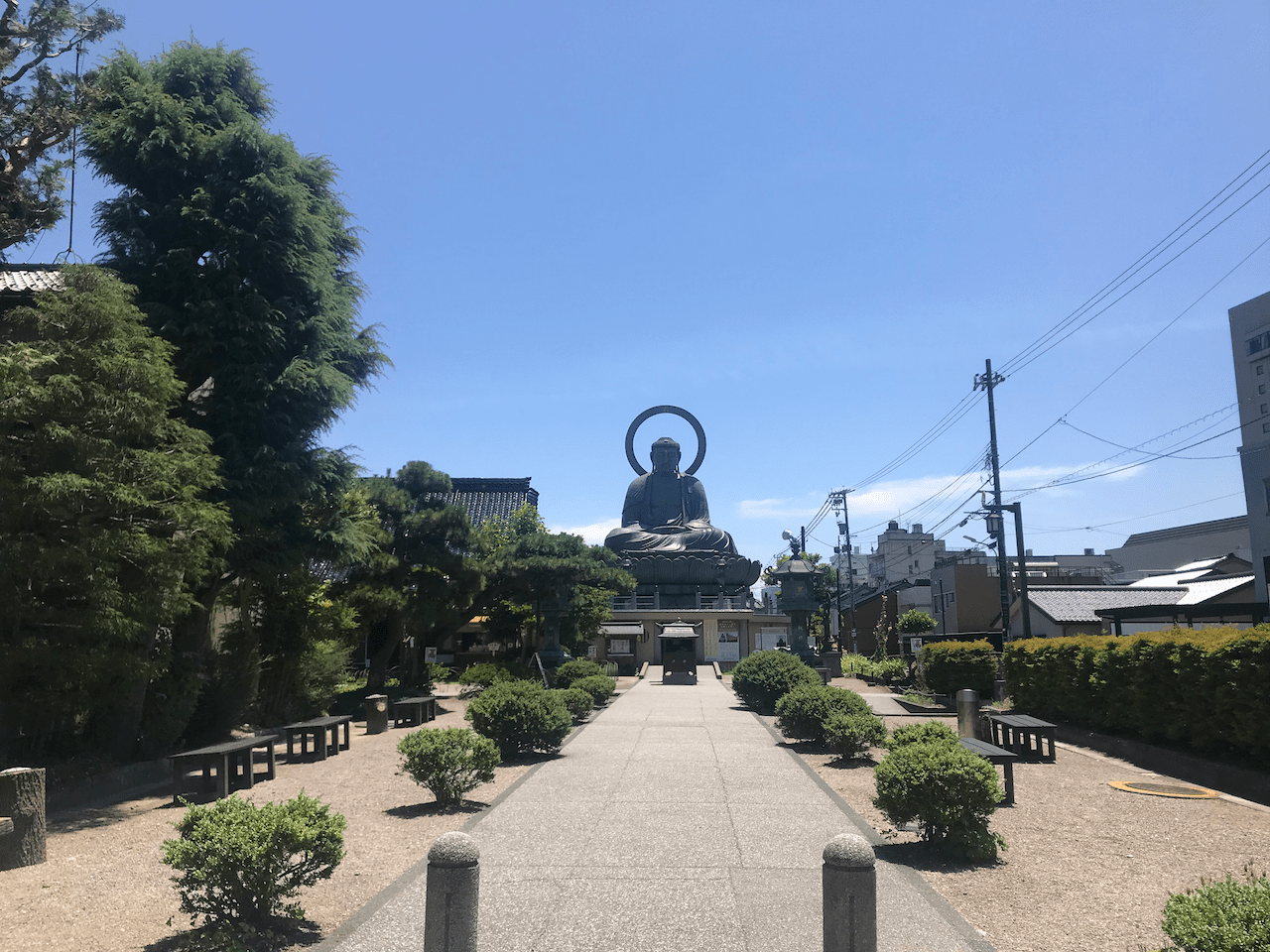 From far away, you can already guess that this statue is big!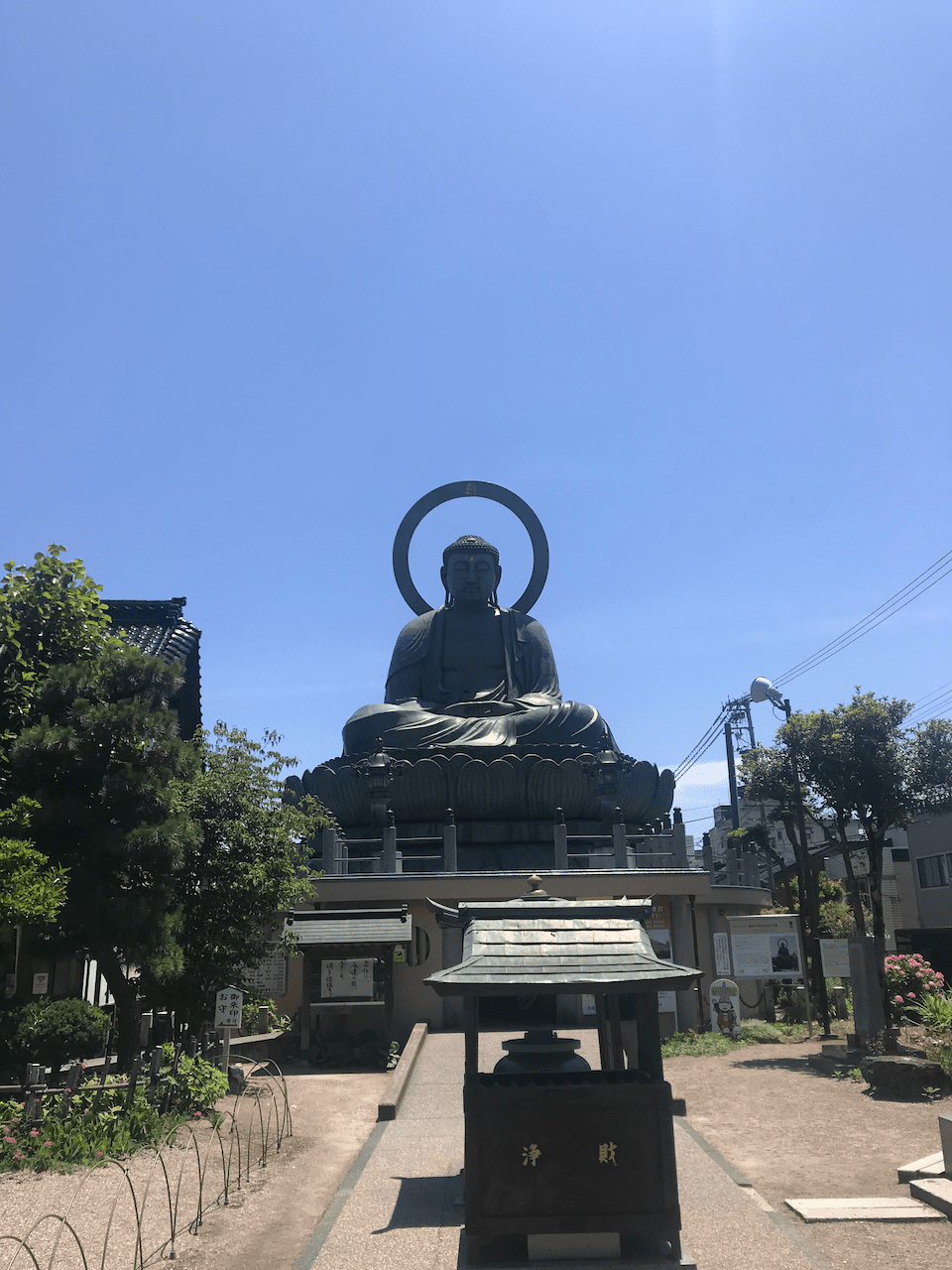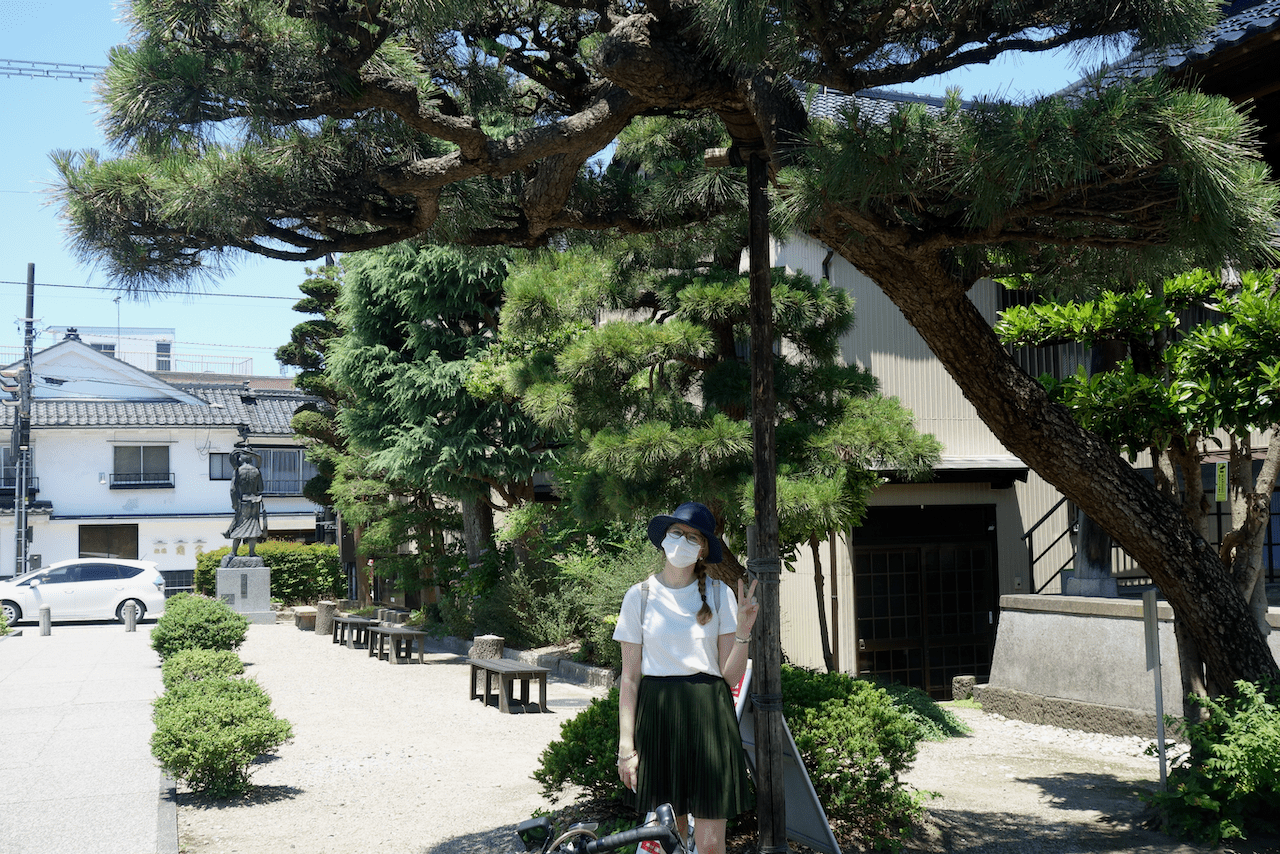 We were wearing masks all day!
You'll walk along a big road with shops before you enter a nice residential area, where the statue is located. The temple itself is also very nice and you can buy some souvenirs there.
Takaoka Castle Park
From this place it's only a 5 minute walk to the Kojo Park, a large park in the middle of Takaoka where the castle was located in the Edo period. It was controlled by the powerful Maeda Clan that has reigned the whole Kaga area.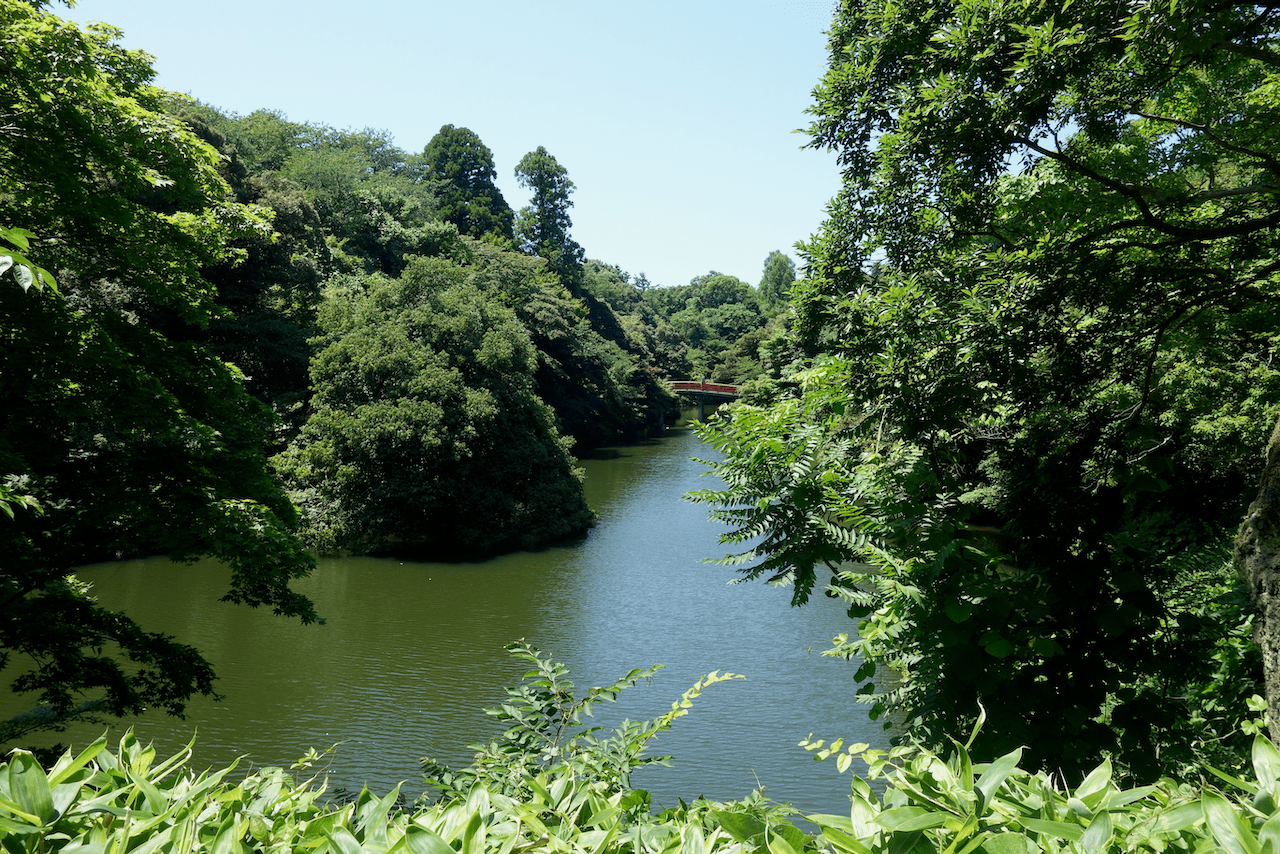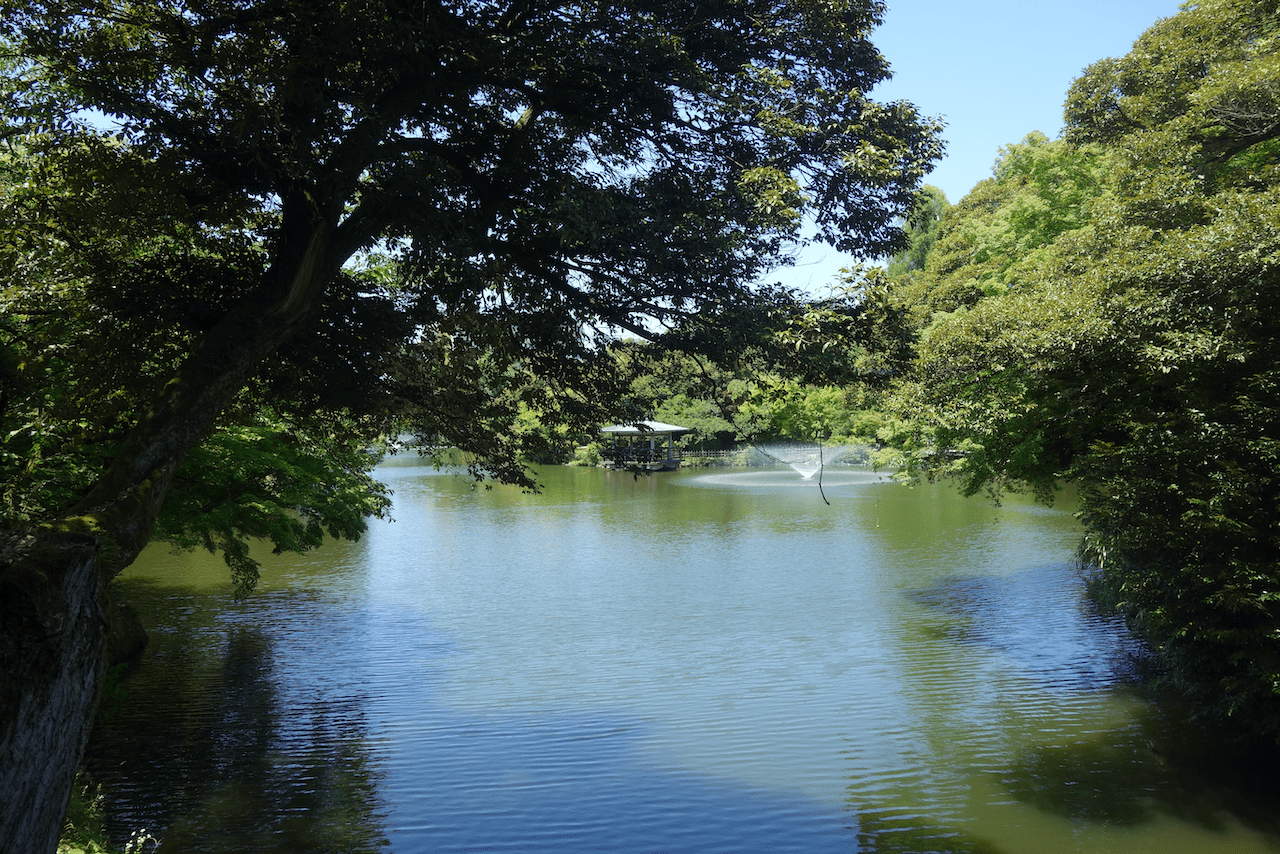 In this park you'll find Imizu Shrine, the Takaoka Municipal Museum as well as the Takaoka Art Museum.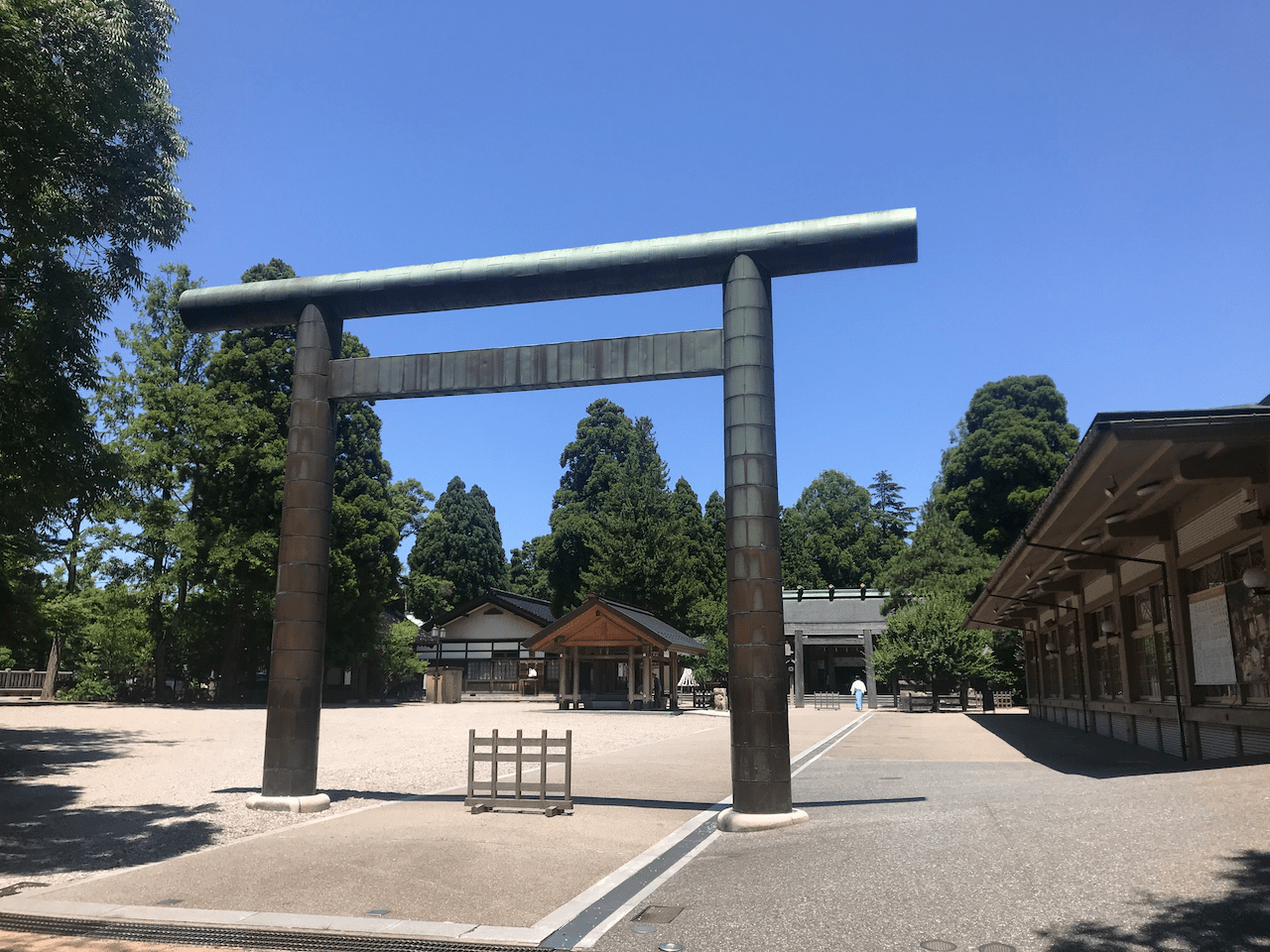 A Zoo (entry is free) and large green areas to sit down, relax and enjoy the nature or have a picnic can also be discovered. A waterway on which you can travel along by boat flows along the former castle walls. All this contributes to a really varied park adventure.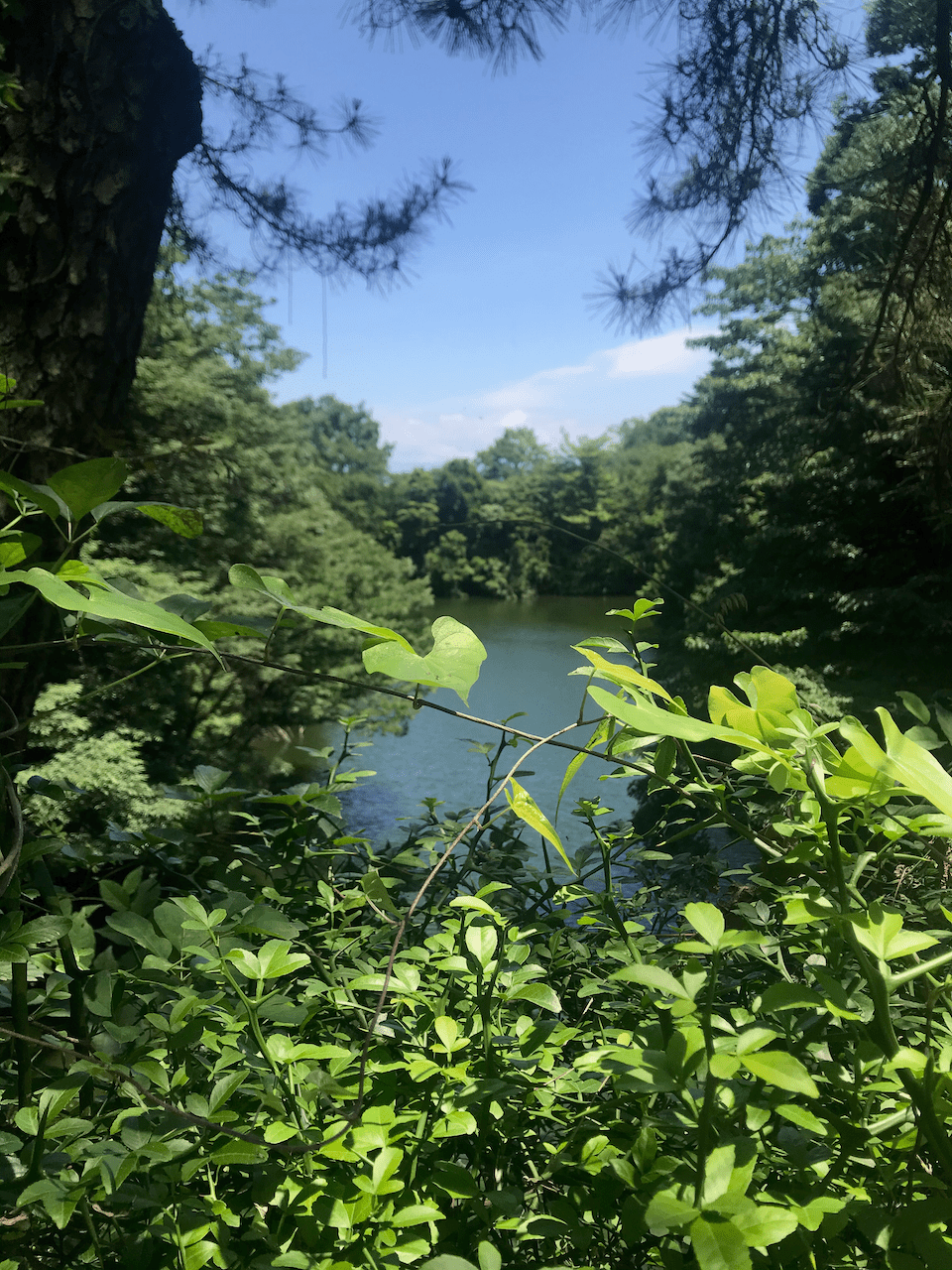 We had a long stroll through the whole area and enjoyed the beautiful park. It's also a popular spot during cherry blossom season, there are so many cherry trees! It certainly looks so beautiful when they are in full bloom.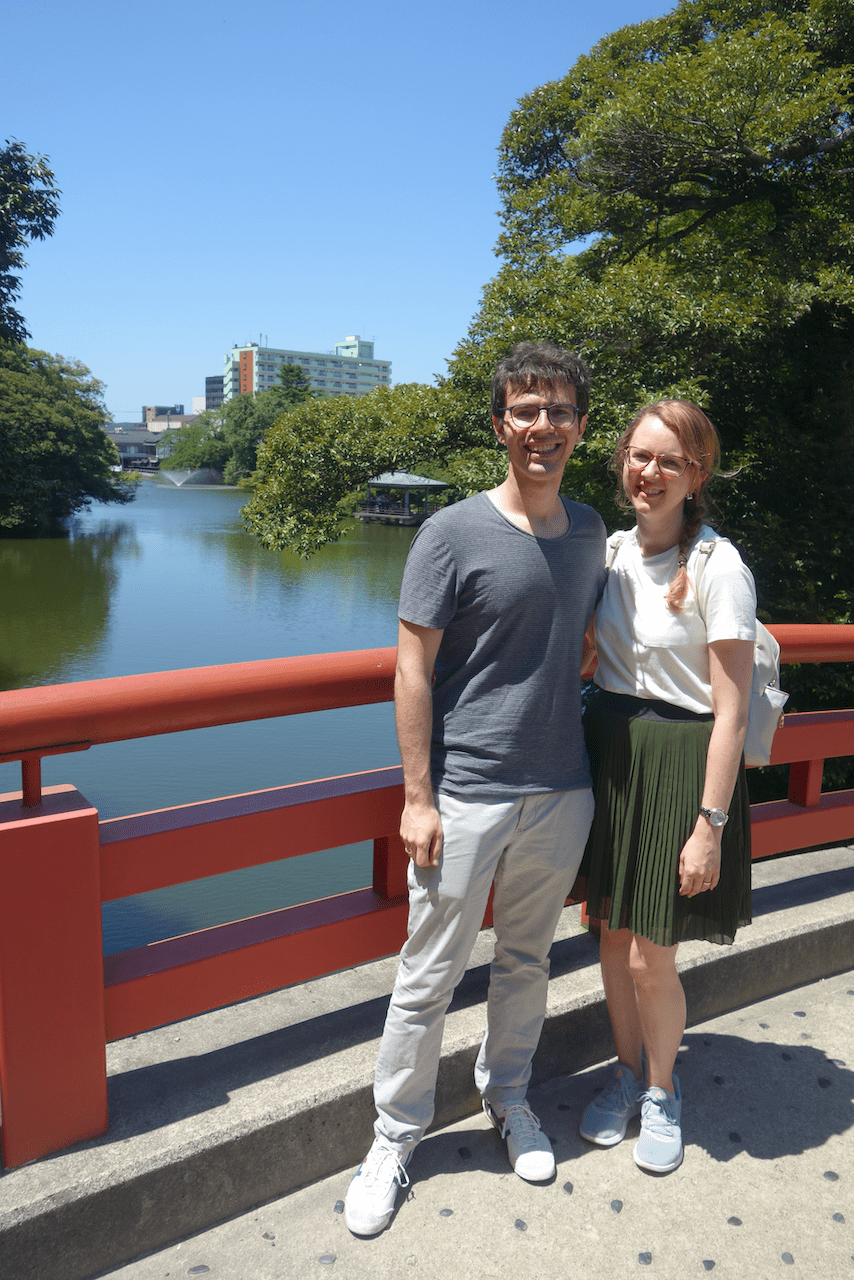 Yamachosuji District
After our time in the park, we had a nice lunch at a restaurant close by, before we continued our walk to see some of the historical districts of Takaoka. Yamachosuji District and Kanyamachi Street are famous for their historical houses, highlighting the importance of Takaoka as industrial center for metal casting industry in the past centuries. Therefore, it's a historical important place that you should visit when you have the chance to go to Takaoka! It takes only about ten minutes by foot from the castle park to reach Yamachosuji District where you can see the houses of former merchants as this street was used to connect Takaoka with Kyoto! As some houses were burned down, they were constructed differently afterwards by using bricks to prevent fire from spreading. That's why the style of the houses is very different from the typical Japanese style. We walked along the street and took some pictures.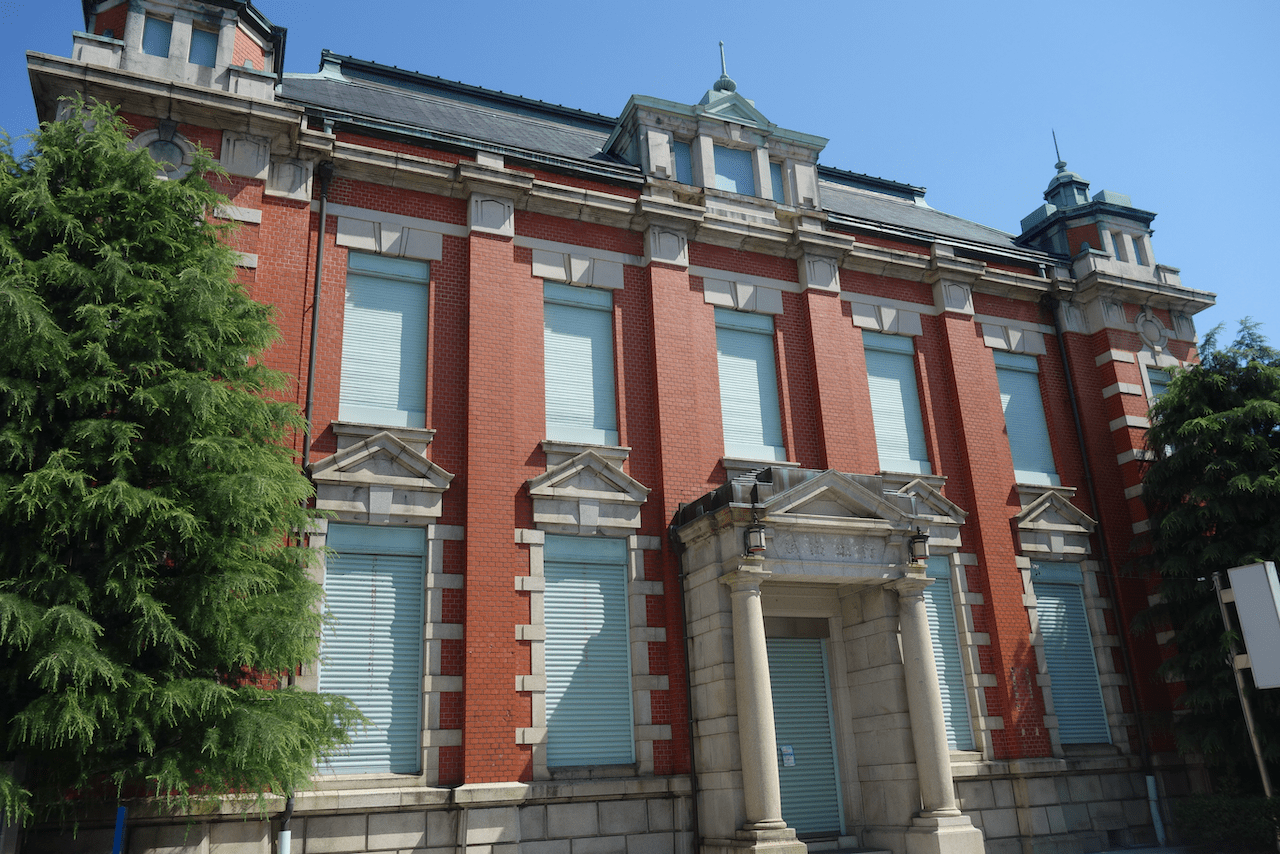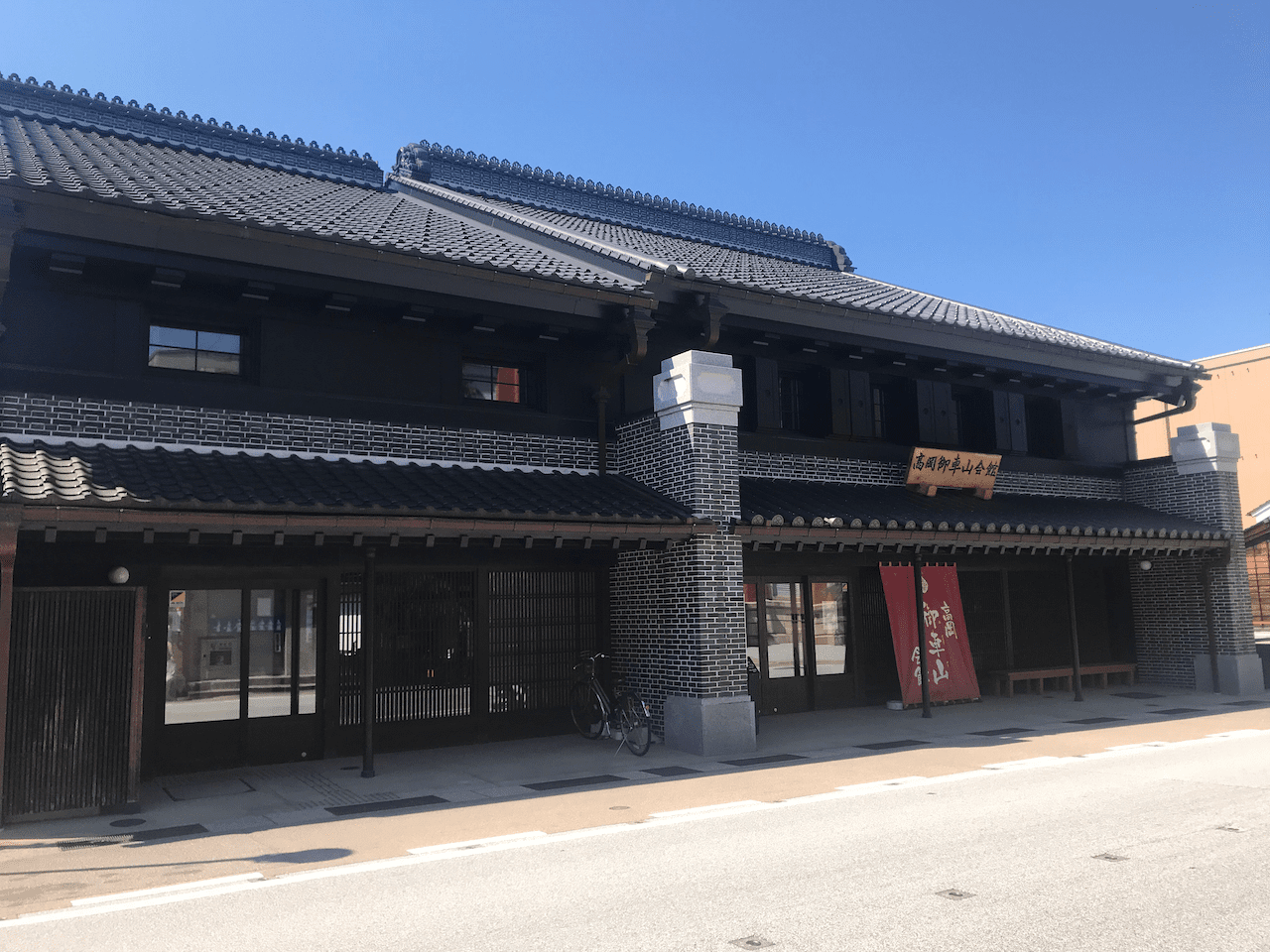 If you continue your way, you will reach Kanyamachi Street, Takaoka's former craftsman district. We didn't go there as we wanted to see another important site at the other side of the station, so next time I'll definitely visit it.
Zuriyuji Temple
Our last destination was the Zuiriyuji Temple. This temple is located at the other side of the station, about 10 minutes by foot away. After following a busy street, you enter the alleyway that leads you to the temple and it's really pretty! The beautifully designed sidewalk for pedestrians is in the middle of the road and leads you either to the temple or to the tomb of Maeda Toshinaga, who was responsible for the growing influence of Edo Takaoka.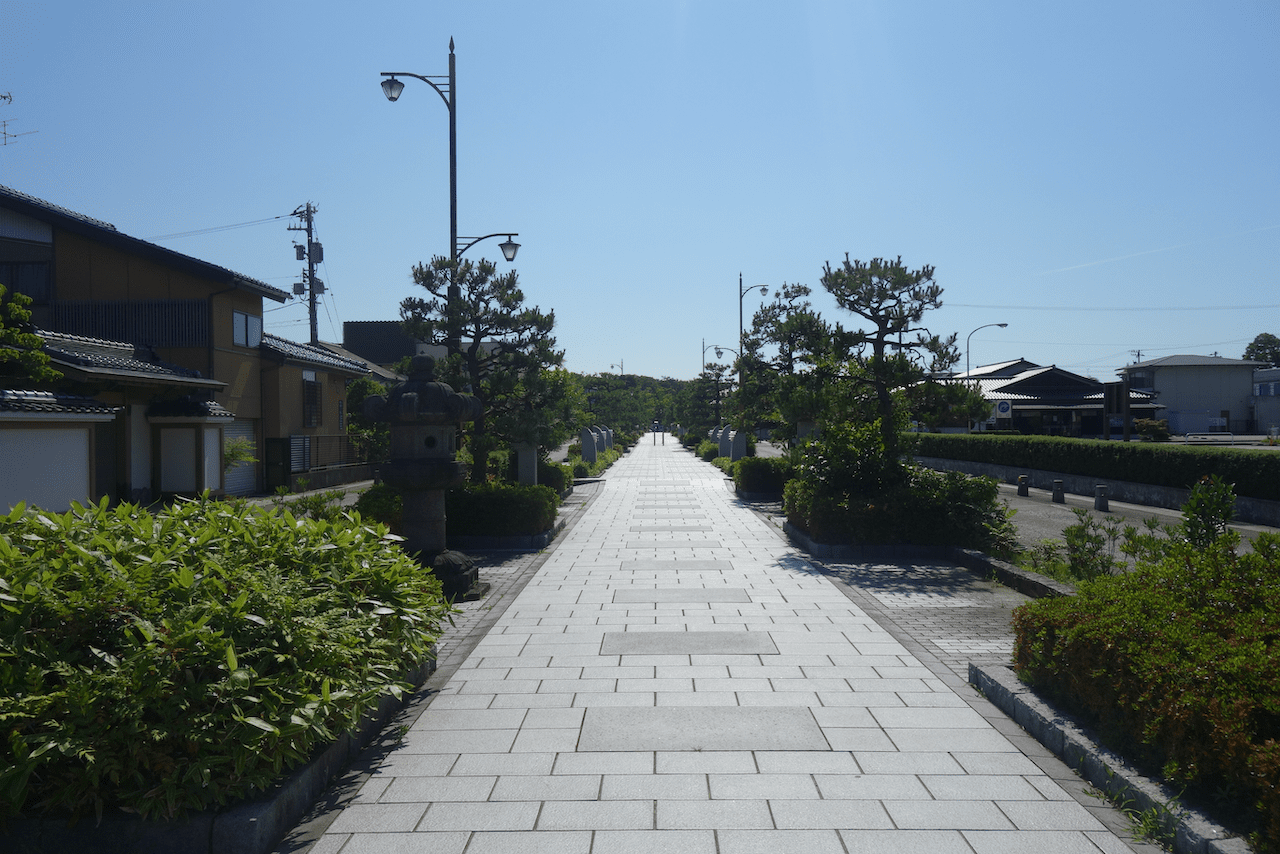 Statue of Maeda himself
We chose to visit the temple area first and were not disappointed: it's a really impressive building! This temple is recognized as National Treasure by the Japanese Government as its both culturally and historically very important. You have to pay a small entrance fee before entring the building (500 Yen), for that you also get a small leaflet in English, explaining all parts of the temple.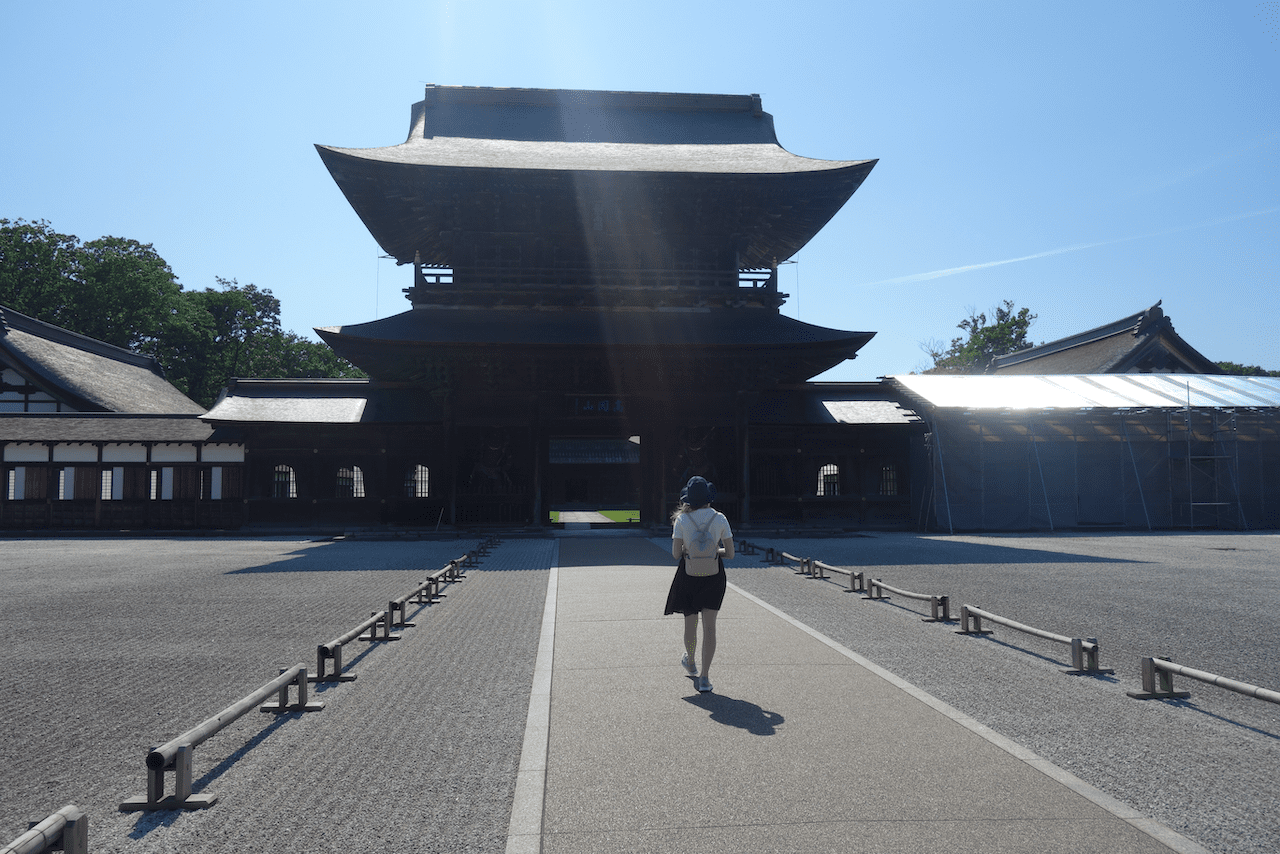 This is only the gate!
Entering the grounds through the impressive Sanmon Gate, you realize immediately that the temple area has a perfectly symmetric design. The temple's two main halls are called Hatto Hall and Butsuden Hall which contains a statue of the historical Buddha (Shaka Nyorai). It's a great example of the architectural style of temple construction in the early Edo Period.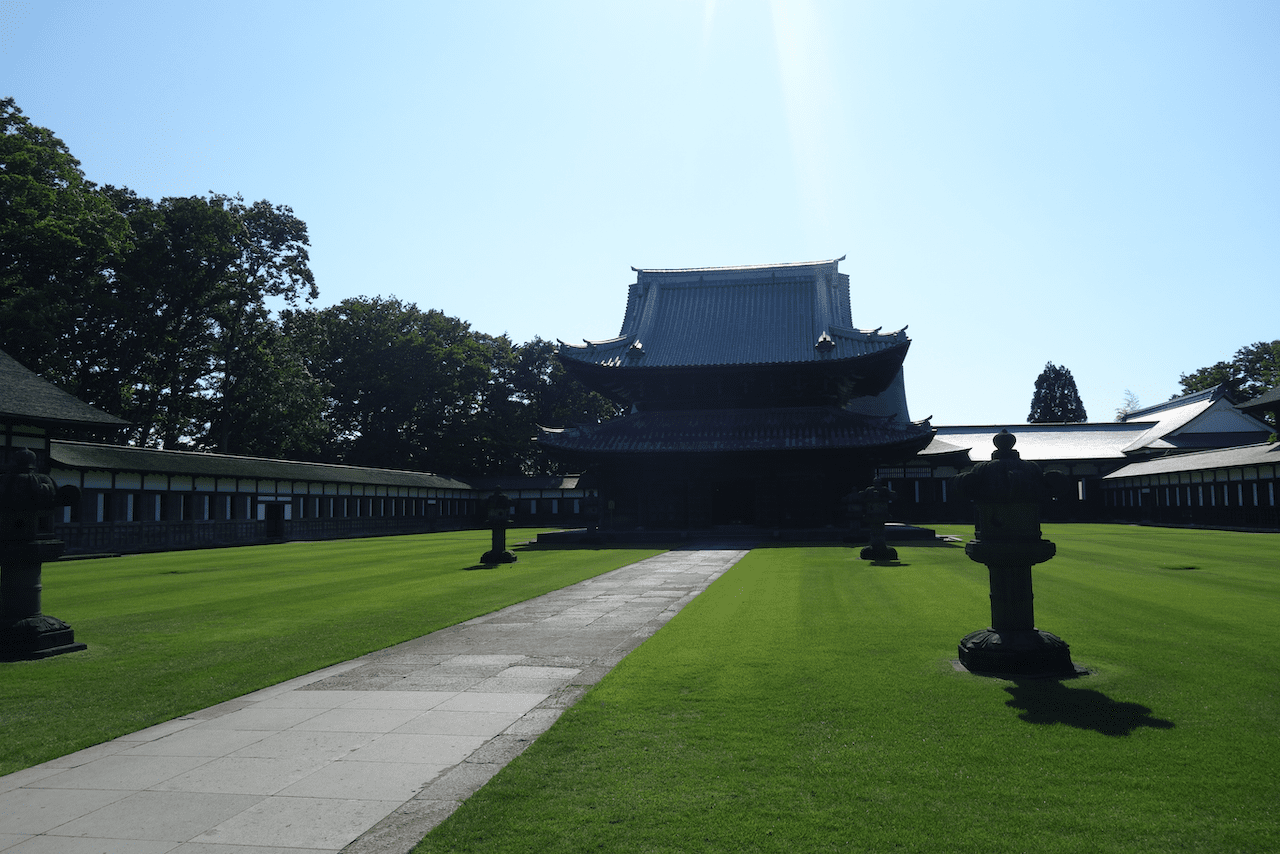 The inner building is surrounded by green grass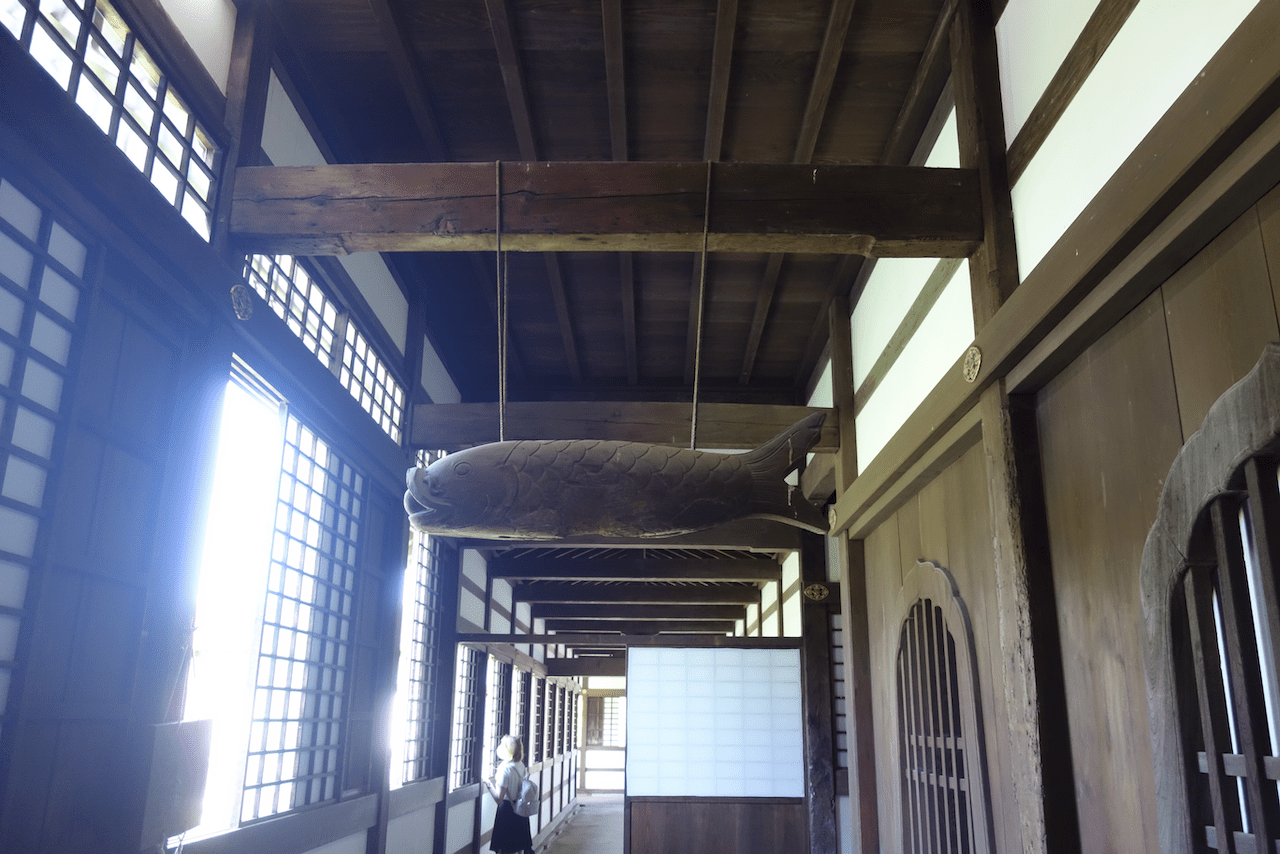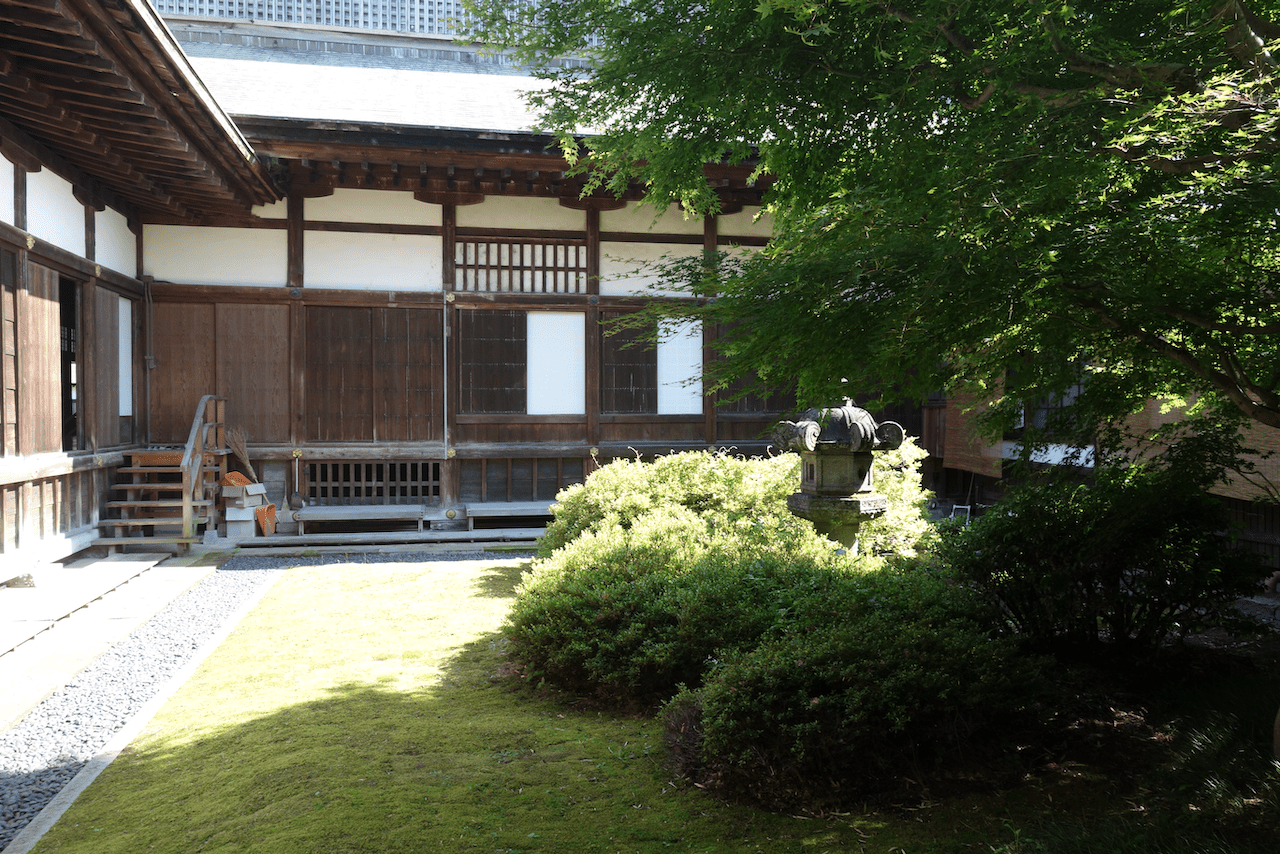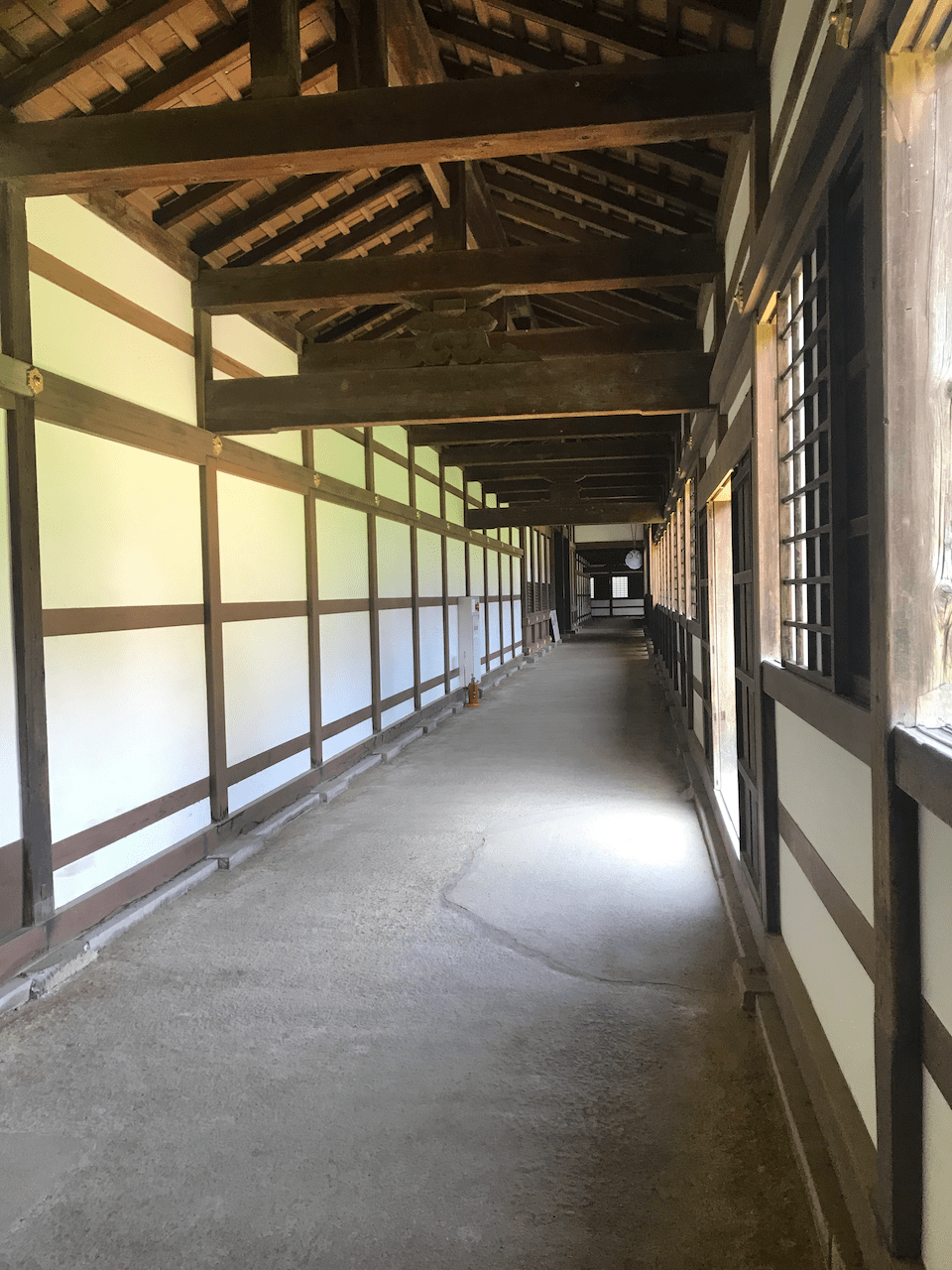 We took our time to explore all buildings and even relaxed for a while in front of a small hidden garden. It was a magical atmosphere - there were not many visitors, therefore it was quiet and peaceful, the sun was shining and a lot of crows were flying around, only enhancing this mysterious feeling.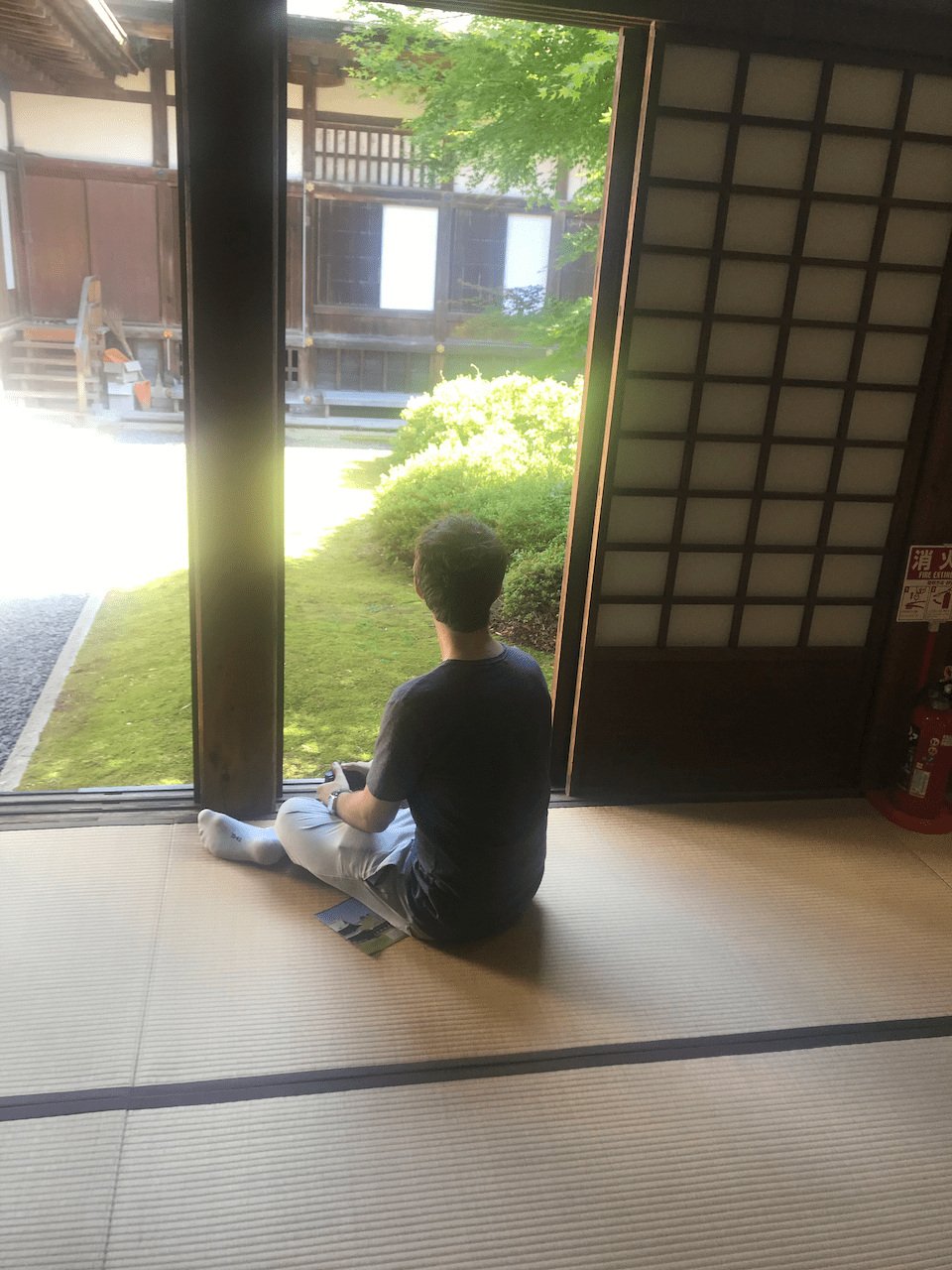 Taking a short break while looking at a Japanese garden.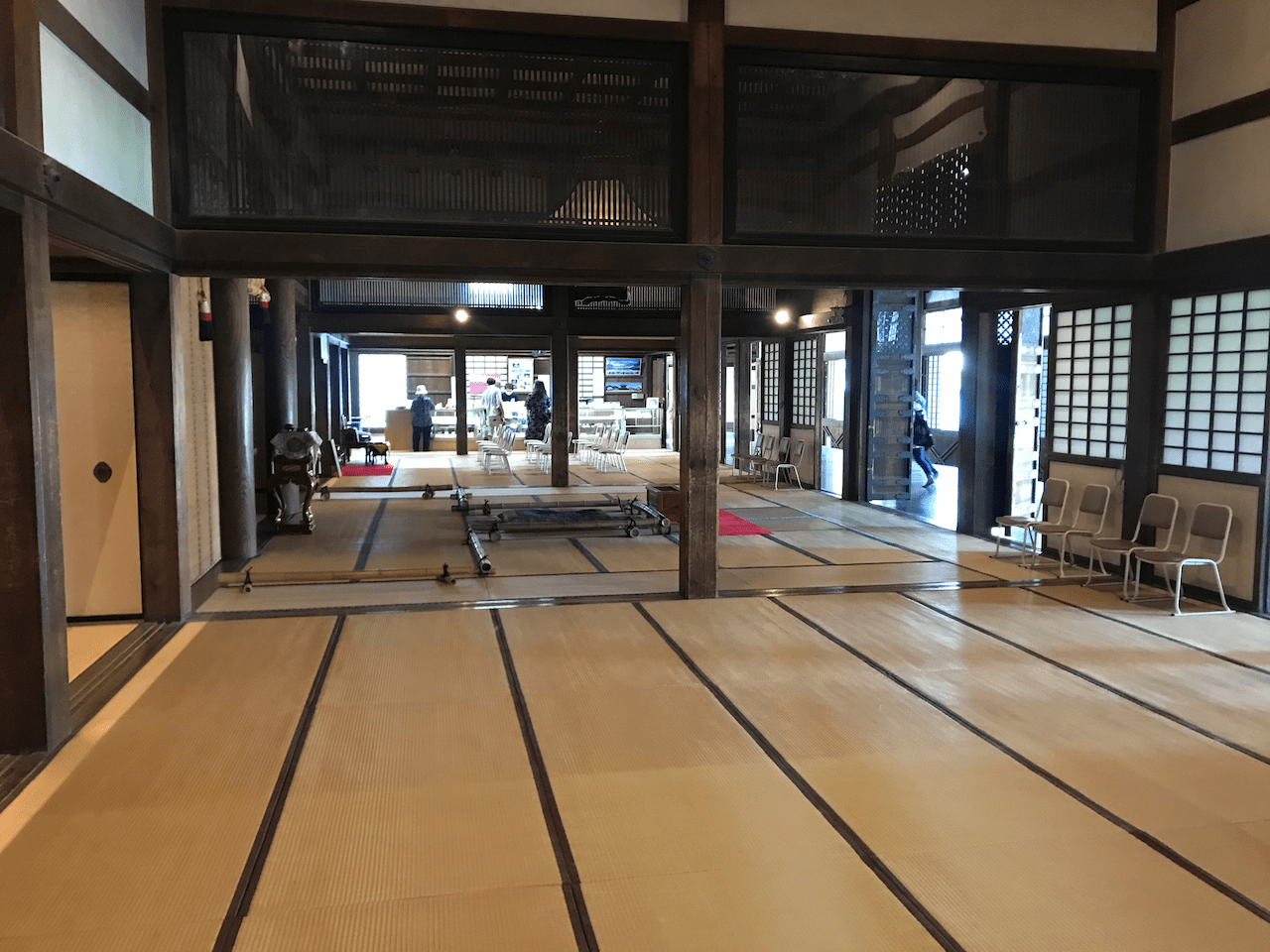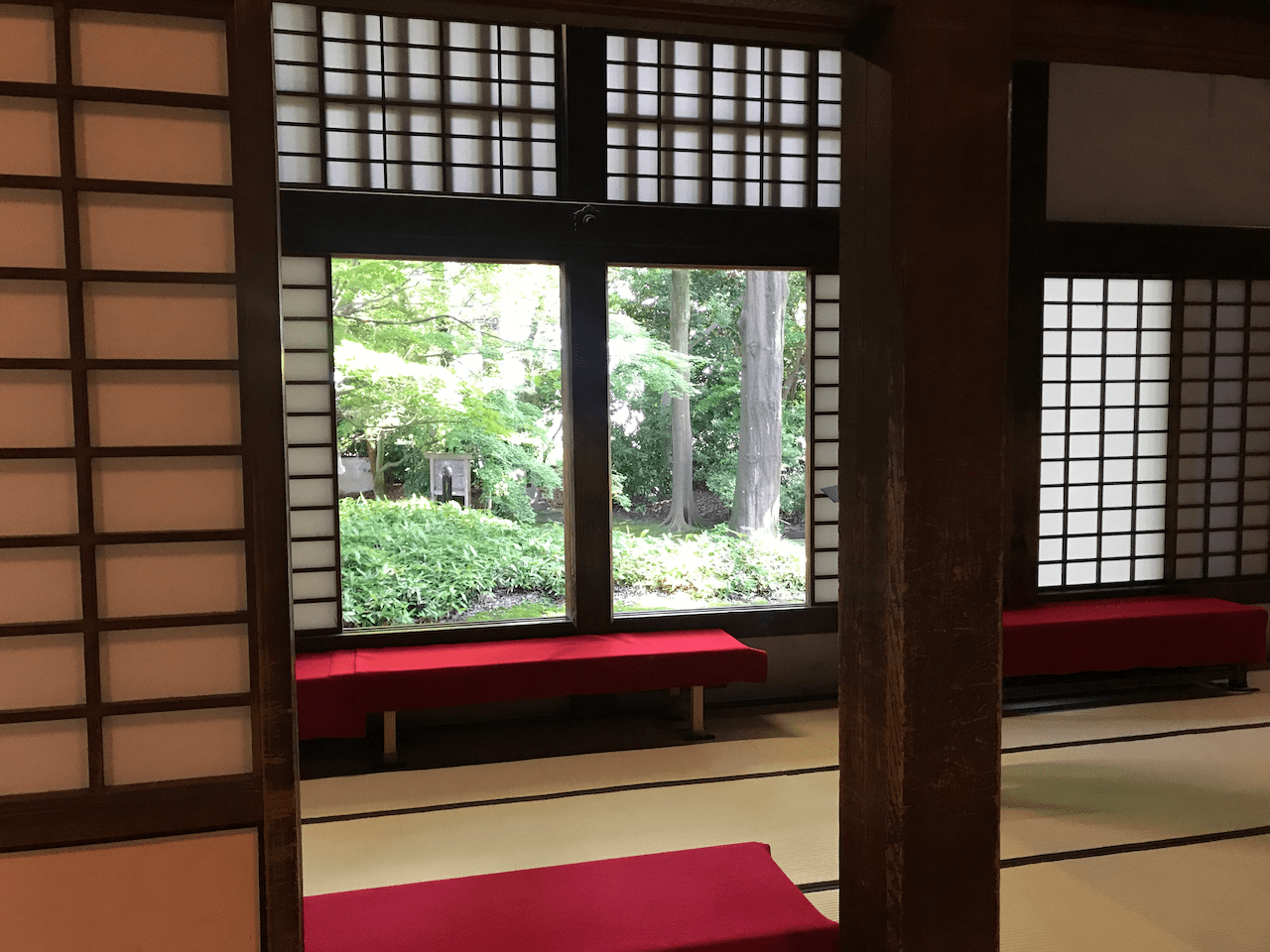 Personally, this place is my number one highlight of Takaoka! You should definitely visit this temple, it was really impressive.
After the temple, we took the nice road to visit the tomb site. It's about 1km away from the temple, so you have to walk for some minutes. This place also has a very interesting atmosphere. As we were tired from walking around all day, we decided to go back to the station afterwards and took the next train back to Kanazawa.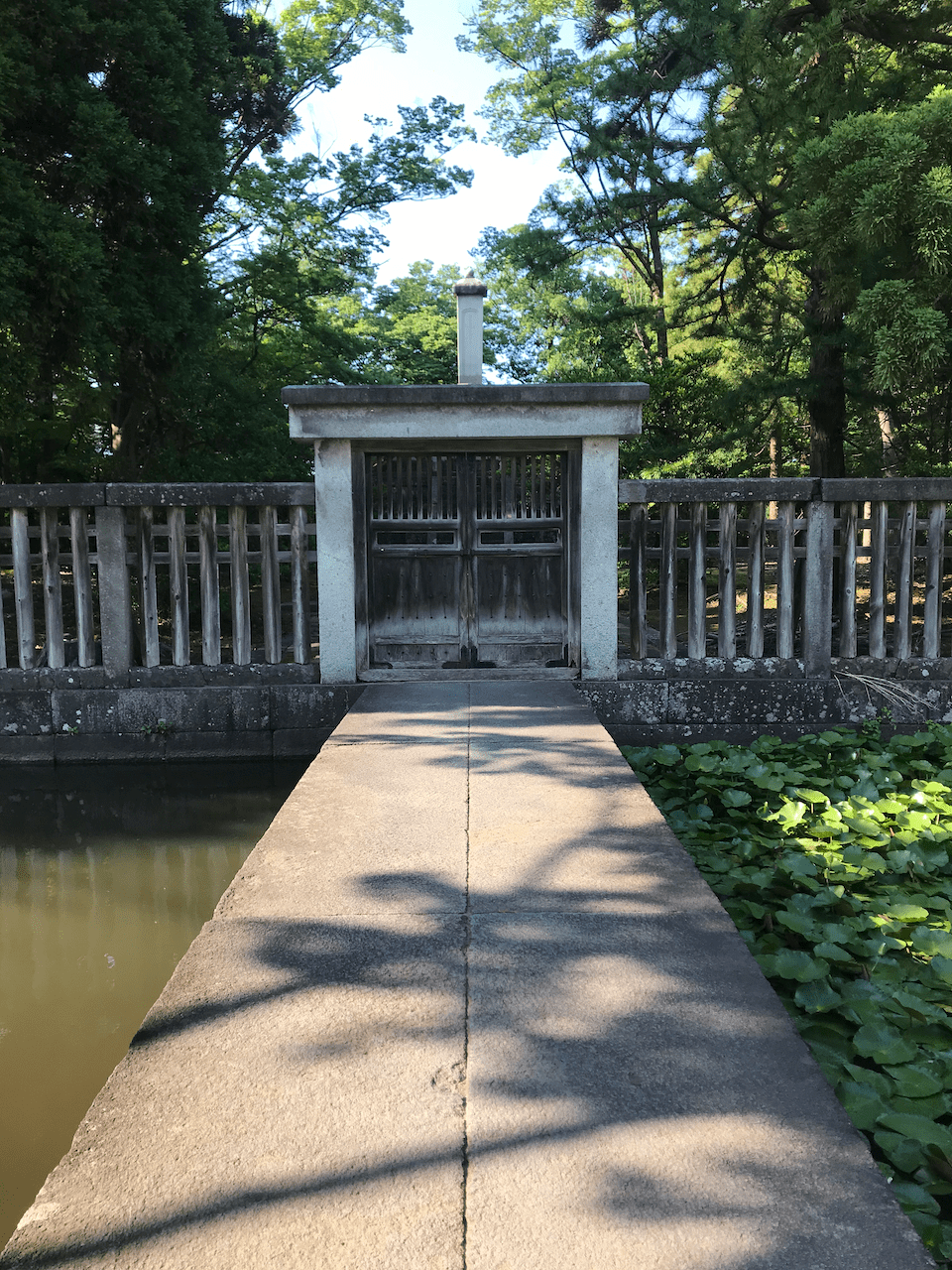 Conclusion
There is still more to see in Takaoka, so we hope to come back and explore the rest of the city! Hopefully together with our friend Hikaru, who lives in this city! After the long self-isolation and no travel period, it was such a nice experience to go out and visit another city. We really enjoyed it and were relieved that it's finally possible again. Everyone we saw wore a mask and was very considerate. Restaurants have tried to support social distancing and safety measures as much as possible. We never had a strange feeling, even in the train. As it was such a good experience, we are going to have another short trip to the area soon.
Stay tuned for more and in the meantime, follow us on Instagram or facebook for more pictures and insights!