Hi everyone, with the state of emergency restrictions gone, we could finally make a small trip into the nature within the borders of the Ishikawa prefecture. After staying at home for weeks it was a little overwhelming for us to be outside again, for more than just a short walk! In this post I like to tell you all about our hiking at Mount Iouzen.
Mout Iouzen
Mount Iouzen (医王山) or Mount Iou, is a 939 meter high mountain at the border of Ishikawa and Toyama prefecture (location) and about a 20 minutes drive away from our home. Basically, you drive past Kanazawa University and you arrive in a green mountain scenery which looks absolutely stunning and magical.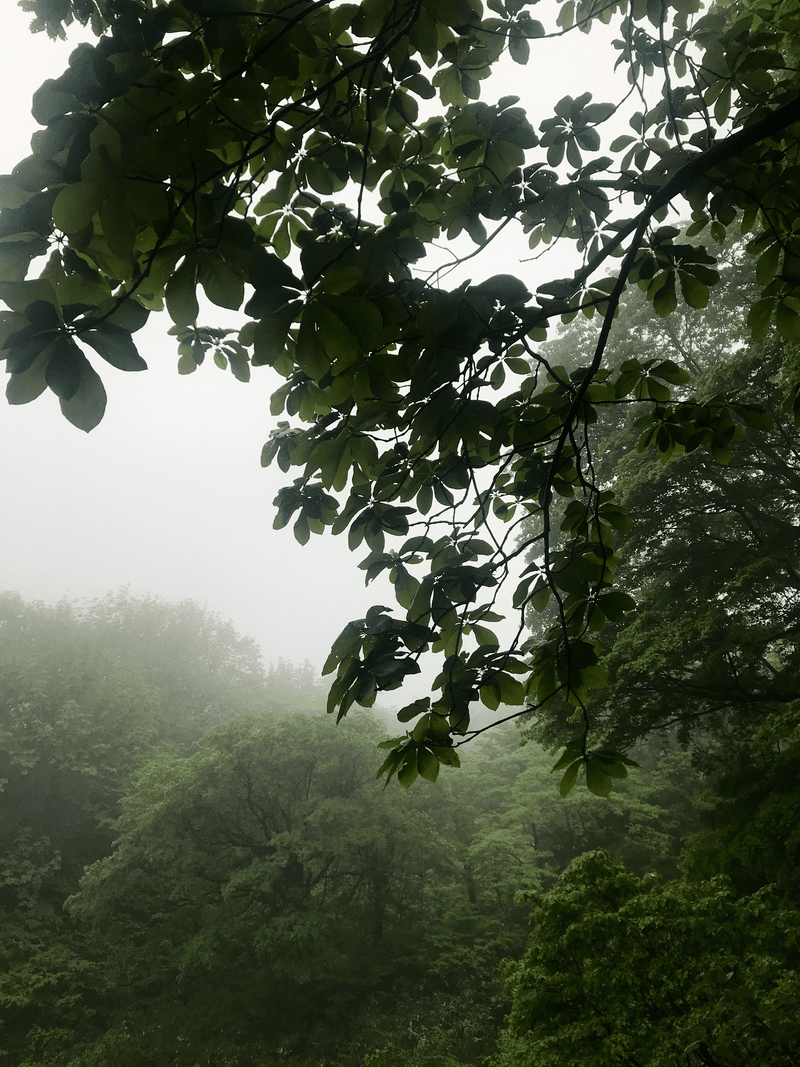 In the summertime, it's a popular hiking spot where you can enjoy the wild nature on a day trip or for a longer time (there are also camping grounds around the area). The trails are easy and not too steep, so it's suited for everyone. Even rock climbers can enjoy the place as there are huge stone walls where you can climb up!
In winter time, you can also go skiing at the Iouzen Resort. It's a really small resort but as it's just a short drive away from Kanazawa, it is very convenient.
Our hiking route
We took this trip together with the Tabitaiken crew as they wanted to check the trail after the end of the winter season and I was asked to give them feedback on the level of difficulty. So, very early on a Sunday morning, we went to the Iouzen Visitor Center to start our hike.
On that day, the weather was not very sunny. It was raining most of the time but the temperatures were quite mild, therefore the whole mountain area was hidden in deep white fog. It really looked fascinating, the foggy atmosphere transformed the green forest into a magical place from a fairytale. I felt like walking through a mystical forest of Middle Earth. The air was very humid but luckily, it was not too hot. However, the path was sometimes quite slippery and we had to pay close attention to avoid falling down the steep slopes.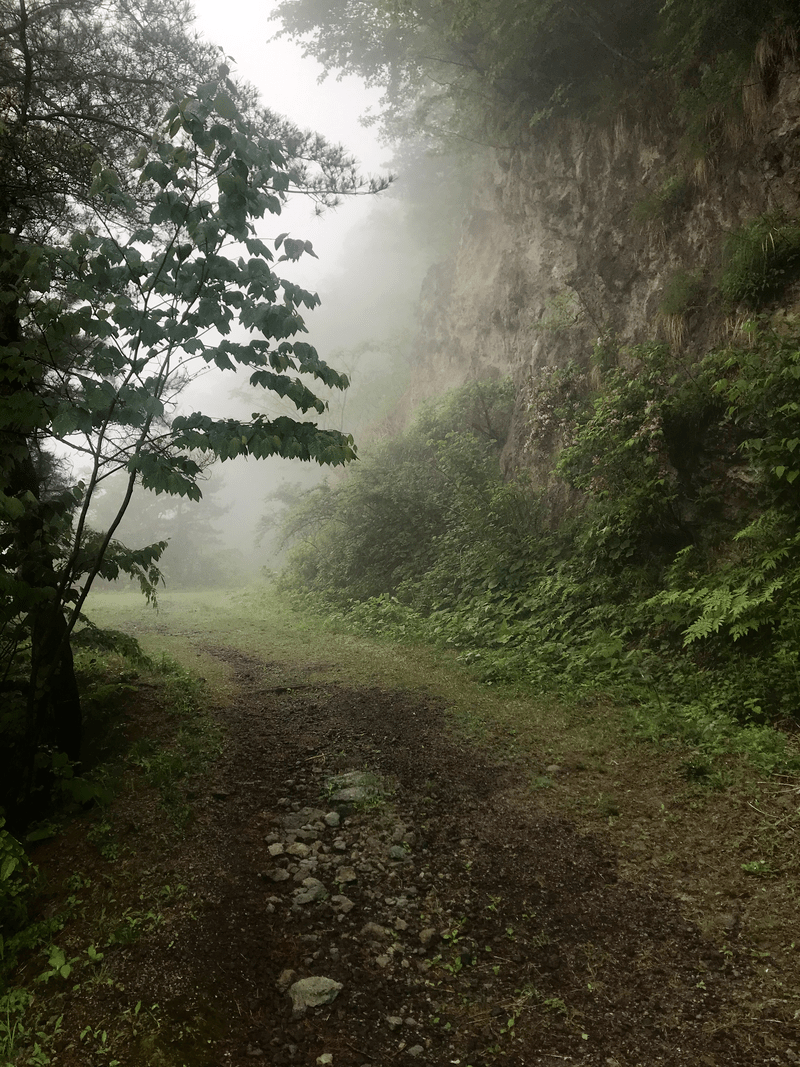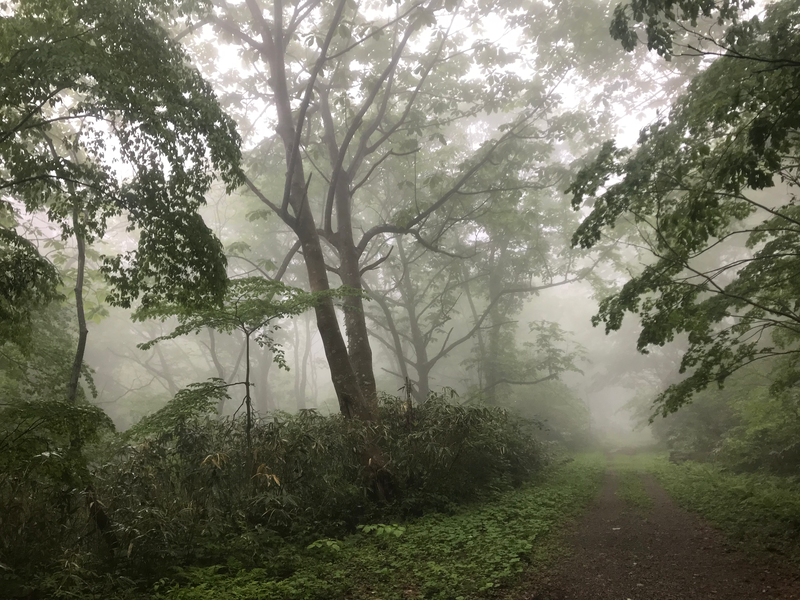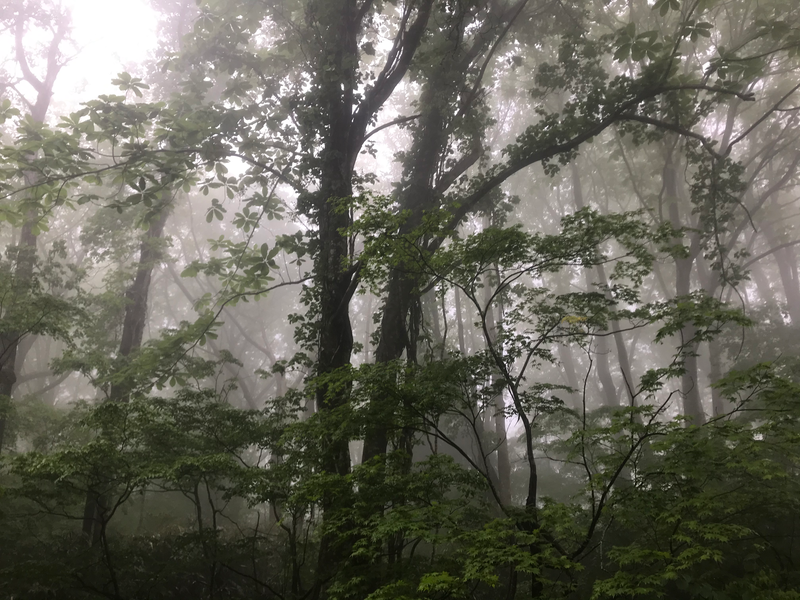 The big leaves of the trees were impressive
We took a round course that led us through the deep forest of the mountain. We passed beautiful lakes, a waterfall and a well! Always surrounded by the fog - it was fantastic!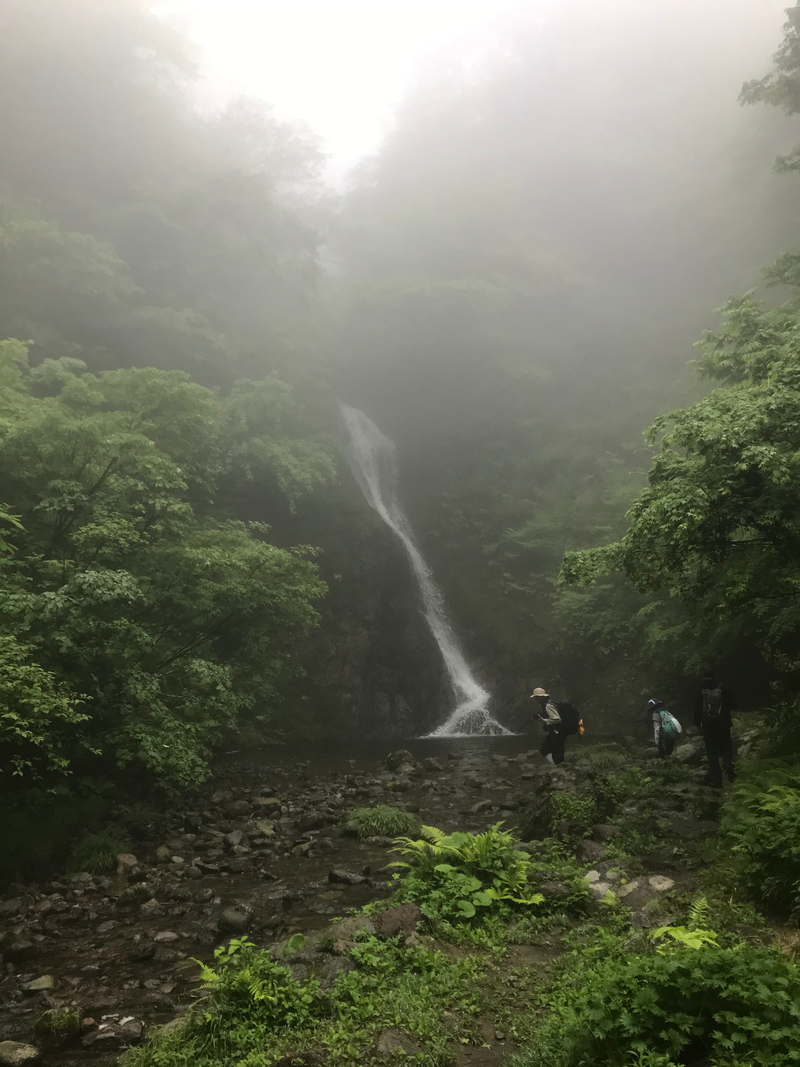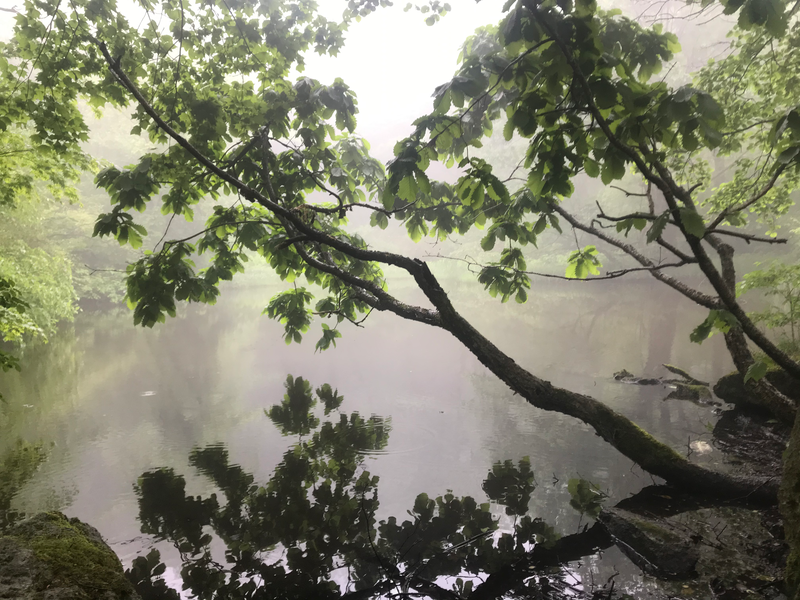 Passing the different lakes…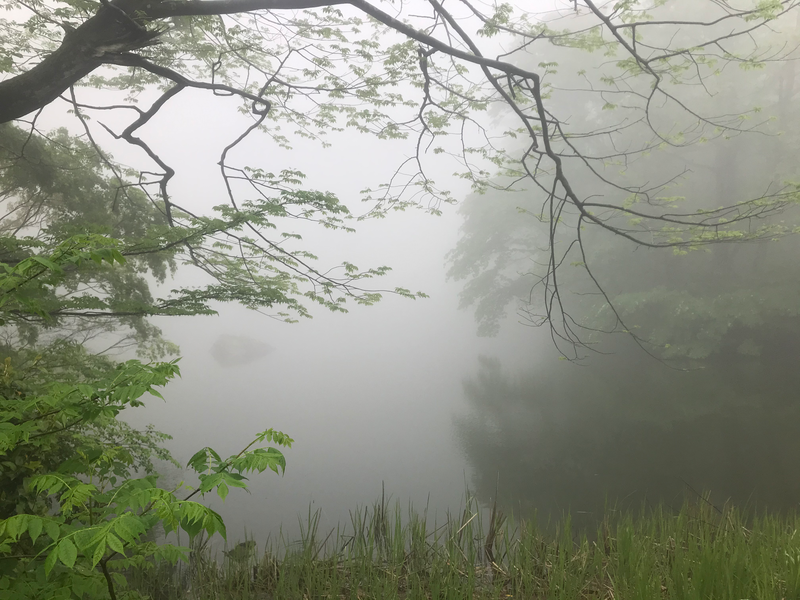 … with magical atmosphere
Due to the humid and rainy weather, wecould also hear and see a lot of big fat frogs. Actually, they make a lot of noise! The condition was perfect for them to come out and move around, our guide Sho-Kun (who we met before at our Hakusan Winter Hike tour) was brave enough to lift the frog on his hand so that we could have a closer look.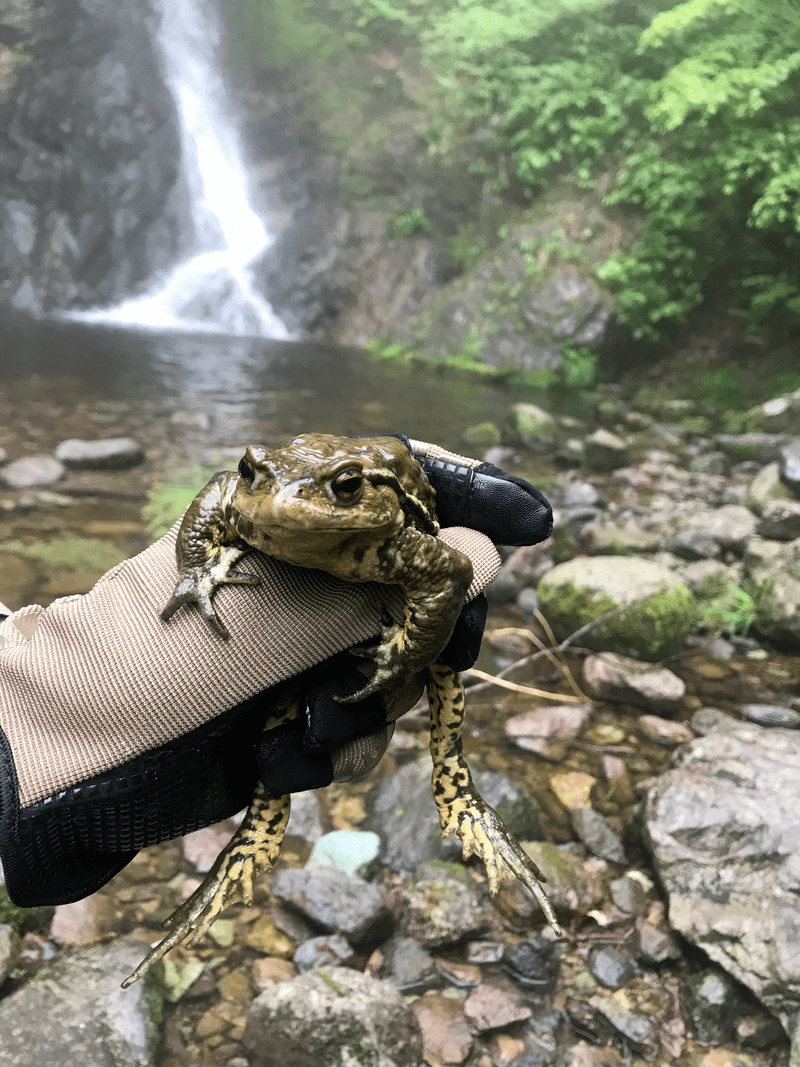 He only had to endure one minute of getting looked at before we released him back into the water. :)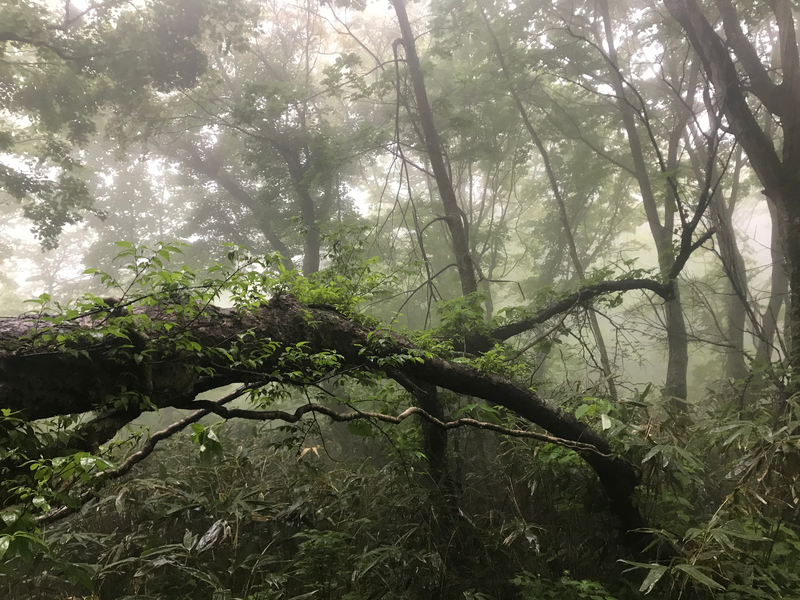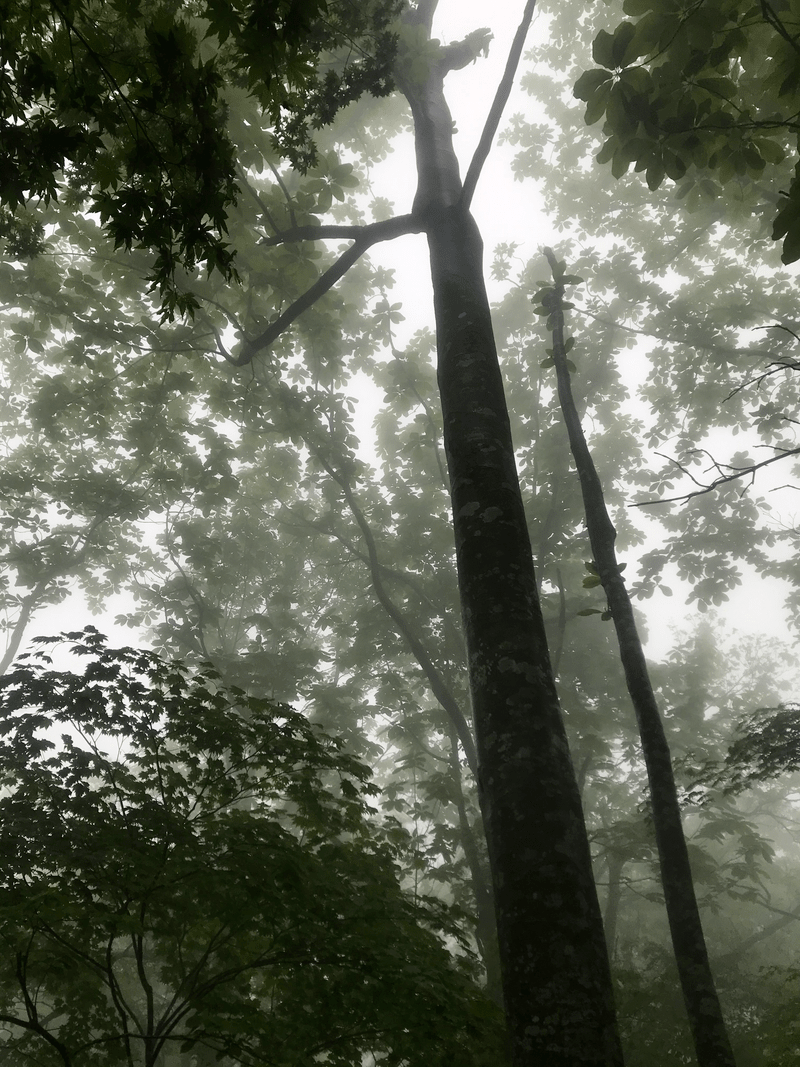 After four hours of hiking, we arrived back at the parking space and went back home, where Niklas and I slept for some hours. The amount of fresh air was just too much I guess. :D After being stuck at home all the time, we were overwhelmed by the massive exposure to nature.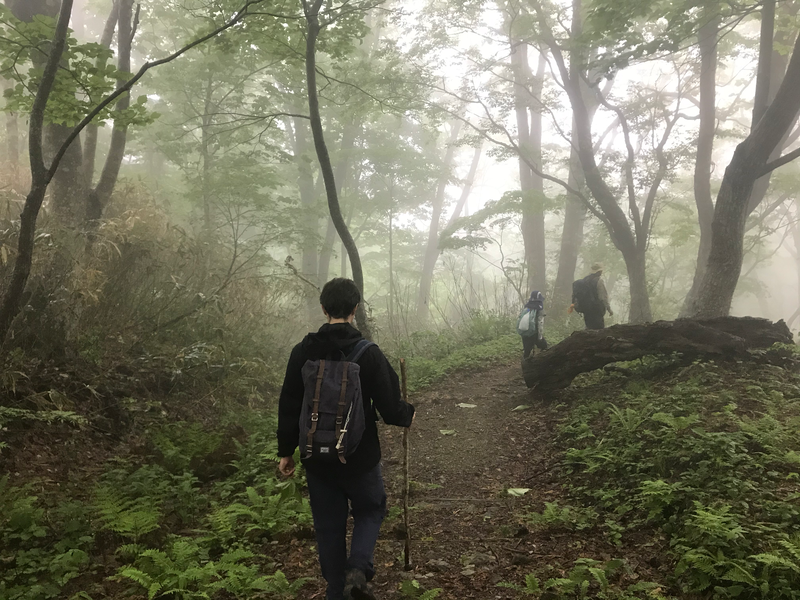 Niklas walking through the fog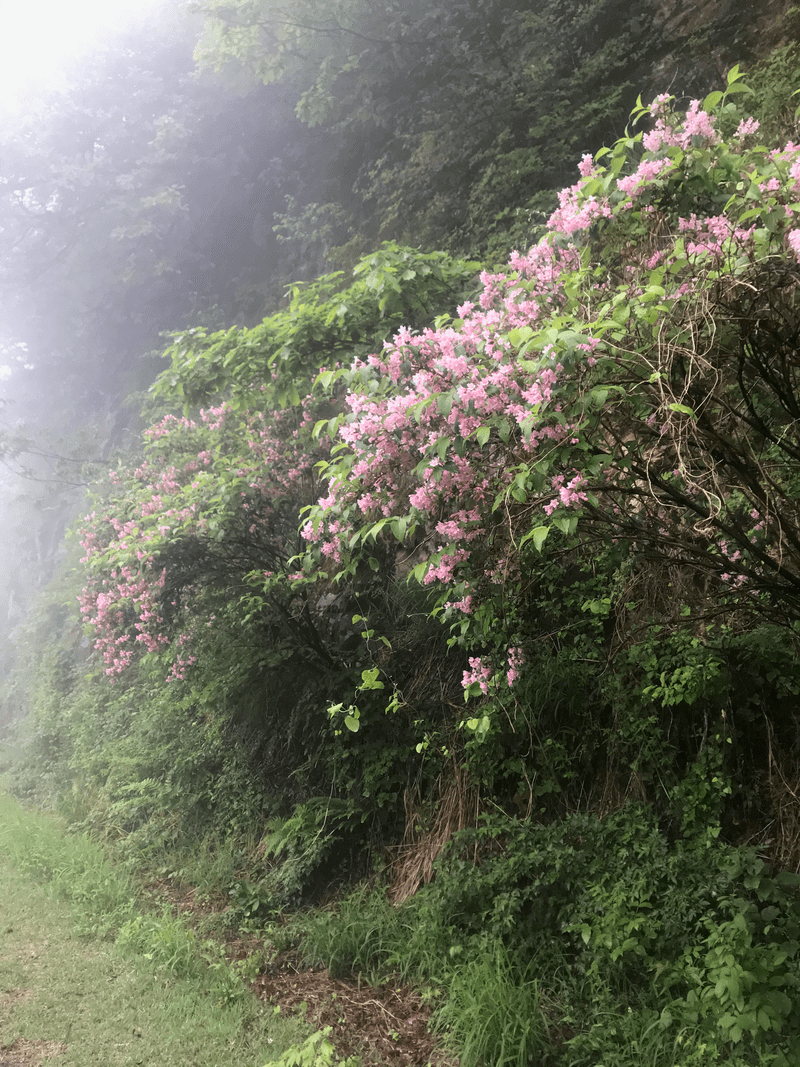 Sho-kun told us when these flowers bloom, it's time to start planting rice
I really enjoyed hiking but also talking to my friends from Tabitaiken, Mochiko-san and Sumie-san. After the long time alone at home, it was refreshing that we could communicate again in person. As the weather was not very nice, we didn't meet any other hikers (only when we took a break at a rest house there were other people enjoying their sandwiches. We were wondering where those people came from as we didn't see anyone before!) and felt pretty safe. I really had been looking forward to this hike for a long time!
We definitely want to come back to Iouzen during a sunny day and climb to the top. The view from up above must be very nice and I am a bit sad that we couldn't see it this time. But we were barely able to see 50 meters ahead, so it didn't make any sense to get up there. Let's keep fingers crossed that we can return soon.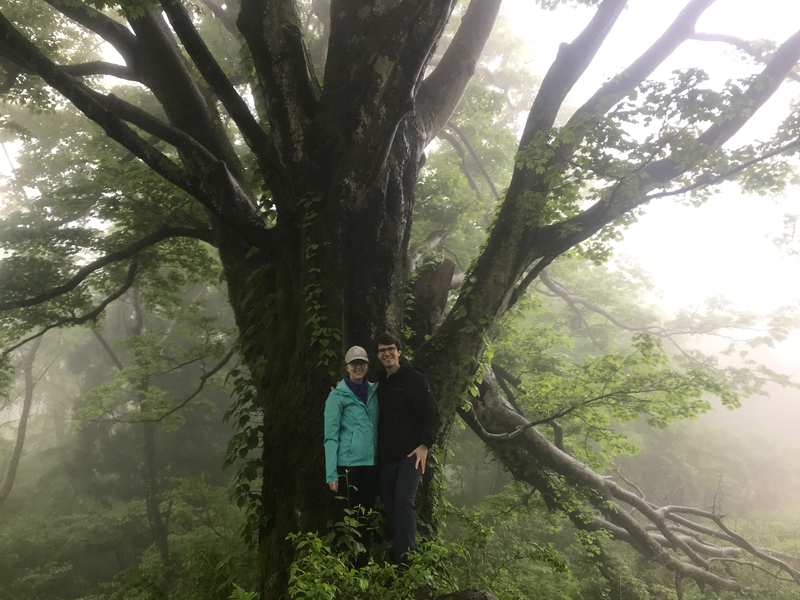 Creepy huge tree in the fog
As soon as tourism is back on track in Japan: If you want to go for a hike around Kanazawa, you can check the tour offerings from Tabitaiken. They can take you there and introduce you to the stunning forest nature of Japan. I am always surprised, how many herbal plants you can find in the forest and I love learning about the animals living there. Although I prefer not to see most of them, like bears, wild boars or snakes. :D