Everytime I visit Noto peninsula I discover new things. The remote countryside of northern Ishikawa offers not only beautiful landscapes but also tiny villages, rural Japanese atmosphere, delicous food and the feeling of being in a completely different Japan that you are used to. Also, Noto will always surprise you and you'll defenitely end up detouring as there are so many things to disvoer. This time, we planned to visit some landmarks of the Westcoast. And ended up driving all over the place.
Westcoast: Seki no hana and Totoro Rock
The last times I went to Noto I only saw the Eastern and central part of Noto but I recently learned that the Western coastline of Noto has some stunning views to offer. Therefore, we decided to take the rental car and drive to an interesting landmark called Seki no Hana, a shrine with several of red gates that is situated directly above the sea on a steep cliff, about 80 km away from Kanazawa. The drive itself was already great! We left the Satoyamakaido (the main road that connects Noto to the rest of the world and is fairly well built) after 30 km and took lots of tiny and windy roads among the remote countryside of Noto. It was my first visit of Noto in spring, so I really loved to see all the different flowers that were blooming everywhere. Suddenly we arrived at the coastline and followed a narrow road among steep cliffs and rocky beaches. The blue Japanese sea was sparkling in the sun and it looked really beautiful. however, a strong wind was blowing on that day, so the waves were pretty high and you could immediately feel that it's not an easy going life you have when you live in one of the small coastal towns at the West coast.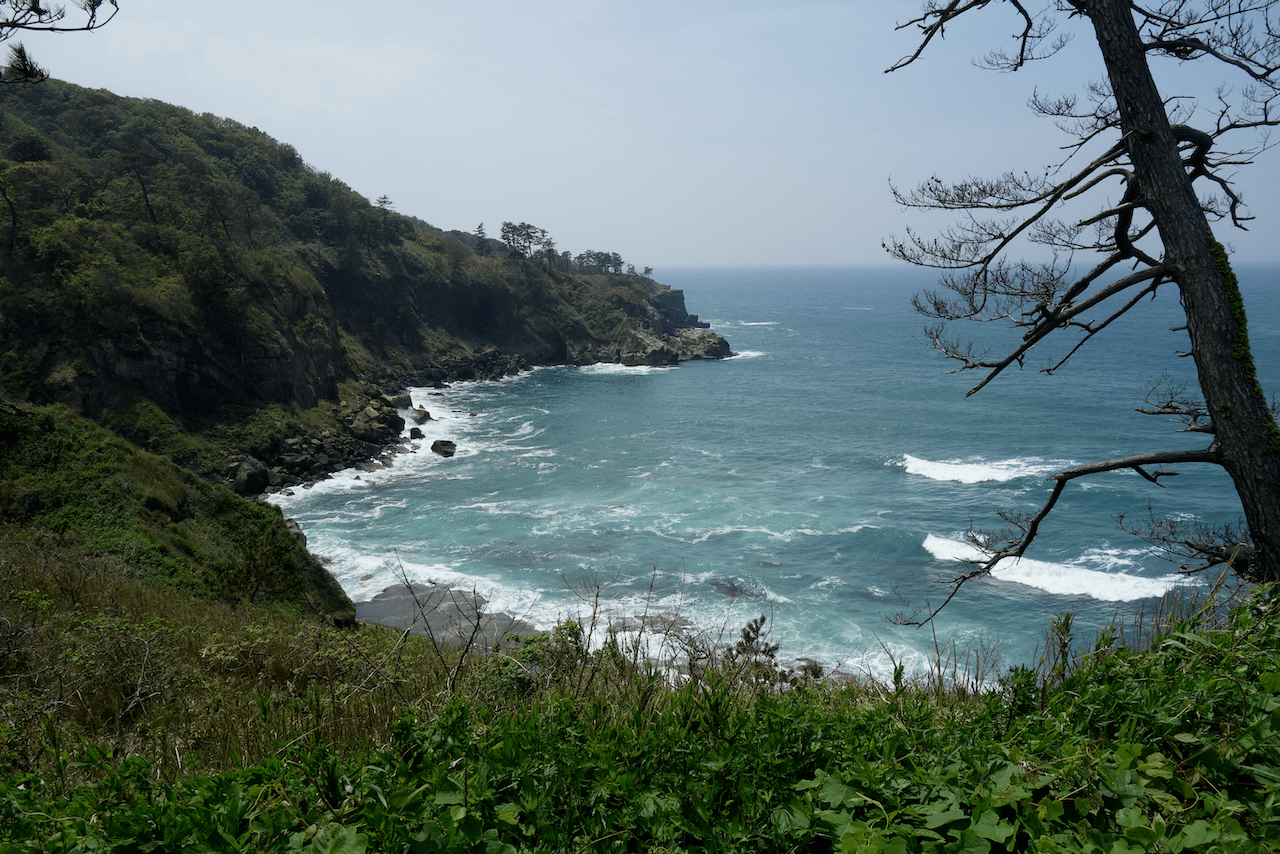 Dramatic coastline along the western part of the peninsula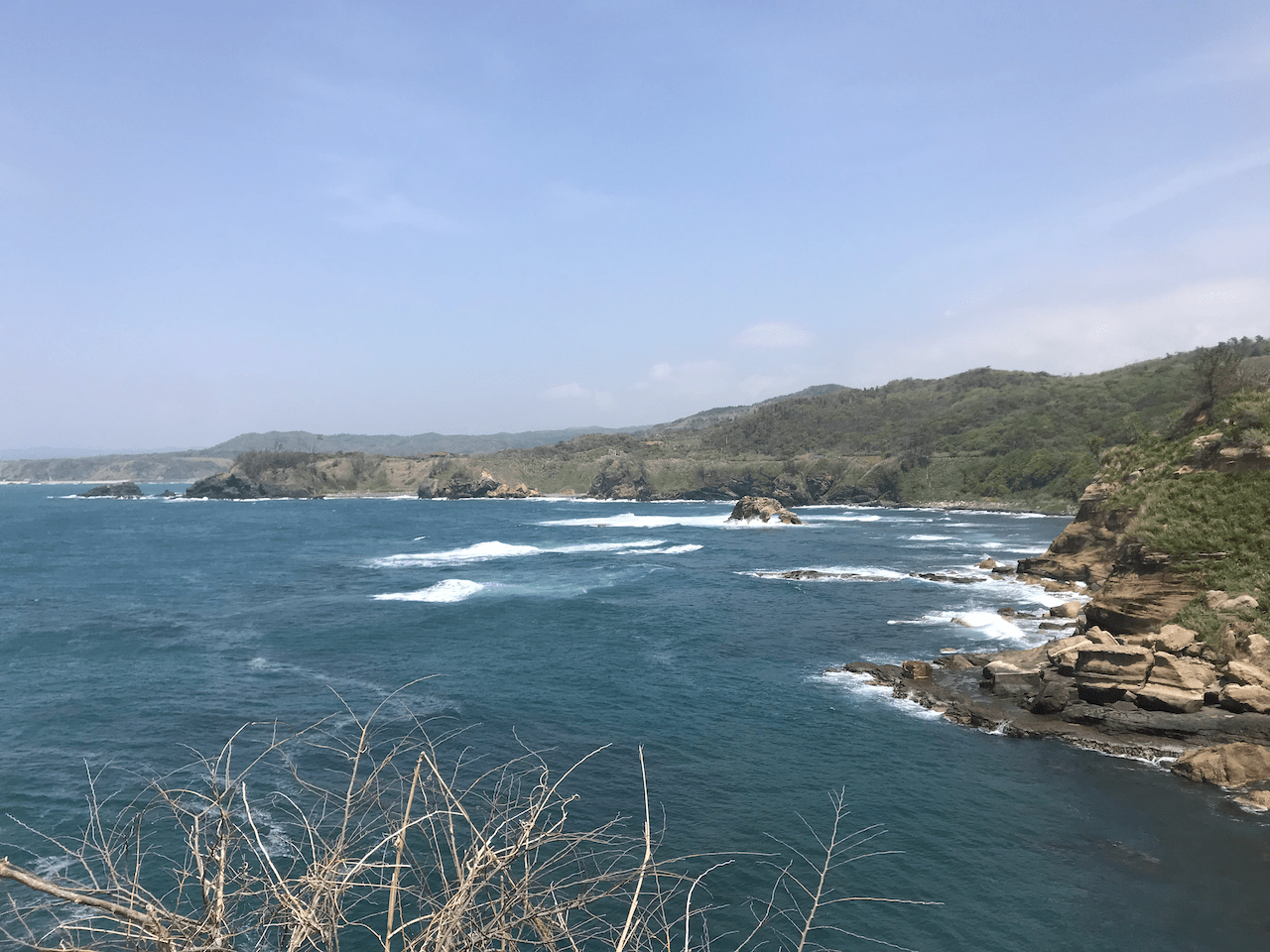 We didn't encounter any other people on the way and arrived a an empty parking lot. The whole tourism area was completely deserted and looked like no one has been there for several years. The parking area was huge, we guessed that there must have been many tourism tours and lots of sightseeing busses, passing this landmark. But there were also many deserted buildings and the ways down the cliffs were not well kept - on the contrary, we got the impression that no one seems to have been taking care of this area for a long time.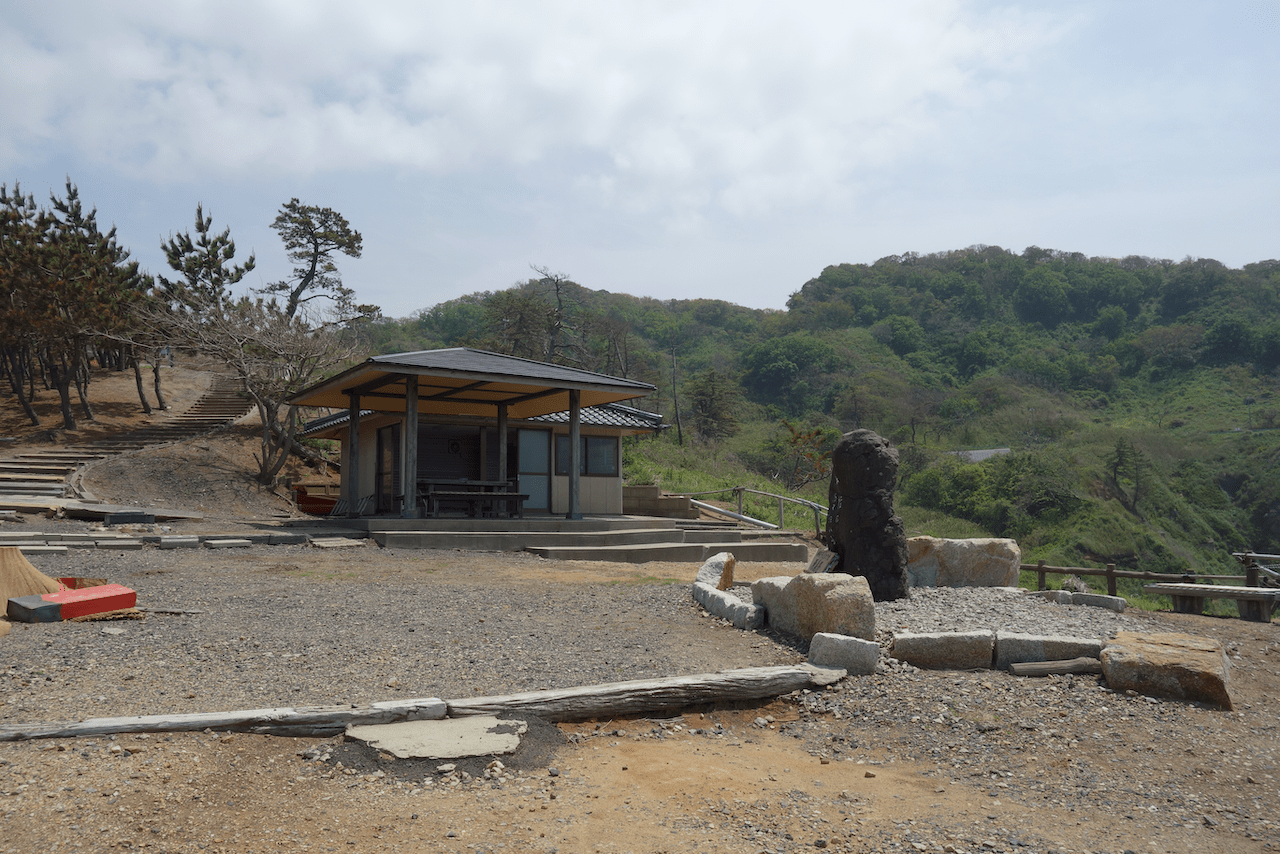 Some stony paths alongside the cliff were unpassable and the stairways also didn't look too well kept. But the atmosphere was still impressive!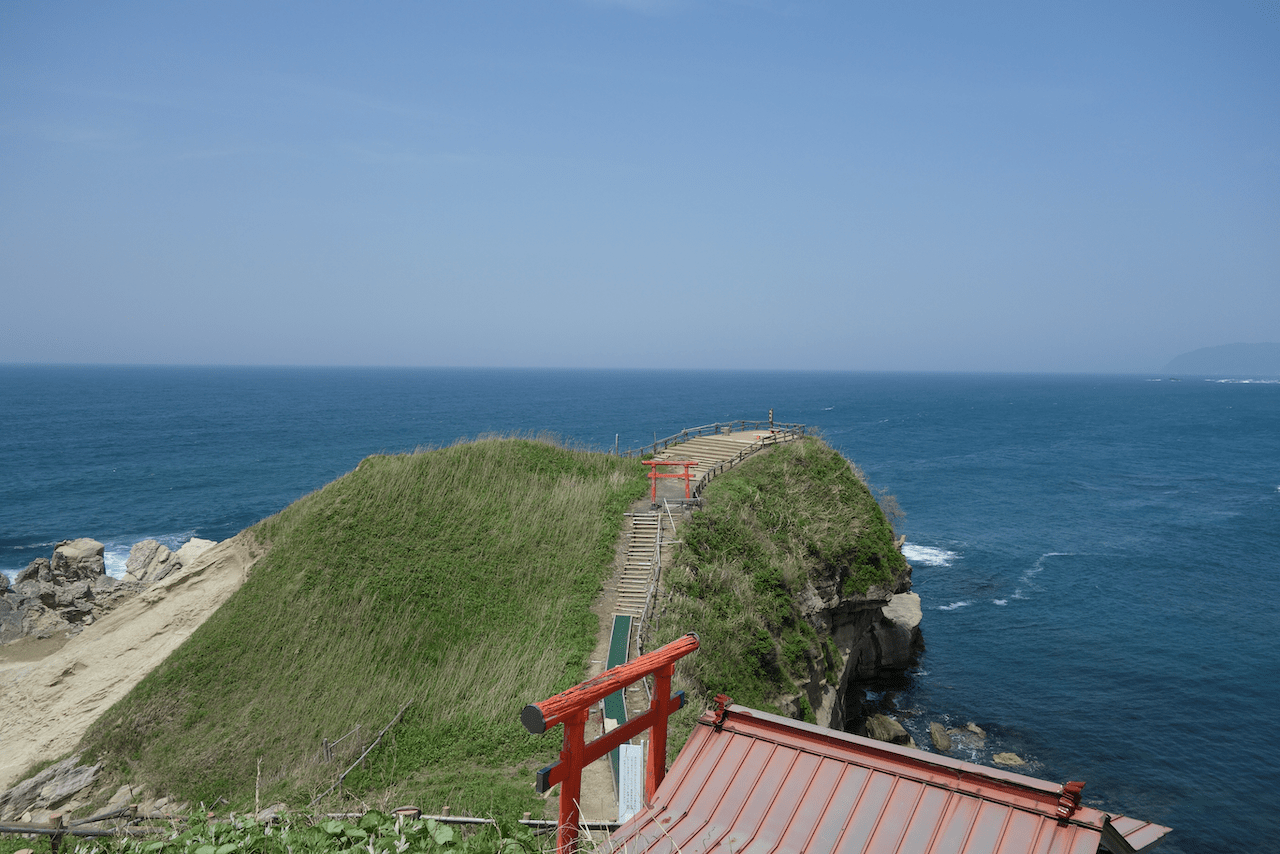 Great view of the main path of the area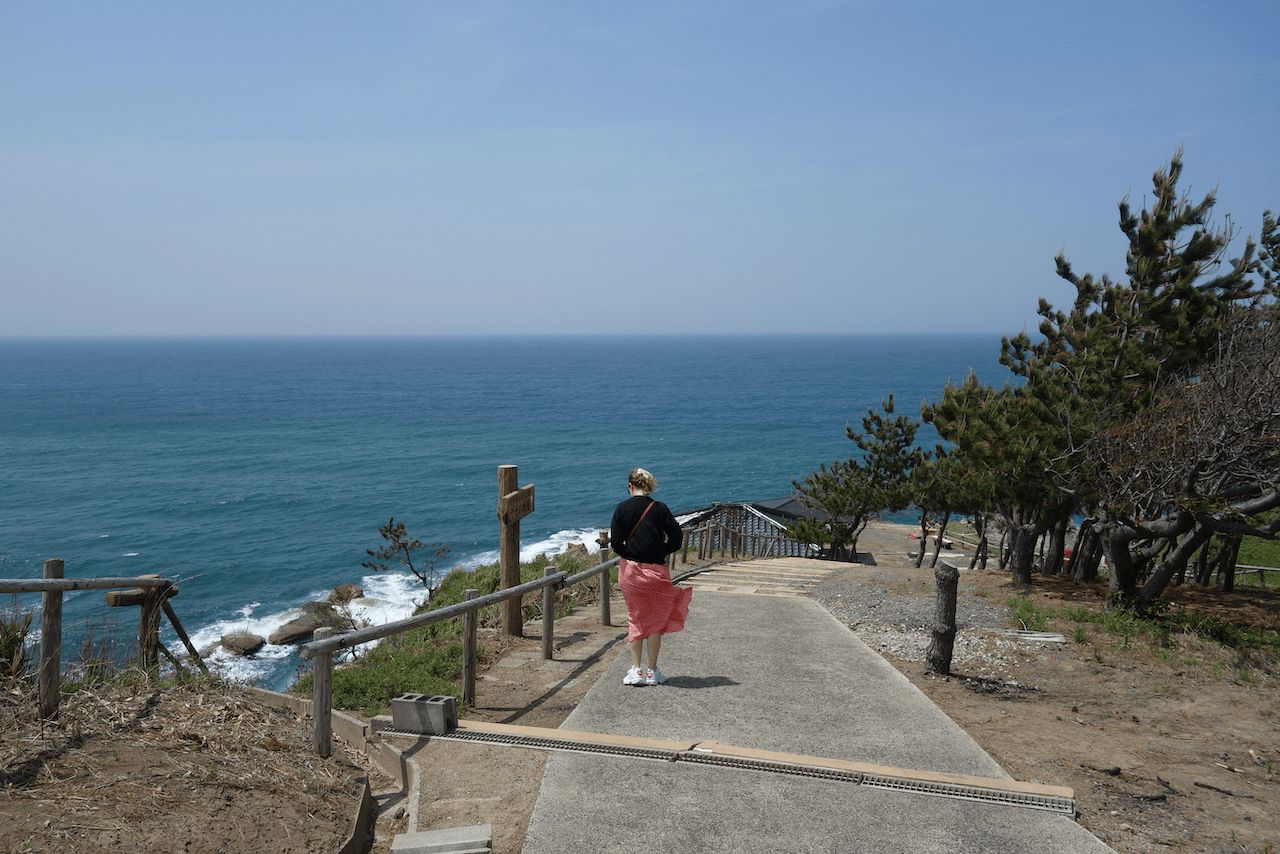 As you can see, it was extremely windy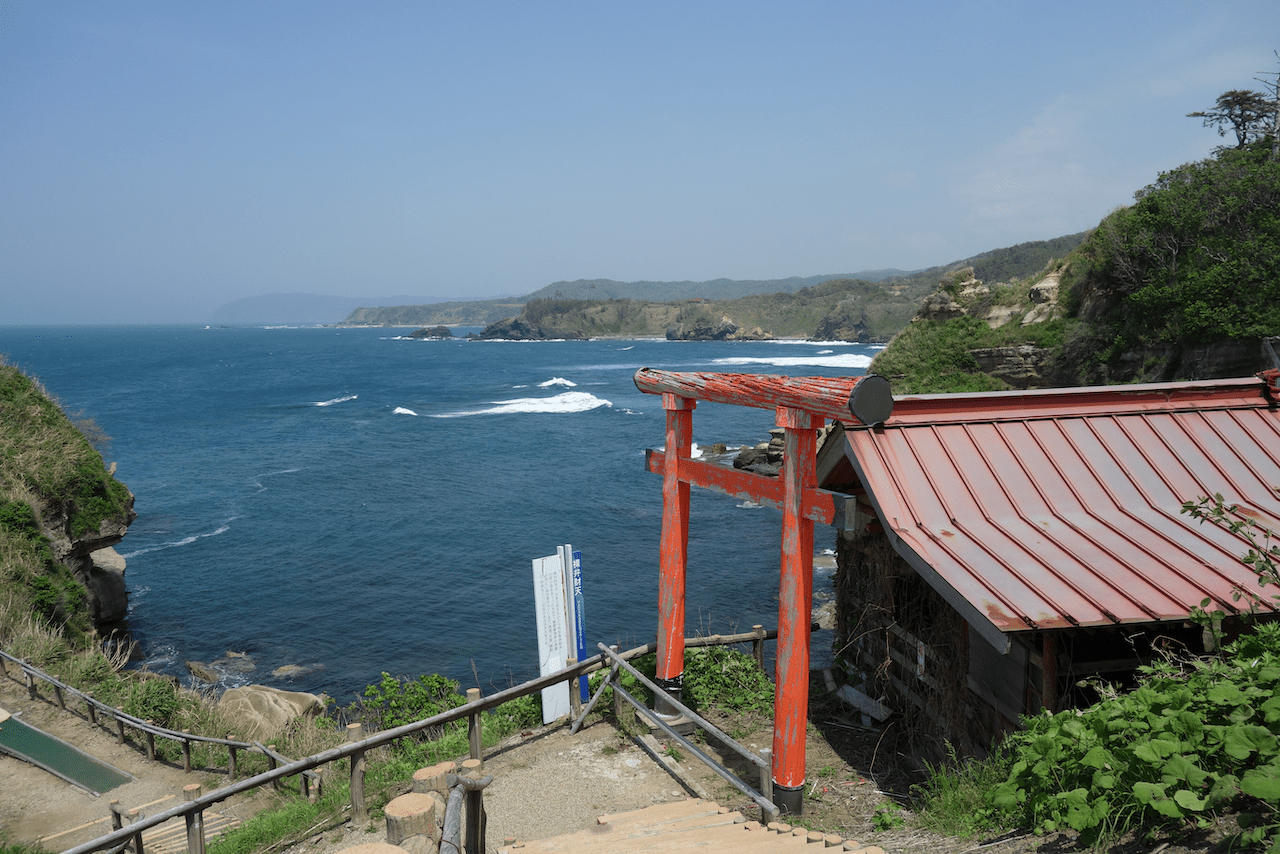 The view was spectacular and the wind blew like crazy. It was also slightly scary because there was absolutely no one around.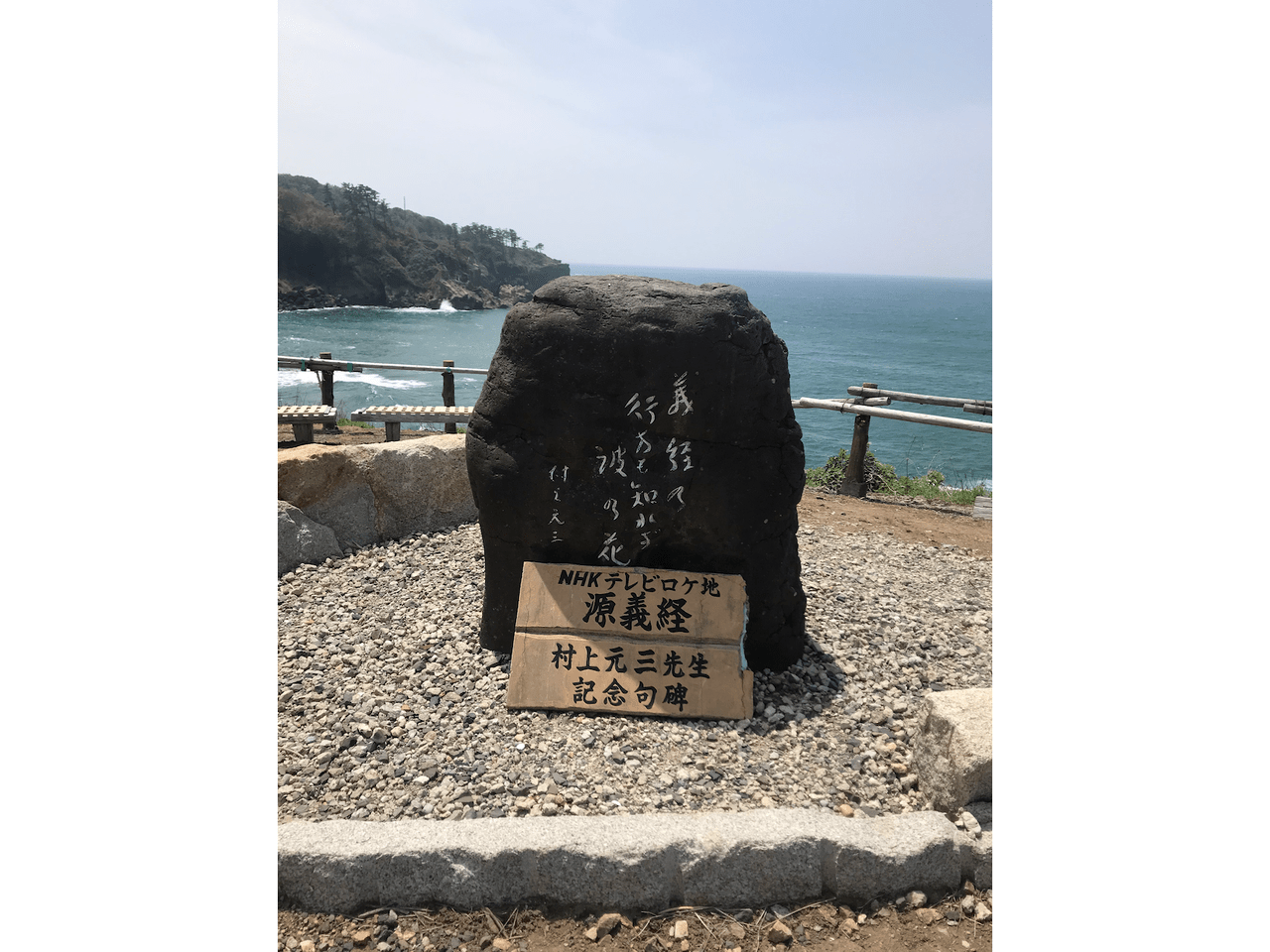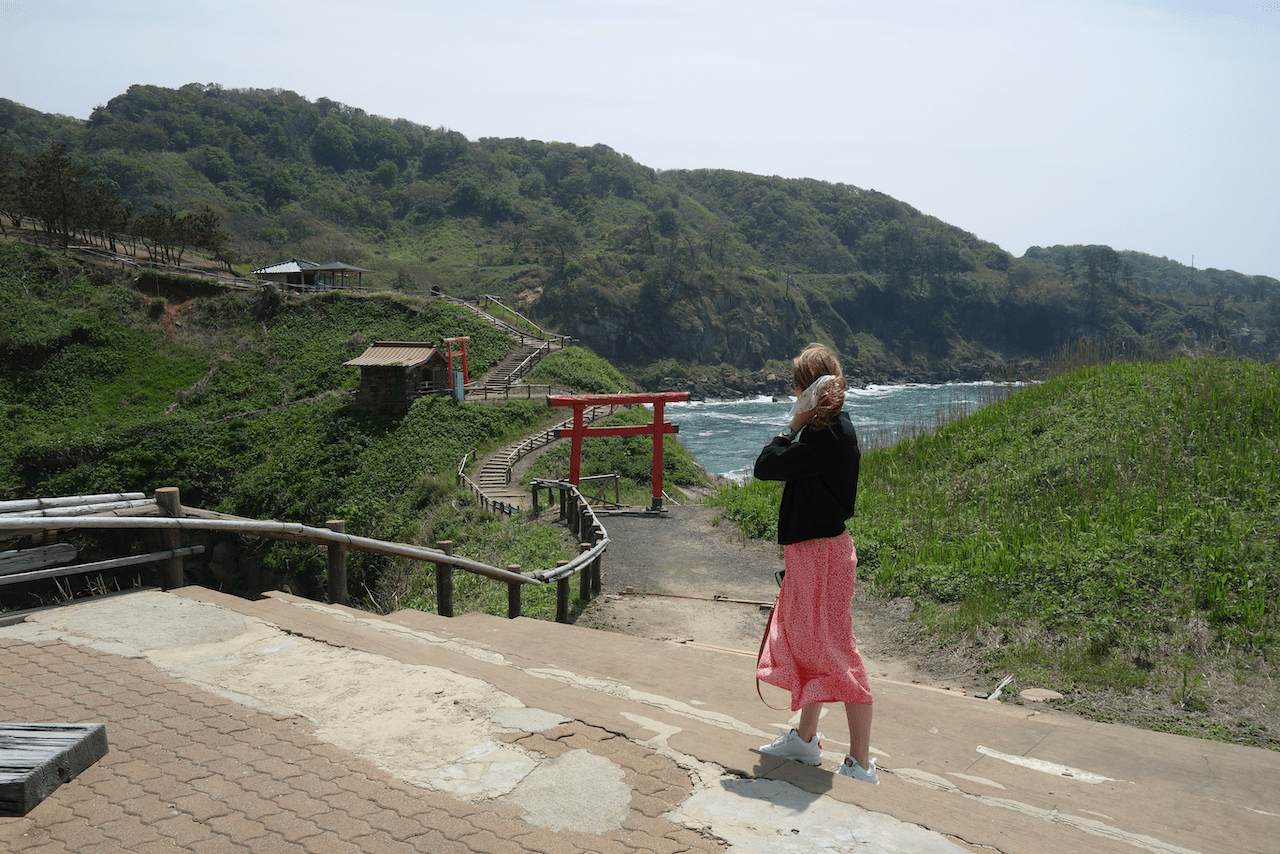 We didn't really know why this place looked like this but after our visit, I tried to find out what has happened and apparently, after the big Noto Earthquake in 2007 this whole area was abandoned as the damages were too huge.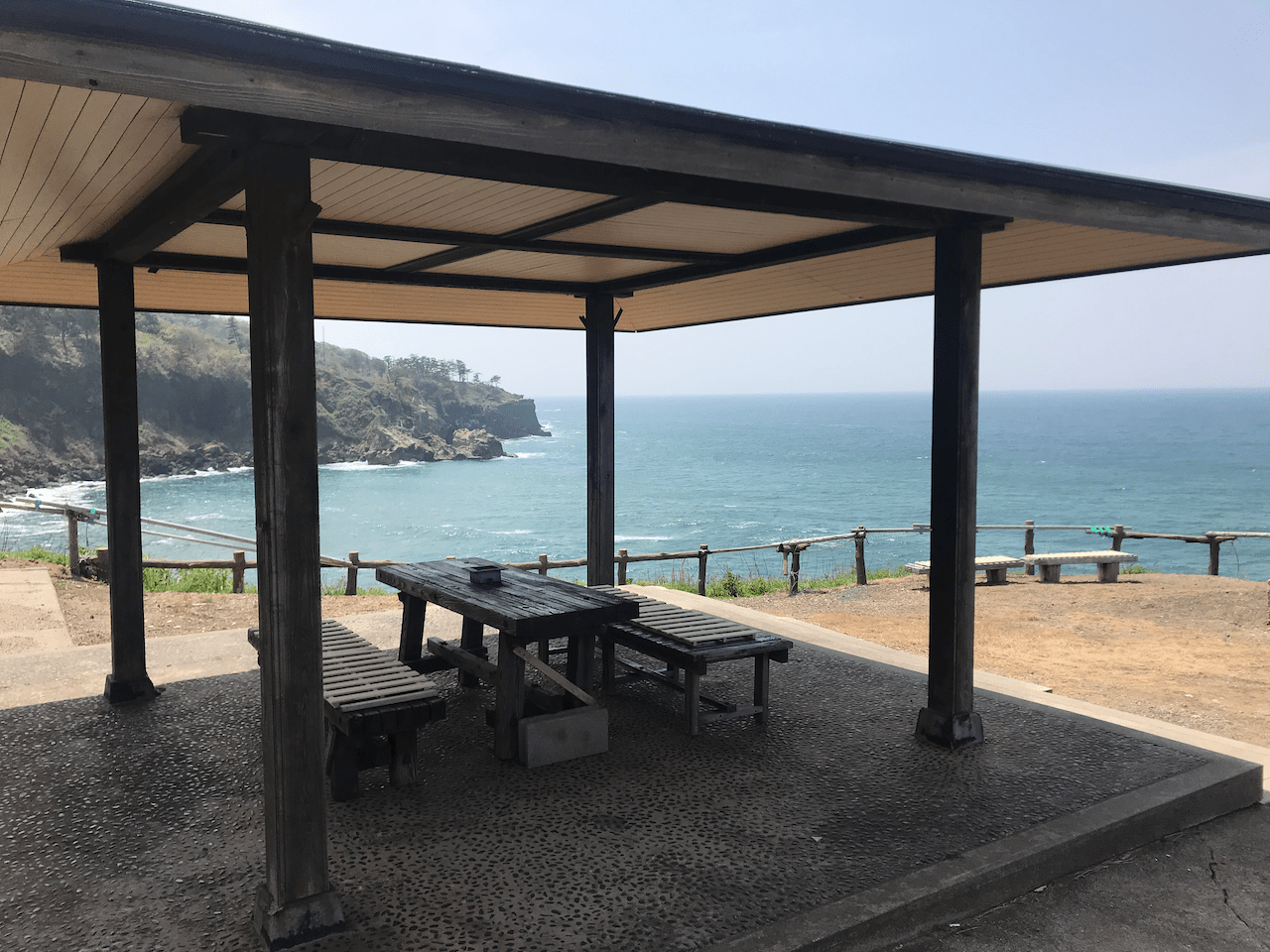 This scenic resting place is all that's left from a building that used to serve as information center and maybe also sold food.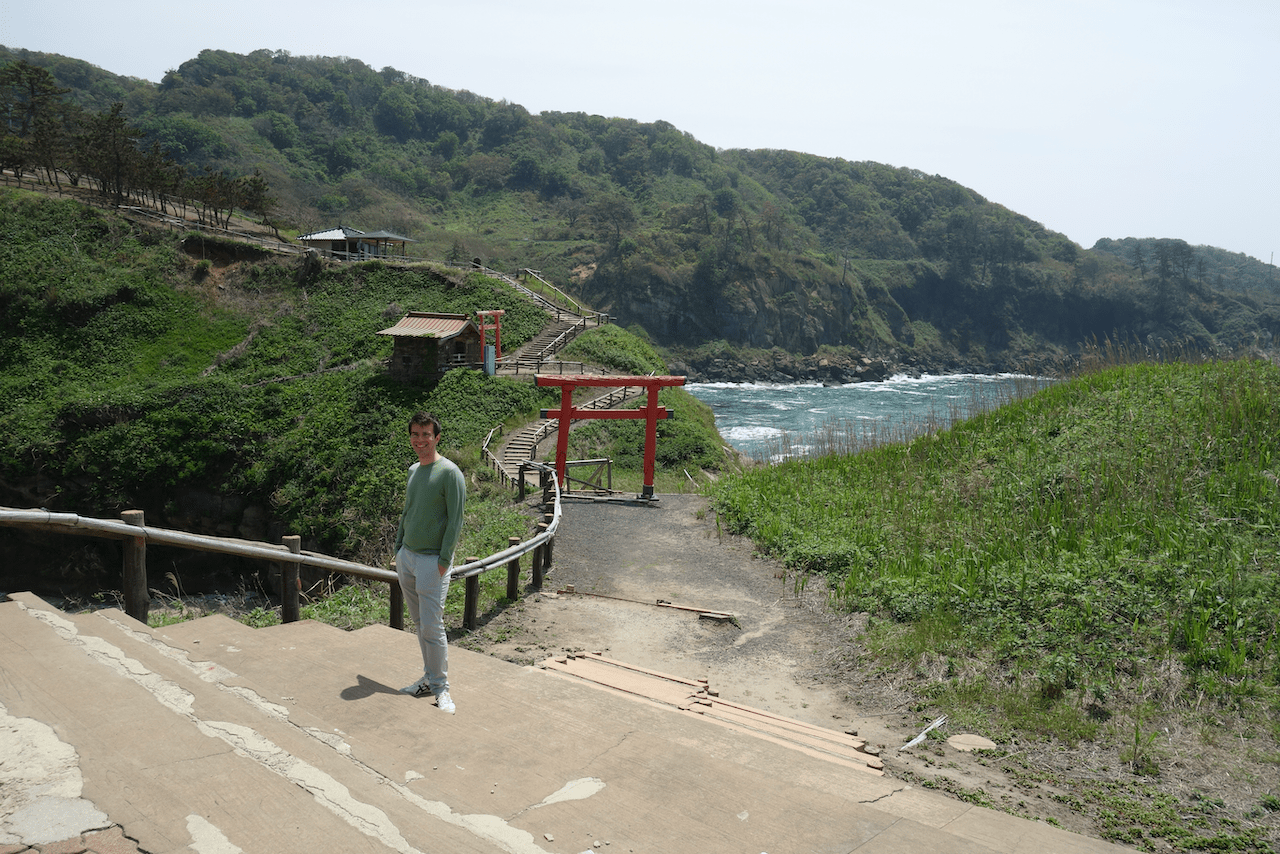 Sidenode: In 2007, a huge earthquake struck Noto area and destroyed a lot of things like the Satoyamakaido, the airport, many houses and also lots of rocks at the coastline. Therefore, some paths became unstable and had to be closed off. We also noticed that one of the big red gates seemed to be a bit broken and I read that it was badly damaged by the earthquake.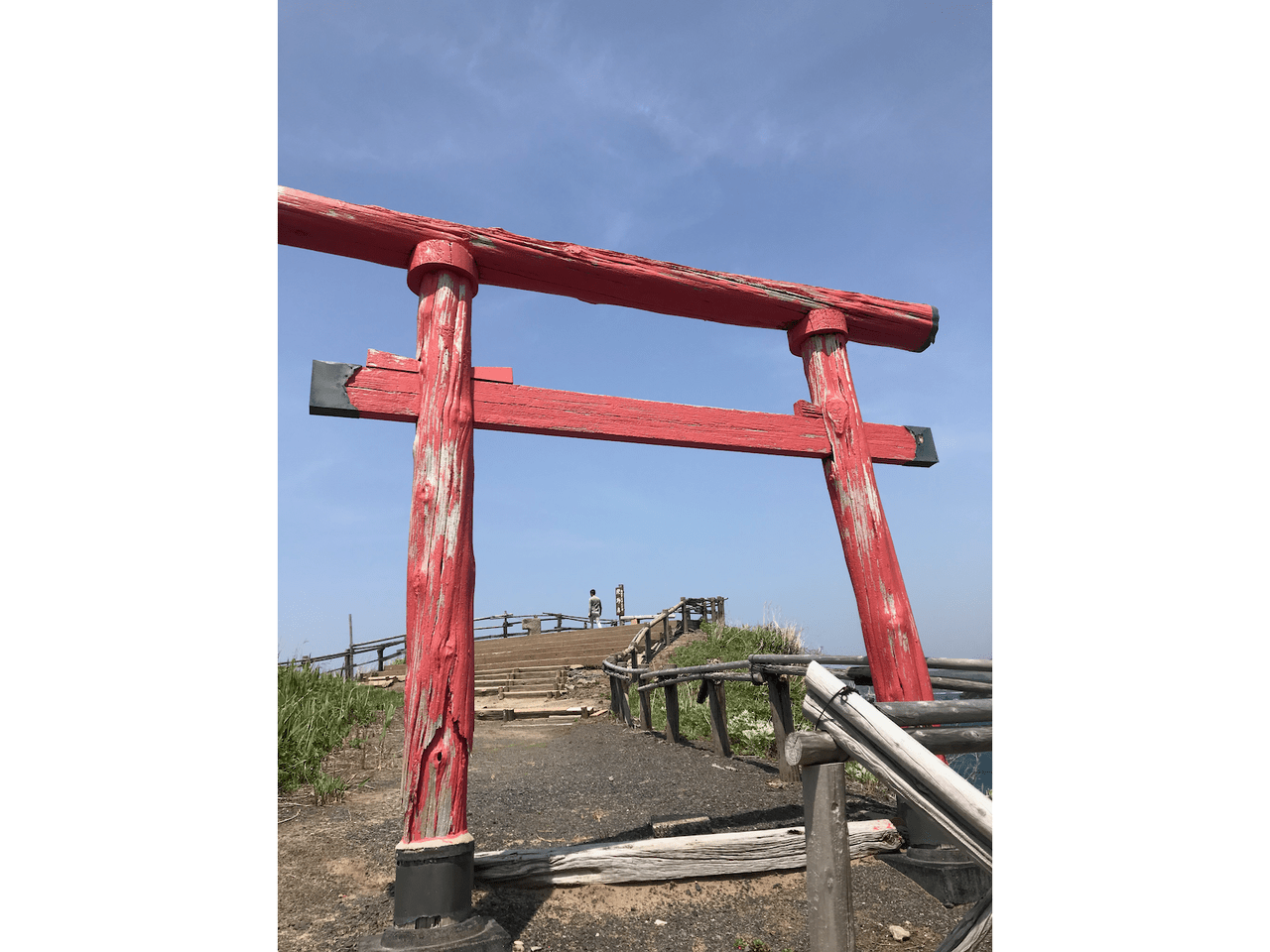 You can see that this red gate does have some cracks that were caused by the big earhtquake.
After we finished our walk around the deserted area, we decided to follow the coastline in the Northern direction for a little bit to see what else we would find. And we weren't dissapointed. We drove through tiny fishermen towns, saw many dramatic cliffs and even found the Totoro Rock, inspired by the main character of the famous anime My neigbour Totoro.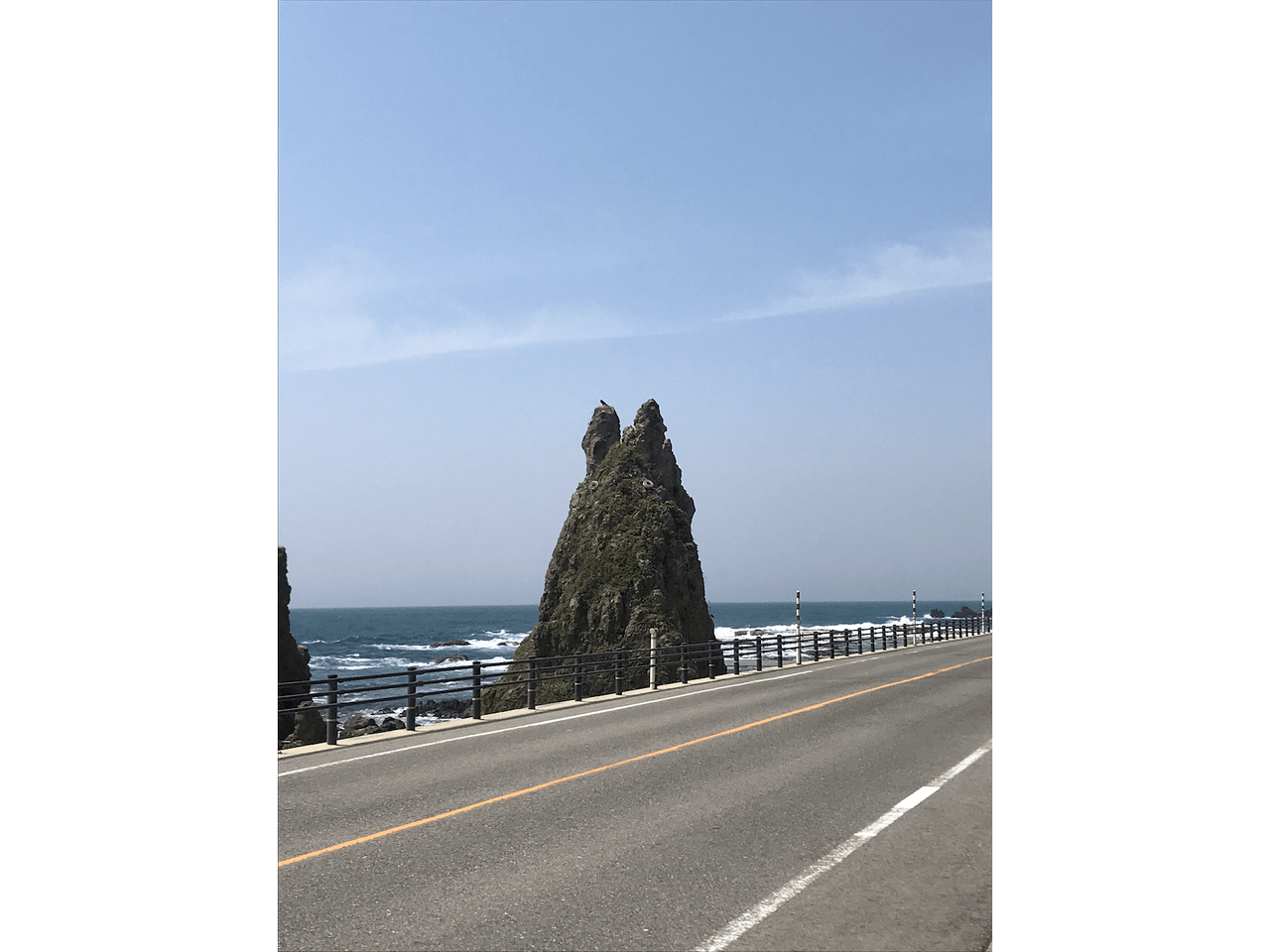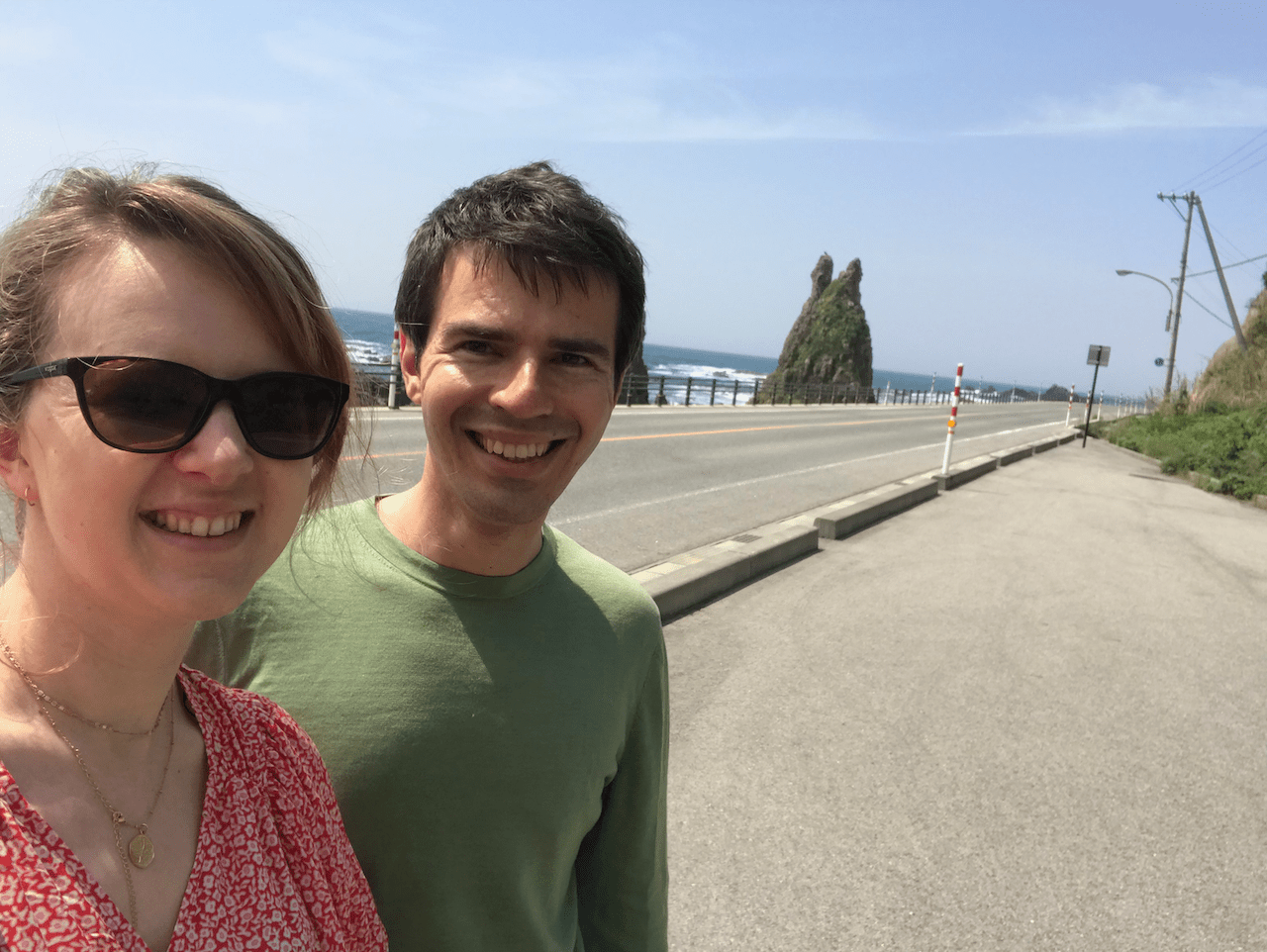 Central Noto: Anamizu City
After this we got really hungry and decided to try out a special restaurant called "Coast Table" that's located next to the sea and is famous for Oysters. It is situated in Anamizu City, a small town in the cenral area of Noto.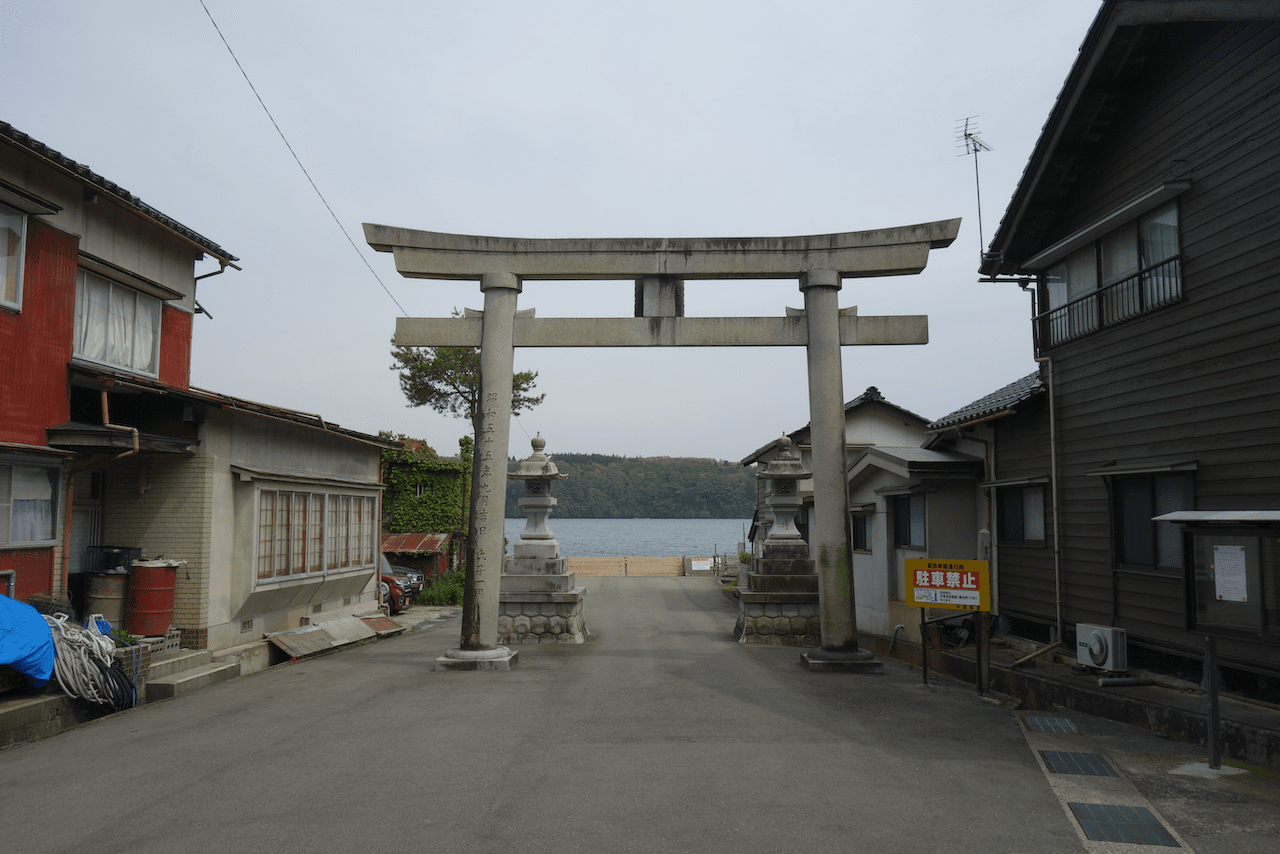 A huge stony gate was greeting us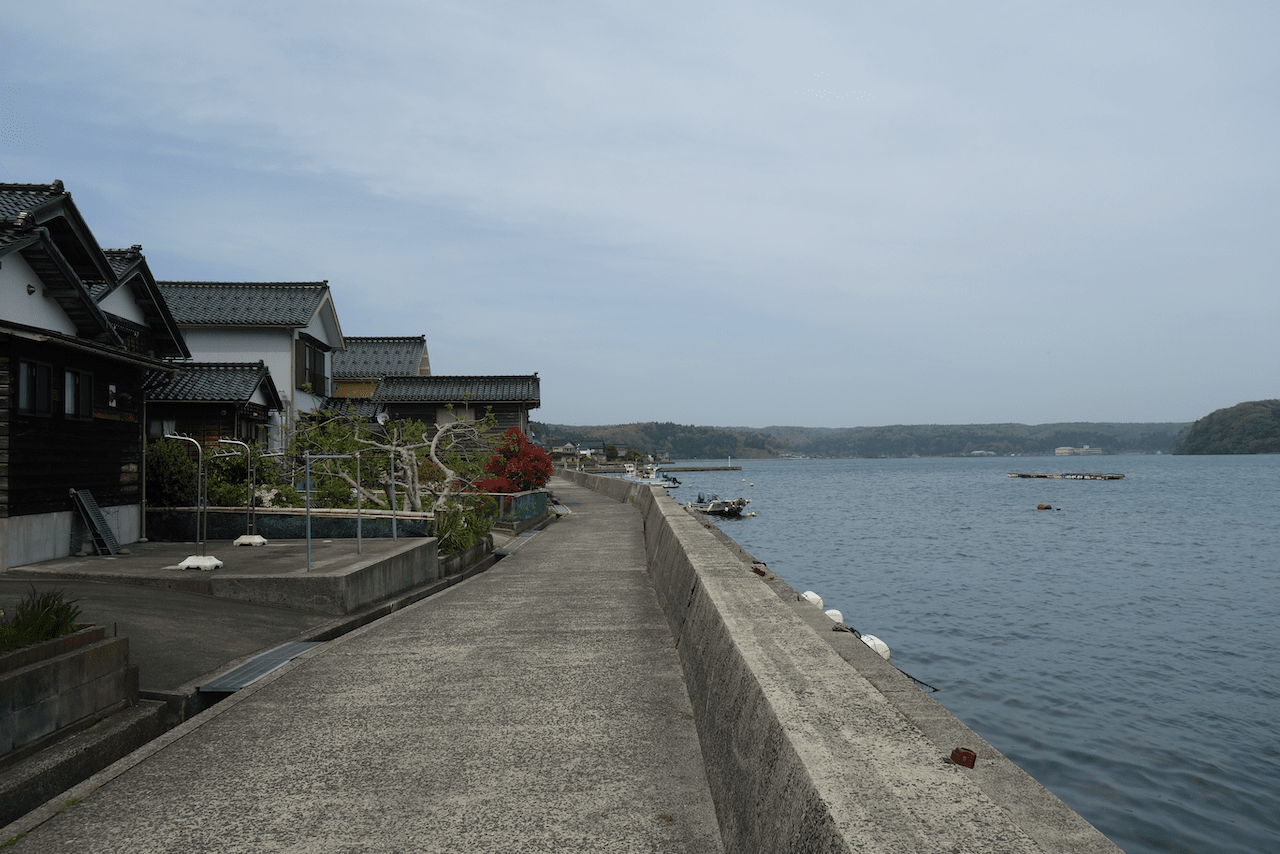 The bay was super quiet
We had some difficulties to find the place as it was not entered correctly in google maps or apple maps! So we walked around the quiet coastal town for a bit and enjoyed the atmosphere. The sea from Noto Bay was super quiet and the water had a deep green color. Such a difference from the Western seaside!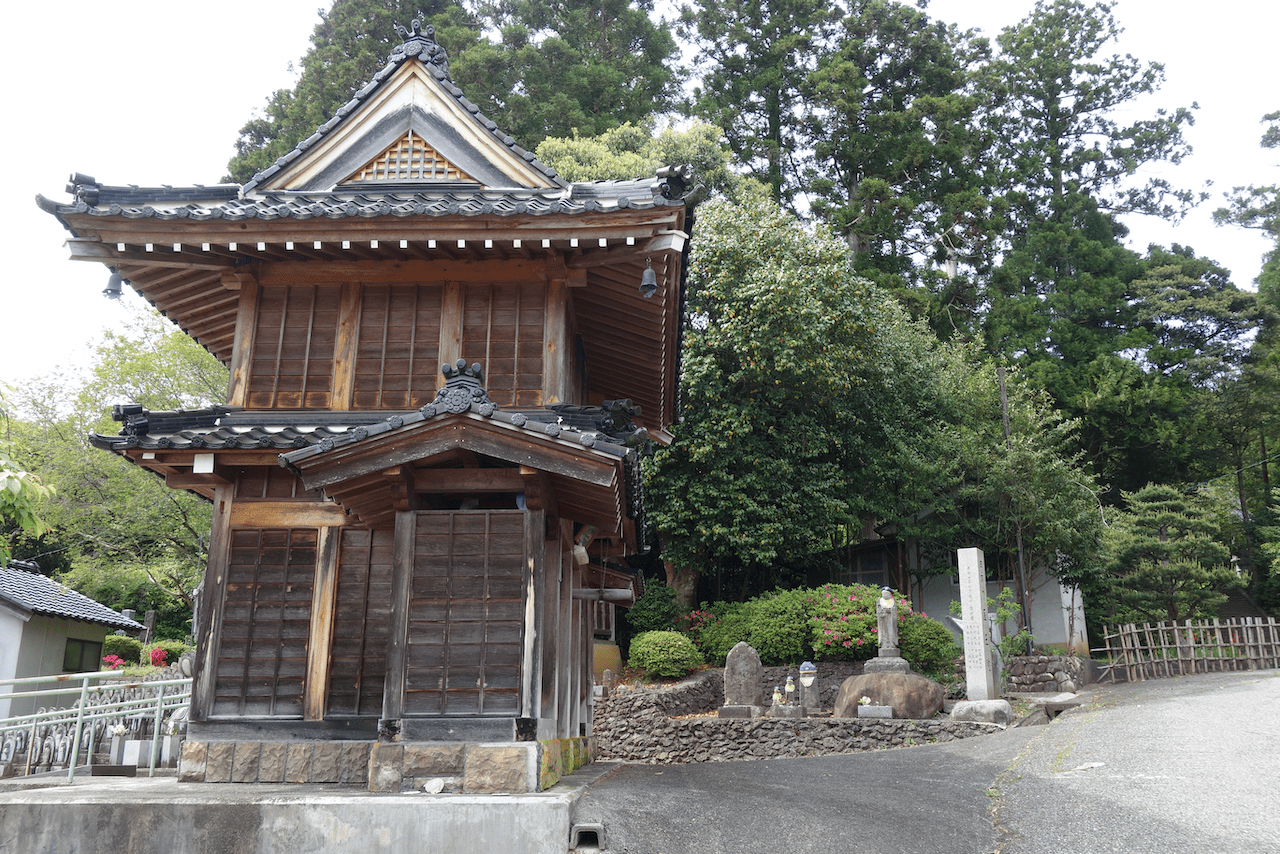 Sadly, the restaurant was closed on that day, so we had to leave the area and find some other place to eat (which we managed, thanks to various chain restaurants close to the Satoyamakaido).
East coast and the famous squid statue
While enjoying our late lunch we decided to investigate another important issue: during that days, a news report from a small town of Noto, Ishikawa was displayed worldwide because this town decided to use COVID relief funds to build a giant squid statue in order to attract more tourists (instead of using this money for its original purpose). Even the BBC reported it (see more here). Of course we were really curious where this statue might be and if we could go there. After some searching we realized that it was located at Tsukumo Bay, the place we had already visited last October (you can read about it here).
Our drive to Tsukumo Bay was really beautiful, the road led us directly among the coastline up north and we could enjoy a breathaking view of the Toyama Bay seaside.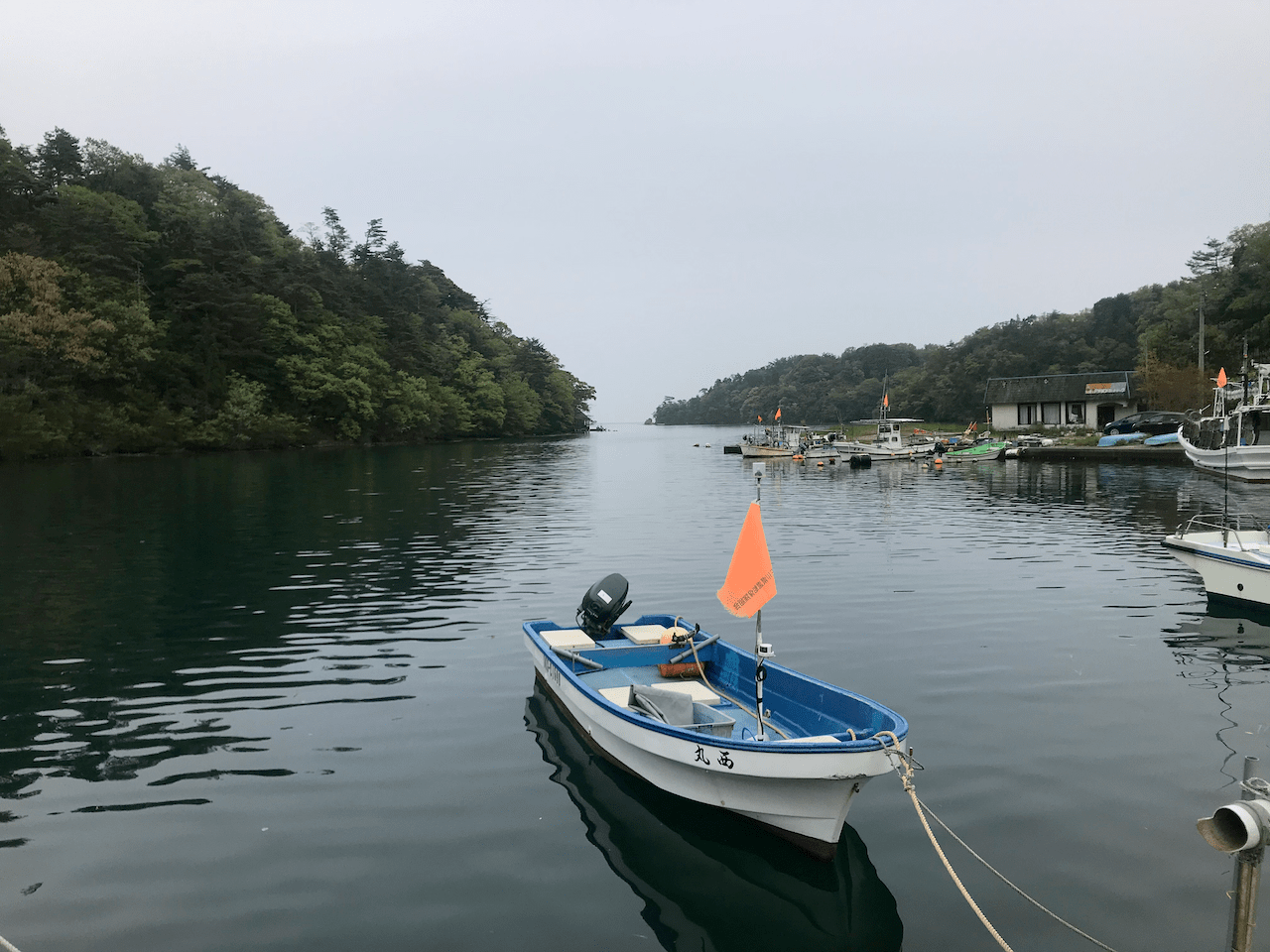 And finally we arrived at the Tsukomo Bay at Ika no Eki, the so called "Squid Station", located in Oogi Town. It's a nice tourist center where you can book boat trips, learn more about the squid fishing tradition of Oogi Town and have a nice meal. However, due to the COVID situation, it was closed down, so we couldn't go inside. But we didn't go all the way to Tsukumo Bay for the tourist center, we were here for the big squid statue.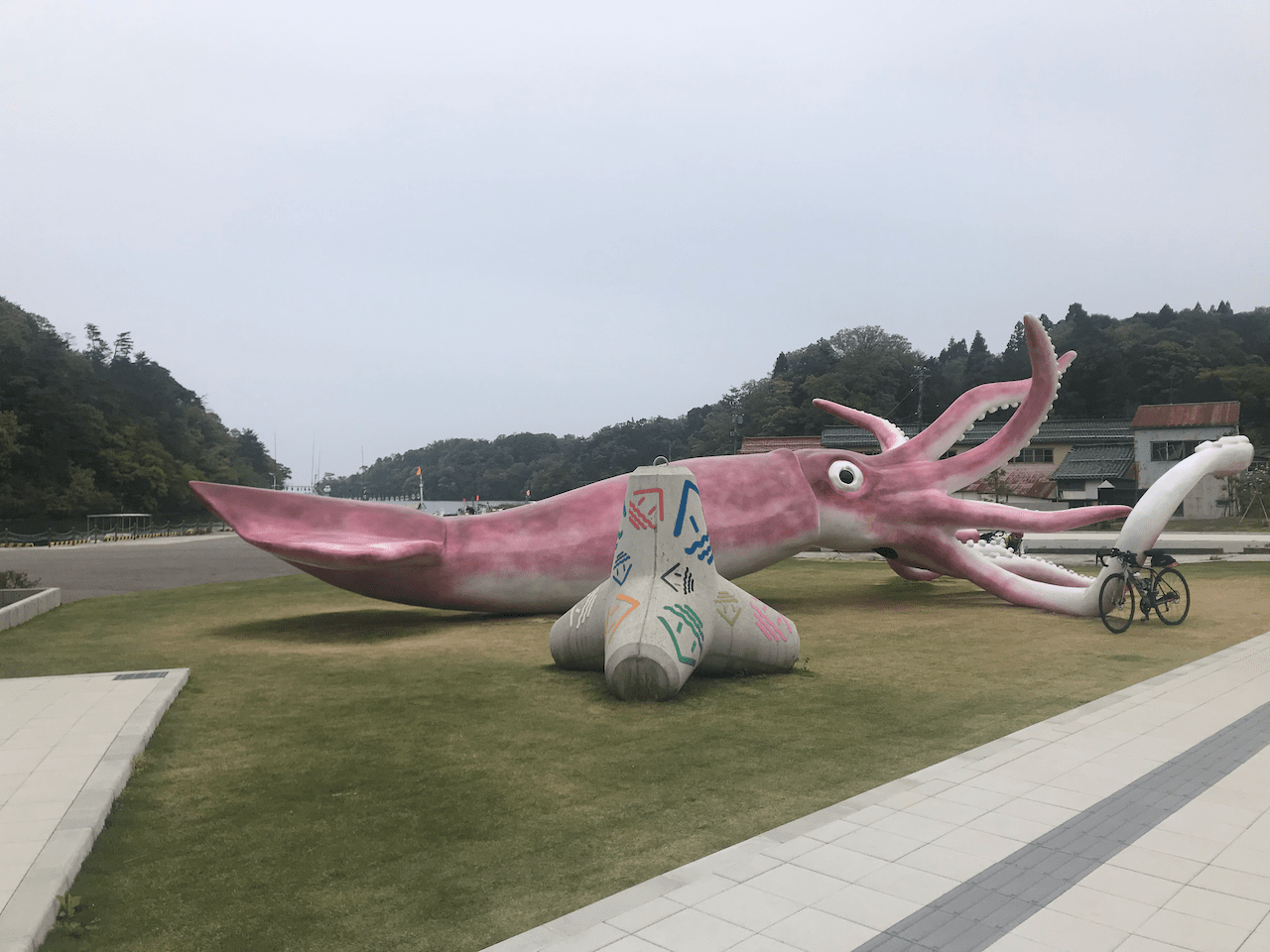 Compare the size of the bike to the statue and you'll get a good impression of its size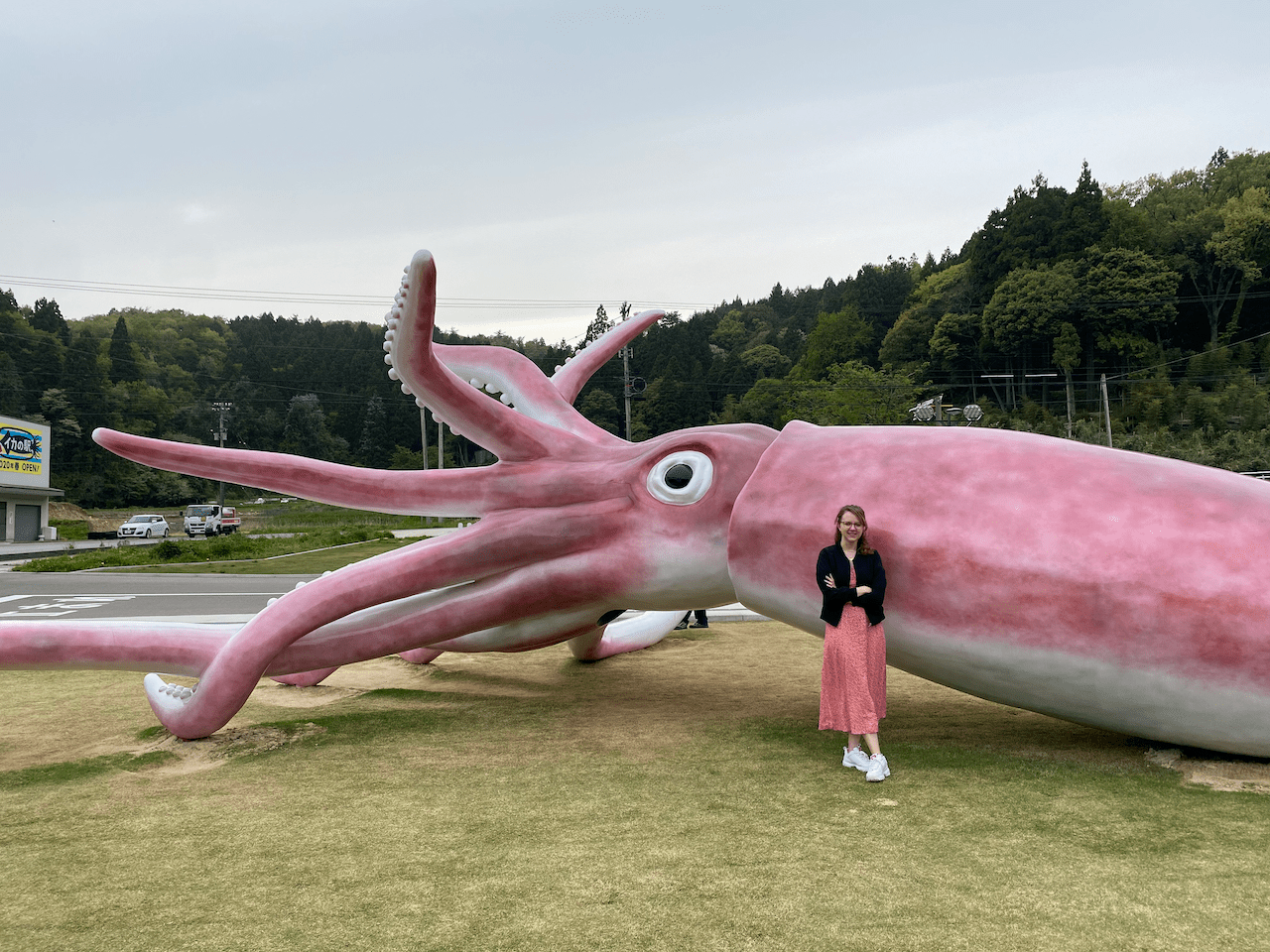 And let me tell you one thing: it's really huge! We had a fun time taking some pictures and finally seeing this famous place with our own eyes. And we weren't the only ones. Many people stopped by to take pictures with the statue. It seems that the idea of boosting tourism really works. ;-)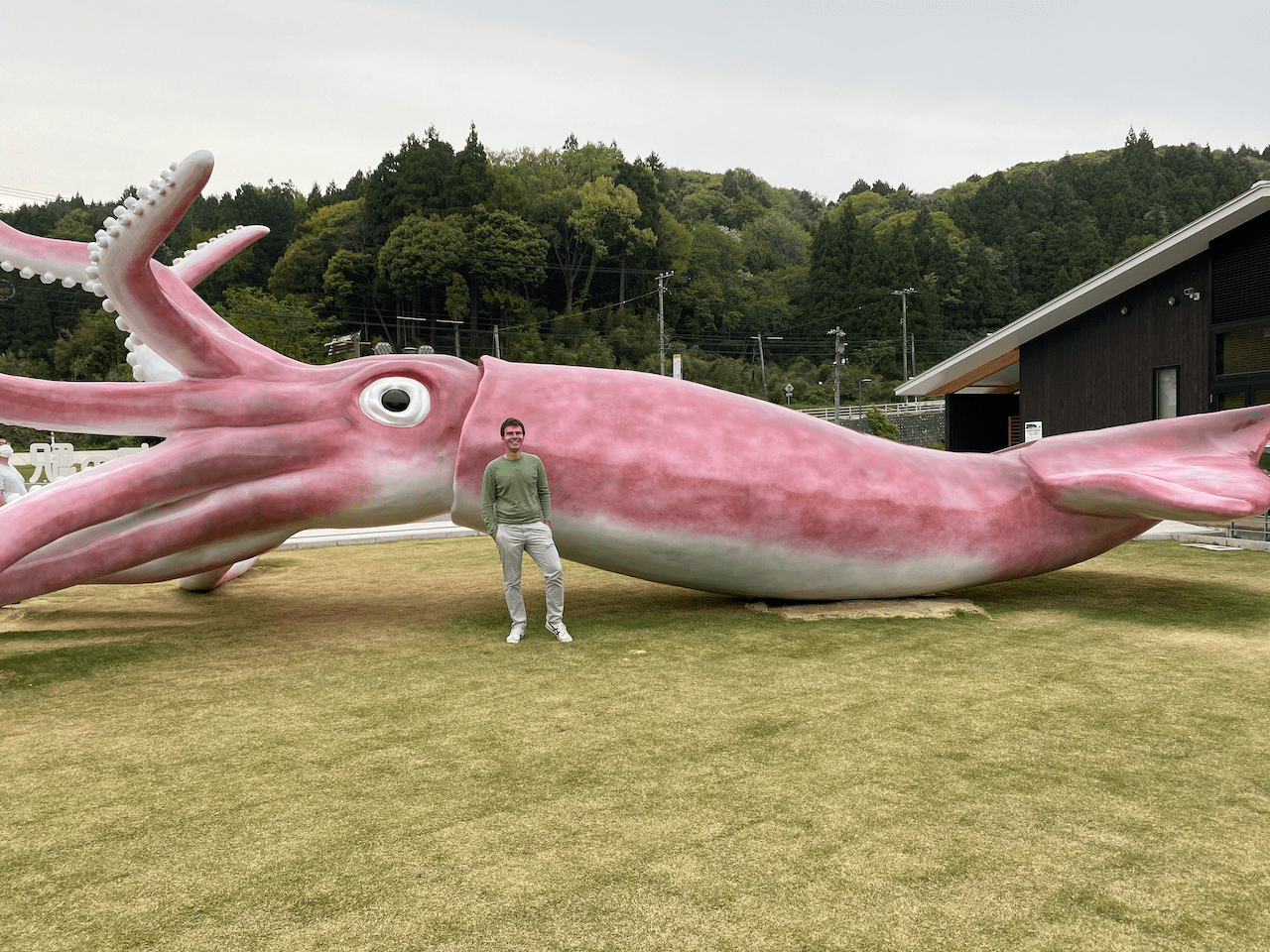 Of course we had to take many pictures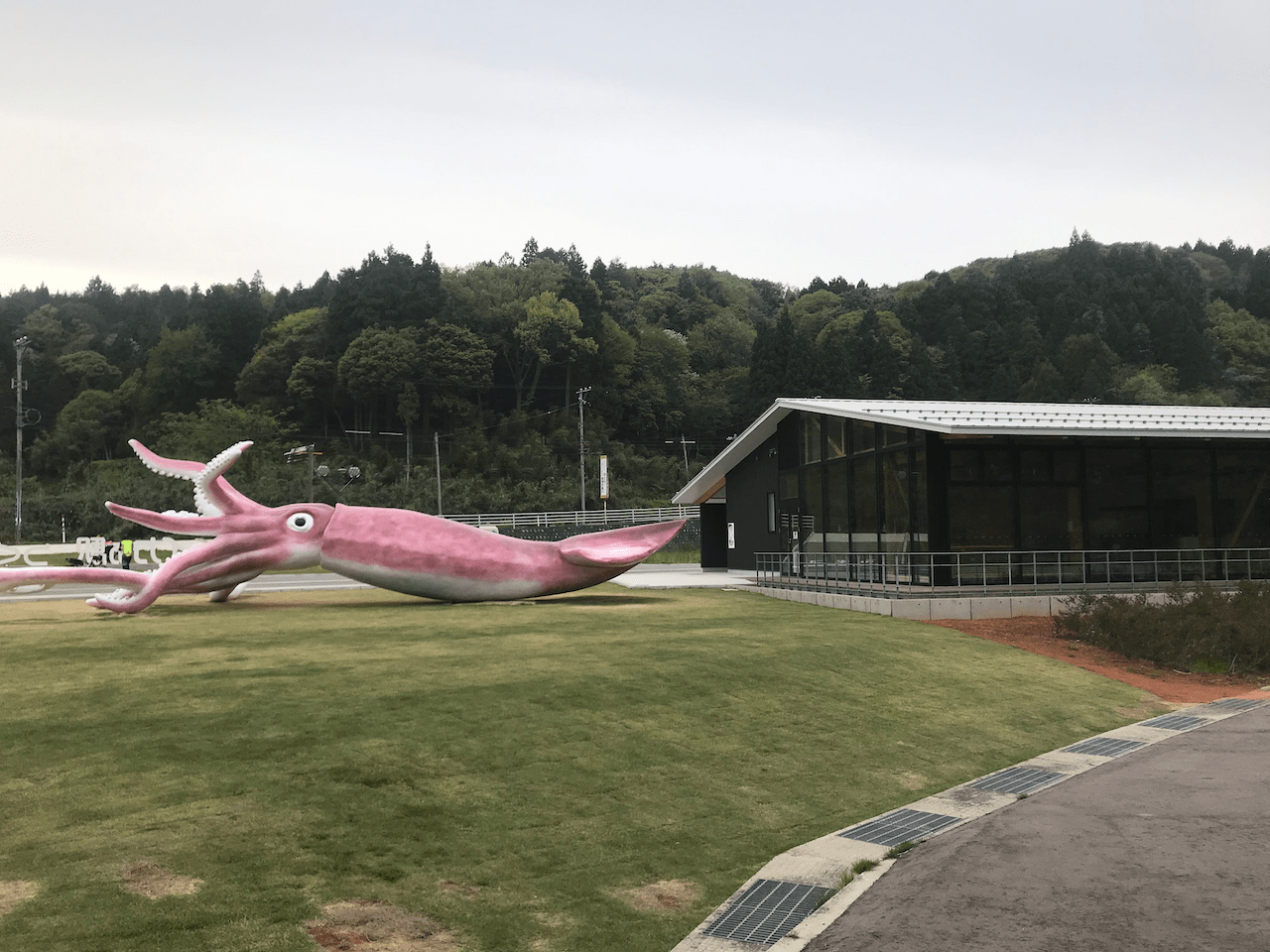 Was it worth it to spend so much money on the statue? Only time will tell…
Afterwards, we took the long trip back to Kanazawa and stopped at an Onsen center on at Hakui to wind down from the long day in the car before going back to our home. We drove more than 300 km on that day! When in Noto, you loose all feeling for time or distance so we were really surprised about that high number.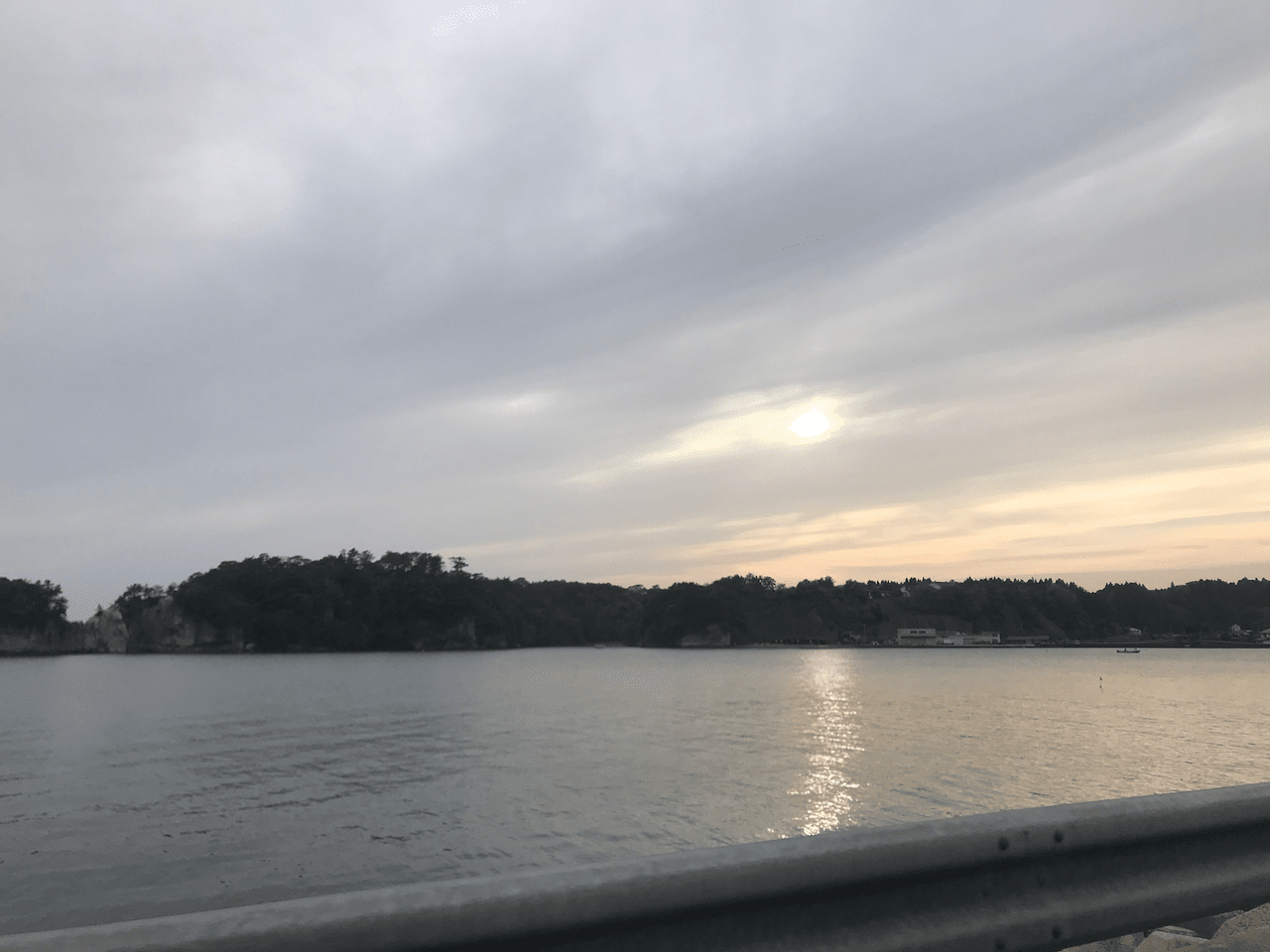 Beautiful evening light during our drive home
It was a great roadtrip and we were so lucky with our timing. One day later, Kanazawa city announced a new state of emergency.
Up next
As mentioned, the State of Emergency is back in Kanazawa, although many things are still running as usual (some of it makes us happy, some of it makes us really worried). Golden Week was full of rain and storms, a foreshadowing of this year's rainy season that seems to start a lot earlier than usual? Who knows… Stay tuned for updates and in the meantime, follow us on Instagram for more pictures.