Hello everyone, welcome to the second part of our Tokyo adventure. We stayed in Tokyo for four days, in the last post I just described one of those days to you! As you can see, we used the short time very well for seeing a lot of (crazy) sights that Tokyo has to offer. In this post, I want to tell you what we did during the other days and give you some advice on what to see when you are in Tokyo and only have two or three days for this visit. And also, most importantly, which months are most suitable for a visit. Spoiler ahead: don't go in August!
But first, let me tell you about our adventures. On our second day, we started the tour in the center of Shibuya to see the famous crossing. This place is well known from various movies and is often used as typical media footage for Tokyo in the news or for documentaries about the technological side of Japan. As we arrived at the crossing, the mass of people crossing the streets was overwhelming. As soon as the traffic lights for pedestrians switch to green, the chaos begins. Everyone is starting to walk at once and lots of people are meeting in the middle of the streets. However, everyone behaves quite disciplined so that there are no big problems when you want to cross the street and have to face a lot of people coming from the opposite direction. We tested it several times and even while filming I never bumped into someone. Amazing!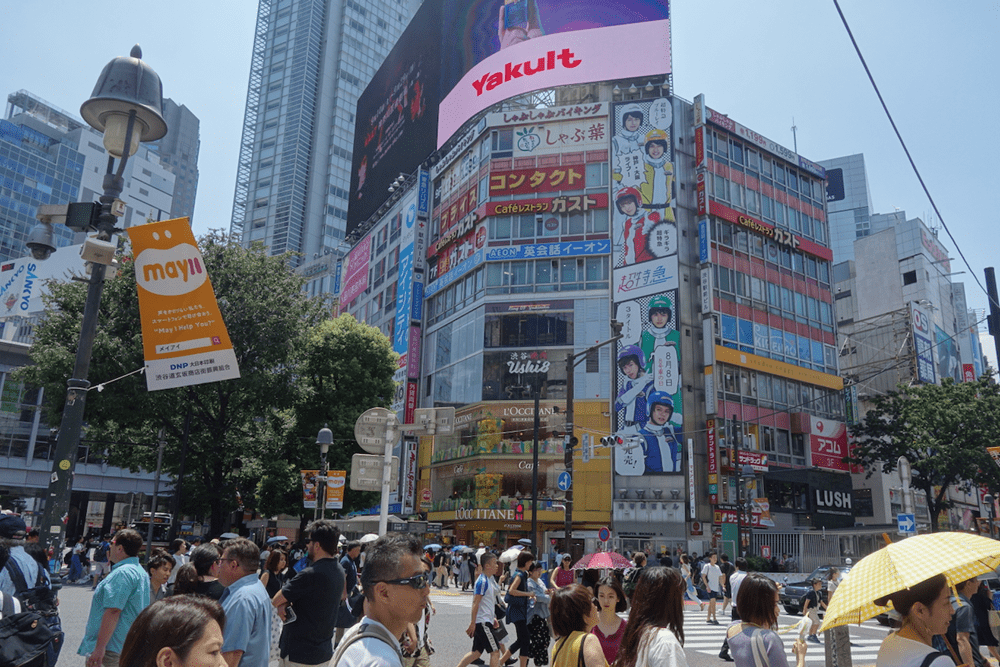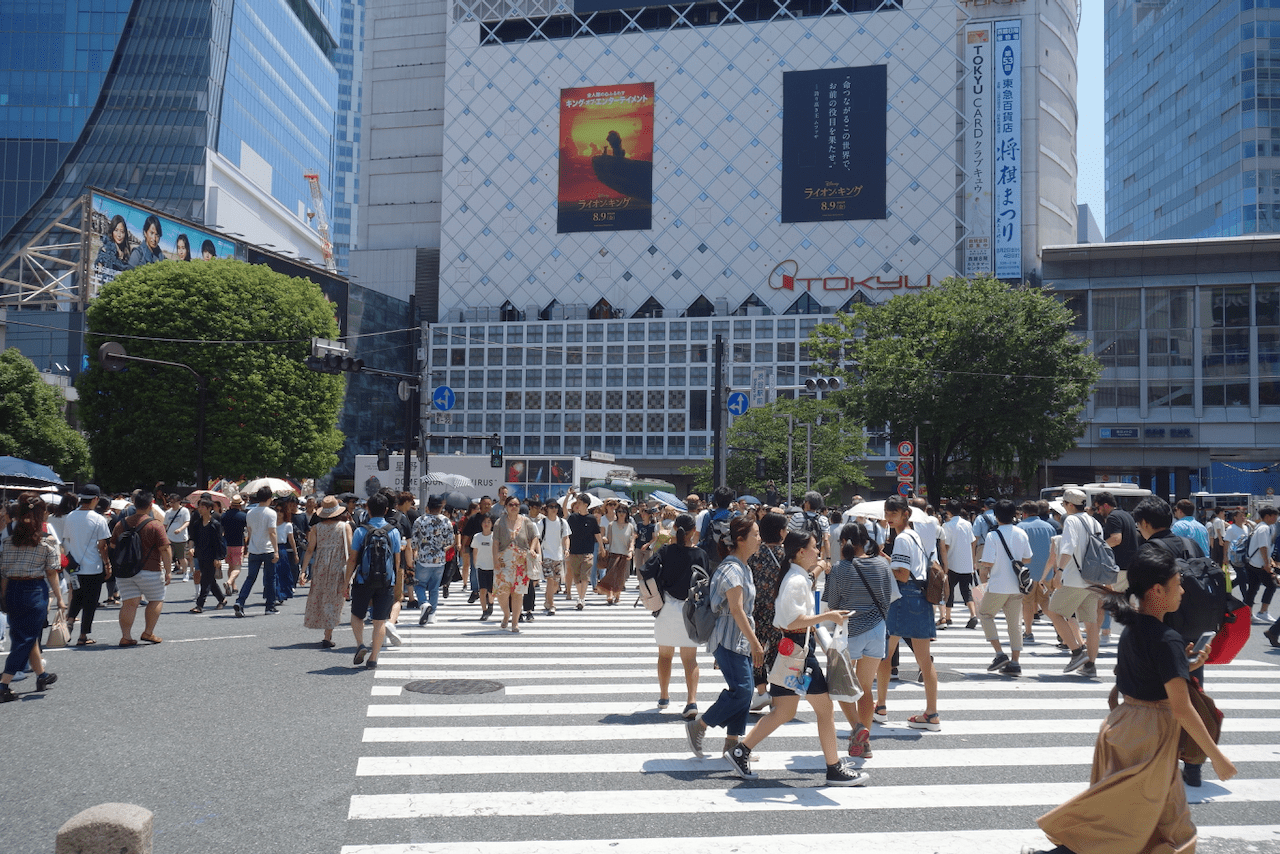 Let's go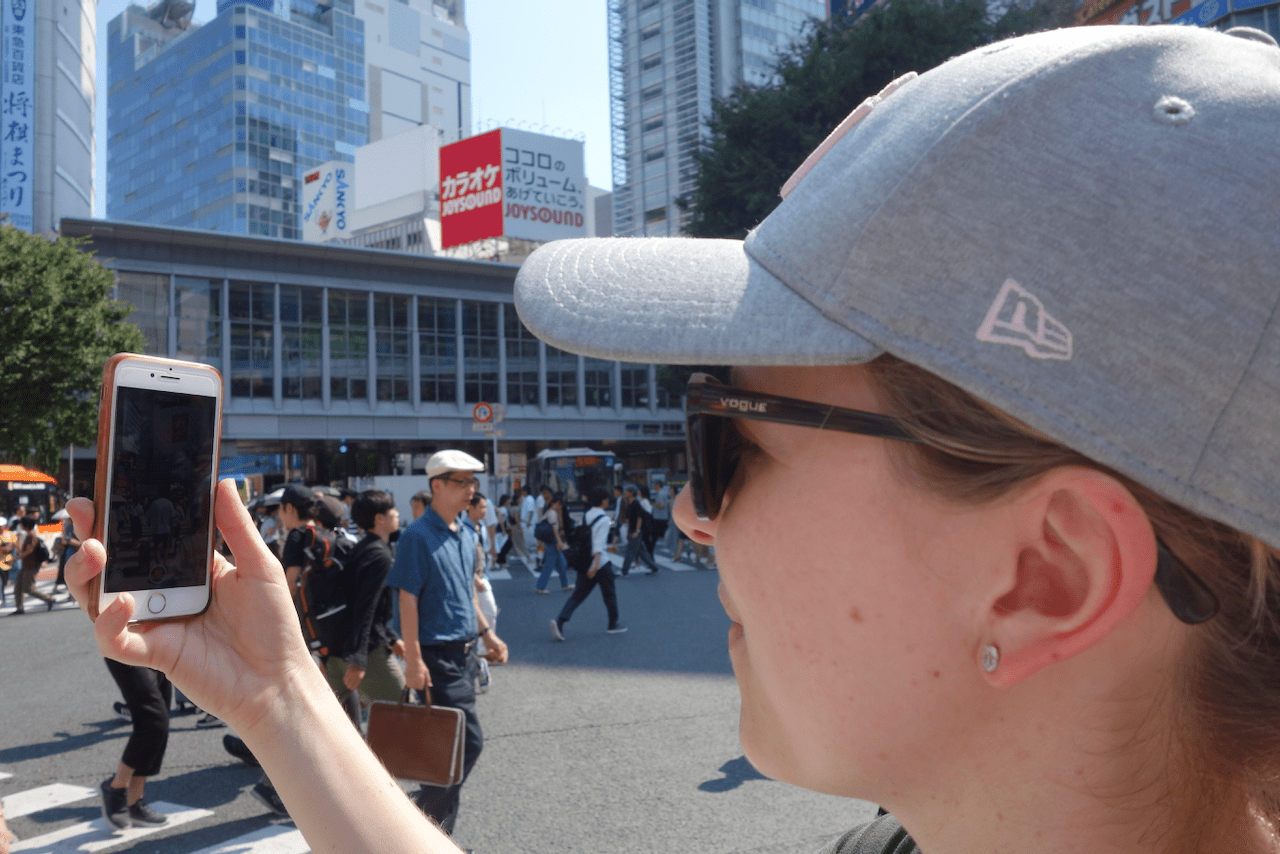 Filming while crossing the street is not so easy
If you have enough time you can try to get a place at Starbucks directly next to the crossing. From there, you can watch the crowd from above and enjoy a cold drink.
Around the crossing are many shops, department stores, restaurants and cafés. We all walked around and experienced the full Tokyo shopping mood - lots of people, lots of different melodies/noises/advertisements (on this day, the Lion King movie was promoted heavily and that meant you had to listen to the trailer again and again and again…) and so much to see. Niklas and I had a look at the huge Disney Store (too crowded for our mood), at the famous Tower Record store (here we met Niklas dad and his brother Jonas who stayed in this shop for a long time), had some nice iced coffee (at a coffee that looked like Scottish pub…) and had a look at one of the famous cat coffee places. And let me tell you something: it was very sad to see the little cats (of course it's only tiny kittens that they display) lying around in cramped space and looking unhappily out of the window. It was extremely hot at that day and the coffee shop was very crowded. It was obvious that this environment is nothing but stressful for those animals. I have heard a lot about these places but seeing them for myself really made me angry. It is sad that so many people support this kind of tourism, the animals really didn't look happy or relaxed. This is definitely a sad aspect of the Tokyo tourism…
After this intense experience in Shibuya, we went to the Harajuku district to have a more relaxing time in the Yoyogi Park as well as more shade… We also fetched our tickets for the Tokyo Bay Cruise that we wanted to do in the evening and had a quick look at Takeshita Street that was again so crowded that we decided to leave immediately.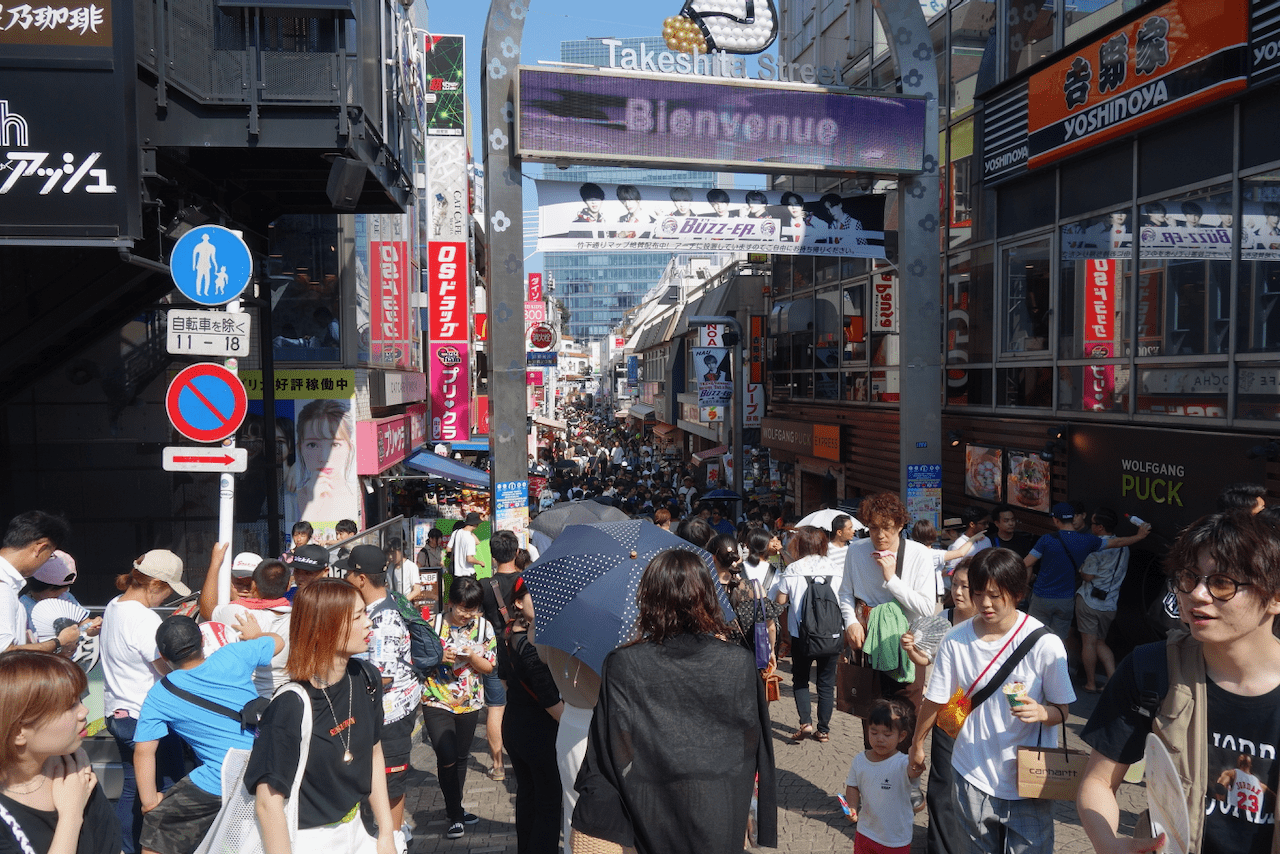 Happy that we didn't go there!
Deep inside the park you can find the beautiful Meiji Jingu Shrine. After the crowds of Shibuya it was very soothing to walk through this park and have a short break from all the noise, traffic and chaos of this city.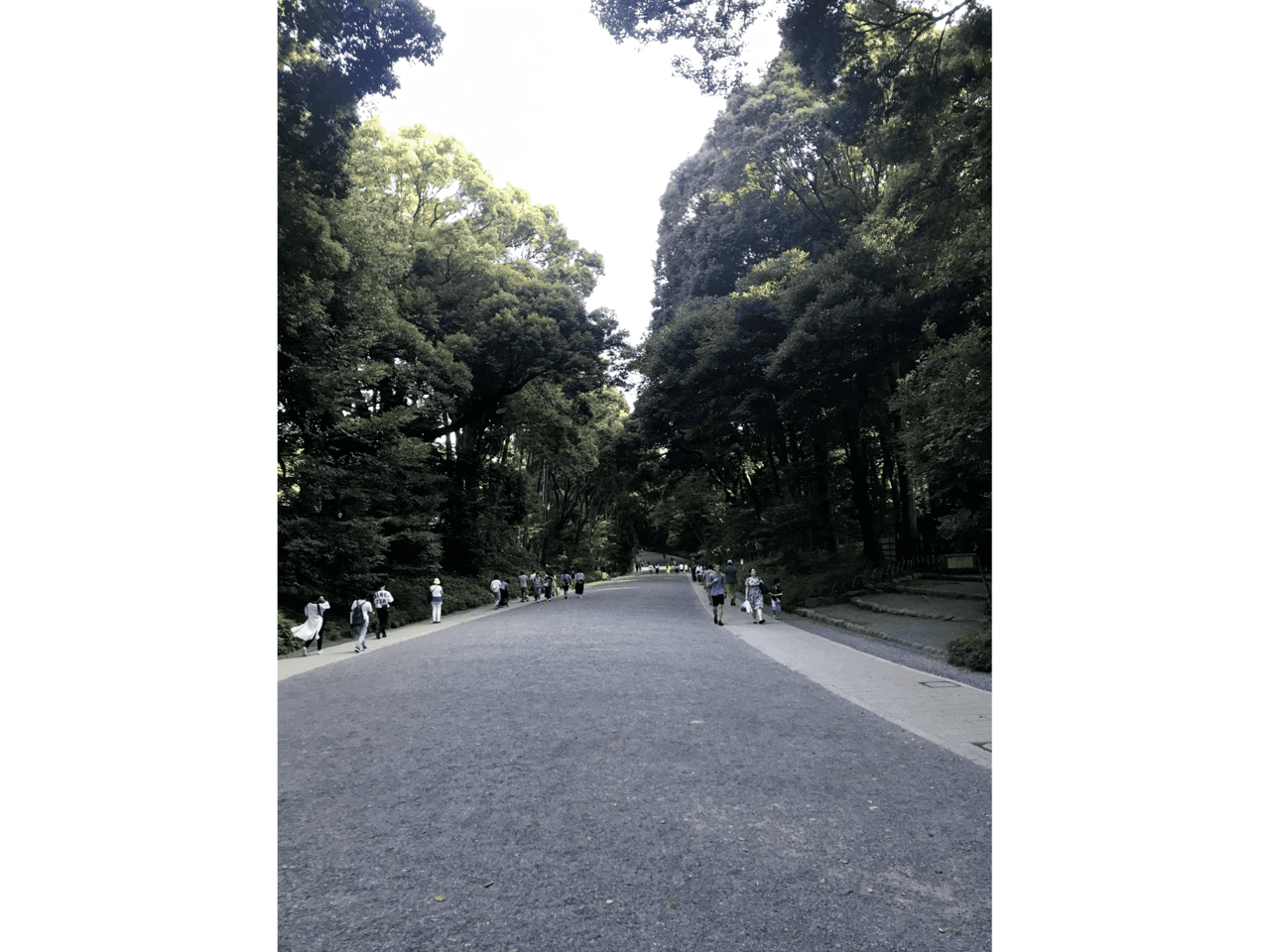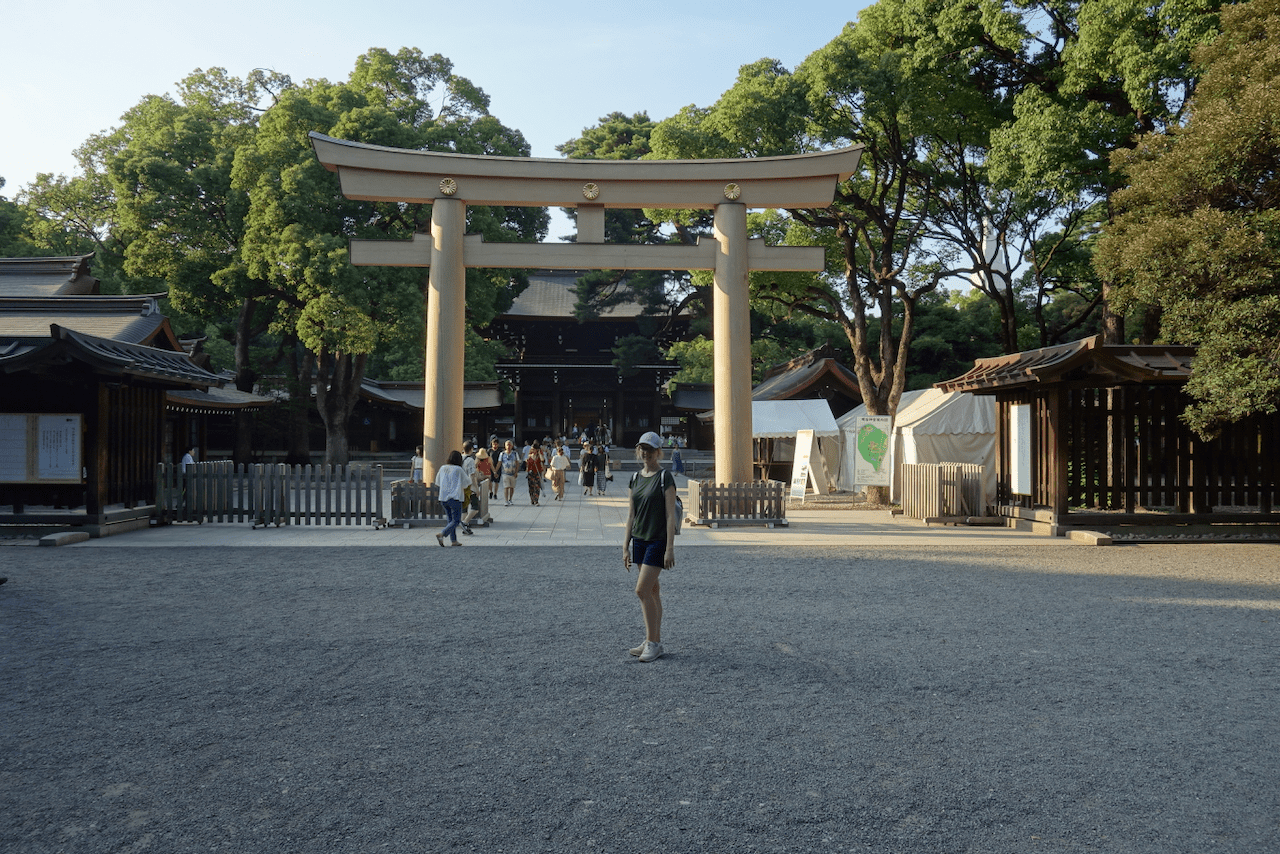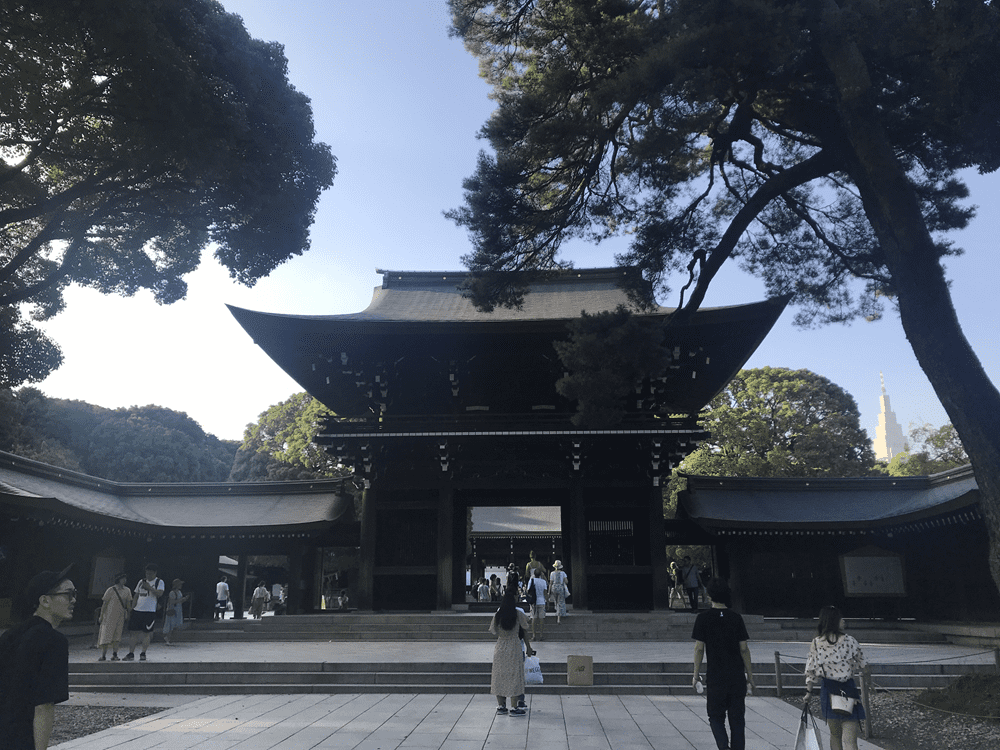 Many people visited the shrine, however it was still quiet and peaceful
We had a nice lunch and walked around a little bit before we headed to our next stop: Tokyo Bay, Takeshiba.
As mentioned before, our evening program consisted of a two hour boat cruise through the Tokyo Bay and was called "Tokyo Booze Cruise". As indicated by the name, you could drink as much as you wanted during this tour. And let me tell you, there were a lot of people who really enjoyed themselves… Since the tickets were cheaper when you were dressed in traditional Japanese clothes, many guests were styled very beautifully in colorful kimonos. It looked really very cool. The boat was rather large and had a lot of decks with lots of stuff to see (food stalls, a large dancefloor, drinking areas, dancers dressed in a Kimono while dancing to modern pop music, etc.). Most of the time, we stayed on the top deck and enjoyed the view of Tokyo by night. We even passed Haneda airport and could watch the airplanes departing and arriving. Very spectacular! It was a great ending to the second day and the cool breeze from the sea felt very good after a long day of sweating.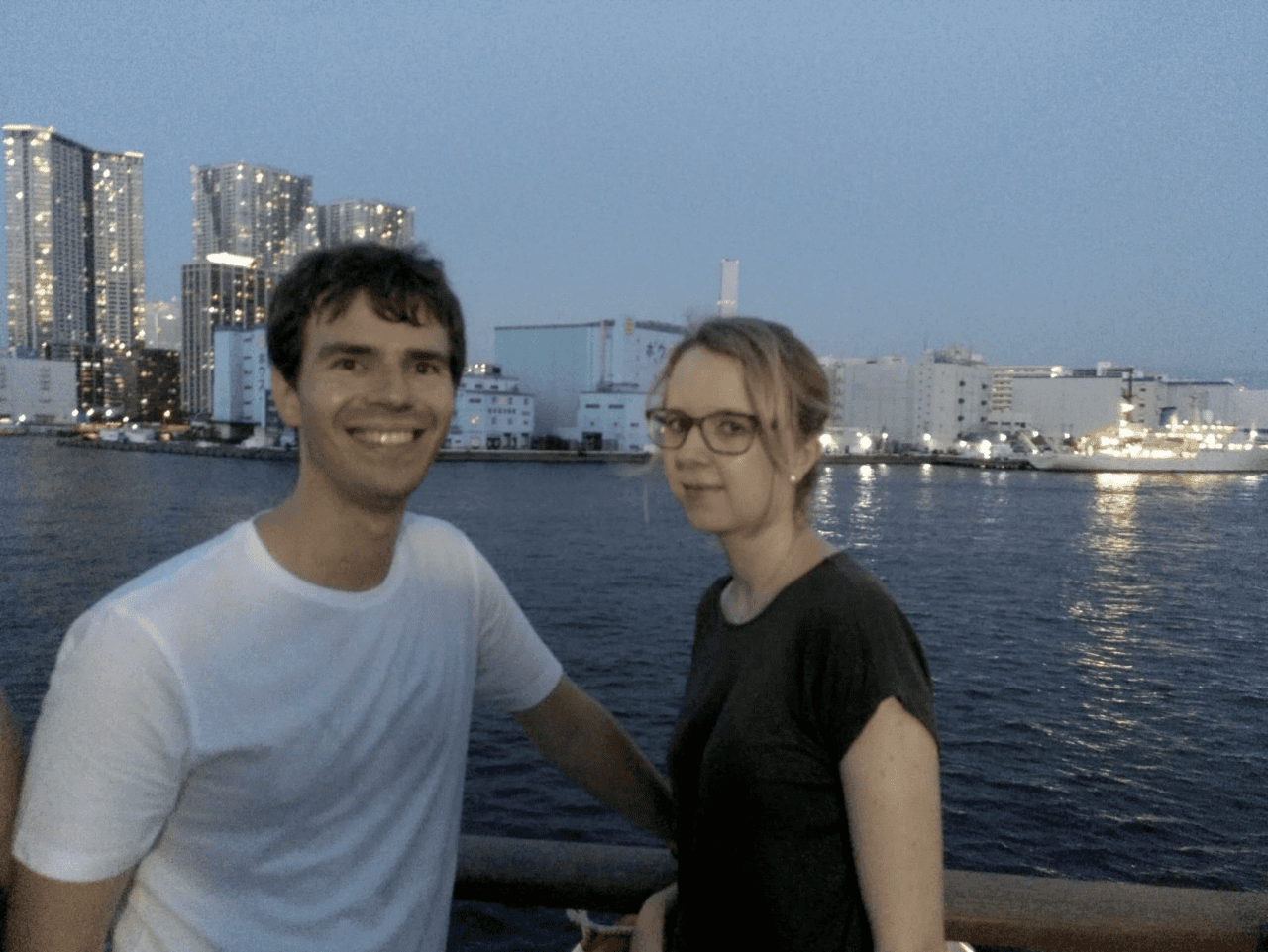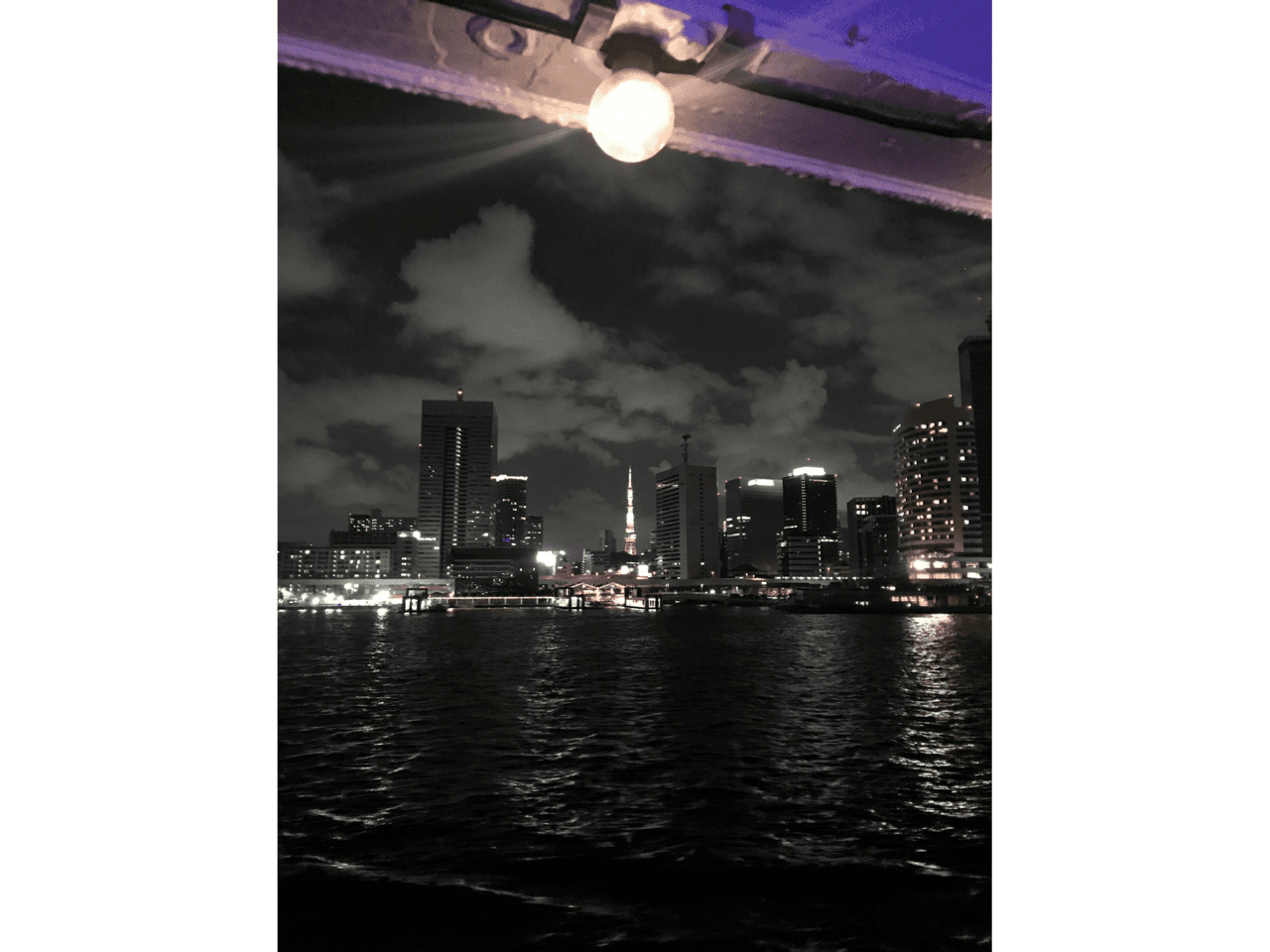 Great view of Tokyo by night!
After the tour, Niklas and I had a drink in a bar in Asakusa where we met some nice people and had interesting conversations! We even got to see a performance of drunk Japanese visitors and their entertaining host. They sang and danced to a popular anime song and had the time of their lives. It was very interesting for us. :D Of course, we took some pictures at the end of the evening and I think you can see that we had a lot of fun!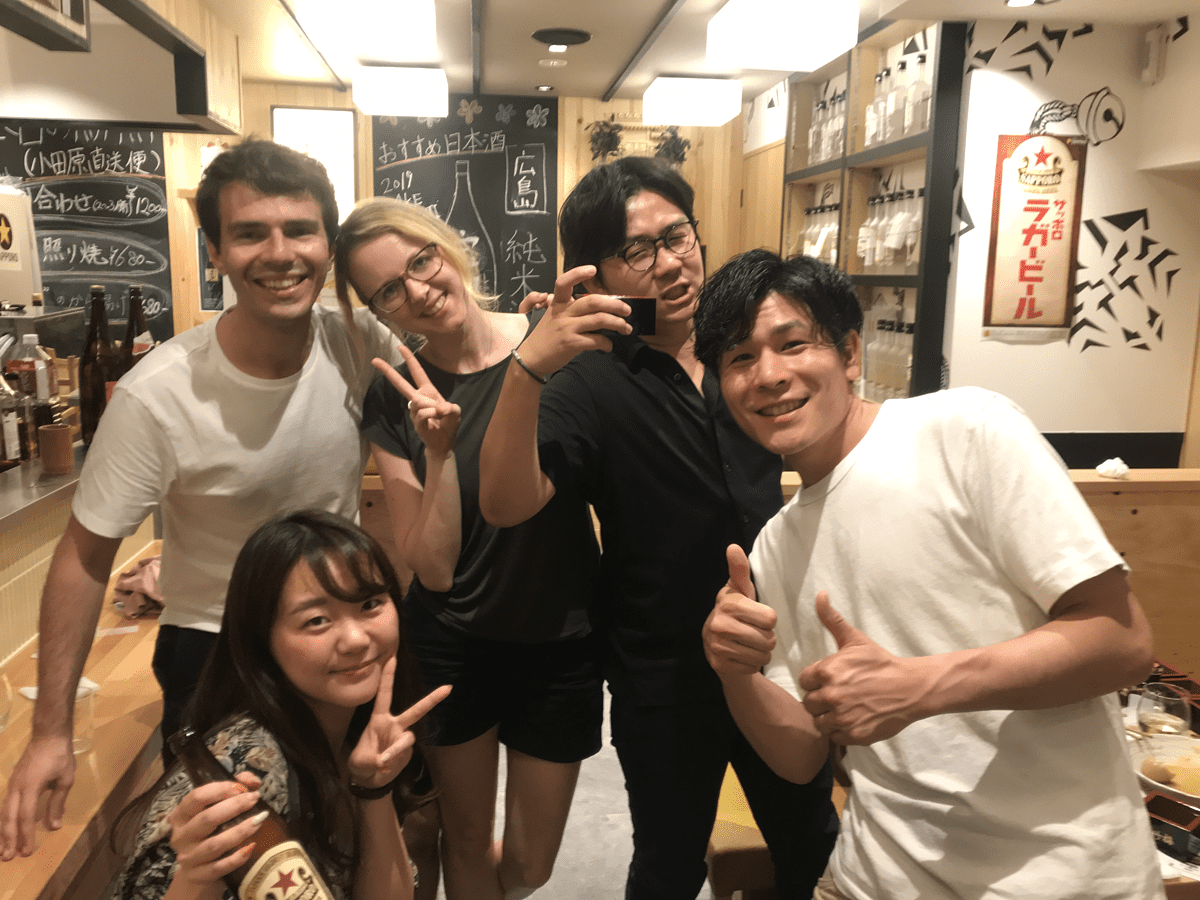 Our third day started with a tour to the famous Akihabara district, the electronics and anime center of Tokyo. If you are a fan of manga and anime, this is your place to be! Besides, you can also find lots of shops for electronic goods like cell phones, computer or tablets.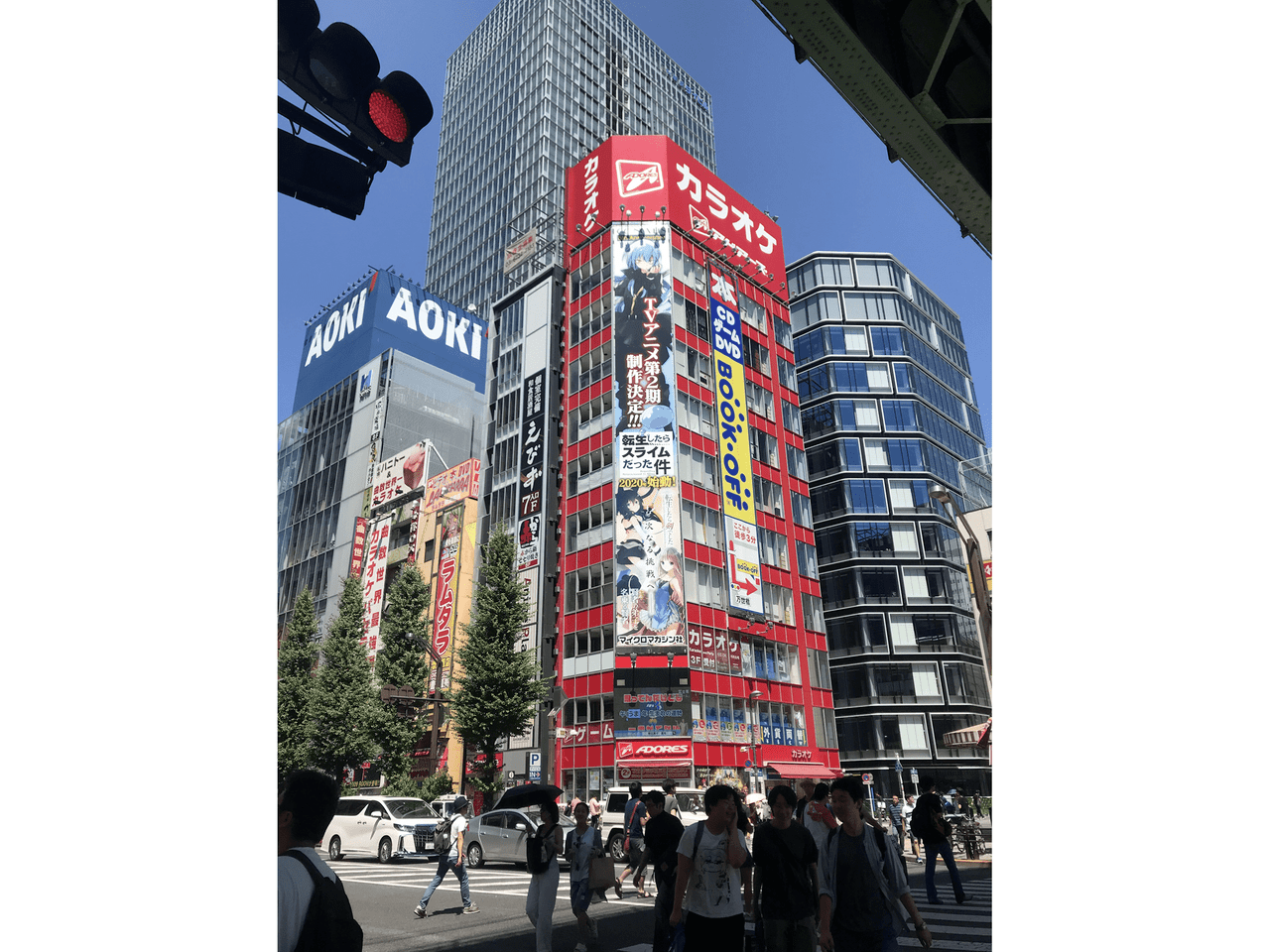 In Akihabara we went to one of the big anime departure stores (this one alone had more than 10 floors full of anime stores) and had a closer look into various little shops, distributing trading card games, anime dolls, pictures, merchandise, robots and so much more. For me it was a little too crazy and I was quite relieved when we left the stores (of course, every little store has its own musical soundscape, often not fitting together at all). Walking around we also spotted the infamous maiden cafés and of course lots of Pachinkos (gaming halls).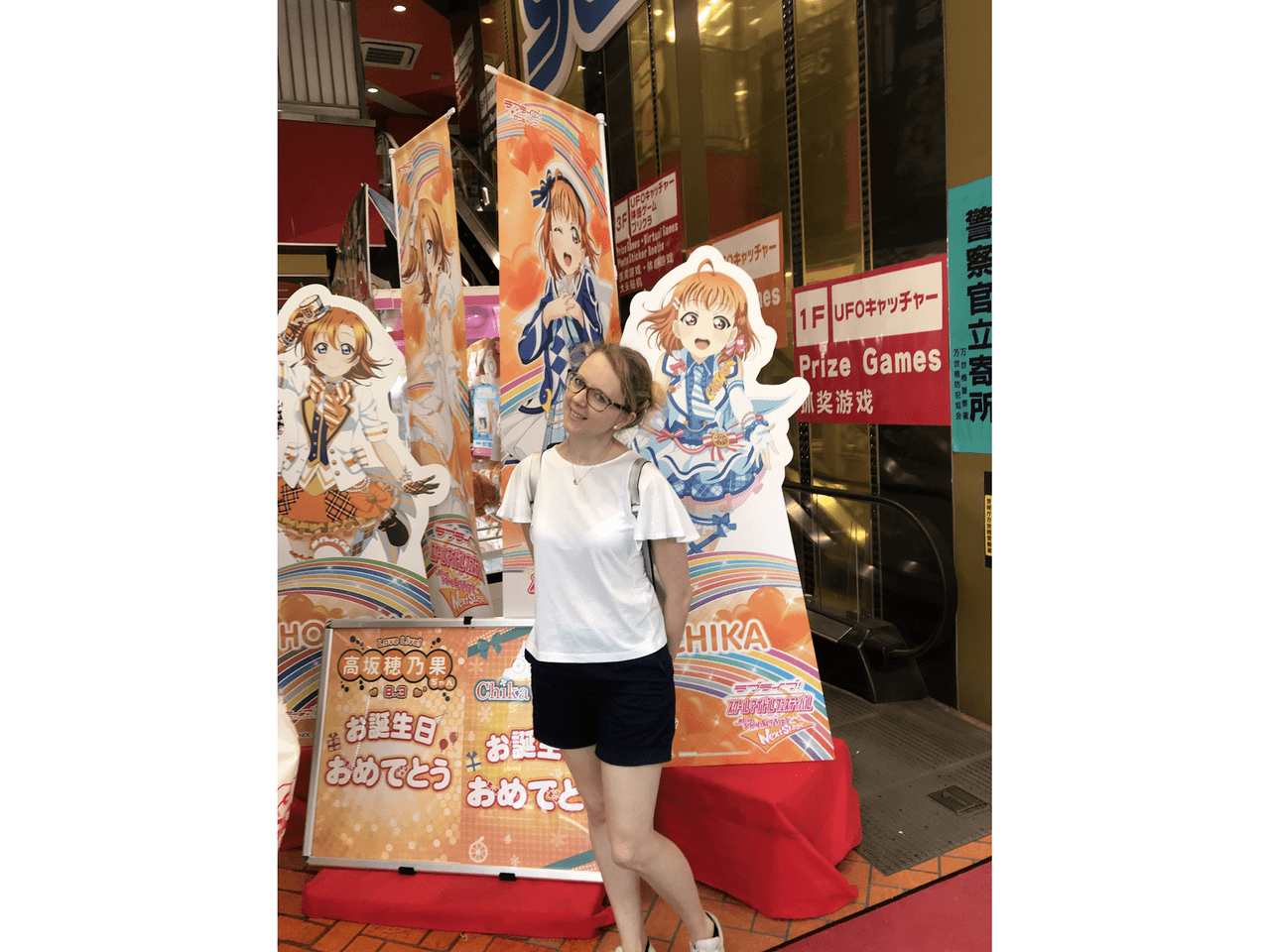 Couldn't resist taking such a pictures
Typical streets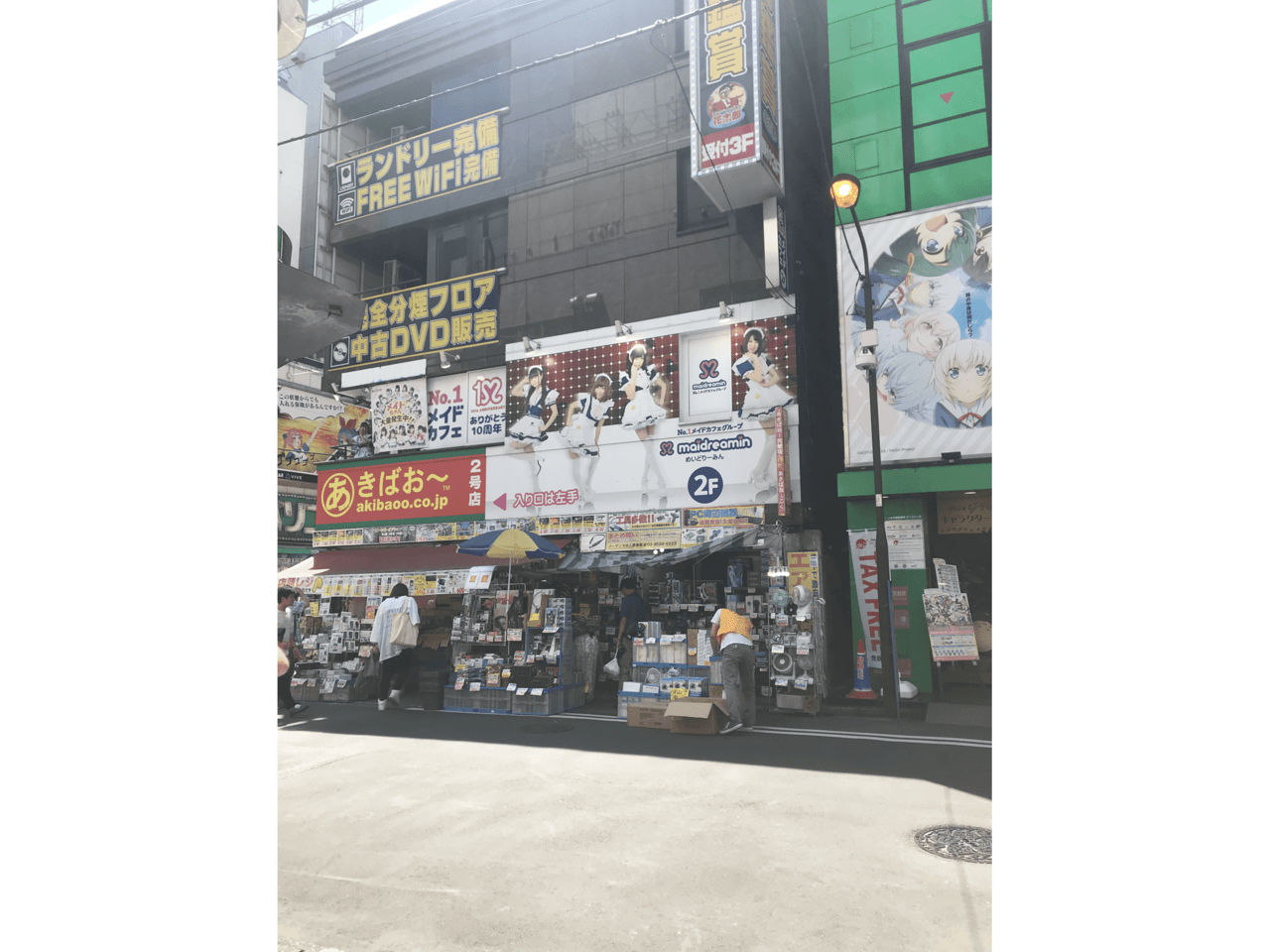 Yep. It's real. The Maiden Cafés truly exist.
The family travel group split again and we decided to meet some hours later near the Imperial Palace Gardens. Having had enough of the crazy Akihabara world, Niklas and I went to the luxury shopping district of Ginza but we didn't stay there too long as it reminded us of the 5th avenue of New York and we didn't really enjoy the stay there: it was too crowded due to the traffic, it was very noisy. So, we decided to leave this district, had some late lunch in a cozy little restaurant in the Otomachi station and headed to the meeting point, but of course, we had to pass the building of PwC Tokyo so I could make a picture. ;-)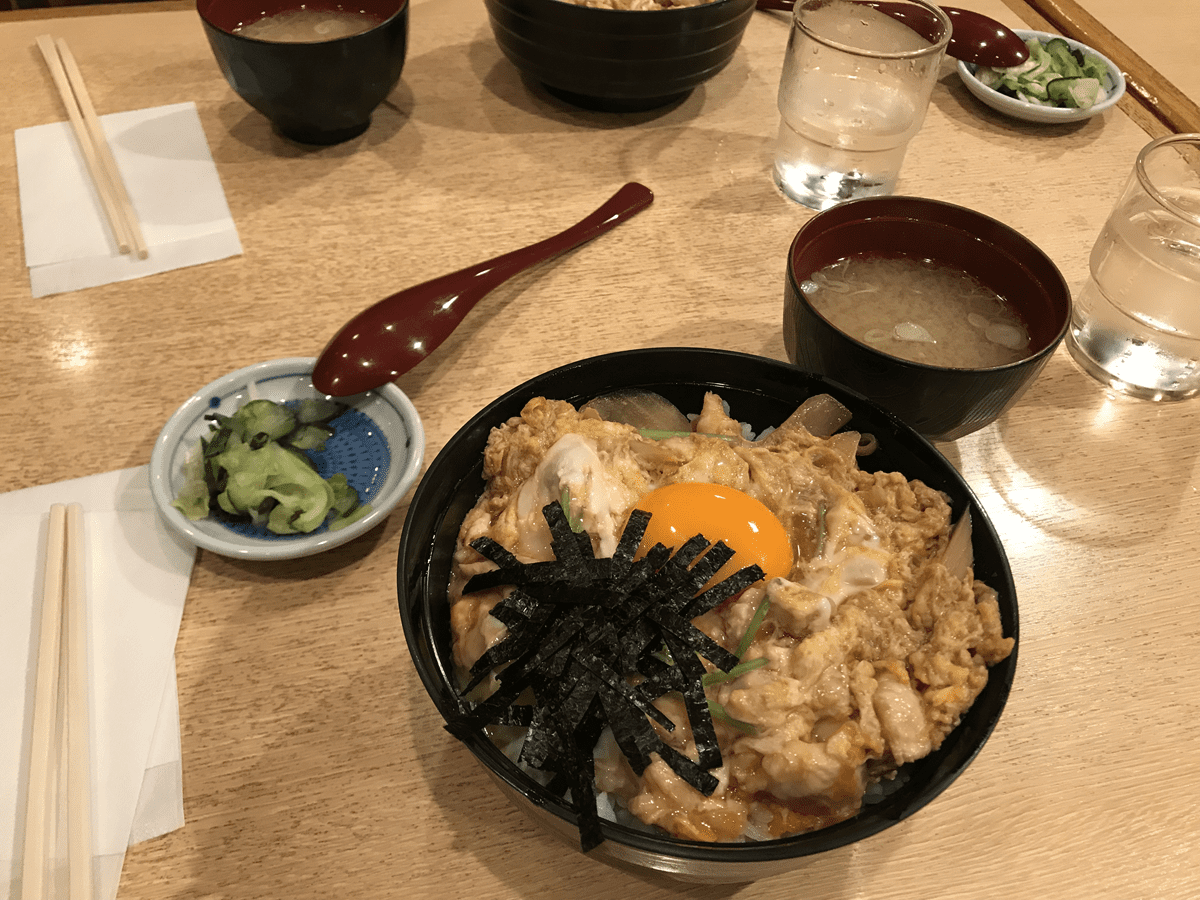 Oyakodon! Yum!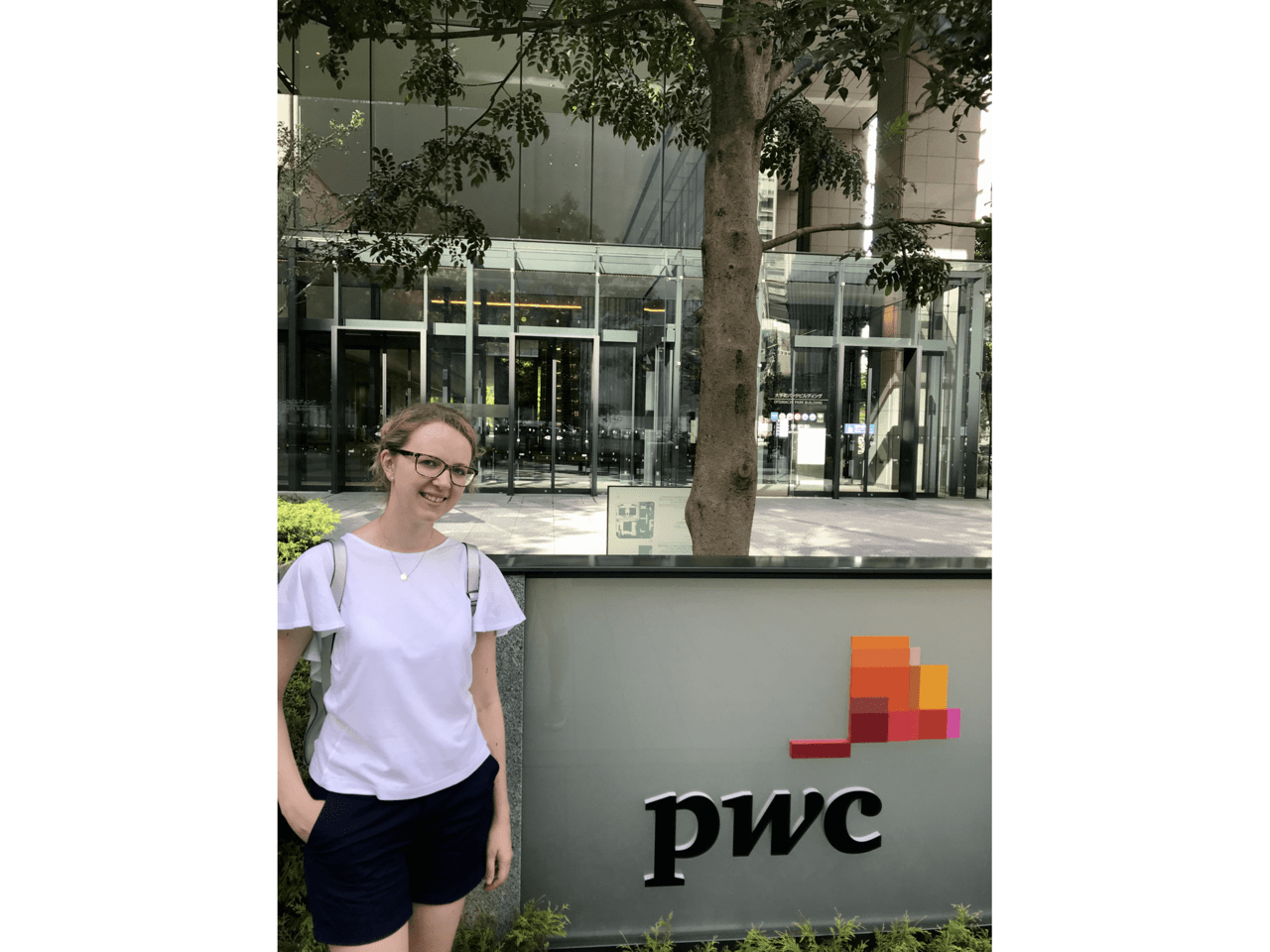 We are everywhere…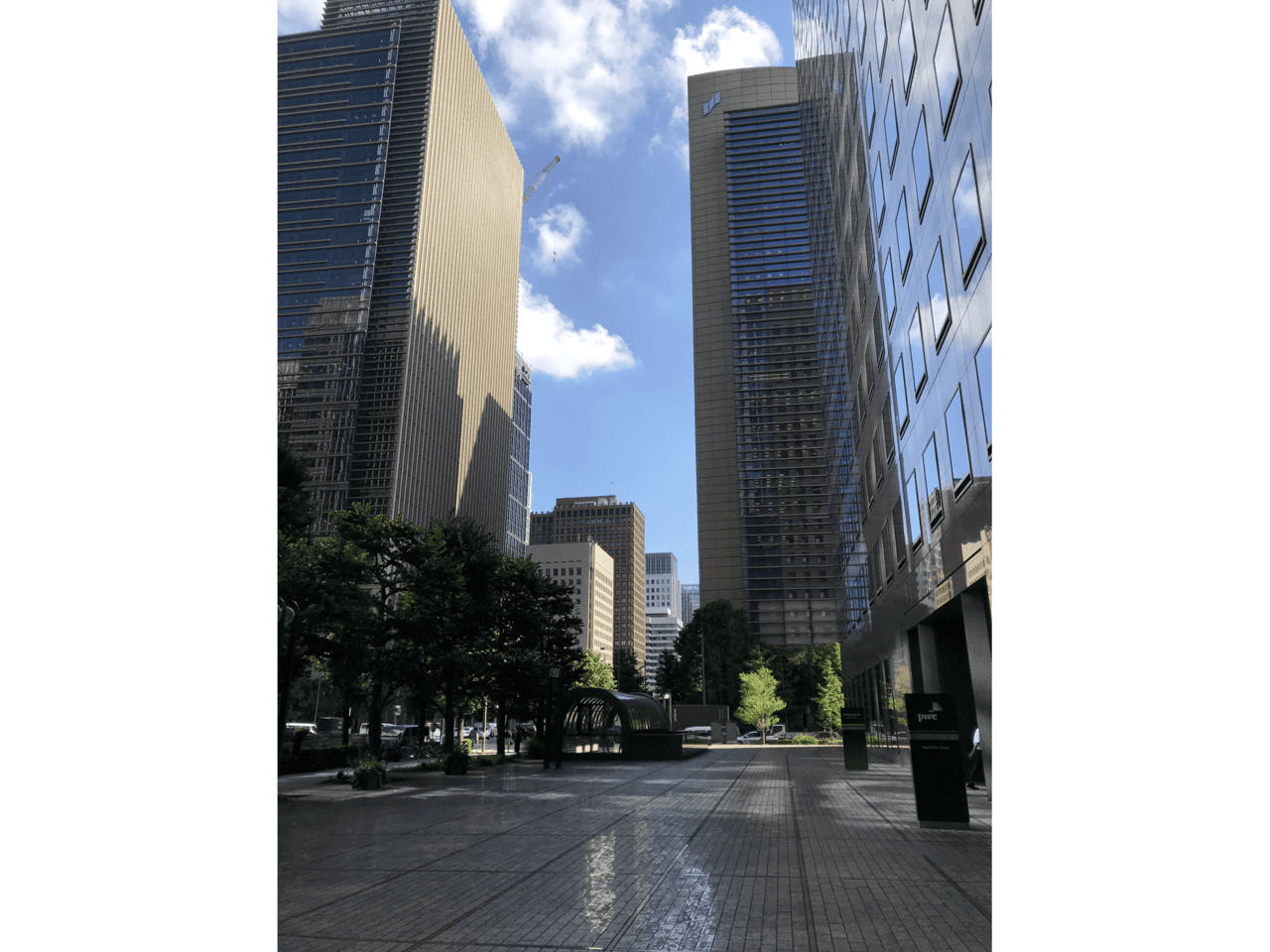 Impressive streets in the district of Otomachi
We all met in front of the Tokyo Palace Hotel (all in time, even if nobody knew exactly where the meeting point was) and went to the Park of the Imperial Palace - however, we learned that the park was closed (it is always closed on Mondays) and we couldn't go there on that day. After some discussion we decided to go to the Tokyo Station as there were lots of shops and restaurants and to find a nice dinner place. And I wanted to visit the Pokémon Center, that was also located in the station. It was not easy to find as the station is a huge labyrinth of passages and shops but at the end, we managed and everyone even bought something. :D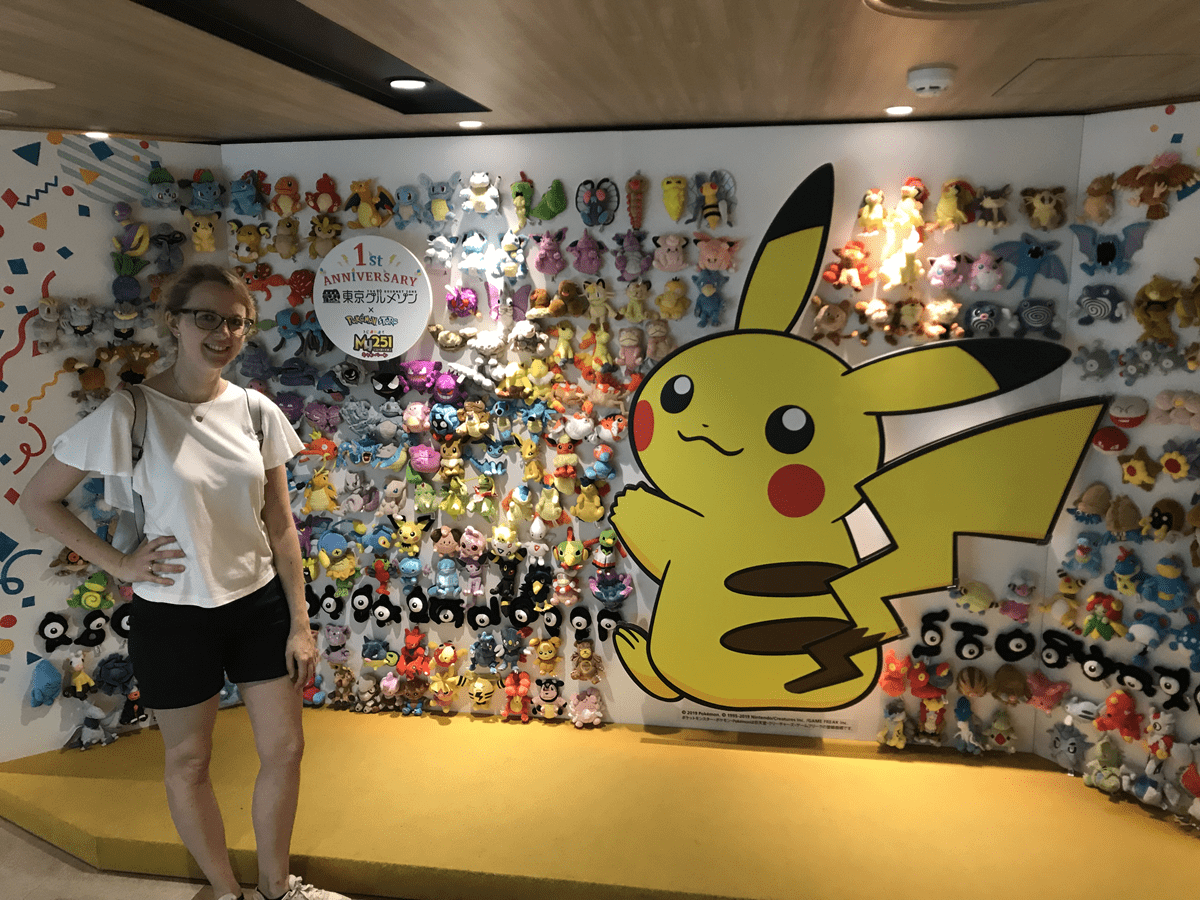 I love these places!
As everyone was super tired from the day and the heat, we had a relaxing dinner at the station and directly went home afterwards as most of the family wanted to have a relaxing bath in the Onsen of the hotel.
On our last day in Tokyo, we went again to the Imperial Palace Gardens (this time we double checked the opening hours) and strolled through the impressive garden grounds. Again, it was so hot and in the park there was nearly no shade. So it was not as relaxing as we hoped but still we made the most of it, even if we were sweating like hell. You are not allowed to get anywhere near the Imperial Palace, but the gardens are already very nice to look at and it is a quiet and peaceful place.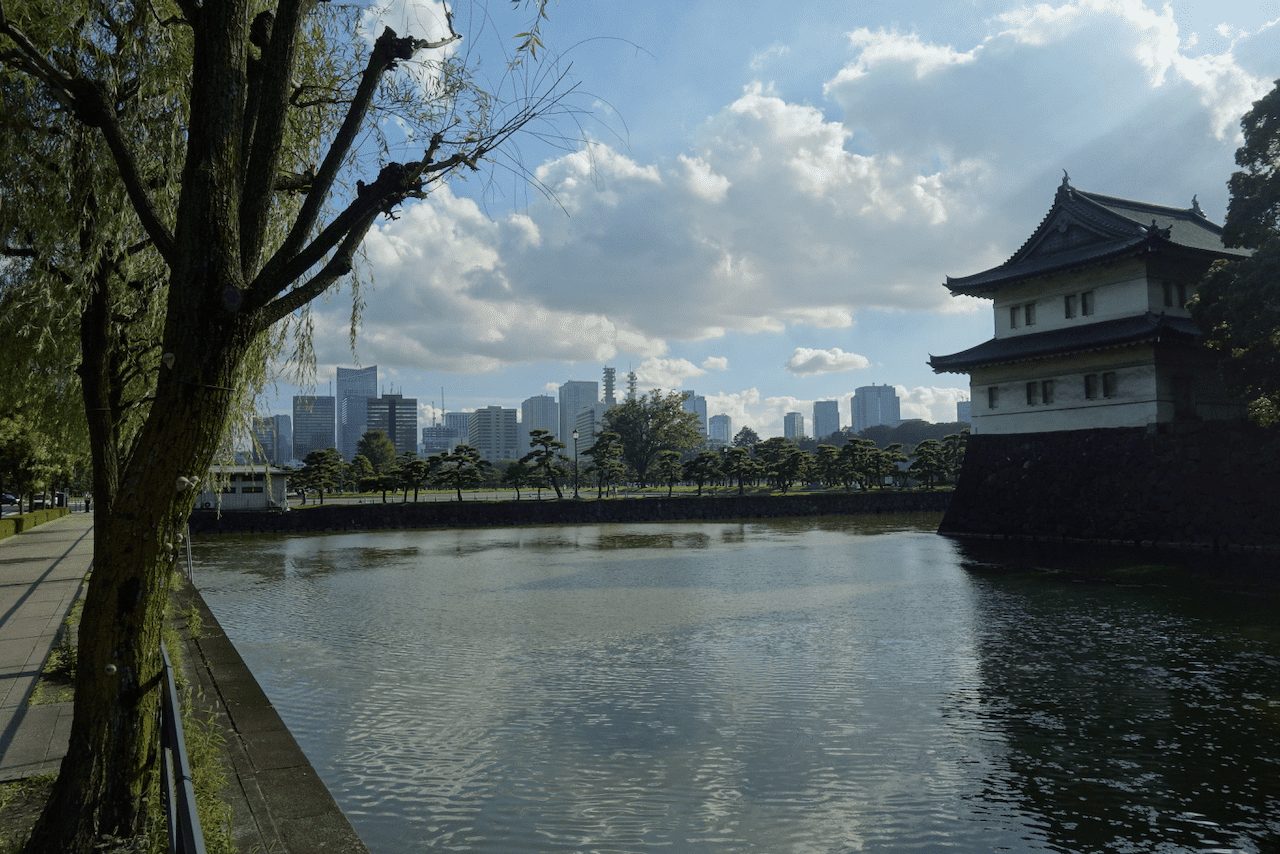 The contrast between the park and the modern city is really spectacular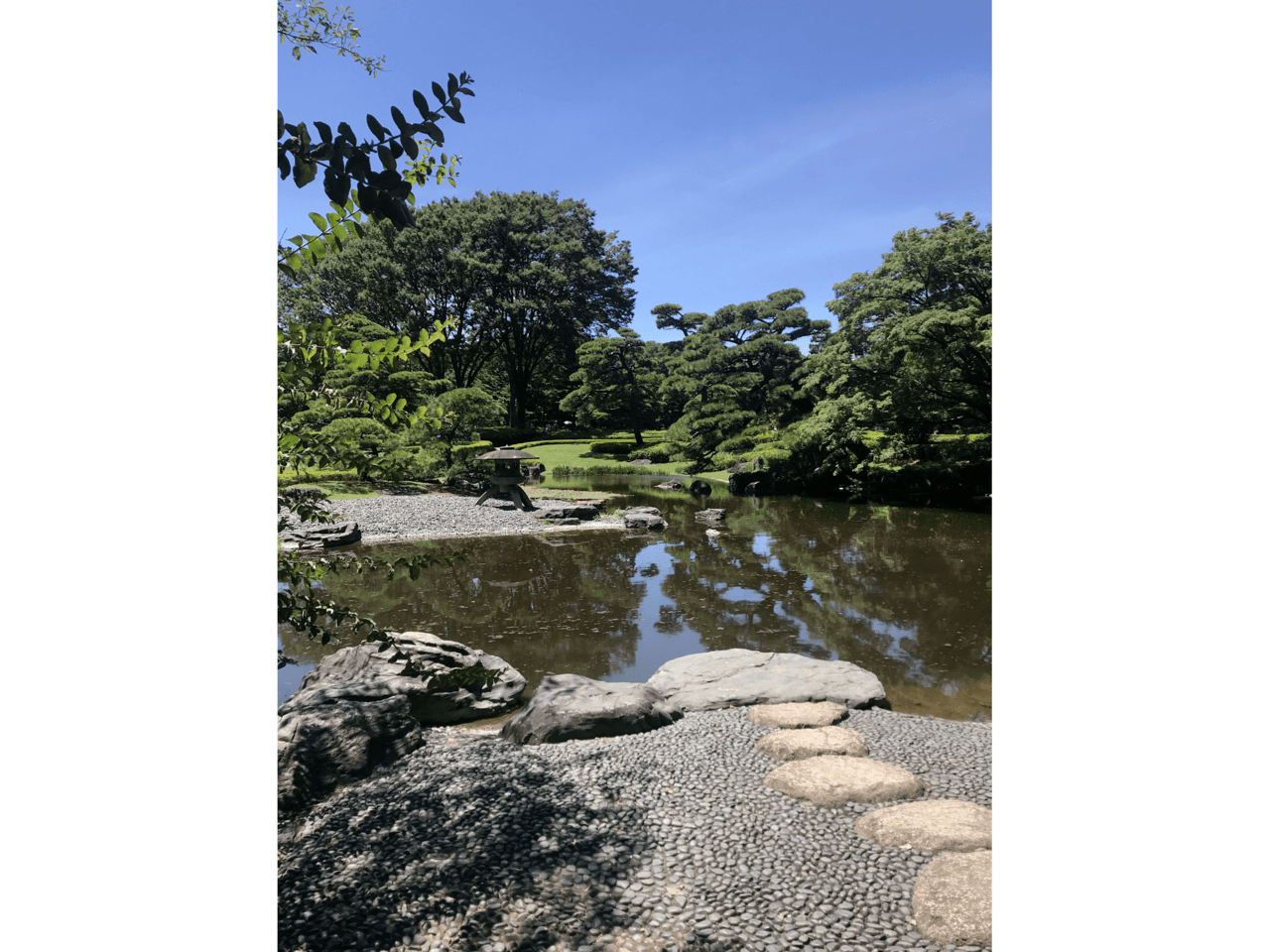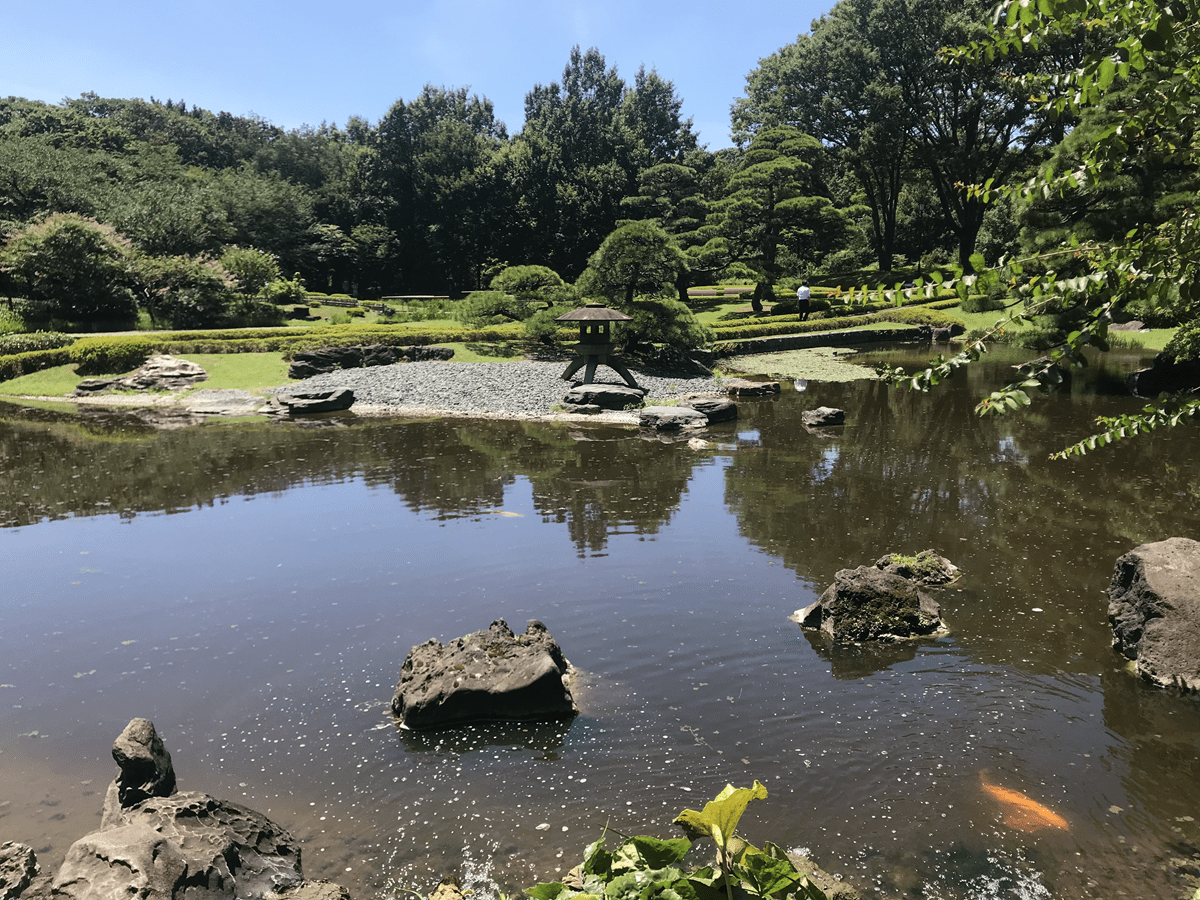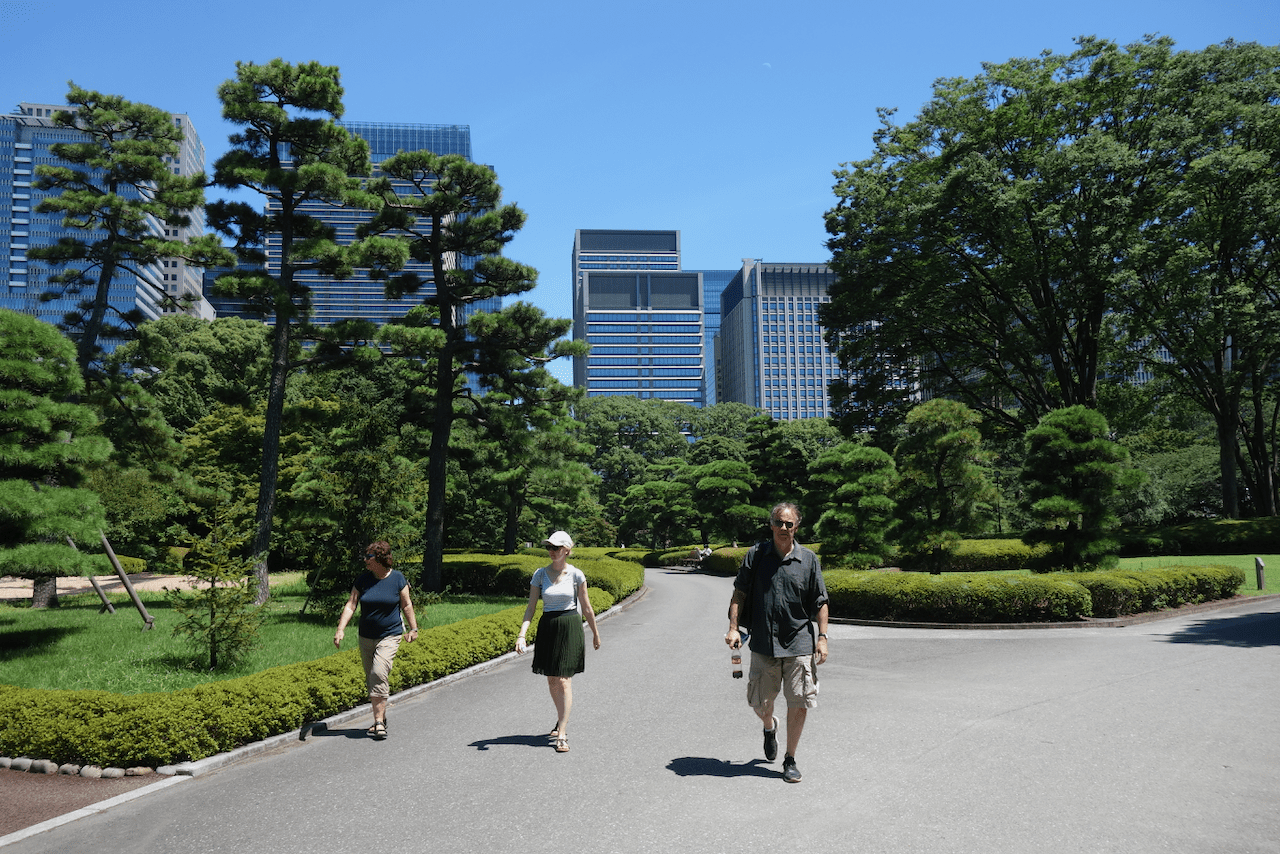 Looking cool while dying from heat
Afterwards, we went to the district of Minato for our last big highlight: lunch at the famous Gonpachi Restaurant, where some scenes of the movie "Kill Bill" were shot. It didn't have just a cool atmosphere, the food was delicious too! I'd recommend you to go there during late lunch time, it is not crowded and you still can order the lunch menu (which is not too expensive).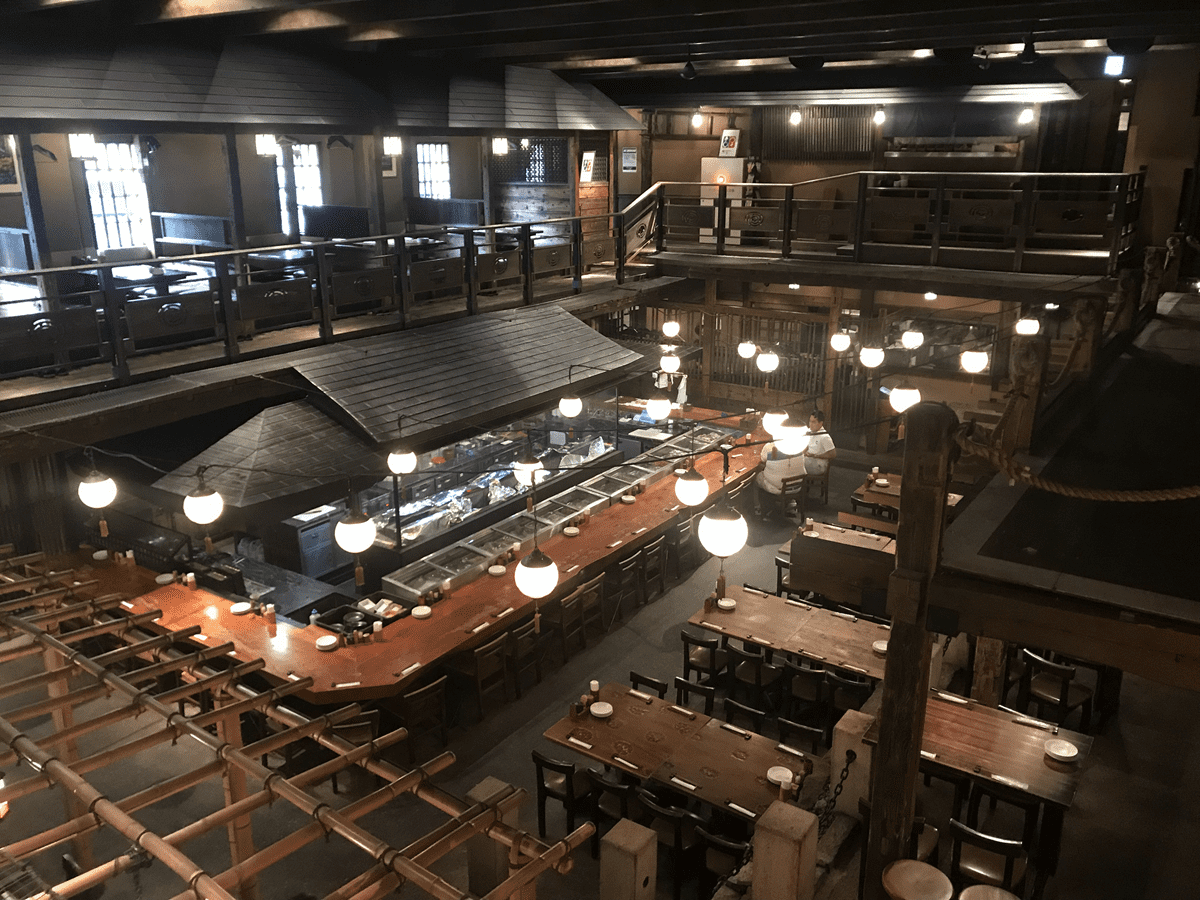 There, we discussed and reviewed the highlights of our last days and sadly had to say goodbye afterwards as Niklas and I would travel back to Kanazawa, while his familiy would go on one last trip to Odaiwa before getting ready for the departure to Germany.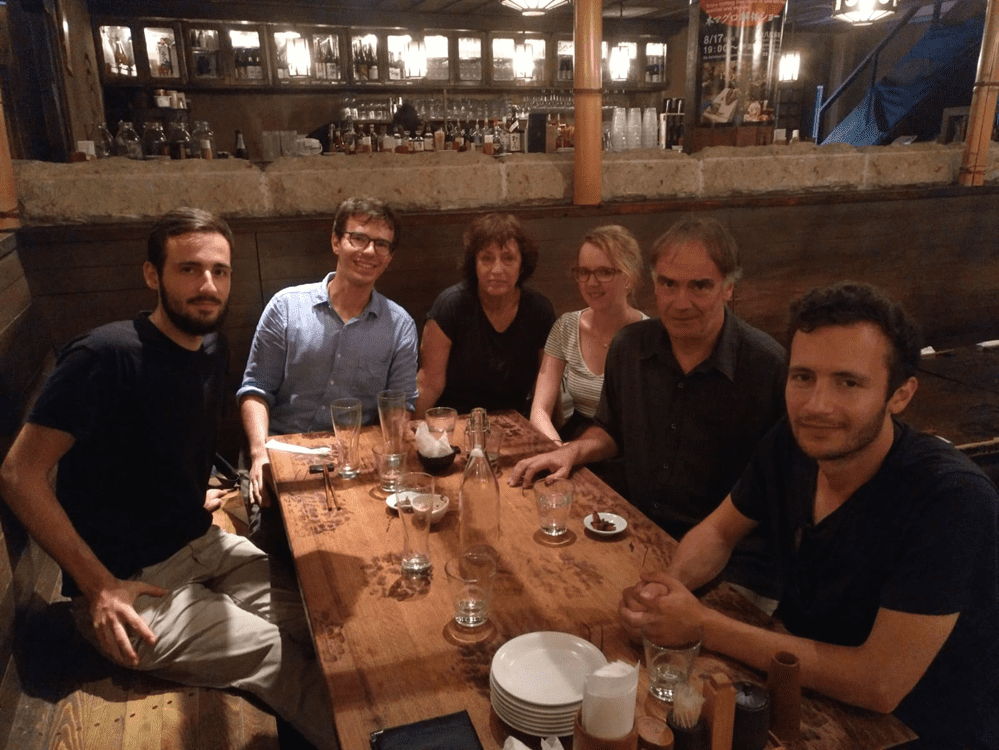 One last group picture before departure
It was a very strange feeling to say goodbye to them on a busy street in the district of Roppongi after having spent so much time together in Japan. It felt really surreal. As we watched them walking to the subway station, we both felt strange and sad but also very grateful for the opportunity to spend such a vacation together. As we both were also very tired and not in the mood for some further sightseeing, we decided to have a nice ice coffee while sitting at the open space of the Roppongi Hills center, watching the Tokyo Tower and enjoying our last minutes in Tokyo.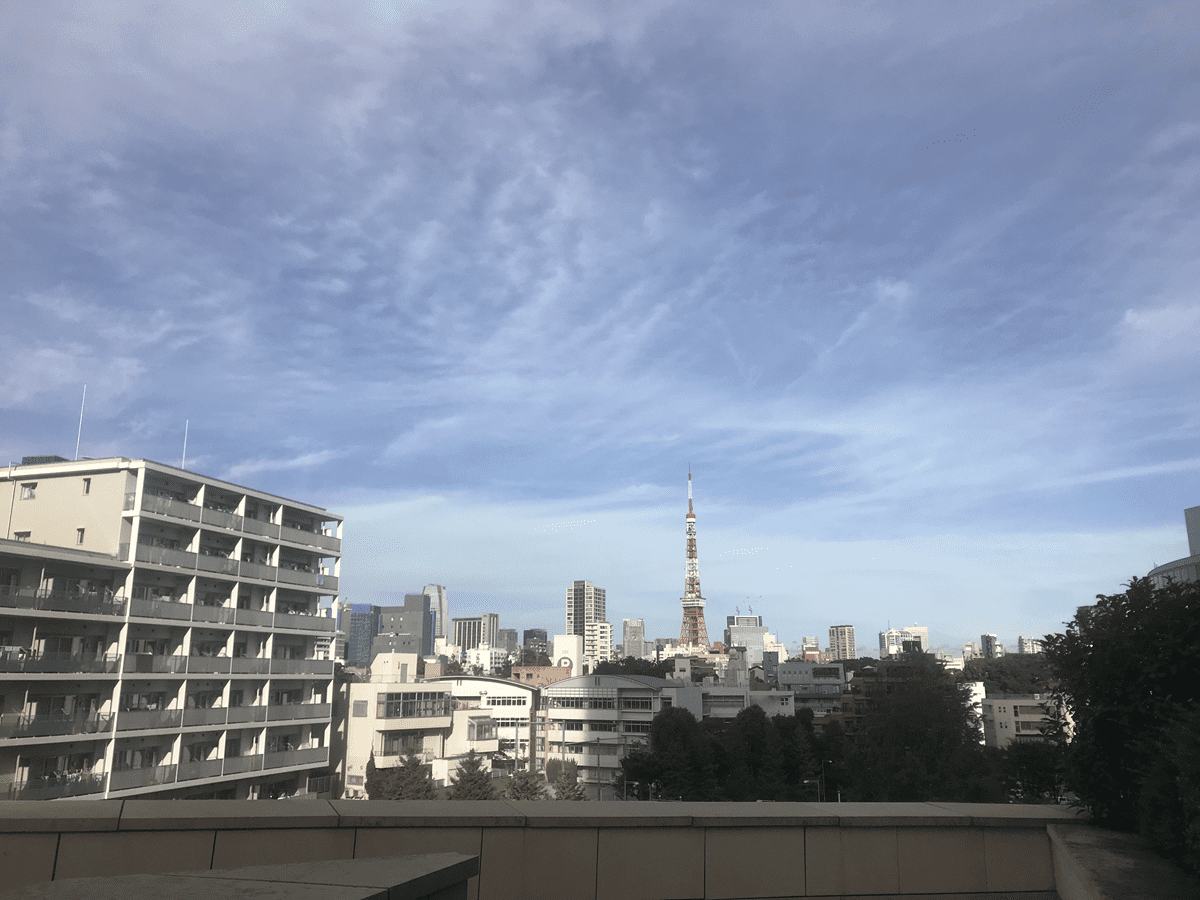 And so, our trip to Tokyo came to an end. We had some hectic last minutes while trying to get to the right Shinkansen (without a reserved seat ticket, you can only board non-reserved cars and not every Shinkansen has them, that's what we learned the hard way), but as soon as we were on the road, everything went smoothly. Late at night we arrived in Kanazawa, a city that now seems to be very calm and peaceful in comparison to Tokyo! It was a good feeling to come to our flat that we already refer to as "our home". Content and happy but also super exhausted we went to bed and tried to get as much sleep as possible before the every day life kicked in again.
Stay tuned for the next updates regarding our adventures!
What should you do in Tokyo? 5 tips for your next city trip!
So, after spending some days at this big city I want to share some advice with you regarding on what to do and what to see.
1. Where to stay:
Our hotel was near Asakusa in the east part of the city and I really liked it because it was a bit more quiet than other districts I saw. Also, you are close to one of Tokyos most famous sights (Senso-ji temple) and the Skytree. If you want more action and the typical Tokyo experience, you should get look for accommodation in Shibuya or Shinjuku - also, Roppongi is quite popular with lots of cool bars and boutiques. If you feel comfortable with it, consider capsule hotels as they are not very expensive and very clean!
2. How to go around:
The subway is an excellent way to travel around this huge city. We used day tickets during our stay and that really paid of. Just be aware that there are two independent companies who run different subway lines, the Tokyo Metro (10 lines) and the Toei Subway (4 lines). If you purchase a day ticket for only one of those two companies, you cannot use both metro systems! So check in advance which metro lines you will use during your day and if you really need a ticket for both of them (as it is more expensive than for only one company). Also, consider that travelling by metro can take more time than you might think: often, you have to walk long passages underground to get to the right track or exit. However, every station I saw was always clean, very well labeled and safe. Even if there are lots of people travelling, it is a very convenient way to get around. But don't forget to queue! ;-)
3. Tokyo from above
To get a good impression of this city, it is a good idea to have a look from one of the top floors down at it! The cheapest way to do that is to go to the Metropolitan Government Building near Shinjuku Station. You can enter the top floor (243 meter) of both towers for free and enjoy the view! Tokyo Tower and Skytree have also some impressive observation decks, however the tickets are quite expensive and you should buy them online in advance to avoid long waiting periods. If you want your trip upstairs to be truly glamorous, you can go to the New York Bar at Park Hyatt Hotel, just like we did. Before 7 pm, you don't have to pay entry fee and you only need to buy one drink for staying there.
4. Places you should see:
Even if you are only staying two days in Tokyo, you should try to see the following places: Shibuya and Shibuya crossing (for experiencing "the" Japanese Moment), Shinjuku Station (the busies station ever), Kabukicho (Tokyo's craziness at is best - but be careful of the wonderful tourist traps that will wait for you), Asakusa and the Senso-ji temple, Akihabara and the Imperial Palace Gardens.
5. What to avoid
Tokyo is great - however, there are some things you should definitely consider not doing. First of all, don't go to Tokyo in summer (July and August) as it is way too hot to really enjoy. We somehow survived these four days but it was not pleasant to be outside. A good time can be late autumn and also early winter but also spring. Cherry blossom time (usually late March to early April) can be very crowded and hectic, so try not to go during this period. You can watch cherry blossoms everywhere in the country. ;-) Tokyo is also a very safe city, but you should still be cautious with your belongings and avoid shady streets during the night time. And be aware of the various tourist traps that wait for you in the popular places like Kabukicho (e.g. the Robot Restaurant - it maybe has a crazy show but we were told that the food was not good and way too overpriced. So, enjoy the show but be aware that it will cost you a fortune to spend your evening there). And, one last plea from my side: please don't go to an animal café and support the bad treatment of the animals there. I know the idea of it sounds fun and interesting but I am sure that it's not in the best interest of the animals to have a life like that.