Hi everyone, as promised I want to tell you about our great weekend that we spent in the Japanese alps! As the heat was decreasing, we decided that it was time for another trip! As most of you know, we both love the mountains and going for a hike, so we wasted no time in agreeing on our next destination: the beautiful city of Takayama.
Takayama is a small city in the Gifu Prefecture that is located in the central part of the Japanese Alps. It is famous for its well preserved old town and its cultural heritage of the Edo period. Lots of tourists visit this small city every year, so it can be very crowded. But as most tourist only visit for one day and we decided to stay there for two nights, we were able to enjoy a very quiet and empty city in the evening, having some of the major sights only for ourselves.
As we still don't have access to a car, we went to Takayama by Highway Bus which is a very convenient and relaxing way of traveling! You buy the tickets beforehand to reserve a seat and then you can enjoy a very comfortable bus. Of course, the bus was perfectly in time, clean and even quite spacious! The journey takes about 2 hours from Kanazawa with a short stop in the village of Shirakawa Go - the sister village of Gokayama, where we went to in July, located in a steep valley in the mountains and full of the typical houses. However, our stop was just some minutes long, so we didn't have time to have a peek at the houses as we didn't want to miss our bus!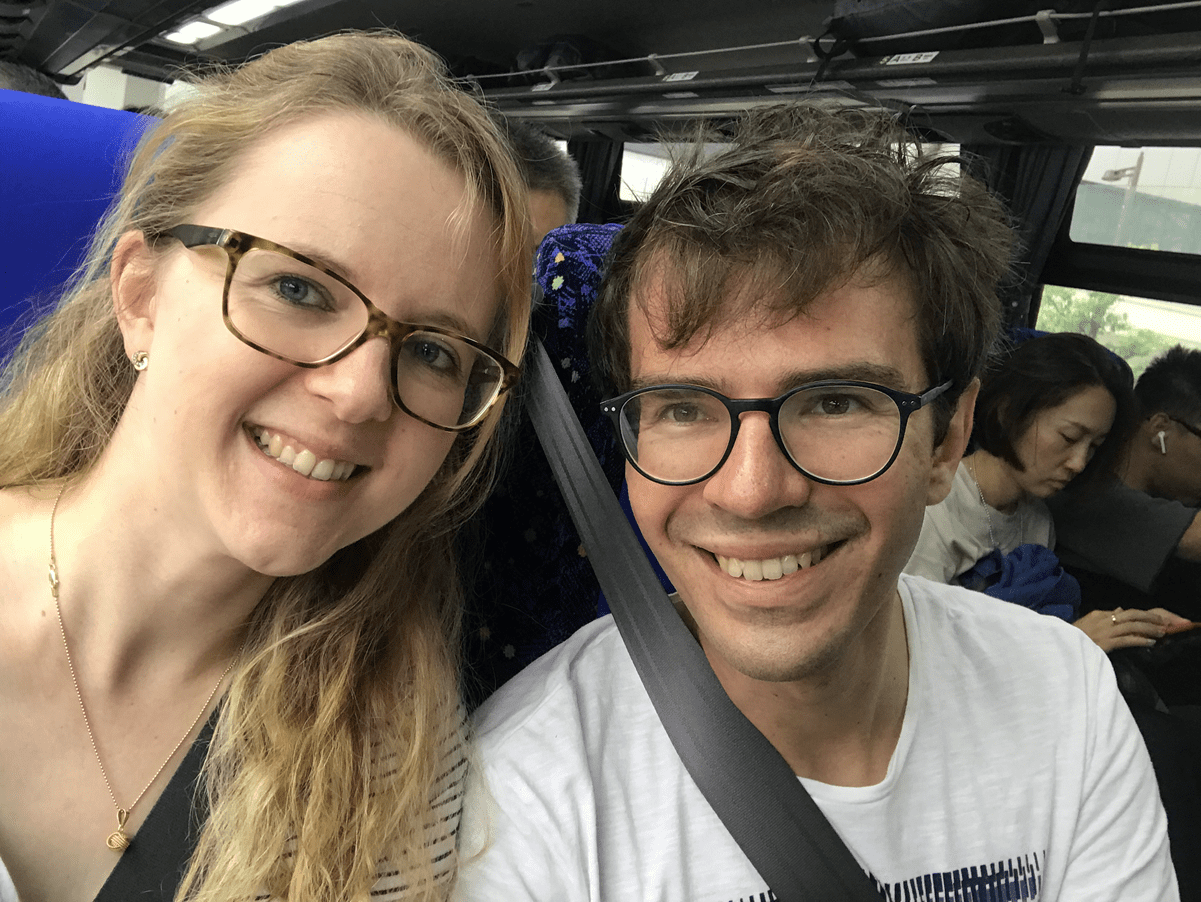 Getting started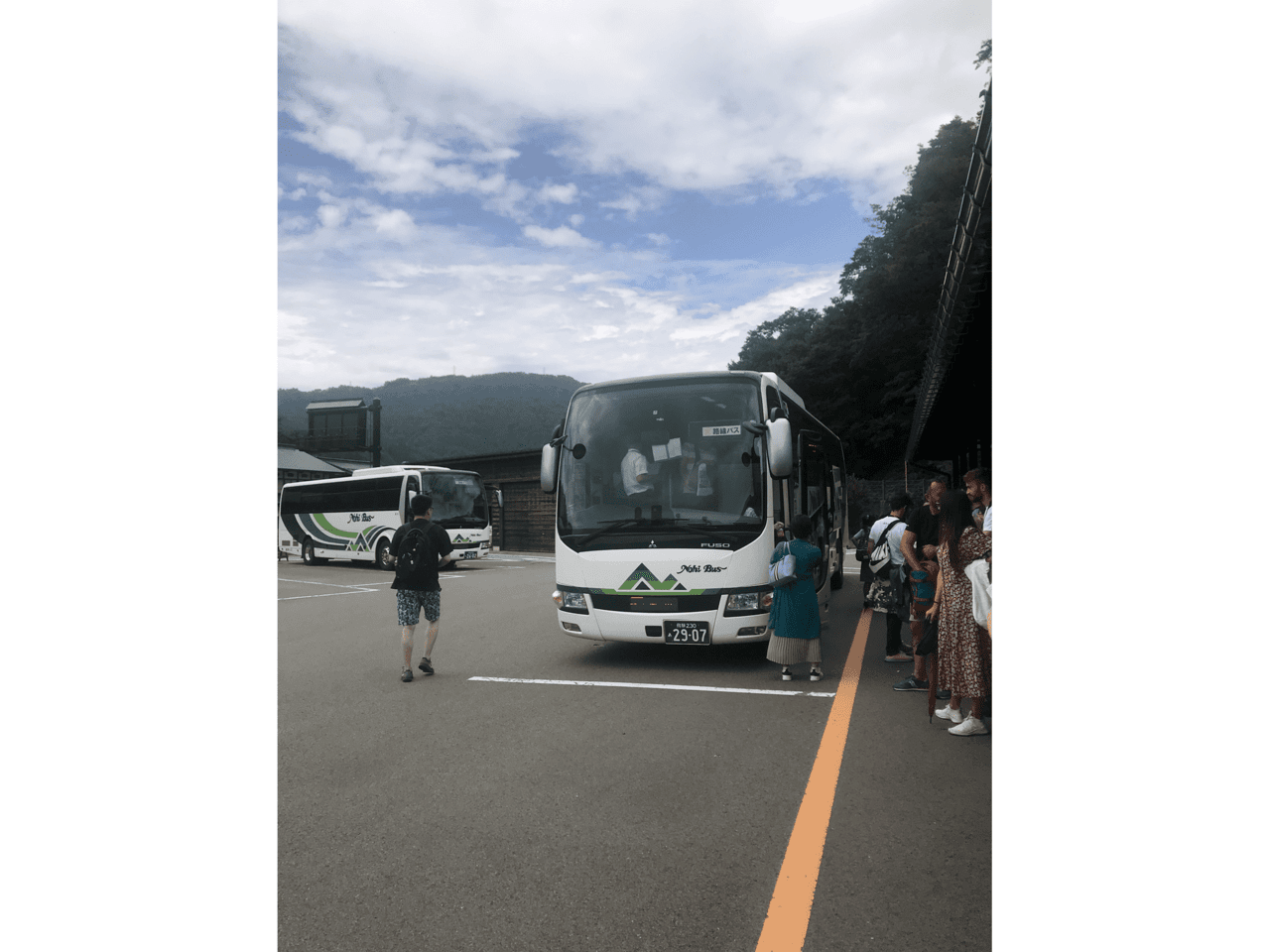 Short stop at Shirakawa-Go
After arriving in Takayama, we went to our small hotel that was located next to the old town city center, crossing the famous red Nakabashi Bridge. The bridge is surrounded by willow trees and crosses the Miyakawa River, a beautiful small river with crystal clear water. A very beautiful place!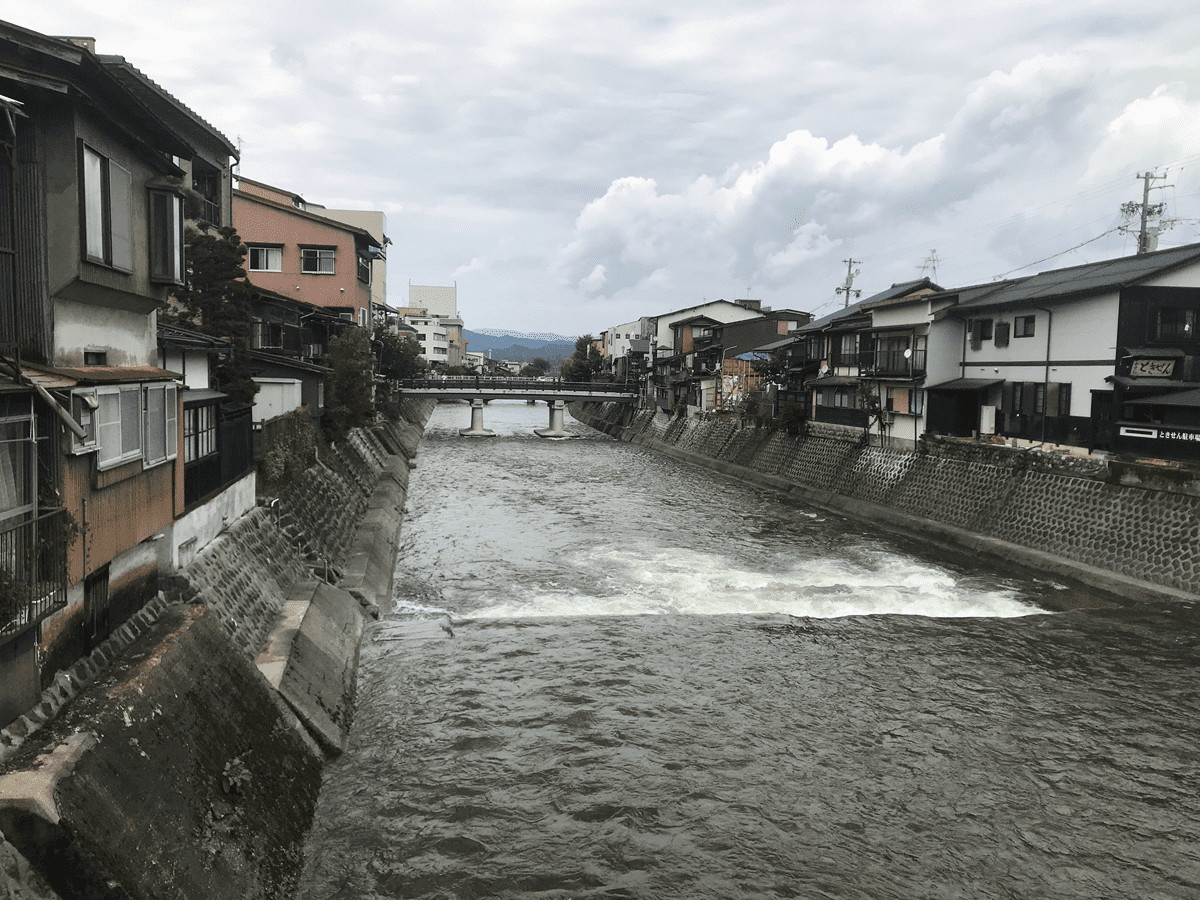 Like a movie set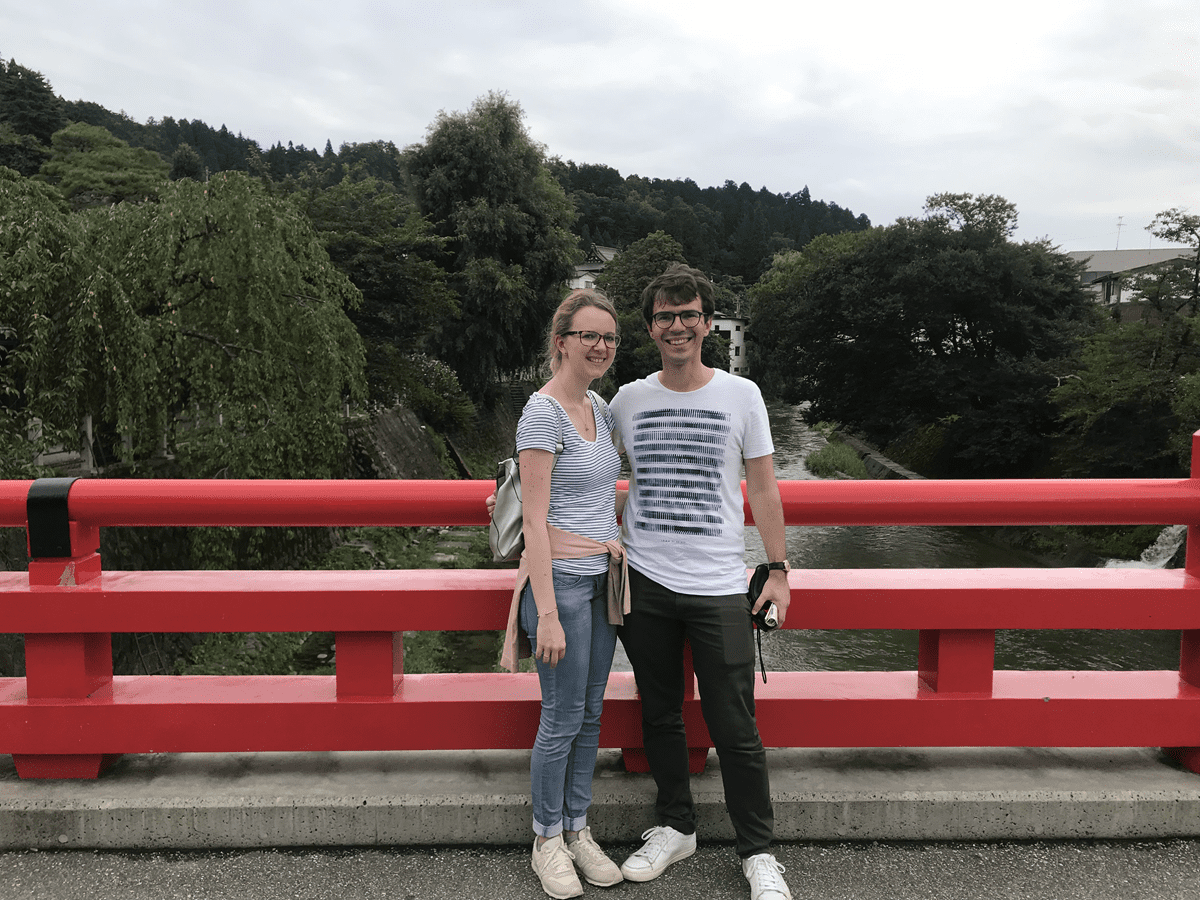 The famous red bridge of Takayama
We had to climb steep stairs to get to our hotel, but were rewarded with a beautiful view of the city and the surrounding mountains. The owners, a mother and her daughter, were very friendly and welcoming and we did get a Japanese styled room (tatami mats, futon, etc.) which was no big deal for us, as our sleeping room at our apartment is also Japanese styled with futon beds. The owner was very happy to hear that. Obviously, there are other guests who don't deal well with such a room arrangement. There was also a small Onsen in our hotel which we tried out in the evening and which was very relaxing!
After the check-in, we decided to have a walk around the old castle ruins of Takayama castle on the [Higashiyama Walking Course] (https://www.japan-guide.com/e/e5906.html). The old castle was located on a hill directly next to the city center. But again, we weren't allowed to proceed further into the woods because bears had been seen there recently. So, we decided to have some matcha tea at a small teahouse and go back down to the city center to have a look at the old wooden houses.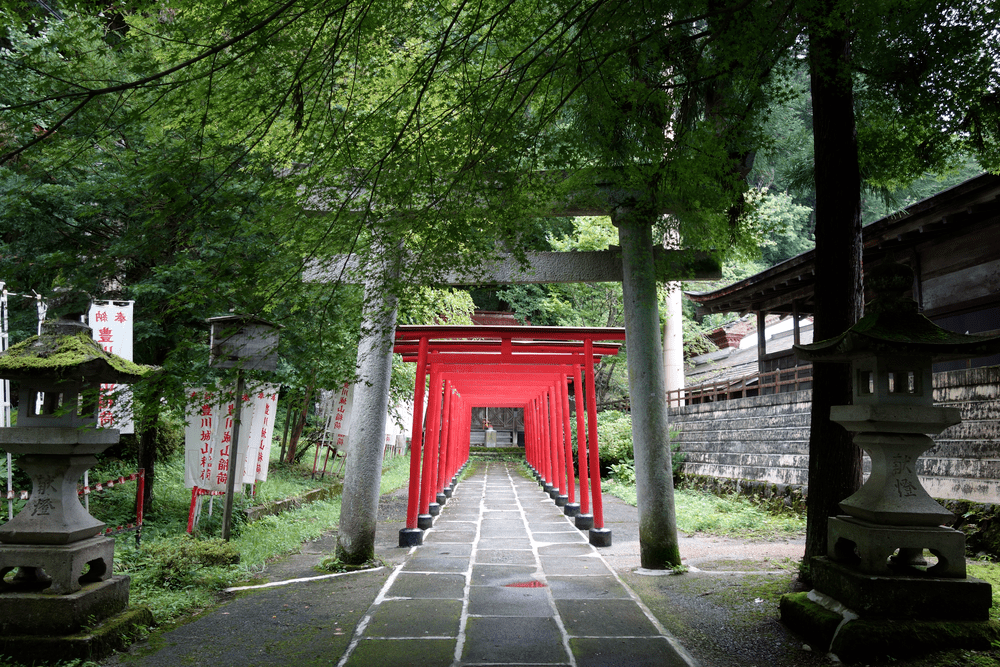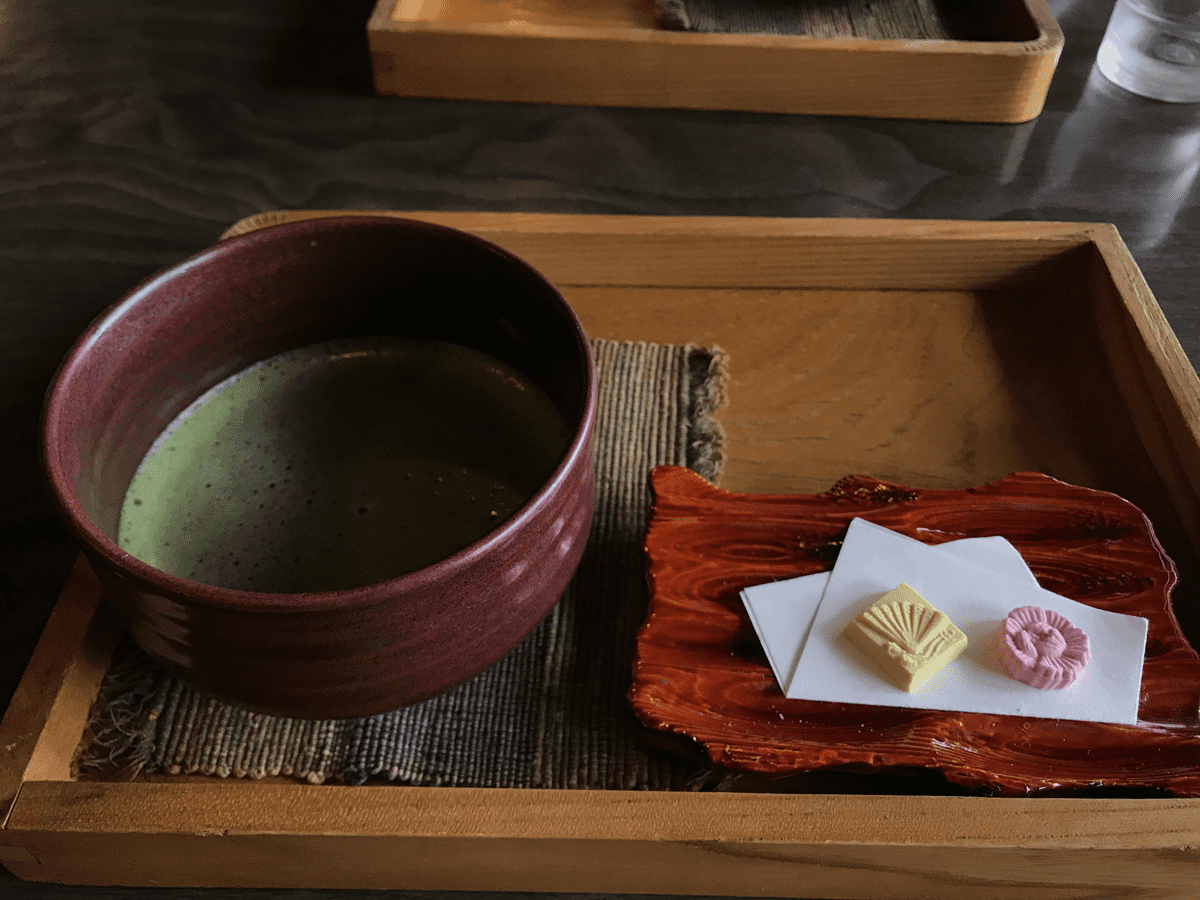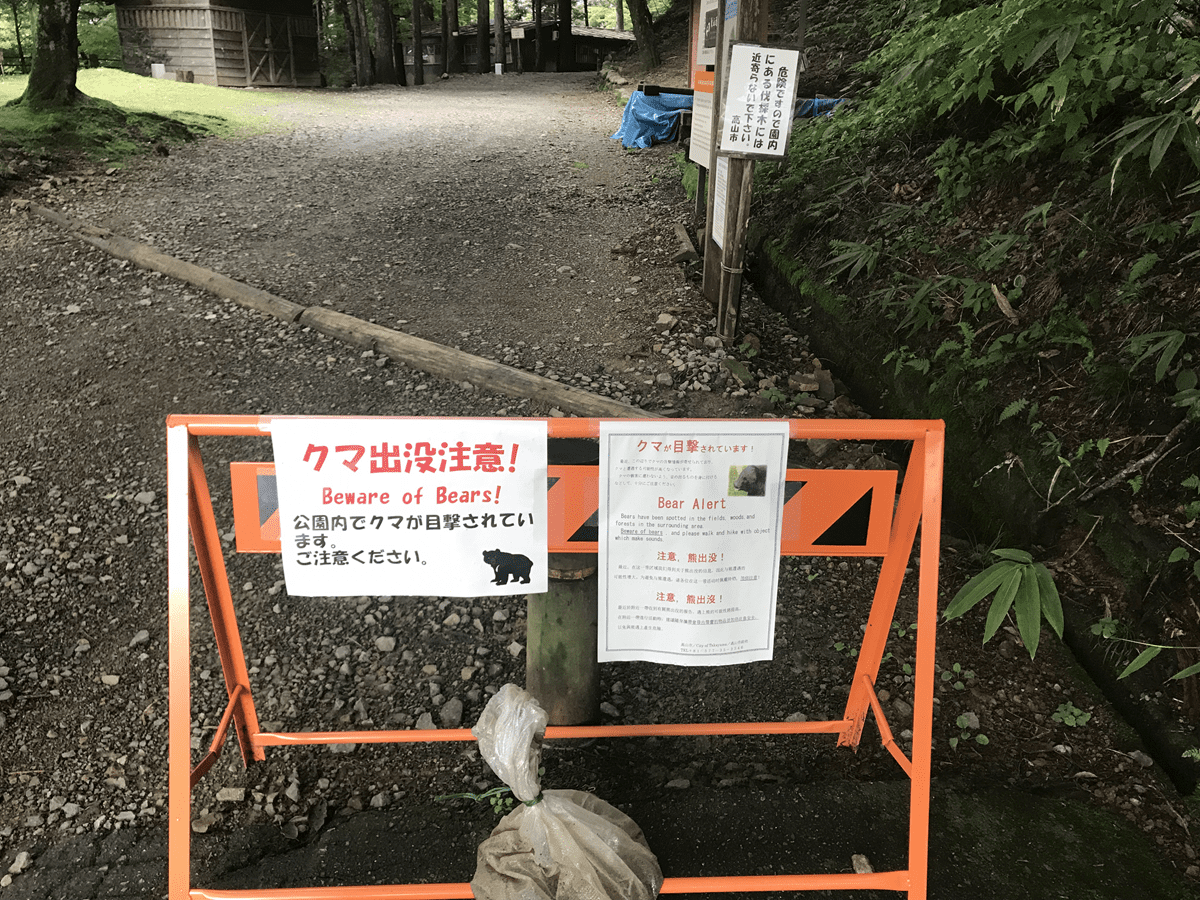 The warning of the bears is not too comforting
As it was still afternoon, the small streets of Takayama were crowded with tourists and after some minutes, we were really annoyed by that. It was a noisy atmosphere and we weren't able to enjoy the historical feeling of this area. So, we skipped that part and went to a place where you could find a lot of old temples and shrines, the Higashiyama Teramachi Temple Route. It was very impressive, especially one shrine that was located within a wood of very tall trees. The atmosphere there was amazing! We spent a lot of time at this place, just walking around and watching the trees and the nature.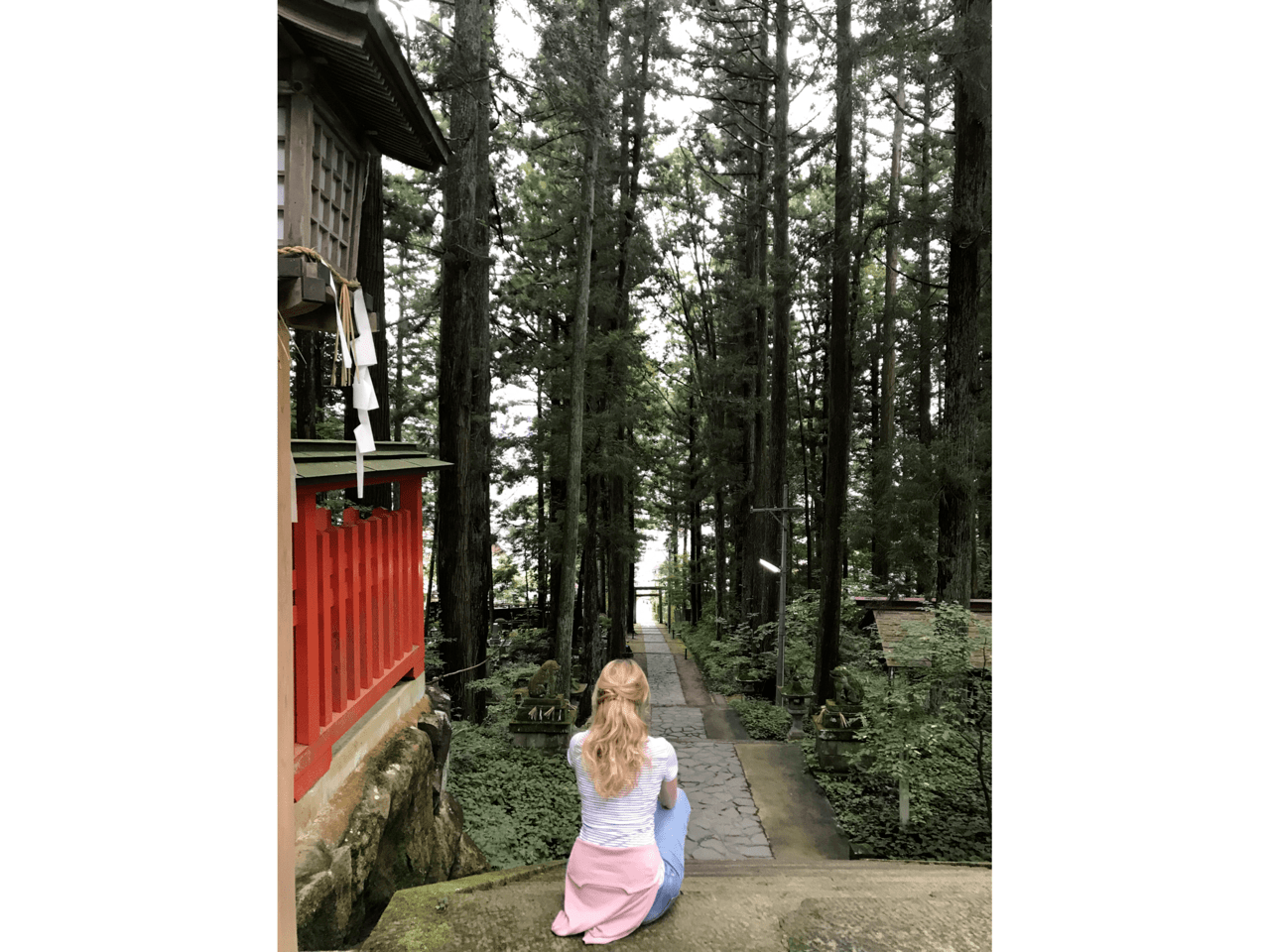 It looks nice but I got some nasty mosquito bites while sitting there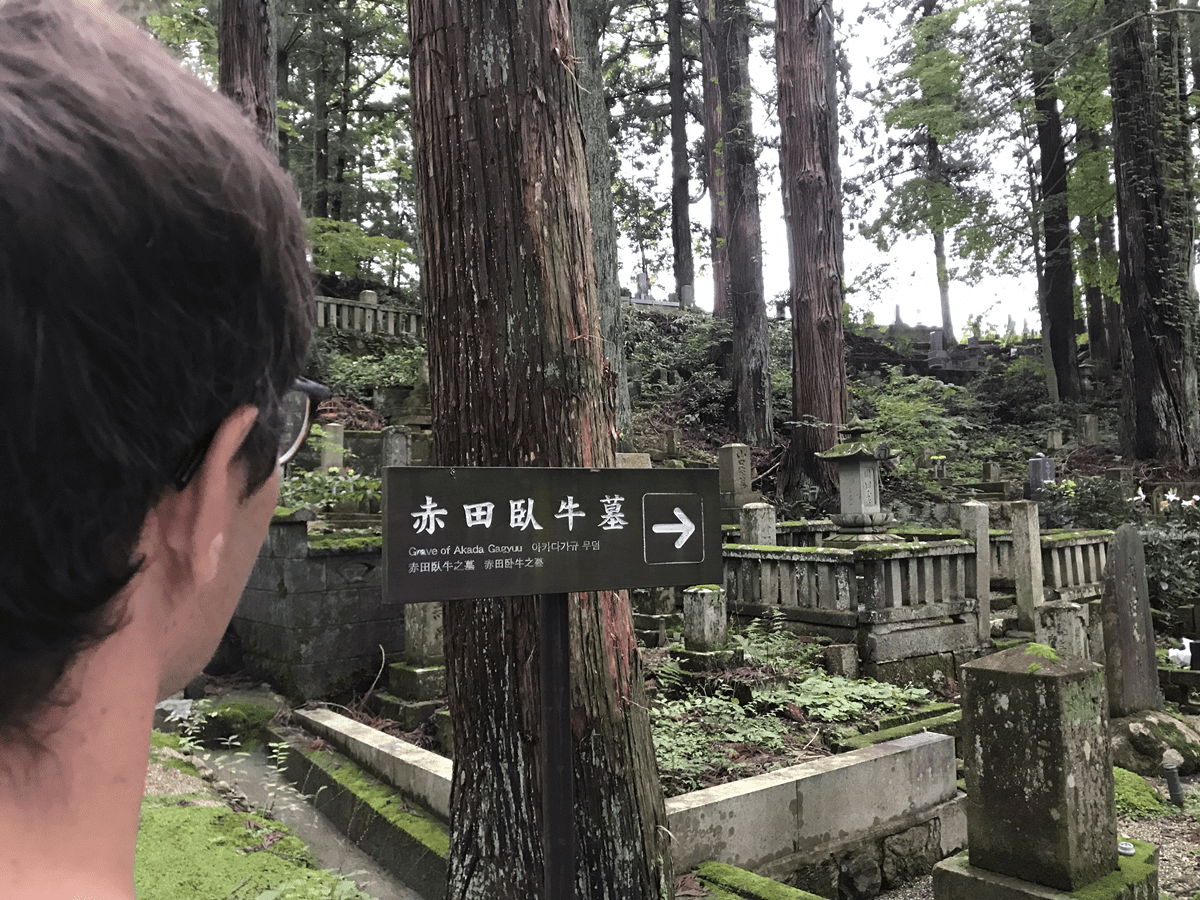 Graveyards could be found at the whole temple area, often with signs mentioning the graves of important Japanese persons
Afterwards, we strolled back to the city center and realized, that nearly all tourists had already left and the streets were nice and quiet. Finally some time to explore the old town and to enjoy the old wooden houses in peace. For dinner, we went to a little Udon restaurant and enjoyed the delicious Tempura Udon dish. Yum!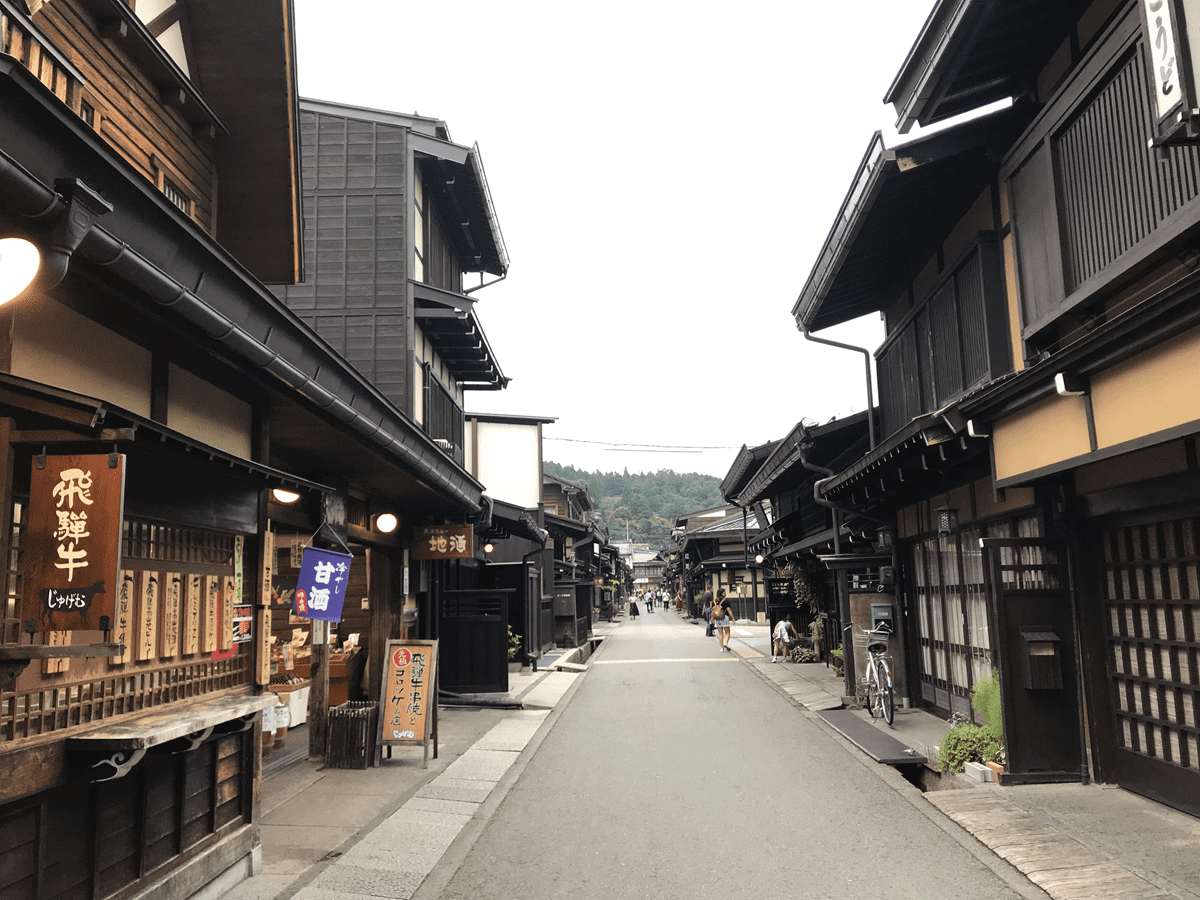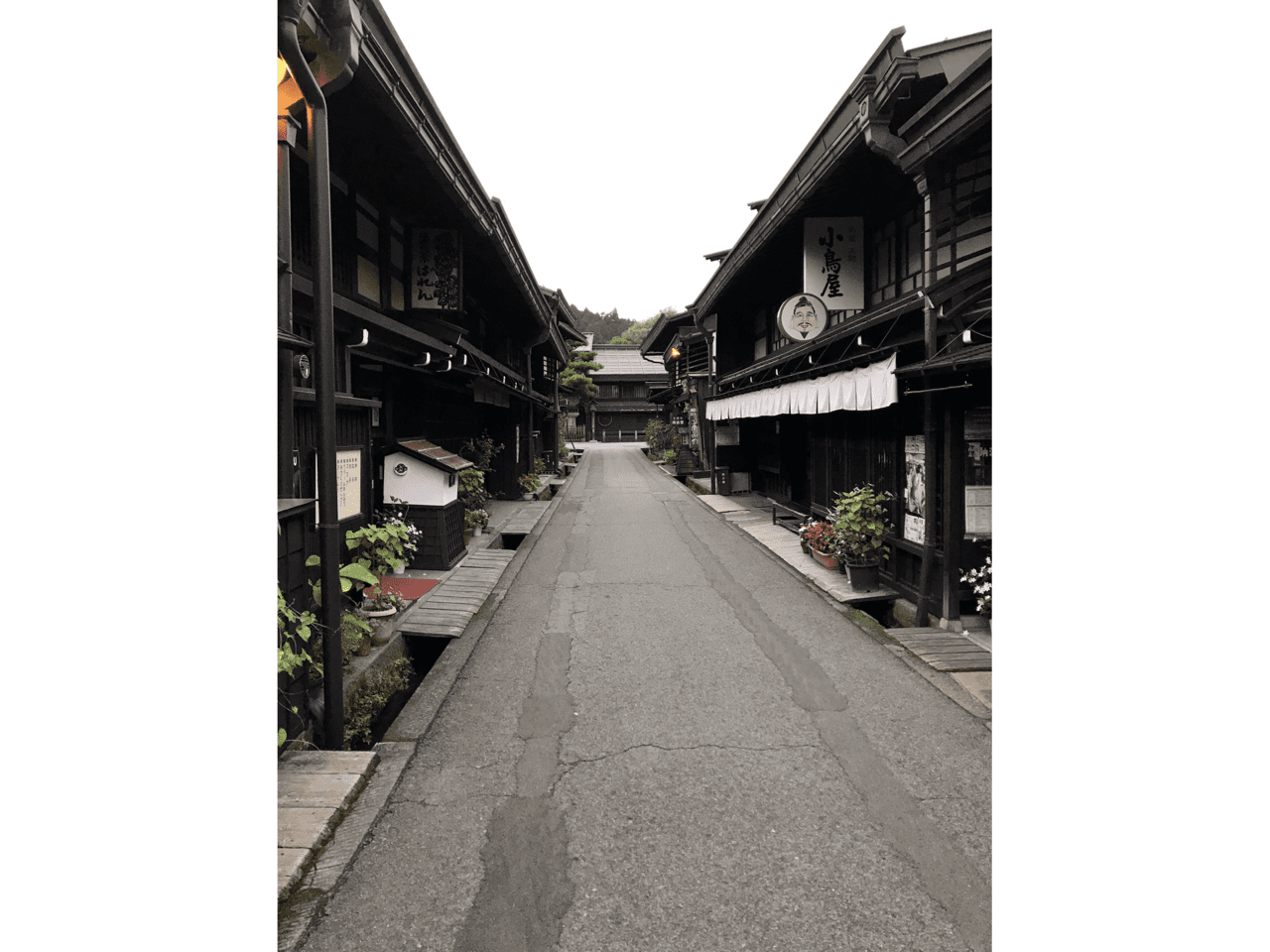 Truly amazing!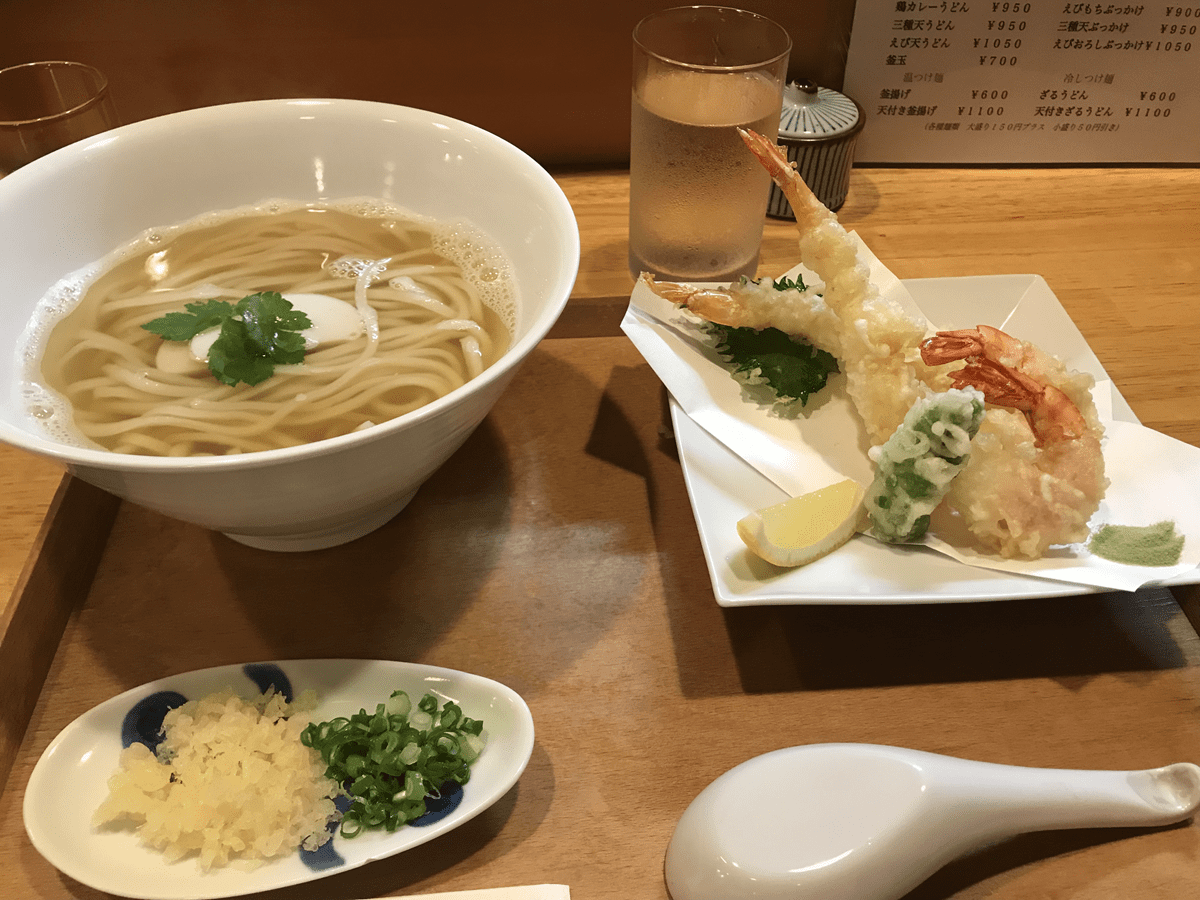 It tasted delicious :)
On Saturday, the highlight of the weekend was waiting for us: we went to the high valley of Kamikochi, often referred to as "Japanese Yosemite Valley", and let me tell you, it was absolutely stunning! Getting there was a bit of a challenge, as we had to take two different buses and be careful with the timing (they stop running in the evening - good to know). We started with the first bus at Takayama station and after one hour we arrived at Hiyaru Onsen in Okuhida, a remote area in the mountains that technically belongs to Takayama, though it is quite far away. There, we had to change the bus and get into the second one that was bringing us directly to the center of Kamikochi. As cars have no access to this natural resort, the only way to enter is either by bus or by taxi (very expensive!). Therefore, the busses are crowded and the bus center in Kamikochi is again full of tourists and visitors. We were extremely lucky because the weather was perfect for this kind of trip: sunny, a bit cloudy, not too hot (around 20 degrees) and the air was dry! It was the first day in Japan I was not bothered by temperatures or humidity. Also, it was the first day I was glad to have brought a light jumper and a rain jacket as the winds could get quite chilly.
After getting off the bus we started to walk along the river and got these stunning views:
The Kappa Bridge is the most famous and iconic sight of Kamikochi. It's a suspension bridge that looks really nice and is usually crowded with people. Everyone wanted to get a good picture of it…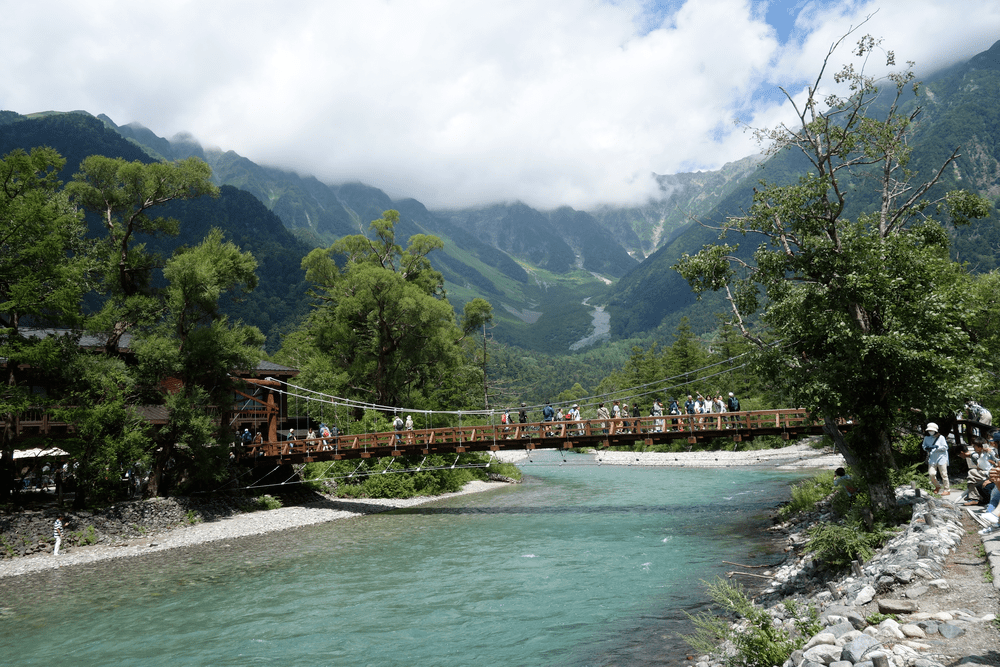 So we continued our stroll through interesting marsh landscapes, walking on wooden footbridges and watching the beautiful nature. Sadly, you could not see the peaks of the highest mountains - the Mount Myojindake, Hotaka and Yakedake (which is an active volcano btw), all over 3000 m high - as they were hidden in the clouds. But still, it looked so stunning, we were speechless.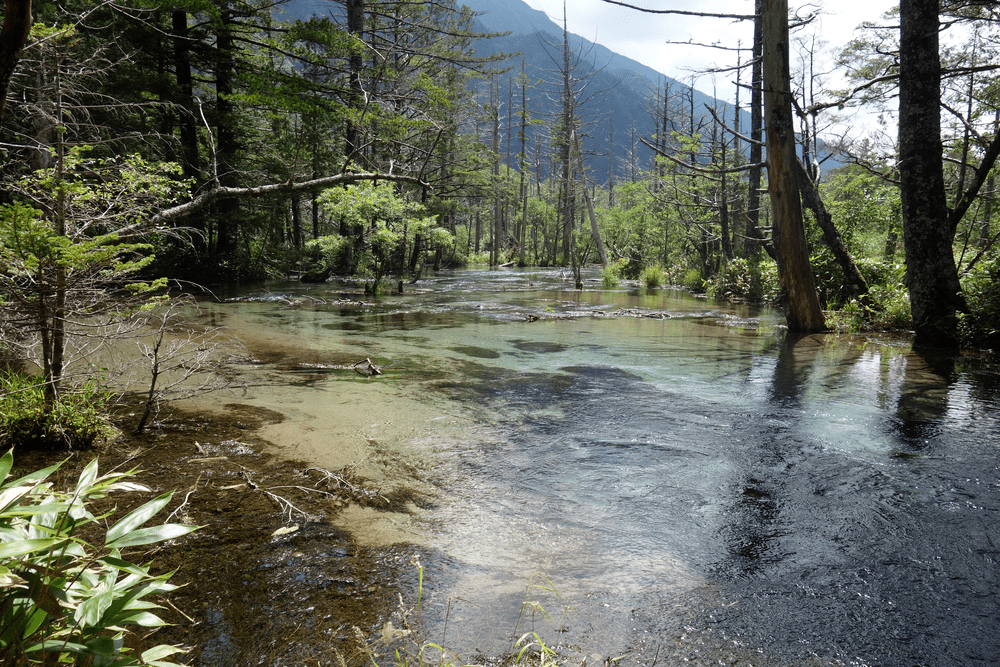 However, it was really crowded. After a while, we both got a bit annoyed and thought about doing a hike that was recommended in our travel guide, the 2 hours long hike up the mountain to the Dakesawa Hut (2100 m of altitude). The Dakesawa Valley lies halfway up on the way to the peak of Mount Yakedake and is a good place for having a rest before you continue to climb the peaks of the 3000 m high mountains. It would also mean that we had to climb 700 m of altitude to get there but we thought: no problem!
The way itself had some signposts that helped you to understand how far it still was until the hut. The trail was divided into 9 sections, every section contained about 80 m of altitude. At the beginning, we had to climb a very steep way through the deep woods (warnings of bears were of course active) and no one but us was on this way. It was scary, I nearly turned back to the valley because I was not sure if this was a good idea. Luckily, Niklas convinced me to continue and after sign number 7, we left the deep woods and started to climb over screes and rocks.
What can I say - it was a challenging hike. The distance was about 4 km long and there was no part of the trail that wasn't steep. We were sweating hard, even with the cold wind (that's why I wear a scarf on the pictures, I wanted to protect my neck from the icy mountain winds). On the way up, we met some other hikers and one nice Canadian family even cheered on us so that we had enough power to continue.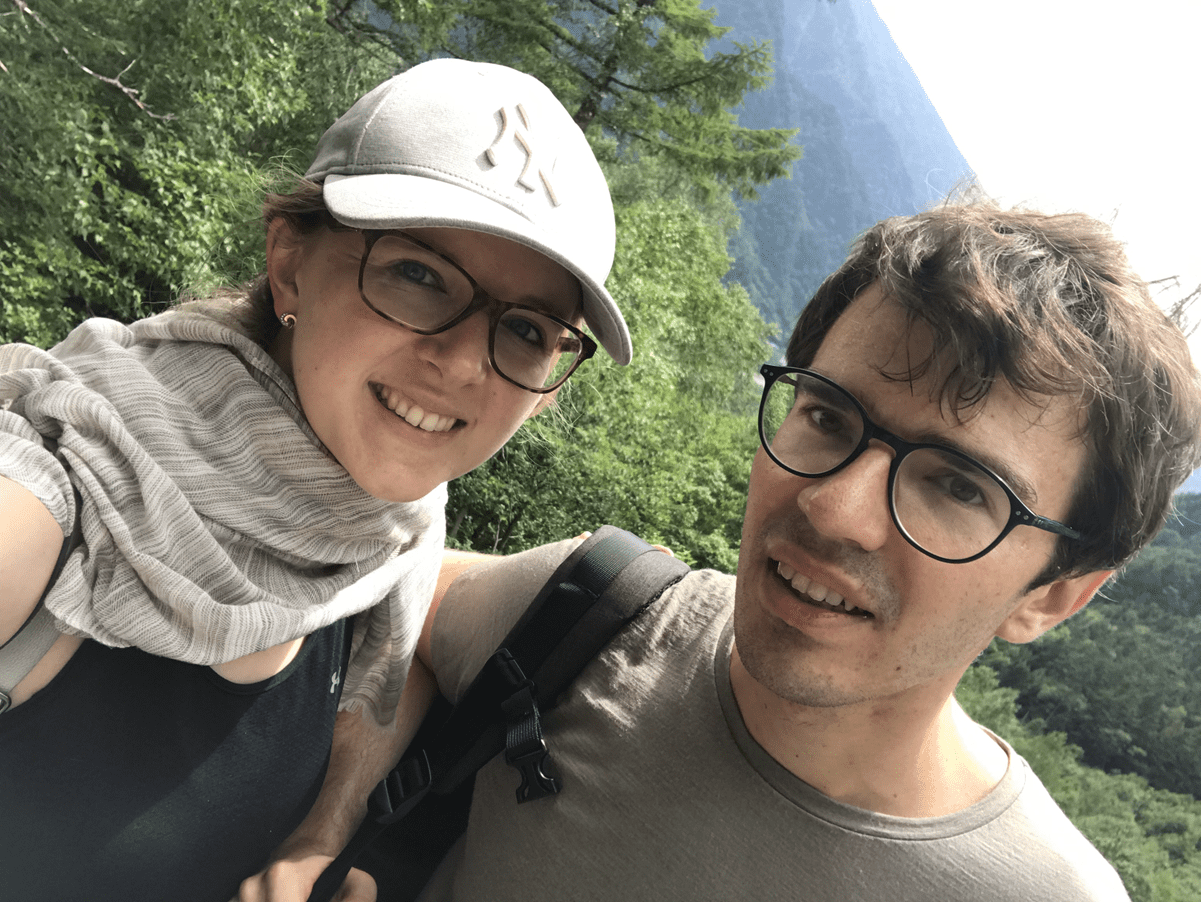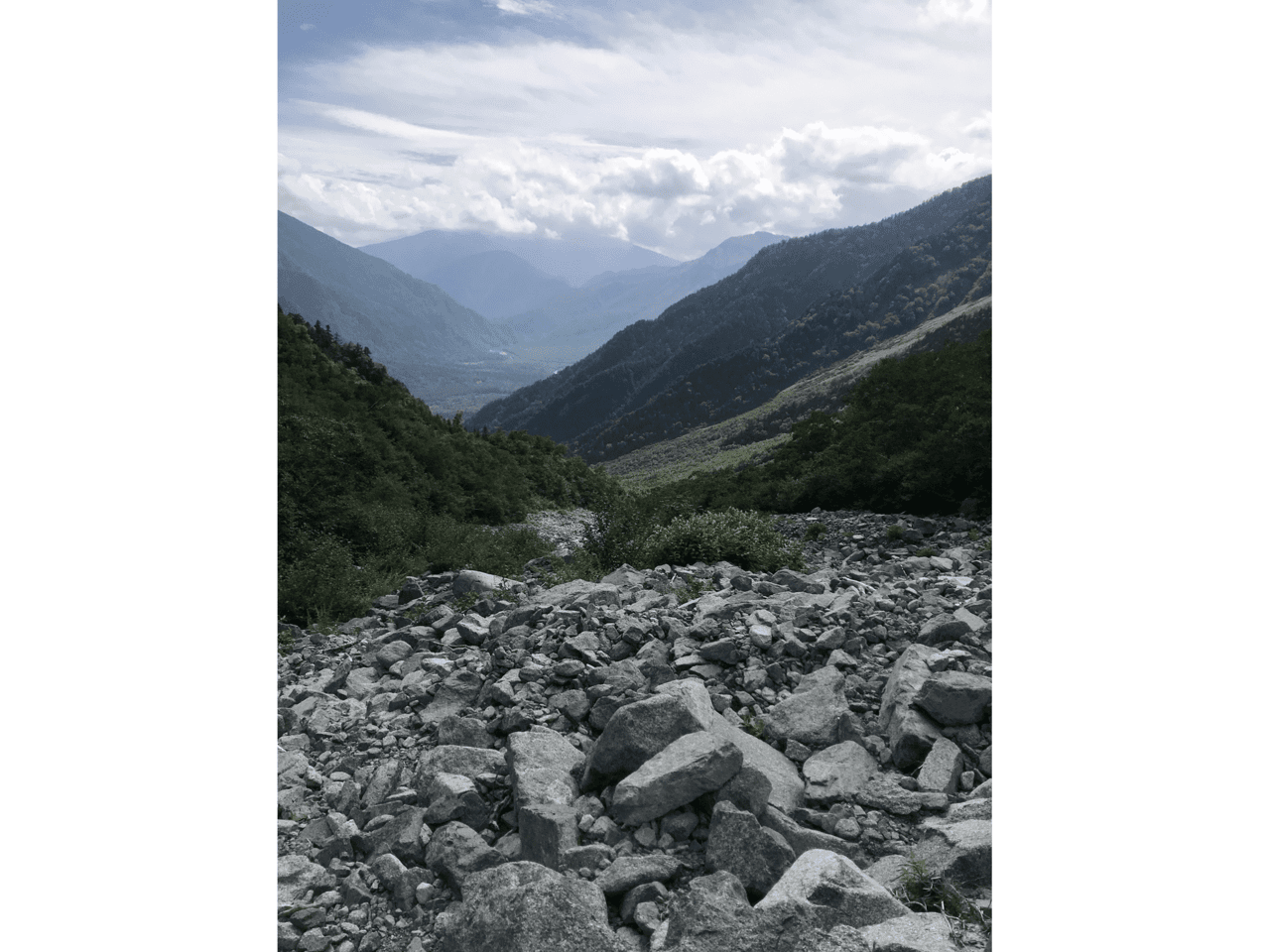 Somehow we managed to arrive and survive this hike and were rewarded with the best view ever: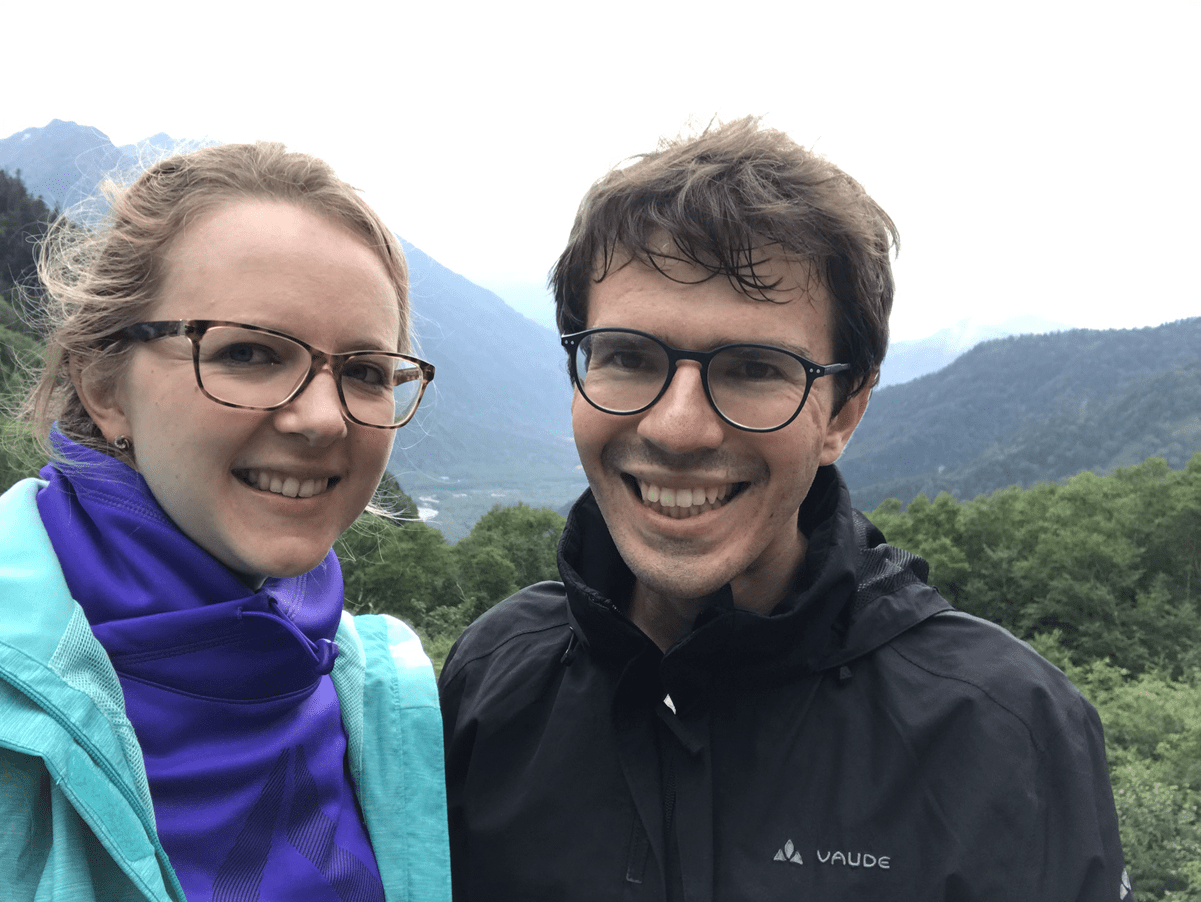 Exhausted but happy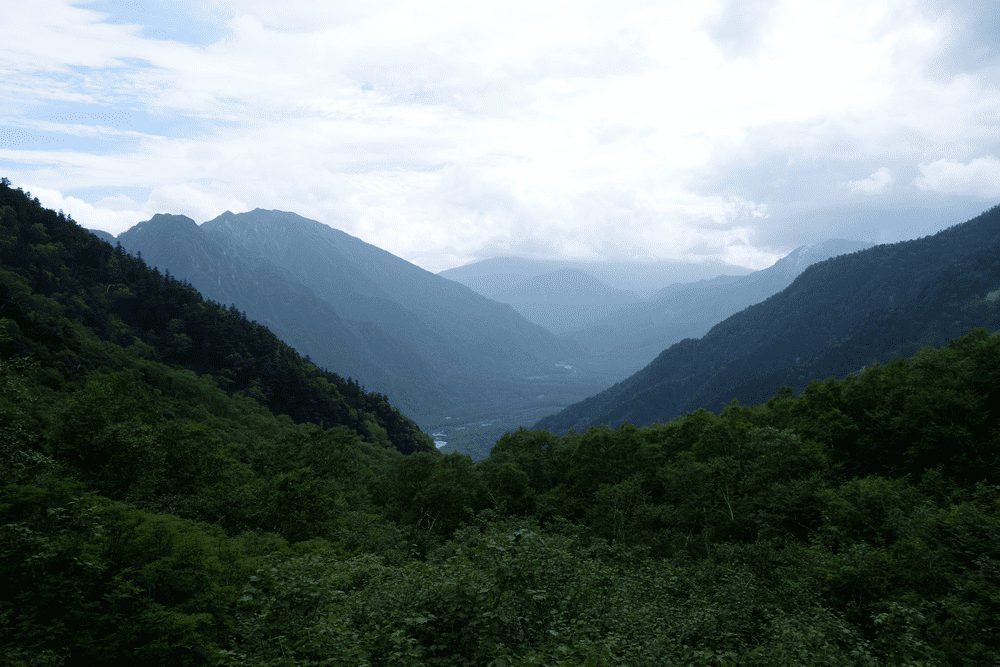 After a short rest we had to climb down in order to catch our bus home. The way down was also challenging as you had to concentrate all the time to avoid stumbling and falling. On the way down we encountered many other hikers, but back in the scary woods, we were alone again! But, no bears or monkeys in sight, phew! If you come to Japan you should visit Kamikochi! But keep in mind, the whole valley of Kamikochi is closed during winter time, so the only time to visit is from April to beginning of November.
After arriving in Takayama we rewarded ourselves with a perfect dish of the famous Hida beef (local beef from the area around Takayama which is comparable to Kobe beef). It was really delicious and we enjoyed the beef so much. Afterwards, we went to the Onsen and then directly to bed!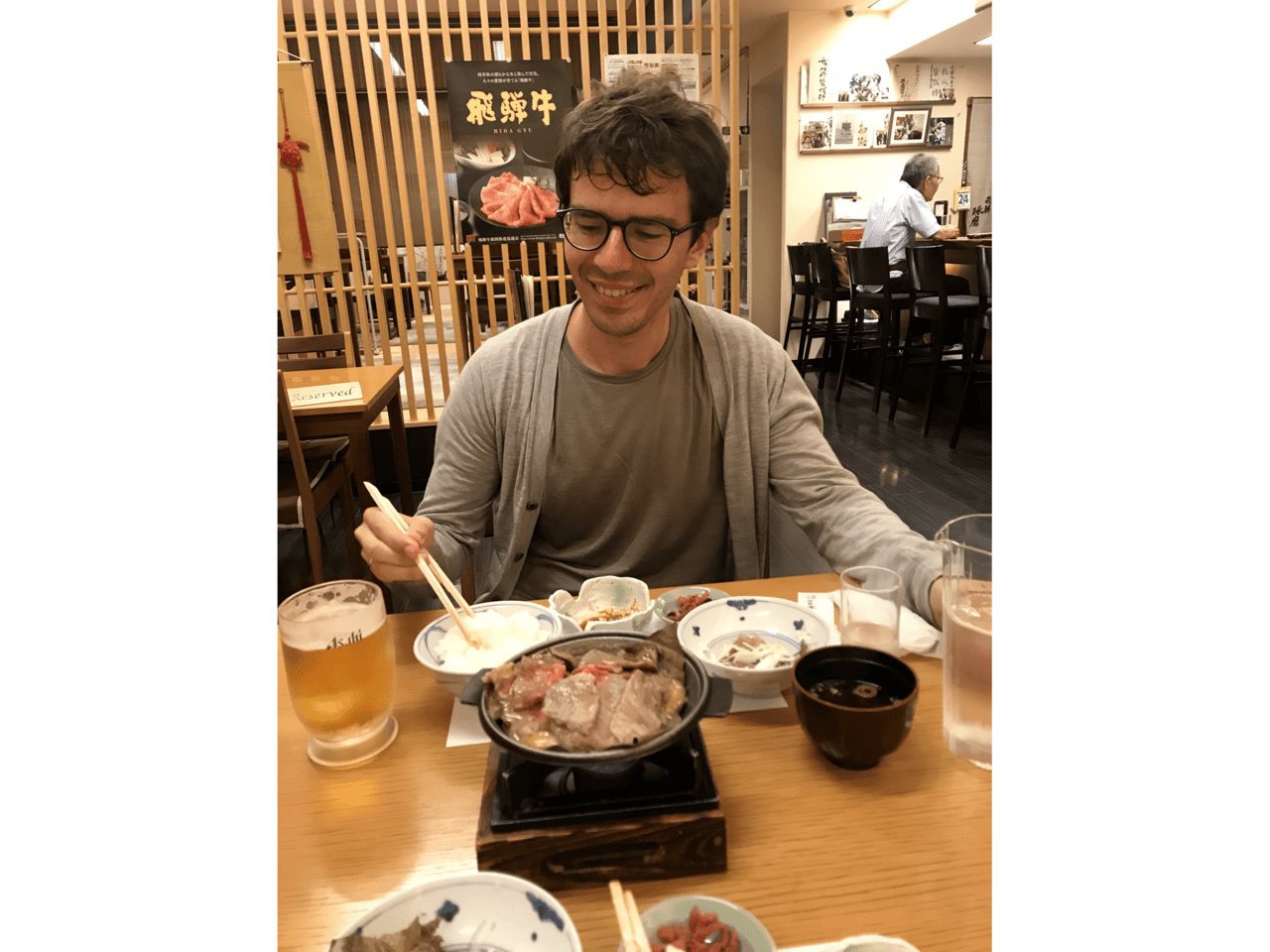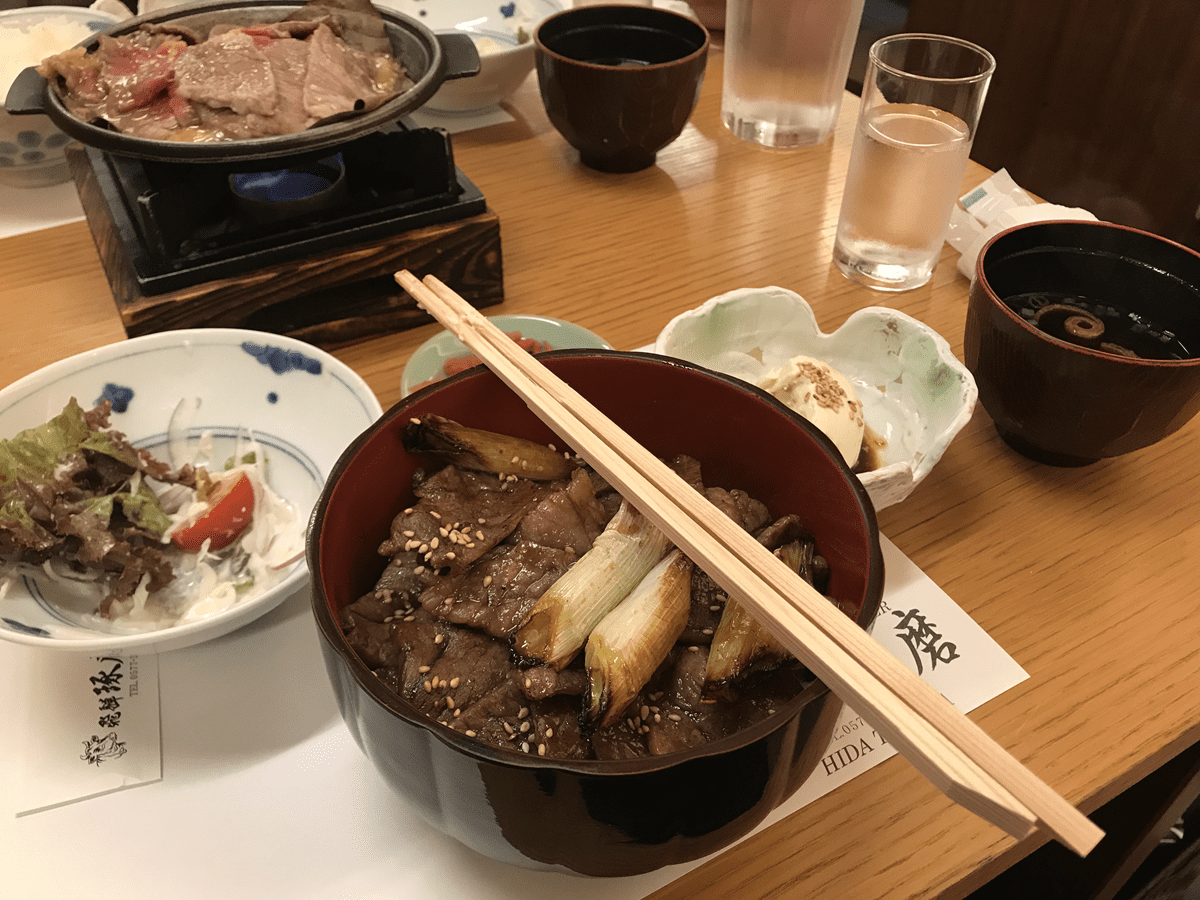 On Sunday, we were tired and our muscles were a bit sore, so we decided to just stroll around with no big plans. We visited the famous Morning Markets where you can buy a lot of street food or beautiful crafts like pottery, chopsticks or other decorative items. We bought some little presents for our friends at Kanazawa (in Japan, it is kind of mandatory to bring back some souvenirs for your work colleagues or friends if you have been traveling, showing them gratitude that you could take time off and relax), had a good soba lunch and enjoyed sitting in the shades of the willow trees next to the river while watching some goldfish swimming around.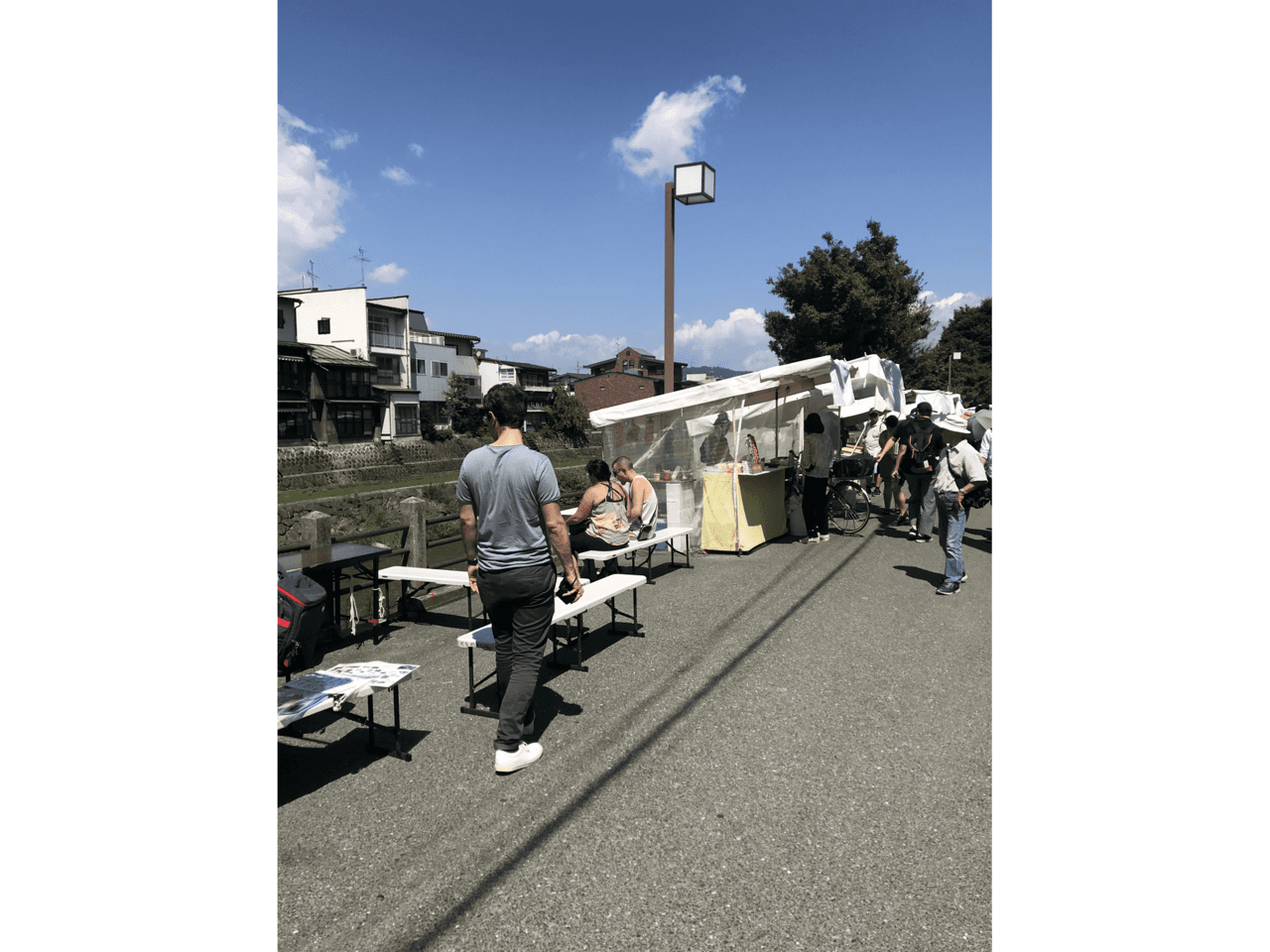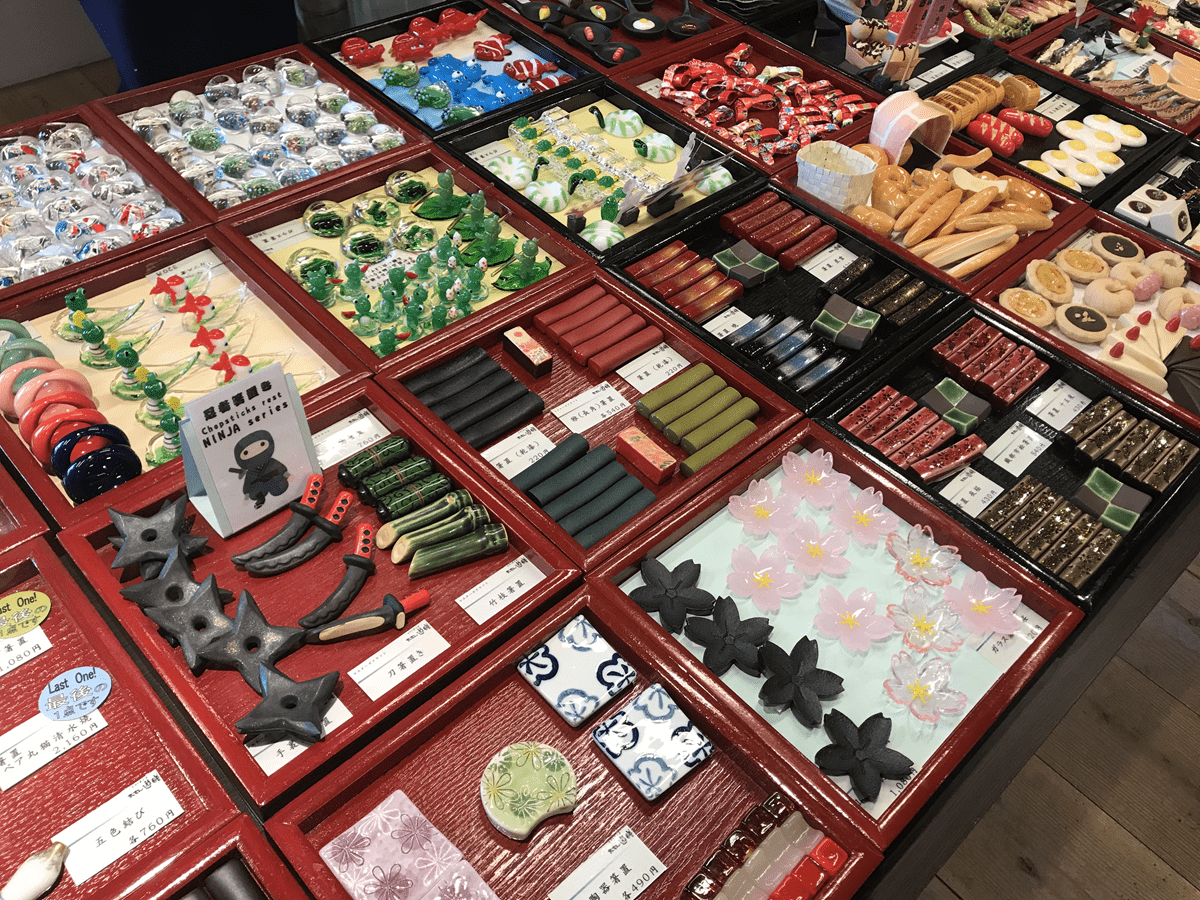 Here you could buy a lot of different objects for storing your chopsticks (Hashi) during mealtime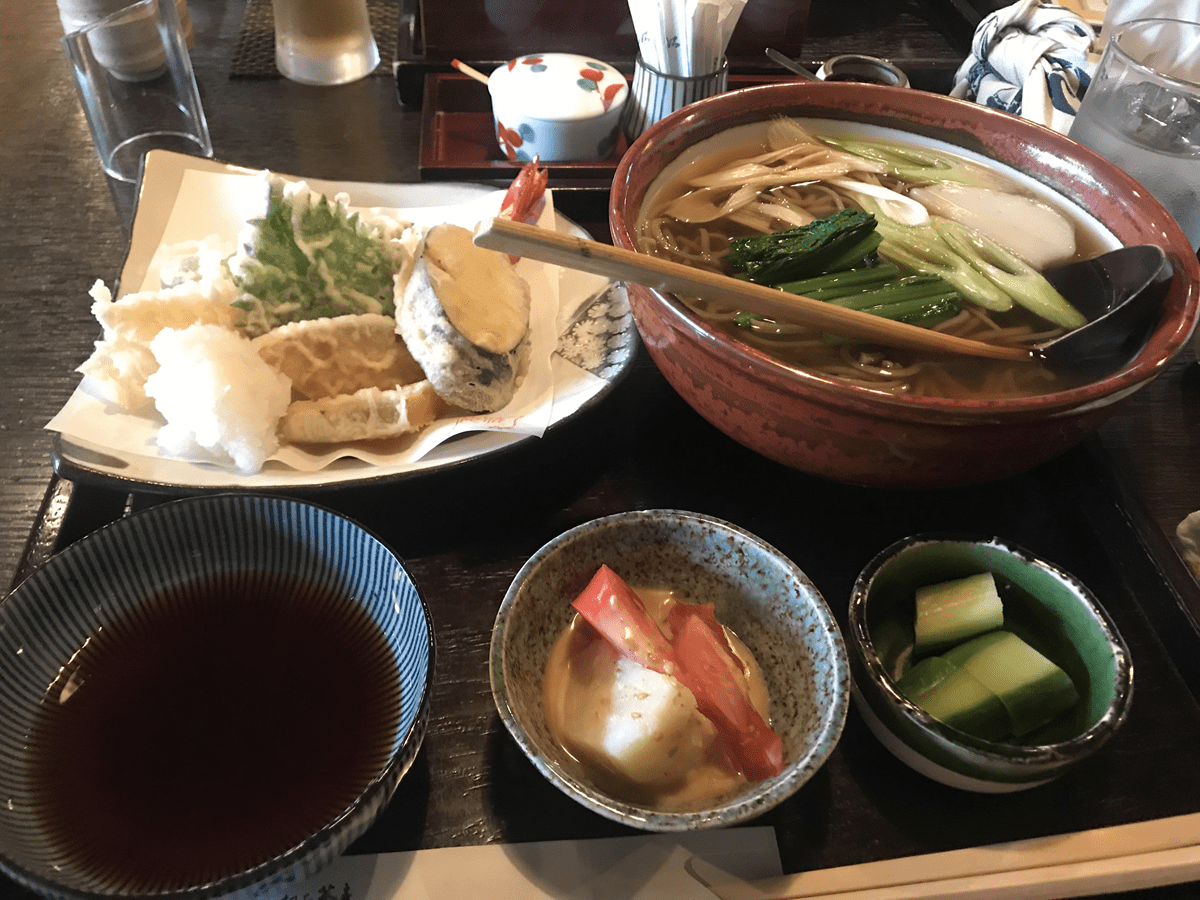 Soba lunch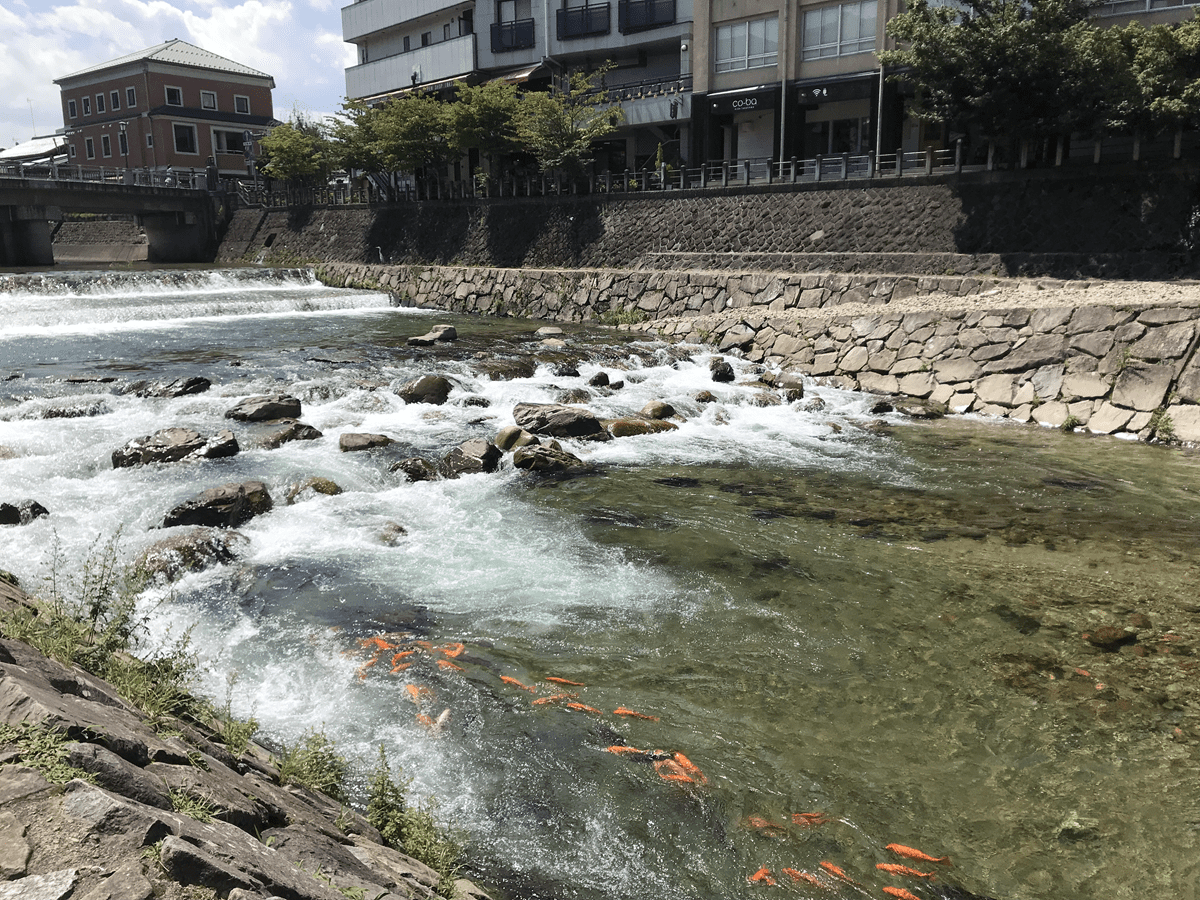 This weekend was very relaxing and we enjoyed spending time in the beautiful nature of the mountain area. We were so lucky that the weather was good so that we could spend all day outside without any problems. There are lots of other places in the mountains we want to see, so we will certainly plan another tour in this area. However, now we are preparing for the arrival of our next visitors: my colleague Nicole and her husband Björn are currently traveling through Japan and will visit us next week for some days! Sadly, Niklas won't have too much time for them as he leaves for a conference in Tokyo next Wednesday, but I will show them around and introduce them to our new life in Japan. Hopefully, I can show some Japanese skills as my intensive course will also start next week! Stay tuned for the next update and see what we experienced together.
Every-day-life stories
This time, I want to tell you more about the Japanese bathing style: the Onsen experience! Having a bath at an Onsen is a very important part of the Japanese every-day-life. It's not only about the practical aspect of washing yourself or the relaxing part - it's so much more. Going into an Onsen means that you take part in an important ritual, therefore, if you want to do it, you should know how to behave properly.
The importance of having a bath can be seen in the every-day-life of a Japanese household. Often, the families having a bath at the end of the day, rather than showering in the morning. The hot bathtub is prepared and each family member is having a bath in the same water. Sounds gross? Well, to prevent that, everyone is required to wash thoroughly before entering the water, meaning you kind of take a very long shower and rinse of every piece of dirt that you might have, before you actually enjoy the bath! In this way, the water of the bathtub stays clean and everyone can use it. With modern technology, the water even remains the same temperature throughout the evening.
So, this principle is also used in the Onsen. You enter the bathroom area (of course, Onsens are separated by gender, if you are a couple, you won't be able to enjoy it together) and get rid of your clothes, before entering. Inside, you will find different shower areas and small chairs. You sit on these little chairs and start showering first, taking your time and rinsing the foam more than one time of course. Some Japanese people also wash their hair, however you have to make sure that your hair does not touch the water of the Onsen (I my case, I tied it up to the head so that it would stay out of the way the entire time).
After having yourself washed thoroughly, you can enter the hot bath and enjoy relaxing your tired body. I liked the hot temperature very much but keep in mind that it might mess with your blood pressure if you are not careful enough. After the bath, you wash yourself again (like before) and rinse the foam and everything off. It is very important that you dry off properly before entering the change room and that you show respect by cleaning the used chair and shower stall properly for the next person.