Hello everyone, I hope you all had a wonderful Christmas and are getting ready for the new year. We've enjoyed Christmas in Japan very much and are looking forward to the new years celebrations, but today I will not tell you about that - this post is all about our fantastic trip to Kyoto that we experienced two weeks ago.
Kyoto is one of Japan's most famous cities. Every year, thousands of international and Japanese tourists are coming there, increasing not only the thriving tourism industry of the city but also causing a lot of troubles for local residents. "Over-tourism" is the word that you will most likely hear as soon as you mention Kyoto. Especially in the Sakura or Momigi (fall leaf) season, the city is overcrowded with tourists. But why is everyone heading to Kyoto? As Japan's former capital city (before the emperor moved to Tokyo and declared it capital, a long long time ago), the city is full of impressive temples, shrines, elaborate gardens but also museums, parks and of course restaurants. There are so many historical UNESCO world heritage sites to visit! So therefore, everyone wants to come and experience this historical city.
Planning a trip for Kyoto is not easy, especially as we only had some spare days that we could spend in the city. Therefore, we tried to focus on the major iconic sights for getting a good first impression of Kyoto. In this post, you will not find recommendations for secret hidden places but rather a two day tour for getting to know temples and shrines but also parks and gardens! We sure will come back to explore more of the city, but for now we are happy that we got a good overview of Kyoto and experienced the spirit of this busy city.
Arrival and fun at Kyoto station
As I told you in the prior post, Niklas was already in the area, attending his conference (that was only in Japanese, by the way. His and his colleagues talk were the only English presentations at the whole conference haha!) so I travelled there on my own and had the afternoon for exploring the area around the hotel. After the check in at our hotel close to the station, I went by foot to the Higashi Honganjii Temple which is also close to the station and very big!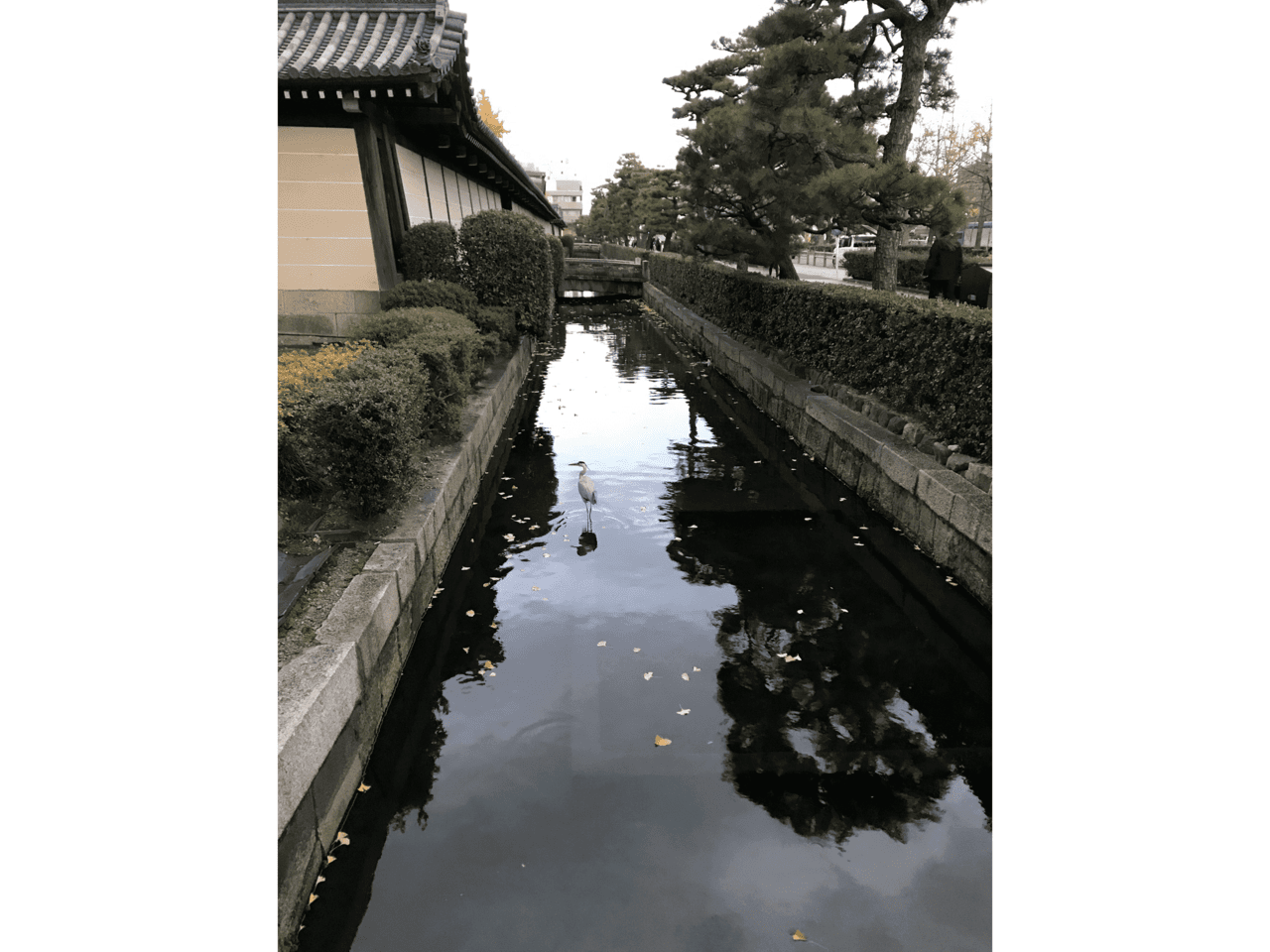 Sadly, I was a little late and the temple was already closing. In winter time, most temples close at 4 pm. :/ I still took some photos from the outside and continued walking to Nishiki Market, a huge street-food market in the downtown area of Kyoto. It was so crowded! But so interesting to see the different kinds of food, I enjoyed the busy atmosphere and had some Takoyaki, before I went back to the hotel. Most of the time I walked through very narrow and tiny streets with lots of traditional houses, it was very fascinating. But also a little dangerous, as lots of cars drove through the streets (very fast by the way) and you had to be very careful that they didn't hit you.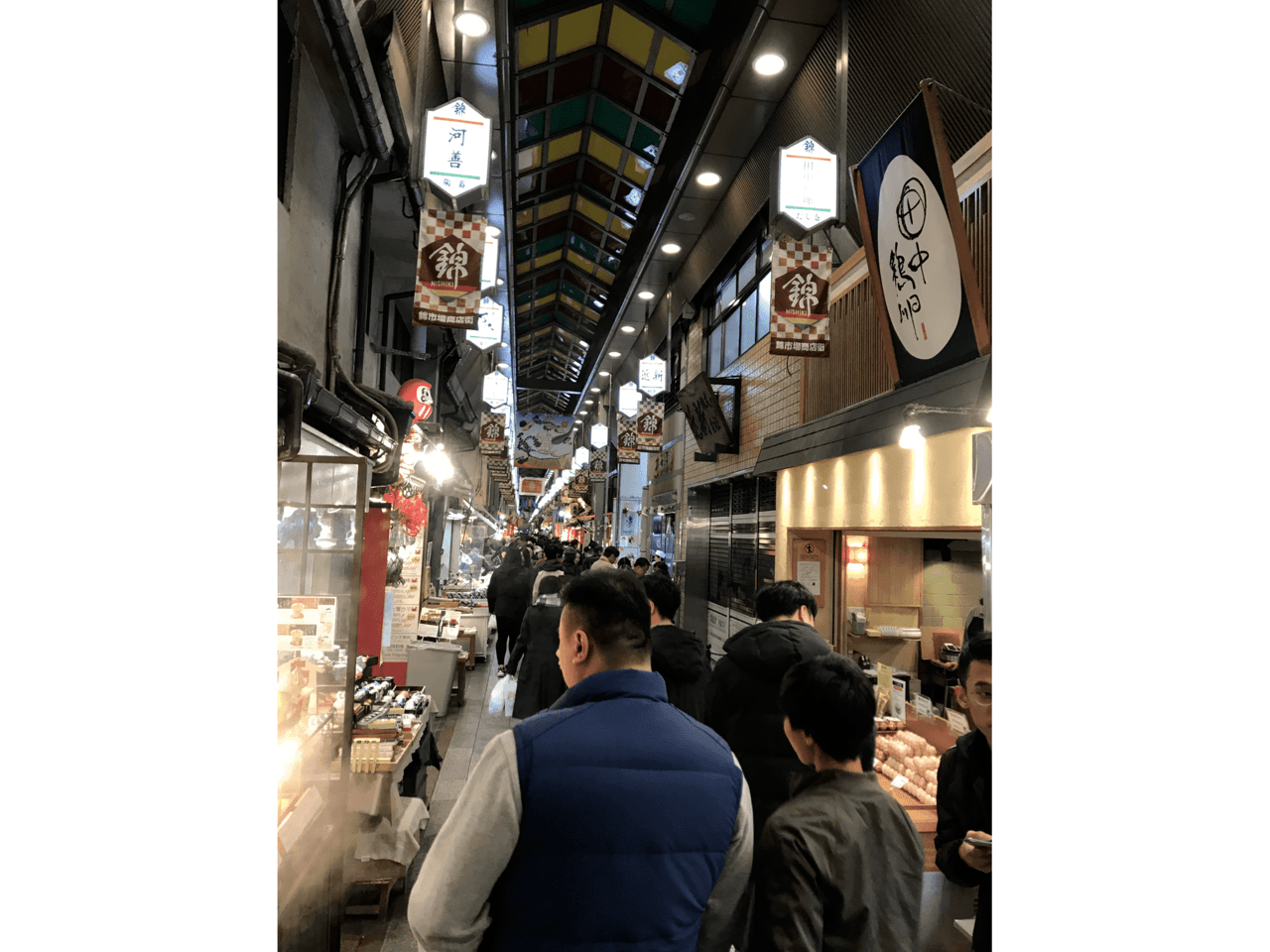 While waiting at the station for Niklas and his colleague Debora to arrive, I was entertained by the massive light show at the top floor. Kyoto Station is a huge and futuristic building that is not only a railway station but also includes various shopping centers, food courts, an observation deck on the top and a skywalk! One highlight is a huge stairway bringing you to the observation deck which consists of lots of LED lights that are changing all the time, displaying elaborate light shows. I had lots of fun, just watching the light show and taking pictures. After seeing this station building, every other station building is boring!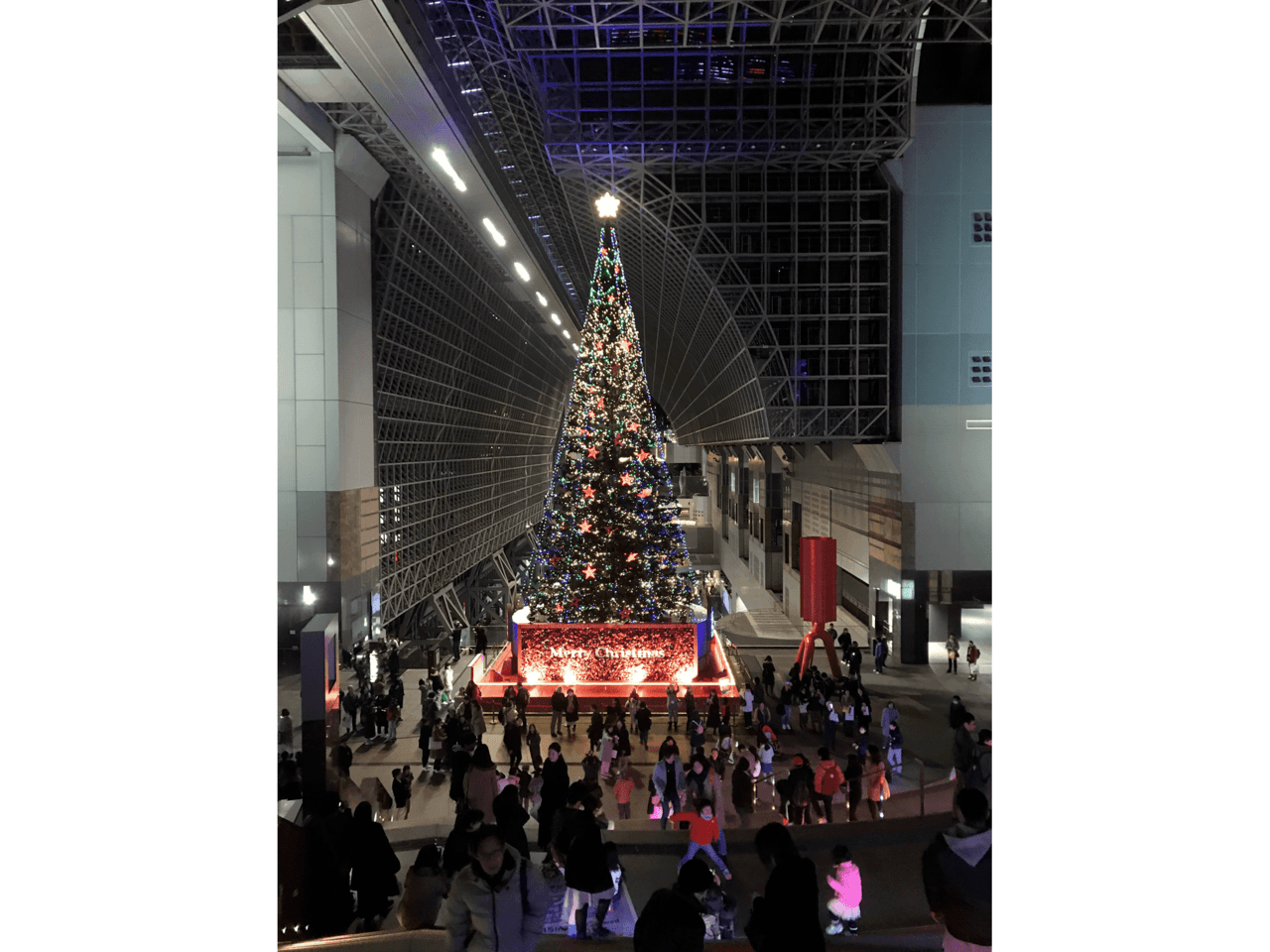 A giant Christmas tree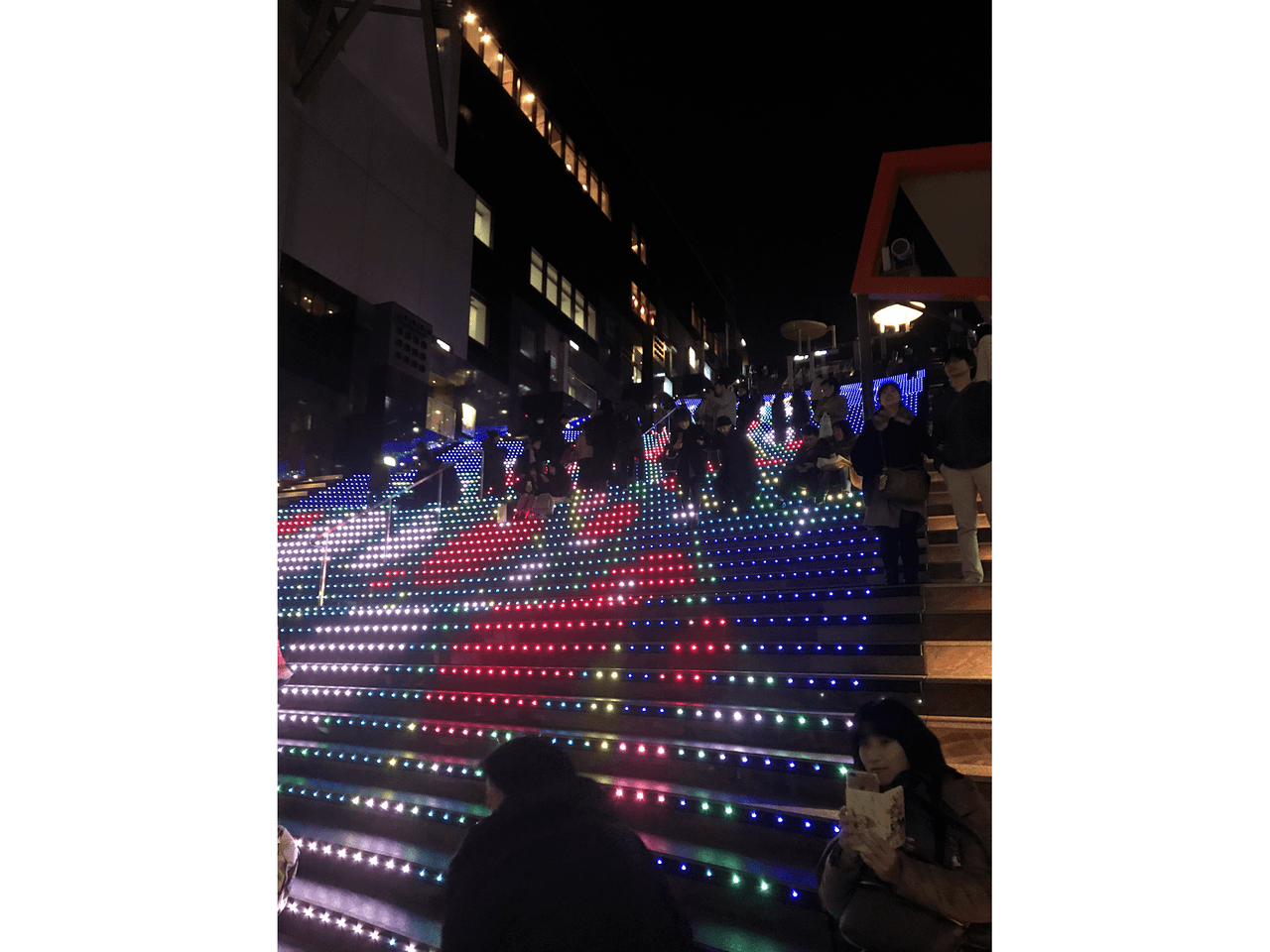 A part of the huge LED stairway of the station, leading to the rooftop
Niklas, Debora and I had some nice Japanese dinner at one of the many restaurants at the top floor and afterwards, we just went to the hotel for getting some rest. The next days promised a lot of walking…
Day 1: Exploring the east of Kyoto: Higashiyama
We were so lucky, it was sunny and not too cold - perfect weather for exploring the city by foot! On this day, we went by train to one of Kyoto's most important sites, the Fushimi Inari Shrine. You probably have seen lots of pictures with red gates (torii). This shrine is dedicated to the Shinto god of rice and you can follow a 4km long path up to the top of the hill through thousands of red gates, passing a lot of small shrines along the way through the woods. It's an impressive site, but be prepared for the crowds! We were lucky, as we were there quite early when it was only a little crowded and most of the people didn't follow the whole way up to the top. We were able to get some good shots of the gates without anyone walking, but only higher up haha. Walking through the red gates is a truly remarkable experience - the atmosphere of the whole place is very mysterious. Along the way you will see a lot of fox statues being the messenger of the Shinto god. If you visit this place in summer, be aware that the way is quite steep and you will sweat a lot! In sunny winter weather though, it's no problem.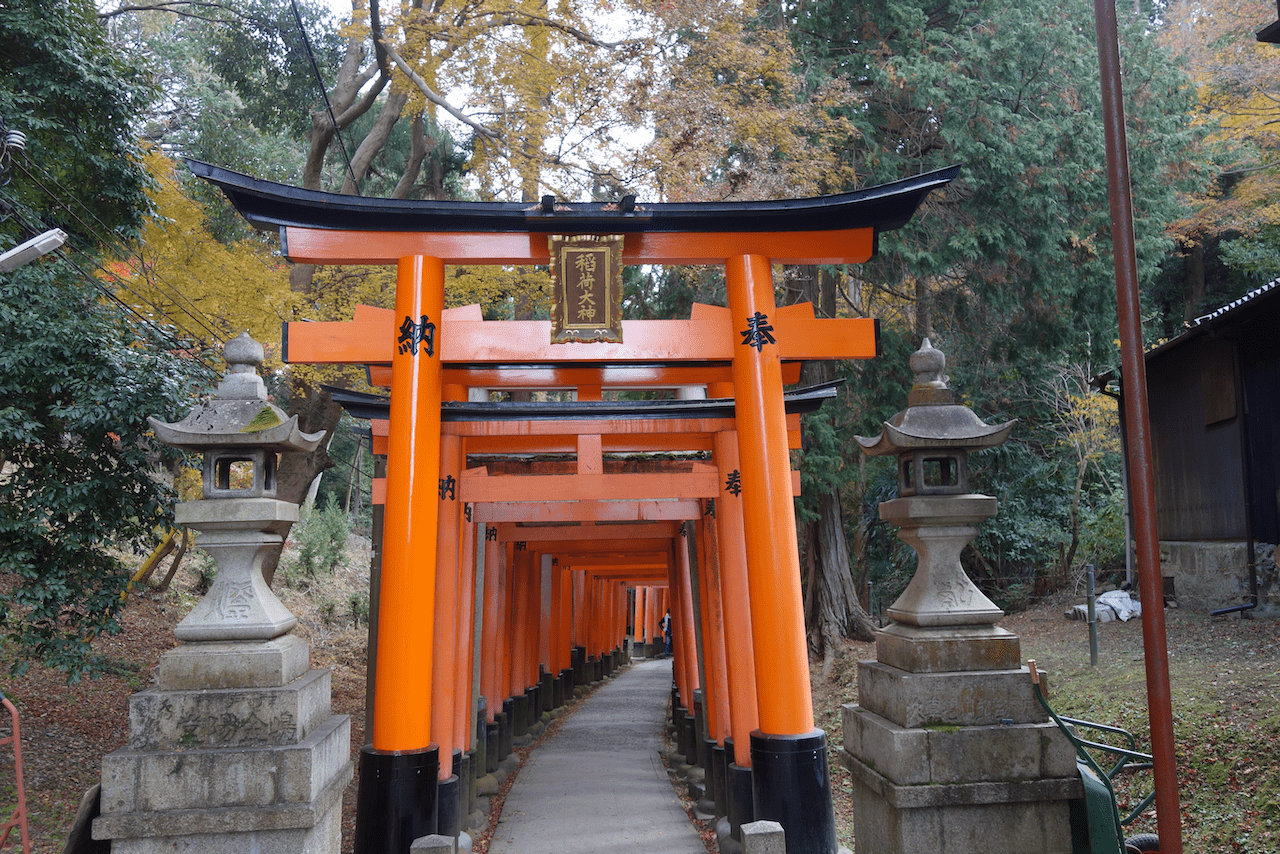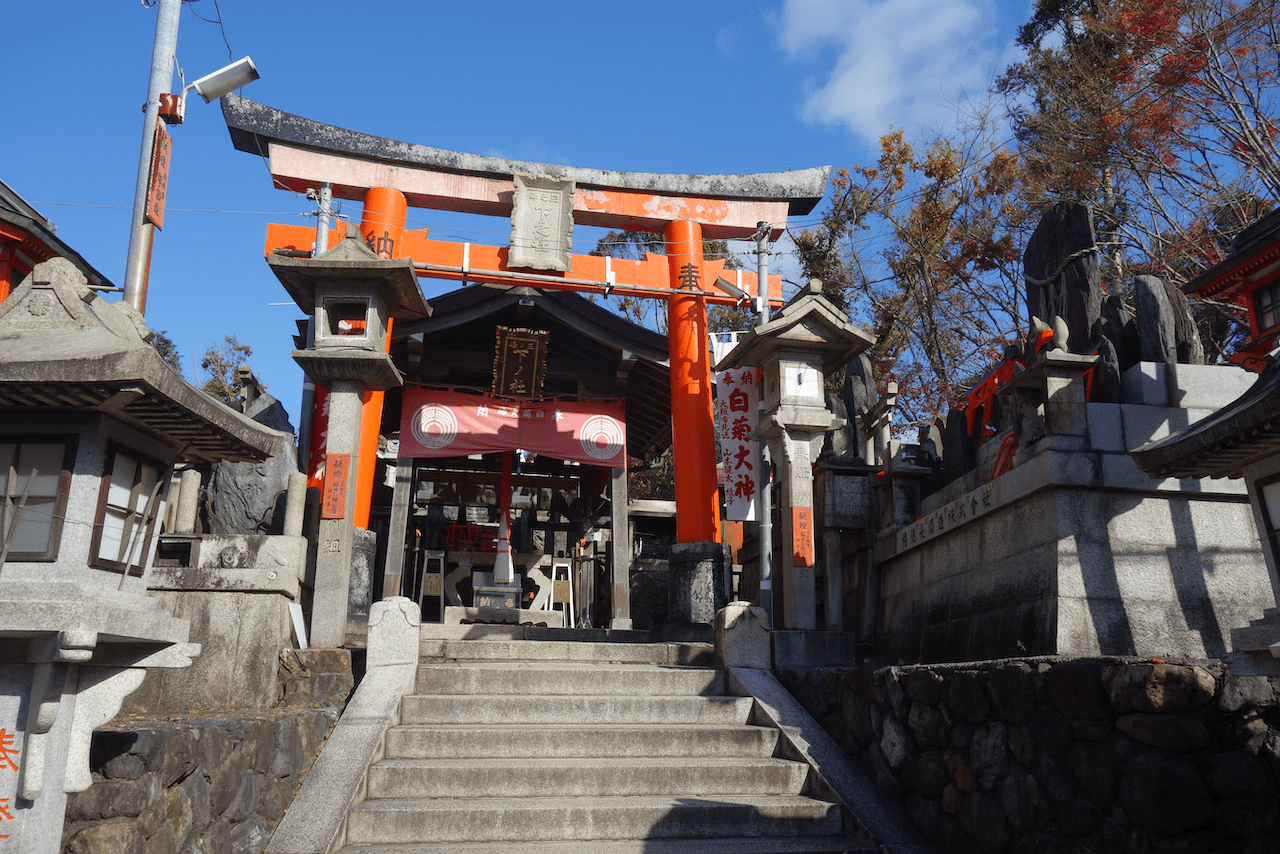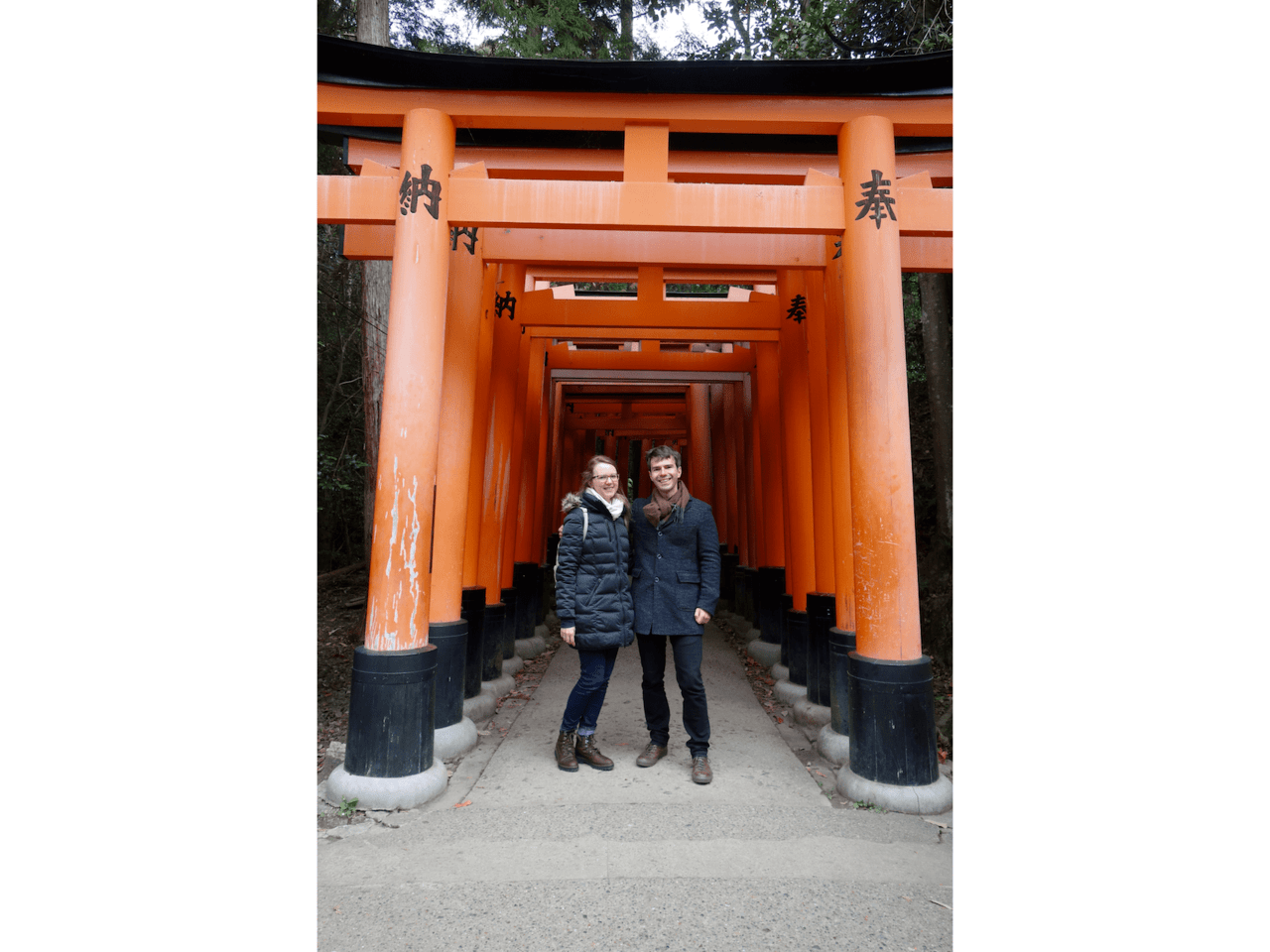 After coming down from the mountain, the main shrine site was really crowded so we decided to flee and get back a little north to the district of Higashiyama, where you can find many important temple and the district of Gion. It lies in the eastern part of Kyoto and is a perfect place to experience the traditional Kyoto. The shops and restaurants there are lined up in many narrow streets, just like they have been centuries ago for all pilgrims that came to visit the temples and shrines. It gives you a good impression of the former capital city times. We walked around and passed Kennin Ji Temple, one of Japan's five greatest Zen Temples. It's located in a beautiful park and we enjoyed the quiet atmosphere before driving back into the crowd of people that were walking through Gion. Following the busy streets, we arrived at Maruyama Park, a very popular public park, especially during Sakura season. There you can find the Yasaka Shrine, a great site with lots of street-food stalls and blurring activity. We even saw a traditional Japanese wedding group that was gathering for the Shinto ceremony. So cool. The whole park is huge and you can spend a whole day there, walking around and enjoying the nice scenery.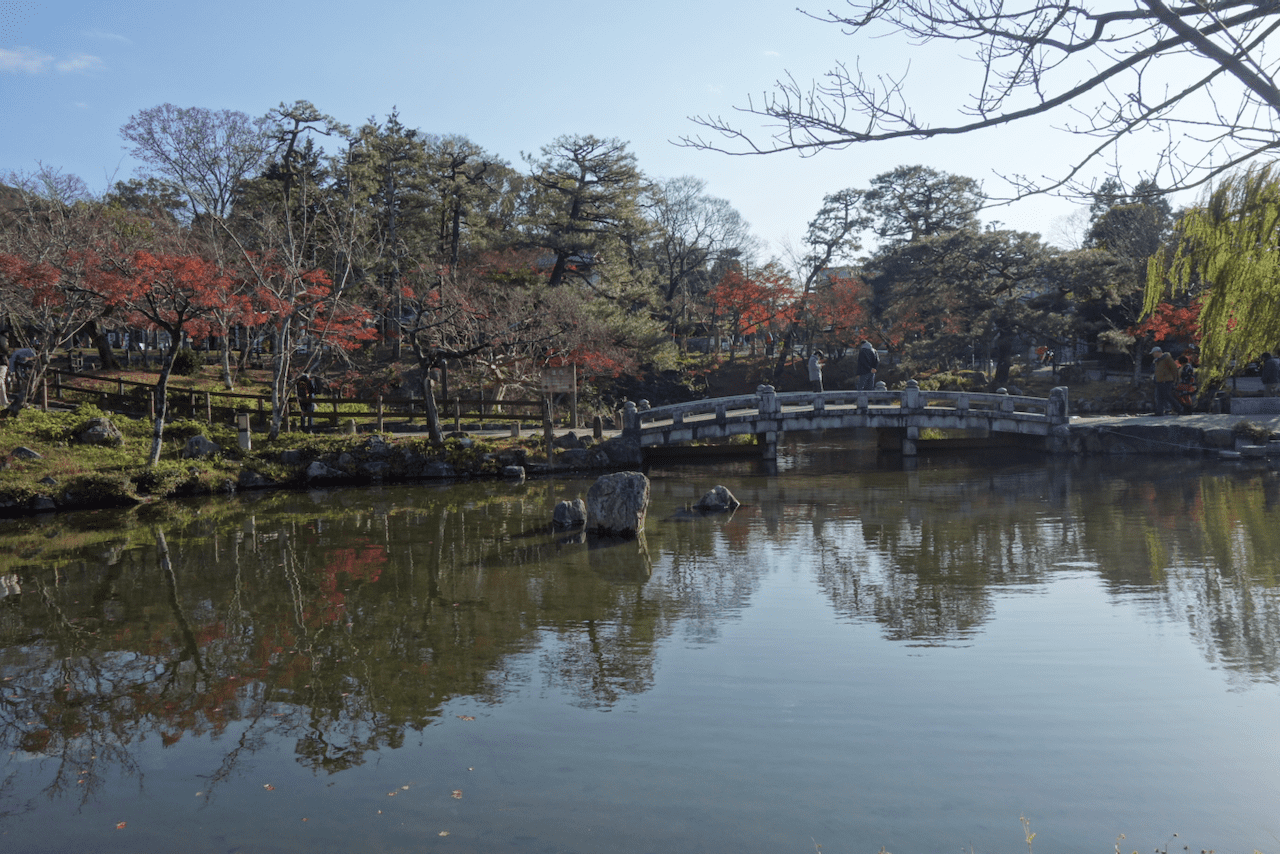 Maruyama Park
We decided to have quick lunch break (with Omu rice) and then continued our walk to the huge Chionin Ji Temple. It is the head temple for the Jodo Buddhism, the most popular Buddhism in Japan. You enter the huge area through the Sanmon Gate and climb big stone stairs until you reach the main plateau with the main hall. It's very impressive because the whole area is so huge - the buildings, the stairway, the gate… It's stunning! When we arrived, monks were chanting in a side building and we could listen to it for a while. After this temple, we were quite tired but still decided to walk even further to Nanzen Jii Temple in the northern part of Higashiyama. The temple is famous for its stone garden, but we were again arriving a little late in the afternoon so that it started to close down. The temple lies within a nice park where you can also see a lot of things. However, we were so tired that we just walked around the main temple hall and decided to head back to the city center. If we come back, we will visit this site again as there is still a lot to see!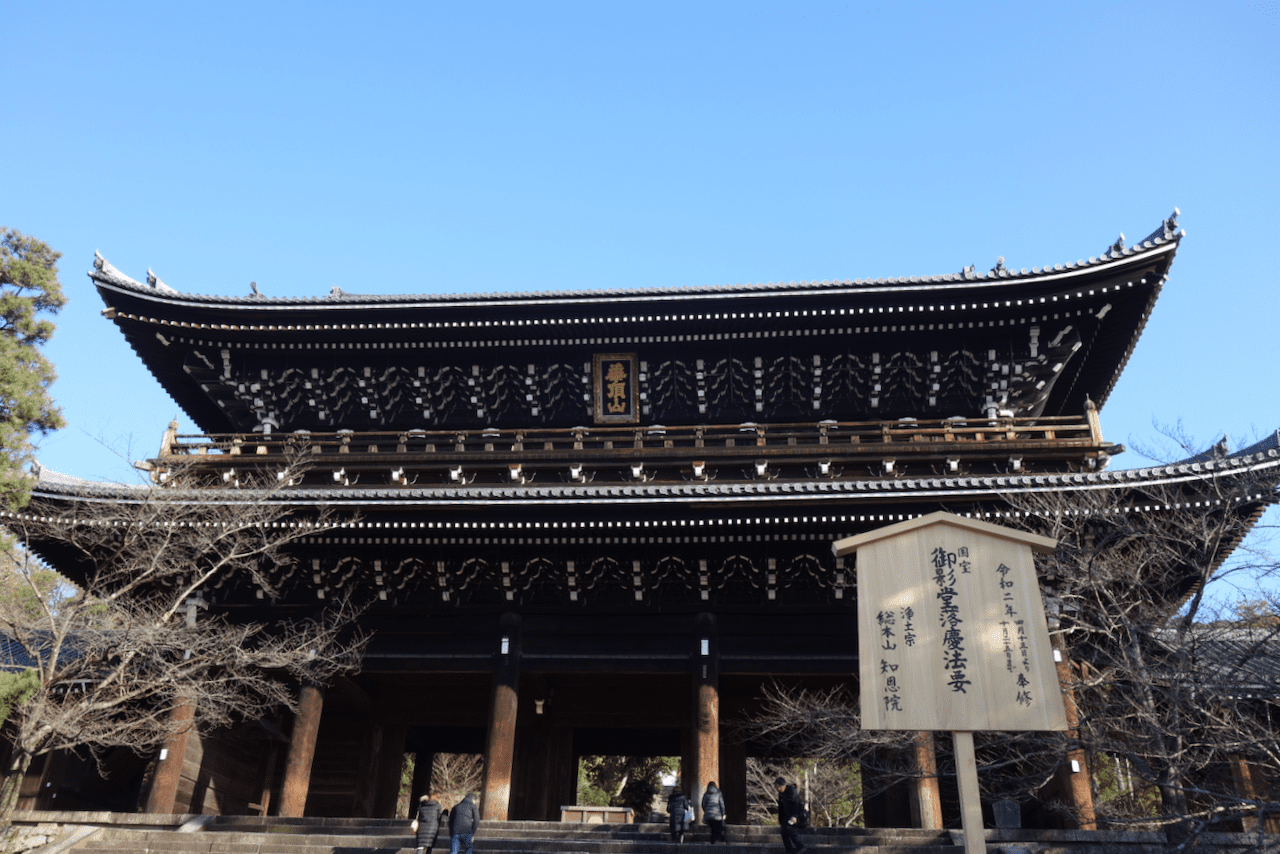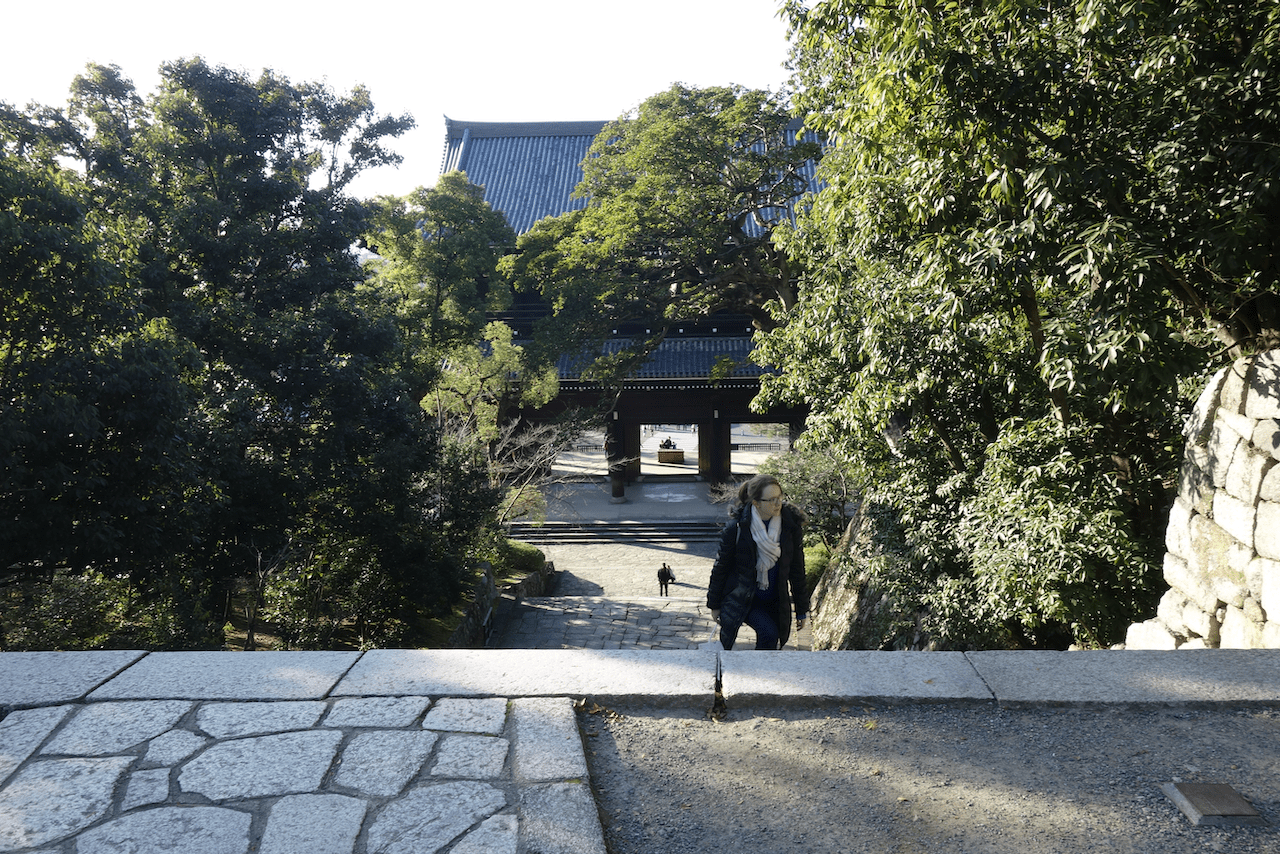 Entrance gate and entrance area of Chionin Ji
On our way back, we passed the Heian Shrine, a huge shrine area that is modeled after the ancient emperor castle and greets its visitors with a giant red gate. The shrine was build about 100 years ago and is therefore quite young, compared to the other shrines in the city, but the grounds are impressive and it also has a beautiful garden that can be visited.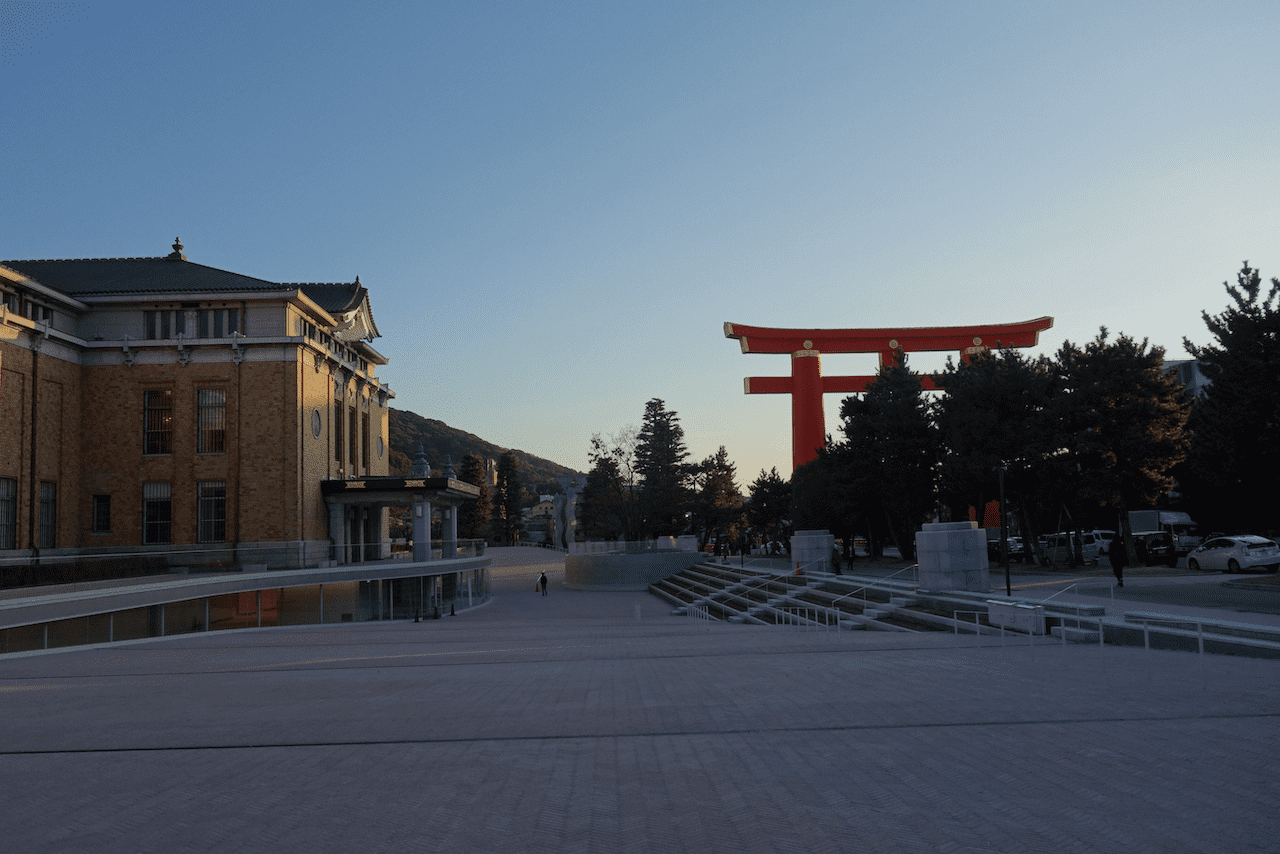 Gate of the Heian Shrine
Now, the sun had already set and we were really hungry! On our way back to the hotel, we had a delicious dinner in a Chinese restaurant that also has a branch in Kanazawa (we will go there of course). A perfect ending for a perfect day.
Day 2: Northwest Kyoto: Quiet parts of the city with beautiful nature
Though being a little exhausted by the first day, we started our second day (again a sunny and bright day) early and went to the north of the city to visit the famous Bamboo forest, a site that probably everyone associates with Kyoto. It lies in the district of Arashiyama, a popular district in the west of Kyoto that is very famous during the Sakura and autumn leaf season. The impressive path through the forest is quite short and again, there were many people who visited this park. We were a bit annoyed by all that noise at the end and decided to leave the forest for our next destination.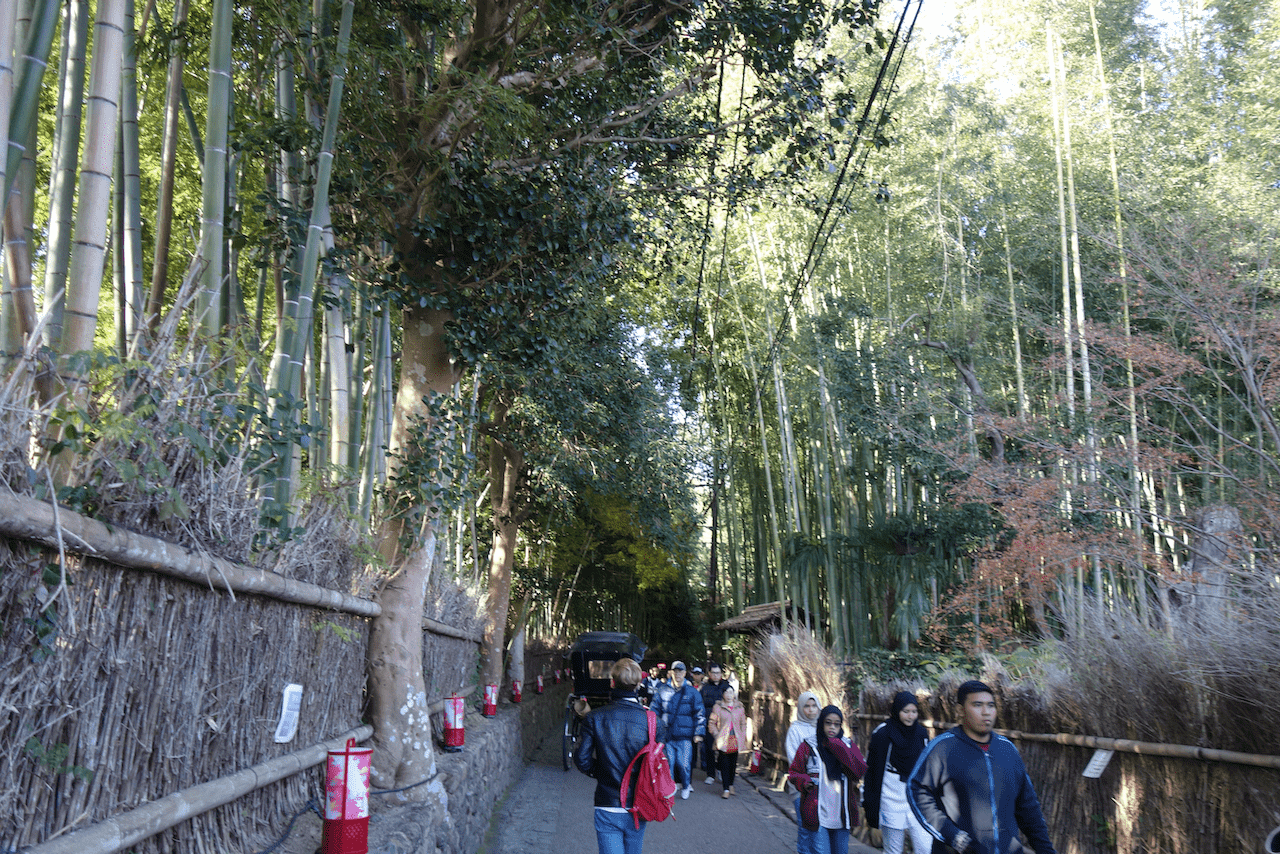 Tourists in the bamboo forest
Following a path through the park, along the Katsura river, we arrived at Iwatayama Monkey Park! On this mountain, you can walk along a nice trail and watch a lot of monkeys that are living in that area. At the top, there is a panorama observation place where you have a perfect view of Kyoto and of playing monkeys that are so cute! I was fascinated by this place and took so many photos. The monkeys there are treated very well: visitors are not allowed to be close to them, touch them or feed them. If you misbehave, staff will immediately call you off. The monkeys are really relaxed, they ignore the human visitors and enjoy their time in the park, playing and chasing each other all the time. It was so good to see that this park is really treating the animals in a good way. It's a magical place, I recommend to visit it if you are in Kyoto. But the hike is quite steep, so be careful in hot summer times.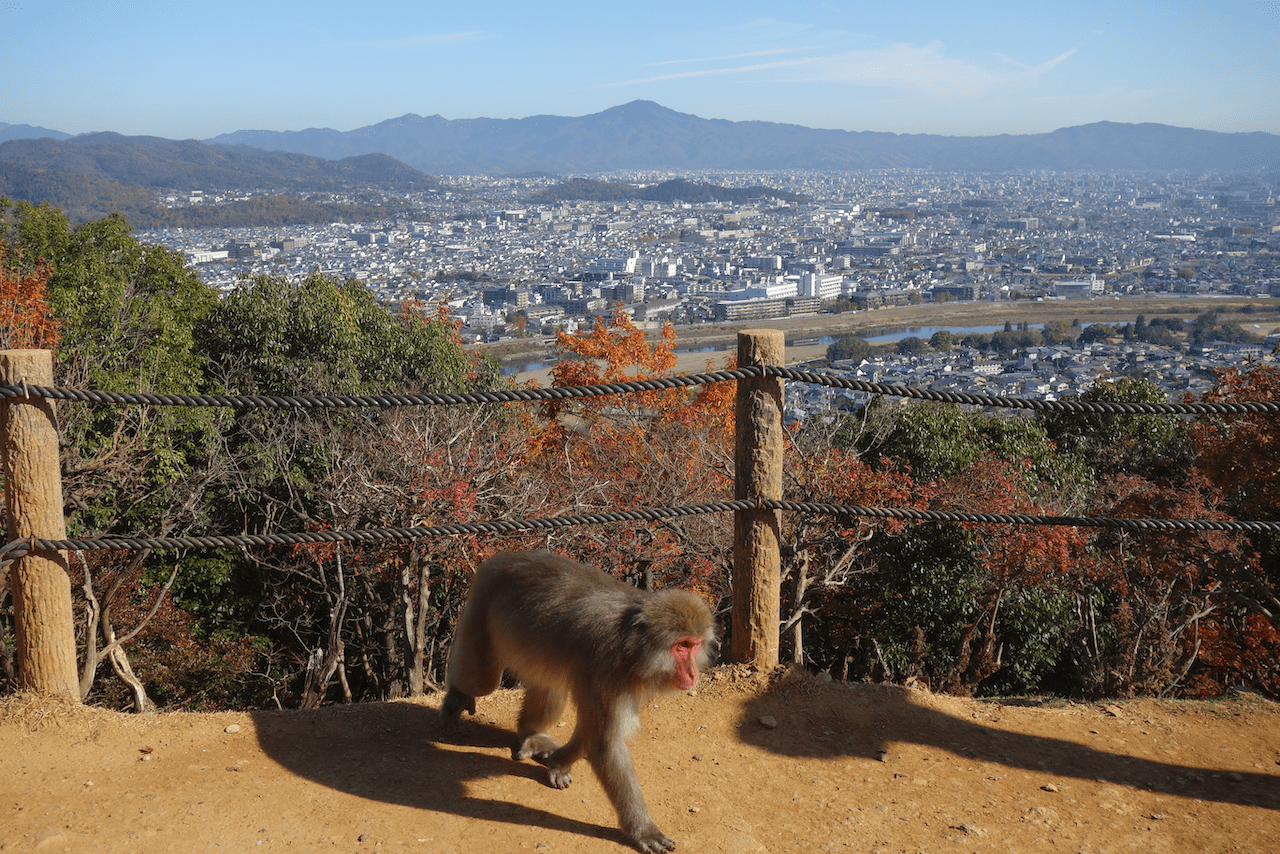 A great combination: Kyotos scenery and monkeys
After watching the monkeys for a long time, we went down again, had udon for lunch and got on a very tiny train to the next big temple, the Kinkaku Ji. It's a temple building that is covered in gold leaf and looks stunning. It has burned down more than once and was always reconstructed to resemble the original building. It is located in a beautiful Japanese garden park that you have to cross to get to the temple building. Of course, you are not alone in this: as this is one of Kyoto's most important temples, everyone wants to see it. We had to fight a little to get through the crowd for taking some good pictures of the temple but it was worth it. In the late afternoon sun, the temple was shining brightly and that looked very spectacular!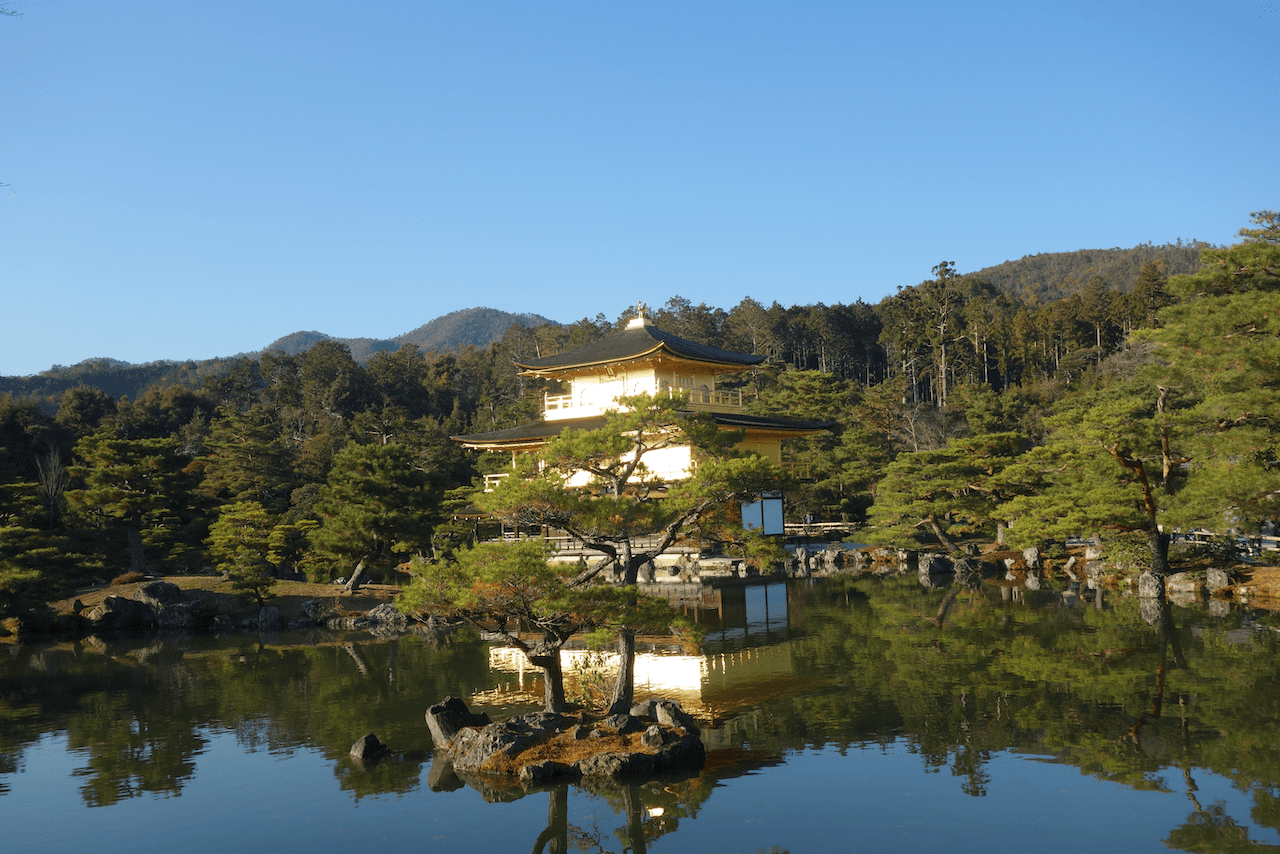 The golden Kinkaku Ji
Afterwards, we went back by bus (that was so full!) to Kyoto downtown and browsed along the busy shopping streets before having dinner in the beautiful Pontocho street, a narrow ally full of dinner restaurants. I recommend to come there when it's dark, as every restaurant has its own Japanese lanterns light up and it looks so nice. We had a hard time deciding where to go, every place looked nice and charming. So we walked back and forth before finally settling on an Okonomiyaki restaurant that was delicious (and low priced). This day was again a success. Tired, we went back to the hotel, visited the onsen and then went straight to bed.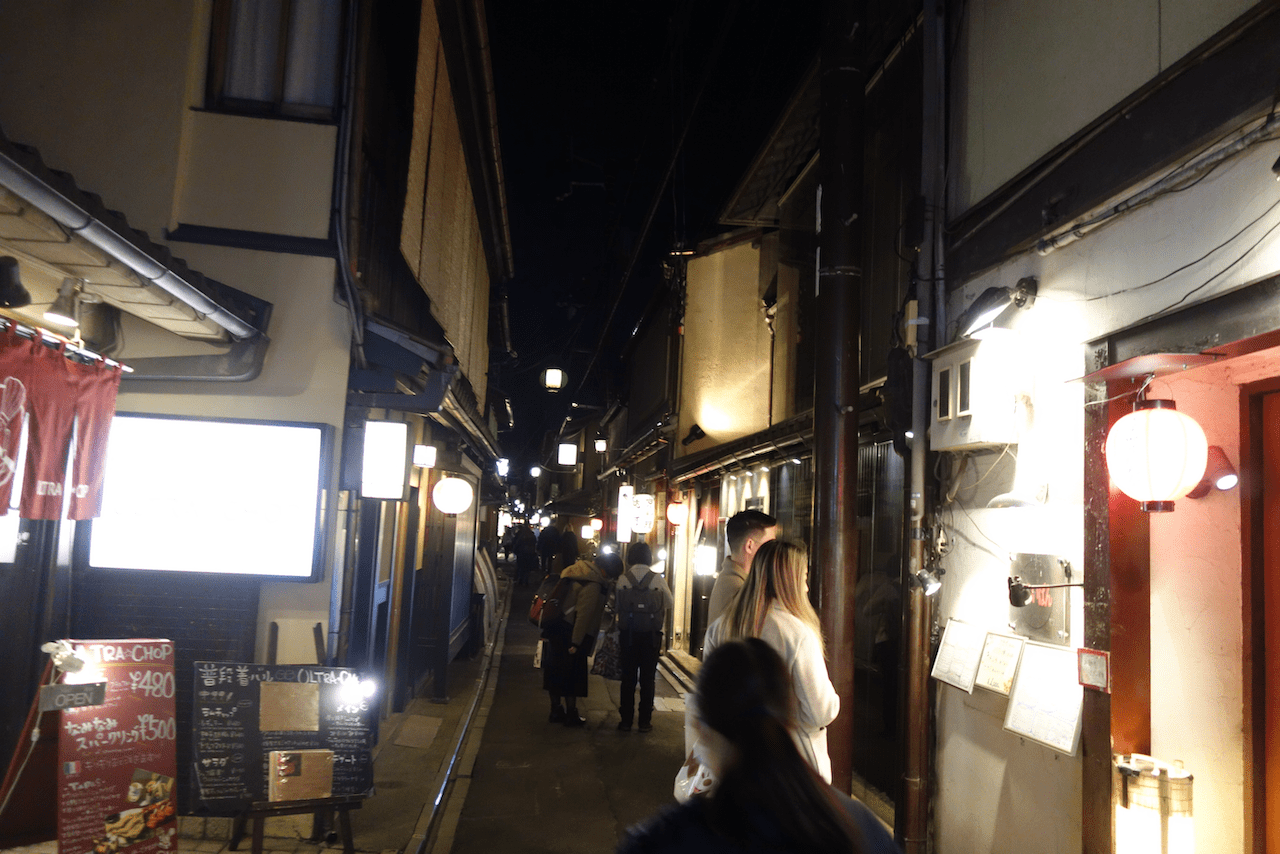 Pontocho street
Goodbye Kyoto
On our last day, the good weather was finally over. It rained very heavily which increased our unmotivated state. We were tired and lazy, having a "late" breakfast at 9 o'clock (usually, the breakfasts in Japanese hotels ends at 9:30 am) and getting ready for check-out. Therefore, we decided to skip the sightseeing ideas and to browse through all the shopping malls at the station for some souvenirs. We also walked along the skywalk of the station, a cool installation at the top of the building that gives you a great view over Kyoto before having a nice lunch and heading back to Kanazawa by train.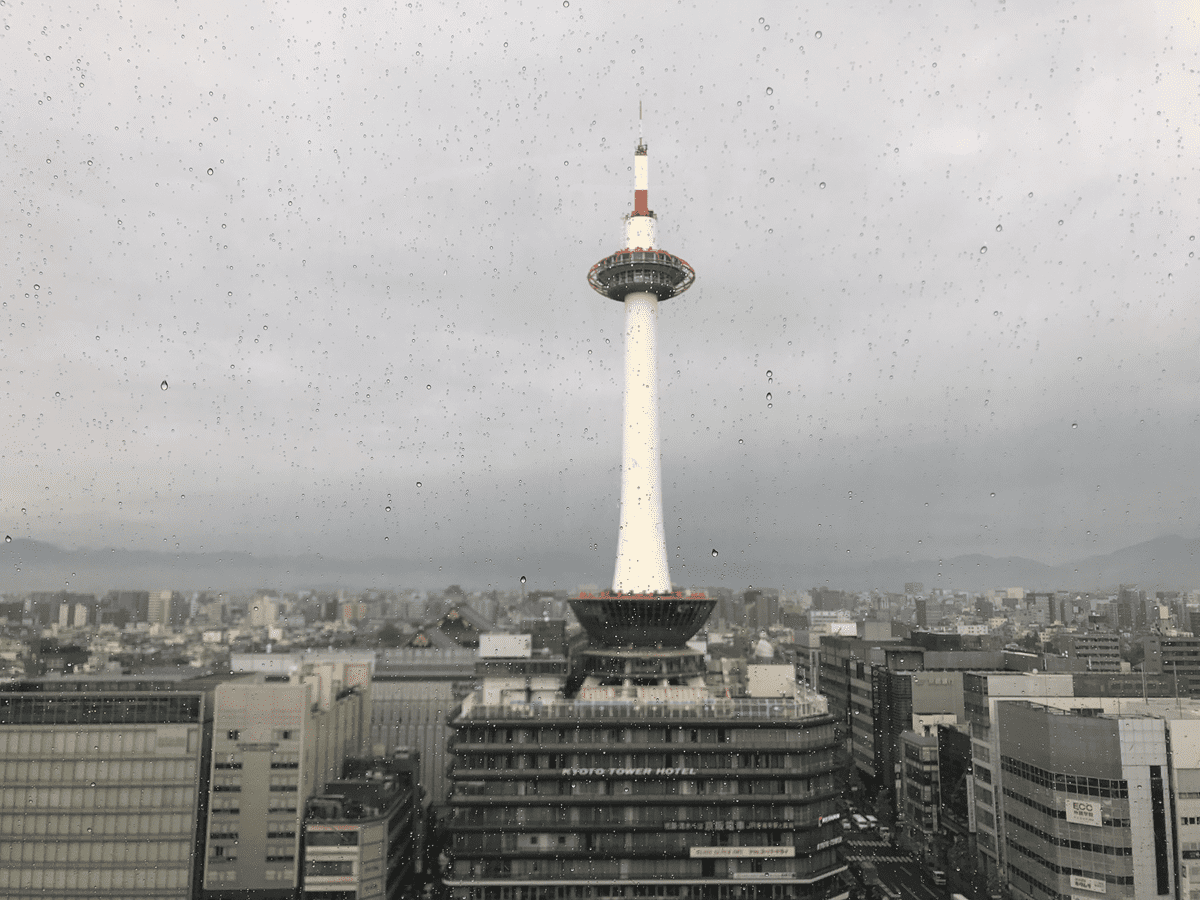 We had planned to see some more sights on this day but to be honest, after these last days full of impressions, we couldn't continue anymore. Kyoto is an impressive city, every temple or shrine is massive and makes you speechless. There is just so much to see and you are starting to feel overwhelmed after a short time. I think that's exactly what we felt after our time there and we agreed on going home and coming back another time to see all the sights we weren't able to visit anymore. Also, the pouring rain was not helping! I also think we were extremely lucky with the amount of tourists visiting the city. Yes, it was crowded and some places were kind of stressful because of all the people, but still I think it must be so much more in spring or autumn time. I feel sorry for the people of Kyoto, some tourists really don't behave well and we felt a little ashamed sometimes. Also, some famous temple sites are located directly in a residential area - I cannot imagine living there with all these tourists walking down narrow streets every day. Not nice! Also, the transportation system of Kyoto is not ready for so many people. We only took the bus once but it is obvious that the bus system cannot deal with so many passengers. All busses we saw were crowded and I don't know how the residents of the city can deal with that. Going by bus to work must be a nightmare. There is a subway and some train lines but I guess it's not enough for the amount of people coming to Kyoto. The numbers are even expected to increase next year, due to the Olympics. It's a huge problem the city of Kyoto is facing.
If you visit this city, you should be prepared not only for the interesting sights but also for the downside of the tourism industry: too many people and no adequate infrastructure. Including that in your plans for the tours (e.g. use the morning time, avoid going by bus etc.) through the city can help you a lot and spare you from stress and from feeling too stressed from the crowds of people. Apart from that, Kyoto is definitely one of the most impressive historical cities I've ever seen and worth not only one but more visits. I am sure that I will come back. :)