Hey everyone, we are back from our fantastic holidays in the southern part of Japan and have a hard time readjusting to the cold autumn temperatures of Kanazawa! In the next two posts, I will tell you all about our trip adventures as well as giving you some recommendations about travel and sights if you also want to go to Okinawa Prefecture.
About Okinawa
Okinawa consists of several islands, located in the south of Kyushuu and separating the East Chinese Sea from the Pacific Ocean. The islands can be separated in three groups: the Okinawa islands with the main island of Okinawa, the location of the capital city Naha, the Miyako Islands and the southern Yaeyama Islands. Okinawa is also know as "Ryuku Islands", named after the native culture of the Ryuku whose language, culture and customs differ from the typical Japanese culture of the four main islands. That's why it is often called "The other Japan". You can read more about it here(in German). After the war, it fell under the American administration until the late 70s. This has also contributed to a different kind of lifestyle and atmosphere, that you can still feel today. Even until now, a large amount of American military staff is stationed on the military basis on the Main Island, causing some controversy among the residents. As Okinawa is located in a subtropical area of our world, the weather never gets cold: temperatures barely drop under 20 degrees. So, it's a perfect escape for cold November days. :)
Arrival in Naha, Okinawa
As I told you last time, Niklas had already spent some days on the Main Island of Okinawa and participated in a big international conference where he met some interesting researchers and might be able to collaborate with some of them in the future. He stayed in a hotel in Naha and had to travel everyday to Onna, as the venue of the conference was located there. I thought the main island was not so large but he spent some 1.5 hours everyday on the bus for the commute! First learning: never underestimate the time you'll need to go around — the islands might be not so large but traffic and roads are not as perfect as you think.
I flew to Naha from Komatsu airport, which is about 40 minutes away from Kanazawa. The flight was very relaxing and we even had free WIFI-internet on the plane. So I was able to text with Niklas for organizing our meeting point during the flight. Very strange. The flight to Naha took 2 hours and 40 minutes and brought me to another climate zone! Exiting the colorful airport, I immediately felt the different temperatures. Even in November, it's very warm and sunny. A perfect first impression.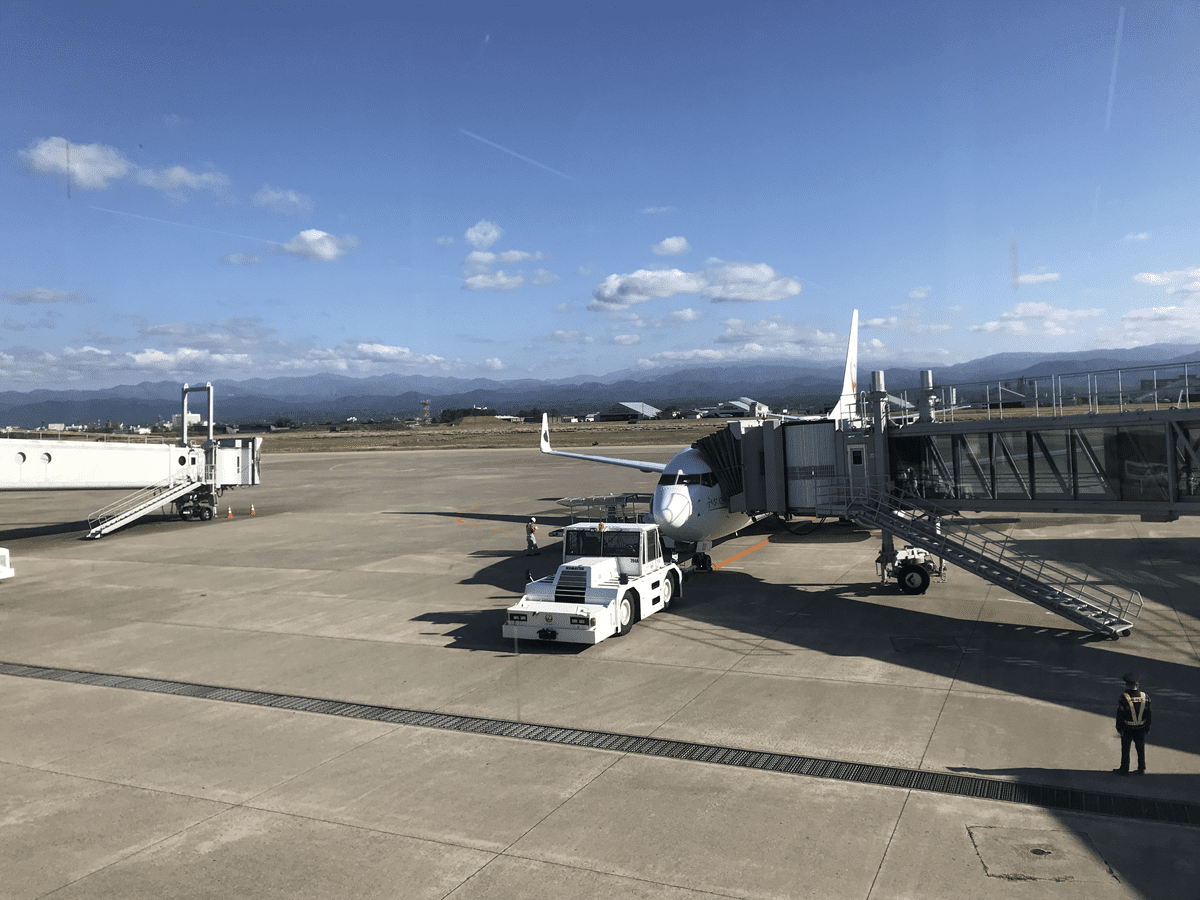 Sunny day in Komatsu, perfect weather for take off
To commute to Naha city and to my hotel, I used the Naha Monorail which is running from the airport to the city. It only took me 15 minutes to get to the center, so convenient! Our hotel was located at the Kokusaidoori street, the main "party street" of the city. Imagine a crossover of Mallorcas Ballermann, Las Vegas and Hawaii and you can imagine the atmosphere.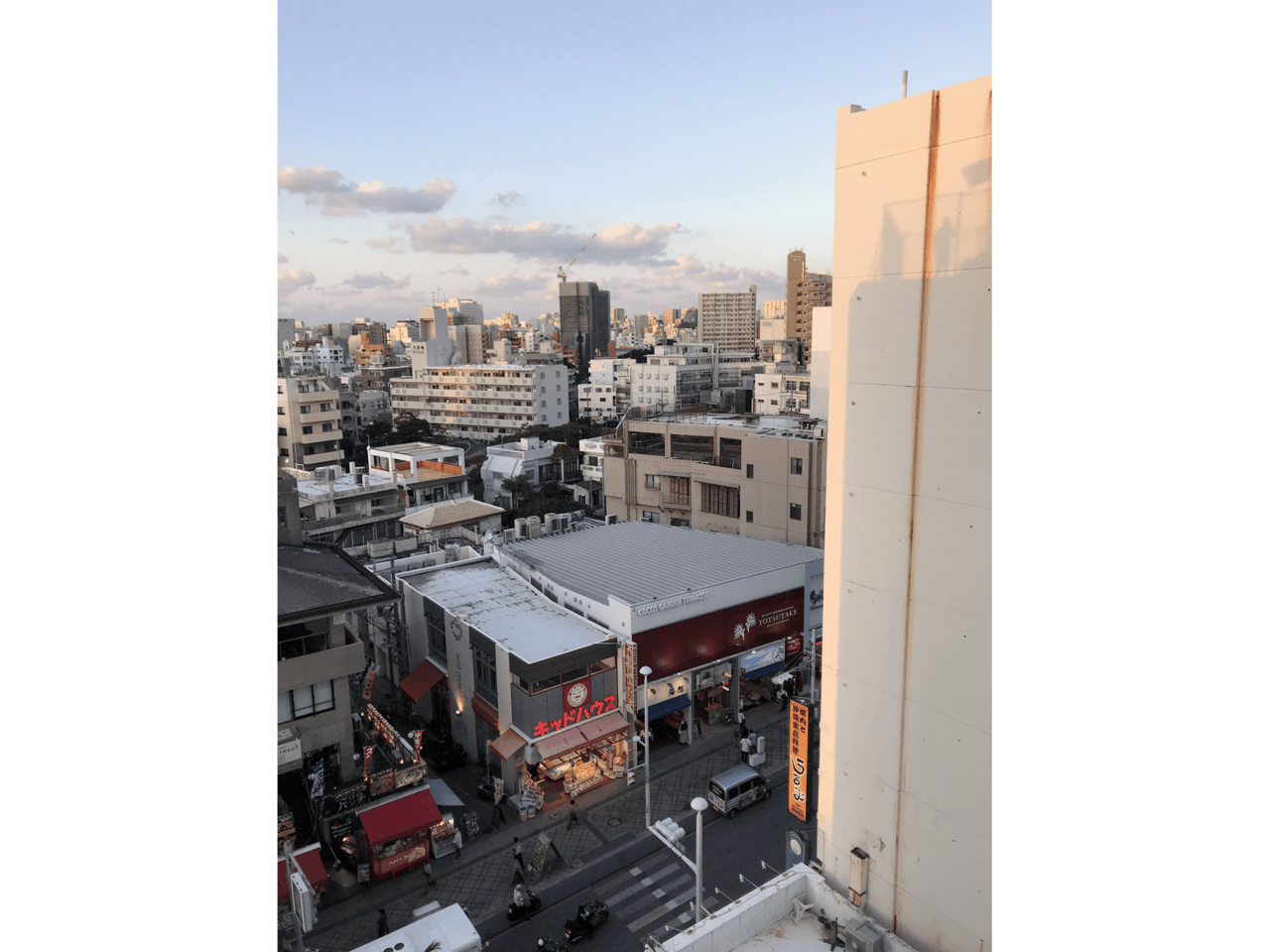 View from the hotel room
It was really crazy but fun, there were so many (horrible) souvenir shops, bars and restaurants with colorful and loud advertisement, I didn't know where to look first.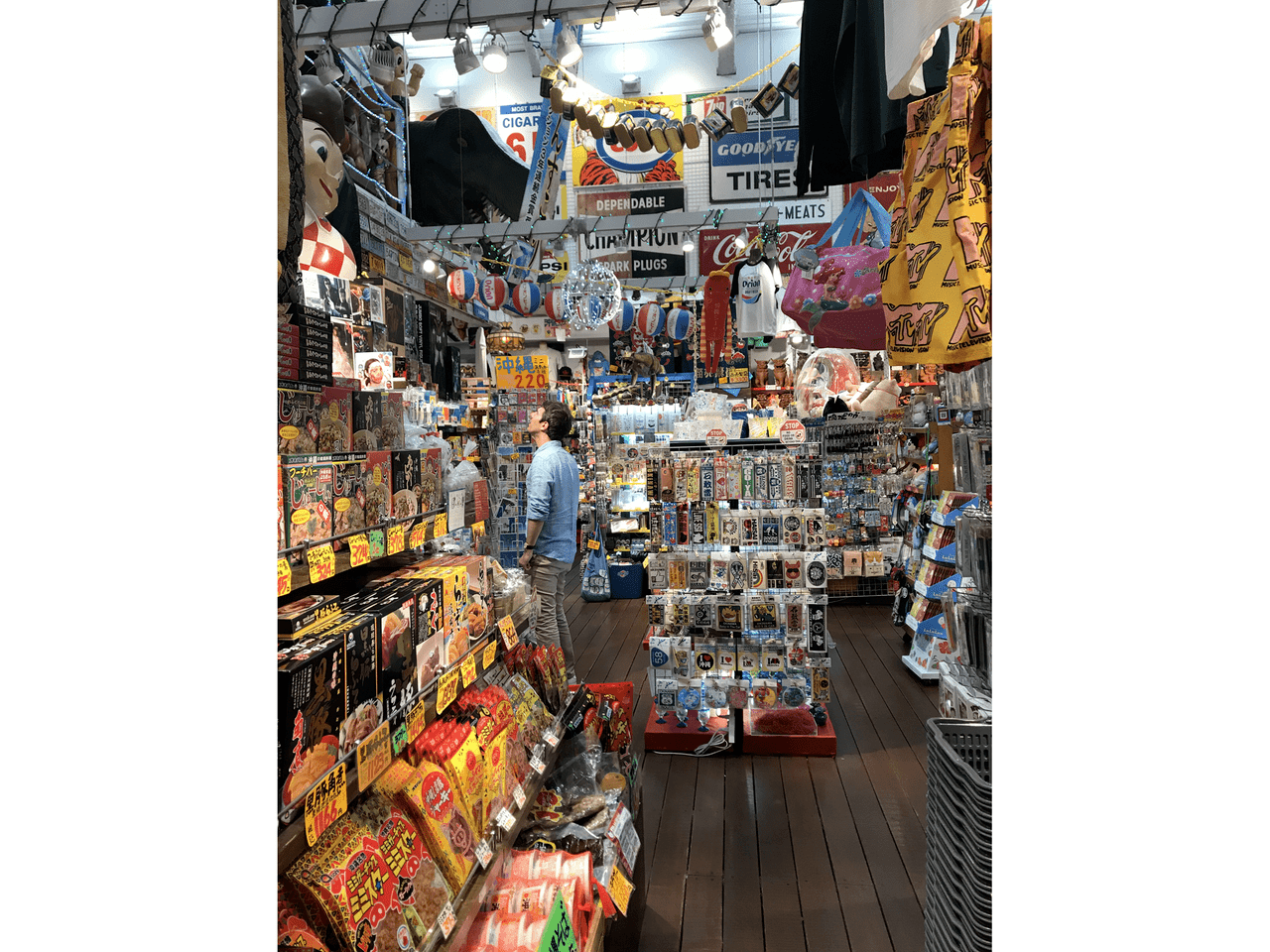 For dinner, we met with some conference friends from Niklas and went to a nice Izakaya that was located in a quiet side road and offered really good food. The owner was so nice: as the bar has run out of Sake, he even went to buy it himself only for us when he learned that we wanted to taste some.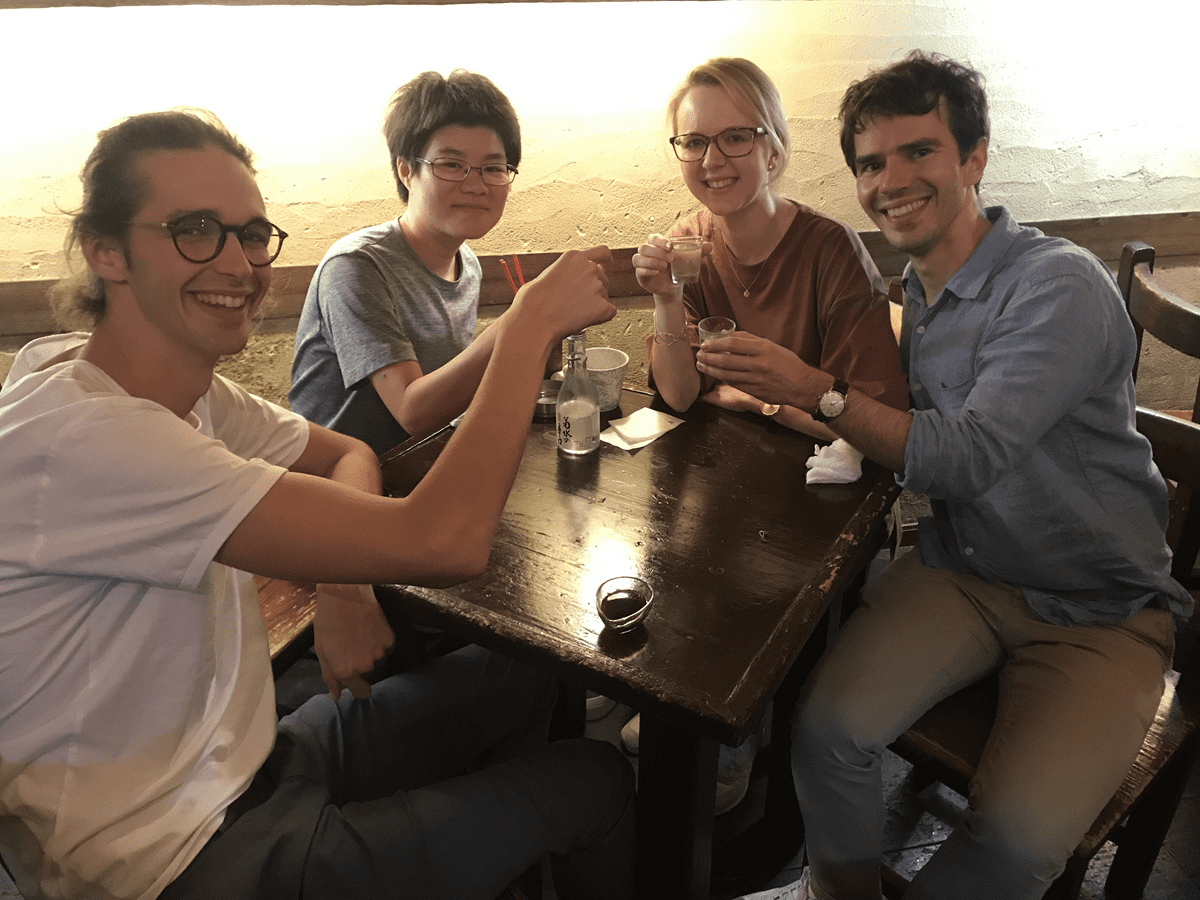 Nice international crew
Sadly, our hotel was not very comfortable (nor clean…), but as we only stayed one night it was okay.
Next stop: Ishigaki island
On the next morning, we went to the airport again to catch our flight to Ishigaki Island, one of the southern islands of Okinawa that is also very close to Taiwan. So we expected the weather to be even warmer there. Again, the flight was smooth and we had no troubles at all. Domestic flights in Japan are really working very well! The flight was very short, only 45 minutes, and after touchdown we had arrived in a truly tropical paradise! Ishigaki has it all: blue tropical sea, coral reefs, white sandy beaches, tropical flowers everywhere and even a jungle! We took the airport bus to Ishigaki city, where our hotel was located. Again, it was not very difficult but it took 45 minutes as traffic is very slow here. After arriving in the city, we checked in our hotel (which seemed so much better than the last one in Naha) and started to explore the place. Ishigaki City is the southernmost city of Japan and is a very lively place. Next to a lot of small craft stores, where you could buy all kinds of craft, ranging from pottery, glass, fabrics to jewelery, there are also a lot of restaurants, coffee shops and bars (Izakayas). Of course, you also come across the typical souvenir stores but I was happy to see that there were a lot more craft stores that offered "real" souvenirs and not only the typical tourist crap. We also bought some nice blue glass plate that will remind us of the blue sea that surrounds the island. We really enjoyed the special atmosphere of this small city while walking through the busy streets. The port of Ishigaki was located just ten minutes by foot from our hotel so we were able to check out the ferry connections to other islands for our planned trip (see below) and to enjoy the view of the sea.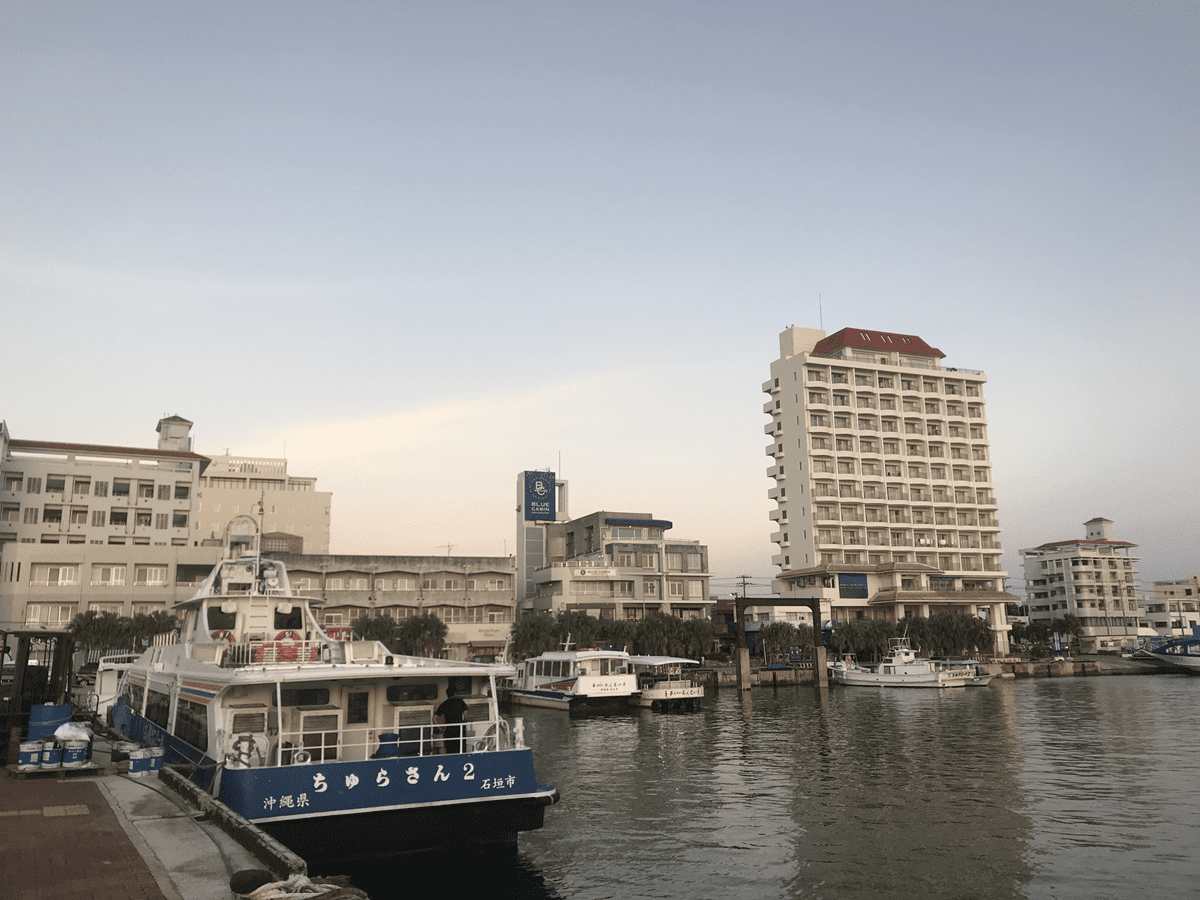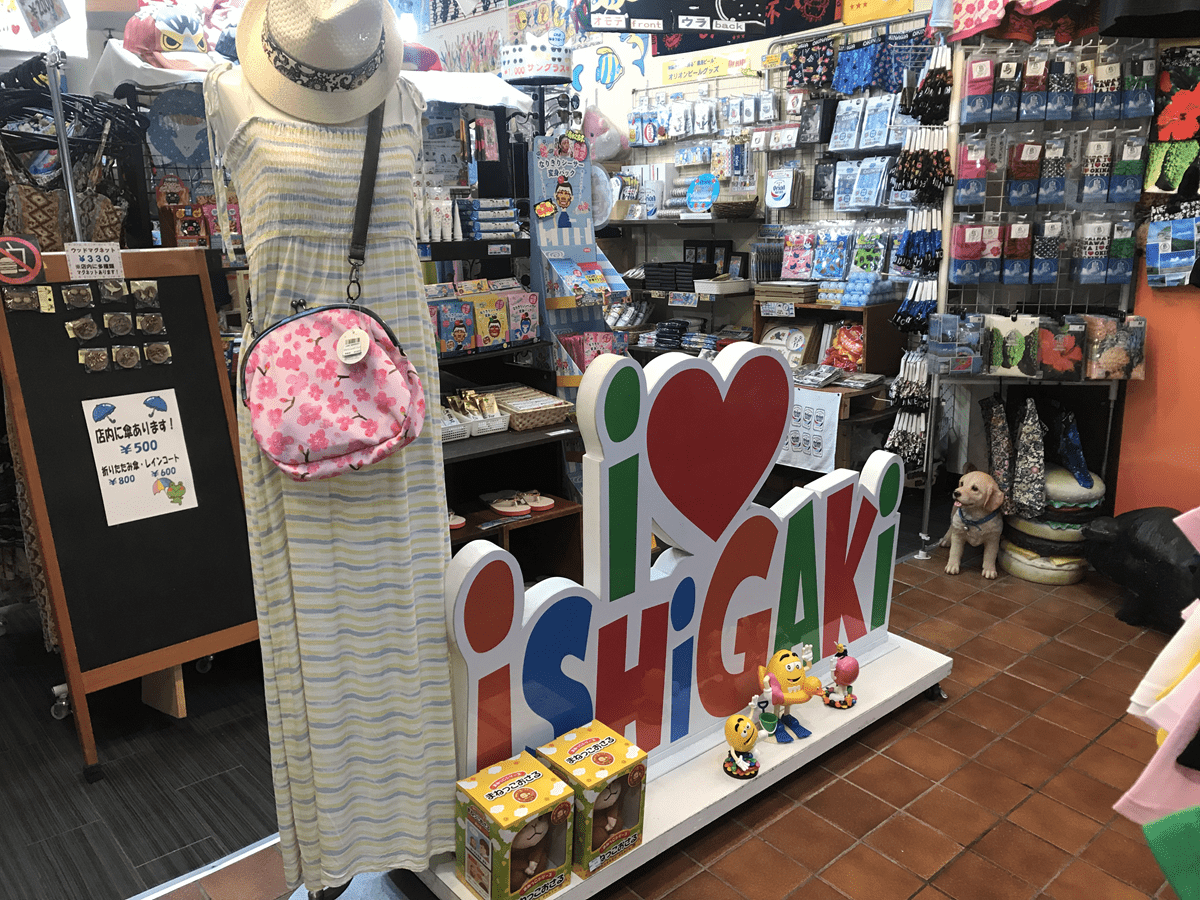 Also, a lot of souvenir shops can be found here
Our first real beach day however was a little difficult. As we had no rental car, we took the bus to the closest beach that was located in front of the big ANA Intercontinental Hotel of Ishigaki. As you're not allowed to walk through the hotel to the beach (as a non-hotel guest) we had to find the small and hidden path but failed and walked about 2 km along a busy road before finding an official road to the seashore, where we had to walk the 2km back to the official beach.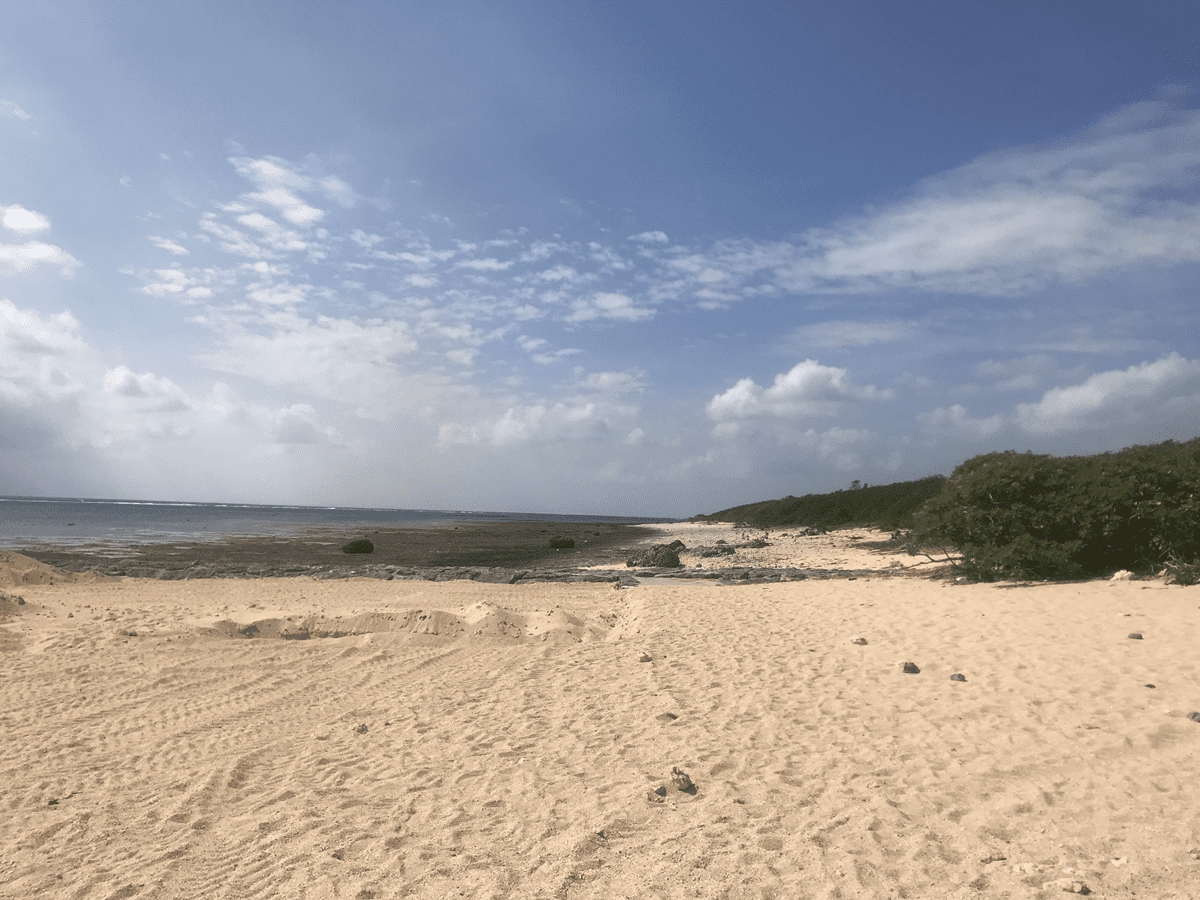 Walking along the beach was nice though
Well, the sea view was beautiful, but I have to admit that the big white hotel building destroyed the atmosphere a little bit. Besides us, there weren't many other people, so we enjoyed our time at the nearly deserted and safe beach.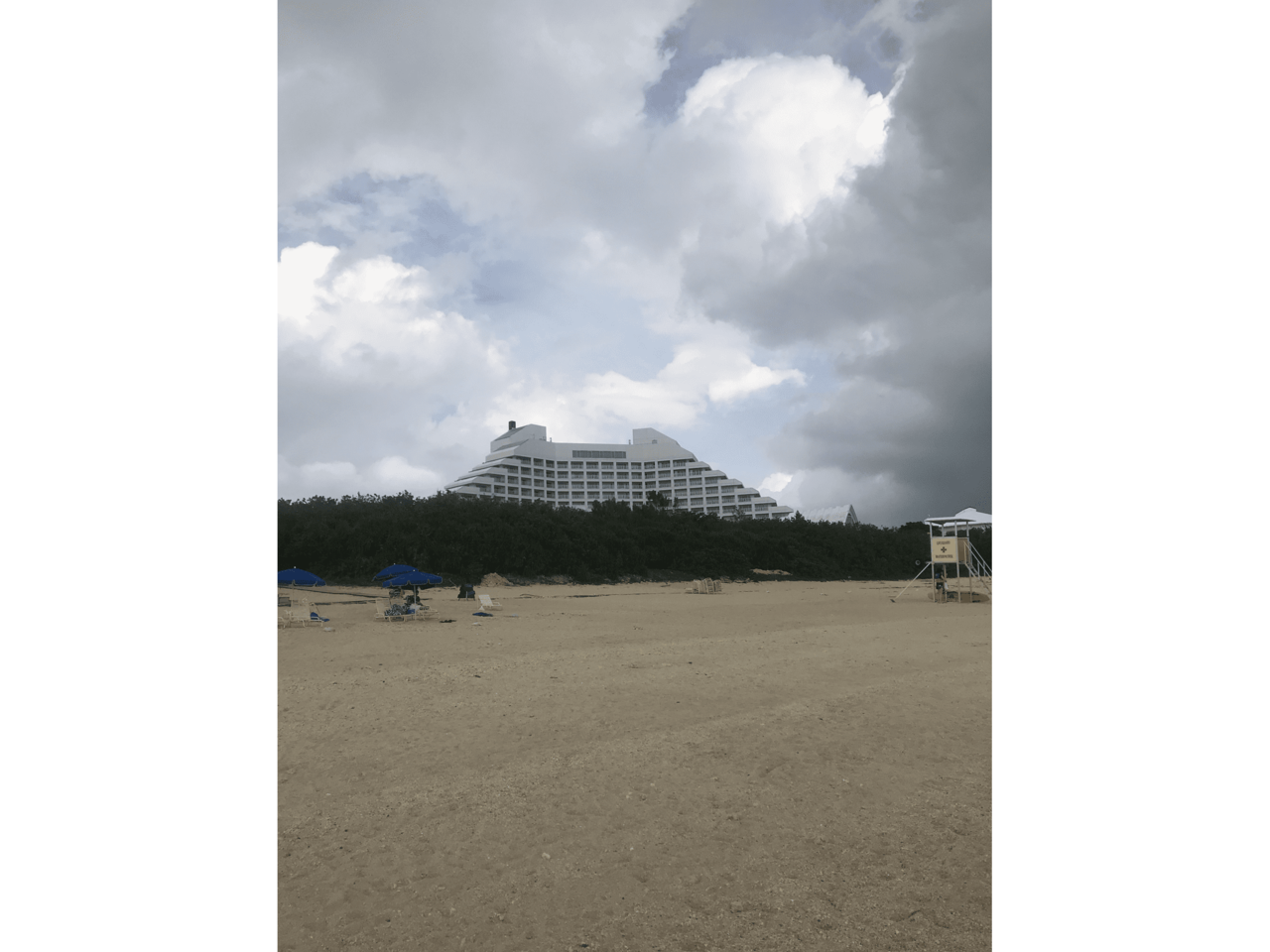 Hotel building behind the beach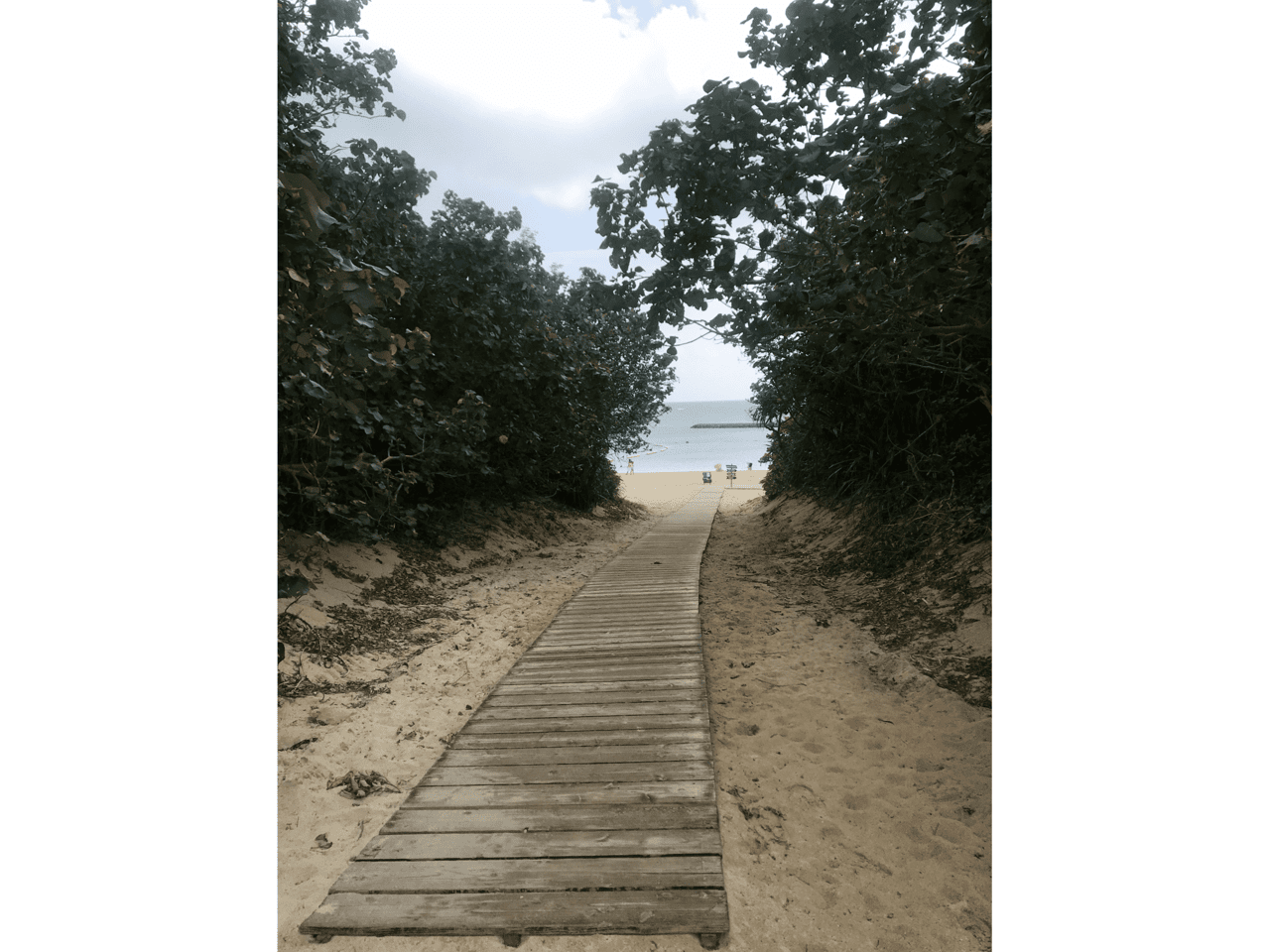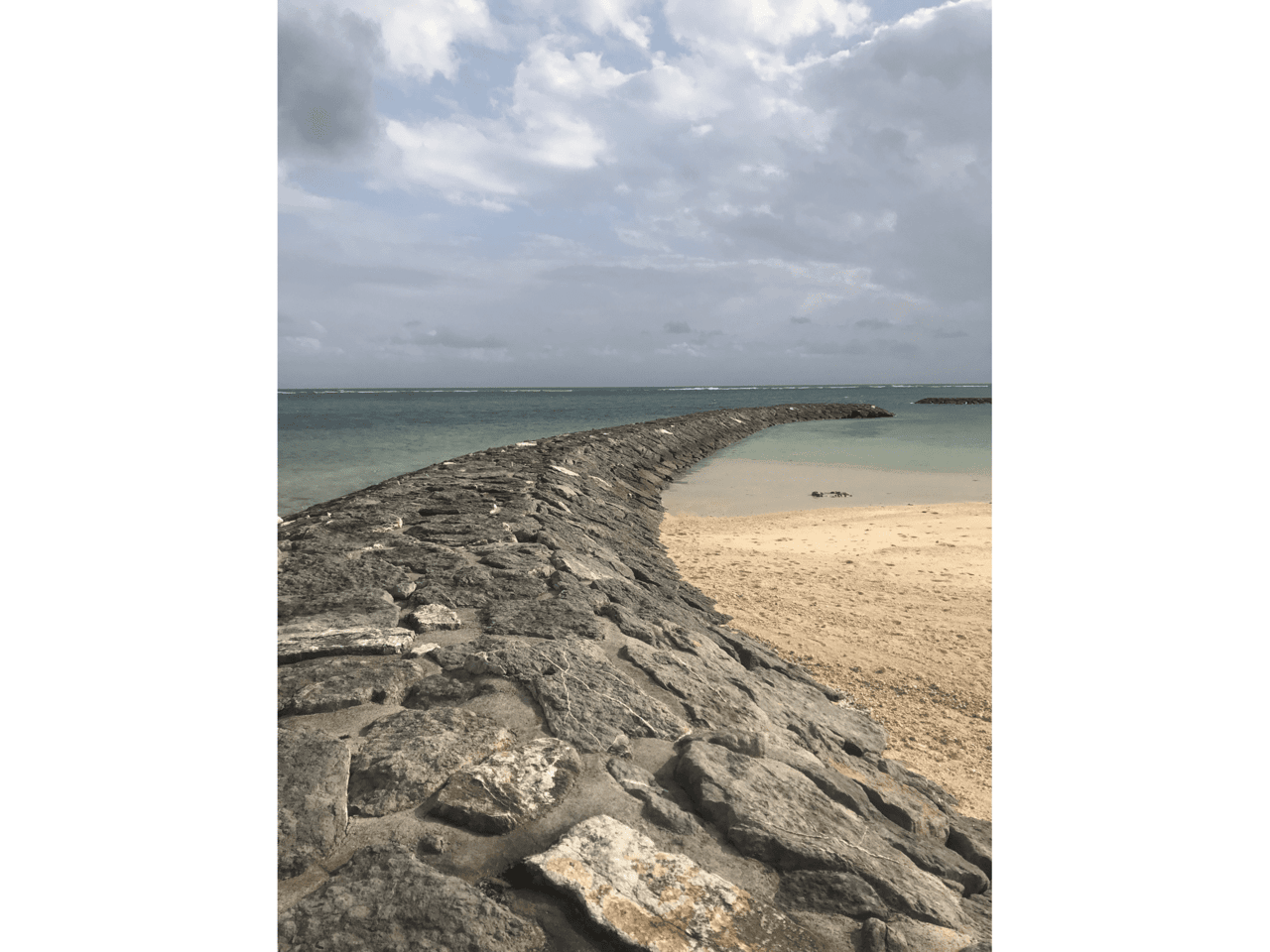 Why safe beach? As Ishigaki is located in a tropical area, the sea animals here are a little more dangerous than the ones from the Mediterranean Sea. Due to poisonous fish and the toxic and even deathly jellyfish, authorities have put swim nets into the water of public beaches so that people can enjoy the water there safely. You should always remain within these areas for your own safety, especially during jellyfish season.
During the day, dark clouds appeared suddenly out of nowhere and heavy rain started to fall, so we had to leave the beach earlier than we wanted to as it was not really comfortable anymore and quite chilly!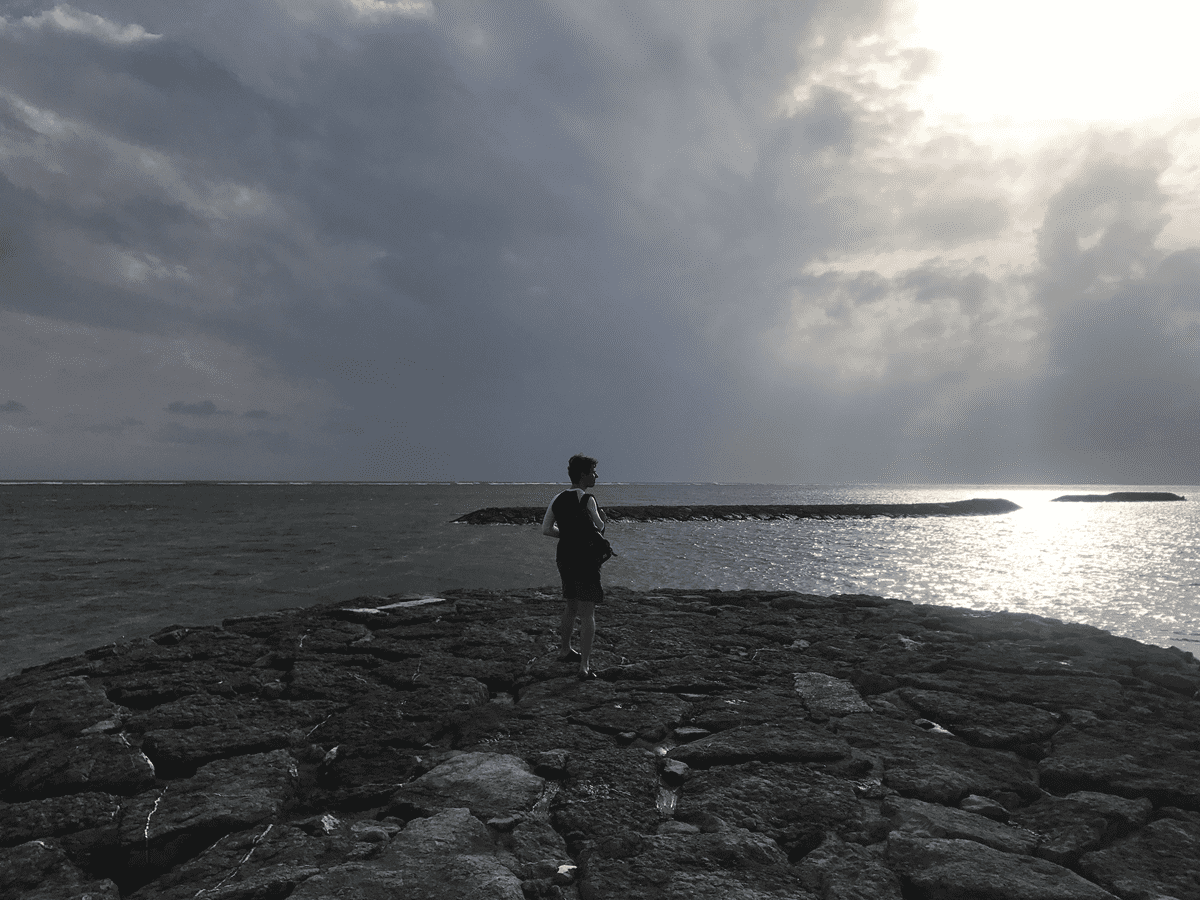 In the evening, we had some nice Ishigaki beef burgers to counterbalance this outcome and we were a little anxious if this kind of weather would be following us everyday. Lucky for us, the weather would only become better and we had seen the "worst" beach of the islands, so the beach experience would also become better and better.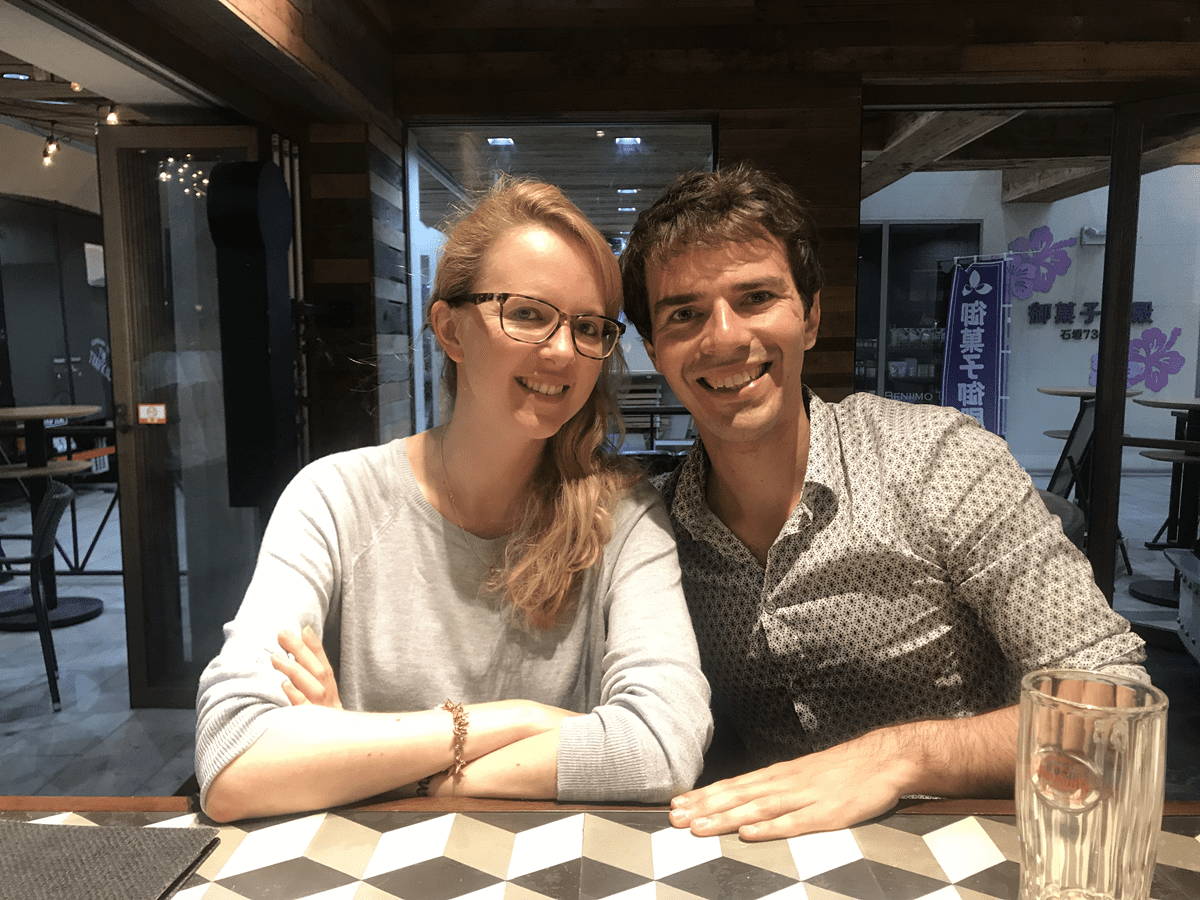 Getting some drinks after an interesting first day
Taketomi Island trip
The next day, we got ready for our tour to Taketomi, a much smaller island that is a raised coral atoll and located directly next to Ishigaki. High speed ferries operate throughout the whole day, so it was not difficult to catch a boat for the short but rather wild ride to the island. It took us only 12 minutes as the ship really went into full speed mode. We were a little shaken afterwards.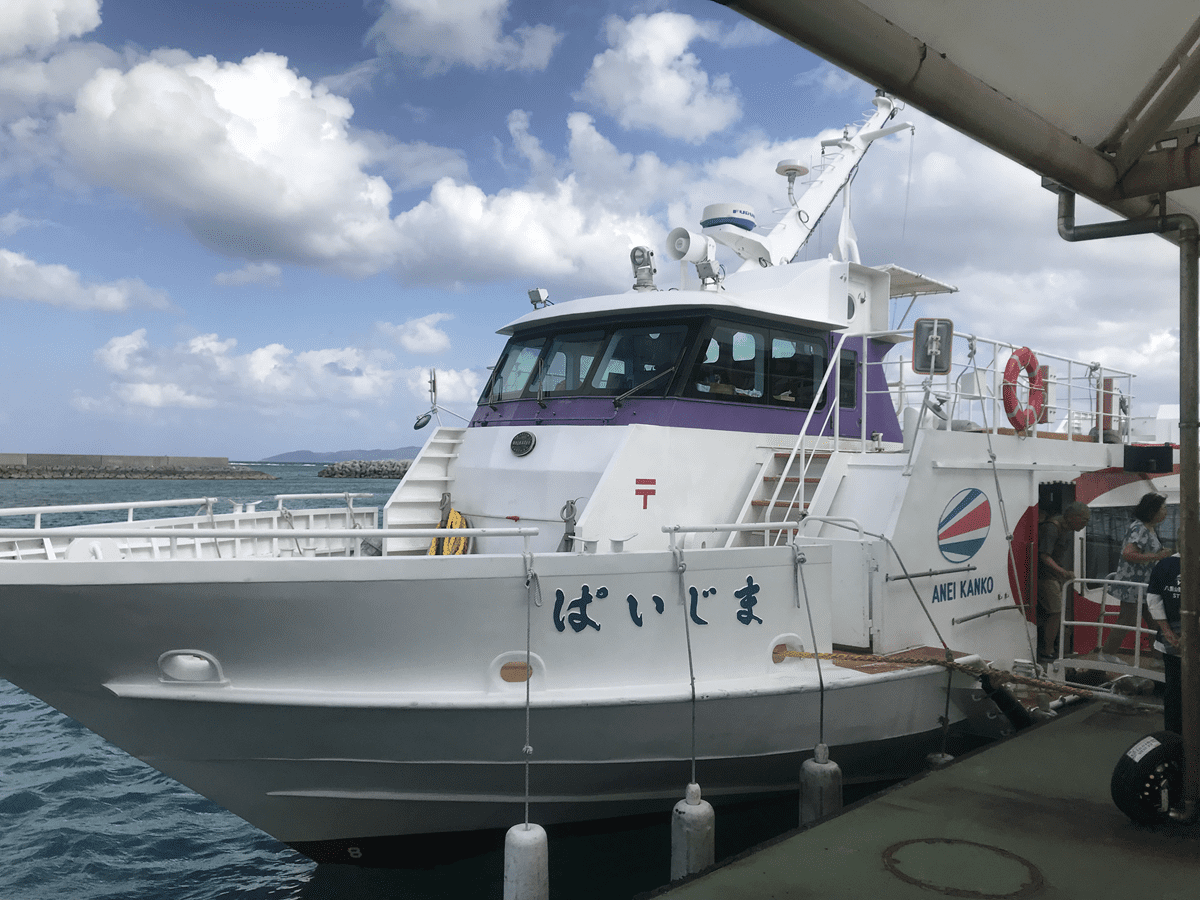 As Taketomi is so tiny, you can walk around by foot without any problems. A lot of stores rent bikes which is also very popular, but as it wasn't too hot, we decided to explore the island by foot. It is roughly 3 km large and 2 km wide. There is only one small village in the center and there are no big shopping stores, Konbinis or other chain stores. Thanks to strict conversation rules, there are no modern houses, only traditional, Ryuku style homes (one story, built of bricks and with red roofs), often protected by lion-like Shisa statues who are keeping the evil spirit outside. The whole village feels like a big outdoor museum and we enjoyed walking around and watching houses and the beautiful tropical plants.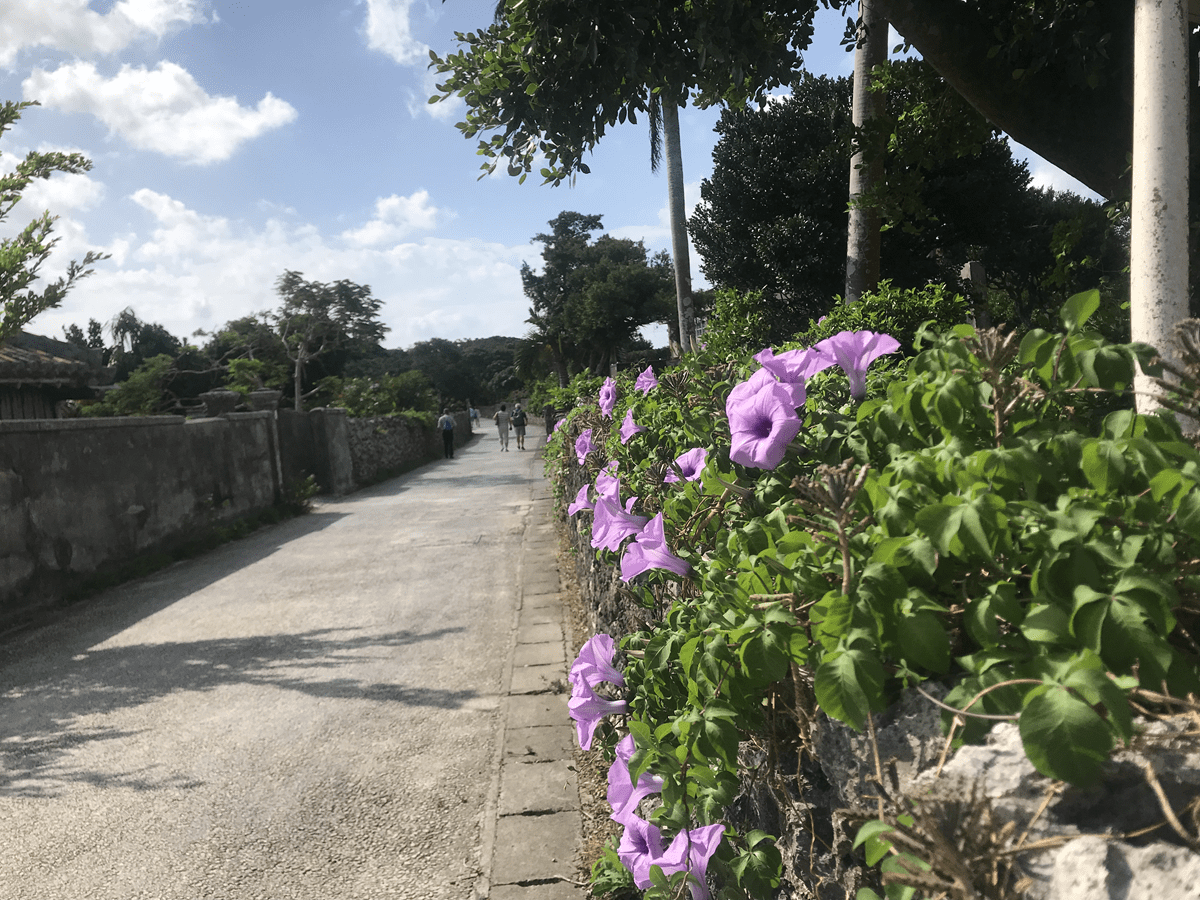 After half an hour by foot we arrived at our top destination, Kondoi Beach. Some of you might have seen my Instagram post and wonder if these pictures are even real. I can say, yes they are! I've never seen such a beach before and we both were speechless, just walking along the shoreline and watching the blue sea.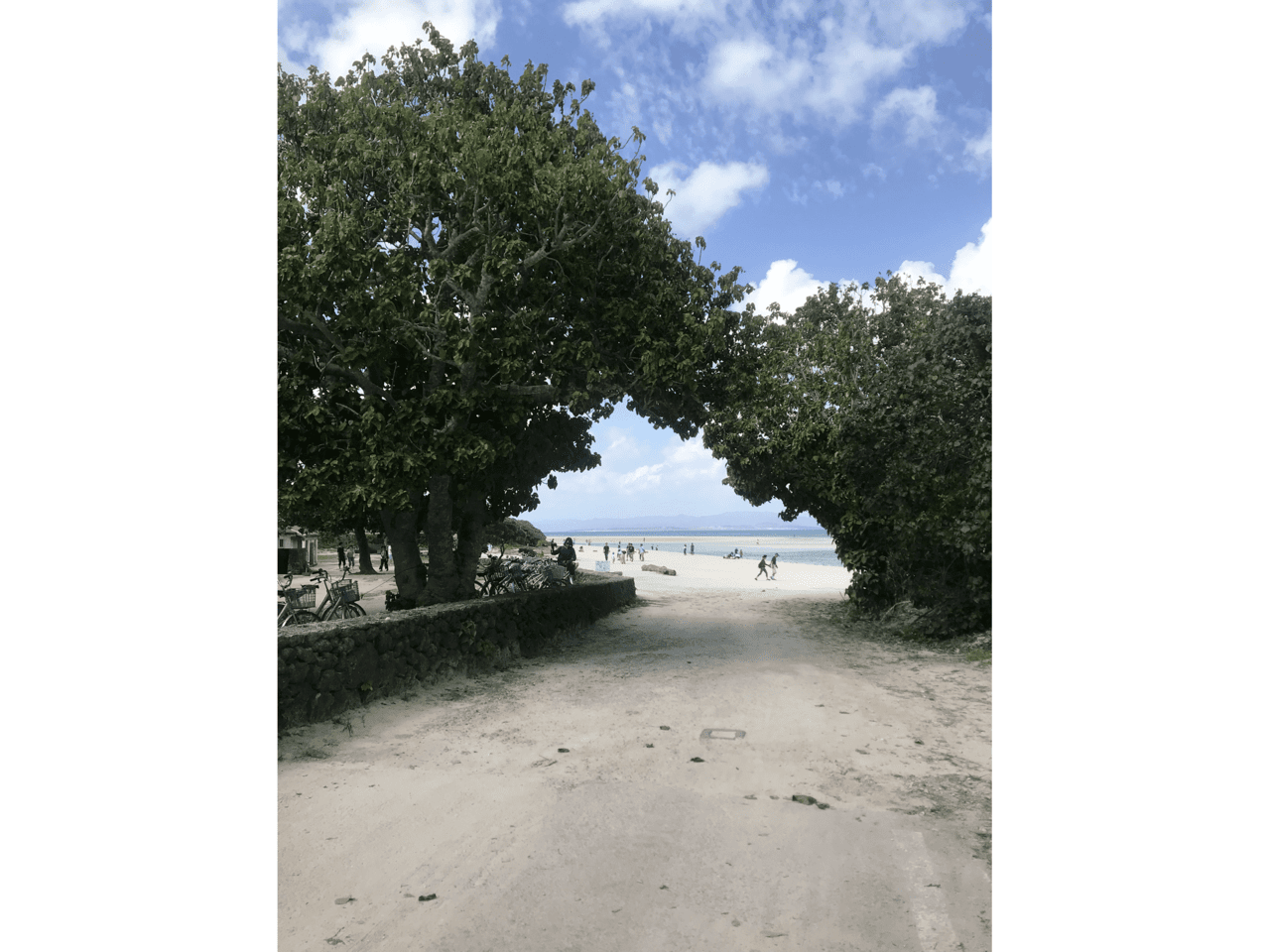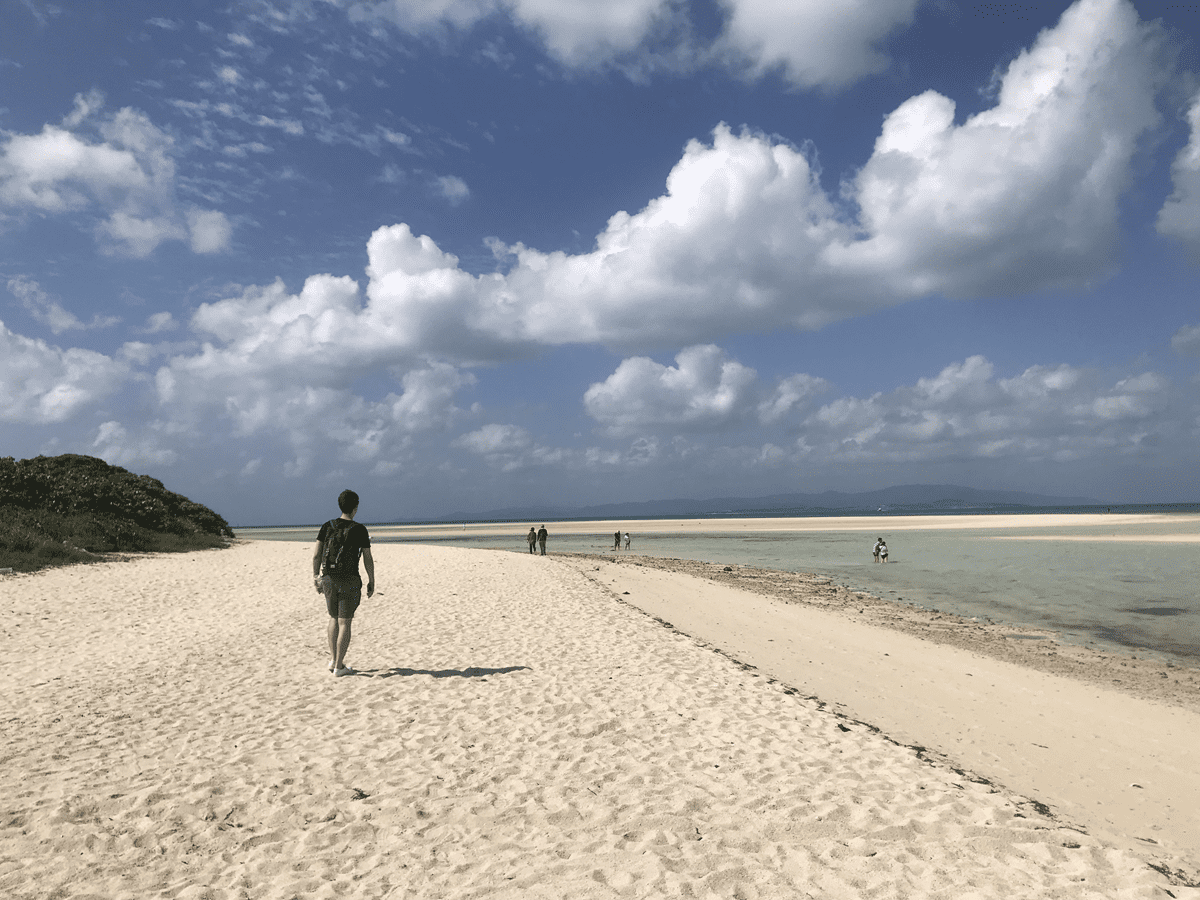 While walking along the sea, we reached the other beach called Kaiji Beach, which is famous for the star shaped sand. You cannot swim here as the currents are too dangerous but the main goal for visitors is to admire the beautiful sand and coral stones that lie around. We made a short rest here and watched other people collecting sand.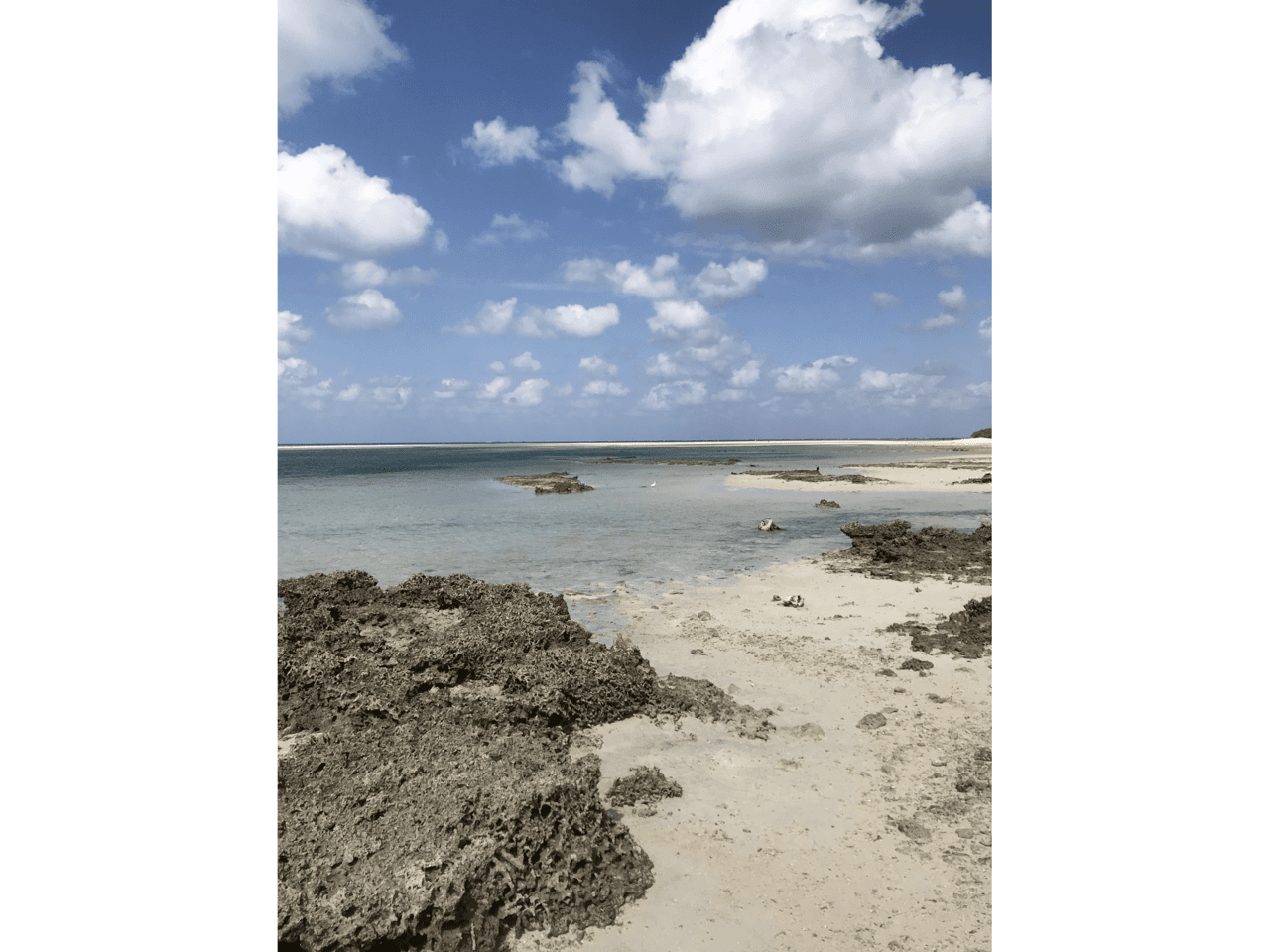 Coral stones and blue sea - amazing!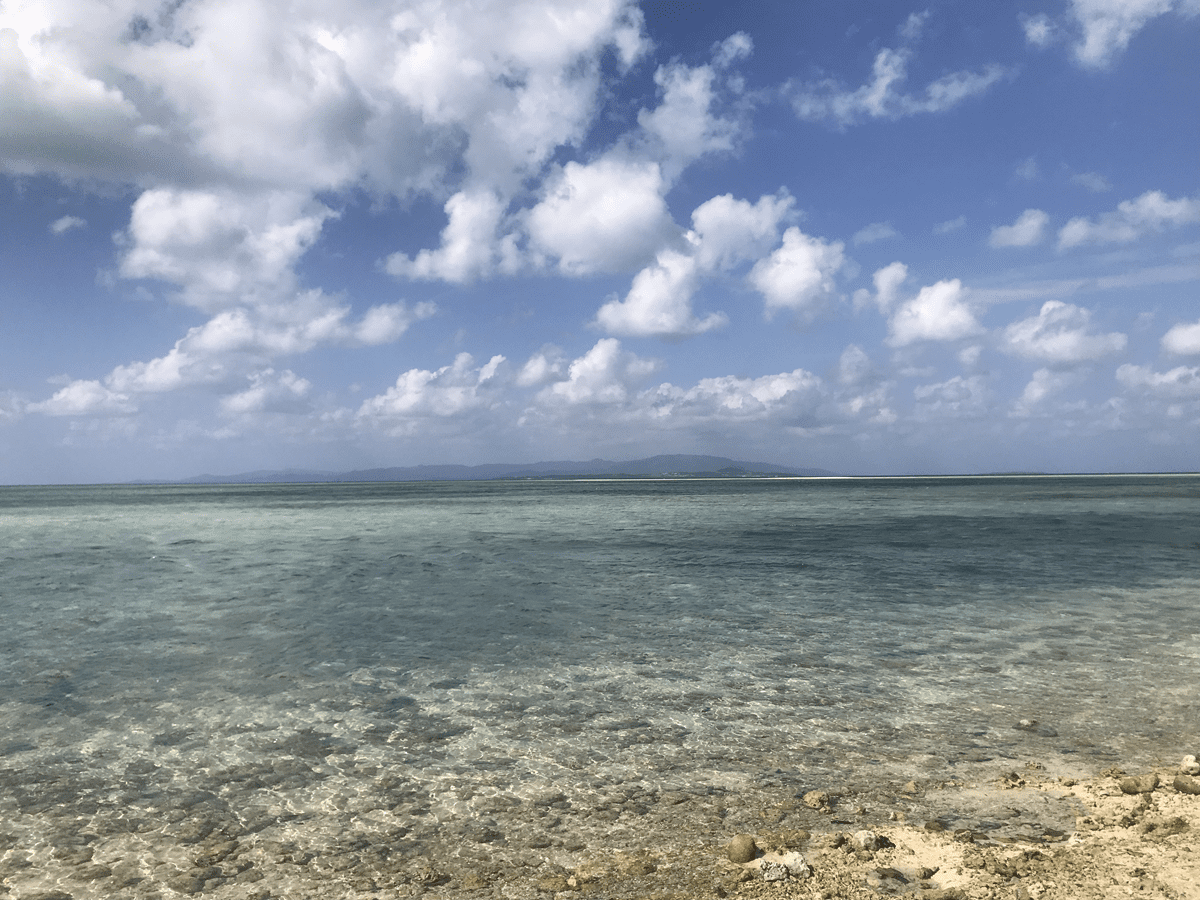 Basically, we spent a long time just walking around, sitting down (it was not so comfortable as there was a really strong wind!) or walking through the shallow water to the sandy islands. Truly amazing, I am glad that I had the chance to see such beauty.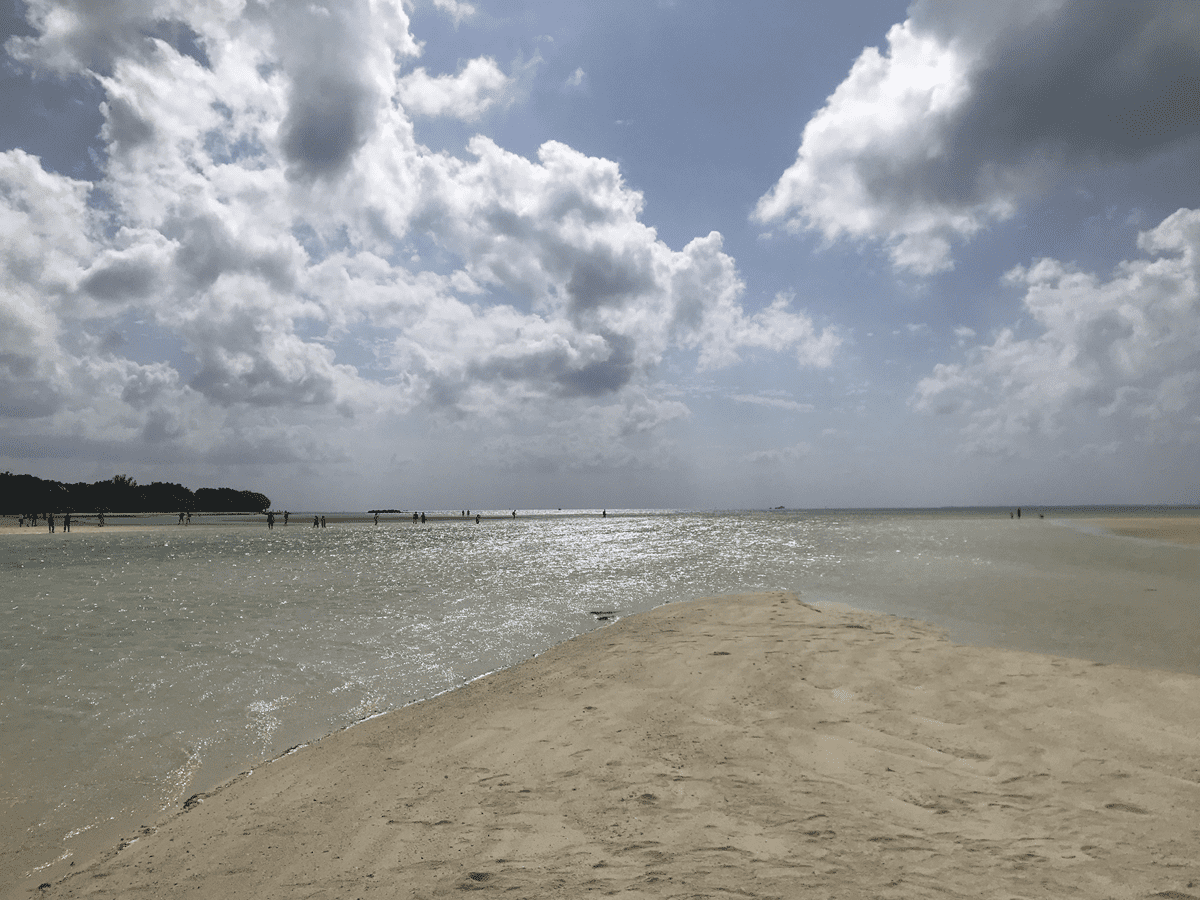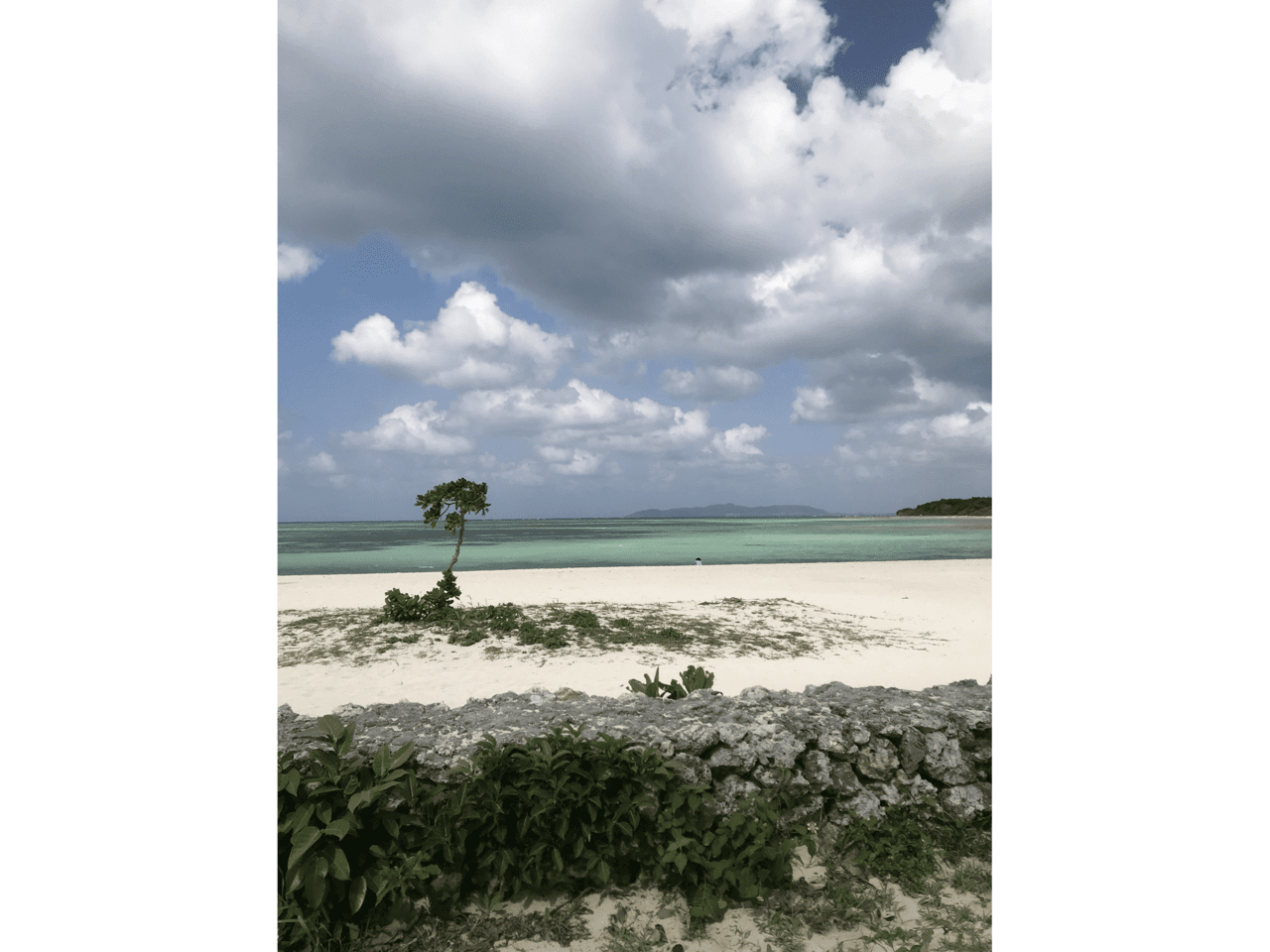 Afterwards, we had Taco rice, the typical local dish, and walked to another famous sight of Taketomi, the Nishi pier, which was the place where rice for the people of Taketomi was delivered and as well the starting place for the residents to travel to the next island called Iriomote. From this pier, surrounded by crystal clear blue water, we had a perfect view of Iriomote as well as of Ishigaki. The wind was blowing quite hard, so we didn't stay there for long, but it was really a fantastic last sight of our Taketomi tour!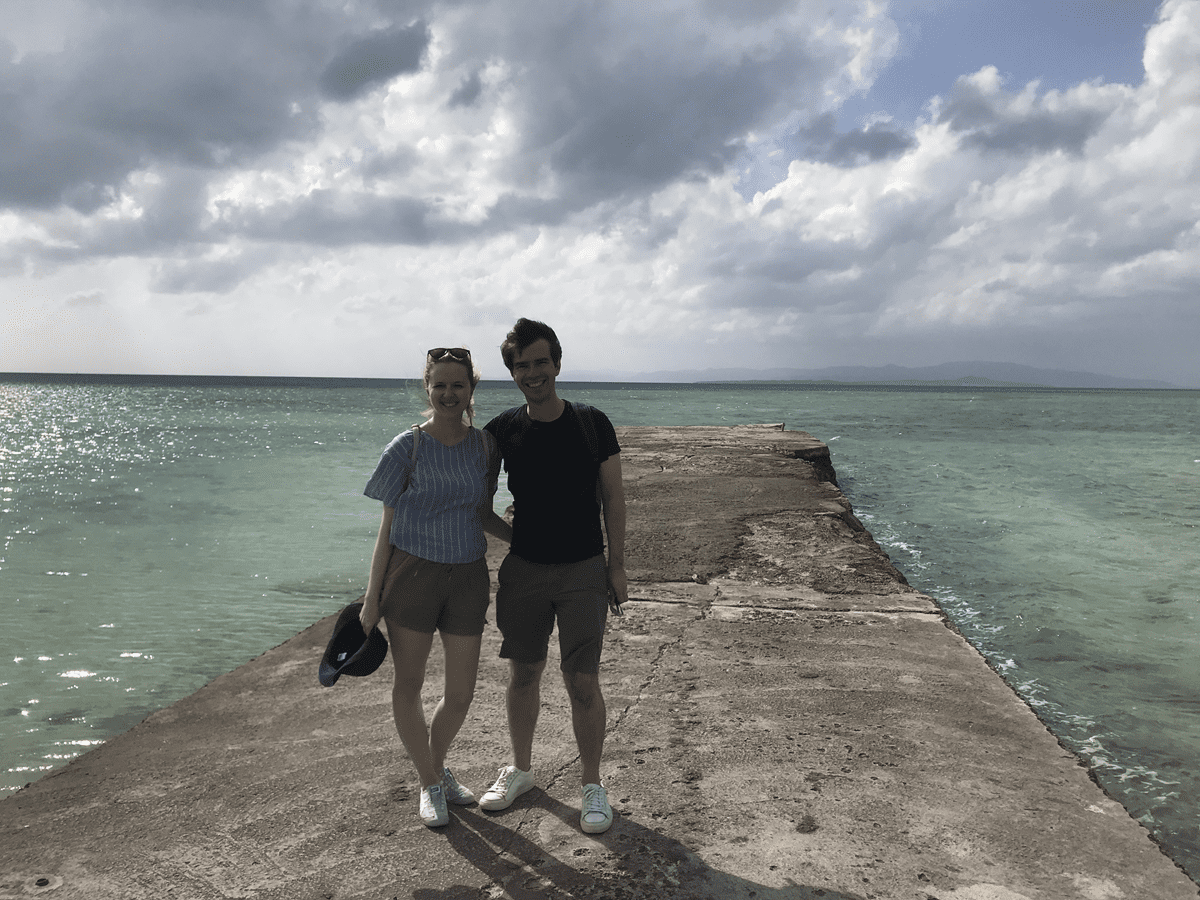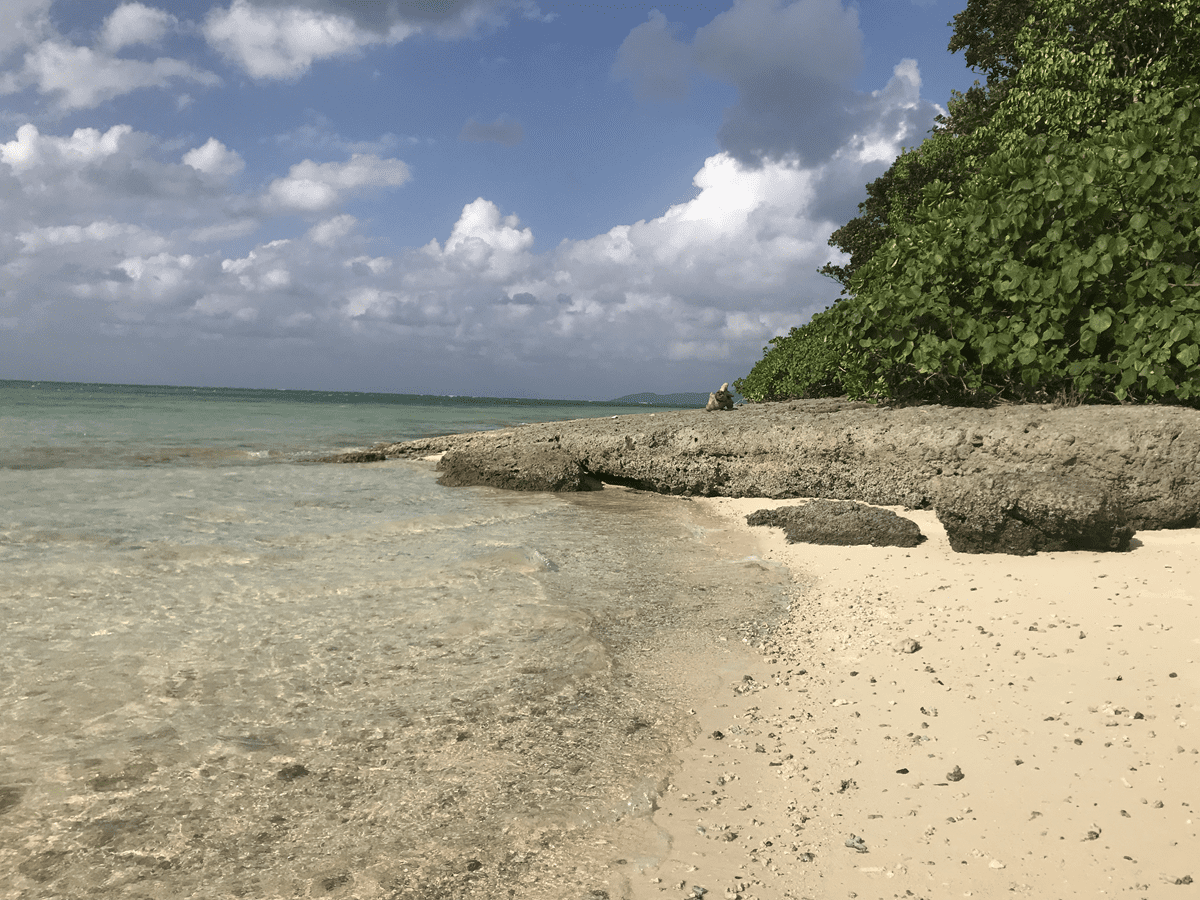 After a short rest at the shore we walked back to the ferry for returning back home to Ishigaki. Fun fact: the ferry always leaves the harbor ten minutes early. So you should be absolutely in time if you rely on them! What a day and what beautiful memories we made! You think this cannot be topped? Stay tuned for part two of our Okinawa trip and find out how we mastered some sportive activities like snorkeling or stand up paddling!