Hey everyone, I hope you are all doing fine. Currently we have pretty cold and rainy weather in Kanazawa. Therefore, writing about our vacation time in the south brings back warm memories and helps to deal with this seasonal transition to winter.
Snorkeling adventure
After our fantastic trip to Taketomi Island we wanted to explore two dreamy beaches of Ishigaki. Thanks to our friends Nora and Chris, who already visited Ishigaki island, we got some cool recommendations regarding the beaches of Ishigaki and found ourselves in the bus which would take us to Yonehara Beach. Yonehara, a long and sandy beach, is located in the northern part of the island and can be reached by public transport, however the bus going there runs only three times a day! So do you research before you go or you might end up trying to get back by taxi. Access is free, only if you come by car you have to pay a small fee for parking at the public spaces that are mostly run by the cafés close to the beach. What makes Yonehara so special is that you have access to a huge coral reef that you can explore by snorkeling. The water is very shallow and so clear that you can even see everything without diving through the water.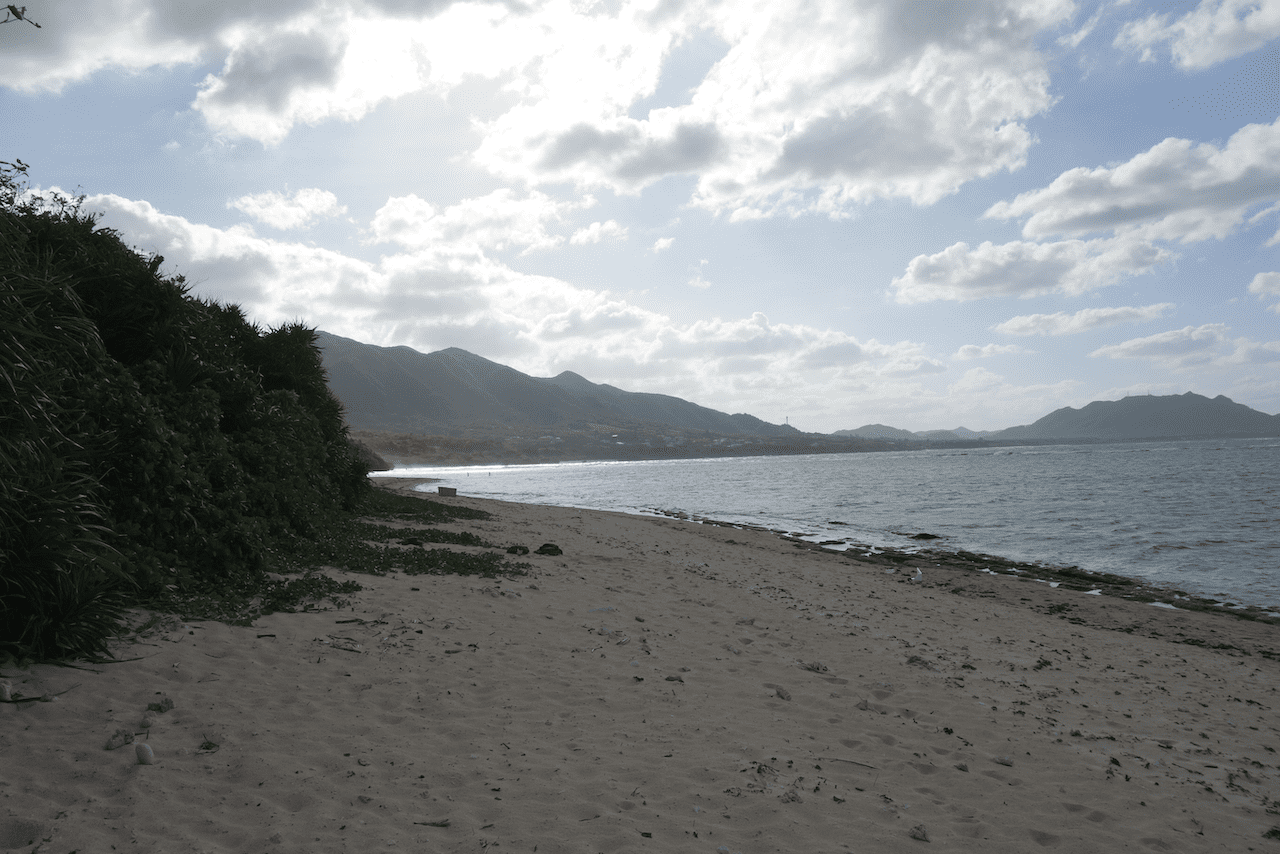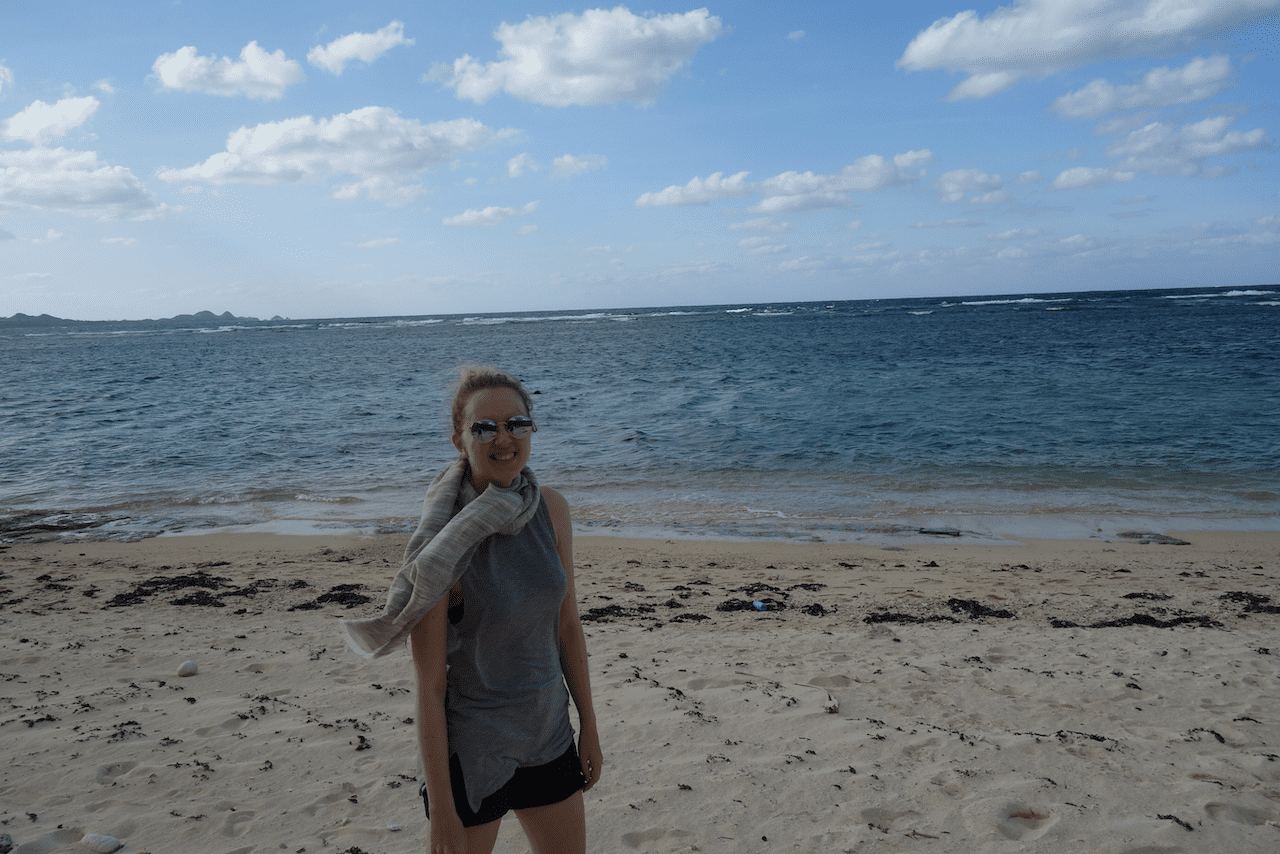 Smiling while freezing a little
If you want to go snorkeling but don't have the right equipment, that's no problem - we also didn't bring anything with us. You can rent snorkeling equipment at nearly every adjoining coffee shop nearby.
When we arrived there, it was sunny but the north wind was extremely strong, so the water was not quiet but very wavy. At first, we weren't sure if we really should go swimming. It was kind of chilly to sit in the cold wind and there weren't many people at the beach. Also, it's a little dangerous to swim there as there are strong currents that can drag you out to the sea and we were even told that someone had died there recently. :O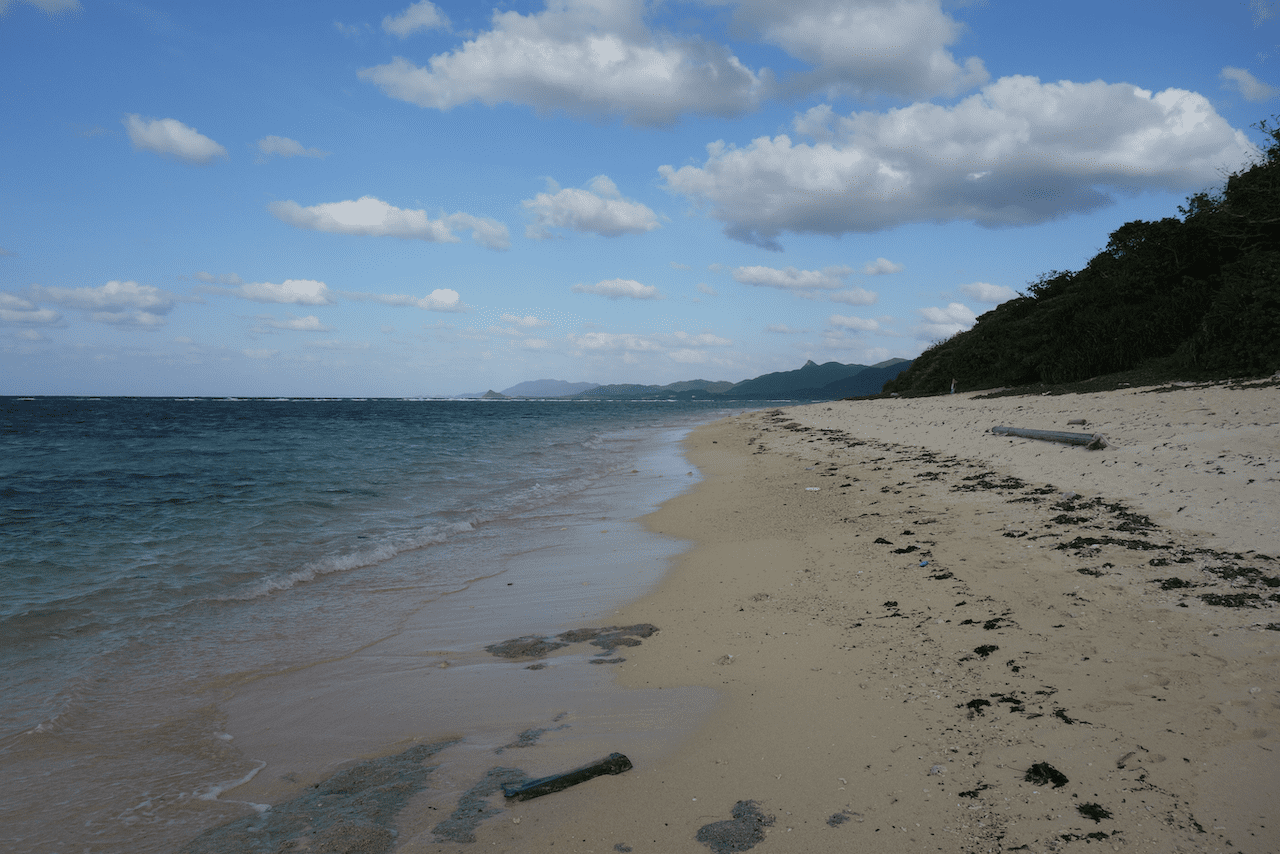 After a short lunch break at a small restaurant (with literally the best Tonkatsu of my life!) and a nice chat with the owner, we decided to give it a try and be brave against the cold wind! Packed with glasses and a life vest (they didn't want us to drown I guess), we finally got started. Sadly, one person had to stay at the shore and watch the stuff because a lot of aggressive crows tried to destroy our bags in order to get food from the inside! :o So we were on our own in the water.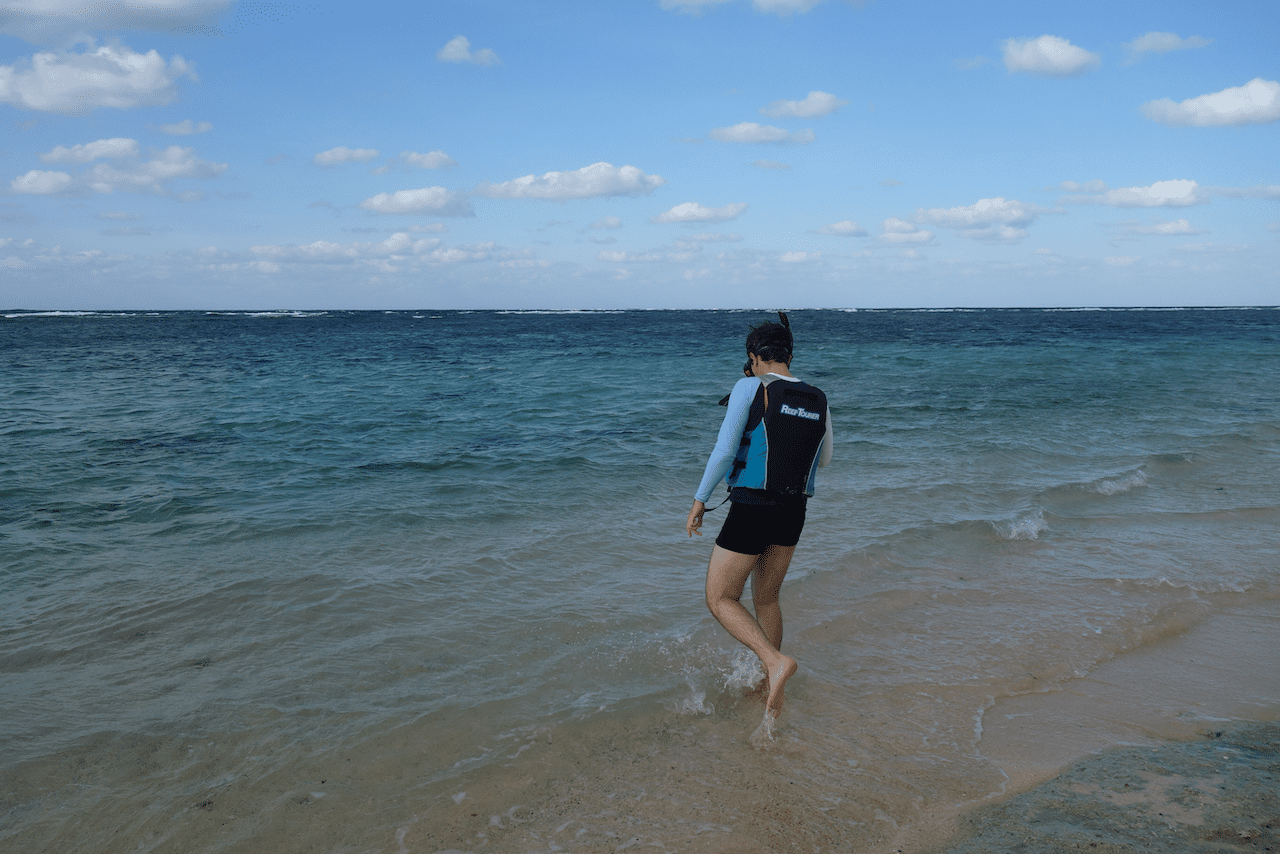 I've never done this before so when I first started, I had to adjust to the right breathing technique and to getting under water in general (life vest was kind of in the way) but after a while, I could focus on the coral reef under me and I saw some colorful fish. Two big yellow fish even swam with me for a while! It was a great experience and I was astonished how much sea life you could find just two meters away from the shore. Also, swimming in the water was so much better than standing outside in the wind as the water was so warm! Getting out afterwards was a little challenging but the wind was blow drying us very quickly.
We definitely would snorkel there again, it's a super fun activity and once you mastered the technique and are able to focus on your surroundings, you can see so many different animals!
Kabira Bay
We also visited the main sight of Ishigaki, the famous Kabira Bay. It's not allowed to swim in the bay as there are many black pearl farms but you can walk along the shore or take a ride with one of the many glass bottom boats to watch the corals and the sea life. We didn't take one as we had seen a lot of sea life the day before during our snorkeling tour but we took a long walk and saw many big beautiful shells in the sands as well as many small hermit crabs.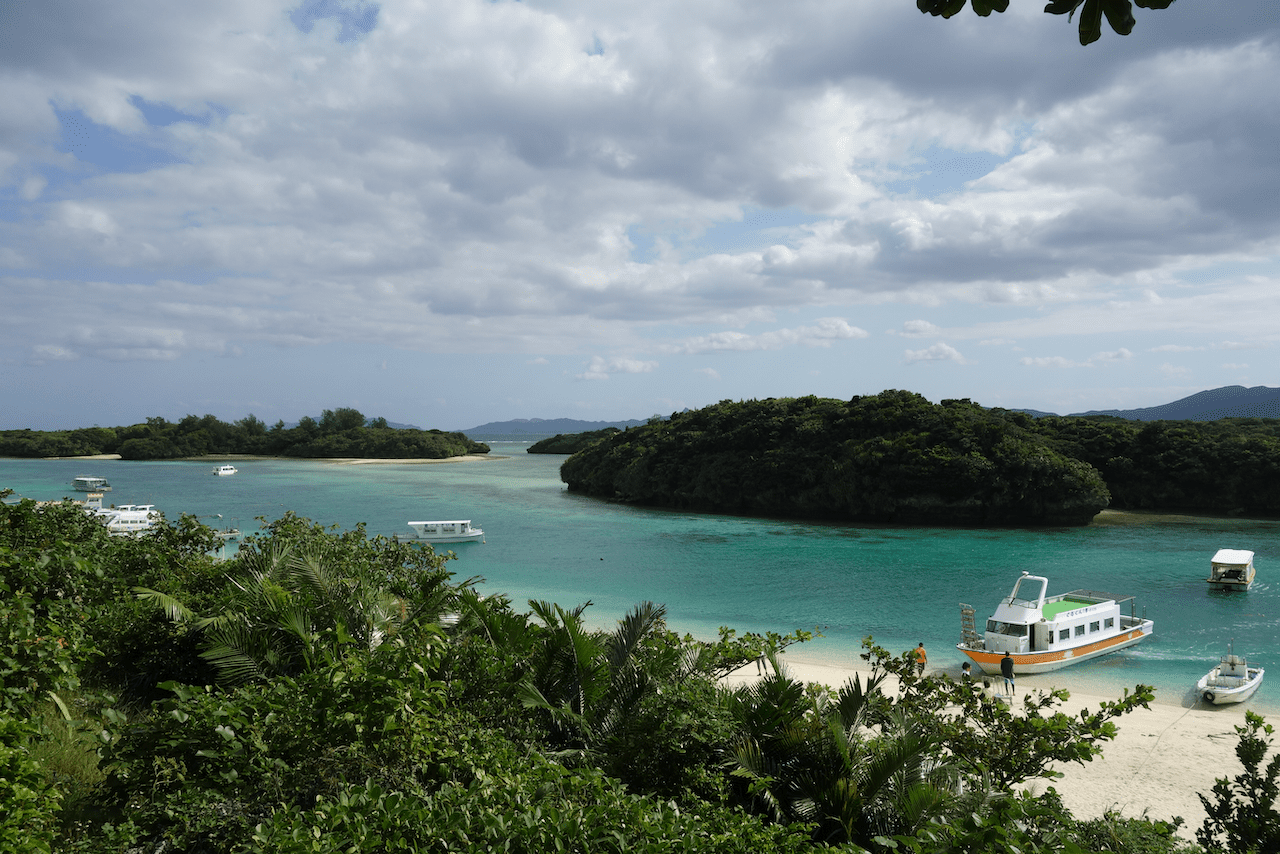 No words needed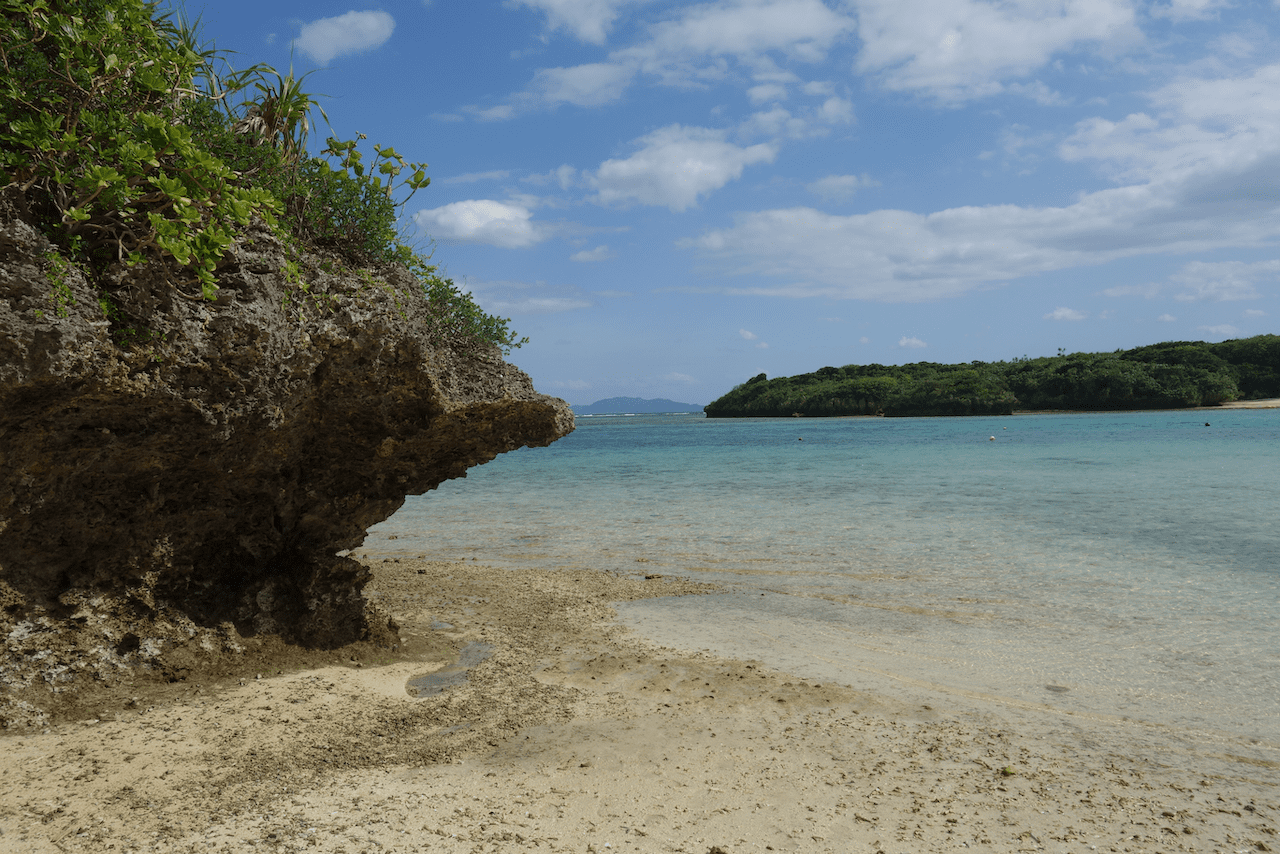 I've never seen these animals so it was very fascinating for me to watch them carry around their shells. The longer you looked, the more you could find. So cool!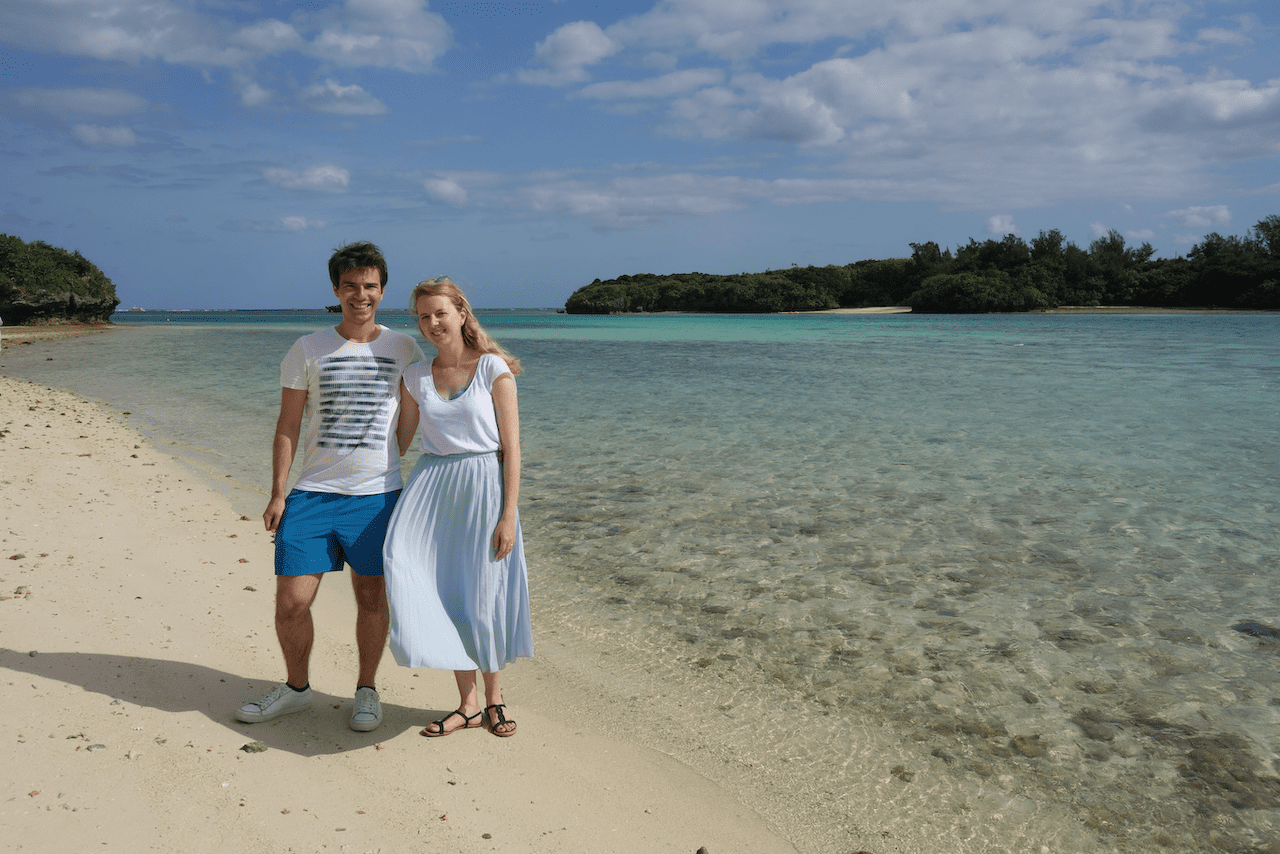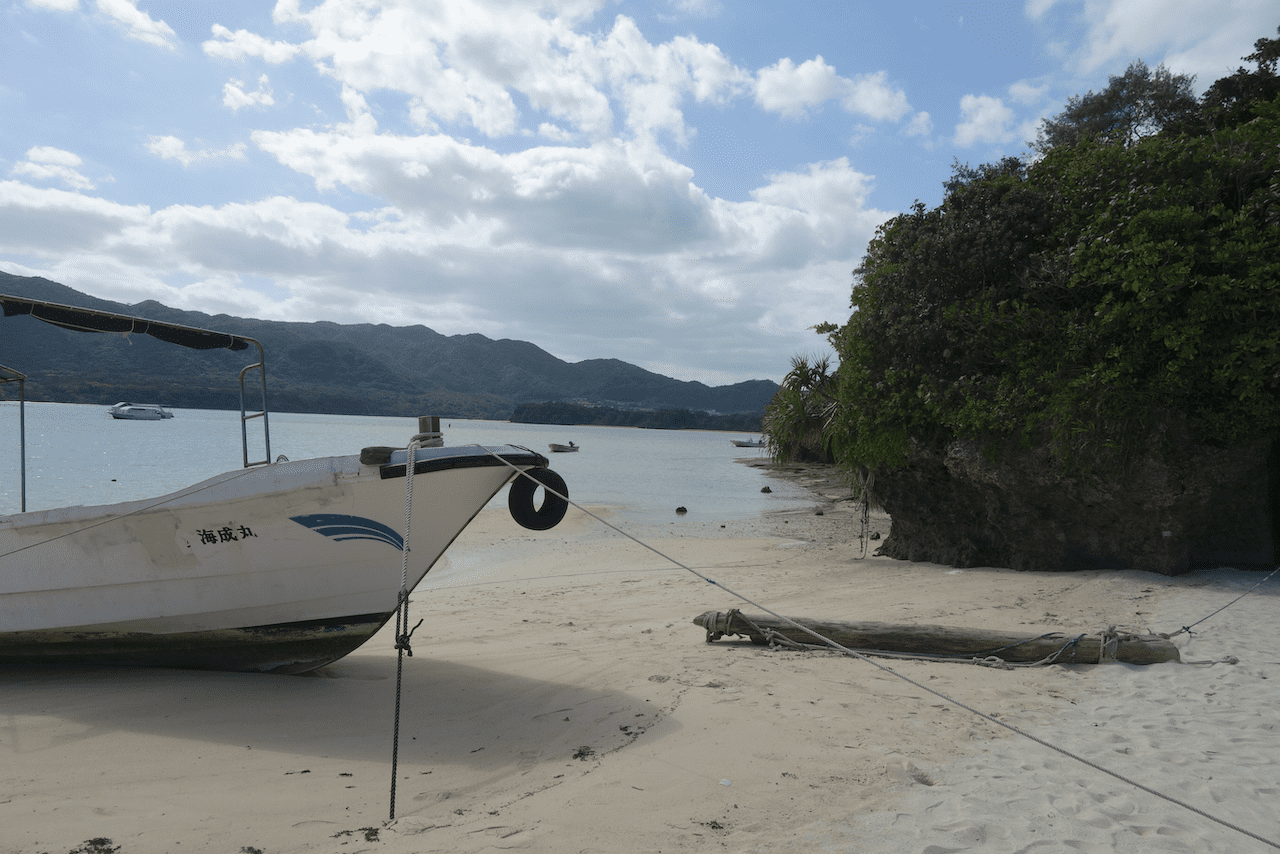 After a nice lunch we waited for our ride that would bring us to the last big highlight of our vacation: Stand Up Paddeling (SUP) at Sukuji Beach. Personally, this beach was my favorite one. It's located in a beautiful bay and very shallow, the water has some amazing shades of blue and as the beach is framed by mountains with tropical vegetation, the view from the water towards the shore is stunning! Our SUP guide Takeshi was happy to hear that we already had some experience with SUPs and wasted no time. Filling out some obligatory forms, putting on a life vest (of course) and some marine shoes and we were ready to go. Niklas and I have tried SUP some years ago on a lake in the Alps - nothing compared to the sea. On this day, the wind was very soft so we didn't encounter high waves or anything like that but still, it was a lot harder to move around than I remembered… But we mastered it very fast and soon we started to paddle along the shore, passing stunning rock formations and coral reefs we could see very well as the water was crystal clear! We even saw a lot of colorful fish including also a highly dangerous scorpion fish. :O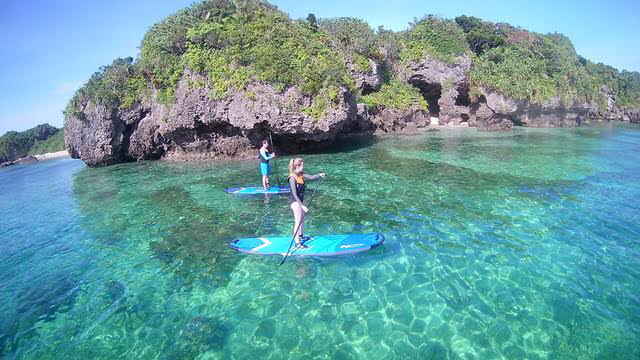 Stunning!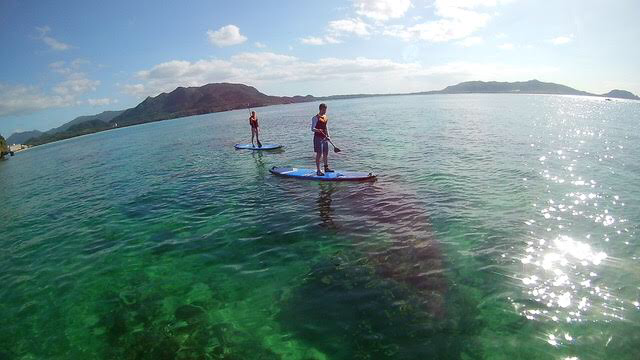 We did well, only fell into the water once while testing out a difficult turn. It was such a cool experience. The 90 minutes did pass very fast, we were a little sad when we reached the shore again but also tired. It was more exhausting than we thought.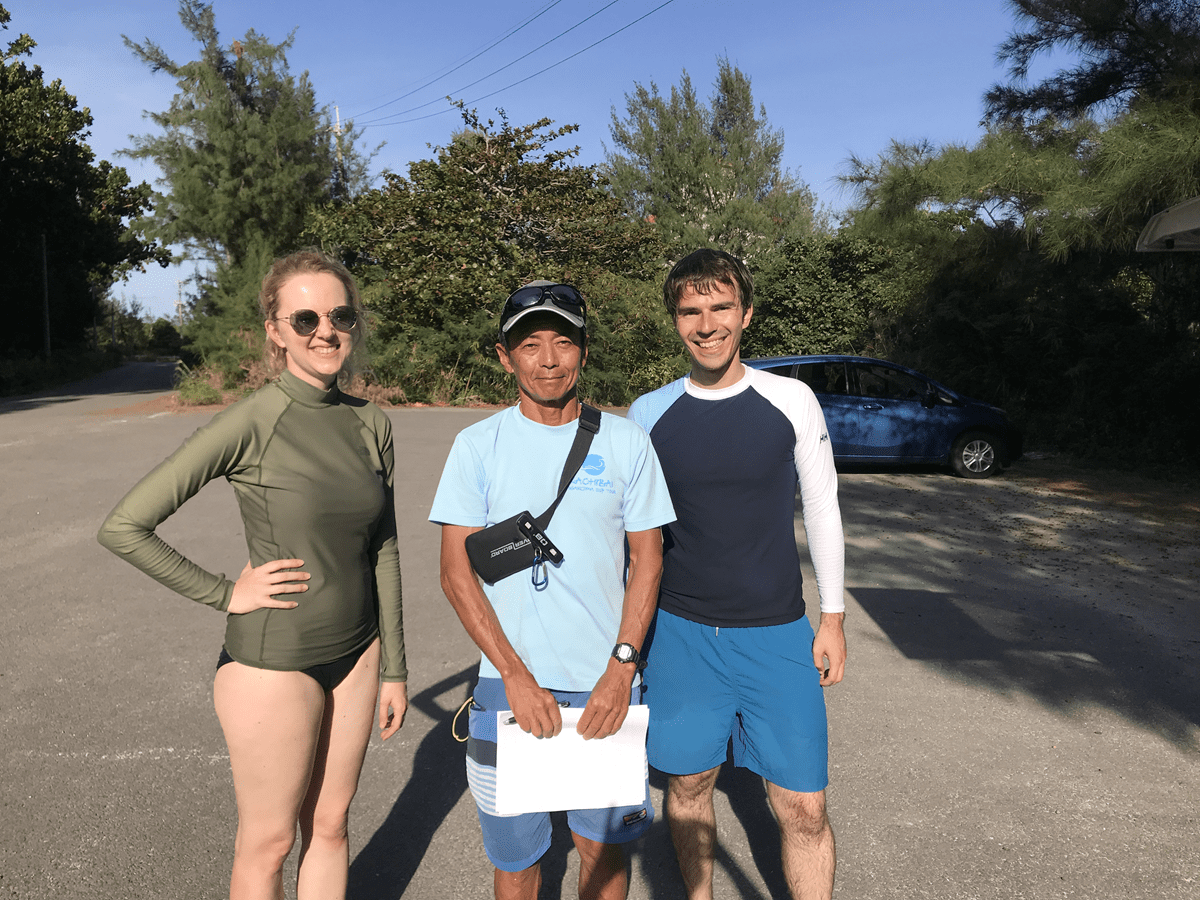 Happy but a little tired afterwards
Takeshi's wife drove us back to the hotel and we had one last dinner on the island before we had to pack our stuff again for leaving this paradise…
Going back home
We spent the last day on Ishigaki with souvenir shopping and strolling around the little city. To be honest: we weren't ready to leave this place. Not only did we have a wonderful time there, but we also enjoyed the relaxed atmosphere so much. People on this island all seemed to be very happy and content with their lives, fully living a conscious, slow and healthy life. I can imagine that you feel that way when you live there for a longer time, as the light of the sun is always there and the colors of the sea never cease to amaze you. It's a truly magnificent place, a little paradise and if you ever get the chance to go there, you should absolutely do that.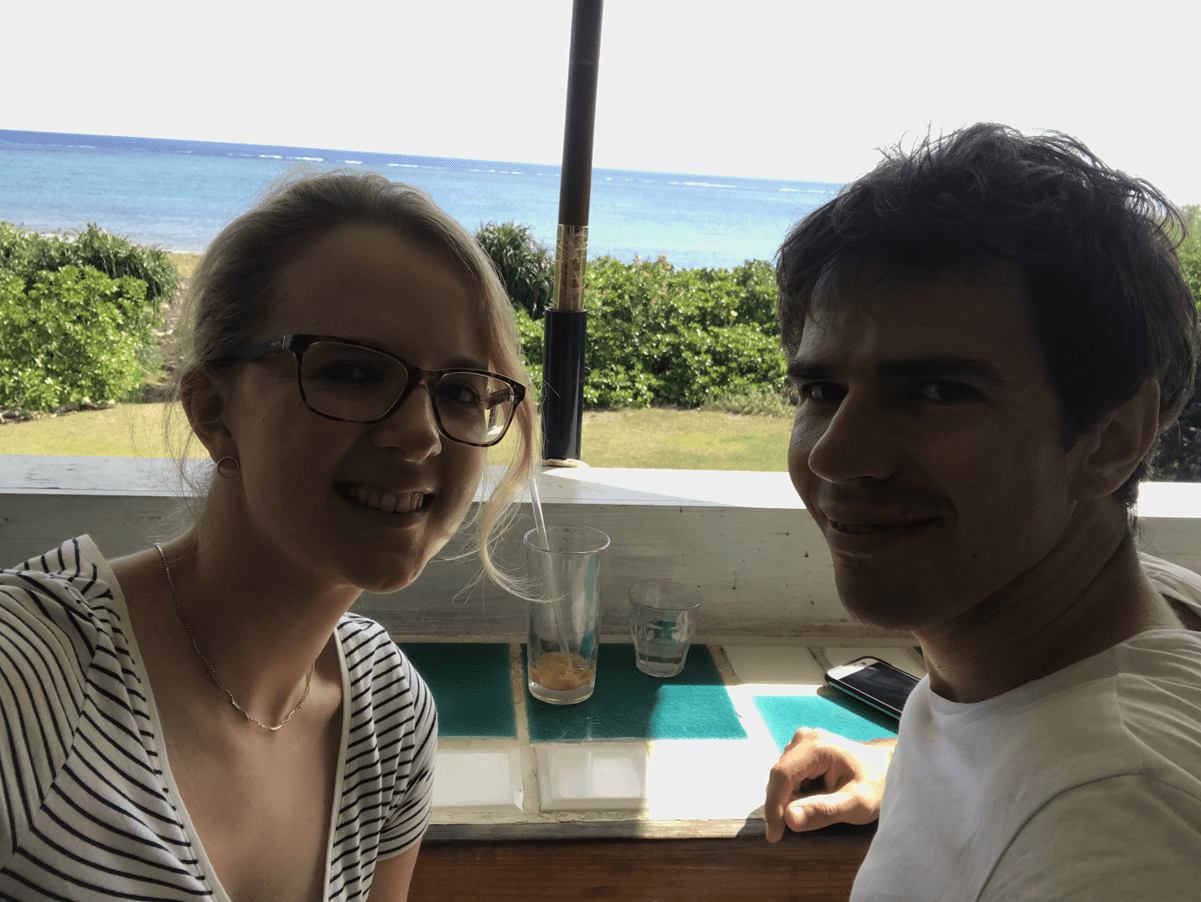 Enjoying some coffee at the only place we could find that had a sea view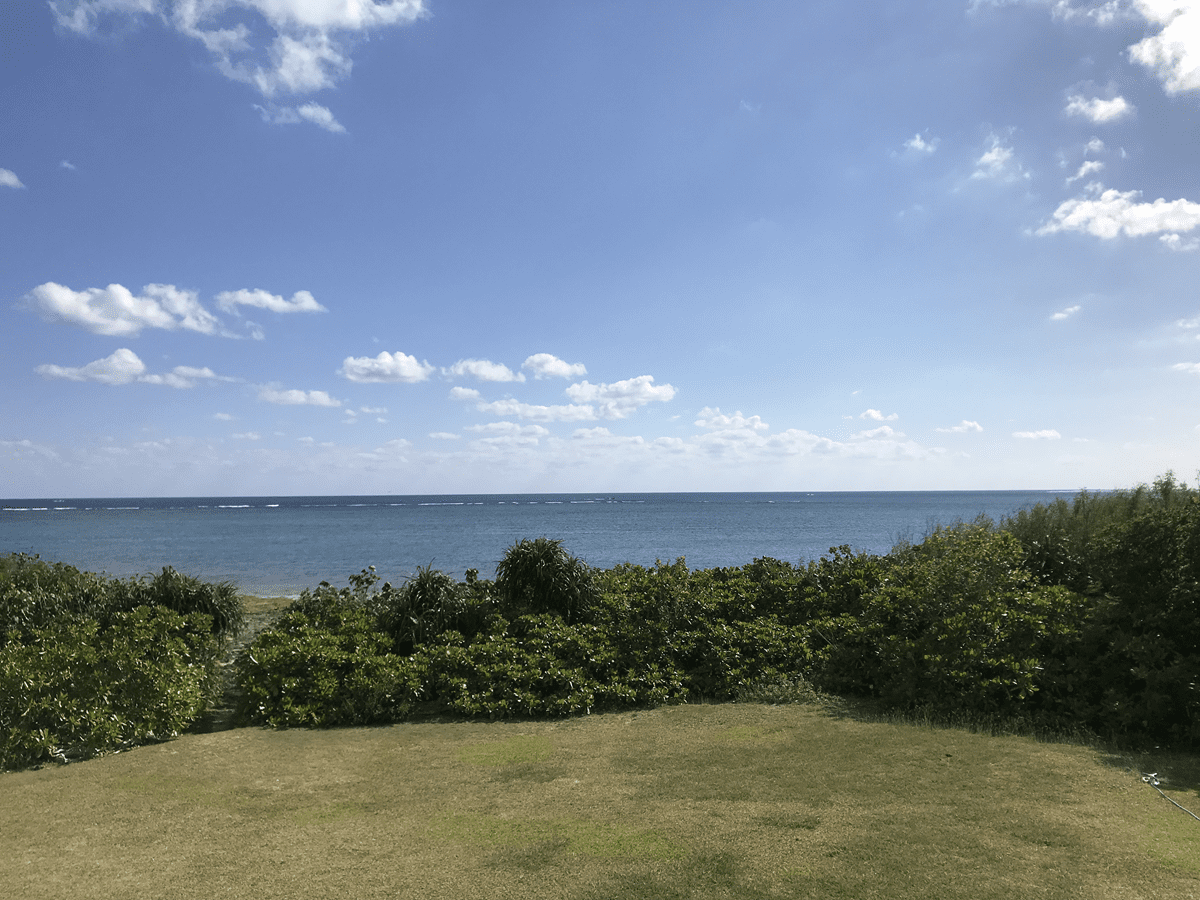 We tried to enjoy the last rays of sun as long as we could before boarding the plane back to Naha. Such a nice weather in November is so special for us German people. ;-)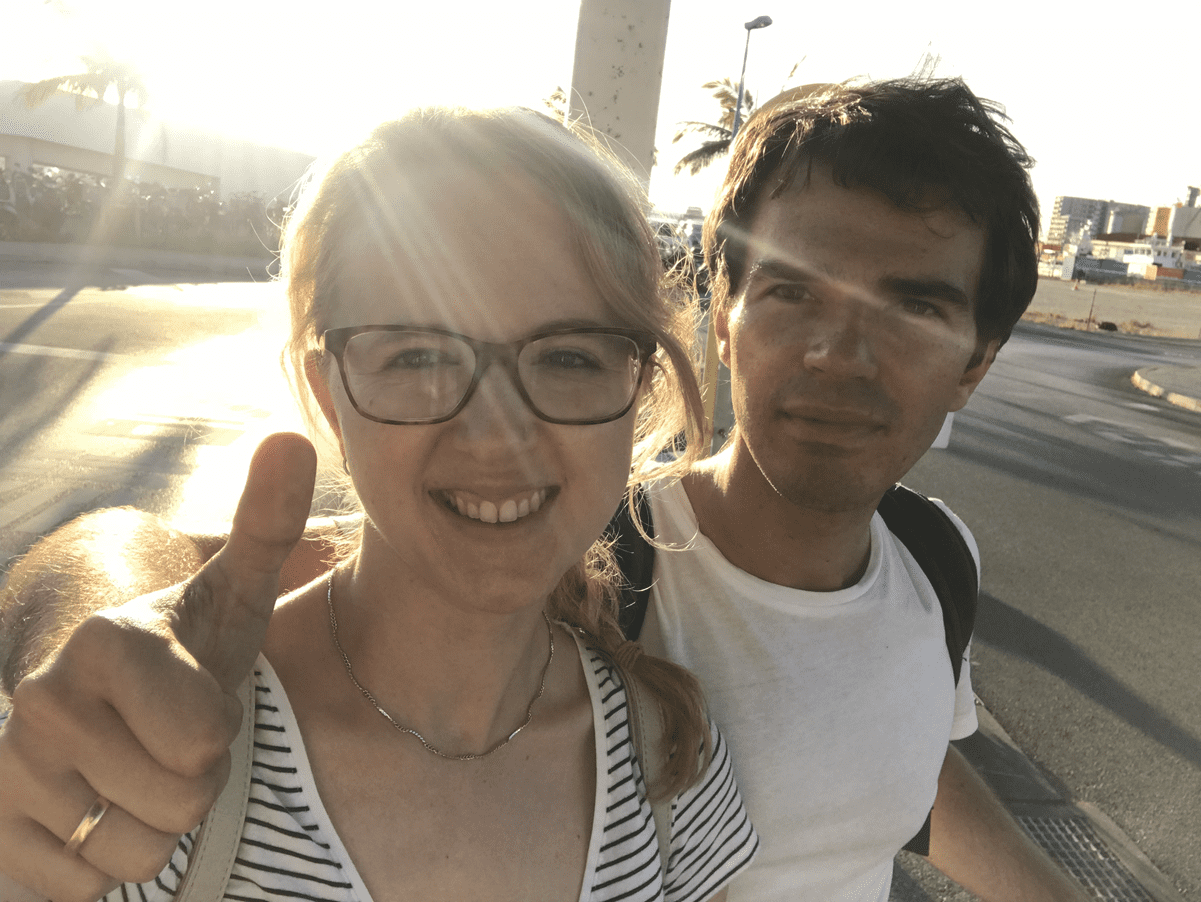 This time, we stayed in another hotel in Naha as the last one was a little worn down. After arriving in Naha in the evening, we did some more souvenir shopping in the 'nice' shops and even enjoyed the hotel onsen before going to bed.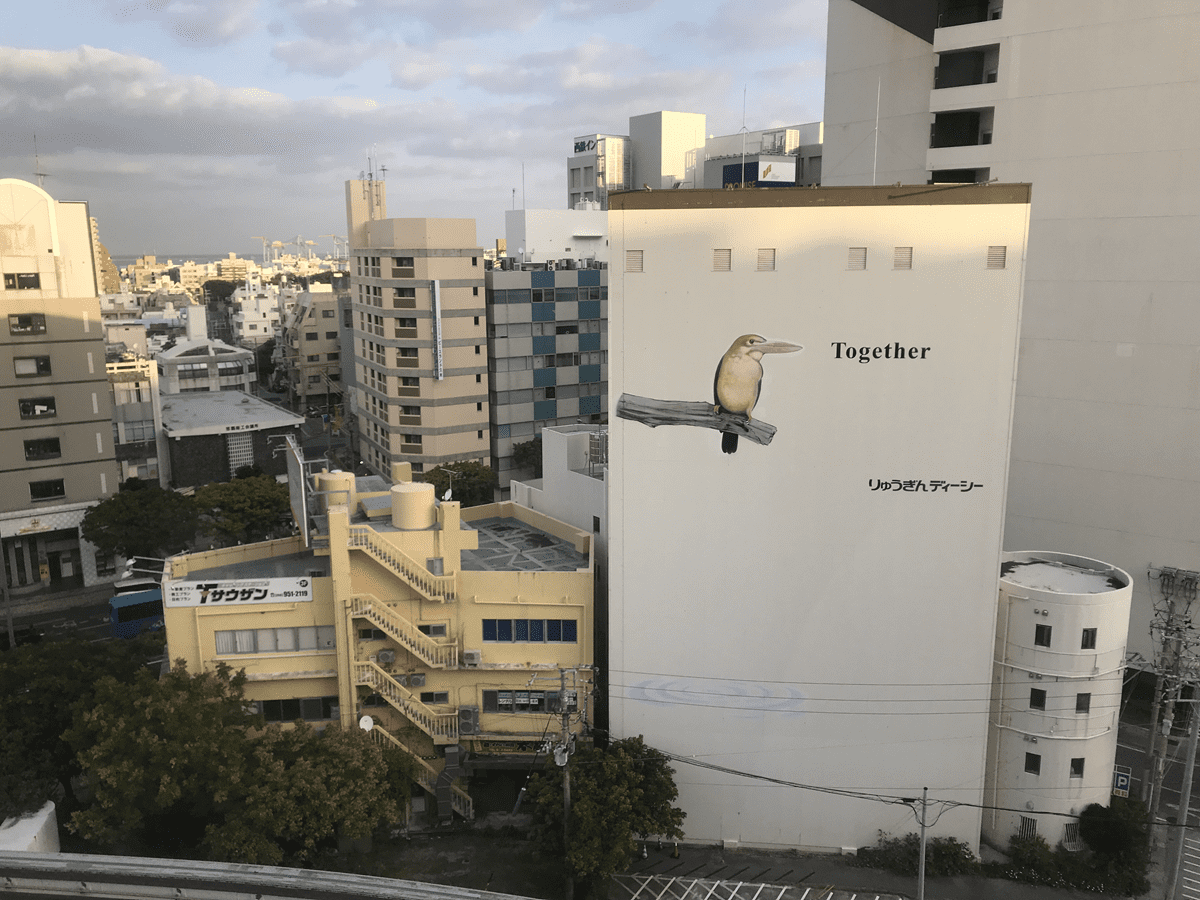 Another hotel, another view
Our flight back to Komatsu was a little different this time, we had a stopover in Tokyo as the direct flight had been way to expensive for us! Not very environment friendly… But, at least I finally got to see Mt Fuji this time! From Haneda airport, we had a perfect view of the mountain and during the plane ride, we passed it very closely so that I could enjoy this perfect view: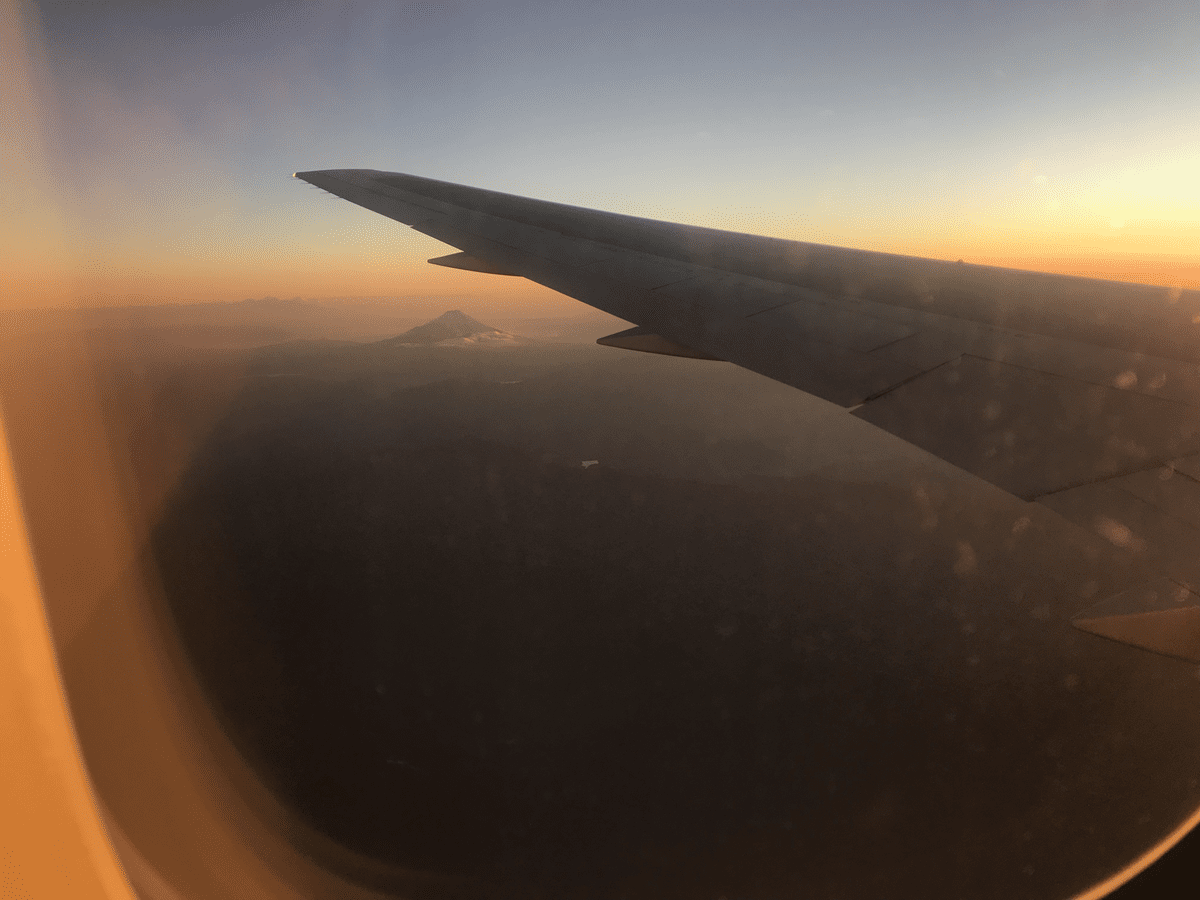 Also, we passed Mt Hakusan (with snow on top!) and couldn't believe we really went up there! It looked so intimidating from above haha. No idea how we managed that to be honest.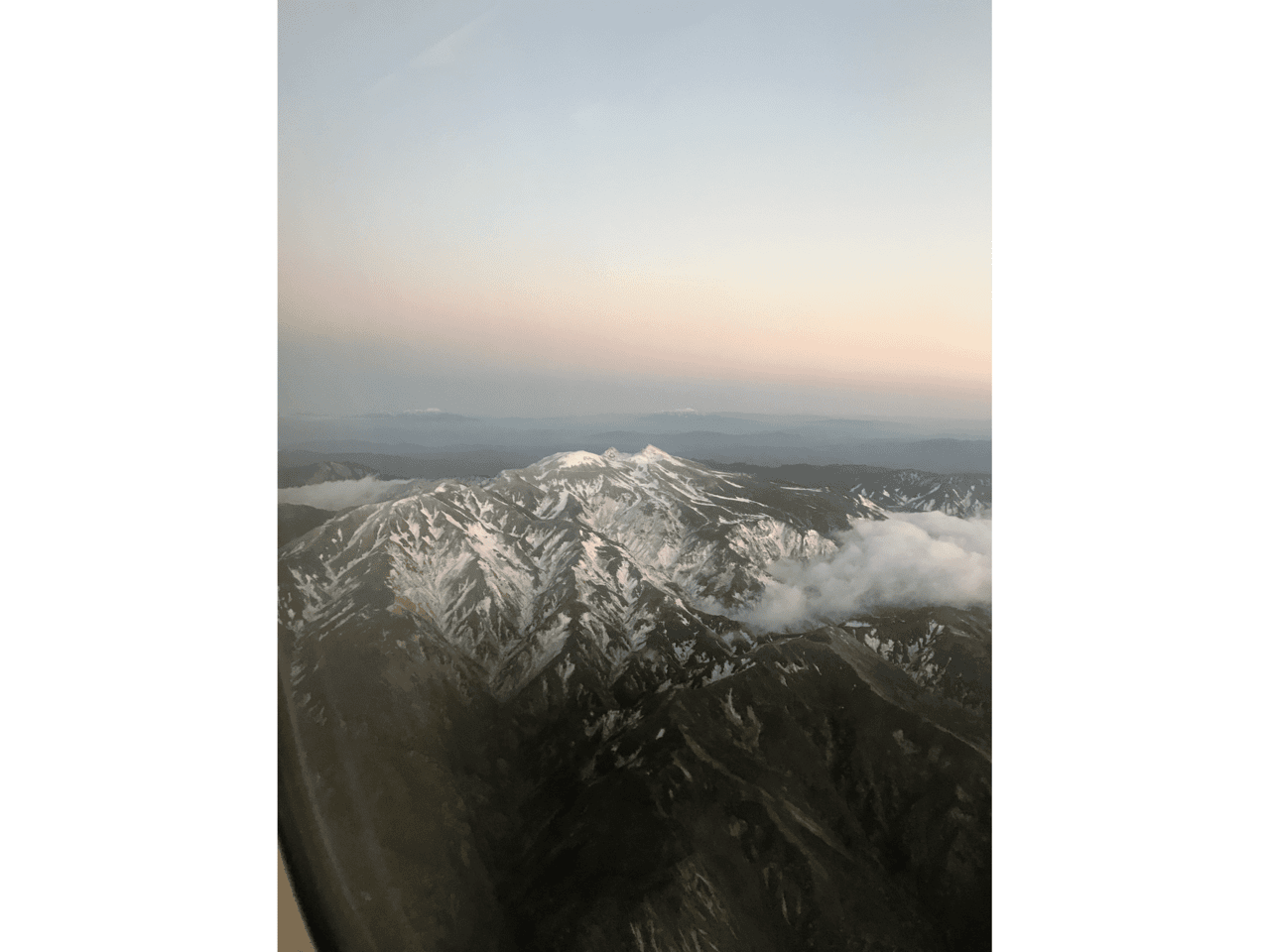 After arriving at the airport, we took the bus back to the station of Kanazawa and then the bus back home. It was a long travel day, the weather was quite chilly and we were so sad that we couldn't stay longer in Ishigaki… But at the same time, we were grateful for this experience and that we returned home safely.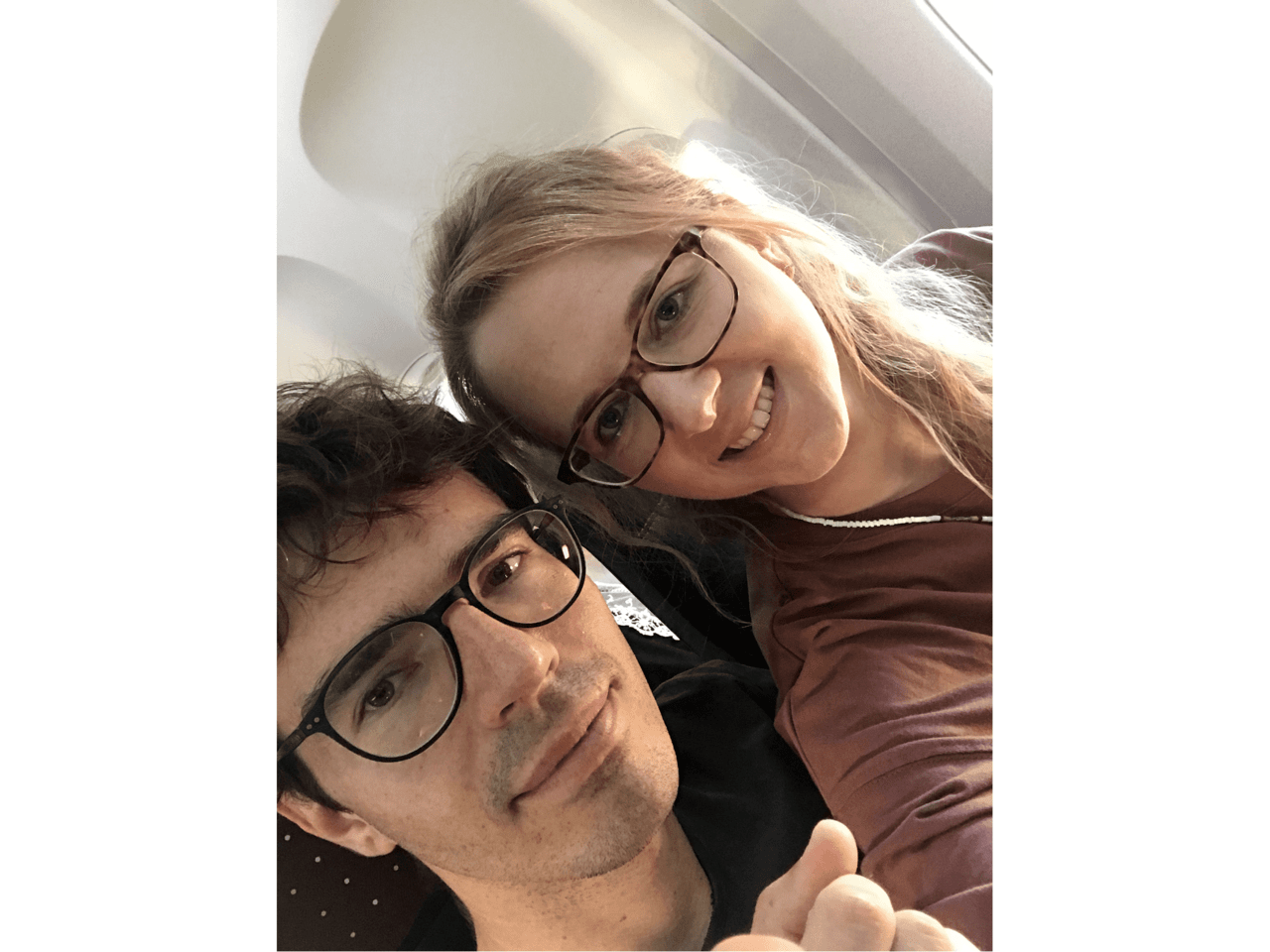 Up next: we entertained some visitors from Mainz, practiced some good old panic learning (the language test is approaching fast!), returned to our everyday life (university for Niklas and teaching part time jobs for myself) and experienced the Japanese Christmas fascination. Stay tuned for the next update!
Ishigaki: how to go and what to do
If you are curious and planning to go there, take a look at these five points for a good preparation!
1. How to go
Okinawa is best reached by plane. Naha, the capital of the prefecture, can be reached from nearly all airports of Japan, Tokyo's airport Haneda even offers several flights per day. The flight time from Tokyo to Naha is about 2 hours and 40 minutes. From Naha, you can fly to all other islands but also go by ferry. Depending on how much time you have, both options are fine and worth to consider. Also, you can fly directly to Ishigaki airport from Haneda! Flight time is a little longer than to Naha, but if your only destination is Ishigaki, it's worth to think about that. Keep in mind that domestic flights in Japan can be a bit expensive, so it's better to book as early as possible as prices will not go down (as we hoped but learned the hard way that we were wrong…). However, traveling via domestic flights is so easy and relaxing, everything works perfectly and we never experienced any trouble at all. So it's totally worth the price. ;-)
2. When should you go
The islands of Okinawa are located over 500km south of Japan's Kyushuu Island and thus already in the subtropics. The temperatures will be fine throughout the year, however in the summer time it's very humid and can get very hot, so if you can, try to avoid this period. In spring, it's already nice and warm but the sea can still be a little bit cold (perfect time for hiking), while in fall season, the sea is nice and warm but you will definitely be victim of lots of typhoons (typhoon season is between late August and mid October). Early November is still a good time, but later on, the winter rains will start and the island will not be too friendly.
3. Logistics: hotel and transportation
On Ishigaki island, you'll find most hotels or accommodations in the main city, however there are some resorts that are located at the scenic beaches. If you prefer a more quiet holiday and don't need different restaurants, bars or shops around the corner, I guess these beach resorts are best for you. However be aware that you will definitely need to rent a car if you stay there because only some big hotels have own bus stations and even there the bus doesn't run too frequently. I would recommend to stay in Ishigaki city as there are so many cool restaurants and bars as well as very nice craft shops. It's a lively city and it's fun to be there. But, there are no public beaches so you also have to travel a little if you want to go swimming. Being in the city is also practical if you don't have a rental car as the bus terminal is close and from there you can go to any place of the island, same for the port! There is a bus running from the airport to the terminal (every 20 minutes) so the connection to the airport is very good. In general, you can travel around by public transport fairly easy but you always need to prepare the route before as most bus lines only run for 2 or 3 times a day.
4. What to do
The best beaches of the island are definitely Yonehara Beach and Sukuji Beach in the north of the island. If you come to Ishigaki, you must go there and try snorkeling and SUP. Also, Kabira Bay is a place you should see. Try to avoid going there by bus tours, as you only have some minutes for taking a picture. It's best enjoyed if you can stay there for a longer time and enjoy a long walk along the water. If you can, travel to other islands like Taketomi or the big sister island Iriomote. The nature of Iriomote is said to be even wilder and more jungle-like than Ishigaki, so if you have the chance, go there. We didn't have enough time for other tours but you can also hike on Ishigaki as well as do mangrove kayak tours. Next time I'll definitely try that!
5. What to eat
When in Okinawa, you should try Okinawa Soba, the trademark noodle soup of this prefecture which are not made from buckwheat like regular soba but resemble more the Udon type of noodle. It's a very tasty dish, often served with pork meat and it gives you a lot of energy and power. What I enjoyed most is Taco Rice, a rice dish with grounded beef, lettuce, shredded cheese and tomato salsa that tastes so good! Very popular are also lots of stir fry dishes with bitter melon, called Goya. Often, Goya is also served as an appetizer in Izakayas. Together with all this food you can try the local and very popular Orion beer - enjoy!