Hey everyone, while I'm writing this, Japan is getting grilled by the summer sun and temperatures are crazy! We thought we knew how the heat might feel as we still remember the heatwave from last year yet this summer feels even hotter. It has been over 34 degrees since the rainy season officially stopped and no day passes without heat alerts. This year, the weather is even more dangerous as people need to wear masks which increases the heatstroke danger a lot! We try our best to adapt to the sudden heat. This year it's been especially difficult as rainy season was very long and ended suddenly. So from one day to the other, temperatures increased a lot! My weak German body really struggles…
How was rainy season?
Well, to be honest, this year it was pretty bad. During July, the rainy season showed its vicious face and tortured us with nearly daily heavy rain, flood danger and high humidity. It was supposed to end in mid July but this year, it extended until the beginning of August. Ishikawa saw only 37% of the average sunshine for July and the constant grey was hard to handle sometimes. We tried to use the days that were beautiful and went to Wakura Onsen, hiking at Hakusan and to Noto again (post coming soon) and enjoyed those small trips very much. This rainy season has done serious damage to various parts of Japan which hit the people really hard. In times of the pandemic the health of everyone must be secured during evacuations. Not an easy job…
We are glad that it's finally over and that there's no damaged in our apartment. As I told you before, mold is a serious problem and I was afraid of our clothes and furniture. But we were lucky as it seems!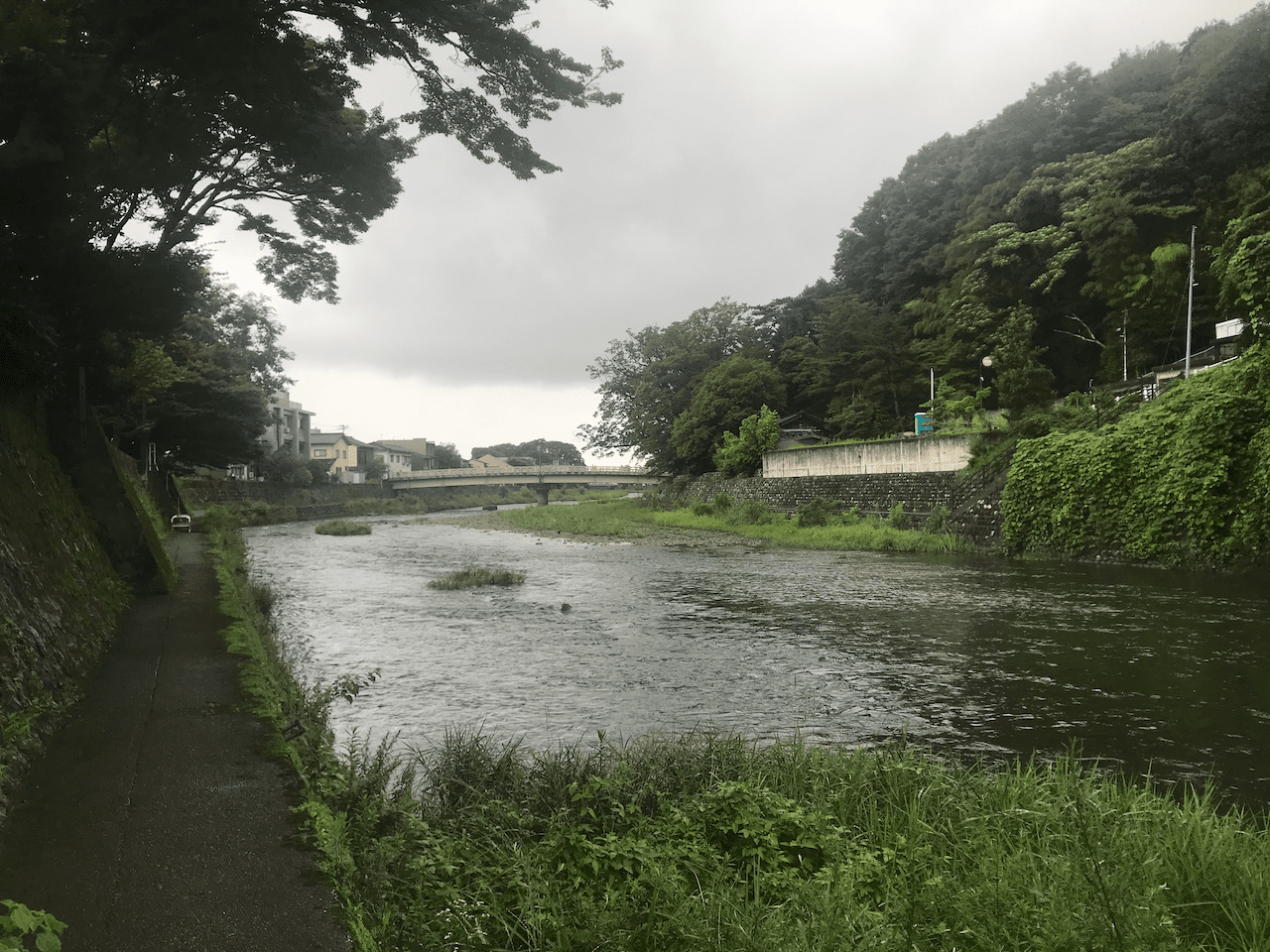 What did we do in July?
We were both busy working - Niklas at university, I have several German students now and my first coaching client - so besides our weekend trips, we didn't do much this month. Sadly, all summer festivals have been canceled. We now realize how important all these small festivals were and how much they contributed to the atmosphere of the city.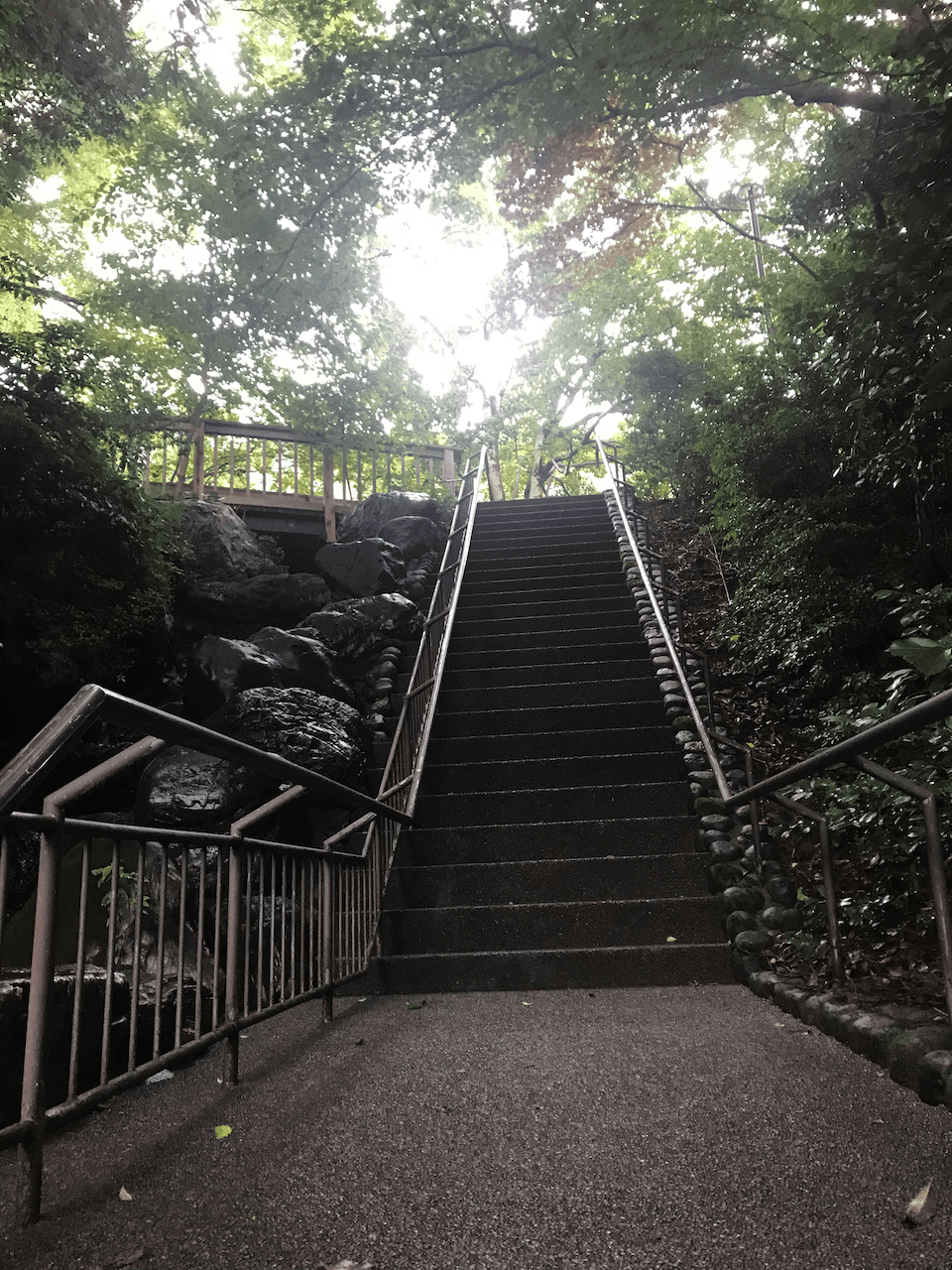 We also discovered some hidden areas of the city by various city walks (sometimes also through the strong rain) and enjoyed going to small coffee shops that were finally operating again.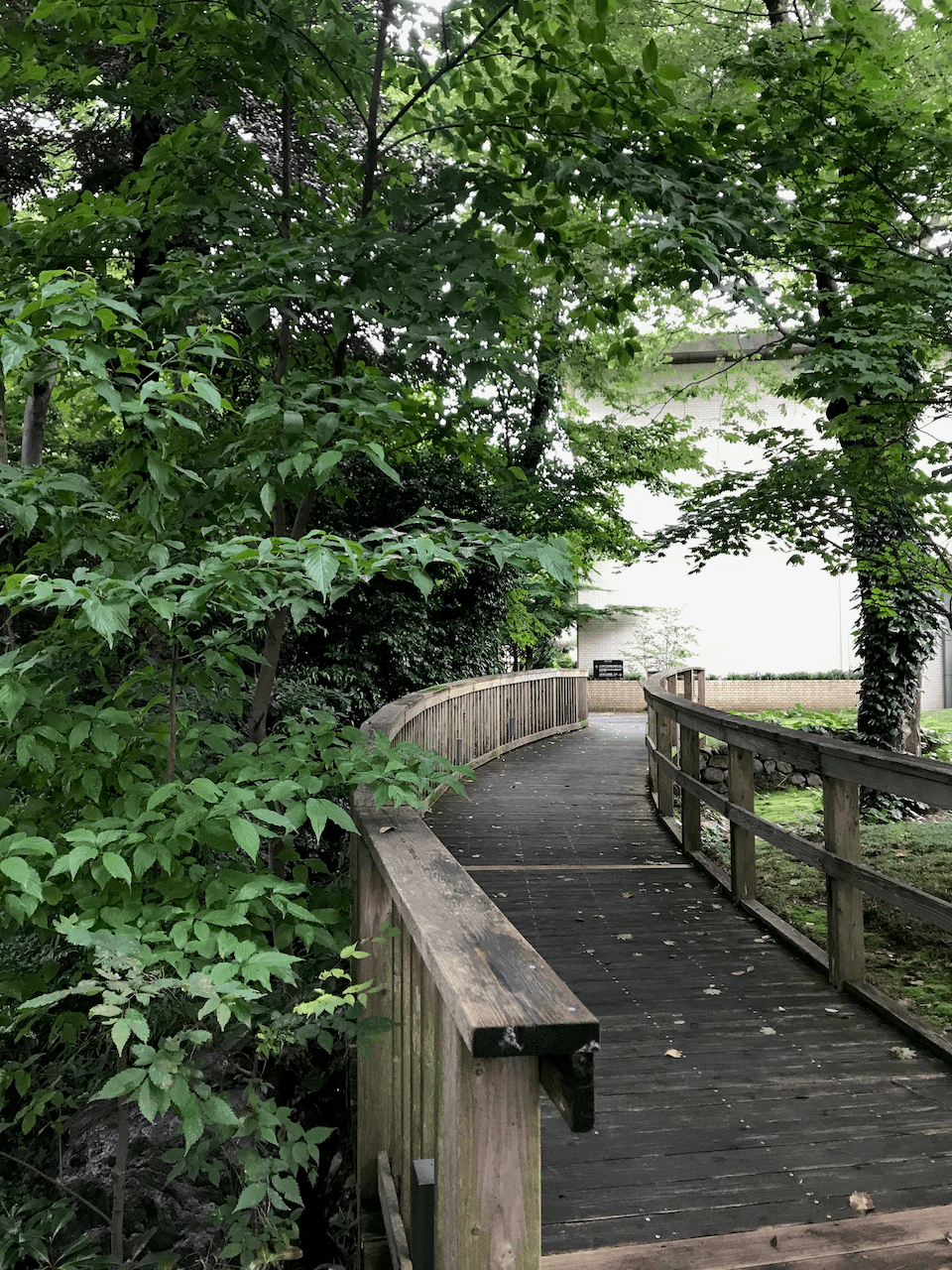 As the government has issued a nation wide travel campaign (a topic of huge discussion in Japan), more people than in the past months came to Kanazawa. Especially during public holidays there were many people walking around in the city. As it has been super quiet for the past months, this felt really strange for us. We are not used to crowds anymore - and I have to admit, I don't feel comfortable at all when I see this. Also, visitors were really brave: the public holidays were full of rain, it was really horrible weather. But still, they walked around and enjoyed the garden Kenroku-en or the castle park.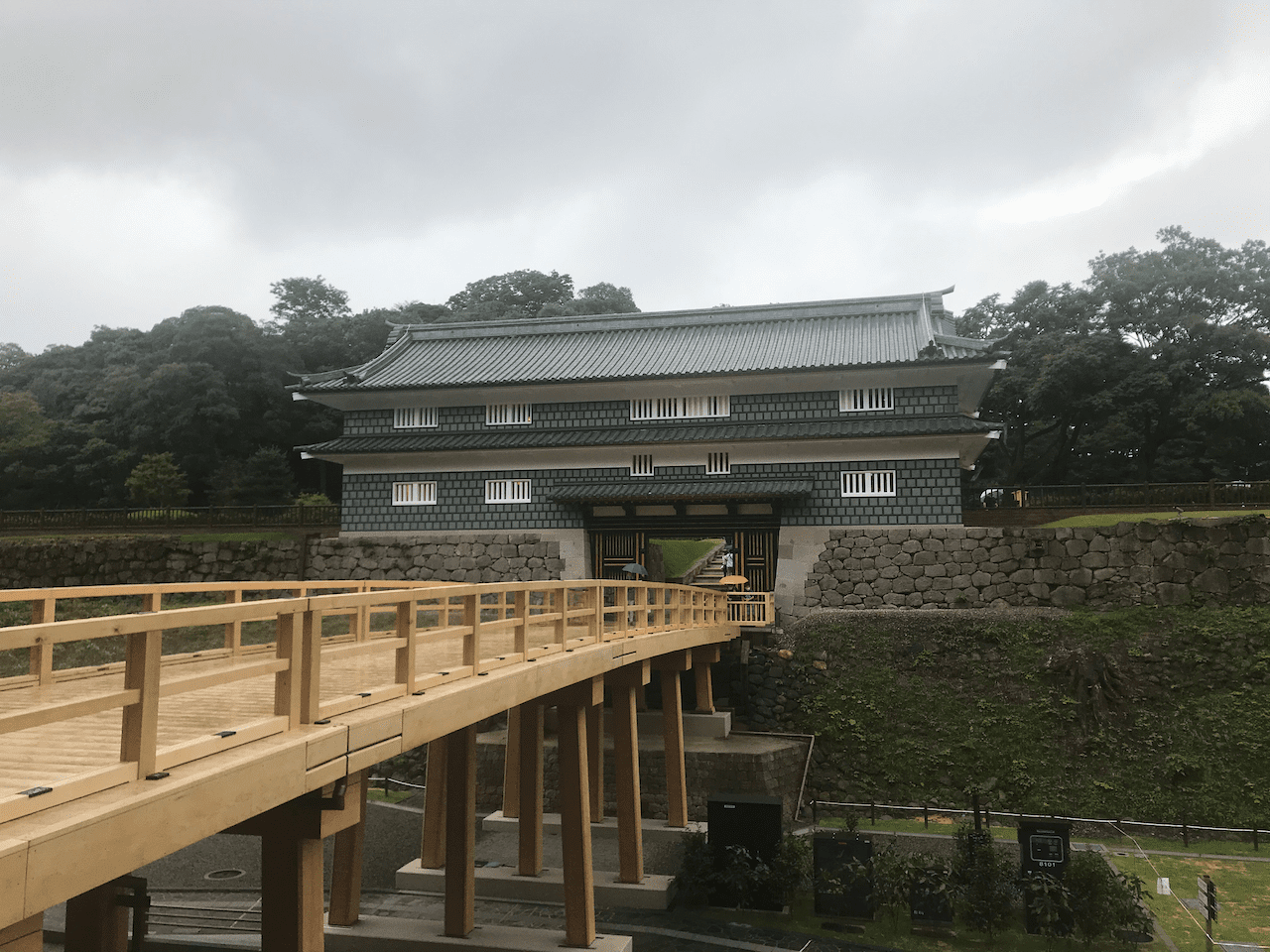 We also visited the newly re-constructed historical entrance gate to the castle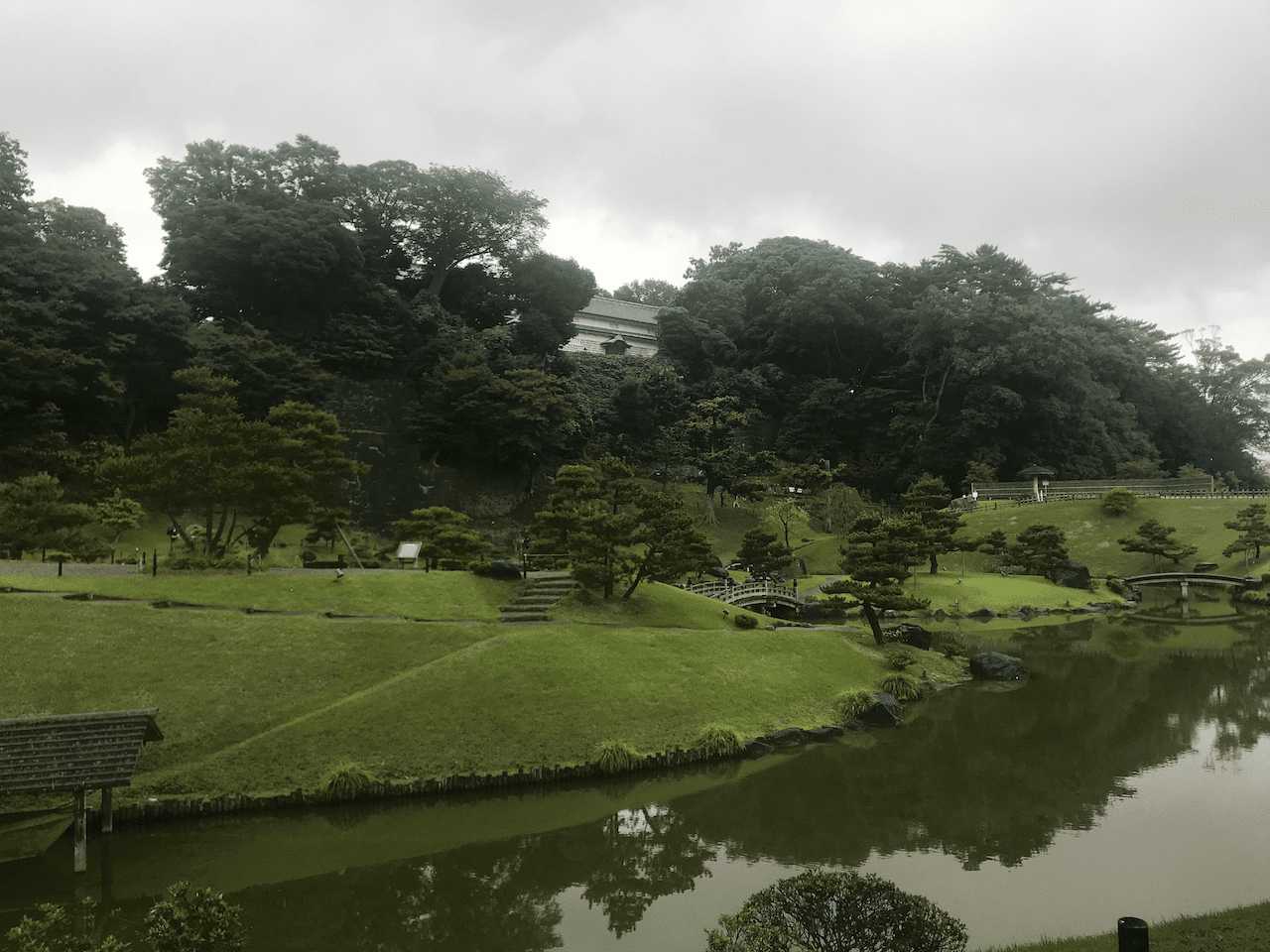 This park is always beautiful, even in the rain
We also met some other German speaking persons from Ishikawa area for a farewell dinner: Günther, a German friend of us, had to return to Germany after his three year long stay in Nomi City (he went to JAIST university to pursue his PhD there) and he organized this little German "Stammtisch". A great idea! We didn't know that there were so many people living around who are either from Germany/Austria or Japanese who speak German fluently. We went to this nice restaurant and had our own private room, which was really comfortable. There, we enjoyed a nice menu while getting to know all these new people. There was one Austrian/Japanese couple, a Japanese baker who went to Frankfurt for learning about German baking (and her bread is really super German!) and now sells it in her own bakery, another German woman I already knew from my GGI network and Günther with his wife Shofi from Indonesia (currently learning German). An international but German speaking group! It was a nice evening for us, although everyone was a little sad that Günther was preparing for his departure back home. I hope this group can meet again in the future as soon as the Corona numbers are slowing down a little!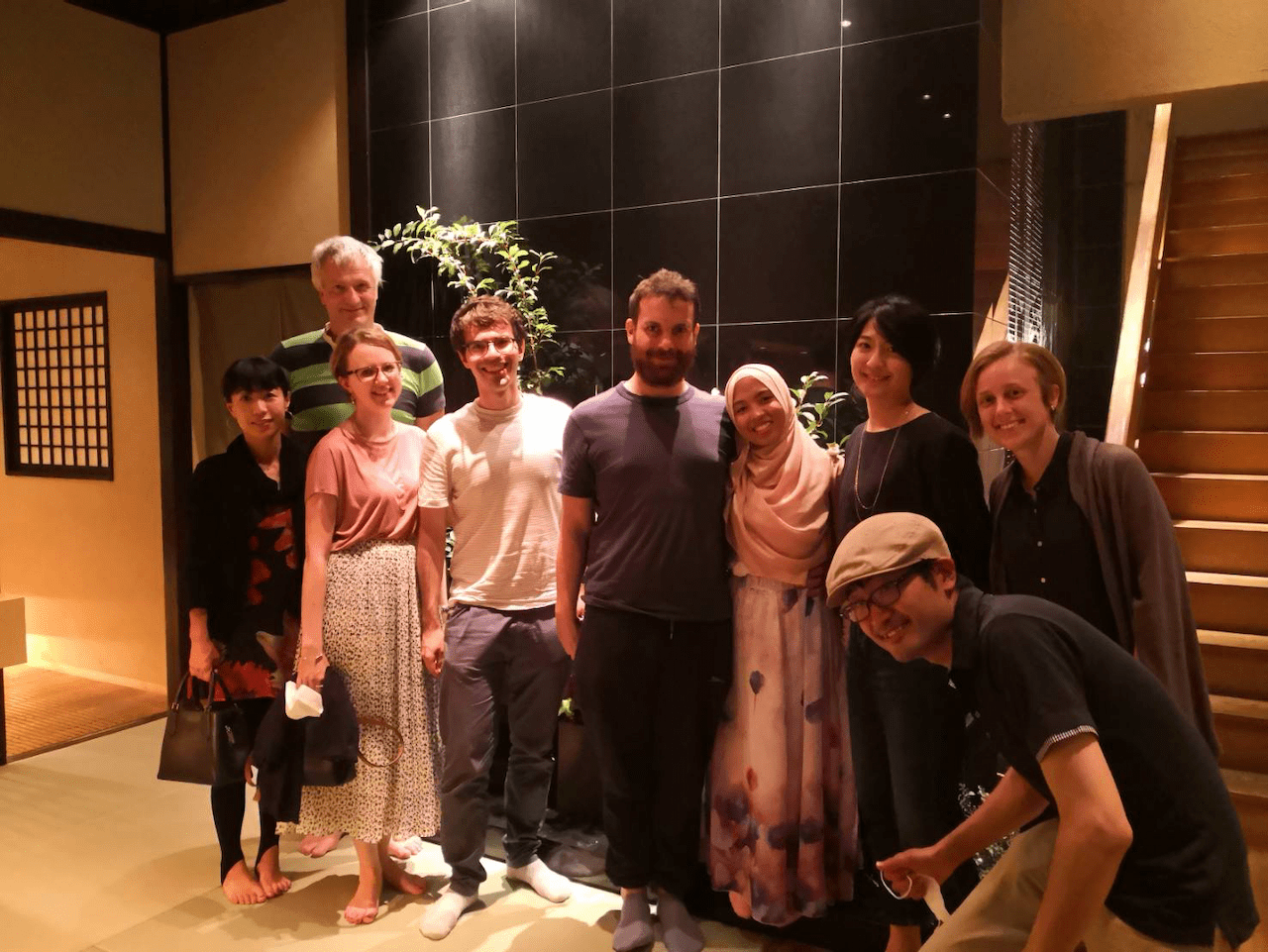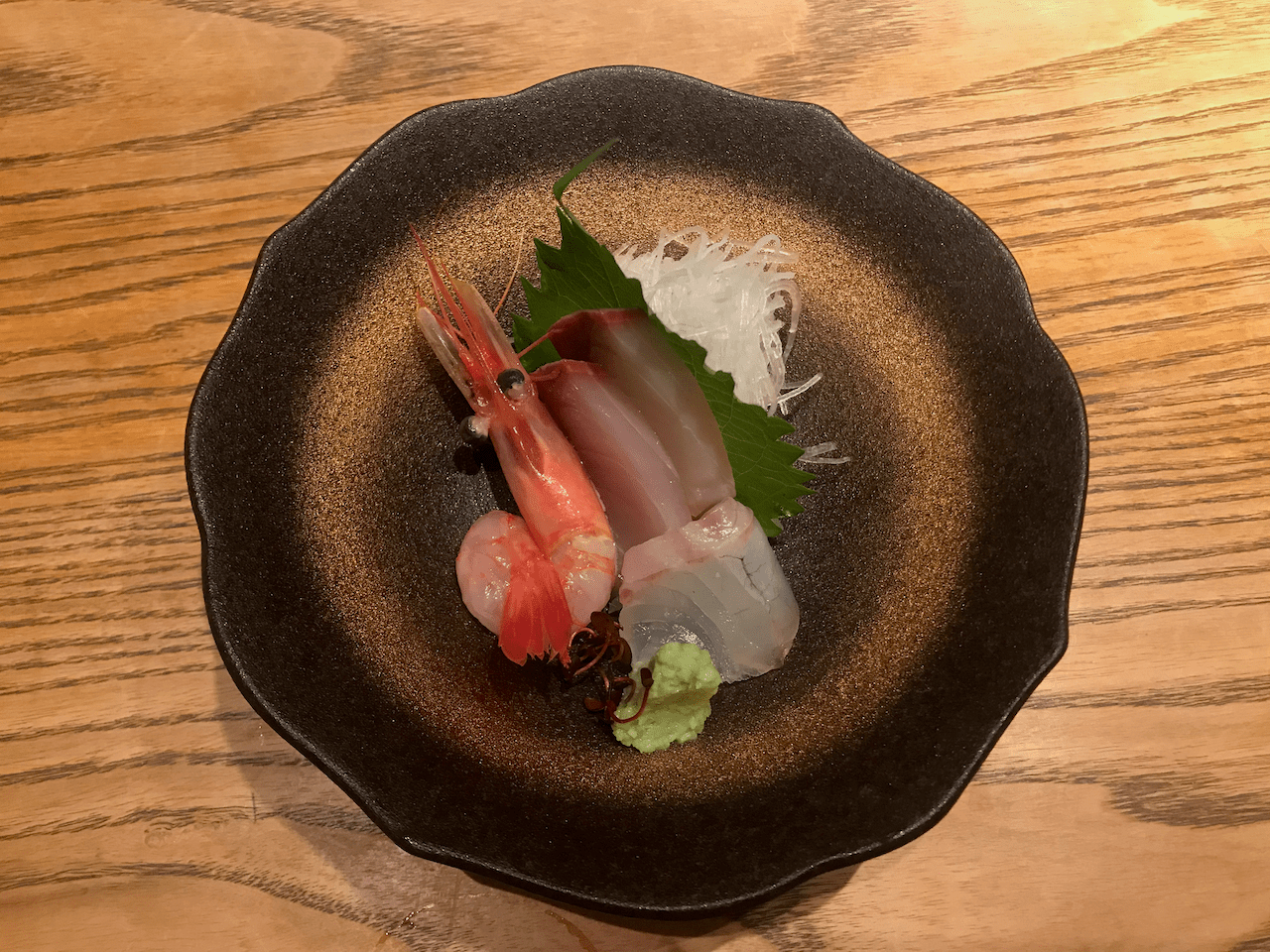 Delicious Sashimi
Supporting DeeperJapan: a cool mini project
In mid July, I got the opportunity to take part in promoting cultural highlights and skilled artisans of Kanazawa for the new campaign of a Tokyo based tourism company called DeeperJapan. They are offering a wide range of cultural experiences beyond the "classical" Japanese culture tours and are specifically focusing on authentic artists or craftspersons who can introduce foreign and local visitors to their craft. As soon as travel for tourists will be allowed again and you plan to visit Japan, check out their website to learn more!
Currently expand their program for Kanazawa area and thats why they visited all their targeted craftsmen, artists and spiritual sites to shoot promotion material, get to know the persons who were running those programs and arrange collaborations. I applied for being a "model foreigner" for one of their shooting days and I got lucky as I was selected. :) I met the team in the morning at Kanazawa downtown and together we went to three different locations on that day:
The first one was Morihachi which I already visited one year ago (read again here). I did the same workshop again and could taste the Ragukan afterwards, together with a Macha tea while enjoying watching the Japanese garden. All while being photographed constantly. Afterwards, the staff showed us the museum (which I also previously visited) and where we also took a lot of photos.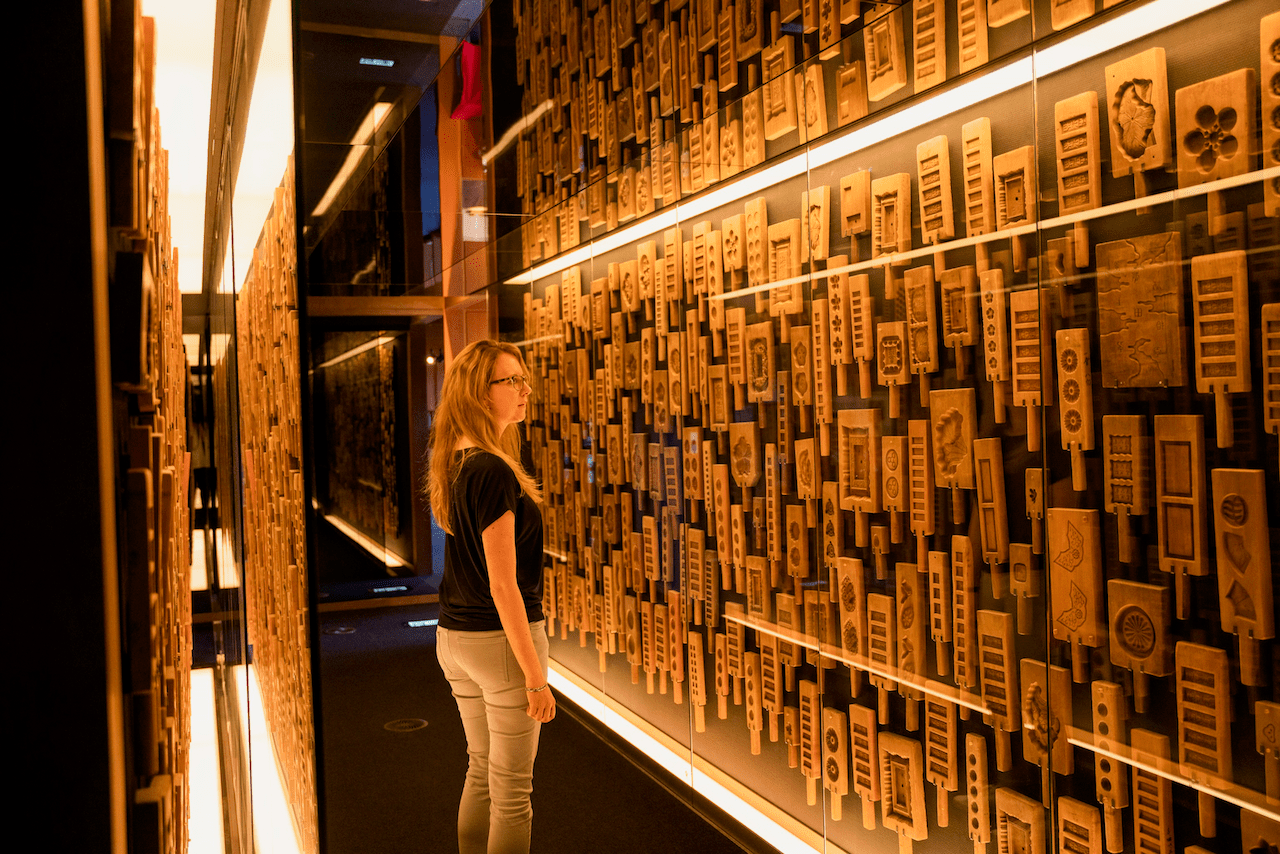 The second location was Eianji Temple, a Zen temple, located a little outside of the main city. I've never been to this temple site before and I really liked it. The area is large and there are various small temples and shrines to visit. There, I got dressed in traditional monk attire (however, monk in training attire) and the zen monk explained how to worship, how to pray and what kind of tasks a trainee monk would have to do. I also received a beautiful gift from them: a personalized book with my name in Kanji (including an explanation)! It was really a wonderful visit.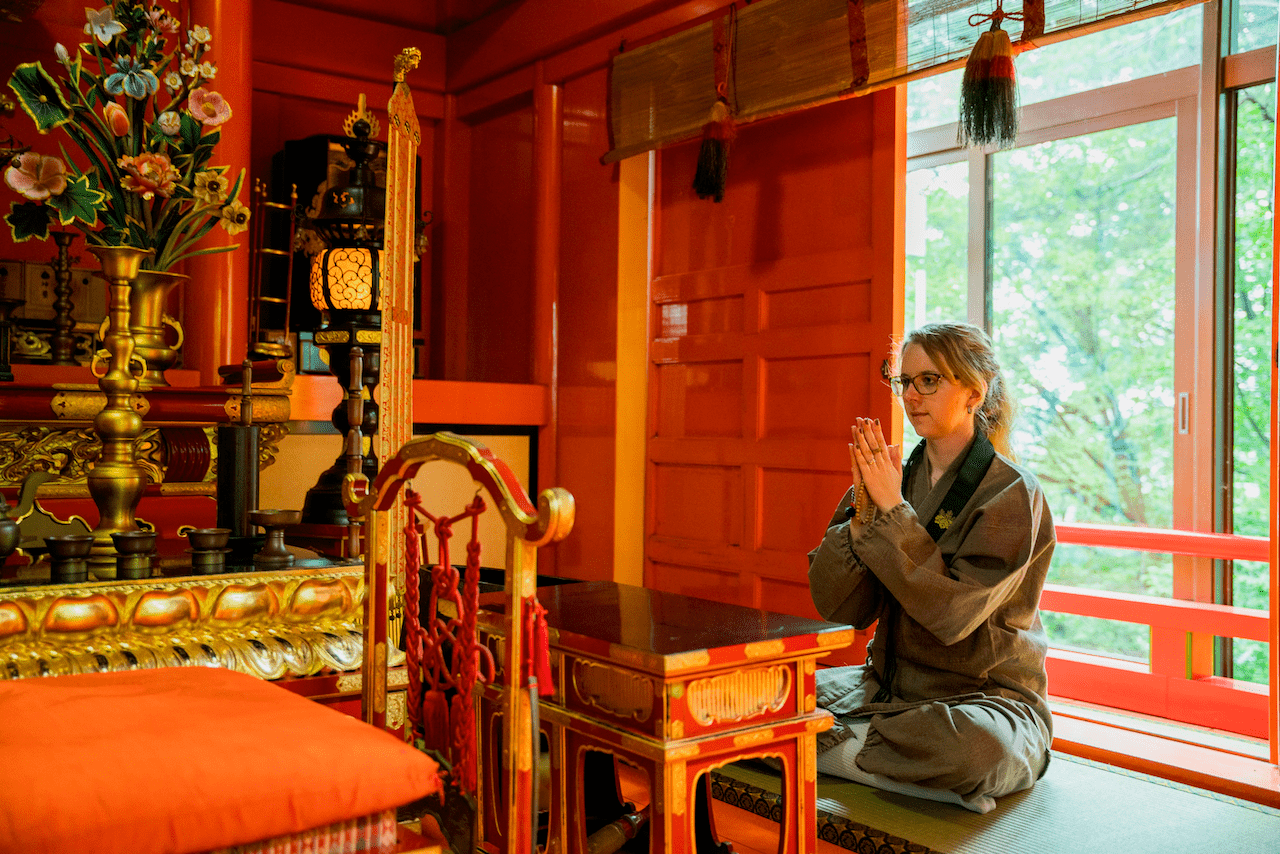 The last location was a small store for Japanese incense called Kyara. There we attended a special aroma ceremony called Kodo. This was super interesting for me, I never experienced something like that and enjoyed being part of this ceremony! I am looking forward to the final promotion material and will link it in my blog as soon as it's published!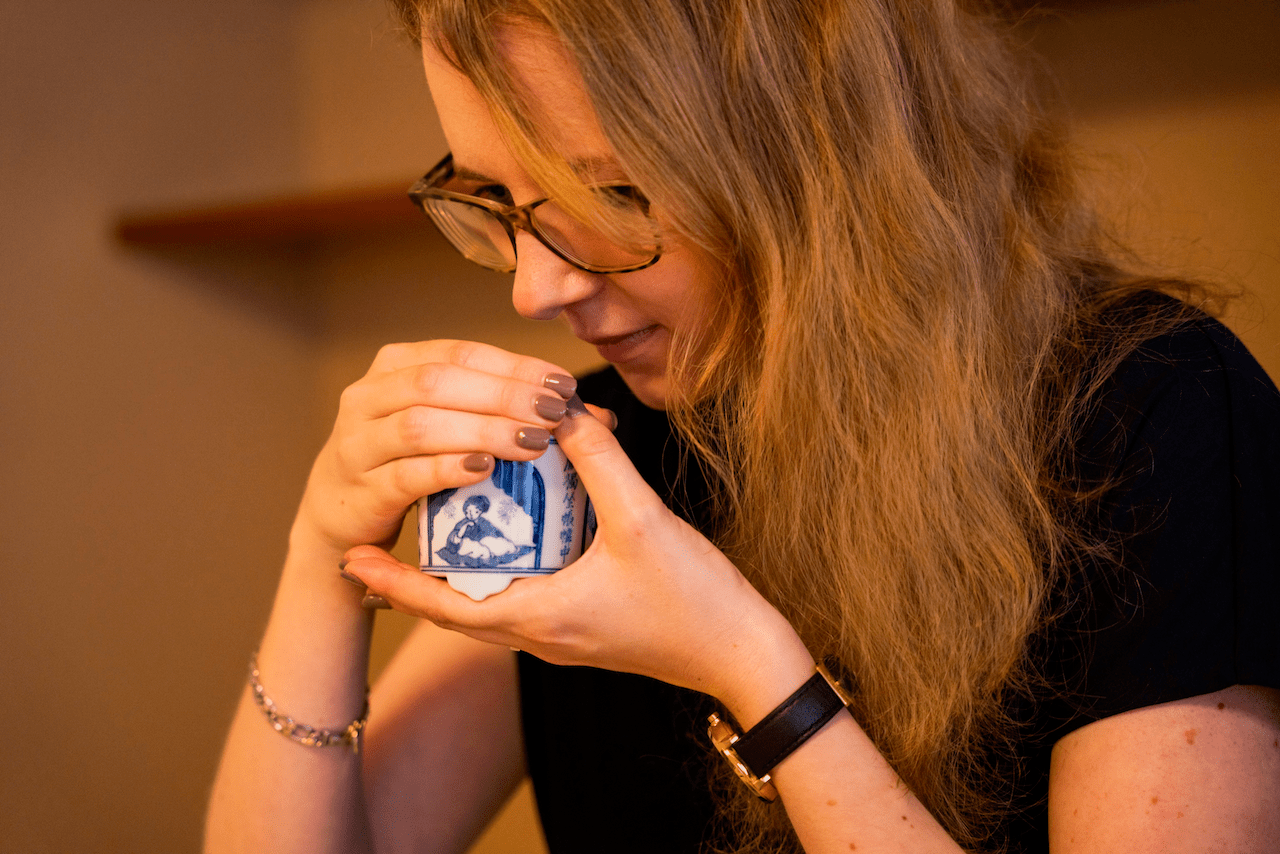 How is the current Covid status?
Sadly, the number of infections is rising constantly and now, not only hotspots like Tokyo or Osaka are hit, Covid has returned to all prefectures and is continue to spread. In Ishikawa, we had several clusters in the past weeks and everyone is on alert. The second wave has hit Japan. We are still careful as always but I must admit that this whole situation makes us tired and exhausted. There is no end to it and the fact that it has started again in Japan after the country had it under control is just annoying. Of course, the border situation remains unchanged. We are still denied to re-enter the country if we leave and frankly, now it's starting to bother us. We would love to see our families, we are going to miss important weddings of our friends and we still can't meet all the new babies that have been borne during the past months. :( However, foreign residents who left the country before March are said to be able to return in the next weeks (or months? No one knows really) so maybe there is hope that Japan will adapt its strict guideline any time soon.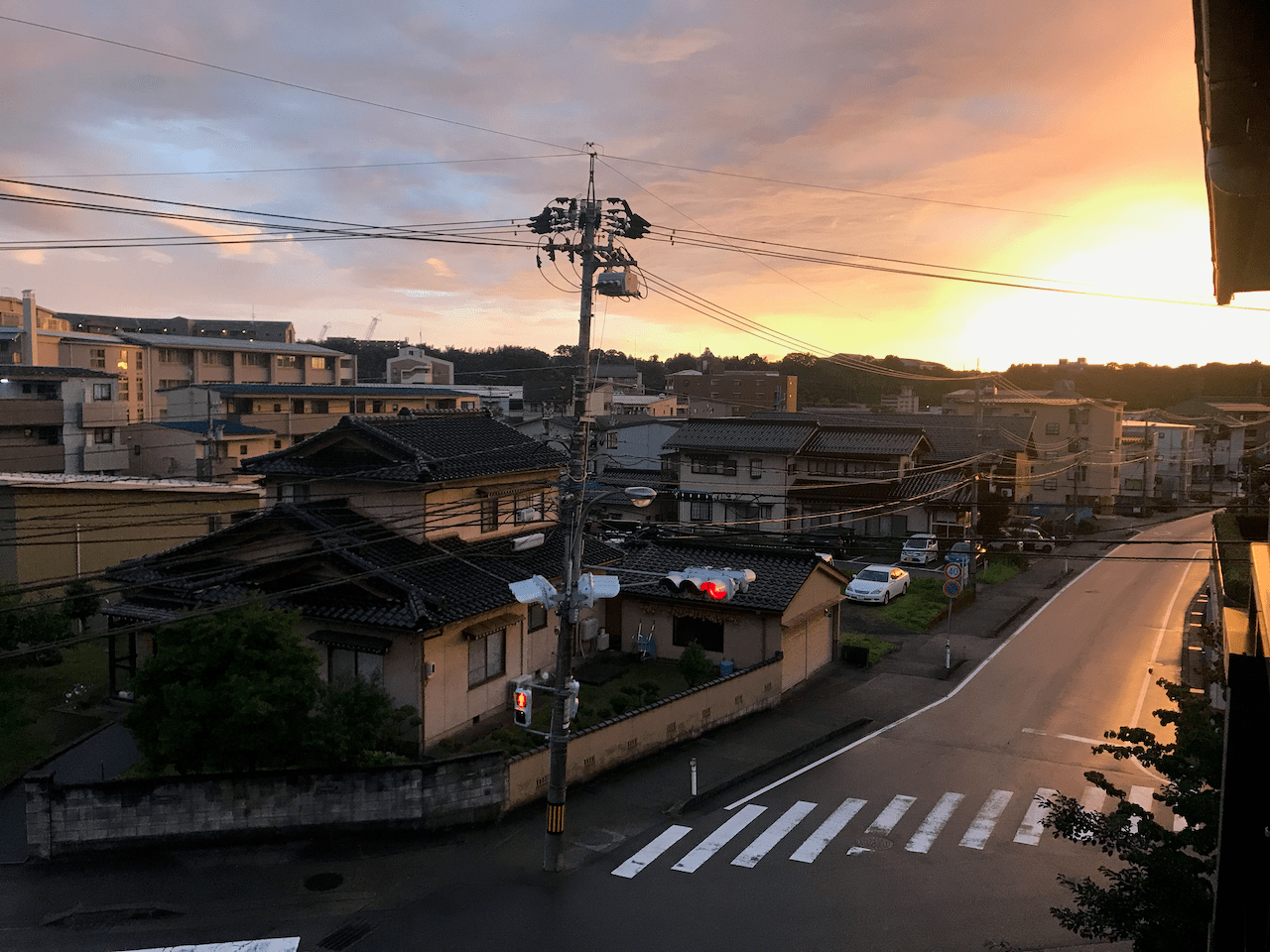 Let's hope for the best!
Up next
Read about our second Noto trip which was full of beautiful nature, long drives, delicious food and physical exhaustion! Also, in one of the next posts you will learn all about our new "summer lifestyle" a.k.a. staying at home as often as we can or going to the beach to deal with the heat! Please stay healthy and take care.