Hi everyone, in this post I tell you all about our second trip to Noto at the end of July and what we experienced on this long day trip. Our friend Natsuki planned this tour for us (thank you so much!) and drove us with her car all the way up to the remote countryside of Noto Peninsula.
As I wrote in my last post about Noto (click here for refreshing your memory), the peninsula extends about 100 km north of Kanazawa and is thus quite remote! There are no highways, only few main roads and the whole island consists of forests and mountains! Therefore, it takes a long time to make the trip up north to the coast line (about 2 hours by car) and there are not many places on the way to stop, rest or buy some refreshments!
As this trip took us to the edge of the island, we started very early so that we had enough time to see all the spots Natsuki wanted to show us. At 7 am it was already very hot and humid - technically, it was still rainy season on that day but we were lucky and had a good forecast with rain only in the evening time (there was a lot of rain in the evening when we drove back!).
The road to our first stop is called Noto Satoyama Kaido. It runs right next to the Japanese Sea until it reaches the city of Hakui, then it turns into the direction of the inland. One section of the road is quite special and called the Melody Road: sections on highways or expressways that are designed in a special way so that the friction from car tires generates music. There are several millimeters of grooves on the road surface with the depth and spacing of the grooves controlling the volume and sound. You have to drive by a fixed speed to get the optimal result!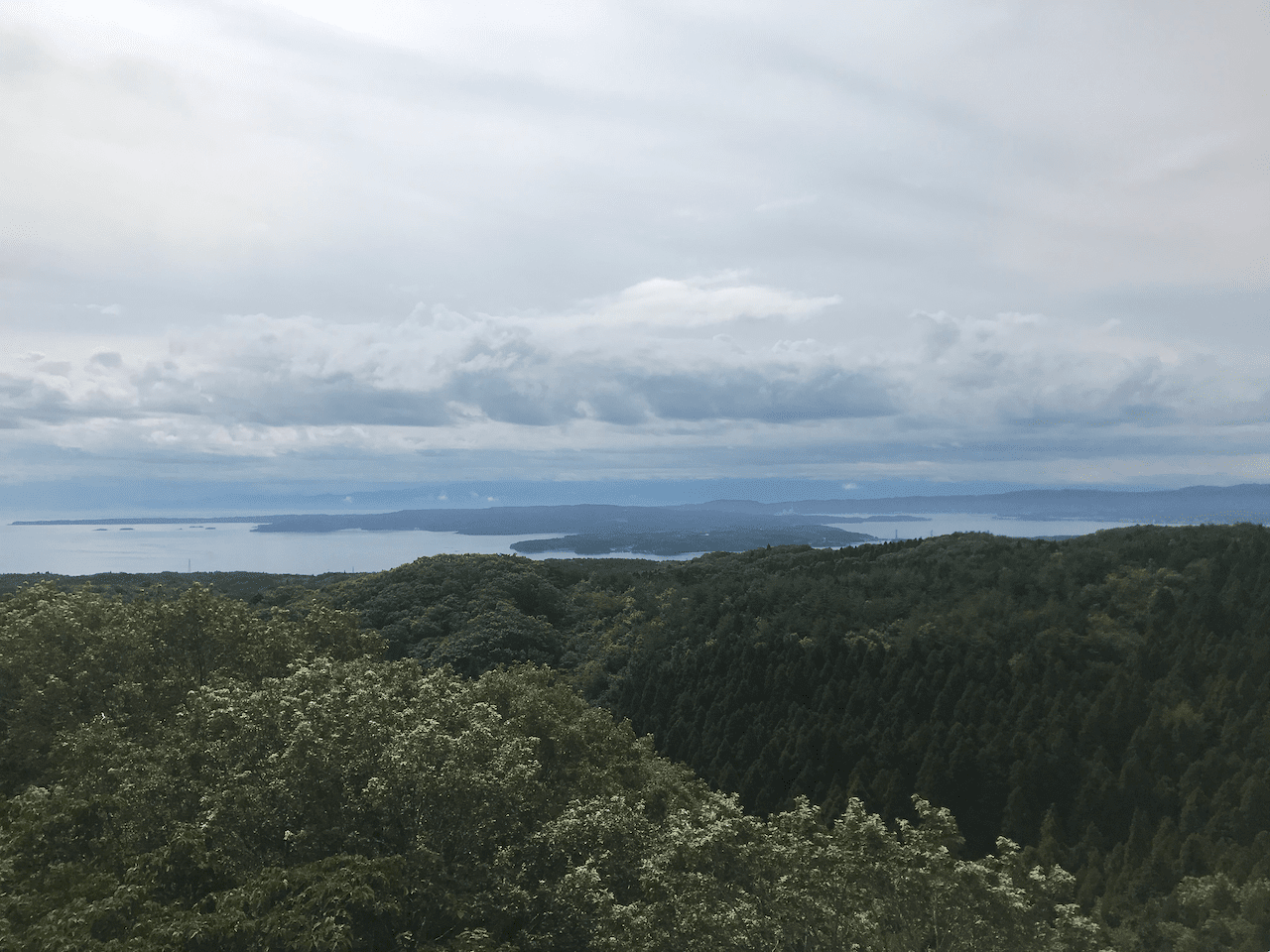 We made a brief stop at Bessyodake Sky Deck Noto Yume Terrace, a cool rest place with a nice observation deck (13 m high) from which we overlook the Noto bay, Noto Island and Wakura Onsen (where we've stayed last time). Due to good weather, the mountain range of Tateyama (Toyama prefecture) was also visible! A special place with a special atmosphere. A good start for our Noto adventure.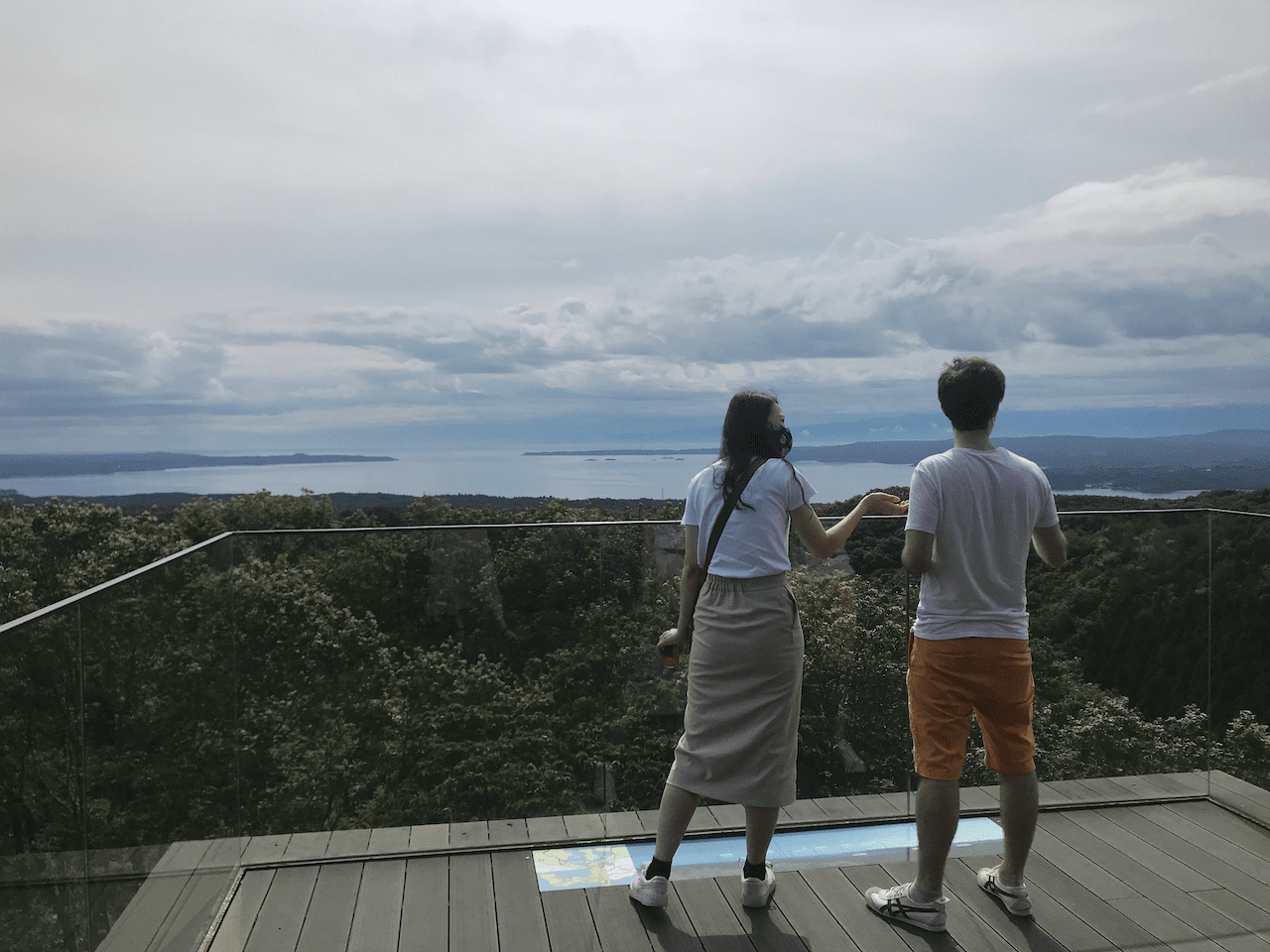 Really cool observation deck!
Wajima
Our first stop was the small coastal town Wajima. It's located in the north of Noto peninsula and is famous for its lacquerware and its morning market taking place every morning from 8 to 12.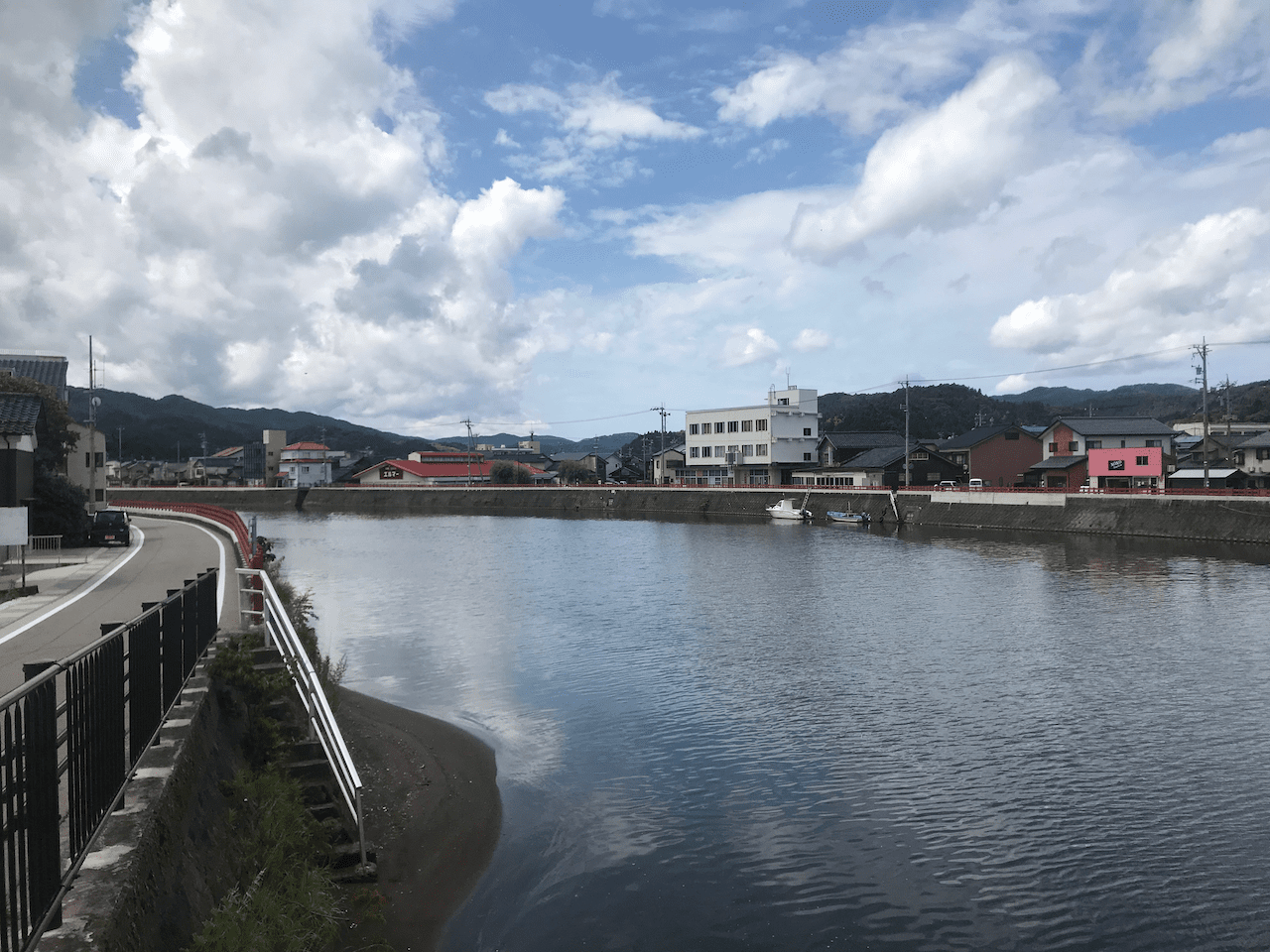 Peaceful and quiet atmosphere at Wajima
We arrived very early so that we could enjoy the morning market with a lazy stroll and see all the interesting stuff the (mostly old) ladies were selling. I bought some nice earrings as well as wooden handmade bowls thanks to the strong persuasion skills of the salesperson. ;-) It was interesting to see how serious the COVID precautions were: everyone wore masks and face shields. As it was already very hot, I have no idea how they survived in this climate. I had troubles with my mask already.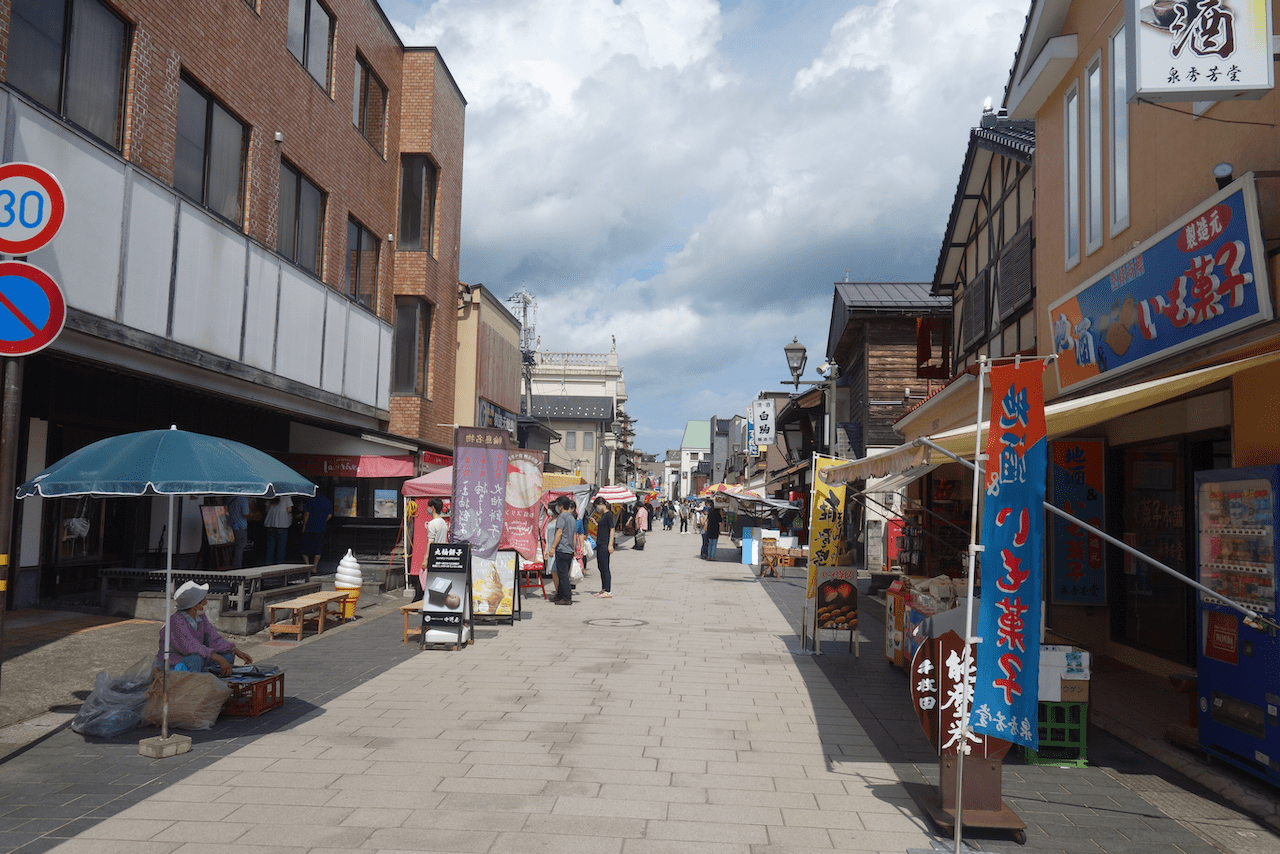 Not too crowded! We enjoyed walking among the streets a lot
Afterwards, we visited the Kiriko Art Museum, a stylish museum exhibiting huge Noto styled festival lanterns that are carried around during the famous summer festivals. Some of them are so heavy that 40 people are needed to carry them. The summer festivals of Noto are very popular and the pictures looked awesome. We are sad that we cannot see any of them as they are all canceled this year.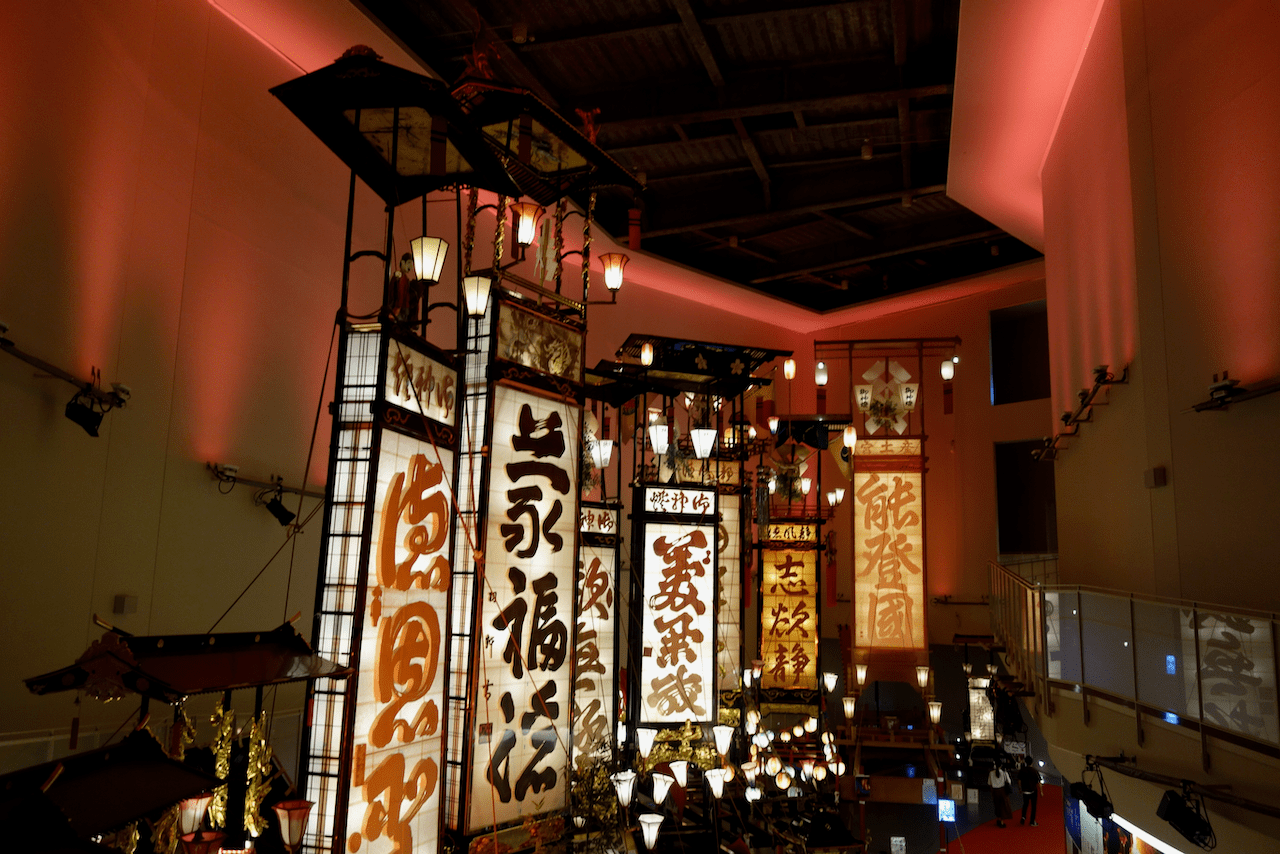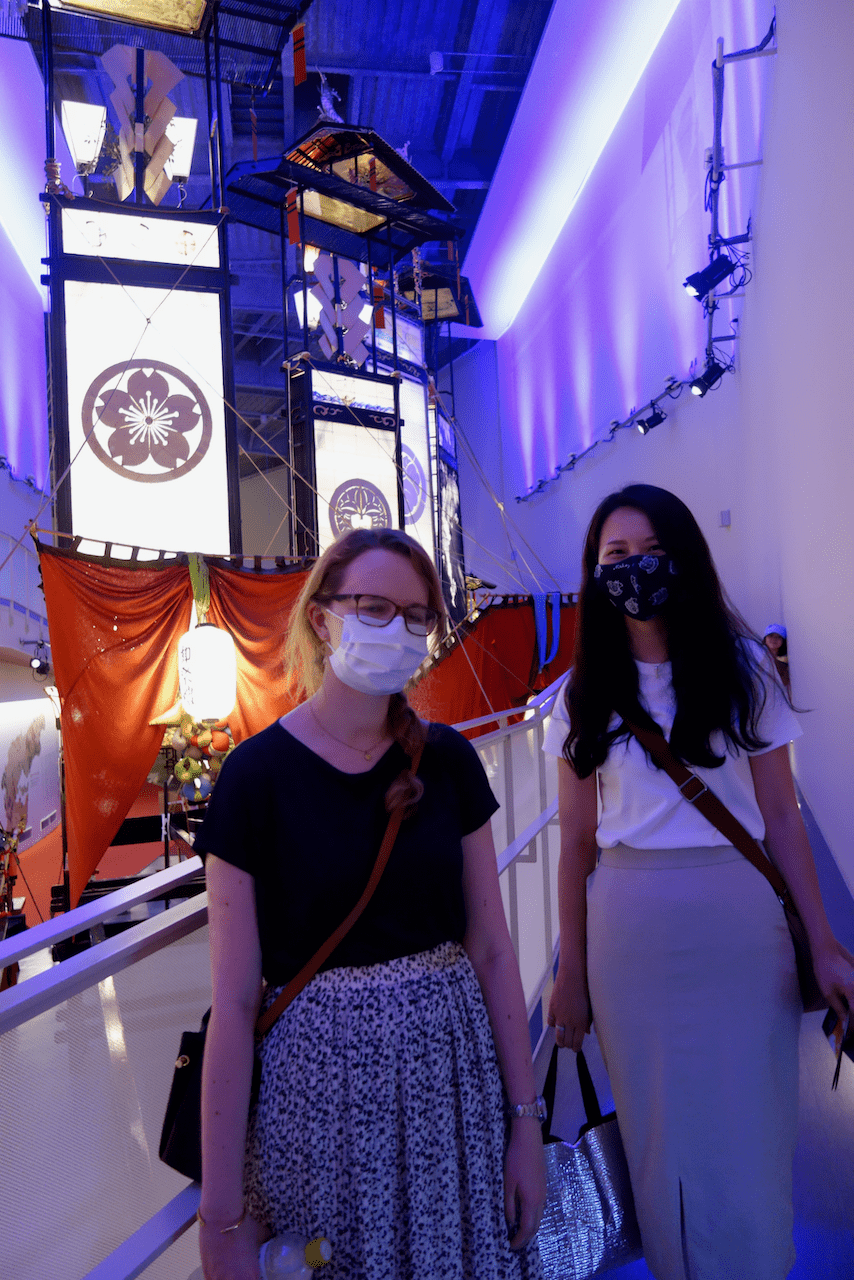 Of course we had to wear masks inside the museum. We also got our temperature checked at the entrance.
However, the museum gave us a good impression of how a festival like this looks like and we were really impressed by the height and the beauty of the festival lanterns!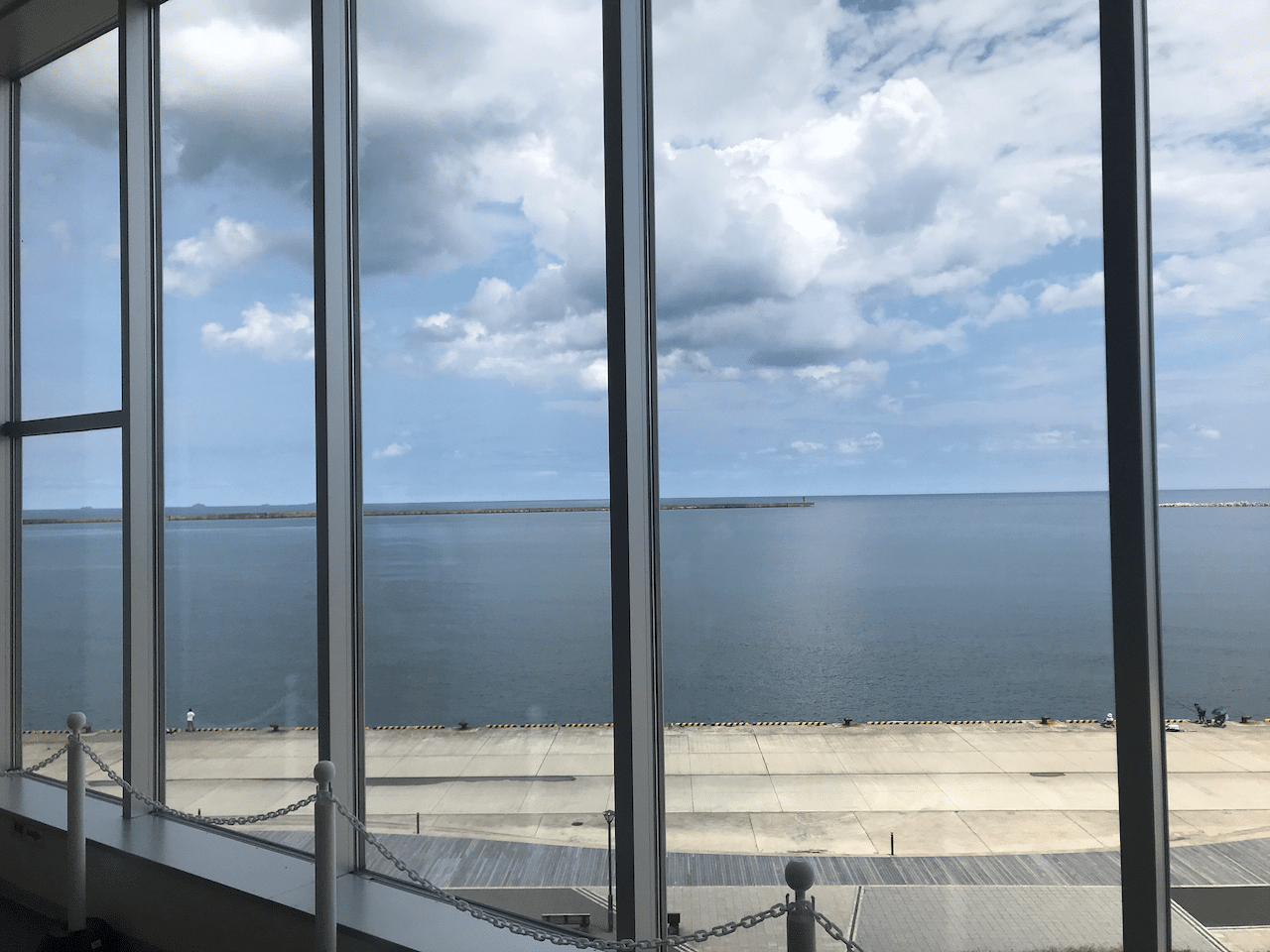 And a beautiful view of the bay area!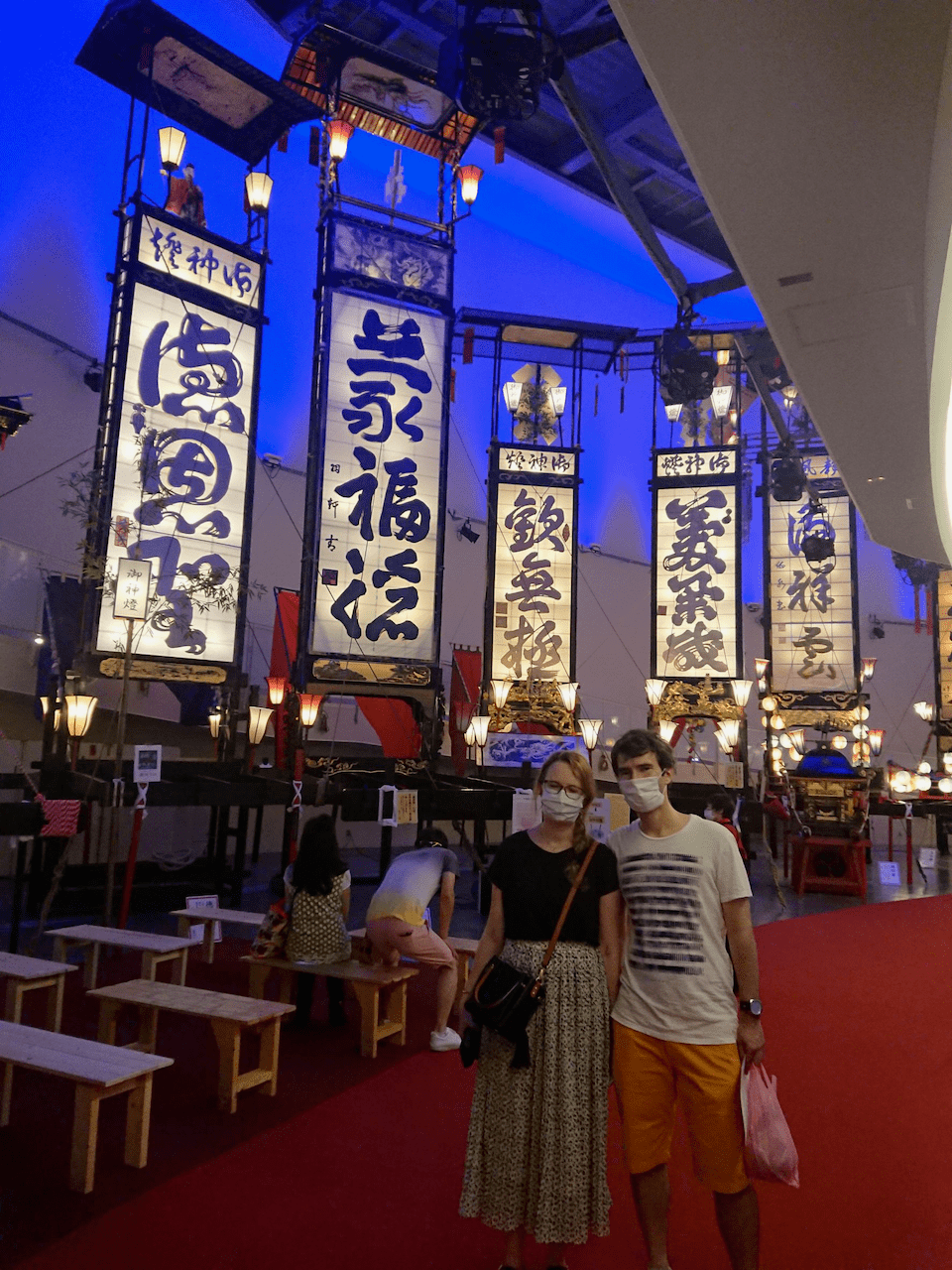 Coast line
After leaving Wajima, we drove along the coast in Eastern direction to get to the restaurant for our lunch break. Natsuki had chosen a restaurant that serves Noto beef and we were really looking forward to it. The coastal road was truly impressive! The whole coastline is so diverse and mystical and due to the sunny weather, the water had a beautiful color. We were enjoying the view very much.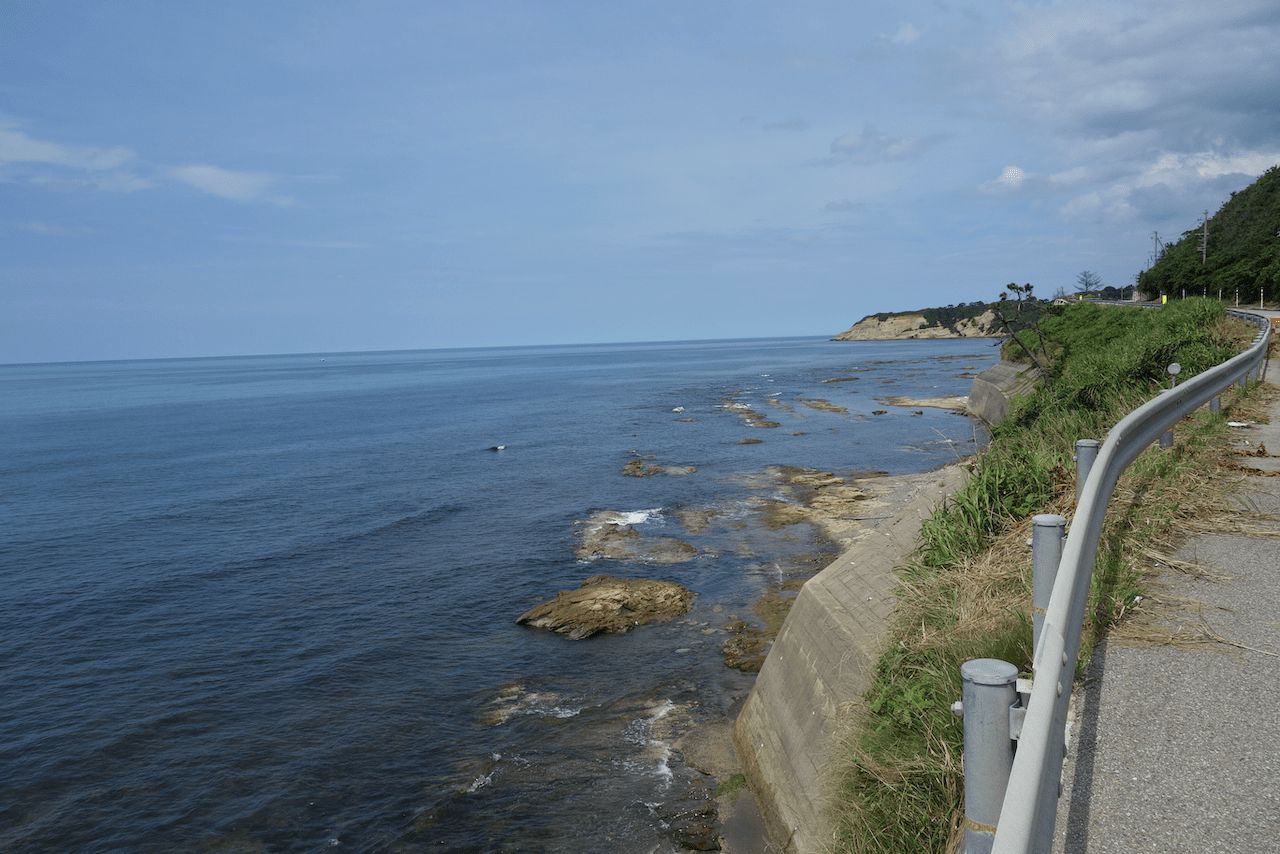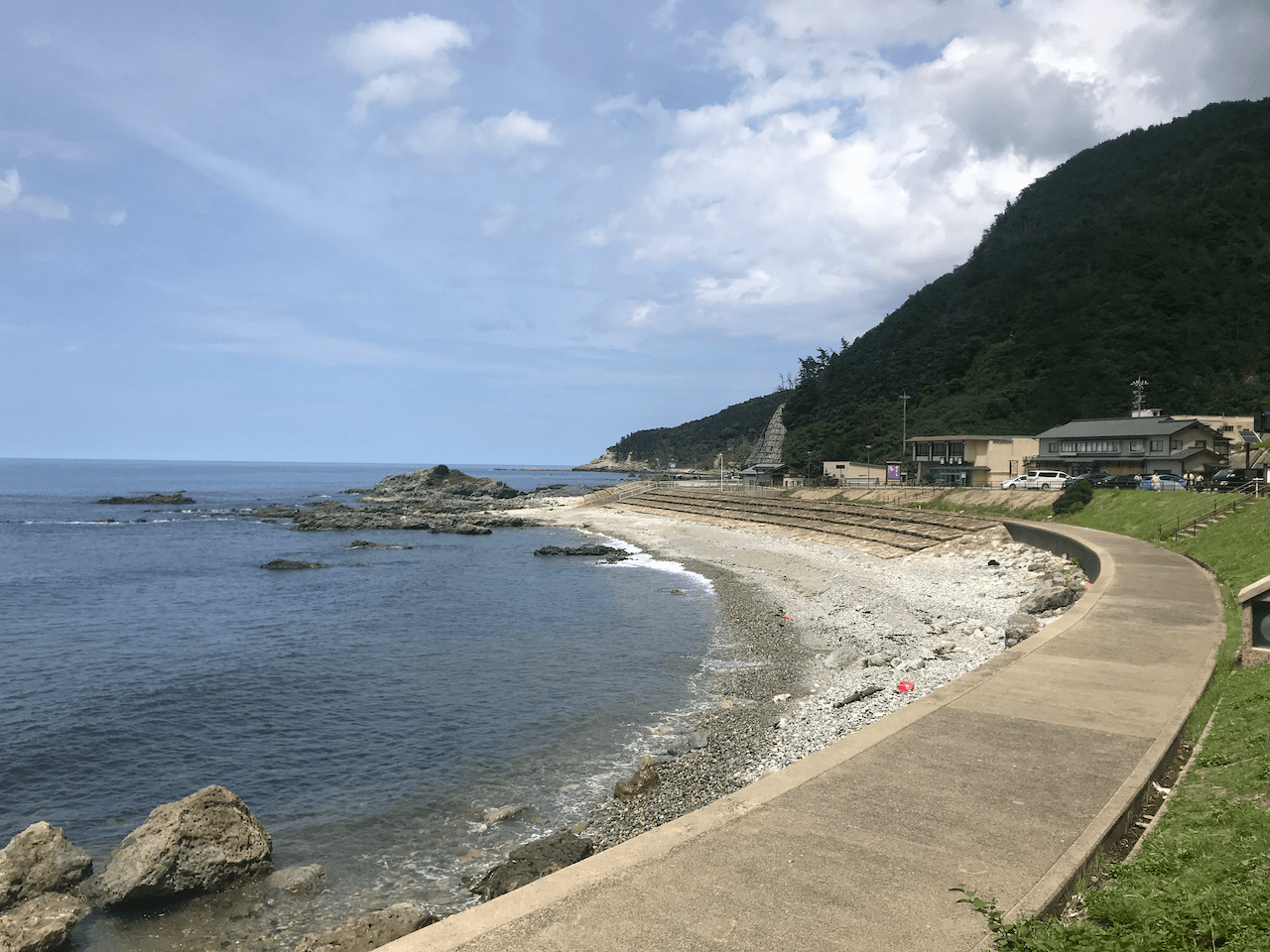 Also, the restaurant was so good! The food was delicious and we even got a small present from the restaurant staff: special high quality chopsticks (in two colors), made in Noto! A nice gift for us. :)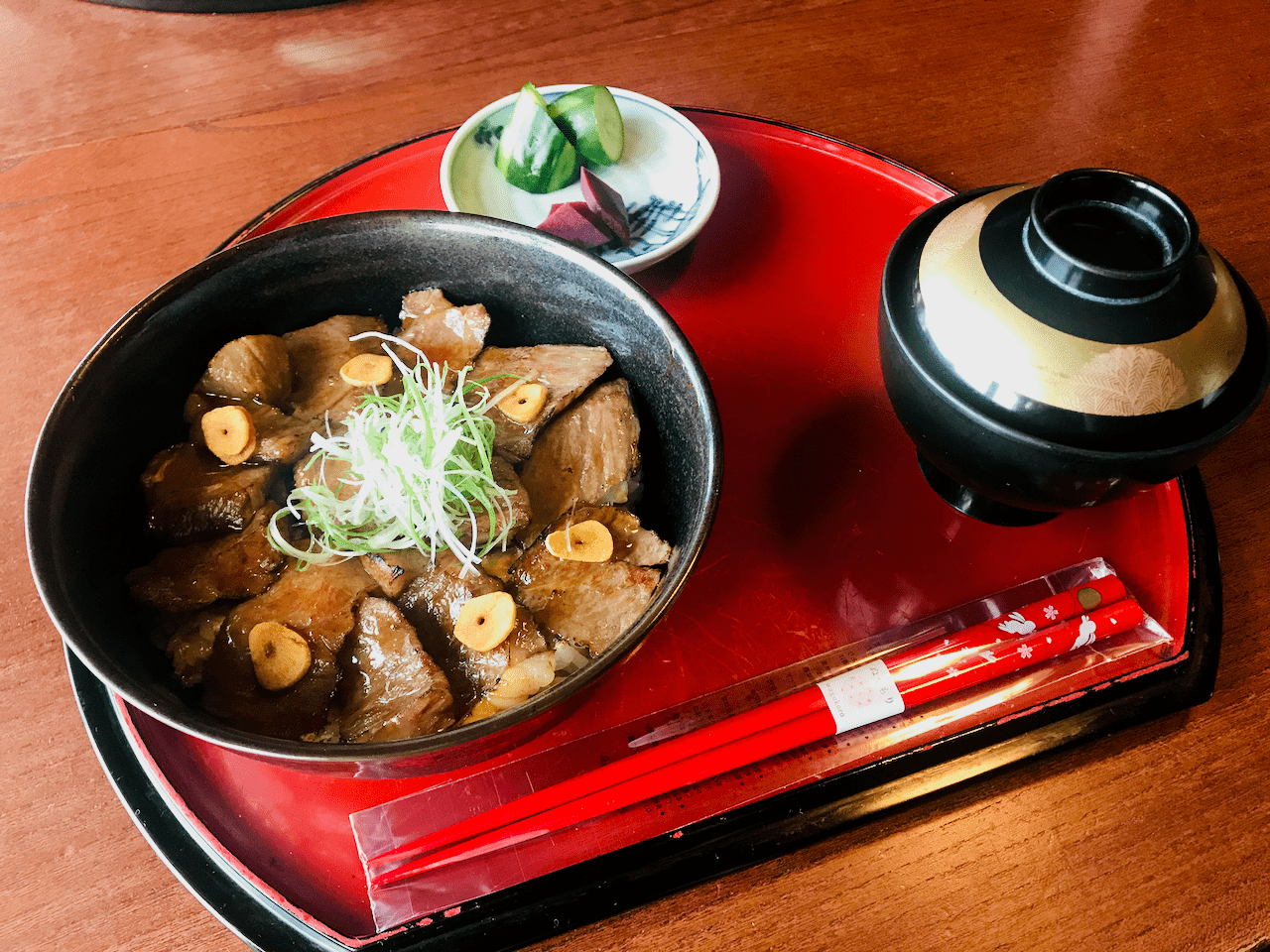 We hat Noto beef for lunch and it was so good!!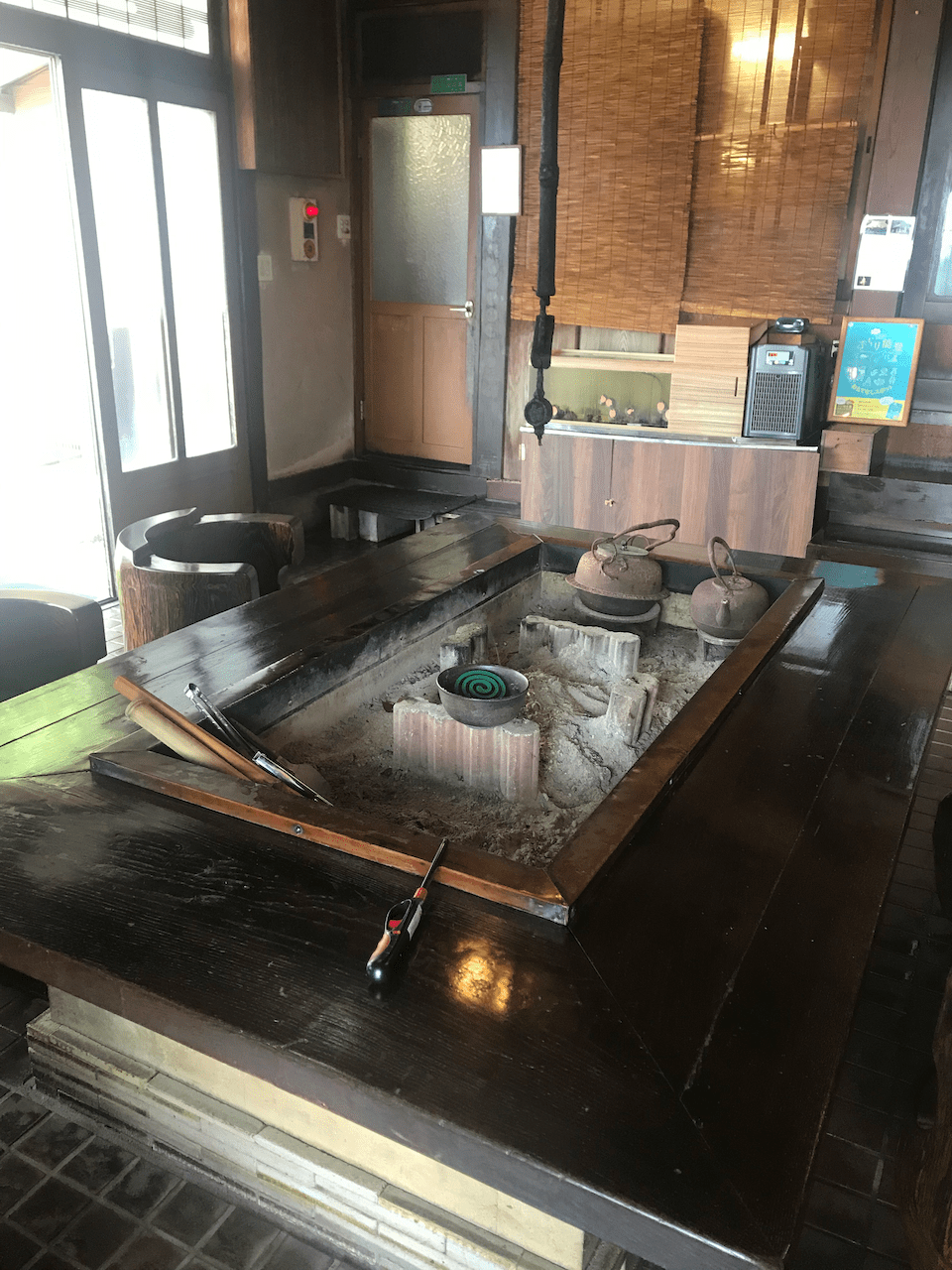 They had a lot of anti-mosquito fires running to protect us against the bugs
After the lunch break, we took pictures at a waterfall next to the restaurant. Due to the heavy rain of the past weeks, we were not allowed to follow the hidden path among the sea but even from our viewing point, the waterfall looked impressive.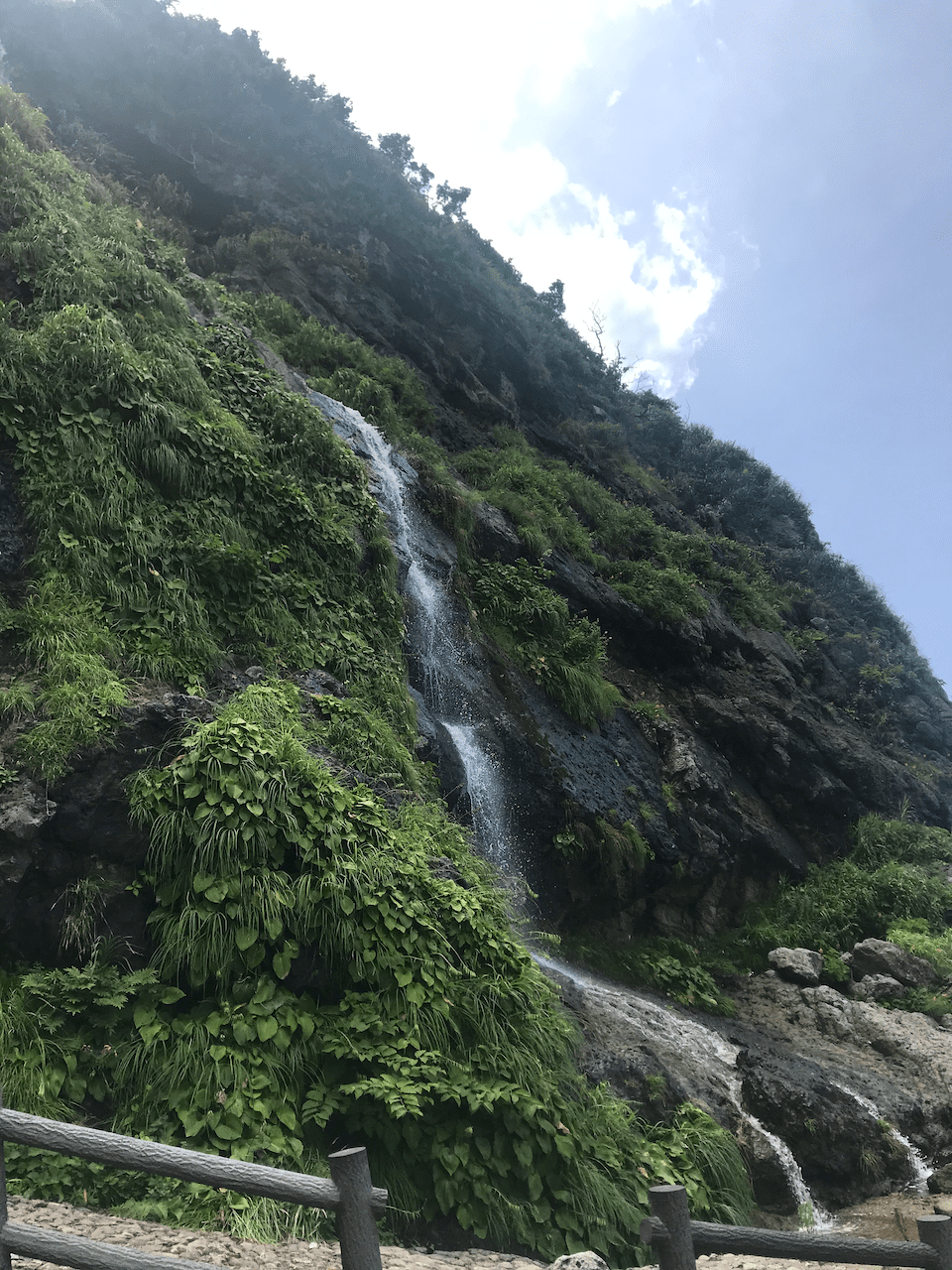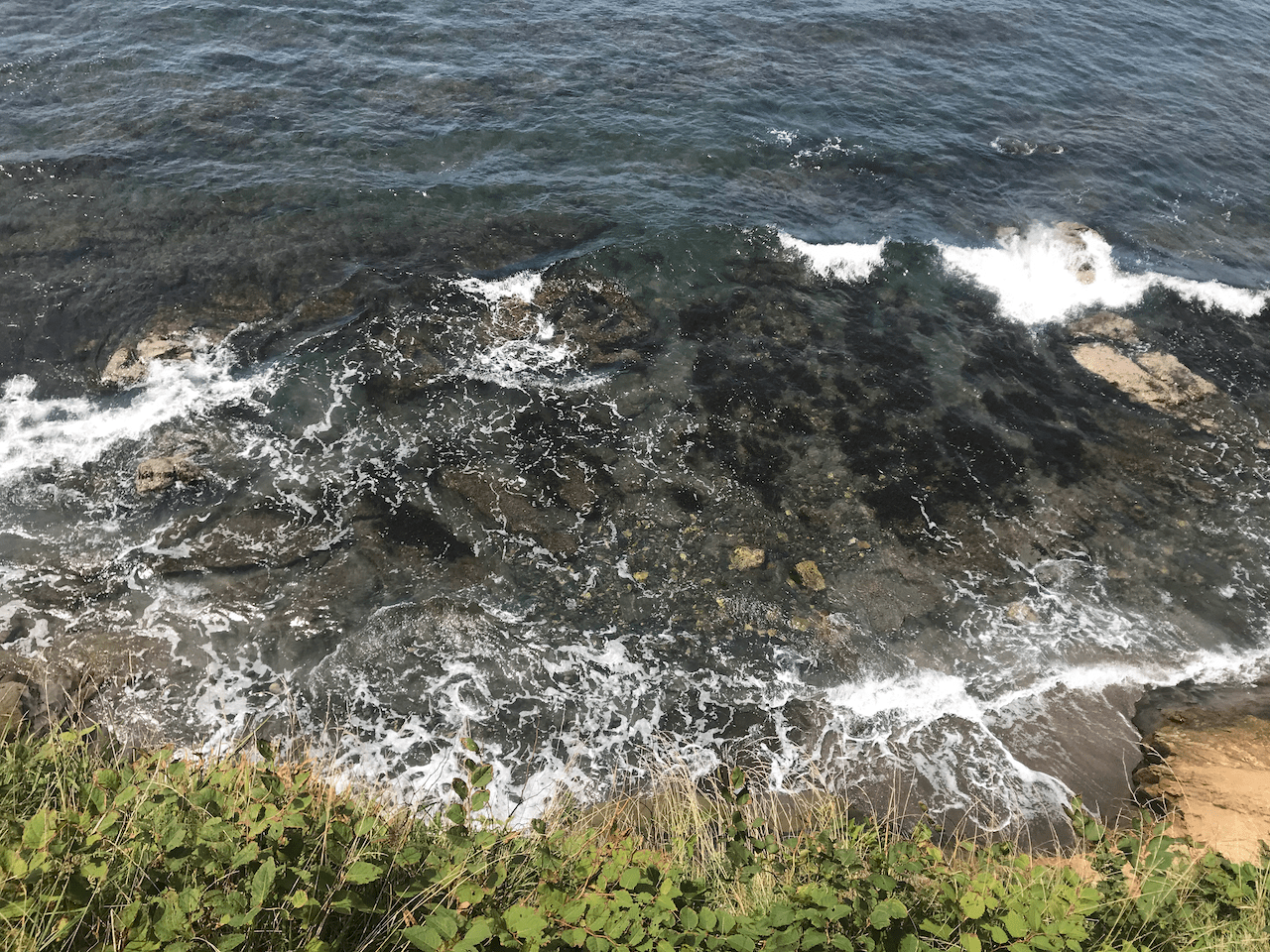 Senmaida Rice Fields
The next destination were the famous rice terraces called Shiroyone Senmaida. The name means "A Thousand Rice Paddies in Shiroyone" and is located in Shiroyone town, Wajima City. The scenery of 1,004 small rice paddies on steep slopes along the seaside is splendid, and thus famous among the many other rice terraces in Japan.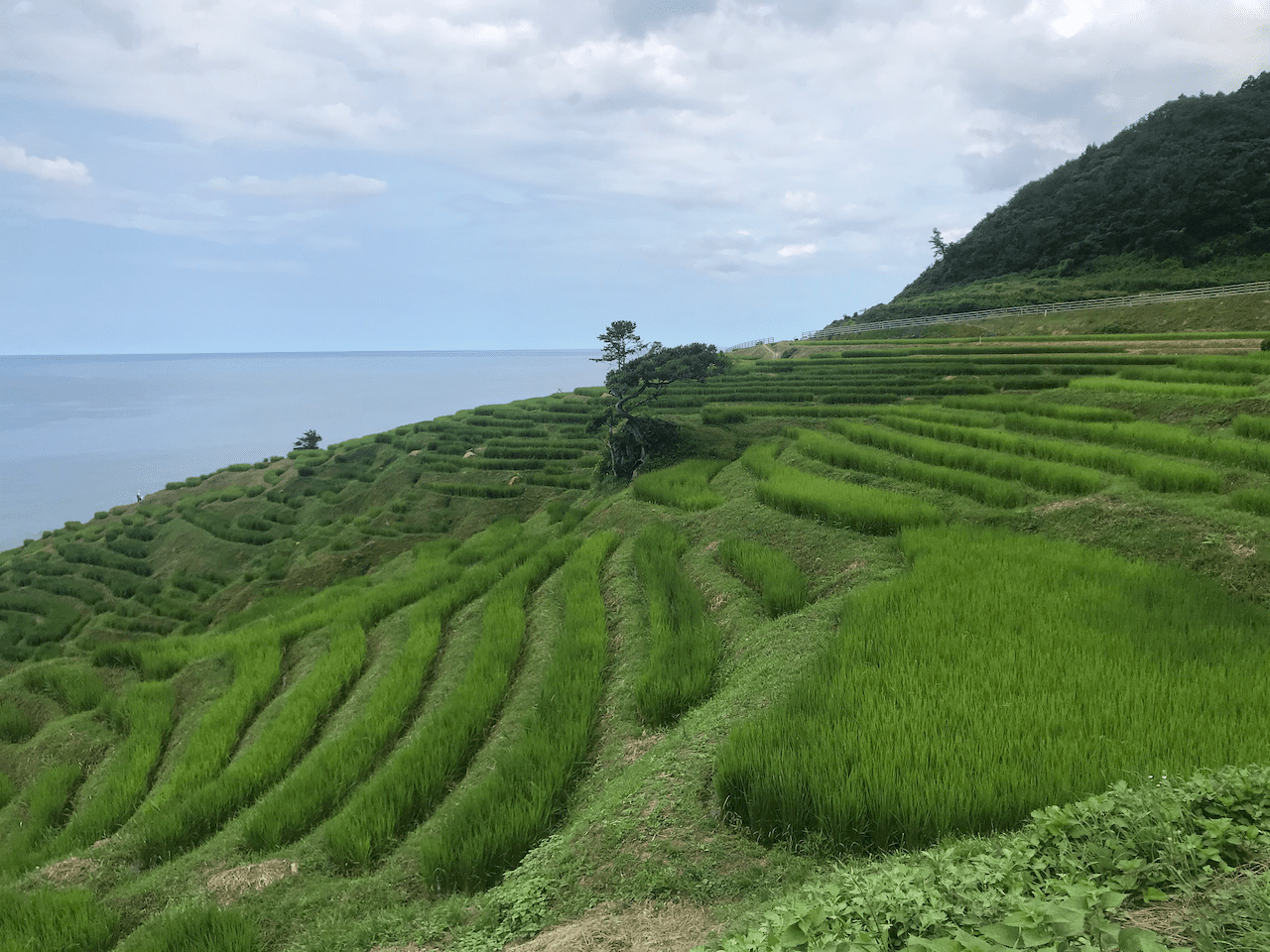 It was so beautiful!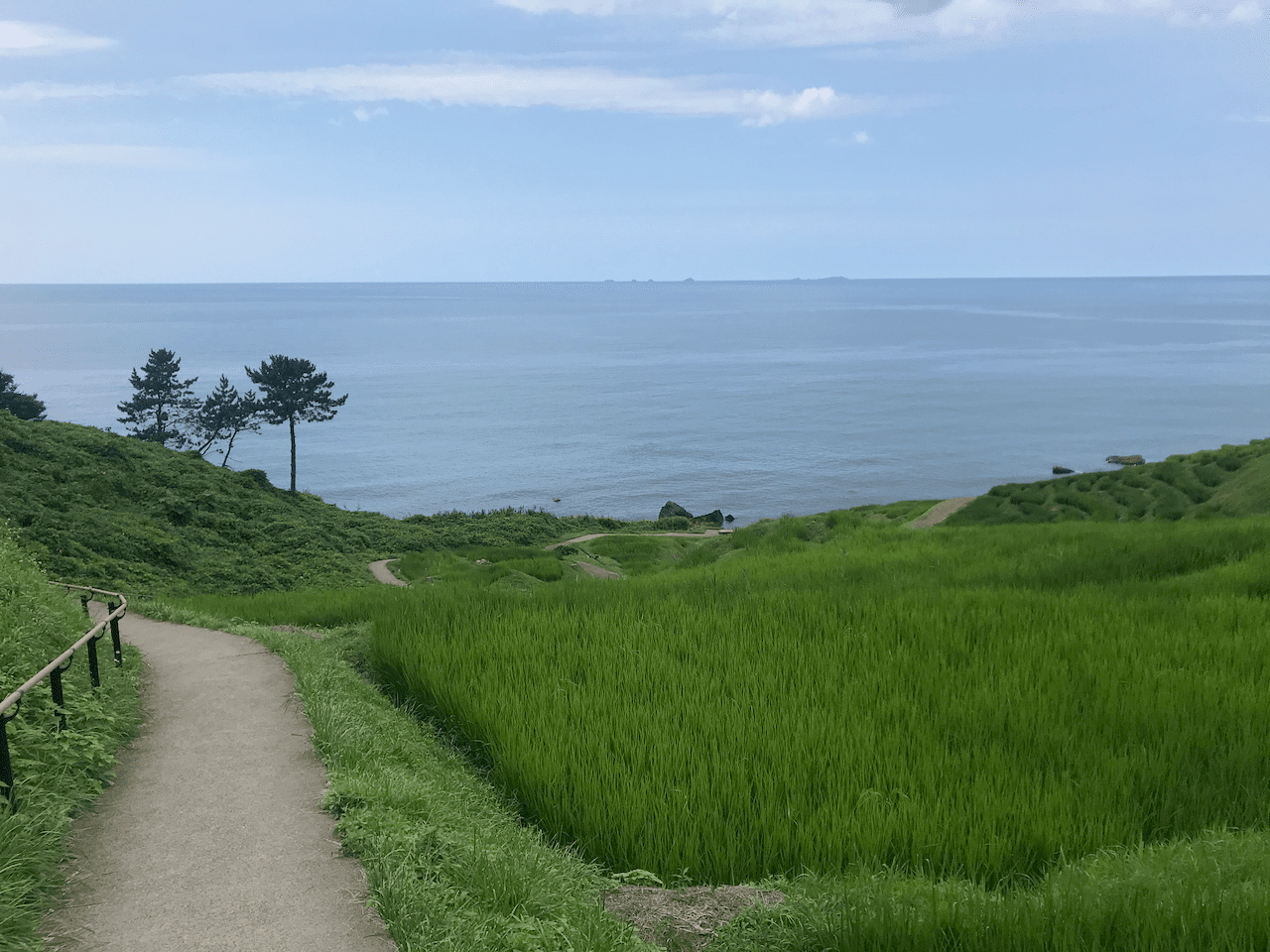 But walking around was not easy…
We couldn't stop taking pictures from all angles and were speechless. I wanted to see this place since the first day I came to Japan and now, finally, my wish came true. I was very happy to walk along the fields, although it was incredibly steep and therefore very exhausting to get back uphill in the hot weather.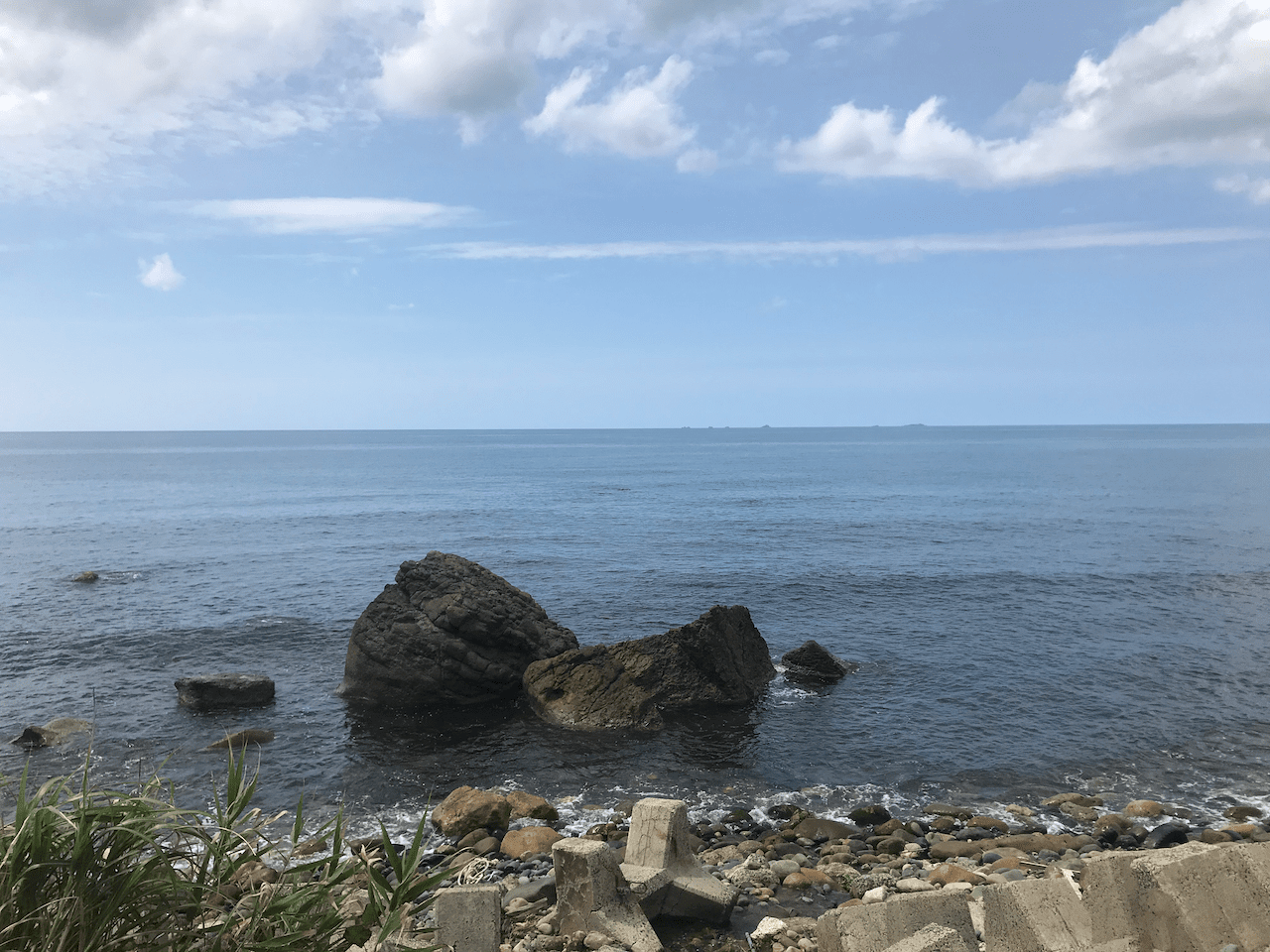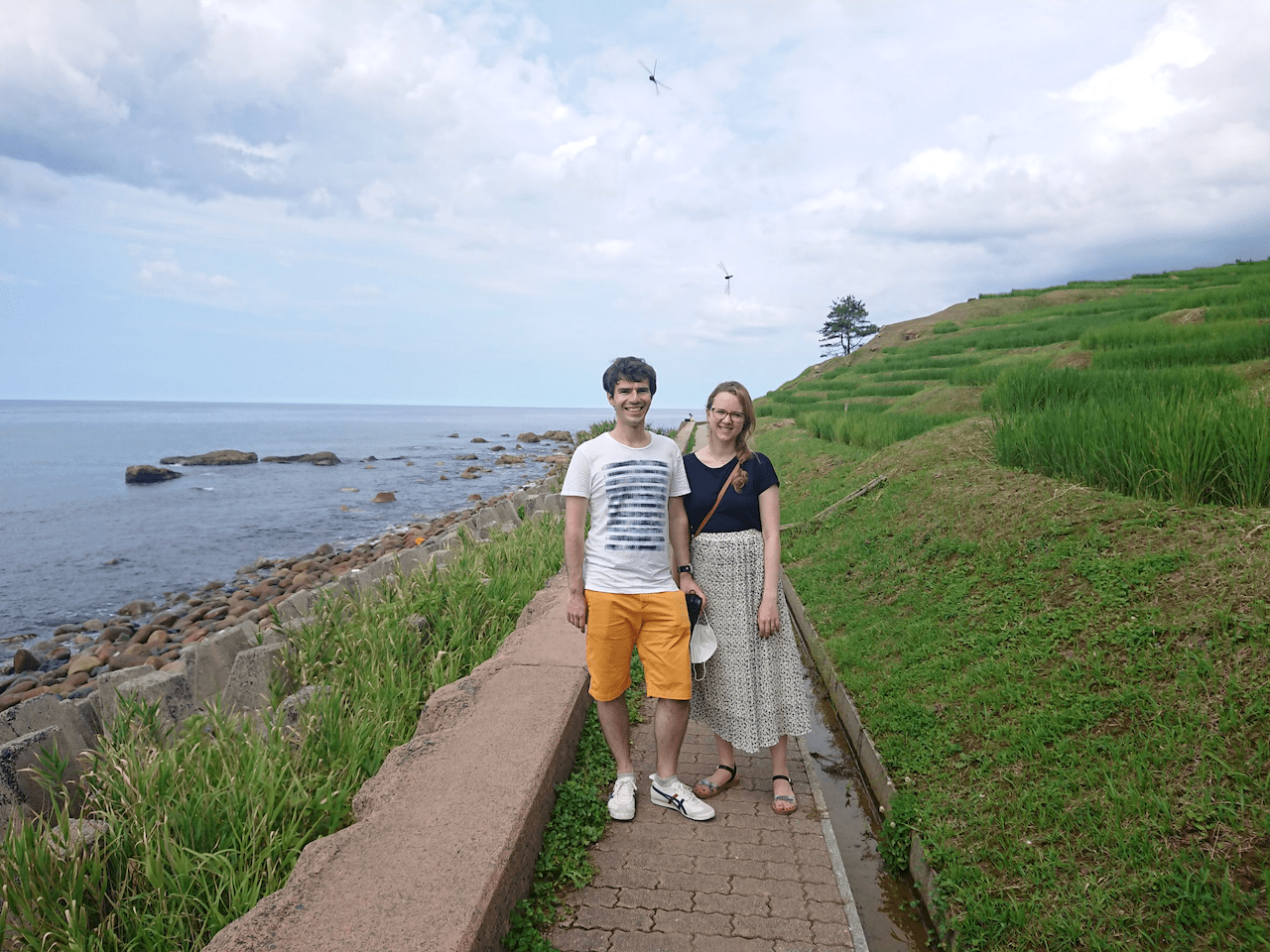 This was definitely one of my huge highlights in this year!
Suzu
Our last destination was Suzu which is located on the north east side of the island. To get there, we drove further along the coast line and afterwards across the countryside on very small roads!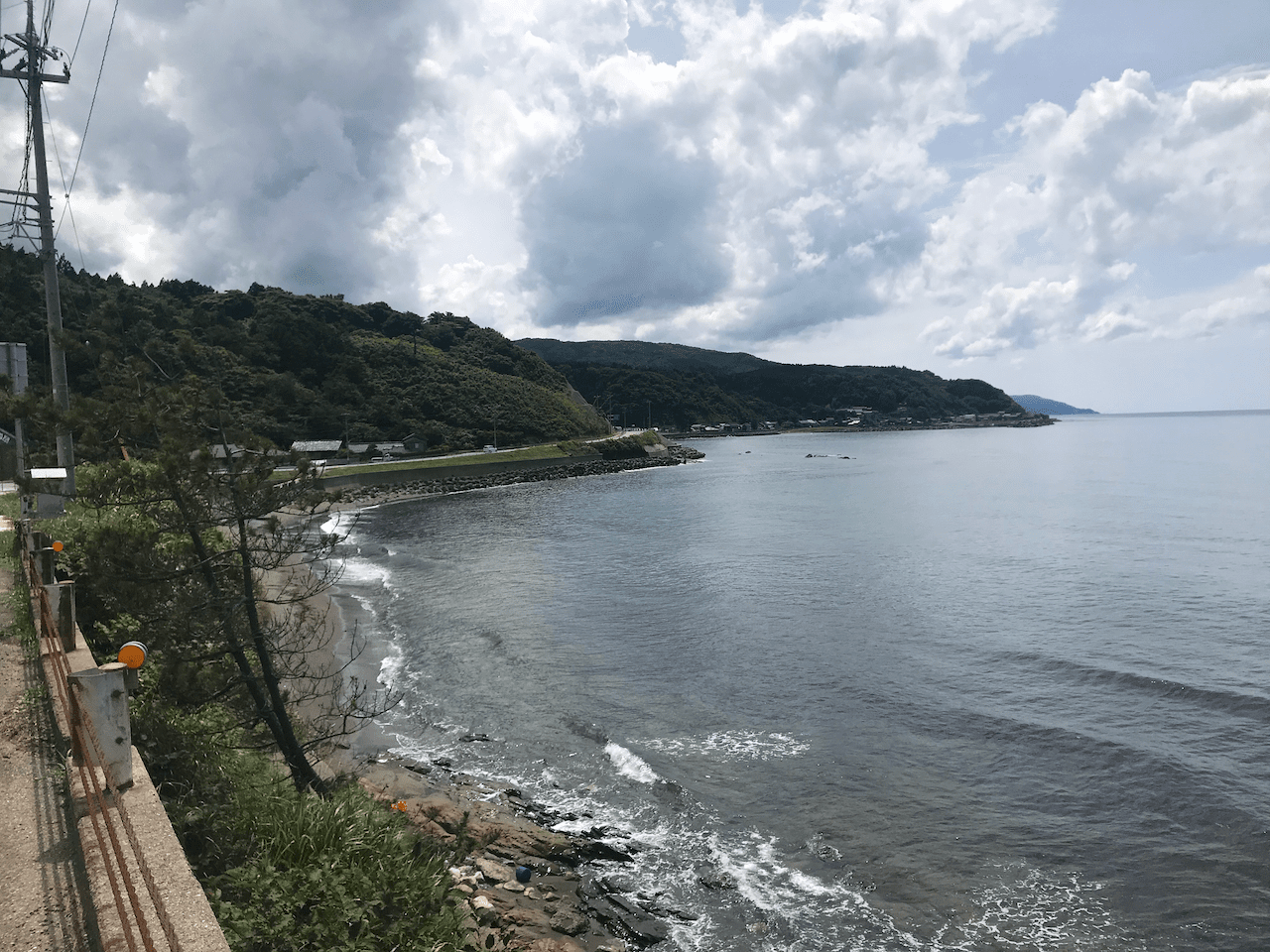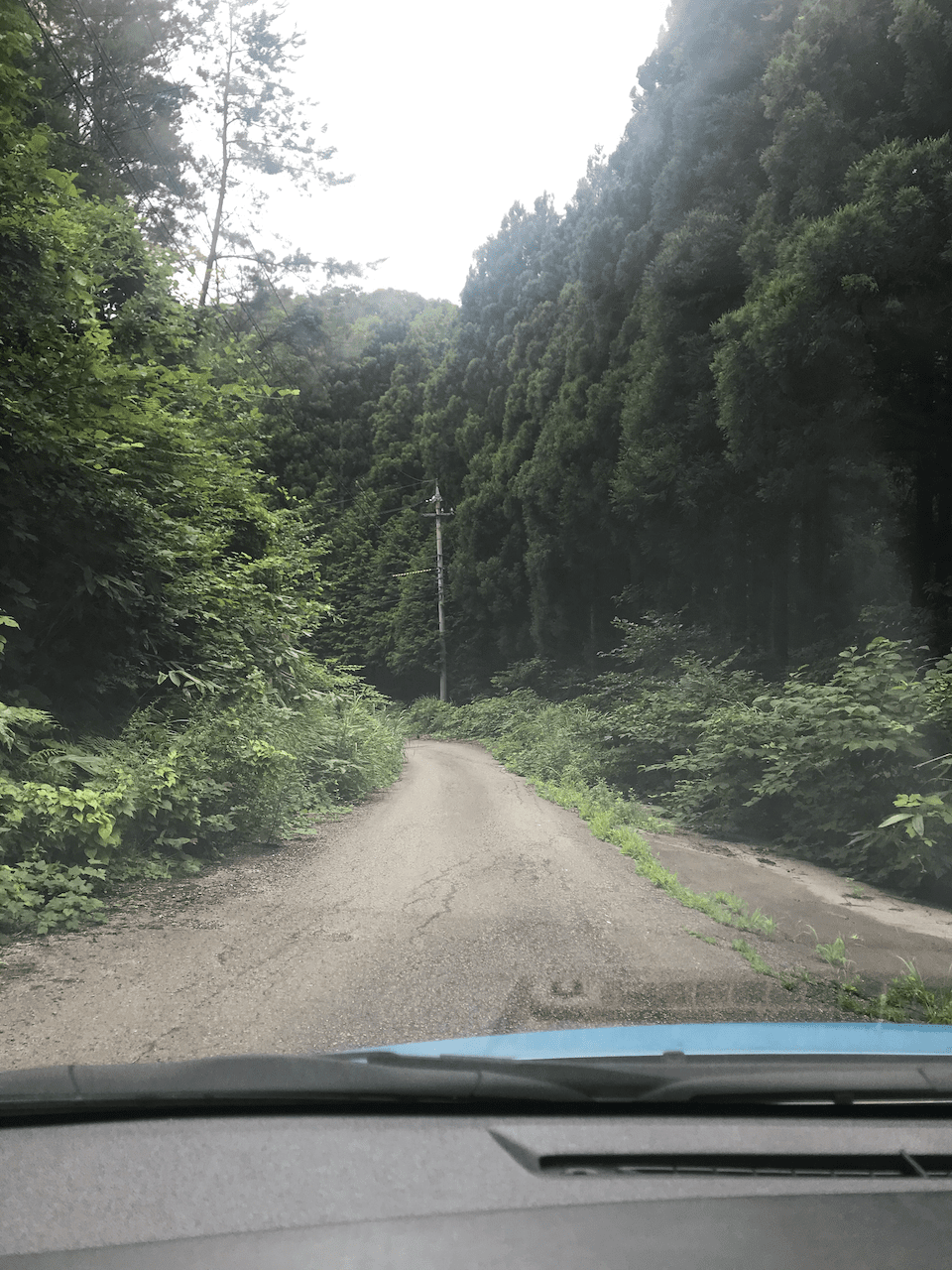 Very remote roads!
As Niklas wanted to go to a nice beach, Natsuki wanted to show us the beautiful beach of Hachigasaki Beach and the Beach Resort Hotel. However, as soon as we arrived there, heavy rain and a thunderstorm suddenly started so that we could only watch the beach from the hotel lobby. Niklas was really disappointed, but there was no chance of swimming on that day.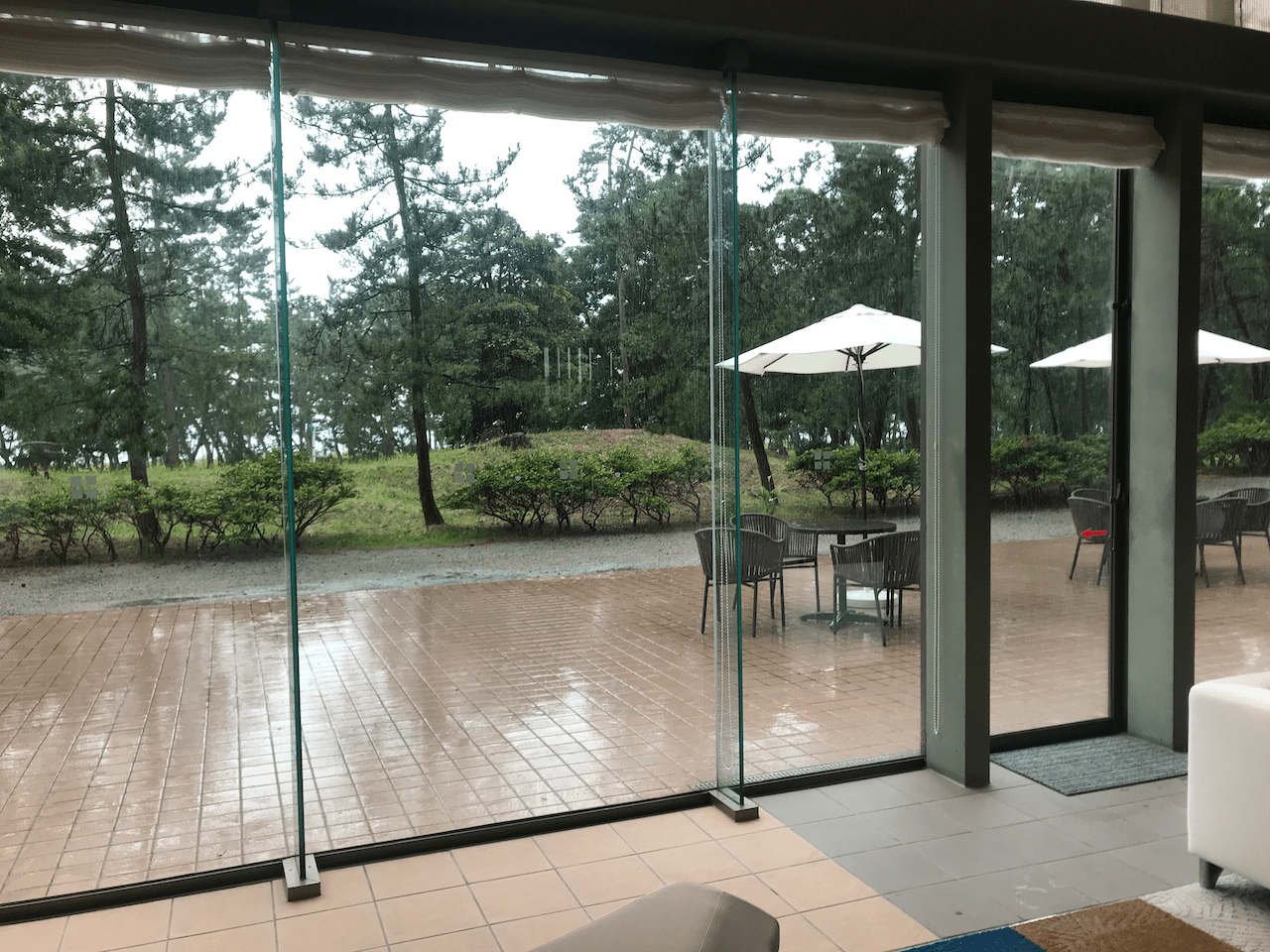 No beach for us today
Consequently, we went back to the town of Suzu to enjoy a hot foot bath at the public bath Yurari which wasn't occupied by anyone, so we had our privacy and could relax our feet in the hot and green water. After walking around for the whole day, it felt really nice and our sore muscles could relax.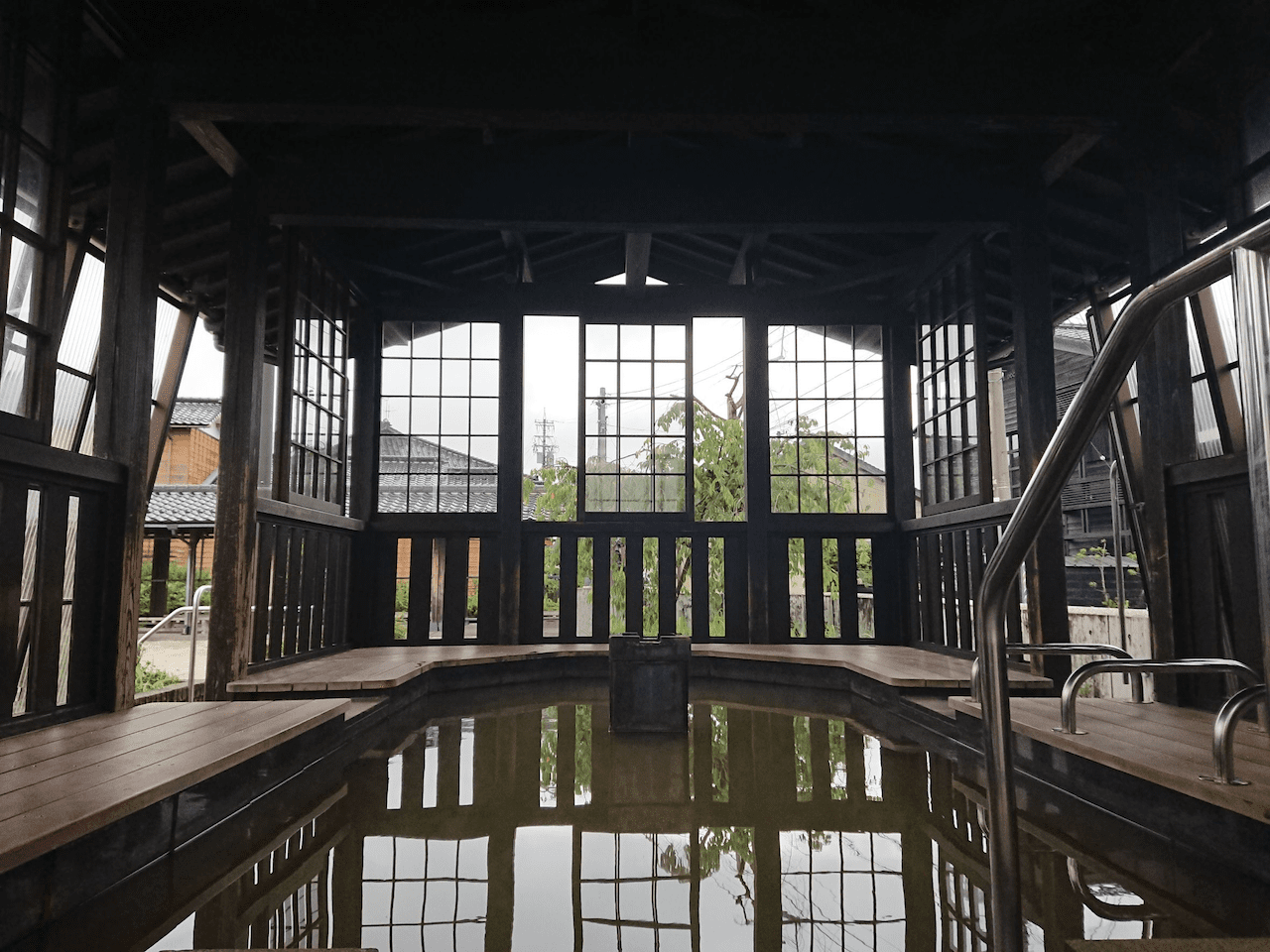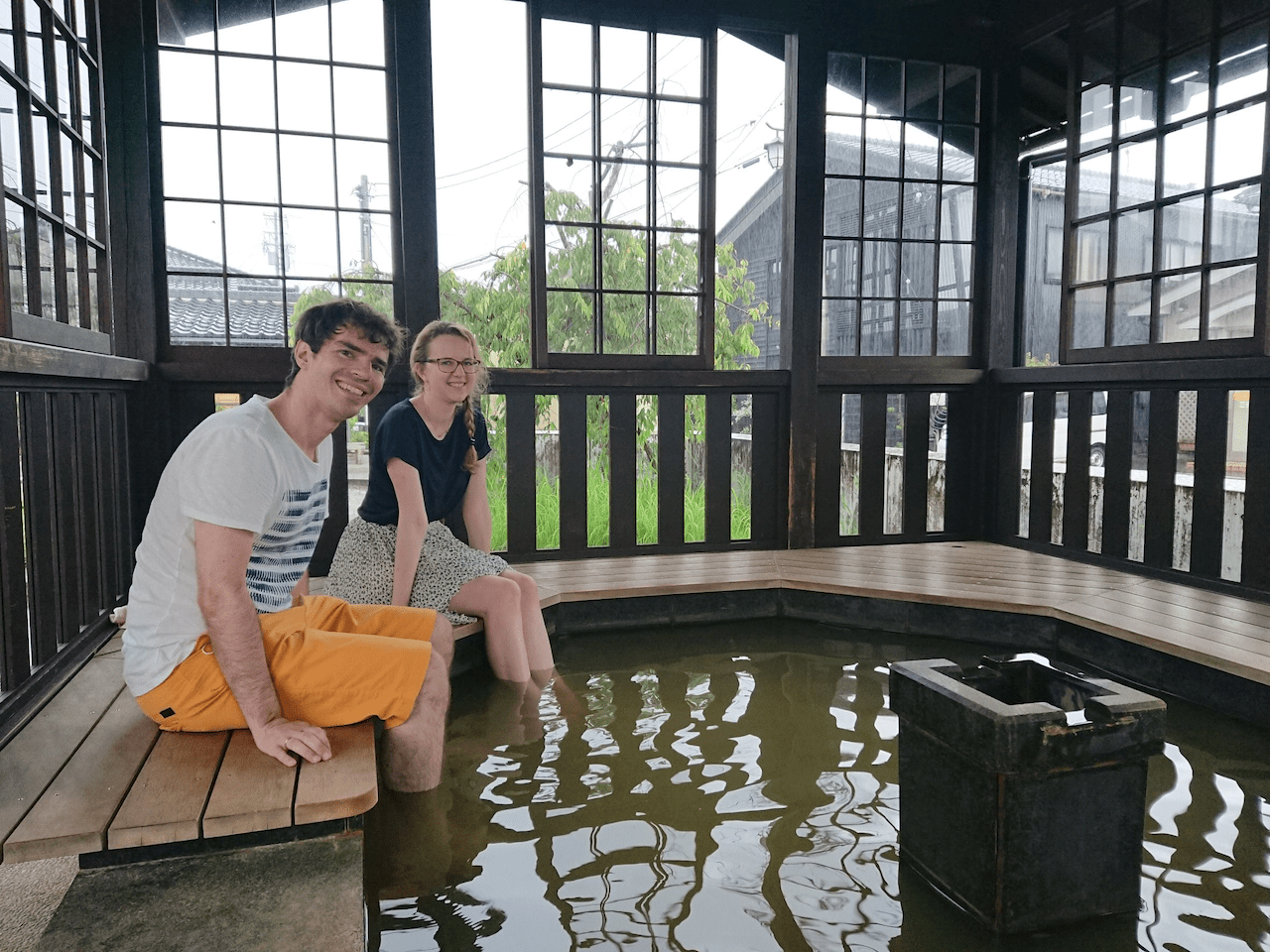 Unfortunately, I spent too much time with my feet in the water and had some health problems on the way back. As the hot water draws all your blood into the feet, it can be dangerous for people with low blood pressure to stay too long in the water (which I did). Additionally, the hot and very humid day was already difficult for me and I think I had a minor case of heat illness. Either way, my circulation kind of collapsed and we had to make a brief stop so I could recover a little, eating salt candy and drinking electrolytes from a sports drink. It was a little scary as I've never felt that dizzy before out of the sudden but luckily, Natsuki knew what to do and could help me to feel better fast.
On the whole way home, it was raining so heavily and the drive was not easy, especially on the remote streets of the northern part of Noto. But Natsuki was super relaxed, both the weather condition and my health didn't stress her, so we arrived safely at home! It took me three days to recover fully and I can only say: don't take this heat and this weather lightly! I really learned my lesson.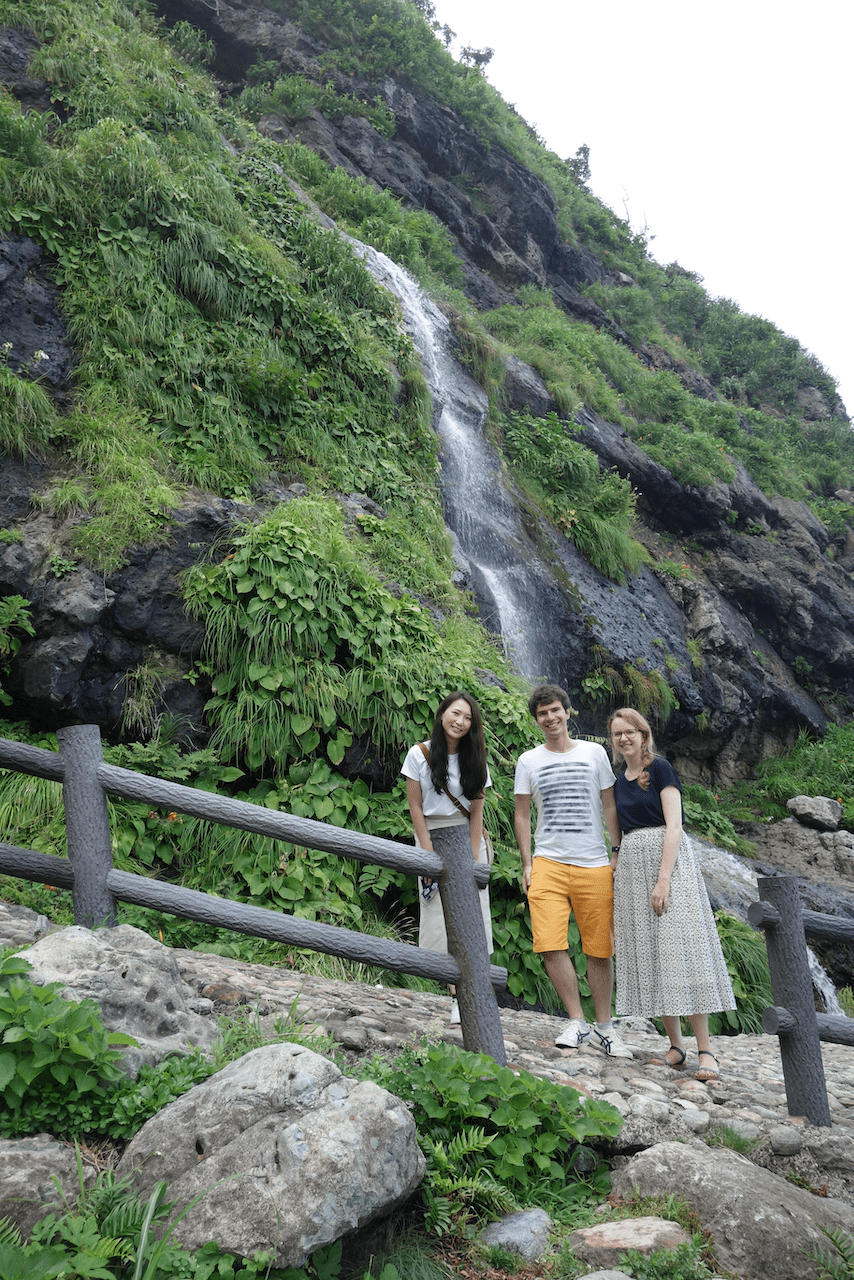 Thank you Natsuki for taking us on this great and interesting trip, for driving us and showing us around! We are looking forward to the next plan: a road trip to Fukui prefecture. :)
Up next
Our August was - as expected - very hot and due to Covid, very slow. I will update soon about or summer life that mainly happened indoors (every day I am so grateful for our air condition!) and sometimes at the Uchinada Beach. Also, we will go on a small trip to Hiroshima soon. So stay tuned for more updates and follow us on Instagram for more pictures and stories!