Japan is famous for its breathtaking beaches among the Pacific or Japan Sea shore. But, not many people know that you can also find one of the oldest lakes in the world in Japan! In this post, I'll tell you all about our one day trip to Lake Biwa.
About Lake Biwa
Lake Biwa or Biwako, as it's called in Japanese, is a 4 million years old lake, located in the central part of Japan's main island Honshu, north of Kyoto, in Shiga Prefecture. It is said to be one of the 13 oldest freshwater lakes in the world. Due to its long history and special location, Lake Biwa is the home of a huge variety of birds and fish. This special ecosystem is unique which makes it an interesting place for nature observation.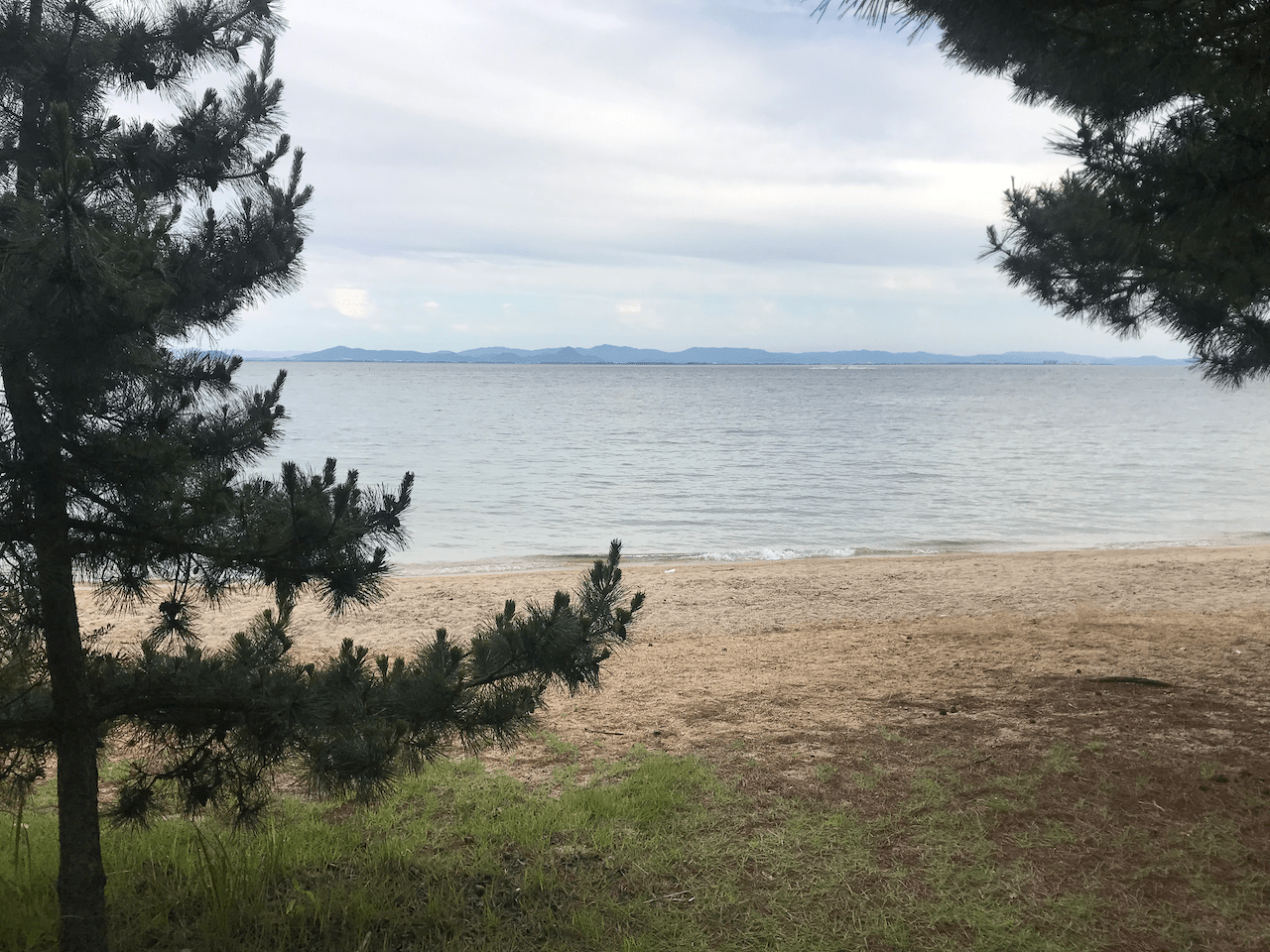 Typical view from the lake's shore
The size of this lake is about 670 km². Small rivers drain from the surrounding mountains into Lake Biwa, making it one of the most important freshwater reservoirs for the Kansai area. In 1993, the lake was designated as a UNESCO Ramsar Wetland (in accordance with the Ramsar Convention).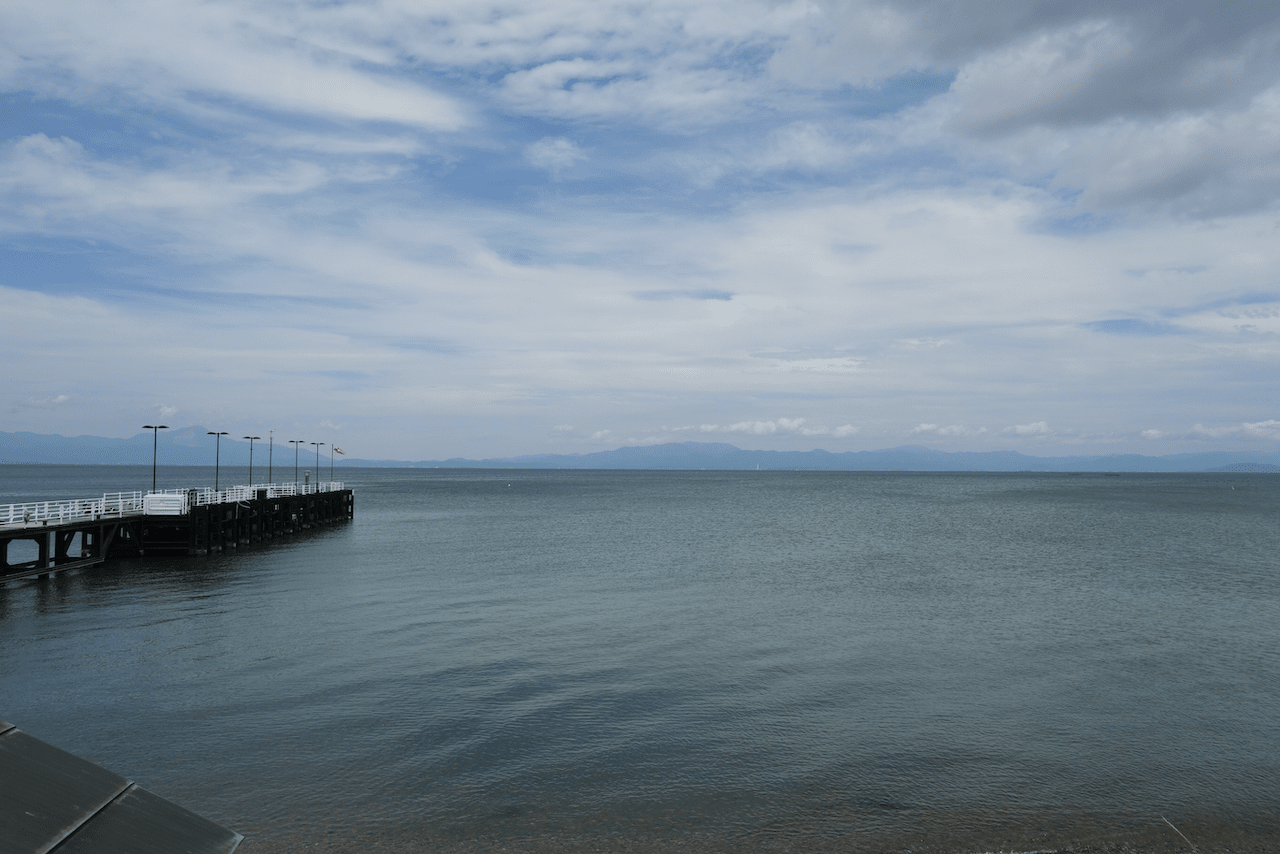 Our drive along the Western shore of Lake Biwa
Lake Biwa is about 3 hours by car away from our home. It's a pretty long drive for a day trip but I was really determined to go there because I read about the famous Shirahige Jinja, a huge shrine area with a big gate that is located in the water. It is said to be very similar to the shrine in Miyajima Island close to Hiroshima that wanted to visit last year but couldn't, due to construction works. Therefore I thought it would be a great idea to go and see this shrine, so we could at least see one huge gate in the water.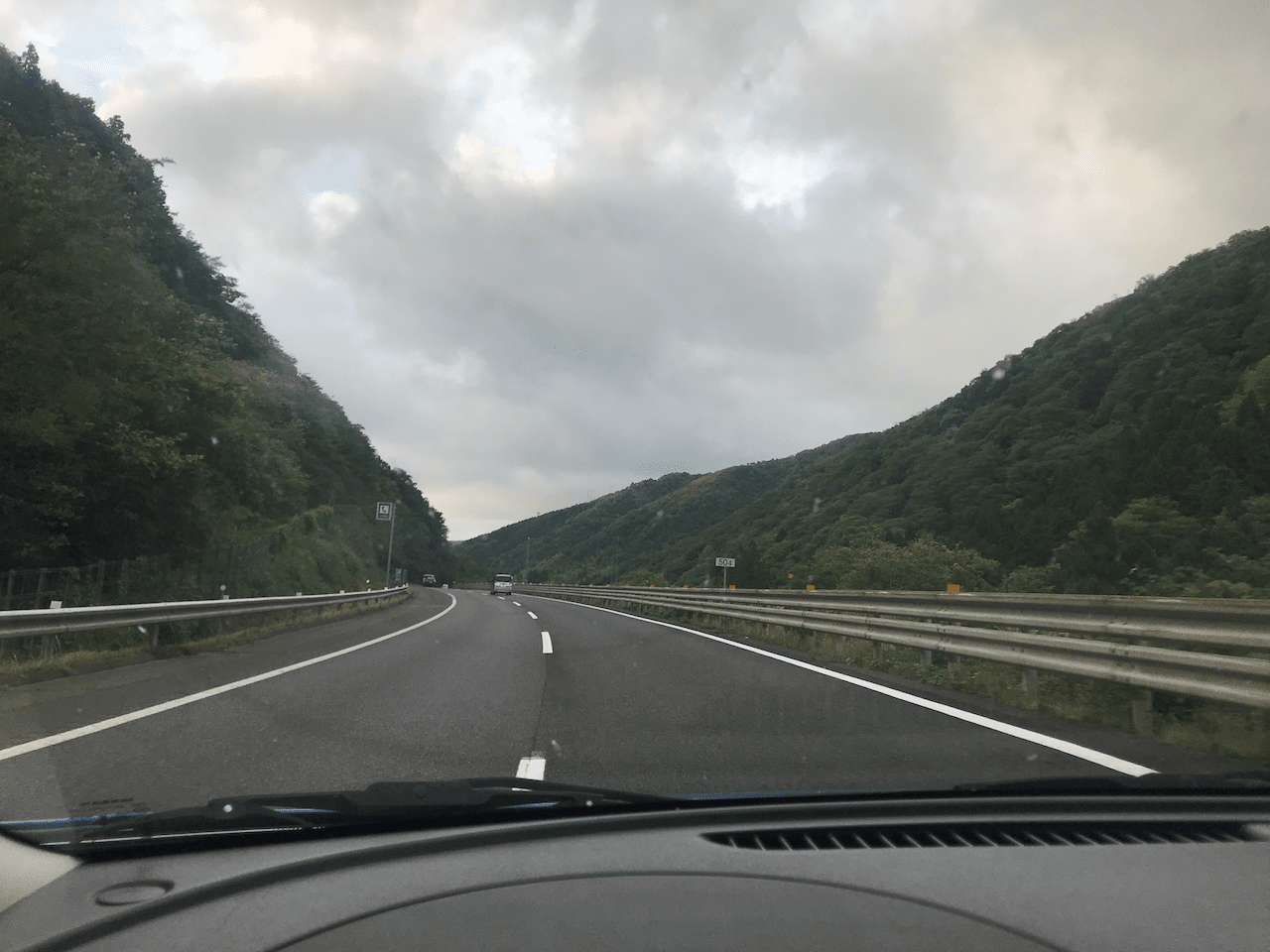 On our way
If you don't have a car, you can go all the way to Lake Biwa by train as there are many big train stations along the lake. But we wanted to visit several places in one go, therefore we took the rental car again. At first, we drove on the Hokuriku Expressway all the way to Tusurga, before leaving the highway for the remaining distance. The drive along the lake was really nice and relaxing. The lake looks like the sea as it's huge and we felt like going on vacation!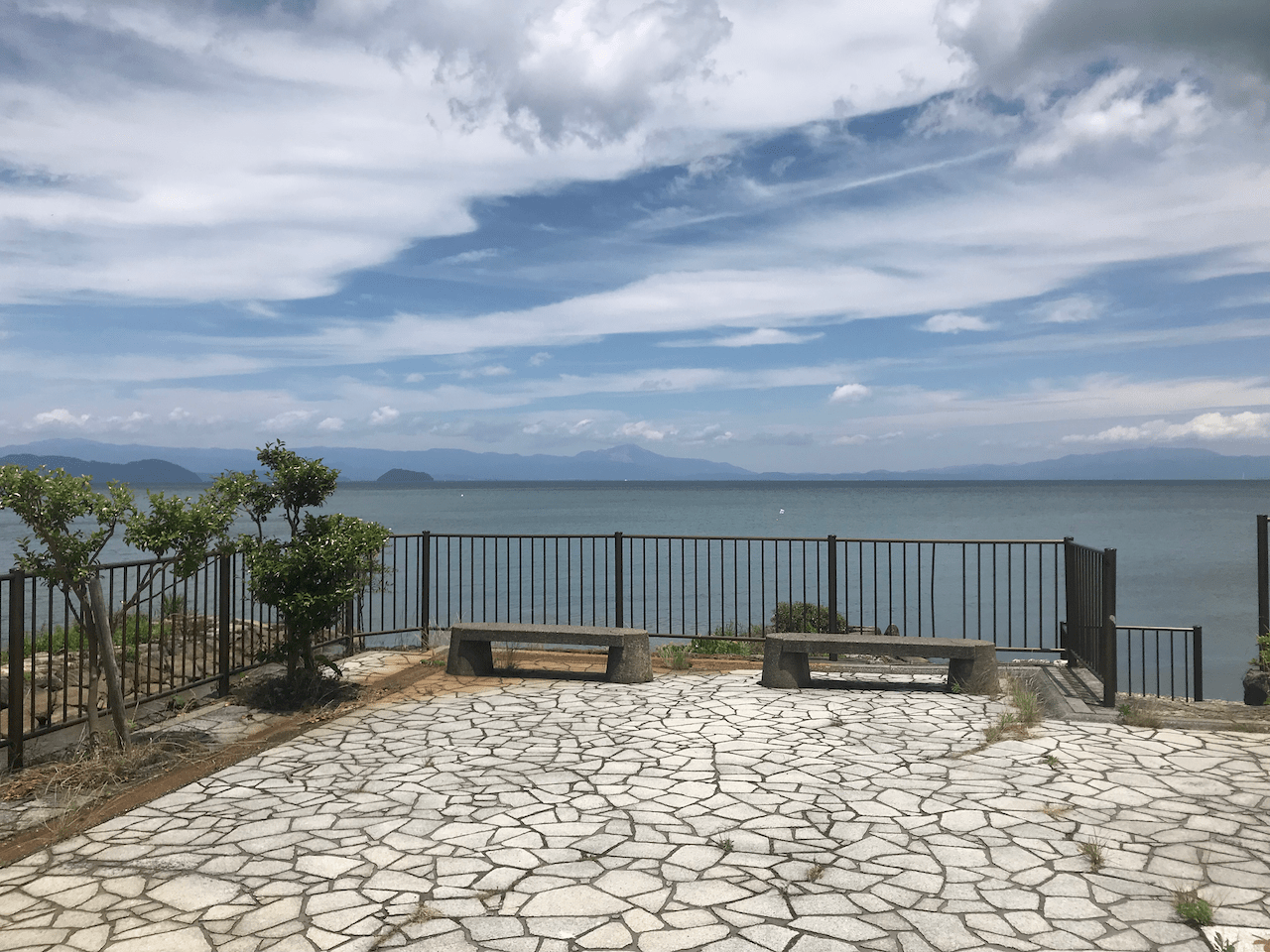 View from Imazu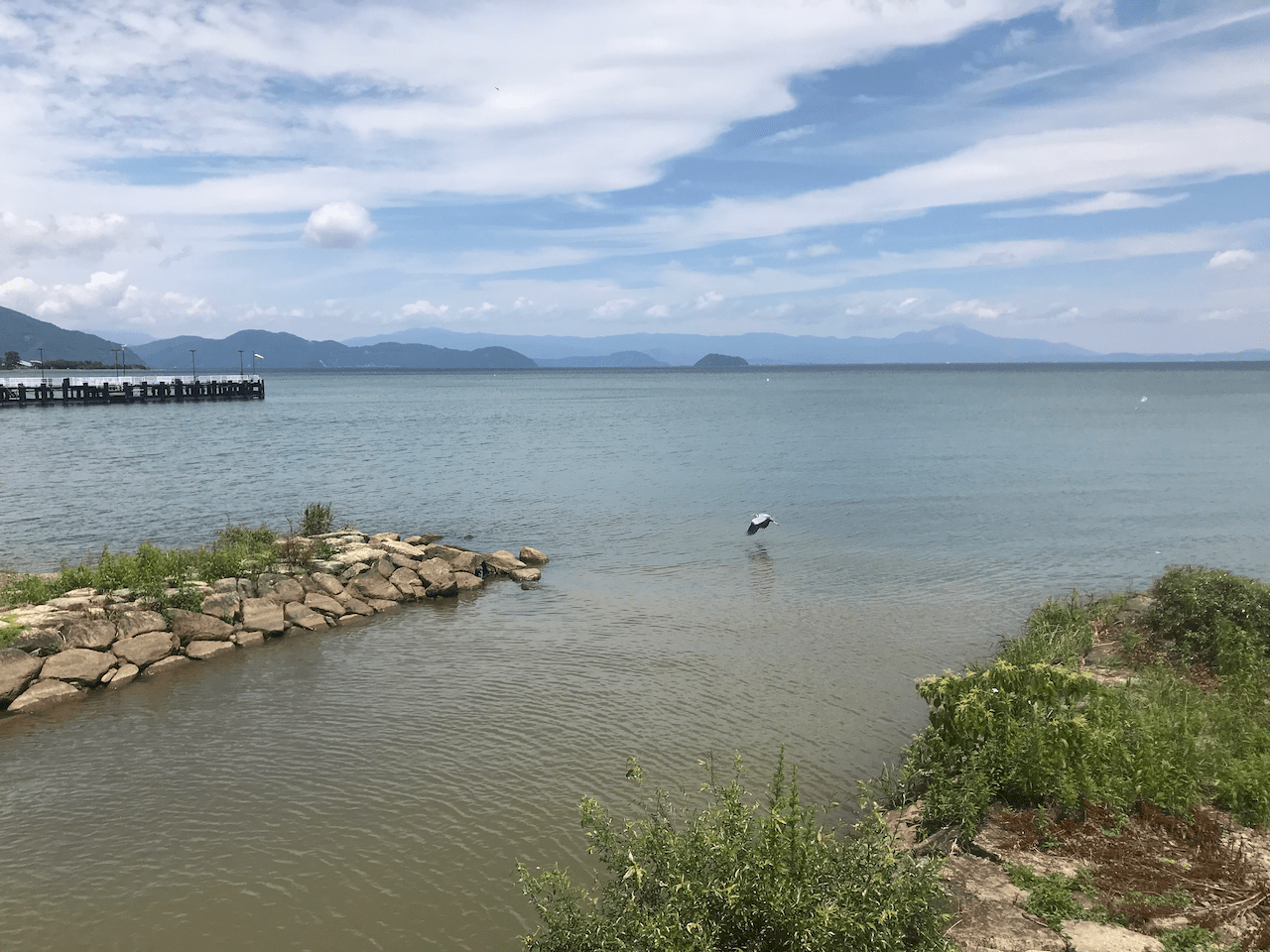 We made a brief stop at Imazu for a quick lunch and visited the small port from which you can take a ship for many different boat trips along the lake.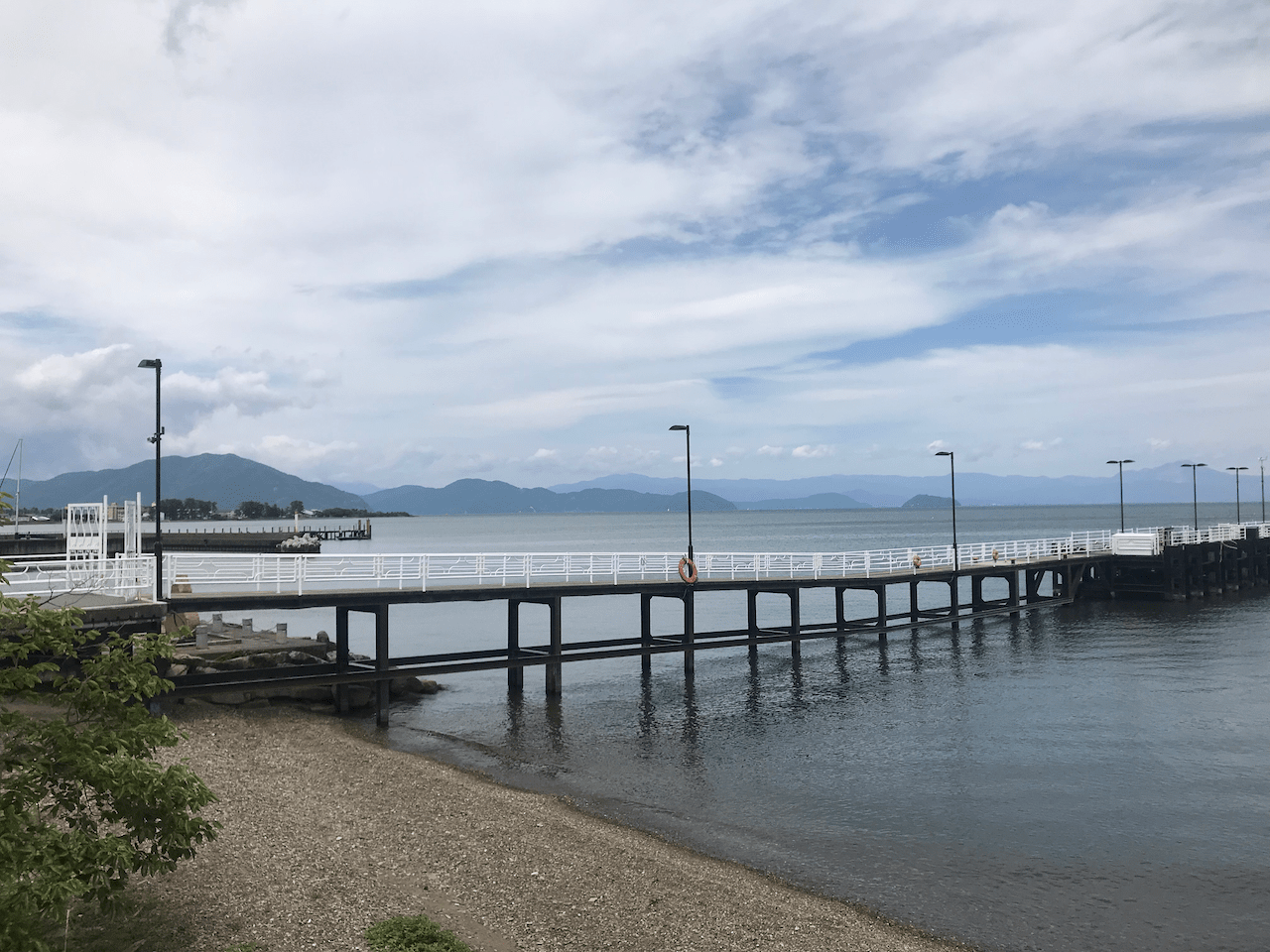 Imazu port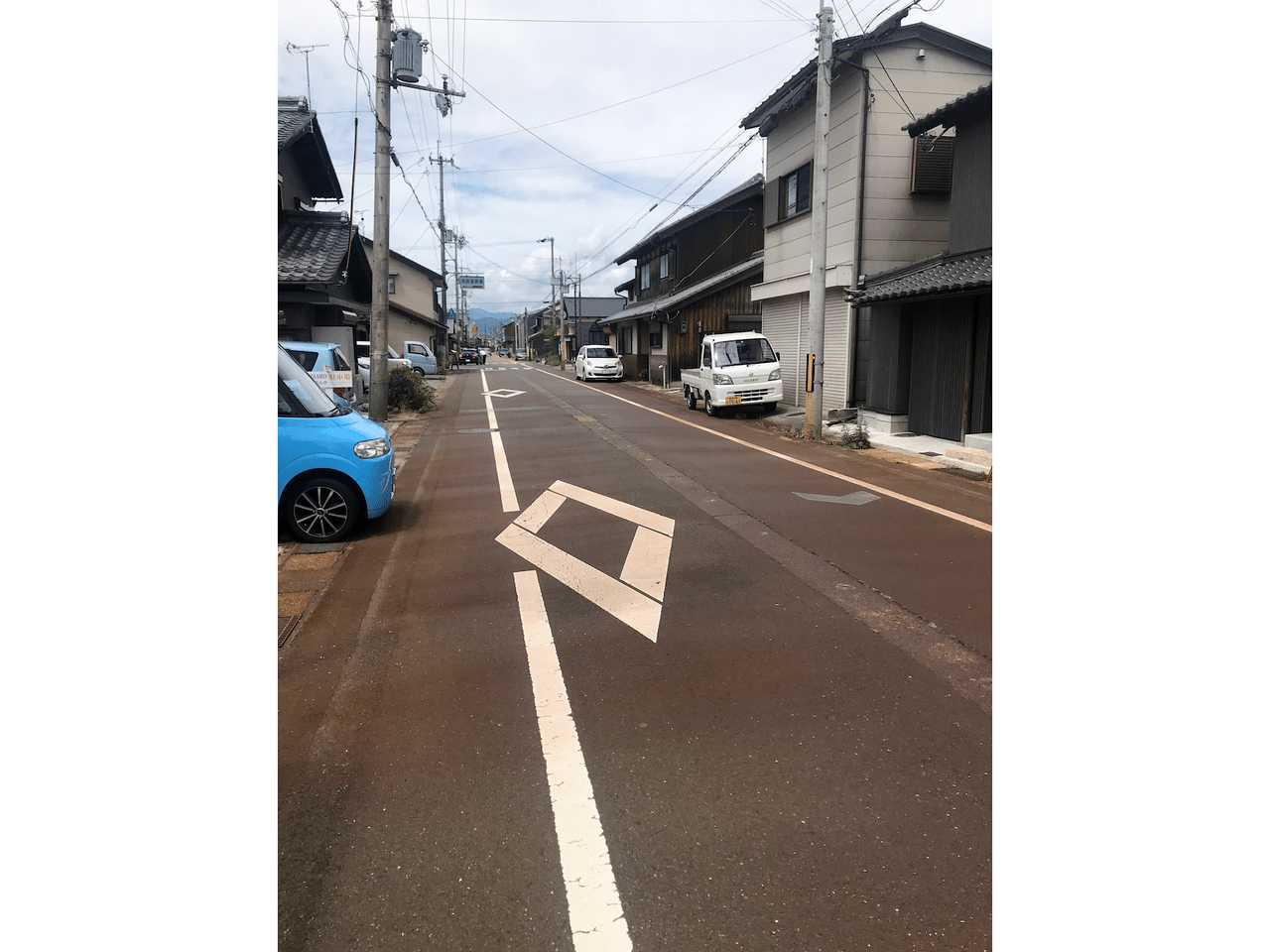 Quiet roads
Shirahige Shrine: the gate in the water
I was super excited when our navigation system told us that we would be soon arriving at the Shrine site. However, I wasn't prepared for the madness that was waiting for us.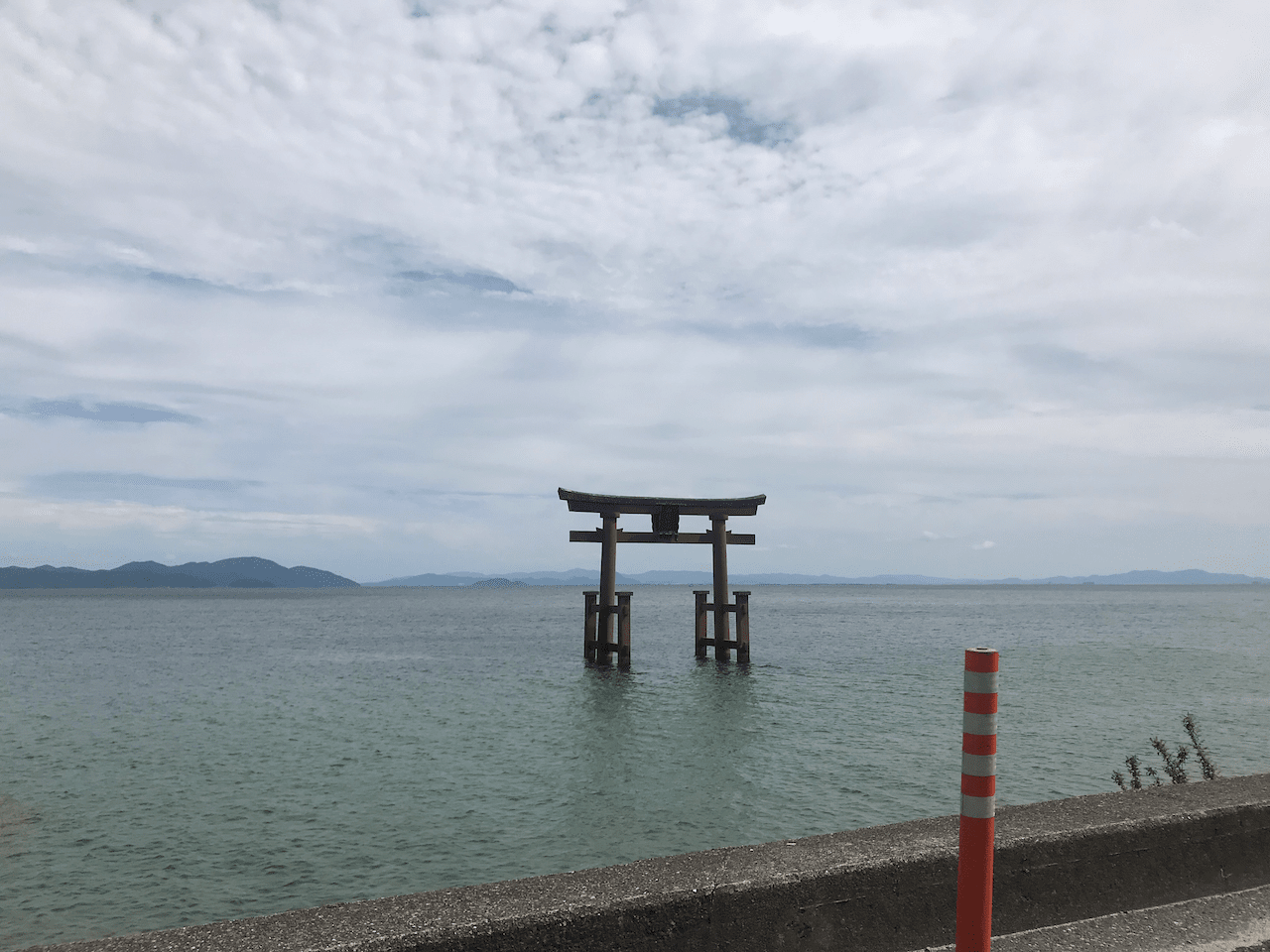 A first glimpse from our car
Instead of a serene and calm atmosphere, the shrine grounds are located directly next to the super busy main road that connects Kyoto with the Northern part of the lake. As it was Sunday, the road was packed with cars. The parking lot was super busy but we managed to get a space.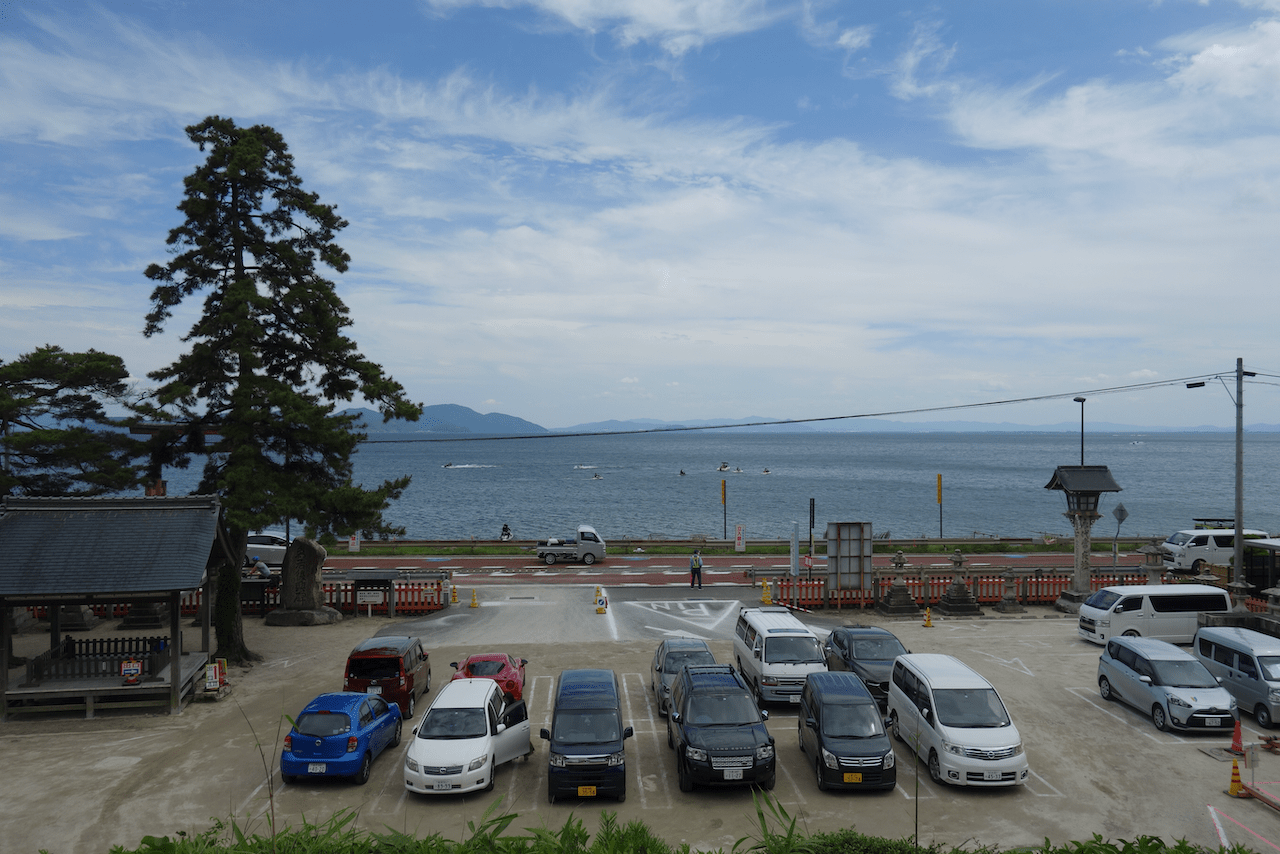 Busy parking space
But after walking around for a bit, the next surprise was waiting for us.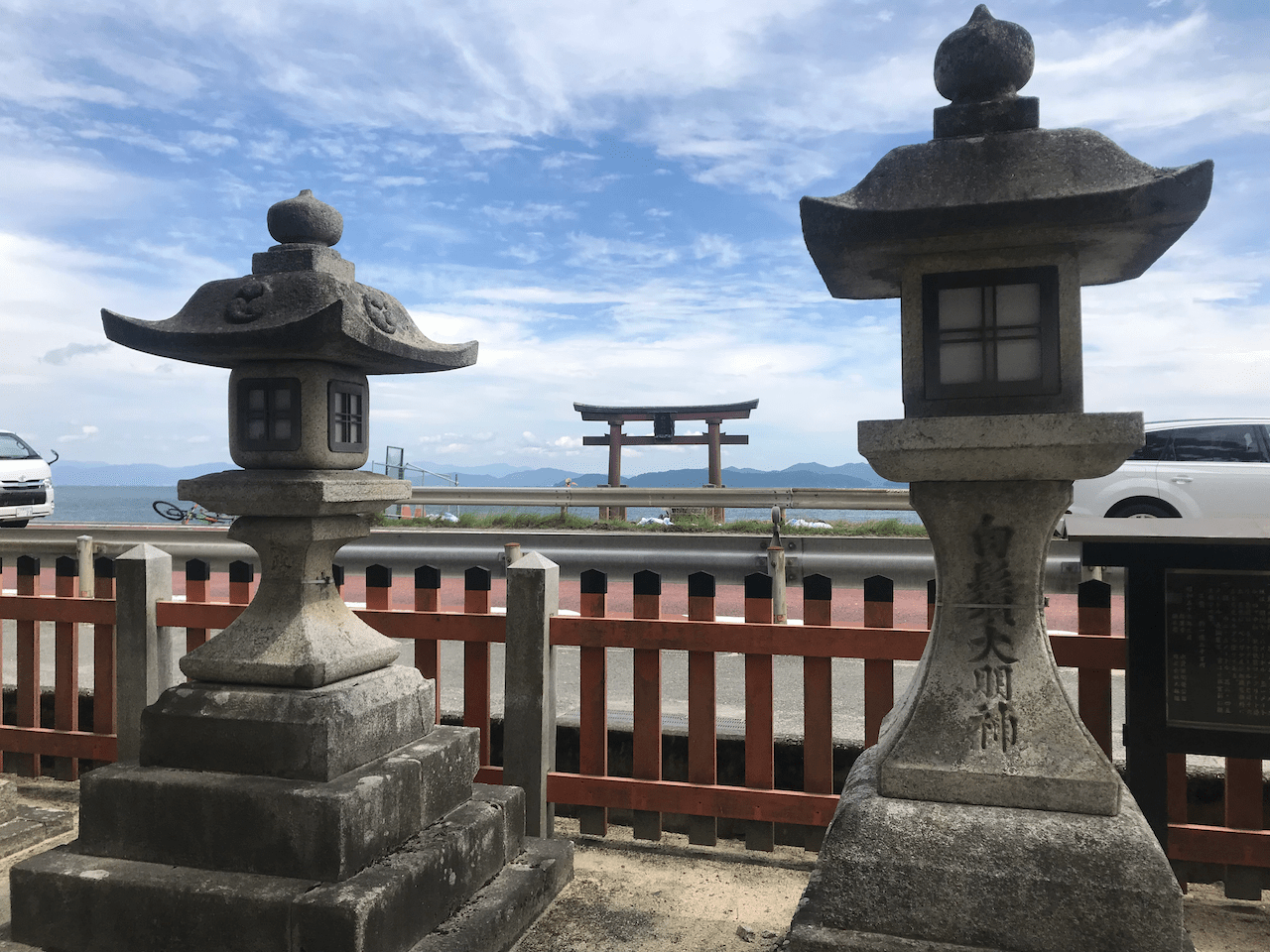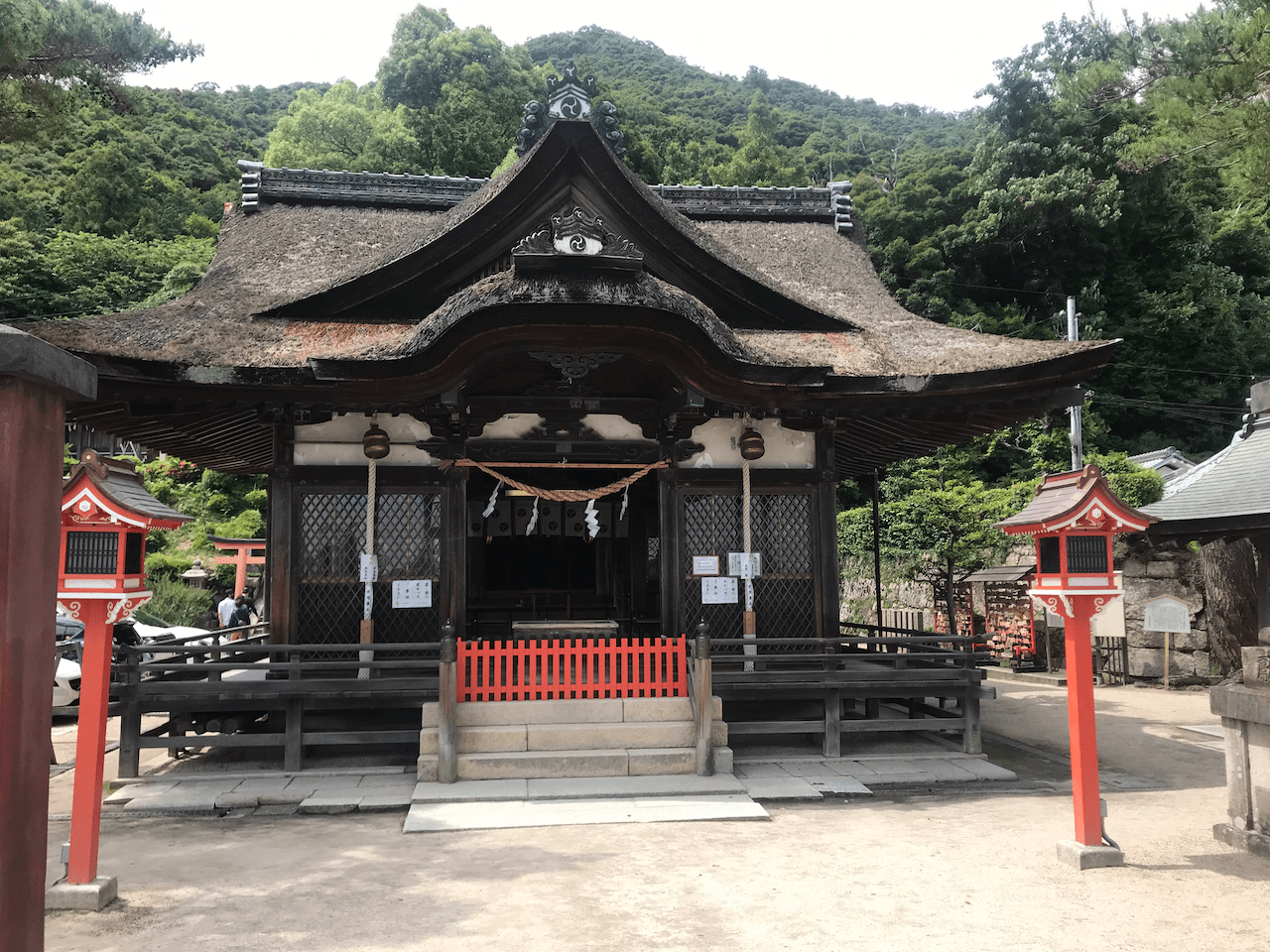 Main building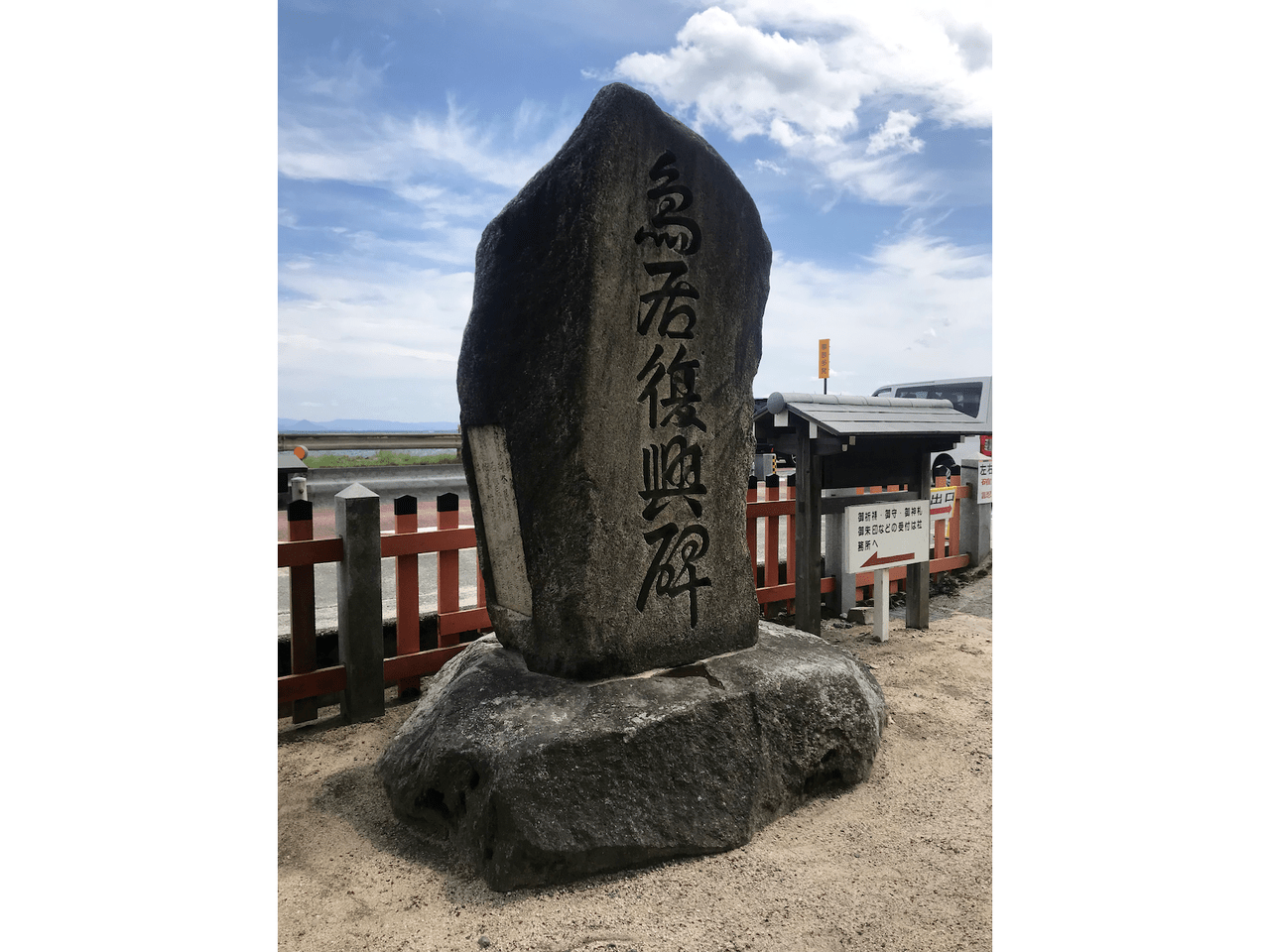 I thought we would be able to stand at the lakeshore and watch the gate in peace and silence but instead, the main road separated the shrine area from the lake, so we had to stand next to the road and try to get a good glimpse of the gate while all those cars, motorcycles or trucks passed by. Getting a good picture was also super difficult!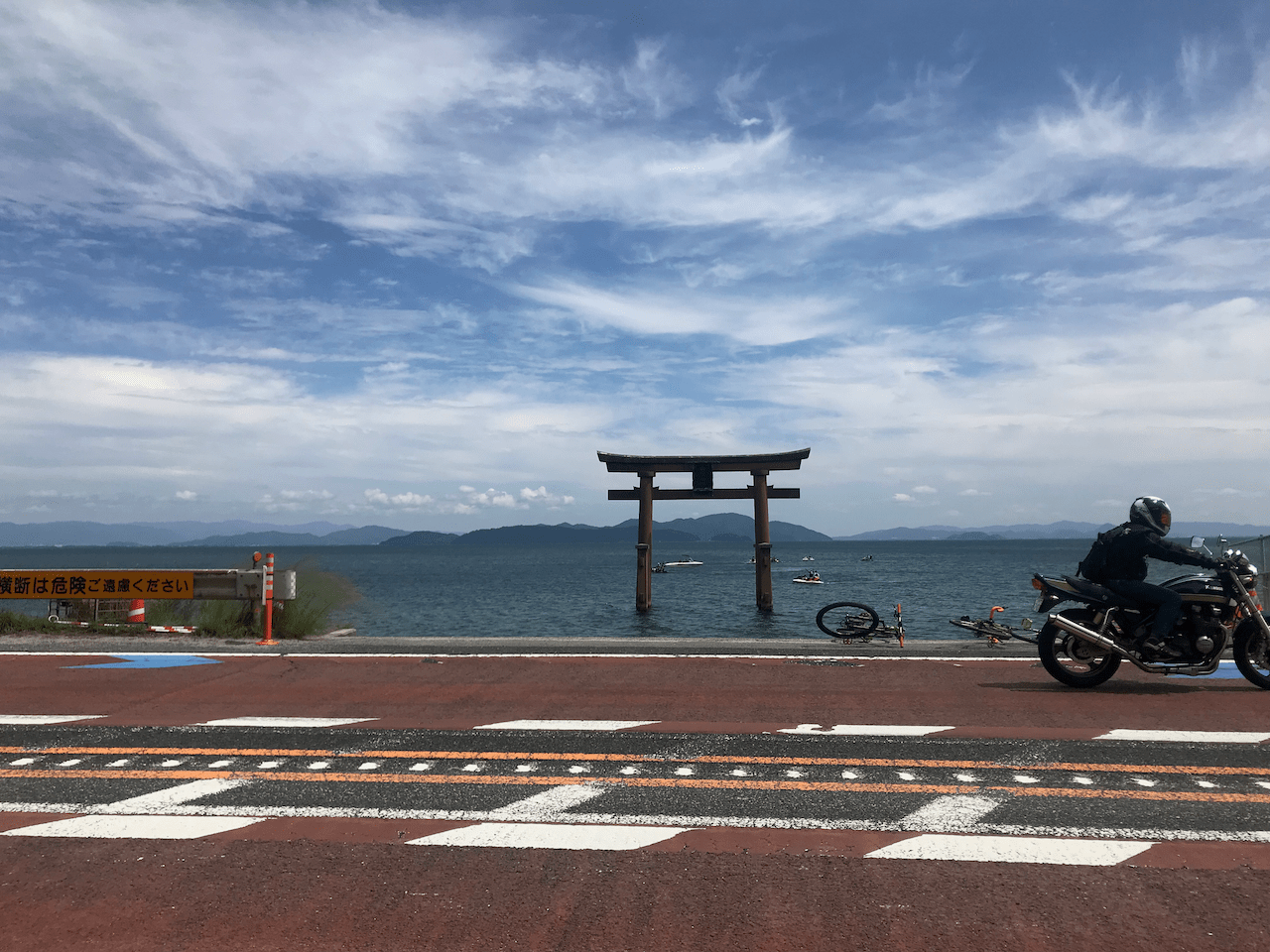 My best shot - but still there's a motorcycle in the picture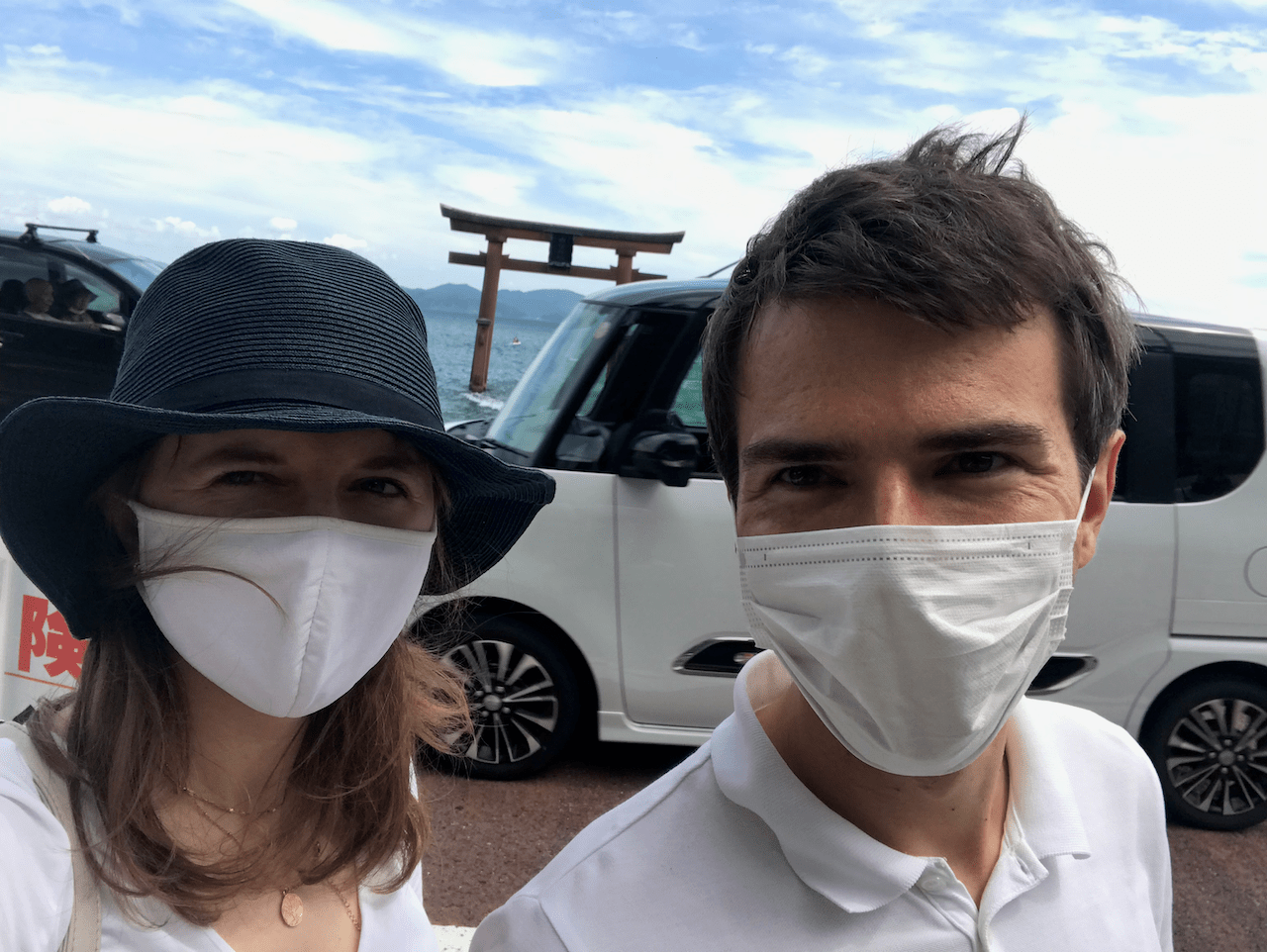 Typical picture
The worst part was that lots of Jet Ski drivers were circling the gate making it impossible to feel the spiritual energy at all. This was totally different from what I expected.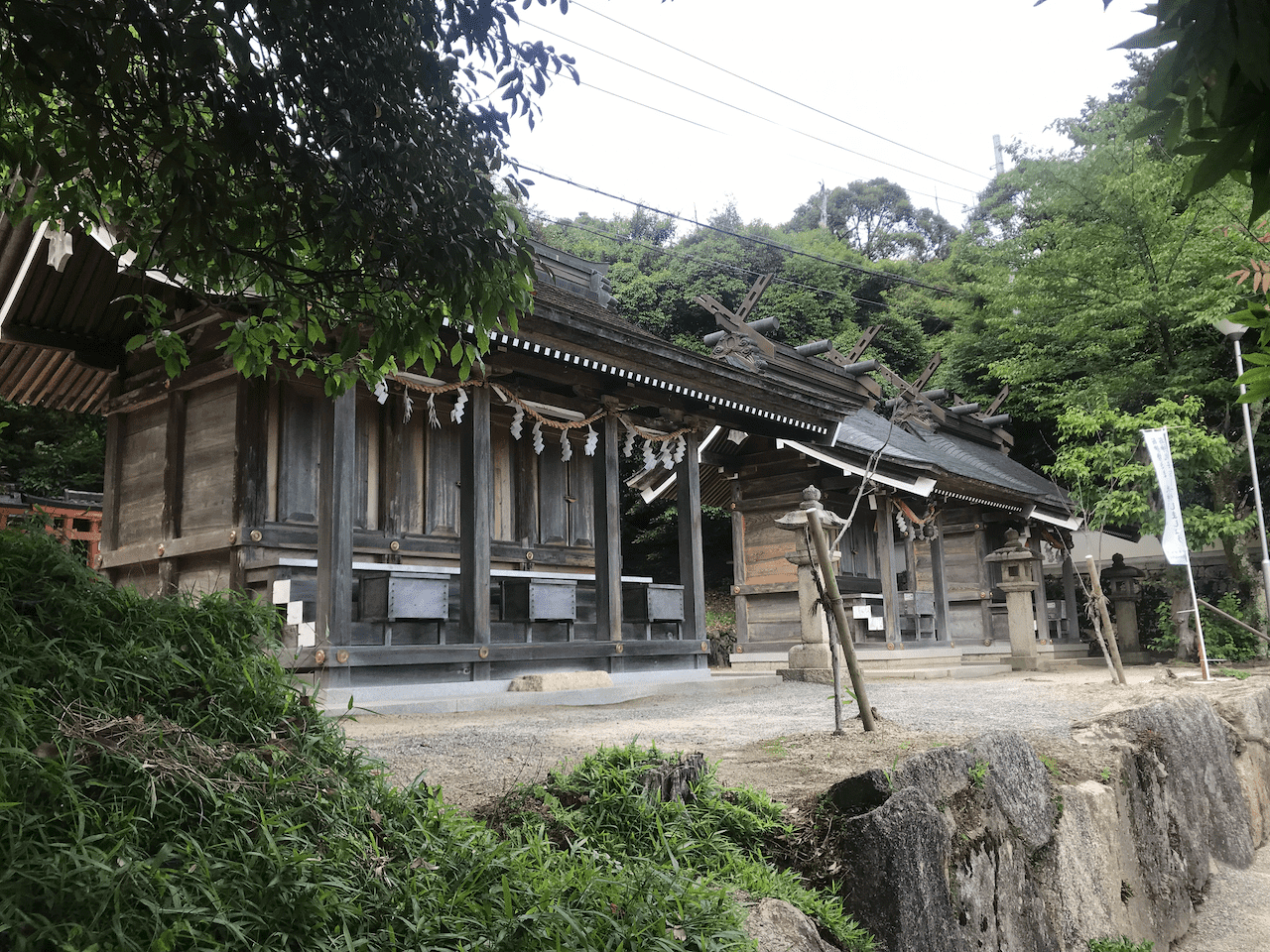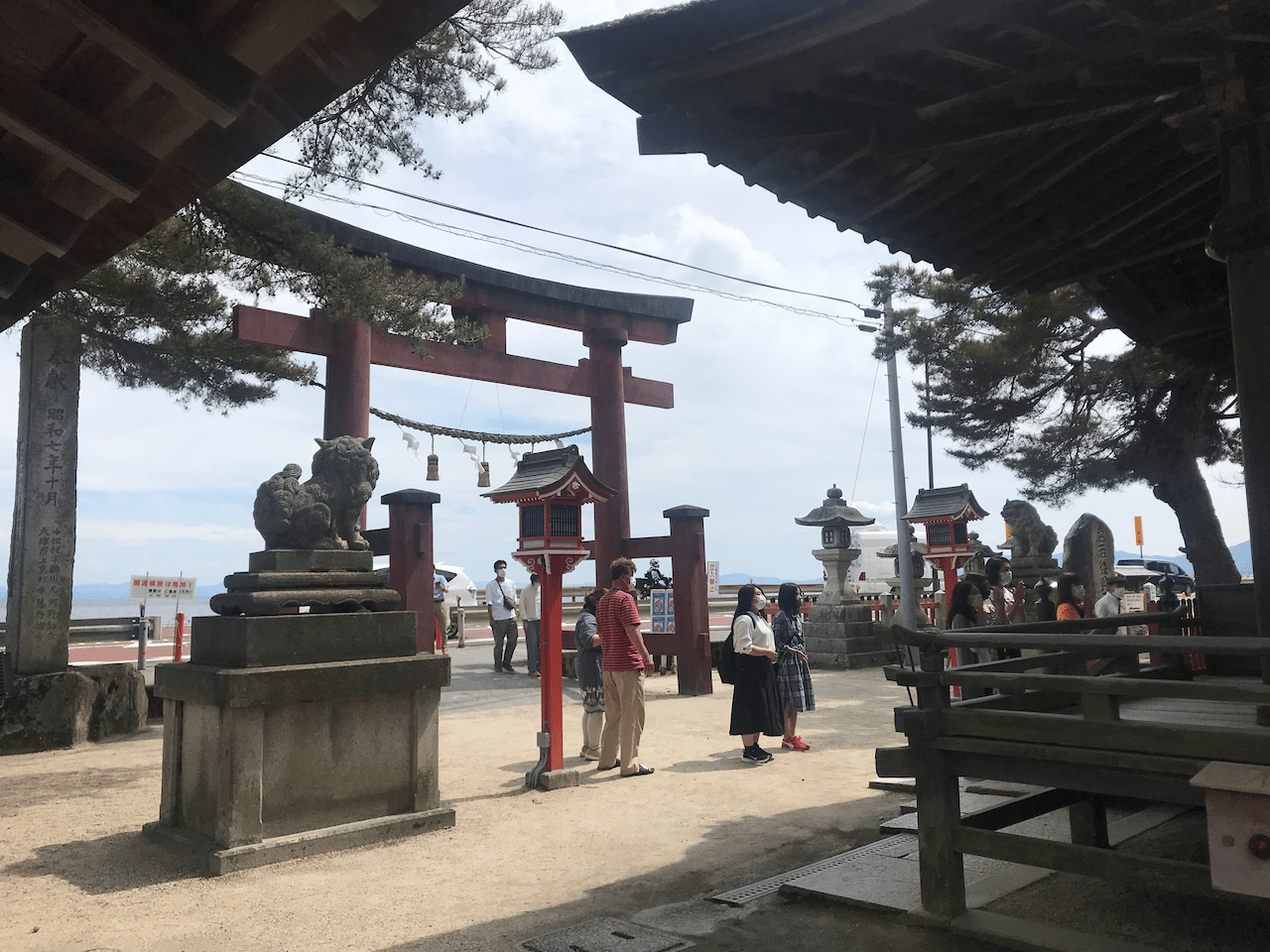 Many people wanted to pray at the shrine
Luckily, the grounds also offered some peaceful areas. You could climb a staircase for entering a beautiful forest where you could find even more shrines and some moments to relax.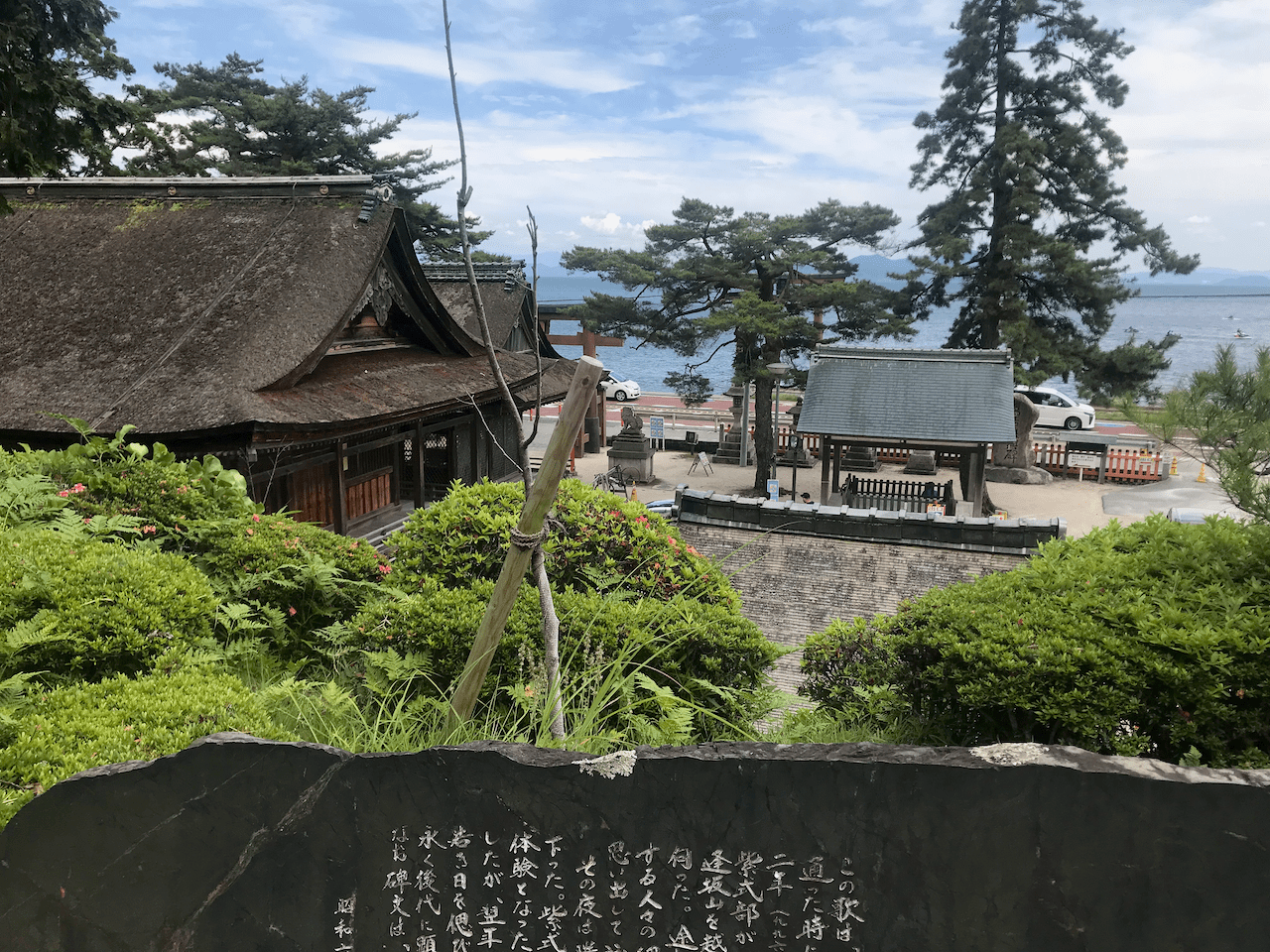 View from the upper part of the area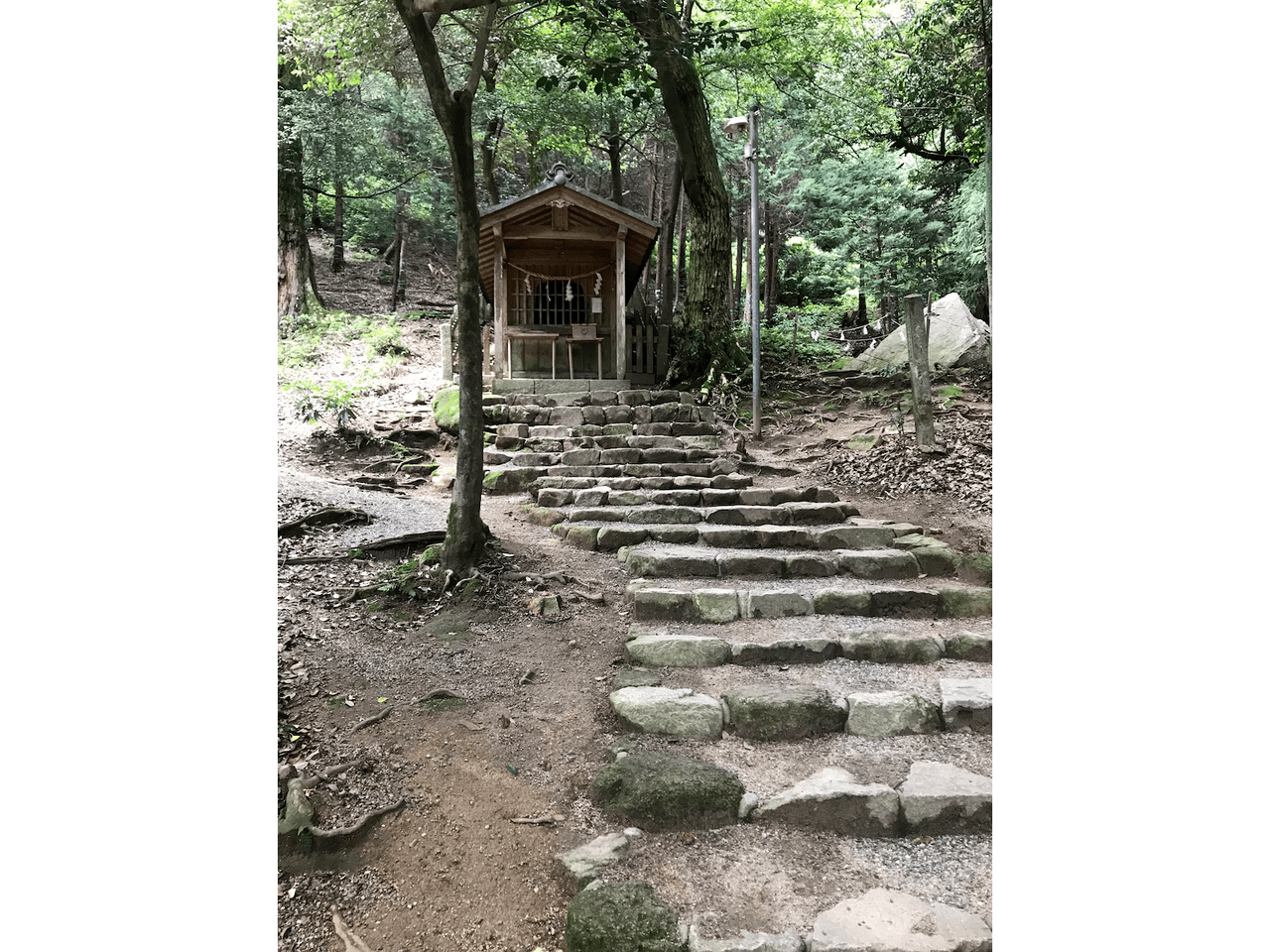 At least I got to see the gate in the water from there without too many problems.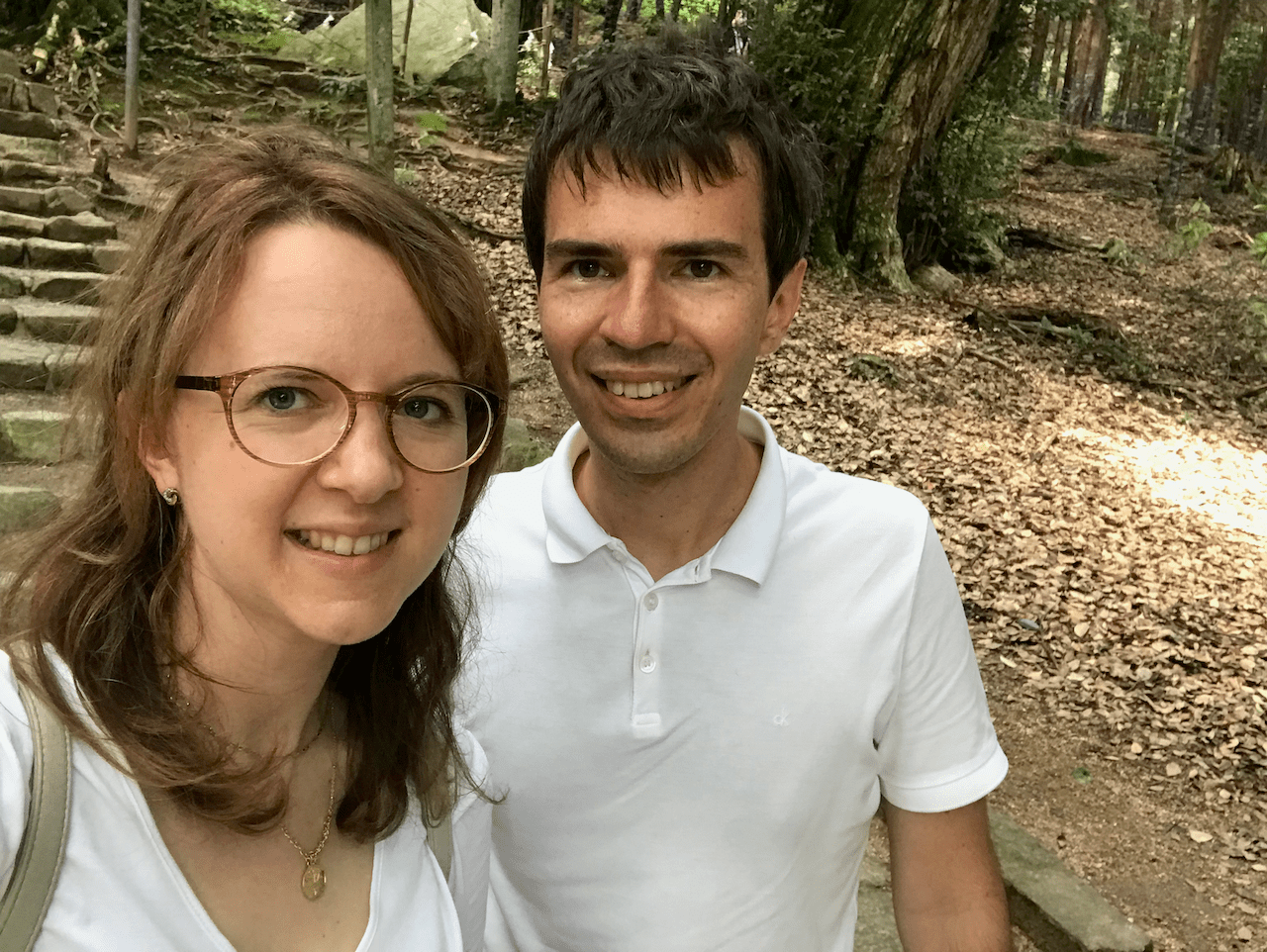 If you want to visit this shrine, I recommend to come during the week and either very early or very late, so you can enjoy the sunrise or sunset over the lake. A hot Sunday afternoon in June doesn't seem to be the ideal day for this visit!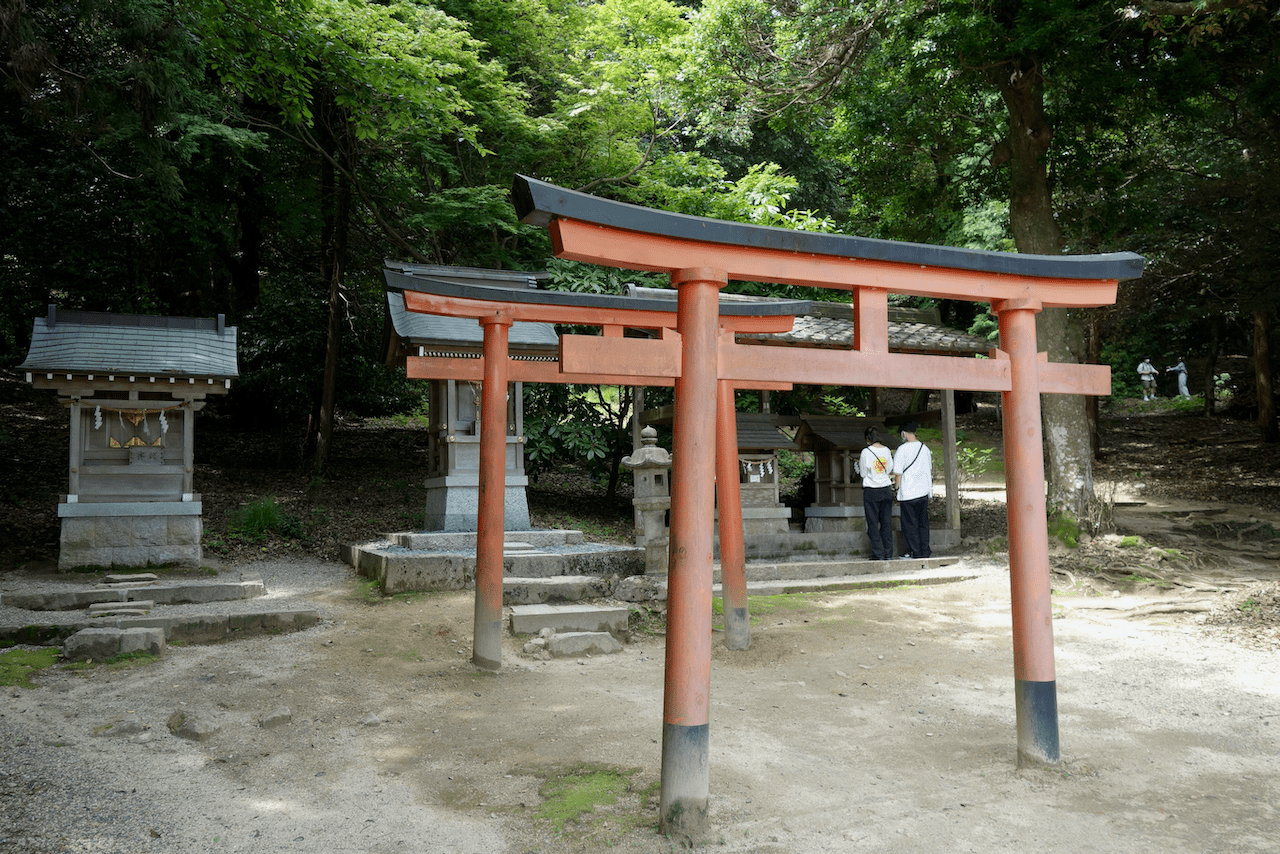 Beach life at the lake
After our visit of the shrine, we decided to drive to one of Biwako's most popular beach resorts, the Omi-Maiko Nakahama Beach Resort. It is located close to the city of Otsu and a popular place to escape the hot summer days for residents of Kyoto and Osaka. You'll find a long stretch of sand and pebble-covered beach tucked beside a grove of trees. The Hira Mountains tower above from one side, while the lake stretches into the distance on the other. There are also many barbecue spots available.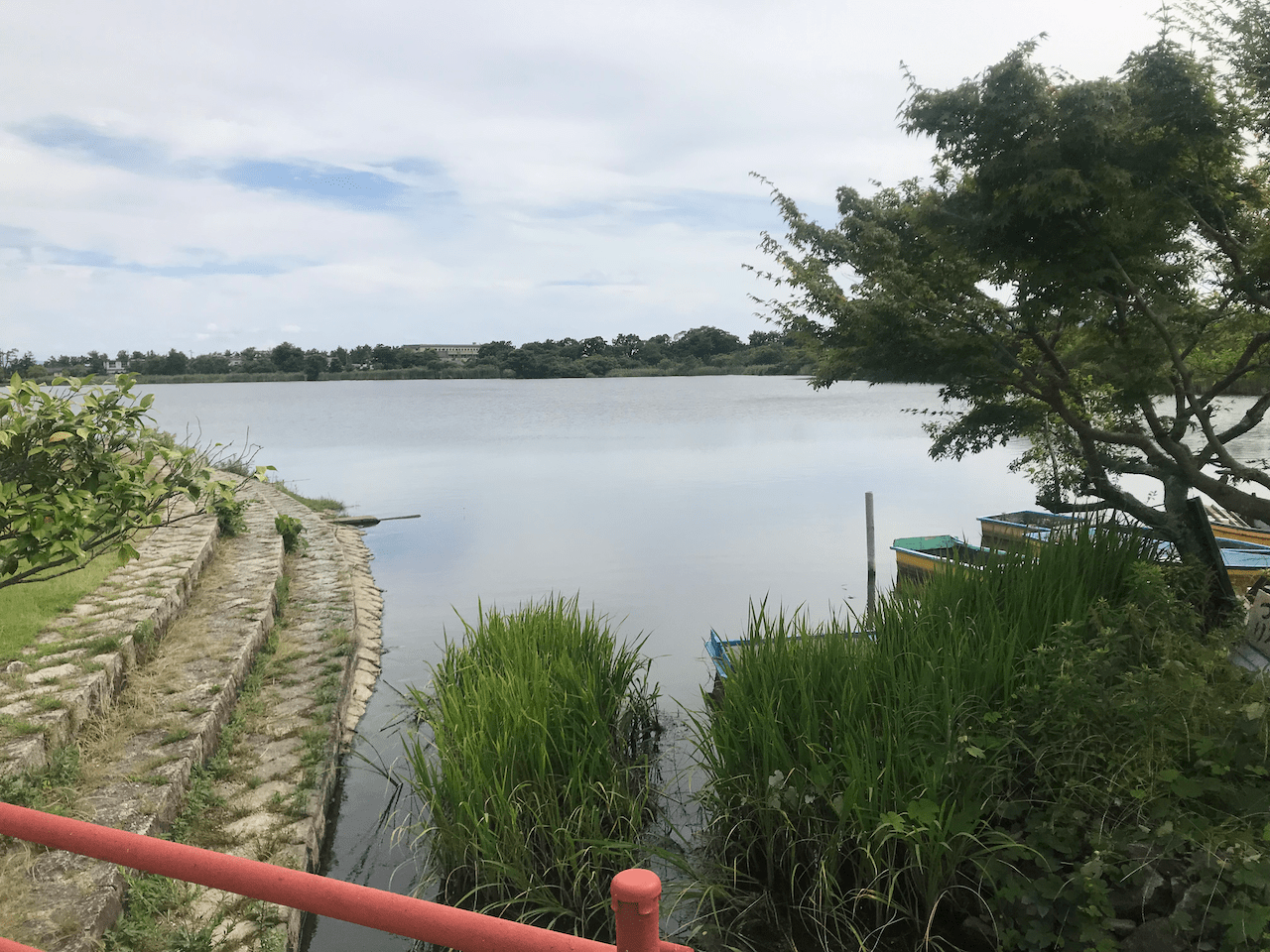 Only quiet place at the resort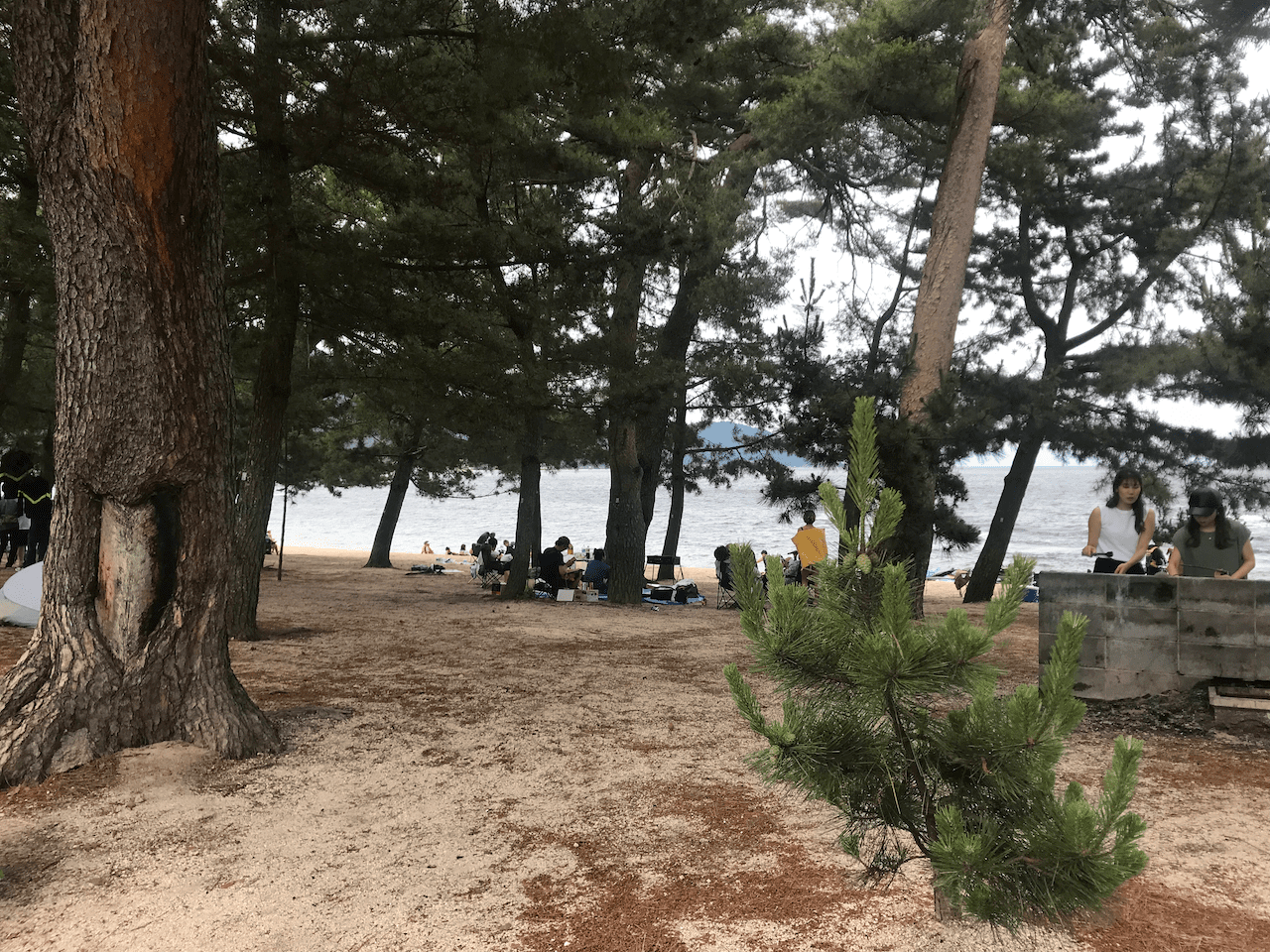 When we arrived, it was extremely busy. We barely managed to find a parking spot. There were so many groups having barbecues and beach parties, it was insane! On top of that, many people were driving races with jet skies at the shoreline. It was very noisy and not relaxing at all. So we continued to walk along the beach, looking for a quiet spot (we didn't find any). We stopped at some beach café for having a cool drink, but it was also not relaxing at all, mainly due to the many jet ski racers. We also saw countless people with their dogs, wondering if this place was a secret dog beach!
Walking and trying to find a quiet place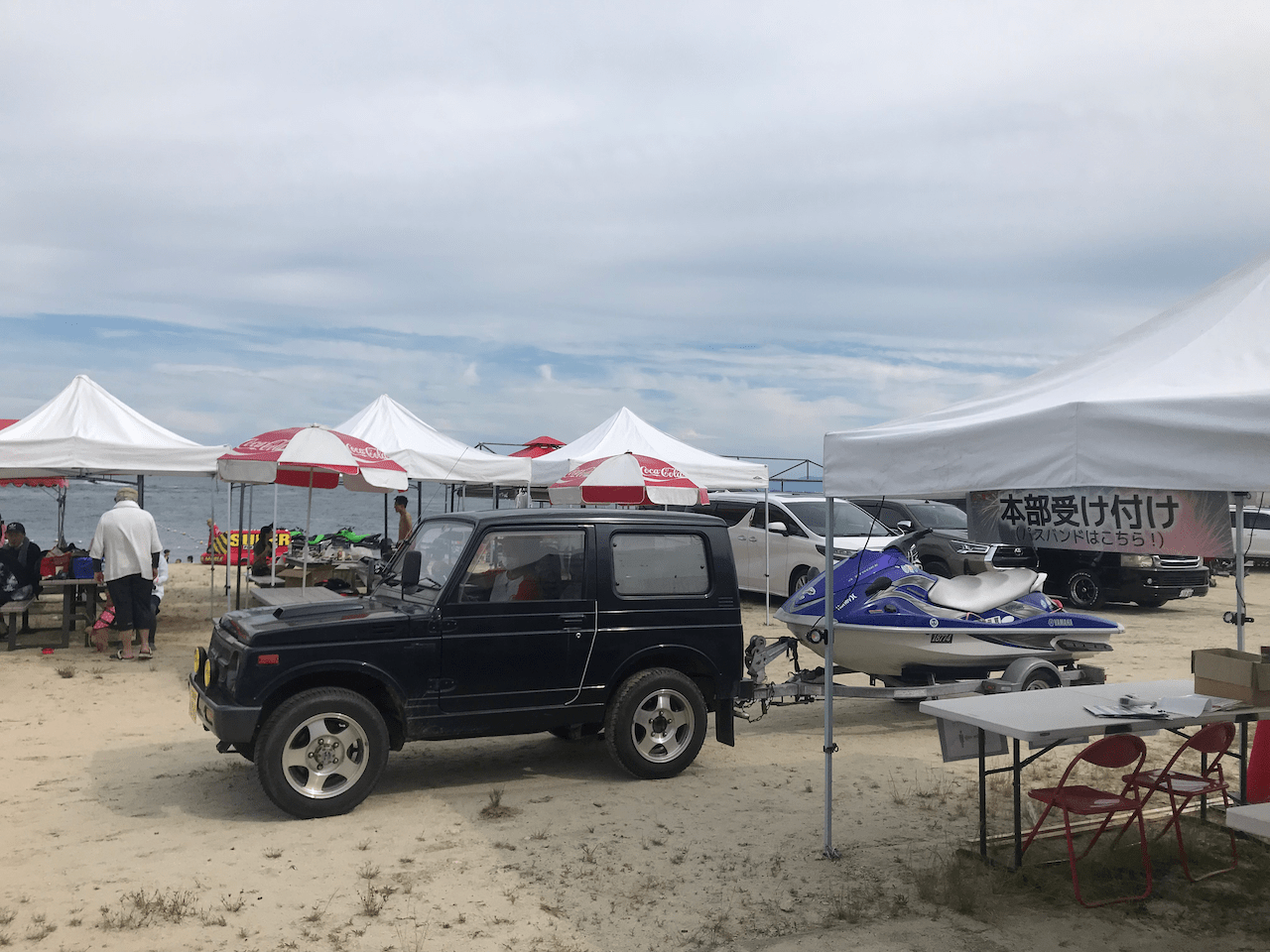 Beach life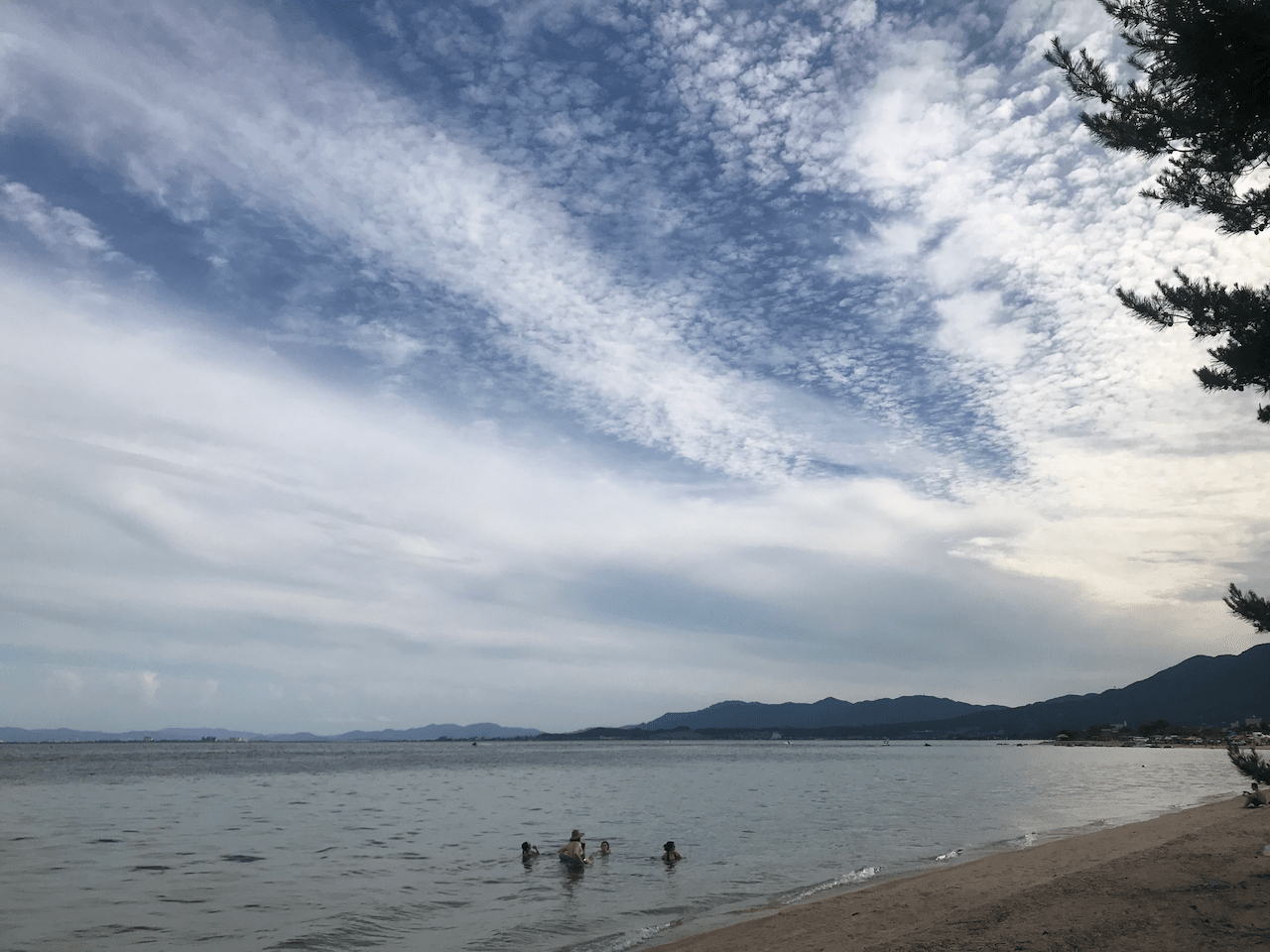 At least, we found a nice spot where not too many people where hanging out and Niklas decided to have a quick swim.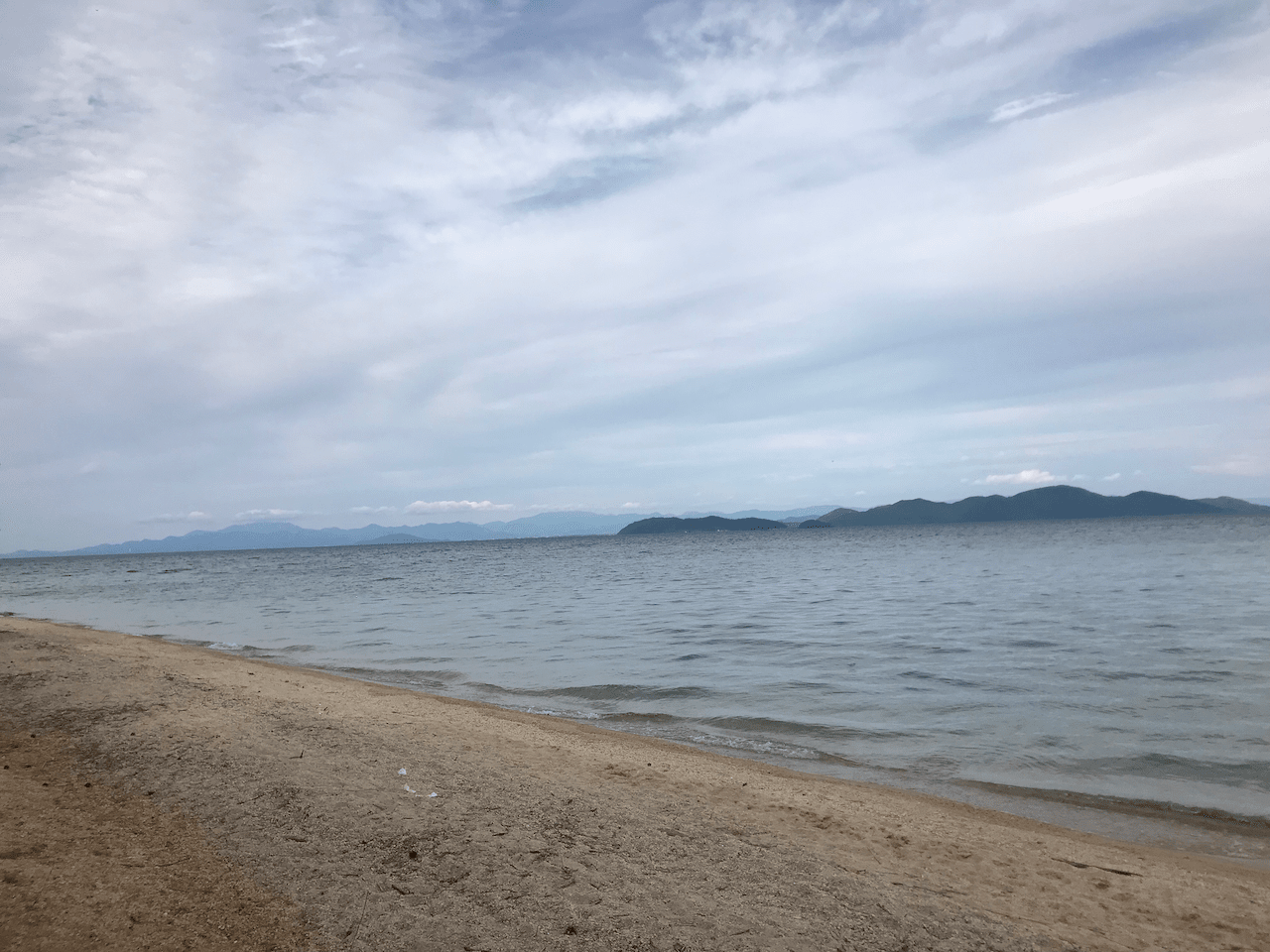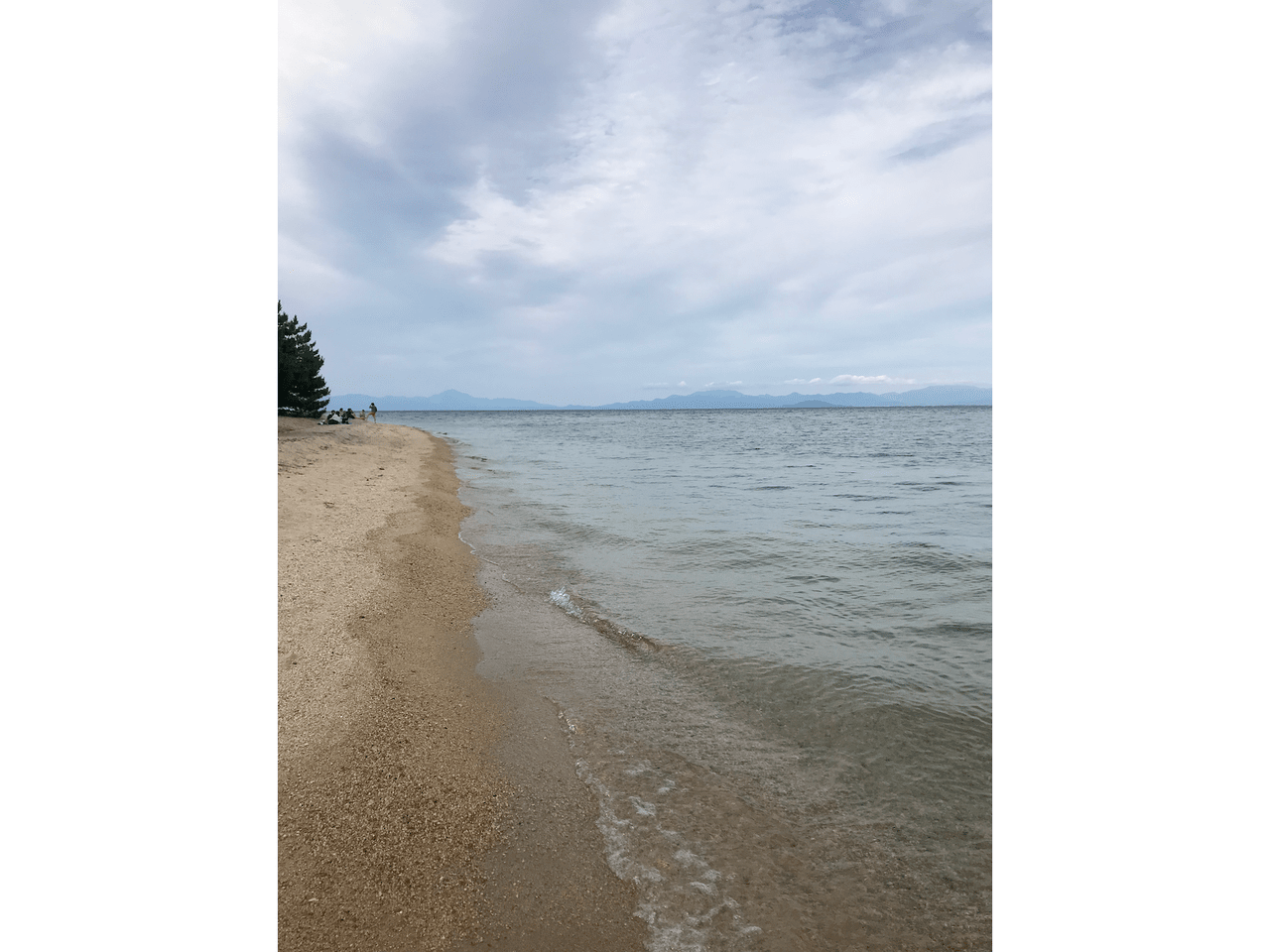 Who doesn't want to have a swim?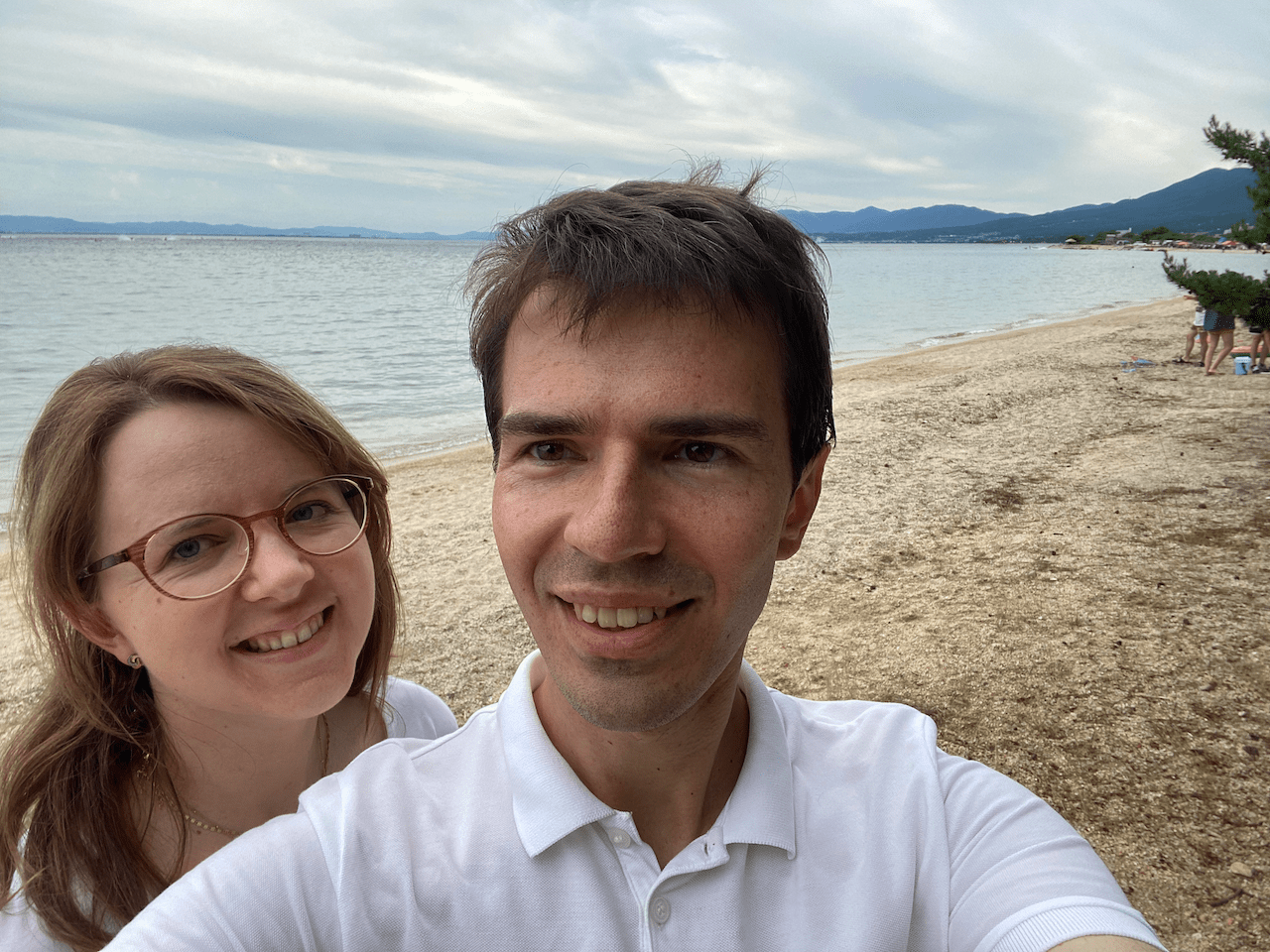 The water was super clear and very refreshing, it looked so beautiful! Finally, we got some minutes of peace.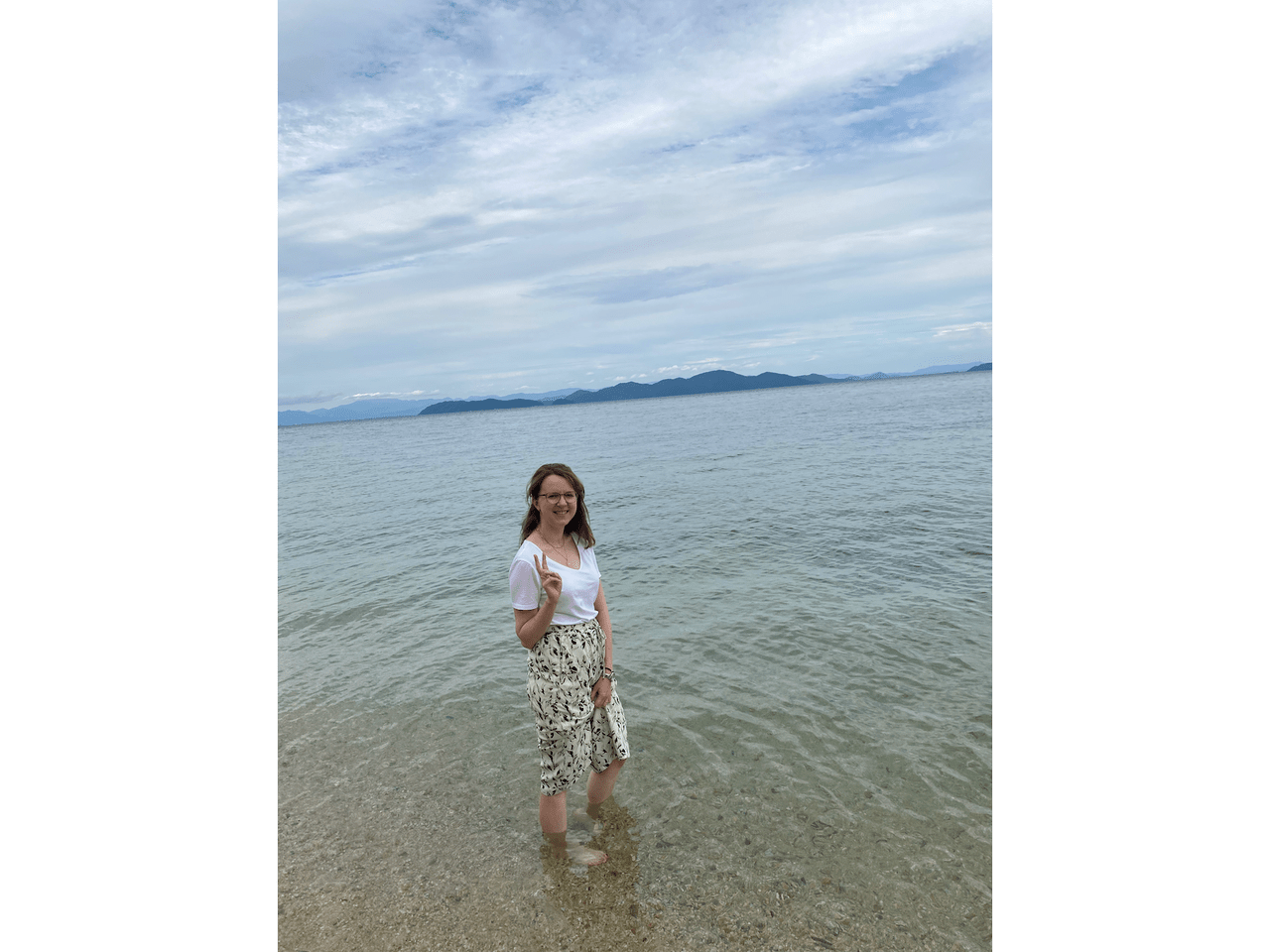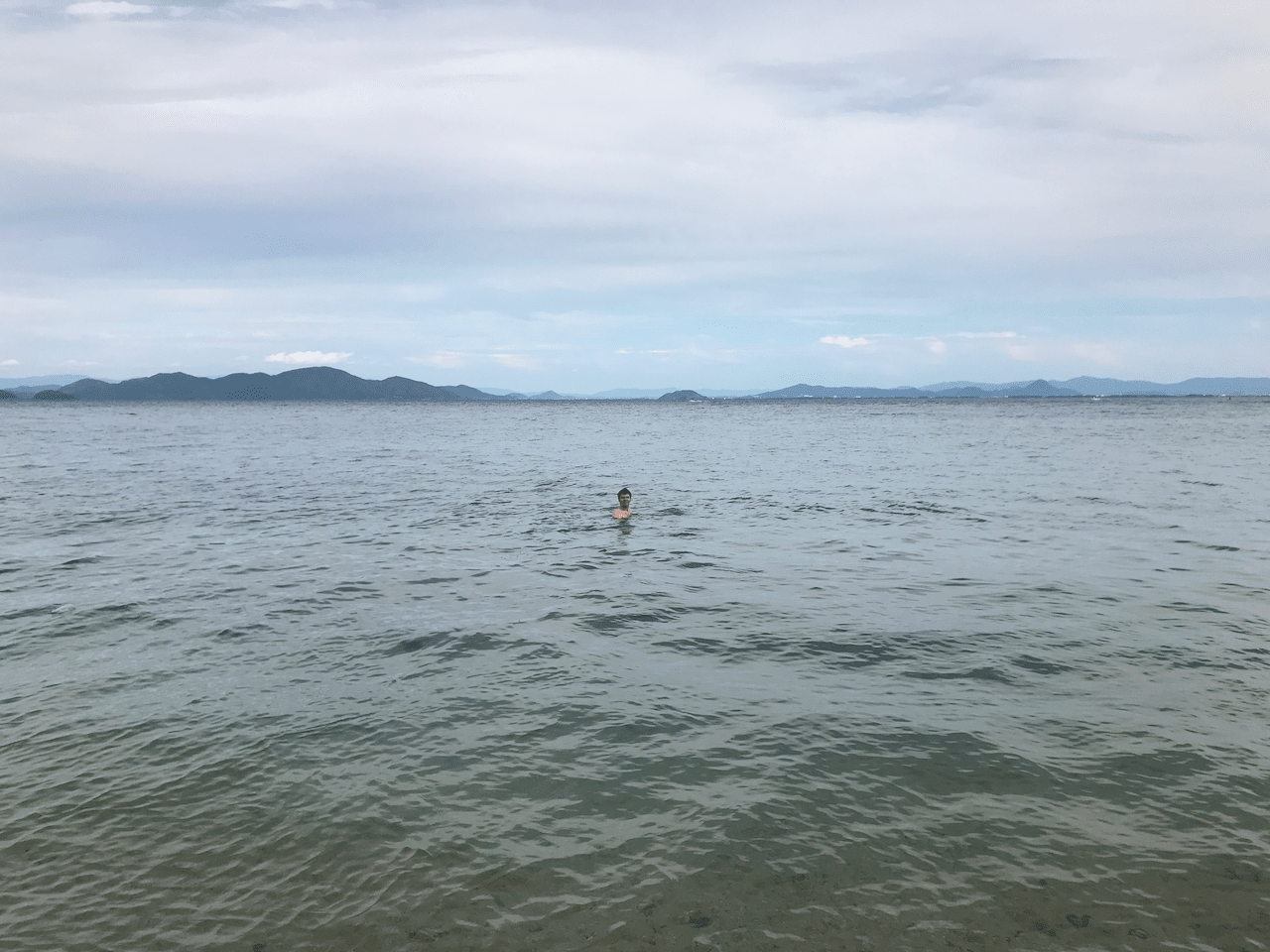 Niklas enjoyed the water
After this, we got back to the car to start the long drive home. During our drive, we were discussing our trip during the whole time. While the lake is definitely really beautiful and offers many wonderful beaches and views, it was kind of crazy to see so many people gathering in crowds, especially as it's still COVID and the numbers already started to look bad when we went to lake Biwa. Additionally, it was not very relaxing to walk along this really beautiful beach with all those party people and jet ski racers, who didn't even care about swimmers. Or maybe we became boring and old people! Who knows. ;-)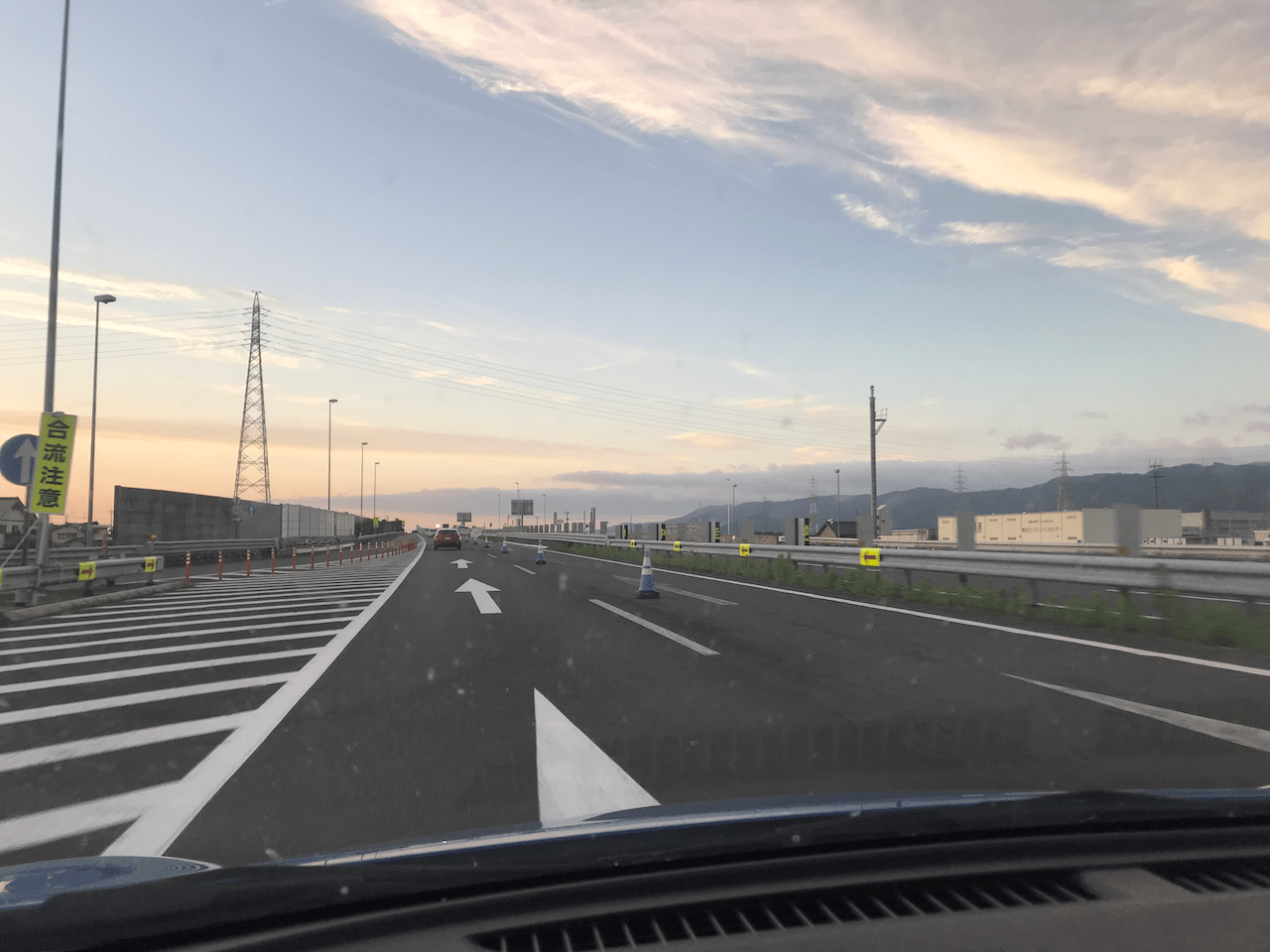 Empty roads on our way home
We arrived back in Ishikawa for the sunset which looked pretty amazing. Can't get enough of rice fields in the evening sun.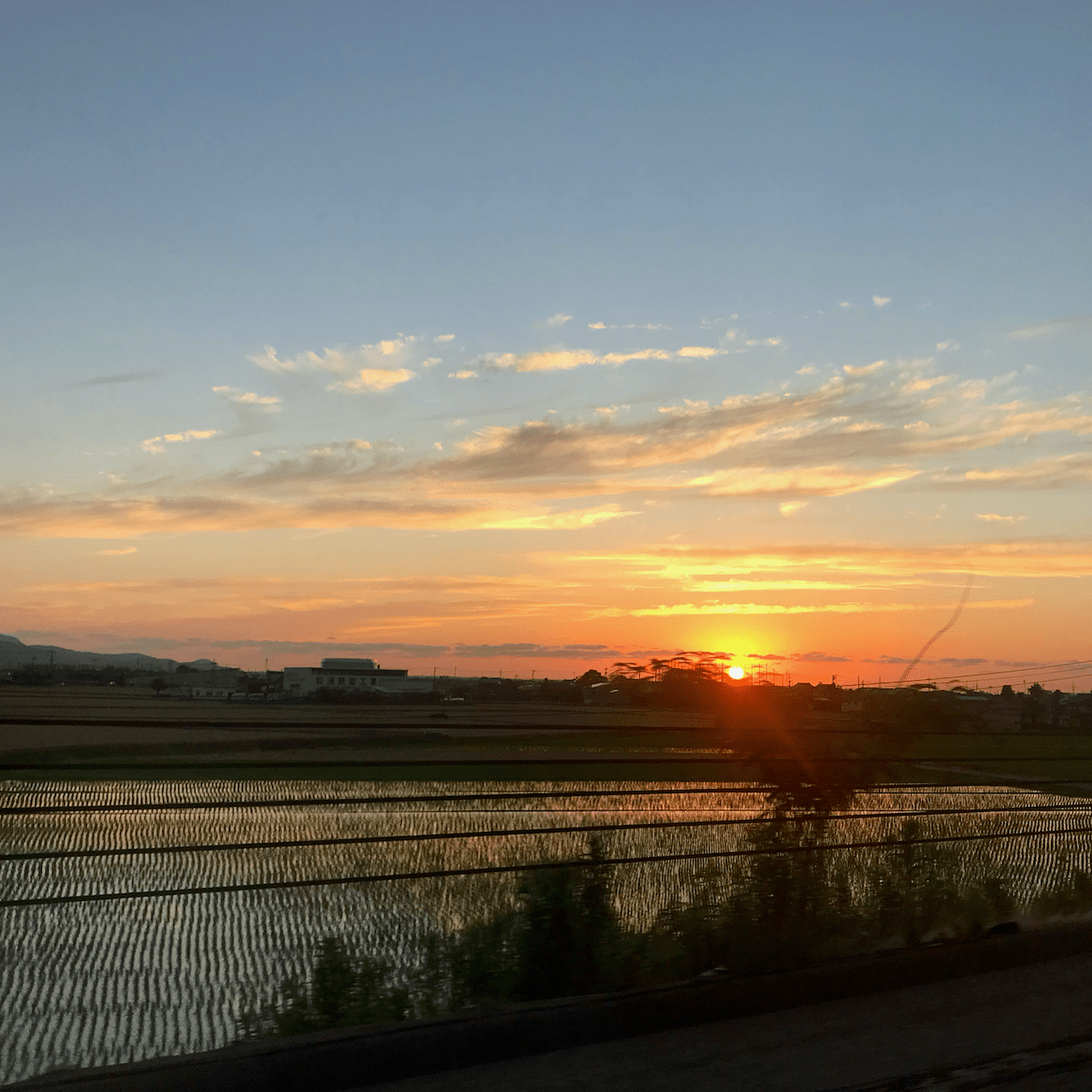 Up Next
Summer has arrived and we have to learn how to survive the hot temperatures, the humid air and the attacks of countless huge insects! We took a nice road trip to Gifu and Nagano prefecture to escape the heat (spoiler: we didn't escape it) and the Tokyo Summer Olympics finally have started. Read more in the next updates and in the meantime, stay healthy and take care!